array(6) {
  [41246]=>
  array(14) {
    ["attributes_values"]=>
    array(1) {
      [1695]=>
      string(3) "300"
    }
    ["attributes"]=>
    array(1) {
      [0]=>
      int(28317)
    }
    ["price"]=>
    float(0)
    ["specific_price"]=>
    bool(false)
    ["ecotax"]=>
    float(0)
    ["weight"]=>
    float(0)
    ["quantity"]=>
    float(88)
    ["reference"]=>
    string(0) ""
    ["unit_impact"]=>
    string(8) "0.000000"
    ["minimal_quantity"]=>
    int(1)
    ["available_date"]=>
    string(10) "2020-12-26"
    ["date_formatted"]=>
    string(10) "12/26/2020"
    ["id_image"]=>
    int(50035)
    ["list"]=>
    string(7) "'28317'"
  }
  [41247]=>
  array(14) {
    ["attributes_values"]=>
    array(1) {
      [1695]=>
      string(3) "301"
    }
    ["attributes"]=>
    array(1) {
      [0]=>
      int(28318)
    }
    ["price"]=>
    float(0)
    ["specific_price"]=>
    bool(false)
    ["ecotax"]=>
    float(0)
    ["weight"]=>
    float(0)
    ["quantity"]=>
    float(81)
    ["reference"]=>
    string(0) ""
    ["unit_impact"]=>
    string(8) "0.000000"
    ["minimal_quantity"]=>
    int(1)
    ["available_date"]=>
    string(10) "2020-12-26"
    ["date_formatted"]=>
    string(10) "12/26/2020"
    ["id_image"]=>
    int(50036)
    ["list"]=>
    string(7) "'28318'"
  }
  [41248]=>
  array(14) {
    ["attributes_values"]=>
    array(1) {
      [1695]=>
      string(3) "302"
    }
    ["attributes"]=>
    array(1) {
      [0]=>
      int(28319)
    }
    ["price"]=>
    float(0)
    ["specific_price"]=>
    bool(false)
    ["ecotax"]=>
    float(0)
    ["weight"]=>
    float(0)
    ["quantity"]=>
    float(88)
    ["reference"]=>
    string(0) ""
    ["unit_impact"]=>
    string(8) "0.000000"
    ["minimal_quantity"]=>
    int(1)
    ["available_date"]=>
    string(10) "2020-12-26"
    ["date_formatted"]=>
    string(10) "12/26/2020"
    ["id_image"]=>
    int(50037)
    ["list"]=>
    string(7) "'28319'"
  }
  [41249]=>
  array(14) {
    ["attributes_values"]=>
    array(1) {
      [1695]=>
      string(3) "303"
    }
    ["attributes"]=>
    array(1) {
      [0]=>
      int(28320)
    }
    ["price"]=>
    float(0)
    ["specific_price"]=>
    bool(false)
    ["ecotax"]=>
    float(0)
    ["weight"]=>
    float(0)
    ["quantity"]=>
    float(89)
    ["reference"]=>
    string(0) ""
    ["unit_impact"]=>
    string(8) "0.000000"
    ["minimal_quantity"]=>
    int(1)
    ["available_date"]=>
    string(10) "2020-12-26"
    ["date_formatted"]=>
    string(10) "12/26/2020"
    ["id_image"]=>
    int(50038)
    ["list"]=>
    string(7) "'28320'"
  }
  [41250]=>
  array(14) {
    ["attributes_values"]=>
    array(1) {
      [1695]=>
      string(3) "304"
    }
    ["attributes"]=>
    array(1) {
      [0]=>
      int(28321)
    }
    ["price"]=>
    float(0)
    ["specific_price"]=>
    bool(false)
    ["ecotax"]=>
    float(0)
    ["weight"]=>
    float(0)
    ["quantity"]=>
    float(88)
    ["reference"]=>
    string(0) ""
    ["unit_impact"]=>
    string(8) "0.000000"
    ["minimal_quantity"]=>
    int(1)
    ["available_date"]=>
    string(10) "2020-12-26"
    ["date_formatted"]=>
    string(10) "12/26/2020"
    ["id_image"]=>
    int(50039)
    ["list"]=>
    string(7) "'28321'"
  }
  [41251]=>
  array(14) {
    ["attributes_values"]=>
    array(1) {
      [1695]=>
      string(3) "305"
    }
    ["attributes"]=>
    array(1) {
      [0]=>
      int(28322)
    }
    ["price"]=>
    float(0)
    ["specific_price"]=>
    bool(false)
    ["ecotax"]=>
    float(0)
    ["weight"]=>
    float(0)
    ["quantity"]=>
    float(73)
    ["reference"]=>
    string(0) ""
    ["unit_impact"]=>
    string(8) "0.000000"
    ["minimal_quantity"]=>
    int(1)
    ["available_date"]=>
    string(10) "2020-12-26"
    ["date_formatted"]=>
    string(10) "12/26/2020"
    ["id_image"]=>
    int(50040)
    ["list"]=>
    string(7) "'28322'"
  }
}

Katia Belvedere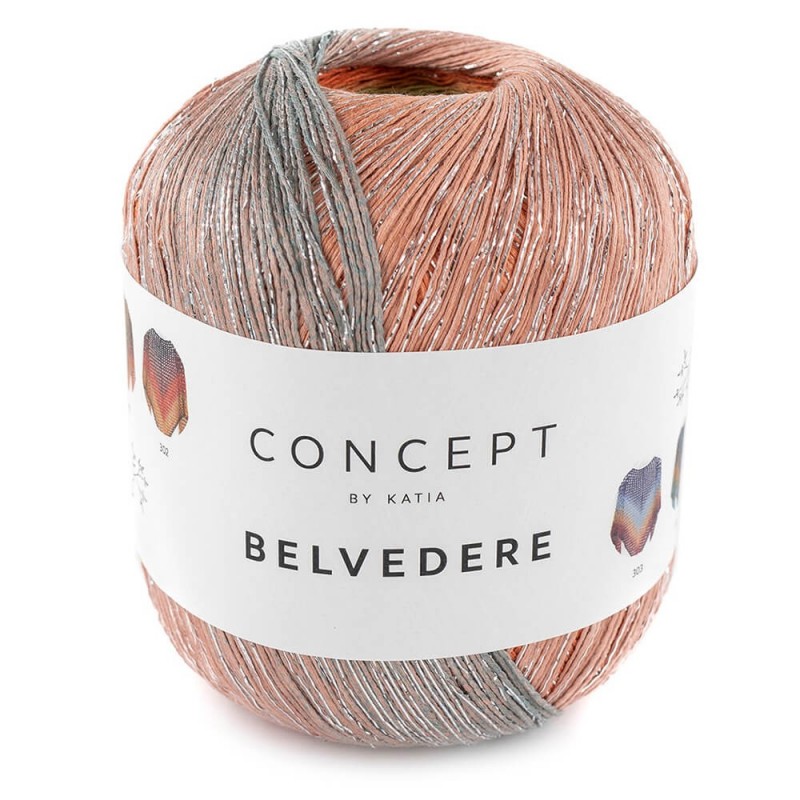  
Katia Belvedere is a yarn offering 150 grams and 495 meters. This thread combines different viscose, polyester, and polyamide fibers. This yarn is available in 6 different gradient colors, perfect to knit elegant and colorful shawls or kerchiefs for summer.
With only one ball you can knit a whole shawl!
By buying this product you can collect up to 7 loyalty points. Your cart will total 7 points that can be converted into a voucher of €0.28.
Product details
Features
Weight

150 grams

Length

495 metros

Knitting needle

2 ½ - 3

Crochet Hook

3 - 3 ½

Season

Autumn - Winter
Product description
Katia presents Belvedere, a light, soft, and pleasant thread which you can use to knit accessories and garments for summer: thanks to its colors you can knit original and elegant garments!
Belvedere is a yarn similar to Versailles, also by Katia. These two yarns present the same features, but the range of colors is different: Belvedere offers yarns presenting bright and original gradient colors!
This viscose thread is soft and light, you can knit garments and accessories with a loose effect. This yarn is perfect to knit a shawl, you only need one ball as it has 450 meters!
Belvedere by Katia is made of:
96% viscose
3% polyester
1% polyamide
Which are the features of Katia Belvedere?
Each ball has 150 grams and around 495 meters.
Its thickness is perfect to work with the 2,5 – 3 mm knitting needles or with the 3 – 3,5 mm crochet hooks.
Mount 29 stitches and do 36 rows to knit a 10 x 10 cm gauge.
Washable at up to 30ºC with the delicate wash program.
Do not tumble dry.
It is recommended to dry horizontally without hanging it up.
Iron at up to 110ºC.
Amount of balls needed to:
You can knit one shawl with only 1 ball.
To knit a t-shirt you will need 2 balls.