array(2) {
  [15820]=>
  array(14) {
    ["attributes_values"]=>
    array(1) {
      [465]=>
      string(17) "Spanish / English"
    }
    ["attributes"]=>
    array(1) {
      [0]=>
      int(8078)
    }
    ["price"]=>
    float(0)
    ["specific_price"]=>
    array(19) {
      ["id_specific_price"]=>
      string(7) "1527294"
      ["id_specific_price_rule"]=>
      string(1) "0"
      ["id_cart"]=>
      string(1) "0"
      ["id_product"]=>
      string(4) "3547"
      ["id_shop"]=>
      string(1) "0"
      ["id_shop_group"]=>
      string(1) "0"
      ["id_currency"]=>
      string(1) "0"
      ["id_country"]=>
      string(1) "0"
      ["id_group"]=>
      string(1) "0"
      ["id_customer"]=>
      string(1) "0"
      ["id_product_attribute"]=>
      string(1) "0"
      ["price"]=>
      string(9) "-1.000000"
      ["from_quantity"]=>
      string(8) "1.000000"
      ["reduction"]=>
      string(8) "0.100000"
      ["reduction_tax"]=>
      string(1) "1"
      ["reduction_type"]=>
      string(10) "percentage"
      ["from"]=>
      string(19) "0000-00-00 00:00:00"
      ["to"]=>
      string(19) "0000-00-00 00:00:00"
      ["score"]=>
      string(2) "32"
    }
    ["ecotax"]=>
    float(0)
    ["weight"]=>
    float(0)
    ["quantity"]=>
    float(-2)
    ["reference"]=>
    string(0) ""
    ["unit_impact"]=>
    string(8) "0.000000"
    ["minimal_quantity"]=>
    int(1)
    ["date_formatted"]=>
    string(0) ""
    ["available_date"]=>
    string(0) ""
    ["id_image"]=>
    int(-1)
    ["list"]=>
    string(6) "'8078'"
  }
  [15821]=>
  array(14) {
    ["attributes_values"]=>
    array(1) {
      [465]=>
      string(14) "French / Dutch"
    }
    ["attributes"]=>
    array(1) {
      [0]=>
      int(8079)
    }
    ["price"]=>
    float(0)
    ["specific_price"]=>
    array(19) {
      ["id_specific_price"]=>
      string(7) "1527294"
      ["id_specific_price_rule"]=>
      string(1) "0"
      ["id_cart"]=>
      string(1) "0"
      ["id_product"]=>
      string(4) "3547"
      ["id_shop"]=>
      string(1) "0"
      ["id_shop_group"]=>
      string(1) "0"
      ["id_currency"]=>
      string(1) "0"
      ["id_country"]=>
      string(1) "0"
      ["id_group"]=>
      string(1) "0"
      ["id_customer"]=>
      string(1) "0"
      ["id_product_attribute"]=>
      string(1) "0"
      ["price"]=>
      string(9) "-1.000000"
      ["from_quantity"]=>
      string(8) "1.000000"
      ["reduction"]=>
      string(8) "0.100000"
      ["reduction_tax"]=>
      string(1) "1"
      ["reduction_type"]=>
      string(10) "percentage"
      ["from"]=>
      string(19) "0000-00-00 00:00:00"
      ["to"]=>
      string(19) "0000-00-00 00:00:00"
      ["score"]=>
      string(2) "32"
    }
    ["ecotax"]=>
    float(0)
    ["weight"]=>
    float(0)
    ["quantity"]=>
    float(42)
    ["reference"]=>
    string(0) ""
    ["unit_impact"]=>
    string(8) "0.000000"
    ["minimal_quantity"]=>
    int(1)
    ["date_formatted"]=>
    string(0) ""
    ["available_date"]=>
    string(0) ""
    ["id_image"]=>
    int(-1)
    ["list"]=>
    string(6) "'8079'"
  }
}

Magazine Katia Kids Nº 81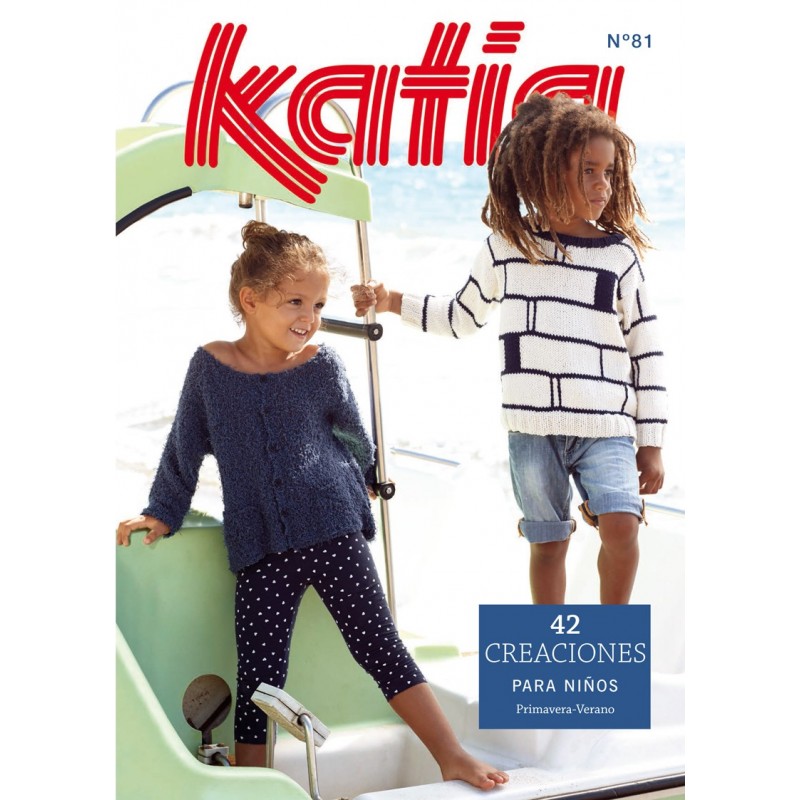  
In the Magazine Katia Kids Nº 81 you will find 42 creations for spring and summer. Your kids will be comfortable and fresh with the pulls, tops, dresses and all the projects that you will be able to knit. 
No reward points for this product because there's already a discount.
Product description
The Magazine Katia Kids Nº 81 of the 2017 season offers 42 fresh and summer creations for your kids, perfects to wear during spring or summer.
You will find the instructions to knit project for boys and girls. All of them are knitted with high quality yarns, special for your kid's skin.
This magazine offers different models, cloths and complements:
Pulls

Tops

Cardigans

Jackets

Dresses

Bags

Hats

Suitcases
Your kids will be comfortable and fresh due to the fibres which are in the composition of the yarns and the yarns specials to knit this projects. Most of them are cotton with a soft finish.
The yarns that you will use in this patterns:
Oceania

Degradé Sun

Missouri

Louisiana

Alabama

Oasis

Cotton Yak

Malibu

Monaco

Cotton 100%

Tahiti Beach

Tahiti Spray

Singapur

Mississippi 3

Capri

Panama

Bombay

Tropicana

Chromatic

Jaipur
You will find really original complements like bags, hats and caps made by Raphia, Tahiti Spark and Washi Prit in this magazine.
Most of the projects of this magazine are special to tricot, but you will also find models for crochet.
It is available in English, Spanish, French and Dutch.
Have you ever used the Magazine Katia Nº 81 Kids? Give us your opinion! 
Rating:

5

out of

5

based on

11

reviews.
Customer reviews
Nº of votes

Average experience

Rating

11

star star star star star

star star star star star

star star star star star

star star star star star
Page 1
Loading more results...