array(2) {
  [25045]=>
  array(14) {
    ["attributes_values"]=>
    array(1) {
      [465]=>
      string(17) "Spanish / English"
    }
    ["attributes"]=>
    array(1) {
      [0]=>
      int(8078)
    }
    ["price"]=>
    float(0)
    ["specific_price"]=>
    array(19) {
      ["id_specific_price"]=>
      string(7) "1527117"
      ["id_specific_price_rule"]=>
      string(1) "0"
      ["id_cart"]=>
      string(1) "0"
      ["id_product"]=>
      string(4) "3323"
      ["id_shop"]=>
      string(1) "0"
      ["id_shop_group"]=>
      string(1) "0"
      ["id_currency"]=>
      string(1) "0"
      ["id_country"]=>
      string(1) "0"
      ["id_group"]=>
      string(1) "0"
      ["id_customer"]=>
      string(1) "0"
      ["id_product_attribute"]=>
      string(1) "0"
      ["price"]=>
      string(9) "-1.000000"
      ["from_quantity"]=>
      string(8) "1.000000"
      ["reduction"]=>
      string(8) "0.100000"
      ["reduction_tax"]=>
      string(1) "1"
      ["reduction_type"]=>
      string(10) "percentage"
      ["from"]=>
      string(19) "0000-00-00 00:00:00"
      ["to"]=>
      string(19) "0000-00-00 00:00:00"
      ["score"]=>
      string(2) "32"
    }
    ["ecotax"]=>
    float(0)
    ["weight"]=>
    float(0)
    ["quantity"]=>
    float(4)
    ["reference"]=>
    string(13) "8435407922006"
    ["unit_impact"]=>
    string(8) "0.000000"
    ["minimal_quantity"]=>
    int(1)
    ["date_formatted"]=>
    string(0) ""
    ["available_date"]=>
    string(0) ""
    ["id_image"]=>
    int(-1)
    ["list"]=>
    string(6) "'8078'"
  }
  [25046]=>
  array(14) {
    ["attributes_values"]=>
    array(1) {
      [465]=>
      string(14) "French / Dutch"
    }
    ["attributes"]=>
    array(1) {
      [0]=>
      int(8079)
    }
    ["price"]=>
    float(0)
    ["specific_price"]=>
    array(19) {
      ["id_specific_price"]=>
      string(7) "1527117"
      ["id_specific_price_rule"]=>
      string(1) "0"
      ["id_cart"]=>
      string(1) "0"
      ["id_product"]=>
      string(4) "3323"
      ["id_shop"]=>
      string(1) "0"
      ["id_shop_group"]=>
      string(1) "0"
      ["id_currency"]=>
      string(1) "0"
      ["id_country"]=>
      string(1) "0"
      ["id_group"]=>
      string(1) "0"
      ["id_customer"]=>
      string(1) "0"
      ["id_product_attribute"]=>
      string(1) "0"
      ["price"]=>
      string(9) "-1.000000"
      ["from_quantity"]=>
      string(8) "1.000000"
      ["reduction"]=>
      string(8) "0.100000"
      ["reduction_tax"]=>
      string(1) "1"
      ["reduction_type"]=>
      string(10) "percentage"
      ["from"]=>
      string(19) "0000-00-00 00:00:00"
      ["to"]=>
      string(19) "0000-00-00 00:00:00"
      ["score"]=>
      string(2) "32"
    }
    ["ecotax"]=>
    float(0)
    ["weight"]=>
    float(0)
    ["quantity"]=>
    float(34)
    ["reference"]=>
    string(13) "8435407922068"
    ["unit_impact"]=>
    string(8) "0.000000"
    ["minimal_quantity"]=>
    int(1)
    ["date_formatted"]=>
    string(0) ""
    ["available_date"]=>
    string(0) ""
    ["id_image"]=>
    int(-1)
    ["list"]=>
    string(6) "'8079'"
  }
}

Katia Knitting Woman Magazine Nº 91 Urban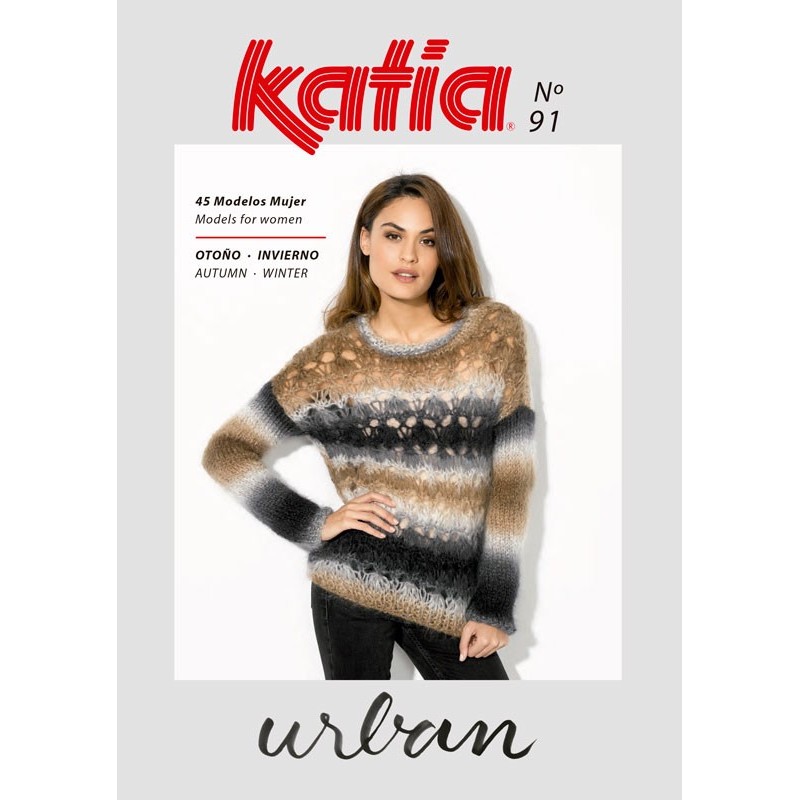  
In the Katia Woman Magazine Nº 91 Urban to autumn - winter you'll find 45 patterns for knit lovely 45 different woman creations by knitting.
No reward points for this product because there's already a discount.
Product details
Features
Season

Autumn - Winter

Category

Woman
Product description
Katia Woman Magazine Nº 91 Urban is the new magazine 2016 - 2017 by Katia in wich you'll find 45 different models to knit by knitting for autumn - winter seasons.
It include patterns with easy explanations step by step to knit sheltered urban clothes that you can use dialy but with a special touch thanks of the originlity of each Katia yarn.
In the magazine you'll find 45 patterns to knit with yarns like: :
Azteca Milrayas
Ingenua
Britannia
Ethnic
Happy
Merino Grosso
Eskimo
Quetzal
Velour
Gamma
Gravity
Ingenua
Azteca Fine
Mirage
Geisha
Stratos
Crepusculo
Matiz
Air Alpaca
Estepa
Velvet Loop
Velour Print
Merino Aran
Onix
Britannia
Darling Rainbow
Harmony
These yarns are very different amoung them, ones with long hair, fantasy, velvetly, other multicoloured... The patterns to knit with these Katia yarns will explain how make ponchos, dresses, pulls, shawls, scarves, coats and jackets.
Choose your favourite creation and the colour you like an knit with these easy patterns that you'll follow easily.
The magazine include explanations with pictures to learn to knit all kind of stitches.
Explanations in english and in spanish.
Do you like Katia Woman Magazine Nº 91 Urban? Give us your opinion!
Rating:

5

out of

5

based on

4

reviews.
Customer reviews
Nº of votes

Average experience

Rating

4

star star star star star

star star star star star

star star star star star

star star star star star