array(5) {
  [41460]=>
  array(14) {
    ["attributes_values"]=>
    array(1) {
      [1719]=>
      string(3) "200"
    }
    ["attributes"]=>
    array(1) {
      [0]=>
      int(28506)
    }
    ["price"]=>
    float(0)
    ["specific_price"]=>
    bool(false)
    ["ecotax"]=>
    float(0)
    ["weight"]=>
    float(0)
    ["quantity"]=>
    float(55)
    ["reference"]=>
    string(0) ""
    ["unit_impact"]=>
    string(8) "0.000000"
    ["minimal_quantity"]=>
    int(1)
    ["available_date"]=>
    string(10) "2021-01-14"
    ["date_formatted"]=>
    string(10) "01/14/2021"
    ["id_image"]=>
    int(50313)
    ["list"]=>
    string(7) "'28506'"
  }
  [41461]=>
  array(14) {
    ["attributes_values"]=>
    array(1) {
      [1719]=>
      string(3) "201"
    }
    ["attributes"]=>
    array(1) {
      [0]=>
      int(28507)
    }
    ["price"]=>
    float(0)
    ["specific_price"]=>
    bool(false)
    ["ecotax"]=>
    float(0)
    ["weight"]=>
    float(0)
    ["quantity"]=>
    float(42)
    ["reference"]=>
    string(0) ""
    ["unit_impact"]=>
    string(8) "0.000000"
    ["minimal_quantity"]=>
    int(1)
    ["available_date"]=>
    string(10) "2021-01-14"
    ["date_formatted"]=>
    string(10) "01/14/2021"
    ["id_image"]=>
    int(50314)
    ["list"]=>
    string(7) "'28507'"
  }
  [41462]=>
  array(14) {
    ["attributes_values"]=>
    array(1) {
      [1719]=>
      string(3) "202"
    }
    ["attributes"]=>
    array(1) {
      [0]=>
      int(28508)
    }
    ["price"]=>
    float(0)
    ["specific_price"]=>
    bool(false)
    ["ecotax"]=>
    float(0)
    ["weight"]=>
    float(0)
    ["quantity"]=>
    float(60)
    ["reference"]=>
    string(0) ""
    ["unit_impact"]=>
    string(8) "0.000000"
    ["minimal_quantity"]=>
    int(1)
    ["available_date"]=>
    string(10) "2021-01-14"
    ["date_formatted"]=>
    string(10) "01/14/2021"
    ["id_image"]=>
    int(50315)
    ["list"]=>
    string(7) "'28508'"
  }
  [41463]=>
  array(14) {
    ["attributes_values"]=>
    array(1) {
      [1719]=>
      string(3) "203"
    }
    ["attributes"]=>
    array(1) {
      [0]=>
      int(28509)
    }
    ["price"]=>
    float(0)
    ["specific_price"]=>
    bool(false)
    ["ecotax"]=>
    float(0)
    ["weight"]=>
    float(0)
    ["quantity"]=>
    float(59)
    ["reference"]=>
    string(0) ""
    ["unit_impact"]=>
    string(8) "0.000000"
    ["minimal_quantity"]=>
    int(1)
    ["available_date"]=>
    string(10) "2021-01-14"
    ["date_formatted"]=>
    string(10) "01/14/2021"
    ["id_image"]=>
    int(50316)
    ["list"]=>
    string(7) "'28509'"
  }
  [41464]=>
  array(14) {
    ["attributes_values"]=>
    array(1) {
      [1719]=>
      string(3) "204"
    }
    ["attributes"]=>
    array(1) {
      [0]=>
      int(28510)
    }
    ["price"]=>
    float(0)
    ["specific_price"]=>
    bool(false)
    ["ecotax"]=>
    float(0)
    ["weight"]=>
    float(0)
    ["quantity"]=>
    float(46)
    ["reference"]=>
    string(0) ""
    ["unit_impact"]=>
    string(8) "0.000000"
    ["minimal_quantity"]=>
    int(1)
    ["available_date"]=>
    string(10) "2021-01-14"
    ["date_formatted"]=>
    string(10) "01/14/2021"
    ["id_image"]=>
    int(50317)
    ["list"]=>
    string(7) "'28510'"
  }
}

Katia Pure Degradé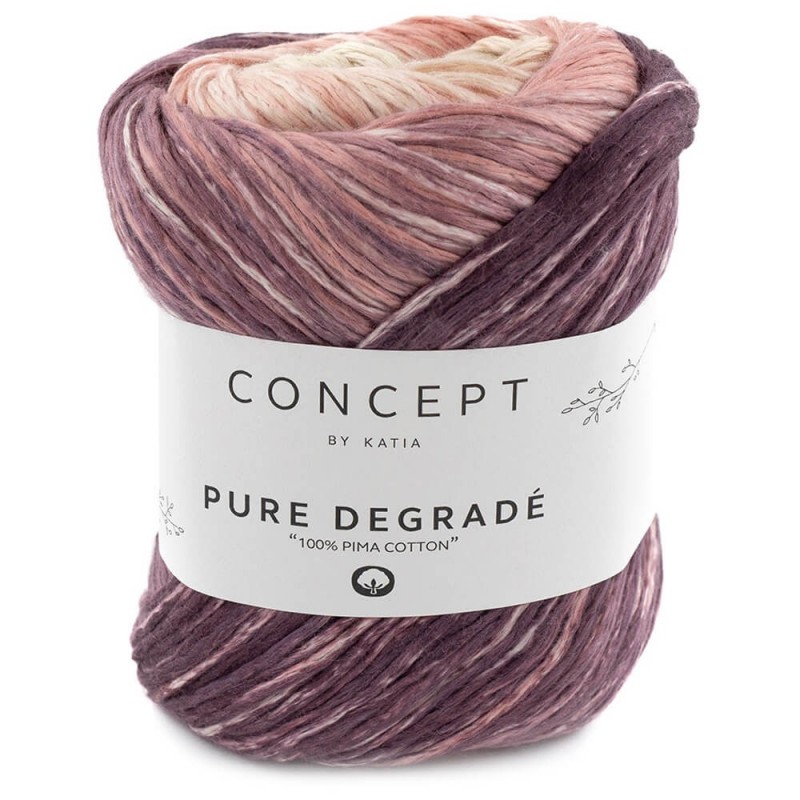  
Pure Degradé by Katia is a cotton thread from the Concept collection made of pima fibers coming from Pery. These fibers are cultivated in excellent conditions to get an extra soft and pleasant yarn, perfect for babies, children, and adults.
By buying this product you can collect up to 6 loyalty points. Your cart will total 6 points that can be converted into a voucher of €0.24.
Product details
Features
Weight

50 grams

Length

100 meters

Knitting needle

4 ½ - 5

Crochet Hook

4 ½ - 5

Season

Spring - Summer
Product description
Pure Degradé is a thread of the Concept collection by Katia made of the best pima fibers coming from Peru. This yarn presents a high-quality texture and a unique gradient color effect.
Each available color presents a gradient effect in three different colors which combine perfectly together. If you want to provide a more exclusive touch, you can combine this thread with the Katia Pure, a yarn with the same features but available in plain colors.
Katia Pure Degradé is made of:
These fibers are characterized by its length. Its thread is polished, soft, and polished, all of this resulting in a high-quality cotton yarn.
Which are the features of this yarn?
Each ball has 50 grams and 100 meters.
Its thickness is perfect to work with the 4,5 – 5 mm knitting needles or crochet hooks.
Mount 19 stitches and do 24 rows to knit a 10 x 10 cm gauge.
Washable at up to 30ºC.
Do not tumble dry.
Ironing allowed.
Amount of balls needed to:
To knit a short-sleeved sweater size 42 you will need 8 balls.
Knit perfect garments for next spring and summer. Thanks to its gradient colors you will knit unique and original garments!