array(10) {
  [38567]=>
  array(14) {
    ["attributes_values"]=>
    array(1) {
      [1528]=>
      string(2) "80"
    }
    ["attributes"]=>
    array(1) {
      [0]=>
      int(26211)
    }
    ["price"]=>
    float(0)
    ["specific_price"]=>
    array(19) {
      ["id_specific_price"]=>
      string(7) "4436905"
      ["id_specific_price_rule"]=>
      string(3) "225"
      ["id_cart"]=>
      string(1) "0"
      ["id_product"]=>
      string(4) "7198"
      ["id_shop"]=>
      string(1) "1"
      ["id_shop_group"]=>
      string(1) "0"
      ["id_currency"]=>
      string(1) "0"
      ["id_country"]=>
      string(1) "0"
      ["id_group"]=>
      string(1) "0"
      ["id_customer"]=>
      string(1) "0"
      ["id_product_attribute"]=>
      string(1) "0"
      ["price"]=>
      string(9) "-1.000000"
      ["from_quantity"]=>
      string(8) "1.000000"
      ["reduction"]=>
      string(8) "0.150000"
      ["reduction_tax"]=>
      string(1) "1"
      ["reduction_type"]=>
      string(10) "percentage"
      ["from"]=>
      string(19) "2021-01-06 00:00:00"
      ["to"]=>
      string(19) "2021-02-01 01:10:00"
      ["score"]=>
      string(2) "48"
    }
    ["ecotax"]=>
    float(0)
    ["weight"]=>
    float(0)
    ["quantity"]=>
    float(18)
    ["reference"]=>
    string(0) ""
    ["unit_impact"]=>
    string(8) "0.000000"
    ["minimal_quantity"]=>
    int(1)
    ["available_date"]=>
    string(10) "2020-06-15"
    ["date_formatted"]=>
    string(10) "06/15/2020"
    ["id_image"]=>
    int(45374)
    ["list"]=>
    string(7) "'26211'"
  }
  [38568]=>
  array(14) {
    ["attributes_values"]=>
    array(1) {
      [1528]=>
      string(2) "81"
    }
    ["attributes"]=>
    array(1) {
      [0]=>
      int(26212)
    }
    ["price"]=>
    float(0)
    ["specific_price"]=>
    array(19) {
      ["id_specific_price"]=>
      string(7) "4436905"
      ["id_specific_price_rule"]=>
      string(3) "225"
      ["id_cart"]=>
      string(1) "0"
      ["id_product"]=>
      string(4) "7198"
      ["id_shop"]=>
      string(1) "1"
      ["id_shop_group"]=>
      string(1) "0"
      ["id_currency"]=>
      string(1) "0"
      ["id_country"]=>
      string(1) "0"
      ["id_group"]=>
      string(1) "0"
      ["id_customer"]=>
      string(1) "0"
      ["id_product_attribute"]=>
      string(1) "0"
      ["price"]=>
      string(9) "-1.000000"
      ["from_quantity"]=>
      string(8) "1.000000"
      ["reduction"]=>
      string(8) "0.150000"
      ["reduction_tax"]=>
      string(1) "1"
      ["reduction_type"]=>
      string(10) "percentage"
      ["from"]=>
      string(19) "2021-01-06 00:00:00"
      ["to"]=>
      string(19) "2021-02-01 01:10:00"
      ["score"]=>
      string(2) "48"
    }
    ["ecotax"]=>
    float(0)
    ["weight"]=>
    float(0)
    ["quantity"]=>
    float(9)
    ["reference"]=>
    string(0) ""
    ["unit_impact"]=>
    string(8) "0.000000"
    ["minimal_quantity"]=>
    int(1)
    ["available_date"]=>
    string(10) "2020-06-15"
    ["date_formatted"]=>
    string(10) "06/15/2020"
    ["id_image"]=>
    int(45375)
    ["list"]=>
    string(7) "'26212'"
  }
  [38569]=>
  array(14) {
    ["attributes_values"]=>
    array(1) {
      [1528]=>
      string(2) "82"
    }
    ["attributes"]=>
    array(1) {
      [0]=>
      int(26213)
    }
    ["price"]=>
    float(0)
    ["specific_price"]=>
    array(19) {
      ["id_specific_price"]=>
      string(7) "4436905"
      ["id_specific_price_rule"]=>
      string(3) "225"
      ["id_cart"]=>
      string(1) "0"
      ["id_product"]=>
      string(4) "7198"
      ["id_shop"]=>
      string(1) "1"
      ["id_shop_group"]=>
      string(1) "0"
      ["id_currency"]=>
      string(1) "0"
      ["id_country"]=>
      string(1) "0"
      ["id_group"]=>
      string(1) "0"
      ["id_customer"]=>
      string(1) "0"
      ["id_product_attribute"]=>
      string(1) "0"
      ["price"]=>
      string(9) "-1.000000"
      ["from_quantity"]=>
      string(8) "1.000000"
      ["reduction"]=>
      string(8) "0.150000"
      ["reduction_tax"]=>
      string(1) "1"
      ["reduction_type"]=>
      string(10) "percentage"
      ["from"]=>
      string(19) "2021-01-06 00:00:00"
      ["to"]=>
      string(19) "2021-02-01 01:10:00"
      ["score"]=>
      string(2) "48"
    }
    ["ecotax"]=>
    float(0)
    ["weight"]=>
    float(0)
    ["quantity"]=>
    float(31)
    ["reference"]=>
    string(0) ""
    ["unit_impact"]=>
    string(8) "0.000000"
    ["minimal_quantity"]=>
    int(1)
    ["available_date"]=>
    string(10) "2020-06-15"
    ["date_formatted"]=>
    string(10) "06/15/2020"
    ["id_image"]=>
    int(45376)
    ["list"]=>
    string(7) "'26213'"
  }
  [38570]=>
  array(14) {
    ["attributes_values"]=>
    array(1) {
      [1528]=>
      string(2) "83"
    }
    ["attributes"]=>
    array(1) {
      [0]=>
      int(26214)
    }
    ["price"]=>
    float(0)
    ["specific_price"]=>
    array(19) {
      ["id_specific_price"]=>
      string(7) "4436905"
      ["id_specific_price_rule"]=>
      string(3) "225"
      ["id_cart"]=>
      string(1) "0"
      ["id_product"]=>
      string(4) "7198"
      ["id_shop"]=>
      string(1) "1"
      ["id_shop_group"]=>
      string(1) "0"
      ["id_currency"]=>
      string(1) "0"
      ["id_country"]=>
      string(1) "0"
      ["id_group"]=>
      string(1) "0"
      ["id_customer"]=>
      string(1) "0"
      ["id_product_attribute"]=>
      string(1) "0"
      ["price"]=>
      string(9) "-1.000000"
      ["from_quantity"]=>
      string(8) "1.000000"
      ["reduction"]=>
      string(8) "0.150000"
      ["reduction_tax"]=>
      string(1) "1"
      ["reduction_type"]=>
      string(10) "percentage"
      ["from"]=>
      string(19) "2021-01-06 00:00:00"
      ["to"]=>
      string(19) "2021-02-01 01:10:00"
      ["score"]=>
      string(2) "48"
    }
    ["ecotax"]=>
    float(0)
    ["weight"]=>
    float(0)
    ["quantity"]=>
    float(26)
    ["reference"]=>
    string(0) ""
    ["unit_impact"]=>
    string(8) "0.000000"
    ["minimal_quantity"]=>
    int(1)
    ["available_date"]=>
    string(10) "2020-06-15"
    ["date_formatted"]=>
    string(10) "06/15/2020"
    ["id_image"]=>
    int(45377)
    ["list"]=>
    string(7) "'26214'"
  }
  [38571]=>
  array(14) {
    ["attributes_values"]=>
    array(1) {
      [1528]=>
      string(2) "84"
    }
    ["attributes"]=>
    array(1) {
      [0]=>
      int(26215)
    }
    ["price"]=>
    float(0)
    ["specific_price"]=>
    array(19) {
      ["id_specific_price"]=>
      string(7) "4436905"
      ["id_specific_price_rule"]=>
      string(3) "225"
      ["id_cart"]=>
      string(1) "0"
      ["id_product"]=>
      string(4) "7198"
      ["id_shop"]=>
      string(1) "1"
      ["id_shop_group"]=>
      string(1) "0"
      ["id_currency"]=>
      string(1) "0"
      ["id_country"]=>
      string(1) "0"
      ["id_group"]=>
      string(1) "0"
      ["id_customer"]=>
      string(1) "0"
      ["id_product_attribute"]=>
      string(1) "0"
      ["price"]=>
      string(9) "-1.000000"
      ["from_quantity"]=>
      string(8) "1.000000"
      ["reduction"]=>
      string(8) "0.150000"
      ["reduction_tax"]=>
      string(1) "1"
      ["reduction_type"]=>
      string(10) "percentage"
      ["from"]=>
      string(19) "2021-01-06 00:00:00"
      ["to"]=>
      string(19) "2021-02-01 01:10:00"
      ["score"]=>
      string(2) "48"
    }
    ["ecotax"]=>
    float(0)
    ["weight"]=>
    float(0)
    ["quantity"]=>
    float(19)
    ["reference"]=>
    string(0) ""
    ["unit_impact"]=>
    string(8) "0.000000"
    ["minimal_quantity"]=>
    int(1)
    ["available_date"]=>
    string(10) "2020-06-15"
    ["date_formatted"]=>
    string(10) "06/15/2020"
    ["id_image"]=>
    int(45378)
    ["list"]=>
    string(7) "'26215'"
  }
  [38572]=>
  array(14) {
    ["attributes_values"]=>
    array(1) {
      [1528]=>
      string(2) "85"
    }
    ["attributes"]=>
    array(1) {
      [0]=>
      int(26216)
    }
    ["price"]=>
    float(0)
    ["specific_price"]=>
    array(19) {
      ["id_specific_price"]=>
      string(7) "4436905"
      ["id_specific_price_rule"]=>
      string(3) "225"
      ["id_cart"]=>
      string(1) "0"
      ["id_product"]=>
      string(4) "7198"
      ["id_shop"]=>
      string(1) "1"
      ["id_shop_group"]=>
      string(1) "0"
      ["id_currency"]=>
      string(1) "0"
      ["id_country"]=>
      string(1) "0"
      ["id_group"]=>
      string(1) "0"
      ["id_customer"]=>
      string(1) "0"
      ["id_product_attribute"]=>
      string(1) "0"
      ["price"]=>
      string(9) "-1.000000"
      ["from_quantity"]=>
      string(8) "1.000000"
      ["reduction"]=>
      string(8) "0.150000"
      ["reduction_tax"]=>
      string(1) "1"
      ["reduction_type"]=>
      string(10) "percentage"
      ["from"]=>
      string(19) "2021-01-06 00:00:00"
      ["to"]=>
      string(19) "2021-02-01 01:10:00"
      ["score"]=>
      string(2) "48"
    }
    ["ecotax"]=>
    float(0)
    ["weight"]=>
    float(0)
    ["quantity"]=>
    float(26)
    ["reference"]=>
    string(0) ""
    ["unit_impact"]=>
    string(8) "0.000000"
    ["minimal_quantity"]=>
    int(1)
    ["available_date"]=>
    string(10) "2020-06-15"
    ["date_formatted"]=>
    string(10) "06/15/2020"
    ["id_image"]=>
    int(45379)
    ["list"]=>
    string(7) "'26216'"
  }
  [38573]=>
  array(14) {
    ["attributes_values"]=>
    array(1) {
      [1528]=>
      string(2) "86"
    }
    ["attributes"]=>
    array(1) {
      [0]=>
      int(26217)
    }
    ["price"]=>
    float(0)
    ["specific_price"]=>
    array(19) {
      ["id_specific_price"]=>
      string(7) "4436905"
      ["id_specific_price_rule"]=>
      string(3) "225"
      ["id_cart"]=>
      string(1) "0"
      ["id_product"]=>
      string(4) "7198"
      ["id_shop"]=>
      string(1) "1"
      ["id_shop_group"]=>
      string(1) "0"
      ["id_currency"]=>
      string(1) "0"
      ["id_country"]=>
      string(1) "0"
      ["id_group"]=>
      string(1) "0"
      ["id_customer"]=>
      string(1) "0"
      ["id_product_attribute"]=>
      string(1) "0"
      ["price"]=>
      string(9) "-1.000000"
      ["from_quantity"]=>
      string(8) "1.000000"
      ["reduction"]=>
      string(8) "0.150000"
      ["reduction_tax"]=>
      string(1) "1"
      ["reduction_type"]=>
      string(10) "percentage"
      ["from"]=>
      string(19) "2021-01-06 00:00:00"
      ["to"]=>
      string(19) "2021-02-01 01:10:00"
      ["score"]=>
      string(2) "48"
    }
    ["ecotax"]=>
    float(0)
    ["weight"]=>
    float(0)
    ["quantity"]=>
    float(0)
    ["reference"]=>
    string(0) ""
    ["unit_impact"]=>
    string(8) "0.000000"
    ["minimal_quantity"]=>
    int(1)
    ["available_date"]=>
    string(10) "2020-06-15"
    ["date_formatted"]=>
    string(10) "06/15/2020"
    ["id_image"]=>
    int(45380)
    ["list"]=>
    string(7) "'26217'"
  }
  [38574]=>
  array(14) {
    ["attributes_values"]=>
    array(1) {
      [1528]=>
      string(2) "87"
    }
    ["attributes"]=>
    array(1) {
      [0]=>
      int(26218)
    }
    ["price"]=>
    float(0)
    ["specific_price"]=>
    array(19) {
      ["id_specific_price"]=>
      string(7) "4436905"
      ["id_specific_price_rule"]=>
      string(3) "225"
      ["id_cart"]=>
      string(1) "0"
      ["id_product"]=>
      string(4) "7198"
      ["id_shop"]=>
      string(1) "1"
      ["id_shop_group"]=>
      string(1) "0"
      ["id_currency"]=>
      string(1) "0"
      ["id_country"]=>
      string(1) "0"
      ["id_group"]=>
      string(1) "0"
      ["id_customer"]=>
      string(1) "0"
      ["id_product_attribute"]=>
      string(1) "0"
      ["price"]=>
      string(9) "-1.000000"
      ["from_quantity"]=>
      string(8) "1.000000"
      ["reduction"]=>
      string(8) "0.150000"
      ["reduction_tax"]=>
      string(1) "1"
      ["reduction_type"]=>
      string(10) "percentage"
      ["from"]=>
      string(19) "2021-01-06 00:00:00"
      ["to"]=>
      string(19) "2021-02-01 01:10:00"
      ["score"]=>
      string(2) "48"
    }
    ["ecotax"]=>
    float(0)
    ["weight"]=>
    float(0)
    ["quantity"]=>
    float(12)
    ["reference"]=>
    string(0) ""
    ["unit_impact"]=>
    string(8) "0.000000"
    ["minimal_quantity"]=>
    int(1)
    ["available_date"]=>
    string(10) "2020-06-15"
    ["date_formatted"]=>
    string(10) "06/15/2020"
    ["id_image"]=>
    int(45381)
    ["list"]=>
    string(7) "'26218'"
  }
  [38575]=>
  array(14) {
    ["attributes_values"]=>
    array(1) {
      [1528]=>
      string(2) "88"
    }
    ["attributes"]=>
    array(1) {
      [0]=>
      int(26219)
    }
    ["price"]=>
    float(0)
    ["specific_price"]=>
    array(19) {
      ["id_specific_price"]=>
      string(7) "4436905"
      ["id_specific_price_rule"]=>
      string(3) "225"
      ["id_cart"]=>
      string(1) "0"
      ["id_product"]=>
      string(4) "7198"
      ["id_shop"]=>
      string(1) "1"
      ["id_shop_group"]=>
      string(1) "0"
      ["id_currency"]=>
      string(1) "0"
      ["id_country"]=>
      string(1) "0"
      ["id_group"]=>
      string(1) "0"
      ["id_customer"]=>
      string(1) "0"
      ["id_product_attribute"]=>
      string(1) "0"
      ["price"]=>
      string(9) "-1.000000"
      ["from_quantity"]=>
      string(8) "1.000000"
      ["reduction"]=>
      string(8) "0.150000"
      ["reduction_tax"]=>
      string(1) "1"
      ["reduction_type"]=>
      string(10) "percentage"
      ["from"]=>
      string(19) "2021-01-06 00:00:00"
      ["to"]=>
      string(19) "2021-02-01 01:10:00"
      ["score"]=>
      string(2) "48"
    }
    ["ecotax"]=>
    float(0)
    ["weight"]=>
    float(0)
    ["quantity"]=>
    float(30)
    ["reference"]=>
    string(0) ""
    ["unit_impact"]=>
    string(8) "0.000000"
    ["minimal_quantity"]=>
    int(1)
    ["available_date"]=>
    string(10) "2020-06-15"
    ["date_formatted"]=>
    string(10) "06/15/2020"
    ["id_image"]=>
    int(45382)
    ["list"]=>
    string(7) "'26219'"
  }
  [38576]=>
  array(14) {
    ["attributes_values"]=>
    array(1) {
      [1528]=>
      string(2) "89"
    }
    ["attributes"]=>
    array(1) {
      [0]=>
      int(26220)
    }
    ["price"]=>
    float(0)
    ["specific_price"]=>
    array(19) {
      ["id_specific_price"]=>
      string(7) "4436905"
      ["id_specific_price_rule"]=>
      string(3) "225"
      ["id_cart"]=>
      string(1) "0"
      ["id_product"]=>
      string(4) "7198"
      ["id_shop"]=>
      string(1) "1"
      ["id_shop_group"]=>
      string(1) "0"
      ["id_currency"]=>
      string(1) "0"
      ["id_country"]=>
      string(1) "0"
      ["id_group"]=>
      string(1) "0"
      ["id_customer"]=>
      string(1) "0"
      ["id_product_attribute"]=>
      string(1) "0"
      ["price"]=>
      string(9) "-1.000000"
      ["from_quantity"]=>
      string(8) "1.000000"
      ["reduction"]=>
      string(8) "0.150000"
      ["reduction_tax"]=>
      string(1) "1"
      ["reduction_type"]=>
      string(10) "percentage"
      ["from"]=>
      string(19) "2021-01-06 00:00:00"
      ["to"]=>
      string(19) "2021-02-01 01:10:00"
      ["score"]=>
      string(2) "48"
    }
    ["ecotax"]=>
    float(0)
    ["weight"]=>
    float(0)
    ["quantity"]=>
    float(27)
    ["reference"]=>
    string(0) ""
    ["unit_impact"]=>
    string(8) "0.000000"
    ["minimal_quantity"]=>
    int(1)
    ["available_date"]=>
    string(10) "2020-06-15"
    ["date_formatted"]=>
    string(10) "06/15/2020"
    ["id_image"]=>
    int(45383)
    ["list"]=>
    string(7) "'26220'"
  }
}

Katia Sky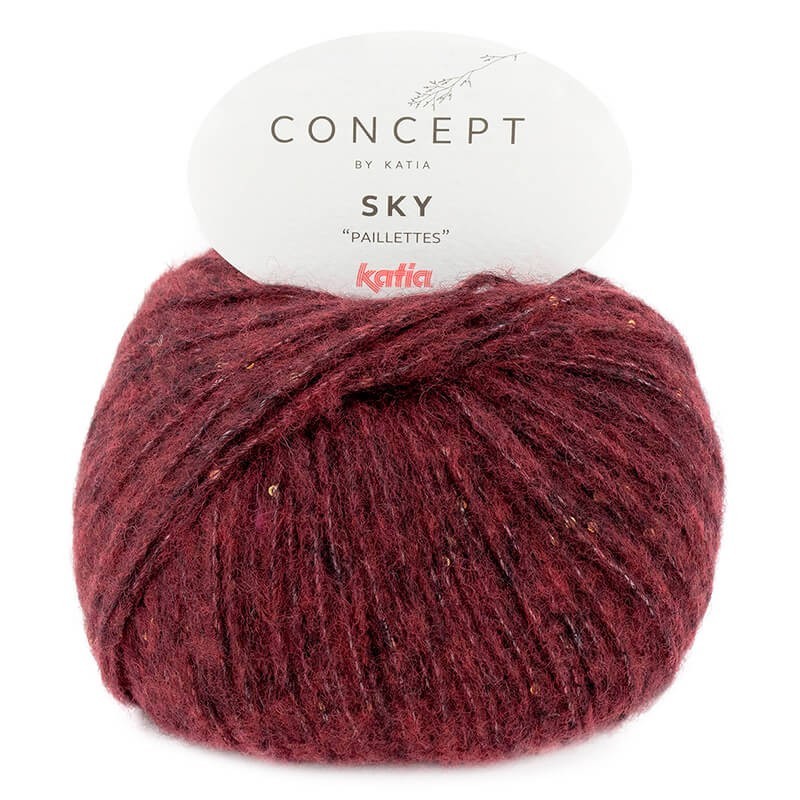  
Sky of Concept by Katia is made of a blend of fibers providing a pleasant feeling on your skin. You will love to wear this warm yarn which will protect you from the cold.
Among its fibers you will find small sequins that give a shiny finish.
No reward points for this product because there's already a discount.
Product details
Features
Weight

50 grams

Length

160 meters

Knitting needle

4 - 4 ½

Crochet Hook

4 - 4 ½

Season

Autumn - Winter
Product description
Katia Sky belongs to the Concept by Katia collection, a range based on natural fibers and skin care. This yarn is very classy. It contains soft furs around its ply and small sequins giving a special effect. You will fall in love at first sight!
It is ideal for creating lightweight but warm garments and accessories. Thanks to its composition, your garments will offer a pleasant feeling on your skin.
Katia Sky is made of:
32% Cotton
30% Merino
26% Polyamide
12% Baby Alpaca
This blend of fibers provide high-qualty results.
Which are the features of Sky from Concept by Katia?
Each ball has 50 grams and 160 metres.
Its thickness is perfect to knit with the 4 – 4.5 mm knitting needles or crochet hooks.
Mount 20 stitches and do 27 rows to knit a 10 x 10 cm gauge.
We recommend you to hand wash this yarn.
Iron at low temperature.
Do not dry.
Dry flat.
Amount of balls needed to:
To knit a long sleeve sweater size 42 you will need 7 balls approx.