array(6) {
  [41020]=>
  array(14) {
    ["attributes_values"]=>
    array(1) {
      [1678]=>
      string(4) "1113"
    }
    ["attributes"]=>
    array(1) {
      [0]=>
      int(28112)
    }
    ["price"]=>
    float(0)
    ["specific_price"]=>
    bool(false)
    ["ecotax"]=>
    float(0)
    ["weight"]=>
    float(0)
    ["quantity"]=>
    float(0)
    ["reference"]=>
    string(0) ""
    ["unit_impact"]=>
    string(8) "0.000000"
    ["minimal_quantity"]=>
    int(1)
    ["available_date"]=>
    string(10) "2020-10-31"
    ["date_formatted"]=>
    string(10) "10/31/2020"
    ["id_image"]=>
    int(49180)
    ["list"]=>
    string(7) "'28112'"
  }
  [41021]=>
  array(14) {
    ["attributes_values"]=>
    array(1) {
      [1678]=>
      string(4) "1119"
    }
    ["attributes"]=>
    array(1) {
      [0]=>
      int(28113)
    }
    ["price"]=>
    float(0)
    ["specific_price"]=>
    bool(false)
    ["ecotax"]=>
    float(0)
    ["weight"]=>
    float(0)
    ["quantity"]=>
    float(0)
    ["reference"]=>
    string(0) ""
    ["unit_impact"]=>
    string(8) "0.000000"
    ["minimal_quantity"]=>
    int(1)
    ["available_date"]=>
    string(10) "2020-10-31"
    ["date_formatted"]=>
    string(10) "10/31/2020"
    ["id_image"]=>
    int(49182)
    ["list"]=>
    string(7) "'28113'"
  }
  [41022]=>
  array(14) {
    ["attributes_values"]=>
    array(1) {
      [1678]=>
      string(4) "1222"
    }
    ["attributes"]=>
    array(1) {
      [0]=>
      int(28114)
    }
    ["price"]=>
    float(0)
    ["specific_price"]=>
    bool(false)
    ["ecotax"]=>
    float(0)
    ["weight"]=>
    float(0)
    ["quantity"]=>
    float(0)
    ["reference"]=>
    string(0) ""
    ["unit_impact"]=>
    string(8) "0.000000"
    ["minimal_quantity"]=>
    int(1)
    ["available_date"]=>
    string(10) "2020-10-31"
    ["date_formatted"]=>
    string(10) "10/31/2020"
    ["id_image"]=>
    int(49184)
    ["list"]=>
    string(7) "'28114'"
  }
  [41023]=>
  array(14) {
    ["attributes_values"]=>
    array(1) {
      [1678]=>
      string(4) "1371"
    }
    ["attributes"]=>
    array(1) {
      [0]=>
      int(28115)
    }
    ["price"]=>
    float(0)
    ["specific_price"]=>
    bool(false)
    ["ecotax"]=>
    float(0)
    ["weight"]=>
    float(0)
    ["quantity"]=>
    float(0)
    ["reference"]=>
    string(0) ""
    ["unit_impact"]=>
    string(8) "0.000000"
    ["minimal_quantity"]=>
    int(1)
    ["available_date"]=>
    string(10) "2020-10-31"
    ["date_formatted"]=>
    string(10) "10/31/2020"
    ["id_image"]=>
    int(49186)
    ["list"]=>
    string(7) "'28115'"
  }
  [41024]=>
  array(14) {
    ["attributes_values"]=>
    array(1) {
      [1678]=>
      string(4) "1428"
    }
    ["attributes"]=>
    array(1) {
      [0]=>
      int(28116)
    }
    ["price"]=>
    float(0)
    ["specific_price"]=>
    bool(false)
    ["ecotax"]=>
    float(0)
    ["weight"]=>
    float(0)
    ["quantity"]=>
    float(0)
    ["reference"]=>
    string(0) ""
    ["unit_impact"]=>
    string(8) "0.000000"
    ["minimal_quantity"]=>
    int(1)
    ["available_date"]=>
    string(10) "2020-10-31"
    ["date_formatted"]=>
    string(10) "10/31/2020"
    ["id_image"]=>
    int(49188)
    ["list"]=>
    string(7) "'28116'"
  }
  [41025]=>
  array(14) {
    ["attributes_values"]=>
    array(1) {
      [1678]=>
      string(4) "1456"
    }
    ["attributes"]=>
    array(1) {
      [0]=>
      int(28117)
    }
    ["price"]=>
    float(0)
    ["specific_price"]=>
    bool(false)
    ["ecotax"]=>
    float(0)
    ["weight"]=>
    float(0)
    ["quantity"]=>
    float(0)
    ["reference"]=>
    string(0) ""
    ["unit_impact"]=>
    string(8) "0.000000"
    ["minimal_quantity"]=>
    int(1)
    ["available_date"]=>
    string(10) "2020-10-31"
    ["date_formatted"]=>
    string(10) "10/31/2020"
    ["id_image"]=>
    int(49190)
    ["list"]=>
    string(7) "'28117'"
  }
}

Pingouin Pingo Cakes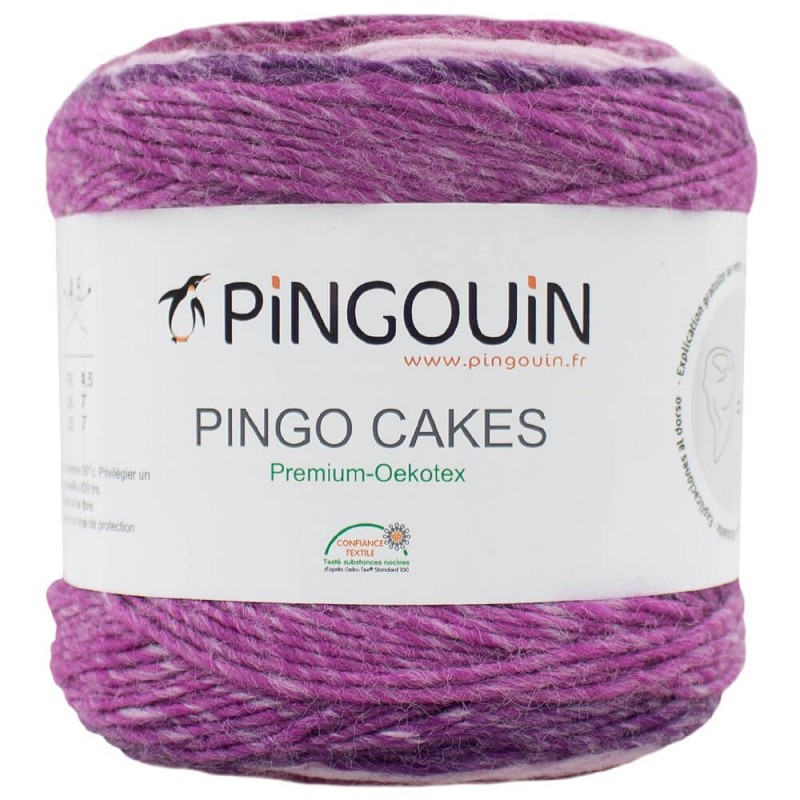  
Pingo Cakes by Pingouin is an acrylic yarn perfect to create soft and original garments for the autumn-winter season. It presents a gradient effect in different shades. Choose your favorite color combination and start working on your next projects for the whole family!
By buying this product you can collect up to 1 loyalty point. Your cart will total 1 point that can be converted into a voucher of €0.04.
Product details
Features
Weight

100 grams

Length

320 metros

Knitting needle

4 ½

Season

Autumn - Winter
Product description
Pingouin presents Pingo Cakes, a yarn made of acrylic fibers. As its name implies, it is presented in a cake format and contains enough meters to knit a collar with only one ball. You will find the pattern in English on the reverse of its label! You will also find the instructions available in Spanish, French, German and Dutch.
This is a warm yarn perfect for the autumn-winter season. It is also very soft and pleasant to the touch: your skin will not itch!
It presents a gradient design in different shades which will make you fall in love. This yarn is very easy to work with and you will find its different colors while knitting it. You will get original results presenting a striped effect. 
Pingouin Pingo Cakes is made of:
The acrylic is a synthetic fiber very similar to the natural wool, but softer and your skin will not itch while wearing garments and accessories made from this material. It also presents the same thermal properties as the natural wool, so you can create your own warm garments and accessories!
Which are the features of this yarn?
Each ball has 100 grams and around 320 meters.
Its thickness is perfect to work with the 4,5 mm knitting needles or crochet hooks.
Mount 22 stitches and do 29 rows to knit a 10 x 10 cm gauge.
Washable at up to 30ºC with the short spin cycle.
Do not tumble dry.
It is recommended to dry outdoors.
Iron at up to 110ºC.
Amount of balls needed to:
To knit a collar you will only need 1 ball.
To knit a sweater size 42 you will need 4 balls.