array(1) {
  [4157]=>
  array(14) {
    ["attributes_values"]=>
    array(1) {
      [15]=>
      string(3) "106"
    }
    ["attributes"]=>
    array(1) {
      [0]=>
      int(1211)
    }
    ["price"]=>
    float(0)
    ["specific_price"]=>
    array(19) {
      ["id_specific_price"]=>
      string(7) "4357179"
      ["id_specific_price_rule"]=>
      string(3) "131"
      ["id_cart"]=>
      string(1) "0"
      ["id_product"]=>
      string(4) "2168"
      ["id_shop"]=>
      string(1) "1"
      ["id_shop_group"]=>
      string(1) "0"
      ["id_currency"]=>
      string(1) "0"
      ["id_country"]=>
      string(1) "0"
      ["id_group"]=>
      string(1) "0"
      ["id_customer"]=>
      string(1) "0"
      ["id_product_attribute"]=>
      string(1) "0"
      ["price"]=>
      string(9) "-1.000000"
      ["from_quantity"]=>
      string(8) "1.000000"
      ["reduction"]=>
      string(8) "0.350000"
      ["reduction_tax"]=>
      string(1) "1"
      ["reduction_type"]=>
      string(10) "percentage"
      ["from"]=>
      string(19) "2018-12-16 00:00:00"
      ["to"]=>
      string(19) "2021-01-31 23:59:00"
      ["score"]=>
      string(2) "48"
    }
    ["ecotax"]=>
    float(0)
    ["weight"]=>
    float(0)
    ["quantity"]=>
    float(0)
    ["reference"]=>
    string(0) ""
    ["unit_impact"]=>
    string(8) "0.000000"
    ["minimal_quantity"]=>
    int(1)
    ["date_formatted"]=>
    string(0) ""
    ["available_date"]=>
    string(0) ""
    ["id_image"]=>
    int(6196)
    ["list"]=>
    string(6) "'1211'"
  }
}

Artico Plus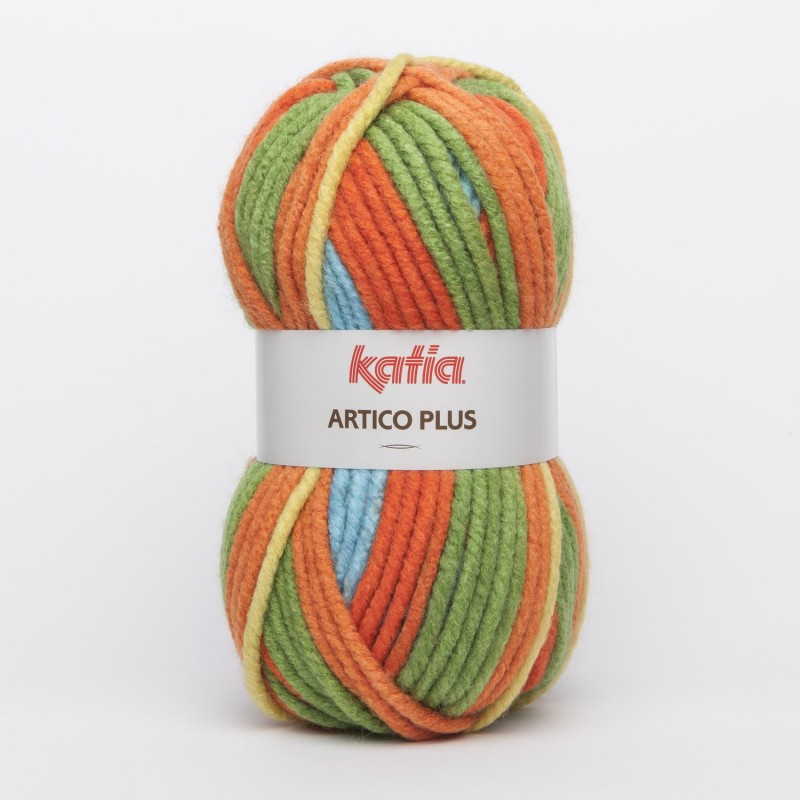  
Katia Artico Plus is a depth yarn available in speckled colours, with beautiful mixtures and combinations of colours. Special for autumn and winter seasons.
No reward points for this product because there's already a discount.
Product details
Features
Weight

200 grams

Length

100 meters

Knitting needle

10 - 12
Product description
Artico Plus by Katia Yarns offers 200 grams of speckled colours yarn, with a large variety of colours to choose. It is available in beautiful mixtures and colours' combinations.  
This yarn is perfect to make unique and original clothes due to its colouring and its tones combination that you can have knitting with the same ball.
You should know that Katia Artico Plus...
Each ball has 200 grams and 100 metres.

Its thickness is perfect to knit with the 10 - 12 mm knitting needles.

You can knit it with your hands.

You can make a beautiful collar with just 1 ball.

To knit a pull size 42 you will need 3 balls.

To make a 10 x 10 cm square, mount 7 stitches and do 10 laps.

It can be washed in the washing machine at 30º C.
Katia Artico Plus yarn is made by:
This yarn balls have a perfect finish that gives sweetness and softness to your sewing pieces, offering convenience and softness to your sheltered and warm clothes.
This new range is designed especially for autumn-winter season because of its warmth and thickness. With just one ball of this yarn, you can make a funny and original scarf to protect you from cold in the coldest days.
Do you like this yarn by Katia? Give us your opinion!
Rating:

5

out of

5

based on

4

reviews.
Customer reviews
Nº of votes

Average experience

Rating

4

star star star star star

star star star star star

star star star star star

star star star star star