array(6) {
  [6370]=>
  array(14) {
    ["attributes_values"]=>
    array(1) {
      [117]=>
      string(3) "100"
    }
    ["attributes"]=>
    array(1) {
      [0]=>
      int(2847)
    }
    ["price"]=>
    float(0)
    ["specific_price"]=>
    array(19) {
      ["id_specific_price"]=>
      string(7) "4356933"
      ["id_specific_price_rule"]=>
      string(3) "131"
      ["id_cart"]=>
      string(1) "0"
      ["id_product"]=>
      string(4) "2883"
      ["id_shop"]=>
      string(1) "1"
      ["id_shop_group"]=>
      string(1) "0"
      ["id_currency"]=>
      string(1) "0"
      ["id_country"]=>
      string(1) "0"
      ["id_group"]=>
      string(1) "0"
      ["id_customer"]=>
      string(1) "0"
      ["id_product_attribute"]=>
      string(1) "0"
      ["price"]=>
      string(9) "-1.000000"
      ["from_quantity"]=>
      string(8) "1.000000"
      ["reduction"]=>
      string(8) "0.350000"
      ["reduction_tax"]=>
      string(1) "1"
      ["reduction_type"]=>
      string(10) "percentage"
      ["from"]=>
      string(19) "2018-12-16 00:00:00"
      ["to"]=>
      string(19) "2021-01-31 23:59:00"
      ["score"]=>
      string(2) "48"
    }
    ["ecotax"]=>
    float(0)
    ["weight"]=>
    float(0)
    ["quantity"]=>
    float(0)
    ["reference"]=>
    string(0) ""
    ["unit_impact"]=>
    string(8) "0.000000"
    ["minimal_quantity"]=>
    int(1)
    ["date_formatted"]=>
    string(0) ""
    ["available_date"]=>
    string(0) ""
    ["id_image"]=>
    int(7913)
    ["list"]=>
    string(6) "'2847'"
  }
  [39863]=>
  array(14) {
    ["attributes_values"]=>
    array(1) {
      [117]=>
      string(3) "101"
    }
    ["attributes"]=>
    array(1) {
      [0]=>
      int(2848)
    }
    ["price"]=>
    float(0)
    ["specific_price"]=>
    array(19) {
      ["id_specific_price"]=>
      string(7) "4356933"
      ["id_specific_price_rule"]=>
      string(3) "131"
      ["id_cart"]=>
      string(1) "0"
      ["id_product"]=>
      string(4) "2883"
      ["id_shop"]=>
      string(1) "1"
      ["id_shop_group"]=>
      string(1) "0"
      ["id_currency"]=>
      string(1) "0"
      ["id_country"]=>
      string(1) "0"
      ["id_group"]=>
      string(1) "0"
      ["id_customer"]=>
      string(1) "0"
      ["id_product_attribute"]=>
      string(1) "0"
      ["price"]=>
      string(9) "-1.000000"
      ["from_quantity"]=>
      string(8) "1.000000"
      ["reduction"]=>
      string(8) "0.350000"
      ["reduction_tax"]=>
      string(1) "1"
      ["reduction_type"]=>
      string(10) "percentage"
      ["from"]=>
      string(19) "2018-12-16 00:00:00"
      ["to"]=>
      string(19) "2021-01-31 23:59:00"
      ["score"]=>
      string(2) "48"
    }
    ["ecotax"]=>
    float(0)
    ["weight"]=>
    float(0)
    ["quantity"]=>
    float(0)
    ["reference"]=>
    string(0) ""
    ["unit_impact"]=>
    string(8) "0.000000"
    ["minimal_quantity"]=>
    int(1)
    ["date_formatted"]=>
    string(0) ""
    ["available_date"]=>
    string(0) ""
    ["id_image"]=>
    int(47198)
    ["list"]=>
    string(6) "'2848'"
  }
  [12833]=>
  array(14) {
    ["attributes_values"]=>
    array(1) {
      [117]=>
      string(3) "104"
    }
    ["attributes"]=>
    array(1) {
      [0]=>
      int(6311)
    }
    ["price"]=>
    float(0)
    ["specific_price"]=>
    array(19) {
      ["id_specific_price"]=>
      string(7) "4356933"
      ["id_specific_price_rule"]=>
      string(3) "131"
      ["id_cart"]=>
      string(1) "0"
      ["id_product"]=>
      string(4) "2883"
      ["id_shop"]=>
      string(1) "1"
      ["id_shop_group"]=>
      string(1) "0"
      ["id_currency"]=>
      string(1) "0"
      ["id_country"]=>
      string(1) "0"
      ["id_group"]=>
      string(1) "0"
      ["id_customer"]=>
      string(1) "0"
      ["id_product_attribute"]=>
      string(1) "0"
      ["price"]=>
      string(9) "-1.000000"
      ["from_quantity"]=>
      string(8) "1.000000"
      ["reduction"]=>
      string(8) "0.350000"
      ["reduction_tax"]=>
      string(1) "1"
      ["reduction_type"]=>
      string(10) "percentage"
      ["from"]=>
      string(19) "2018-12-16 00:00:00"
      ["to"]=>
      string(19) "2021-01-31 23:59:00"
      ["score"]=>
      string(2) "48"
    }
    ["ecotax"]=>
    float(0)
    ["weight"]=>
    float(0)
    ["quantity"]=>
    float(16)
    ["reference"]=>
    string(0) ""
    ["unit_impact"]=>
    string(8) "0.000000"
    ["minimal_quantity"]=>
    int(1)
    ["available_date"]=>
    string(10) "2016-06-02"
    ["date_formatted"]=>
    string(10) "06/02/2016"
    ["id_image"]=>
    int(10130)
    ["list"]=>
    string(6) "'6311'"
  }
  [12834]=>
  array(14) {
    ["attributes_values"]=>
    array(1) {
      [117]=>
      string(3) "105"
    }
    ["attributes"]=>
    array(1) {
      [0]=>
      int(6312)
    }
    ["price"]=>
    float(0)
    ["specific_price"]=>
    array(19) {
      ["id_specific_price"]=>
      string(7) "4356933"
      ["id_specific_price_rule"]=>
      string(3) "131"
      ["id_cart"]=>
      string(1) "0"
      ["id_product"]=>
      string(4) "2883"
      ["id_shop"]=>
      string(1) "1"
      ["id_shop_group"]=>
      string(1) "0"
      ["id_currency"]=>
      string(1) "0"
      ["id_country"]=>
      string(1) "0"
      ["id_group"]=>
      string(1) "0"
      ["id_customer"]=>
      string(1) "0"
      ["id_product_attribute"]=>
      string(1) "0"
      ["price"]=>
      string(9) "-1.000000"
      ["from_quantity"]=>
      string(8) "1.000000"
      ["reduction"]=>
      string(8) "0.350000"
      ["reduction_tax"]=>
      string(1) "1"
      ["reduction_type"]=>
      string(10) "percentage"
      ["from"]=>
      string(19) "2018-12-16 00:00:00"
      ["to"]=>
      string(19) "2021-01-31 23:59:00"
      ["score"]=>
      string(2) "48"
    }
    ["ecotax"]=>
    float(0)
    ["weight"]=>
    float(0)
    ["quantity"]=>
    float(19)
    ["reference"]=>
    string(0) ""
    ["unit_impact"]=>
    string(8) "0.000000"
    ["minimal_quantity"]=>
    int(1)
    ["available_date"]=>
    string(10) "2016-06-02"
    ["date_formatted"]=>
    string(10) "06/02/2016"
    ["id_image"]=>
    int(10131)
    ["list"]=>
    string(6) "'6312'"
  }
  [12835]=>
  array(14) {
    ["attributes_values"]=>
    array(1) {
      [117]=>
      string(3) "106"
    }
    ["attributes"]=>
    array(1) {
      [0]=>
      int(6313)
    }
    ["price"]=>
    float(0)
    ["specific_price"]=>
    array(19) {
      ["id_specific_price"]=>
      string(7) "4356933"
      ["id_specific_price_rule"]=>
      string(3) "131"
      ["id_cart"]=>
      string(1) "0"
      ["id_product"]=>
      string(4) "2883"
      ["id_shop"]=>
      string(1) "1"
      ["id_shop_group"]=>
      string(1) "0"
      ["id_currency"]=>
      string(1) "0"
      ["id_country"]=>
      string(1) "0"
      ["id_group"]=>
      string(1) "0"
      ["id_customer"]=>
      string(1) "0"
      ["id_product_attribute"]=>
      string(1) "0"
      ["price"]=>
      string(9) "-1.000000"
      ["from_quantity"]=>
      string(8) "1.000000"
      ["reduction"]=>
      string(8) "0.350000"
      ["reduction_tax"]=>
      string(1) "1"
      ["reduction_type"]=>
      string(10) "percentage"
      ["from"]=>
      string(19) "2018-12-16 00:00:00"
      ["to"]=>
      string(19) "2021-01-31 23:59:00"
      ["score"]=>
      string(2) "48"
    }
    ["ecotax"]=>
    float(0)
    ["weight"]=>
    float(0)
    ["quantity"]=>
    float(18)
    ["reference"]=>
    string(0) ""
    ["unit_impact"]=>
    string(8) "0.000000"
    ["minimal_quantity"]=>
    int(1)
    ["available_date"]=>
    string(10) "2016-06-02"
    ["date_formatted"]=>
    string(10) "06/02/2016"
    ["id_image"]=>
    int(10132)
    ["list"]=>
    string(6) "'6313'"
  }
  [12836]=>
  array(14) {
    ["attributes_values"]=>
    array(1) {
      [117]=>
      string(3) "107"
    }
    ["attributes"]=>
    array(1) {
      [0]=>
      int(6314)
    }
    ["price"]=>
    float(0)
    ["specific_price"]=>
    array(19) {
      ["id_specific_price"]=>
      string(7) "4356933"
      ["id_specific_price_rule"]=>
      string(3) "131"
      ["id_cart"]=>
      string(1) "0"
      ["id_product"]=>
      string(4) "2883"
      ["id_shop"]=>
      string(1) "1"
      ["id_shop_group"]=>
      string(1) "0"
      ["id_currency"]=>
      string(1) "0"
      ["id_country"]=>
      string(1) "0"
      ["id_group"]=>
      string(1) "0"
      ["id_customer"]=>
      string(1) "0"
      ["id_product_attribute"]=>
      string(1) "0"
      ["price"]=>
      string(9) "-1.000000"
      ["from_quantity"]=>
      string(8) "1.000000"
      ["reduction"]=>
      string(8) "0.350000"
      ["reduction_tax"]=>
      string(1) "1"
      ["reduction_type"]=>
      string(10) "percentage"
      ["from"]=>
      string(19) "2018-12-16 00:00:00"
      ["to"]=>
      string(19) "2021-01-31 23:59:00"
      ["score"]=>
      string(2) "48"
    }
    ["ecotax"]=>
    float(0)
    ["weight"]=>
    float(0)
    ["quantity"]=>
    float(16)
    ["reference"]=>
    string(0) ""
    ["unit_impact"]=>
    string(8) "0.000000"
    ["minimal_quantity"]=>
    int(1)
    ["available_date"]=>
    string(10) "2016-06-02"
    ["date_formatted"]=>
    string(10) "06/02/2016"
    ["id_image"]=>
    int(10133)
    ["list"]=>
    string(6) "'6314'"
  }
}

Doudou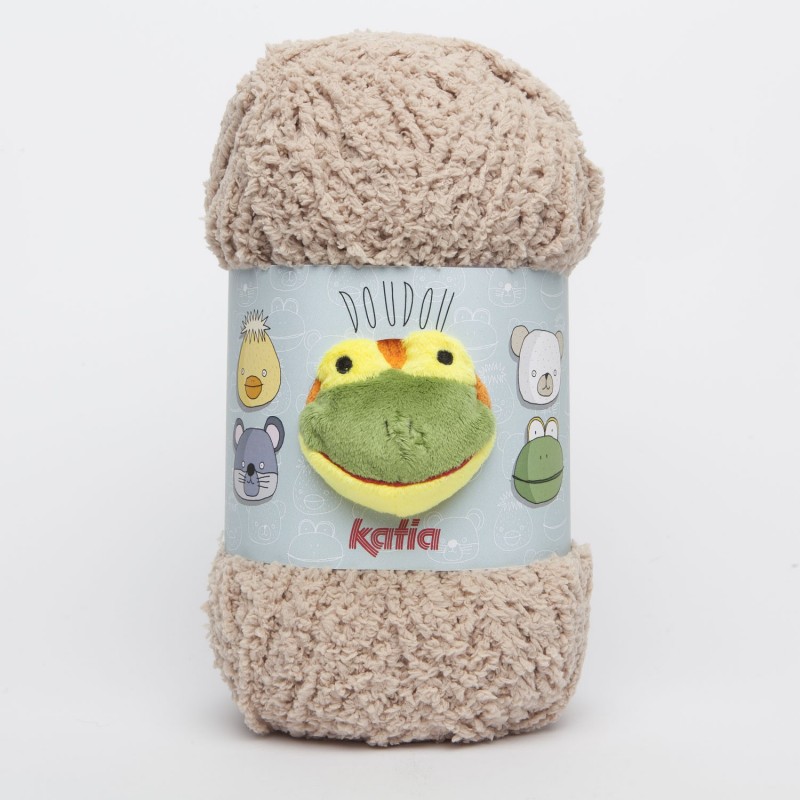  
Katia Doudou is a yarn ball made to knit a knitting baby blanket, with  an animal fluffy toy head. It has a very soft and sweet touch, so it is perfect for babies.
No reward points for this product because there's already a discount.
Product description
Doudou by Katia yarns are extra-soft yarn balls, made to knit a beautiful knitting baby blanket with the head of his/her favourite animal, it is 60 x 80 cm approximately. It has a fluffy toy head  that will be knitted to the blanket. Your baby will love it.
You can choose the favourite animal for your baby between 8 different models, each one with a different blanket colour :
Teddy in purple or blue.
Dog in brown.
Penguin in greyish blue.
Sheep in pink.
Mouse in grey.
Duck in navy blue.
Frog in beige.
The teddy bear is available in two different models, two different colours to choose the one you like most.
This kind of wool blankets will pass a lot of hours with kids, that is why Doudou's ball has a sweet and soft composition, very fluffy and warm. Moreover it keeps  they from the cold.
The yarn Katia Doudou is made by:
This material is very resistant and light, so the blankets are light, perfect for keep warm your baby. And also, it has an easy washed.
You should know that Katia Doudou...
Each ball has 150 grams and 248 metres.
Its thickness is perfect to work with the 6 - 7 mm knitting needles.
With only one ball you can make a blanket of 60 x 80 cm.
It contains the head of an animal fluffy toy, it is stitched to a piece of fabric, to make easier its application over the blanket.
To make a 10 x 10 cm square, mount 11 stitches and do 17 laps.
Knitting this sewing piece is easy, with the 7 mm knitting needles, you should mount 71 stitches and work with garter stitch until finish the ball. Close the sewing piece and sew the fluffy toy to the blanket.
It is so easy to make a perfect blanket for babies! An original and warm present for a new-born.
Do you like Katia Doudou? Give us your opinion!
Rating:

5

out of

5

based on

9

reviews.
Customer reviews
Nº of votes

Average experience

Rating

9

star star star star star

star star star star star

star star star star star

star star star star star
Page 1
Loading more results...