array(3) {
  [15208]=>
  array(14) {
    ["attributes_values"]=>
    array(1) {
      [419]=>
      string(3) "303"
    }
    ["attributes"]=>
    array(1) {
      [0]=>
      int(7585)
    }
    ["price"]=>
    float(0)
    ["specific_price"]=>
    array(19) {
      ["id_specific_price"]=>
      string(5) "12313"
      ["id_specific_price_rule"]=>
      string(1) "0"
      ["id_cart"]=>
      string(1) "0"
      ["id_product"]=>
      string(4) "2057"
      ["id_shop"]=>
      string(1) "0"
      ["id_shop_group"]=>
      string(1) "0"
      ["id_currency"]=>
      string(1) "0"
      ["id_country"]=>
      string(1) "0"
      ["id_group"]=>
      string(1) "0"
      ["id_customer"]=>
      string(1) "0"
      ["id_product_attribute"]=>
      string(1) "0"
      ["price"]=>
      string(9) "-1.000000"
      ["from_quantity"]=>
      string(8) "1.000000"
      ["reduction"]=>
      string(8) "0.400000"
      ["reduction_tax"]=>
      string(1) "1"
      ["reduction_type"]=>
      string(10) "percentage"
      ["from"]=>
      string(19) "0000-00-00 00:00:00"
      ["to"]=>
      string(19) "0000-00-00 00:00:00"
      ["score"]=>
      string(2) "32"
    }
    ["ecotax"]=>
    float(0)
    ["weight"]=>
    float(0)
    ["quantity"]=>
    float(0)
    ["reference"]=>
    string(0) ""
    ["unit_impact"]=>
    string(8) "0.000000"
    ["minimal_quantity"]=>
    int(1)
    ["available_date"]=>
    string(10) "2016-12-16"
    ["date_formatted"]=>
    string(10) "12/16/2016"
    ["id_image"]=>
    int(11602)
    ["list"]=>
    string(6) "'7585'"
  }
  [15209]=>
  array(14) {
    ["attributes_values"]=>
    array(1) {
      [419]=>
      string(3) "304"
    }
    ["attributes"]=>
    array(1) {
      [0]=>
      int(7586)
    }
    ["price"]=>
    float(0)
    ["specific_price"]=>
    array(19) {
      ["id_specific_price"]=>
      string(5) "12313"
      ["id_specific_price_rule"]=>
      string(1) "0"
      ["id_cart"]=>
      string(1) "0"
      ["id_product"]=>
      string(4) "2057"
      ["id_shop"]=>
      string(1) "0"
      ["id_shop_group"]=>
      string(1) "0"
      ["id_currency"]=>
      string(1) "0"
      ["id_country"]=>
      string(1) "0"
      ["id_group"]=>
      string(1) "0"
      ["id_customer"]=>
      string(1) "0"
      ["id_product_attribute"]=>
      string(1) "0"
      ["price"]=>
      string(9) "-1.000000"
      ["from_quantity"]=>
      string(8) "1.000000"
      ["reduction"]=>
      string(8) "0.400000"
      ["reduction_tax"]=>
      string(1) "1"
      ["reduction_type"]=>
      string(10) "percentage"
      ["from"]=>
      string(19) "0000-00-00 00:00:00"
      ["to"]=>
      string(19) "0000-00-00 00:00:00"
      ["score"]=>
      string(2) "32"
    }
    ["ecotax"]=>
    float(0)
    ["weight"]=>
    float(0)
    ["quantity"]=>
    float(4)
    ["reference"]=>
    string(0) ""
    ["unit_impact"]=>
    string(8) "0.000000"
    ["minimal_quantity"]=>
    int(1)
    ["available_date"]=>
    string(10) "2016-12-16"
    ["date_formatted"]=>
    string(10) "12/16/2016"
    ["id_image"]=>
    int(11603)
    ["list"]=>
    string(6) "'7586'"
  }
  [15210]=>
  array(14) {
    ["attributes_values"]=>
    array(1) {
      [419]=>
      string(3) "305"
    }
    ["attributes"]=>
    array(1) {
      [0]=>
      int(7587)
    }
    ["price"]=>
    float(0)
    ["specific_price"]=>
    array(19) {
      ["id_specific_price"]=>
      string(5) "12313"
      ["id_specific_price_rule"]=>
      string(1) "0"
      ["id_cart"]=>
      string(1) "0"
      ["id_product"]=>
      string(4) "2057"
      ["id_shop"]=>
      string(1) "0"
      ["id_shop_group"]=>
      string(1) "0"
      ["id_currency"]=>
      string(1) "0"
      ["id_country"]=>
      string(1) "0"
      ["id_group"]=>
      string(1) "0"
      ["id_customer"]=>
      string(1) "0"
      ["id_product_attribute"]=>
      string(1) "0"
      ["price"]=>
      string(9) "-1.000000"
      ["from_quantity"]=>
      string(8) "1.000000"
      ["reduction"]=>
      string(8) "0.400000"
      ["reduction_tax"]=>
      string(1) "1"
      ["reduction_type"]=>
      string(10) "percentage"
      ["from"]=>
      string(19) "0000-00-00 00:00:00"
      ["to"]=>
      string(19) "0000-00-00 00:00:00"
      ["score"]=>
      string(2) "32"
    }
    ["ecotax"]=>
    float(0)
    ["weight"]=>
    float(0)
    ["quantity"]=>
    float(6)
    ["reference"]=>
    string(0) ""
    ["unit_impact"]=>
    string(8) "0.000000"
    ["minimal_quantity"]=>
    int(1)
    ["available_date"]=>
    string(10) "2016-12-16"
    ["date_formatted"]=>
    string(10) "12/16/2016"
    ["id_image"]=>
    int(11604)
    ["list"]=>
    string(6) "'7587'"
  }
}

Ondas Lux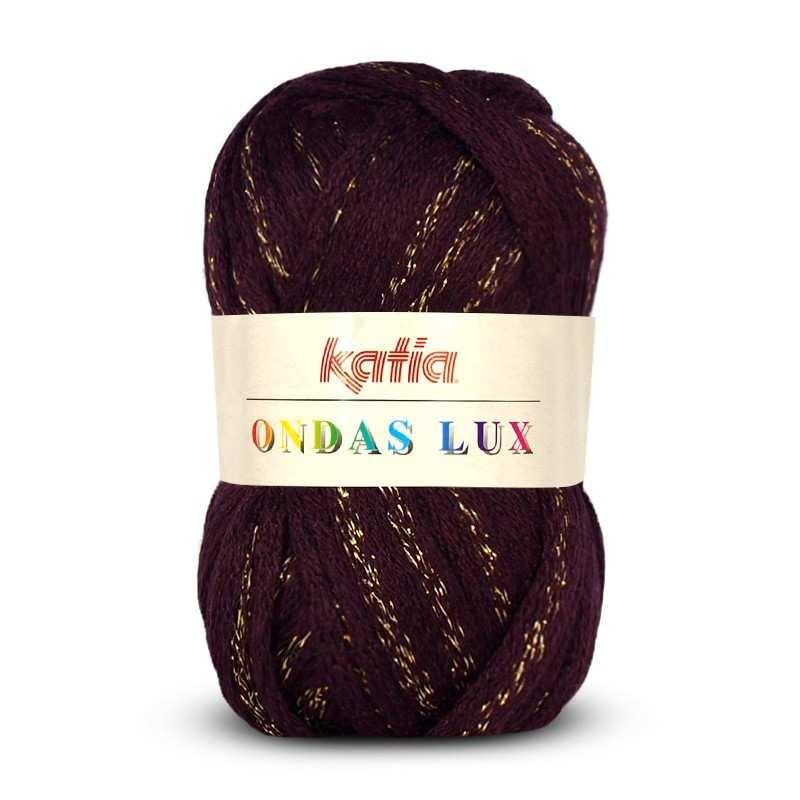  
Ondas Lux from Katia yarns is a ribbon with a metalized touch and unis colours. If you stretch this ribbon you will have a beautiful weave effect. 
No reward points for this product because there's already a discount.
Product details
Features
Weight

100 grams

Length

30 meters

Knitting needle

4 ½
Product description
Katia yarns offers this Ondas Lux, unis colour ribbon with a metalized touch.
This yarn is really especial. If you stretch it, you will be able to knit it and have a beautiful wavy effect.  
If you want to have better finish, we recommend you to knit with the 3.5 and 4 needles.
This ribbon is suitable to knit scarfs and collars. It is really easy to knit every kind of sewing pieces. You will love it.
Each ball has 100 grams and 30 metres.
Have you ever used Katia Ondas Lux? Give us your opinion! 
Rating:

5

out of

5

based on

2

reviews.
Customer reviews
Nº of votes

Average experience

Rating

2

star star star star star

star star star star star

star star star star star

star star star star star