array(9) {
  [4253]=>
  array(14) {
    ["attributes_values"]=>
    array(1) {
      [23]=>
      string(2) "62"
    }
    ["attributes"]=>
    array(1) {
      [0]=>
      int(1307)
    }
    ["price"]=>
    float(0)
    ["specific_price"]=>
    array(19) {
      ["id_specific_price"]=>
      string(7) "4390655"
      ["id_specific_price_rule"]=>
      string(3) "131"
      ["id_cart"]=>
      string(1) "0"
      ["id_product"]=>
      string(4) "2178"
      ["id_shop"]=>
      string(1) "1"
      ["id_shop_group"]=>
      string(1) "0"
      ["id_currency"]=>
      string(1) "0"
      ["id_country"]=>
      string(1) "0"
      ["id_group"]=>
      string(1) "0"
      ["id_customer"]=>
      string(1) "0"
      ["id_product_attribute"]=>
      string(1) "0"
      ["price"]=>
      string(9) "-1.000000"
      ["from_quantity"]=>
      string(8) "1.000000"
      ["reduction"]=>
      string(8) "0.350000"
      ["reduction_tax"]=>
      string(1) "1"
      ["reduction_type"]=>
      string(10) "percentage"
      ["from"]=>
      string(19) "2018-12-16 00:00:00"
      ["to"]=>
      string(19) "2021-01-31 23:59:00"
      ["score"]=>
      string(2) "48"
    }
    ["ecotax"]=>
    float(0)
    ["weight"]=>
    float(0)
    ["quantity"]=>
    float(0)
    ["reference"]=>
    string(0) ""
    ["unit_impact"]=>
    string(8) "0.000000"
    ["minimal_quantity"]=>
    int(1)
    ["date_formatted"]=>
    string(0) ""
    ["available_date"]=>
    string(0) ""
    ["id_image"]=>
    int(6292)
    ["list"]=>
    string(6) "'1307'"
  }
  [4254]=>
  array(14) {
    ["attributes_values"]=>
    array(1) {
      [23]=>
      string(2) "63"
    }
    ["attributes"]=>
    array(1) {
      [0]=>
      int(1308)
    }
    ["price"]=>
    float(0)
    ["specific_price"]=>
    array(19) {
      ["id_specific_price"]=>
      string(7) "4390655"
      ["id_specific_price_rule"]=>
      string(3) "131"
      ["id_cart"]=>
      string(1) "0"
      ["id_product"]=>
      string(4) "2178"
      ["id_shop"]=>
      string(1) "1"
      ["id_shop_group"]=>
      string(1) "0"
      ["id_currency"]=>
      string(1) "0"
      ["id_country"]=>
      string(1) "0"
      ["id_group"]=>
      string(1) "0"
      ["id_customer"]=>
      string(1) "0"
      ["id_product_attribute"]=>
      string(1) "0"
      ["price"]=>
      string(9) "-1.000000"
      ["from_quantity"]=>
      string(8) "1.000000"
      ["reduction"]=>
      string(8) "0.350000"
      ["reduction_tax"]=>
      string(1) "1"
      ["reduction_type"]=>
      string(10) "percentage"
      ["from"]=>
      string(19) "2018-12-16 00:00:00"
      ["to"]=>
      string(19) "2021-01-31 23:59:00"
      ["score"]=>
      string(2) "48"
    }
    ["ecotax"]=>
    float(0)
    ["weight"]=>
    float(0)
    ["quantity"]=>
    float(0)
    ["reference"]=>
    string(0) ""
    ["unit_impact"]=>
    string(8) "0.000000"
    ["minimal_quantity"]=>
    int(1)
    ["date_formatted"]=>
    string(0) ""
    ["available_date"]=>
    string(0) ""
    ["id_image"]=>
    int(6293)
    ["list"]=>
    string(6) "'1308'"
  }
  [4255]=>
  array(14) {
    ["attributes_values"]=>
    array(1) {
      [23]=>
      string(2) "64"
    }
    ["attributes"]=>
    array(1) {
      [0]=>
      int(1309)
    }
    ["price"]=>
    float(0)
    ["specific_price"]=>
    array(19) {
      ["id_specific_price"]=>
      string(7) "4390655"
      ["id_specific_price_rule"]=>
      string(3) "131"
      ["id_cart"]=>
      string(1) "0"
      ["id_product"]=>
      string(4) "2178"
      ["id_shop"]=>
      string(1) "1"
      ["id_shop_group"]=>
      string(1) "0"
      ["id_currency"]=>
      string(1) "0"
      ["id_country"]=>
      string(1) "0"
      ["id_group"]=>
      string(1) "0"
      ["id_customer"]=>
      string(1) "0"
      ["id_product_attribute"]=>
      string(1) "0"
      ["price"]=>
      string(9) "-1.000000"
      ["from_quantity"]=>
      string(8) "1.000000"
      ["reduction"]=>
      string(8) "0.350000"
      ["reduction_tax"]=>
      string(1) "1"
      ["reduction_type"]=>
      string(10) "percentage"
      ["from"]=>
      string(19) "2018-12-16 00:00:00"
      ["to"]=>
      string(19) "2021-01-31 23:59:00"
      ["score"]=>
      string(2) "48"
    }
    ["ecotax"]=>
    float(0)
    ["weight"]=>
    float(0)
    ["quantity"]=>
    float(0)
    ["reference"]=>
    string(0) ""
    ["unit_impact"]=>
    string(8) "0.000000"
    ["minimal_quantity"]=>
    int(1)
    ["date_formatted"]=>
    string(0) ""
    ["available_date"]=>
    string(0) ""
    ["id_image"]=>
    int(6294)
    ["list"]=>
    string(6) "'1309'"
  }
  [4258]=>
  array(14) {
    ["attributes_values"]=>
    array(1) {
      [23]=>
      string(2) "67"
    }
    ["attributes"]=>
    array(1) {
      [0]=>
      int(1312)
    }
    ["price"]=>
    float(0)
    ["specific_price"]=>
    array(19) {
      ["id_specific_price"]=>
      string(7) "4390655"
      ["id_specific_price_rule"]=>
      string(3) "131"
      ["id_cart"]=>
      string(1) "0"
      ["id_product"]=>
      string(4) "2178"
      ["id_shop"]=>
      string(1) "1"
      ["id_shop_group"]=>
      string(1) "0"
      ["id_currency"]=>
      string(1) "0"
      ["id_country"]=>
      string(1) "0"
      ["id_group"]=>
      string(1) "0"
      ["id_customer"]=>
      string(1) "0"
      ["id_product_attribute"]=>
      string(1) "0"
      ["price"]=>
      string(9) "-1.000000"
      ["from_quantity"]=>
      string(8) "1.000000"
      ["reduction"]=>
      string(8) "0.350000"
      ["reduction_tax"]=>
      string(1) "1"
      ["reduction_type"]=>
      string(10) "percentage"
      ["from"]=>
      string(19) "2018-12-16 00:00:00"
      ["to"]=>
      string(19) "2021-01-31 23:59:00"
      ["score"]=>
      string(2) "48"
    }
    ["ecotax"]=>
    float(0)
    ["weight"]=>
    float(0)
    ["quantity"]=>
    float(0)
    ["reference"]=>
    string(0) ""
    ["unit_impact"]=>
    string(8) "0.000000"
    ["minimal_quantity"]=>
    int(1)
    ["date_formatted"]=>
    string(0) ""
    ["available_date"]=>
    string(0) ""
    ["id_image"]=>
    int(6297)
    ["list"]=>
    string(6) "'1312'"
  }
  [4259]=>
  array(14) {
    ["attributes_values"]=>
    array(1) {
      [23]=>
      string(2) "68"
    }
    ["attributes"]=>
    array(1) {
      [0]=>
      int(1313)
    }
    ["price"]=>
    float(0)
    ["specific_price"]=>
    array(19) {
      ["id_specific_price"]=>
      string(7) "4390655"
      ["id_specific_price_rule"]=>
      string(3) "131"
      ["id_cart"]=>
      string(1) "0"
      ["id_product"]=>
      string(4) "2178"
      ["id_shop"]=>
      string(1) "1"
      ["id_shop_group"]=>
      string(1) "0"
      ["id_currency"]=>
      string(1) "0"
      ["id_country"]=>
      string(1) "0"
      ["id_group"]=>
      string(1) "0"
      ["id_customer"]=>
      string(1) "0"
      ["id_product_attribute"]=>
      string(1) "0"
      ["price"]=>
      string(9) "-1.000000"
      ["from_quantity"]=>
      string(8) "1.000000"
      ["reduction"]=>
      string(8) "0.350000"
      ["reduction_tax"]=>
      string(1) "1"
      ["reduction_type"]=>
      string(10) "percentage"
      ["from"]=>
      string(19) "2018-12-16 00:00:00"
      ["to"]=>
      string(19) "2021-01-31 23:59:00"
      ["score"]=>
      string(2) "48"
    }
    ["ecotax"]=>
    float(0)
    ["weight"]=>
    float(0)
    ["quantity"]=>
    float(0)
    ["reference"]=>
    string(0) ""
    ["unit_impact"]=>
    string(8) "0.000000"
    ["minimal_quantity"]=>
    int(1)
    ["date_formatted"]=>
    string(0) ""
    ["available_date"]=>
    string(0) ""
    ["id_image"]=>
    int(6298)
    ["list"]=>
    string(6) "'1313'"
  }
  [4260]=>
  array(14) {
    ["attributes_values"]=>
    array(1) {
      [23]=>
      string(2) "69"
    }
    ["attributes"]=>
    array(1) {
      [0]=>
      int(1314)
    }
    ["price"]=>
    float(0)
    ["specific_price"]=>
    array(19) {
      ["id_specific_price"]=>
      string(7) "4390655"
      ["id_specific_price_rule"]=>
      string(3) "131"
      ["id_cart"]=>
      string(1) "0"
      ["id_product"]=>
      string(4) "2178"
      ["id_shop"]=>
      string(1) "1"
      ["id_shop_group"]=>
      string(1) "0"
      ["id_currency"]=>
      string(1) "0"
      ["id_country"]=>
      string(1) "0"
      ["id_group"]=>
      string(1) "0"
      ["id_customer"]=>
      string(1) "0"
      ["id_product_attribute"]=>
      string(1) "0"
      ["price"]=>
      string(9) "-1.000000"
      ["from_quantity"]=>
      string(8) "1.000000"
      ["reduction"]=>
      string(8) "0.350000"
      ["reduction_tax"]=>
      string(1) "1"
      ["reduction_type"]=>
      string(10) "percentage"
      ["from"]=>
      string(19) "2018-12-16 00:00:00"
      ["to"]=>
      string(19) "2021-01-31 23:59:00"
      ["score"]=>
      string(2) "48"
    }
    ["ecotax"]=>
    float(0)
    ["weight"]=>
    float(0)
    ["quantity"]=>
    float(0)
    ["reference"]=>
    string(0) ""
    ["unit_impact"]=>
    string(8) "0.000000"
    ["minimal_quantity"]=>
    int(1)
    ["date_formatted"]=>
    string(0) ""
    ["available_date"]=>
    string(0) ""
    ["id_image"]=>
    int(6299)
    ["list"]=>
    string(6) "'1314'"
  }
  [4261]=>
  array(14) {
    ["attributes_values"]=>
    array(1) {
      [23]=>
      string(2) "70"
    }
    ["attributes"]=>
    array(1) {
      [0]=>
      int(1315)
    }
    ["price"]=>
    float(0)
    ["specific_price"]=>
    array(19) {
      ["id_specific_price"]=>
      string(7) "4390655"
      ["id_specific_price_rule"]=>
      string(3) "131"
      ["id_cart"]=>
      string(1) "0"
      ["id_product"]=>
      string(4) "2178"
      ["id_shop"]=>
      string(1) "1"
      ["id_shop_group"]=>
      string(1) "0"
      ["id_currency"]=>
      string(1) "0"
      ["id_country"]=>
      string(1) "0"
      ["id_group"]=>
      string(1) "0"
      ["id_customer"]=>
      string(1) "0"
      ["id_product_attribute"]=>
      string(1) "0"
      ["price"]=>
      string(9) "-1.000000"
      ["from_quantity"]=>
      string(8) "1.000000"
      ["reduction"]=>
      string(8) "0.350000"
      ["reduction_tax"]=>
      string(1) "1"
      ["reduction_type"]=>
      string(10) "percentage"
      ["from"]=>
      string(19) "2018-12-16 00:00:00"
      ["to"]=>
      string(19) "2021-01-31 23:59:00"
      ["score"]=>
      string(2) "48"
    }
    ["ecotax"]=>
    float(0)
    ["weight"]=>
    float(0)
    ["quantity"]=>
    float(0)
    ["reference"]=>
    string(0) ""
    ["unit_impact"]=>
    string(8) "0.000000"
    ["minimal_quantity"]=>
    int(1)
    ["date_formatted"]=>
    string(0) ""
    ["available_date"]=>
    string(0) ""
    ["id_image"]=>
    int(6300)
    ["list"]=>
    string(6) "'1315'"
  }
  [4262]=>
  array(14) {
    ["attributes_values"]=>
    array(1) {
      [23]=>
      string(2) "71"
    }
    ["attributes"]=>
    array(1) {
      [0]=>
      int(1316)
    }
    ["price"]=>
    float(0)
    ["specific_price"]=>
    array(19) {
      ["id_specific_price"]=>
      string(7) "4390655"
      ["id_specific_price_rule"]=>
      string(3) "131"
      ["id_cart"]=>
      string(1) "0"
      ["id_product"]=>
      string(4) "2178"
      ["id_shop"]=>
      string(1) "1"
      ["id_shop_group"]=>
      string(1) "0"
      ["id_currency"]=>
      string(1) "0"
      ["id_country"]=>
      string(1) "0"
      ["id_group"]=>
      string(1) "0"
      ["id_customer"]=>
      string(1) "0"
      ["id_product_attribute"]=>
      string(1) "0"
      ["price"]=>
      string(9) "-1.000000"
      ["from_quantity"]=>
      string(8) "1.000000"
      ["reduction"]=>
      string(8) "0.350000"
      ["reduction_tax"]=>
      string(1) "1"
      ["reduction_type"]=>
      string(10) "percentage"
      ["from"]=>
      string(19) "2018-12-16 00:00:00"
      ["to"]=>
      string(19) "2021-01-31 23:59:00"
      ["score"]=>
      string(2) "48"
    }
    ["ecotax"]=>
    float(0)
    ["weight"]=>
    float(0)
    ["quantity"]=>
    float(0)
    ["reference"]=>
    string(0) ""
    ["unit_impact"]=>
    string(8) "0.000000"
    ["minimal_quantity"]=>
    int(1)
    ["date_formatted"]=>
    string(0) ""
    ["available_date"]=>
    string(0) ""
    ["id_image"]=>
    int(6301)
    ["list"]=>
    string(6) "'1316'"
  }
  [12859]=>
  array(14) {
    ["attributes_values"]=>
    array(1) {
      [23]=>
      string(2) "72"
    }
    ["attributes"]=>
    array(1) {
      [0]=>
      int(6337)
    }
    ["price"]=>
    float(0)
    ["specific_price"]=>
    array(19) {
      ["id_specific_price"]=>
      string(7) "4390655"
      ["id_specific_price_rule"]=>
      string(3) "131"
      ["id_cart"]=>
      string(1) "0"
      ["id_product"]=>
      string(4) "2178"
      ["id_shop"]=>
      string(1) "1"
      ["id_shop_group"]=>
      string(1) "0"
      ["id_currency"]=>
      string(1) "0"
      ["id_country"]=>
      string(1) "0"
      ["id_group"]=>
      string(1) "0"
      ["id_customer"]=>
      string(1) "0"
      ["id_product_attribute"]=>
      string(1) "0"
      ["price"]=>
      string(9) "-1.000000"
      ["from_quantity"]=>
      string(8) "1.000000"
      ["reduction"]=>
      string(8) "0.350000"
      ["reduction_tax"]=>
      string(1) "1"
      ["reduction_type"]=>
      string(10) "percentage"
      ["from"]=>
      string(19) "2018-12-16 00:00:00"
      ["to"]=>
      string(19) "2021-01-31 23:59:00"
      ["score"]=>
      string(2) "48"
    }
    ["ecotax"]=>
    float(0)
    ["weight"]=>
    float(0)
    ["quantity"]=>
    float(0)
    ["reference"]=>
    string(0) ""
    ["unit_impact"]=>
    string(8) "0.000000"
    ["minimal_quantity"]=>
    int(1)
    ["available_date"]=>
    string(10) "2016-06-02"
    ["date_formatted"]=>
    string(10) "06/02/2016"
    ["id_image"]=>
    int(10156)
    ["list"]=>
    string(6) "'6337'"
  }
}

Pampa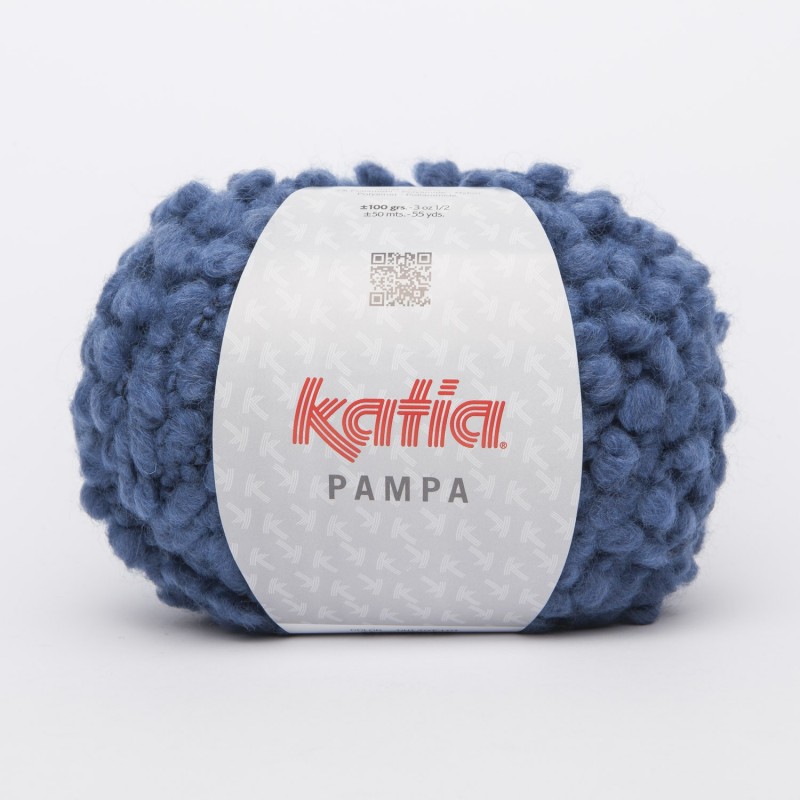  
Katia Pampa is a very warm fantasy yarn, with little pompoms in its strand that provide your sewing pieces with a different and original touch.
No reward points for this product because there's already a discount.
Product details
Features
Weight

100 grams

Length

50 meters

Knitting needle

10 - 12
Product description
Pampa by Katia yarns is a curly depth wool with a special touch, the weaves are very attractive thanks to the little pompoms that its strand forms.
The strand of Pampa yarn contains little pompoms that will provide your sewing pieces with a special touch, giving them a different and original texture, with a curly aspect.
This fantasy yarn is designed to coldest seasons like autumn and winter.
The yarn Katia Pampa is made by:
51% Virgin wool
46% Acrylic
3% Polyamide
This combination of fibres will give a warm yarn, soft and nice to knit your favourite clothes.
You should know that Katia Pampa...
Each ball of Pampa has 100 grams and 50 metres.
Its thickness is recommended to work with the 10 - 12 mm knitting needles.
You can knit a warm collar with just one ball.
To make a long sleeves pull size 42, you will need 5 balls.
It can be washed at 30ºC.
It can be ironed.
This range offers intense colours and also it will have different and funny textures that will provide your sewing pieces with unique characteristics.
You will find patterns to work with this yarn in magazines like Katia Woman Magazine Urban Nº84 or Katia Woman and Man Magazine Complements Nº9.
Do you like Katia Pampa? Give us your opinion!
Rating:

5

out of

5

based on

3

reviews.
Customer reviews
Nº of votes

Average experience

Rating

3

star star star star_half star_border

star star star star_half star_border

star star star star_half star_border

star star star star star