Katia Pisco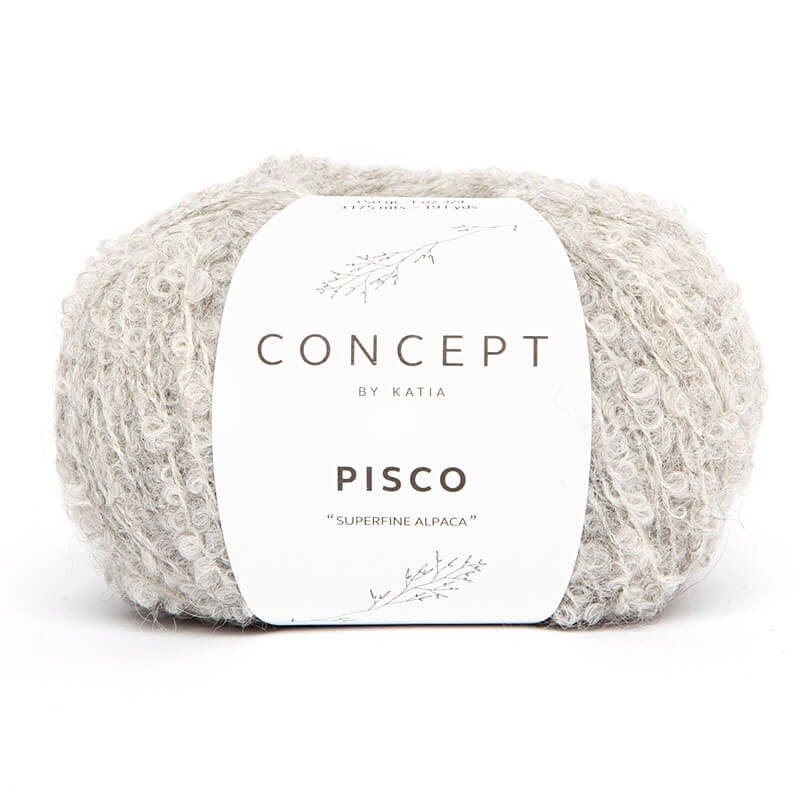  
Katia Pisco is a yarn from the range Concept by Katia made by superfine alpaca fibre, that gives high quality, soft and warm clothes. Its thin curls offer a really special curly texture.
No reward points for this product because there's already a discount.
Product details
Features
Weight

50 grams

Length

175 meters

Knitting needle

4 - 4 ½

Season

Autumn - Winter

Needles Size

4 mm
4,5 mm
Product description
Pisco by Katia yarns is a yarn from the range Concept by Katia, that offers yarns inspired in the naturality and the huge properties of these yarns that have not been treated.
This yarn offer a curly texture with a thin curl that makes simple and original clothes thought to wear in autumn and winter.
The yarn Katia Pisco is made by:
90% Superfine Alpaca
10% Polyamide
The superfine alpaca fibre is very thin. It gives an extremely thin coat, but it is very warm, so it is perfect to knit light, but warm, clothes and complements.
Its thin hair is an excellent thermal regulator, so it will keep you warm in the autumn and winter coldest days.
It has a subtle natural shine, thick but light, so your clothes will be really fluffy and its curls give little balls on your clothes.
You should know that Pisco by Katia yarns...
Each ball has 50 grams and 175 metres.
Its thickness is perfect to knit with the 4 - 4.5 mm knitting needles.
To knit a long sleeves pull size 42 you will need 4 balls.
To make a 10 x 10 cm square you have to mount 16 stitches and do 23 laps.
It is recommended to wash it by hand to preserve its properties.
It is suitable to be ironed at low temperature.
Do not dry it in the dryer.
We recommend you to dry it horizontally.
You can knit all kind of complements or clothes like pulls, shawls, ponchos, foulards, jackets and more with an elegant touch due to its naturality and texture.
Have you ever knitted with Pisco by Katia? Give us your opinion!