array(4) {
  [18200]=>
  array(14) {
    ["attributes_values"]=>
    array(1) {
      [591]=>
      string(2) "52"
    }
    ["attributes"]=>
    array(1) {
      [0]=>
      int(9815)
    }
    ["price"]=>
    float(0)
    ["specific_price"]=>
    bool(false)
    ["ecotax"]=>
    float(0)
    ["weight"]=>
    float(0)
    ["quantity"]=>
    float(10)
    ["reference"]=>
    string(0) ""
    ["unit_impact"]=>
    string(8) "0.000000"
    ["minimal_quantity"]=>
    int(1)
    ["available_date"]=>
    string(10) "2017-06-07"
    ["date_formatted"]=>
    string(10) "06/07/2017"
    ["id_image"]=>
    int(15170)
    ["list"]=>
    string(6) "'9815'"
  }
  [18205]=>
  array(14) {
    ["attributes_values"]=>
    array(1) {
      [591]=>
      string(2) "57"
    }
    ["attributes"]=>
    array(1) {
      [0]=>
      int(9820)
    }
    ["price"]=>
    float(0)
    ["specific_price"]=>
    bool(false)
    ["ecotax"]=>
    float(0)
    ["weight"]=>
    float(0)
    ["quantity"]=>
    float(1)
    ["reference"]=>
    string(0) ""
    ["unit_impact"]=>
    string(8) "0.000000"
    ["minimal_quantity"]=>
    int(1)
    ["available_date"]=>
    string(10) "2017-06-07"
    ["date_formatted"]=>
    string(10) "06/07/2017"
    ["id_image"]=>
    int(15175)
    ["list"]=>
    string(6) "'9820'"
  }
  [24252]=>
  array(14) {
    ["attributes_values"]=>
    array(1) {
      [591]=>
      string(2) "59"
    }
    ["attributes"]=>
    array(1) {
      [0]=>
      int(15107)
    }
    ["price"]=>
    float(0)
    ["specific_price"]=>
    bool(false)
    ["ecotax"]=>
    float(0)
    ["weight"]=>
    float(0)
    ["quantity"]=>
    float(2)
    ["reference"]=>
    string(0) ""
    ["unit_impact"]=>
    string(8) "0.000000"
    ["minimal_quantity"]=>
    int(1)
    ["available_date"]=>
    string(10) "2018-07-25"
    ["date_formatted"]=>
    string(10) "07/25/2018"
    ["id_image"]=>
    int(24254)
    ["list"]=>
    string(7) "'15107'"
  }
  [24253]=>
  array(14) {
    ["attributes_values"]=>
    array(1) {
      [591]=>
      string(2) "60"
    }
    ["attributes"]=>
    array(1) {
      [0]=>
      int(15108)
    }
    ["price"]=>
    float(0)
    ["specific_price"]=>
    bool(false)
    ["ecotax"]=>
    float(0)
    ["weight"]=>
    float(0)
    ["quantity"]=>
    float(39)
    ["reference"]=>
    string(0) ""
    ["unit_impact"]=>
    string(8) "0.000000"
    ["minimal_quantity"]=>
    int(1)
    ["available_date"]=>
    string(10) "2018-07-25"
    ["date_formatted"]=>
    string(10) "07/25/2018"
    ["id_image"]=>
    int(24253)
    ["list"]=>
    string(7) "'15108'"
  }
}

Katia Shadow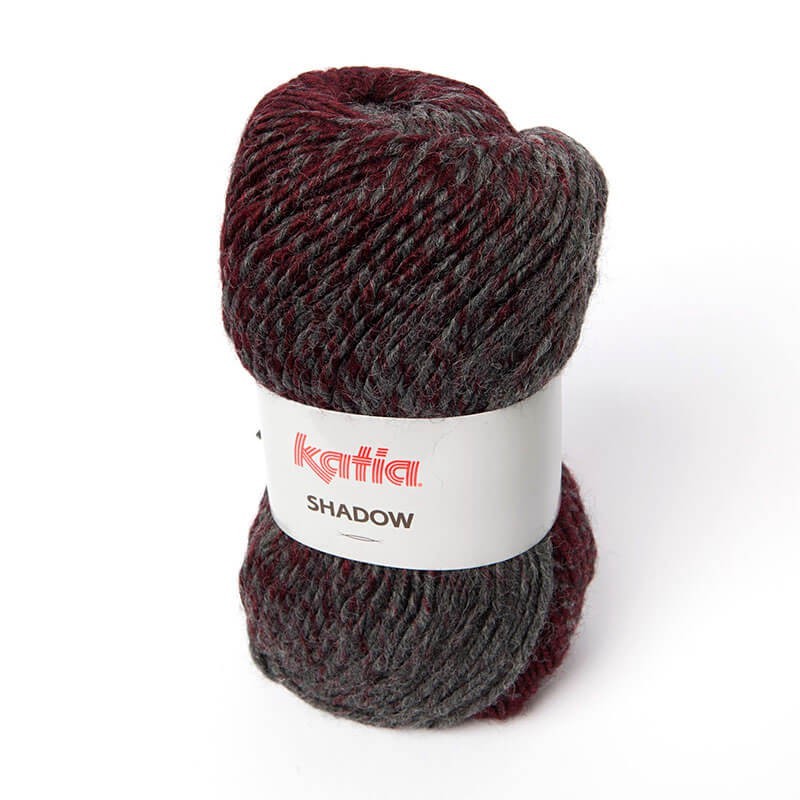  
Katia Shadow is a yarn with some colour mixtures that give a shading effect on your clothes. Its colours are combined with other darker that give a shade result. It is a warm yarn, perfect for autumn and winter.
By buying this product you can collect up to 2 loyalty points. Your cart will total 2 points that can be converted into a voucher of €0.08.
Product details
Features
Weight

100 grams

Length

190 meters

Knitting needle

4 ½ - 5

Crochet Hook

4 - 4 ½

Season

Autumn - Winter
Product description
Shadow by Katia yarns is a speckled yarn that has some shade effect colour mixtures.
It is available in nine different colours that offer darker colour mixtures that give this shading effect to your sewing pieces.
This yarn is perfect to knit clothes and complements for you and your kids. You can knit caps, scarfs, ponchos, capes, pulls or jackets.
The yarn Katia Shadow is made by:
This fibres mixture gives high quality clothes with lots of advantages of the acrylic fibres. That gives resistance, so you can wash it in the washing machine and wear it every day. The acrylic fibre prevents de little balls that the wool forms on your clothes, but it is also really warm and comfortable to wear.
Its composition and its colouring are perfect for kids and adults.
You should know that Shadow by Katia...
Each Shadow ball has 100 grams and 190 metres.
Its thickness is perfect to knit with the 4.5 - 5 mm knitting needles or the 4 - 4.5 crochet hooks.
To knit a long sleeves pull size 42 you need 4 balls.
To make a 10 x 10 cm square, mount 13 stitches and do 17 laps.
It is suitable to be washed in the machine at 30ºC maximum.
You can iron it at low temperatures.
Do not dry it in the dryer.
We recommend you to dry it horizontally.
This yarn offers original and warm clothes. Its dark colours give a shading effect on your clothes with an original striped design. 
Have you ever knitted with Shadow by Katia yarns? Give us your opinion!
Rating:

5

out of

5

based on

16

reviews.
Customer reviews
Nº of votes

Average experience

Rating

16

star star star star star

star star star star star

star star star star star

star star star star star
Page 1
Loading more results...