array(5) {
  [15562]=>
  array(14) {
    ["attributes_values"]=>
    array(1) {
      [456]=>
      string(3) "300"
    }
    ["attributes"]=>
    array(1) {
      [0]=>
      int(7876)
    }
    ["price"]=>
    float(0)
    ["specific_price"]=>
    array(19) {
      ["id_specific_price"]=>
      string(6) "720763"
      ["id_specific_price_rule"]=>
      string(1) "0"
      ["id_cart"]=>
      string(1) "0"
      ["id_product"]=>
      string(4) "3517"
      ["id_shop"]=>
      string(1) "0"
      ["id_shop_group"]=>
      string(1) "0"
      ["id_currency"]=>
      string(1) "0"
      ["id_country"]=>
      string(1) "0"
      ["id_group"]=>
      string(1) "0"
      ["id_customer"]=>
      string(1) "0"
      ["id_product_attribute"]=>
      string(1) "0"
      ["price"]=>
      string(9) "-1.000000"
      ["from_quantity"]=>
      string(8) "1.000000"
      ["reduction"]=>
      string(8) "0.250000"
      ["reduction_tax"]=>
      string(1) "1"
      ["reduction_type"]=>
      string(10) "percentage"
      ["from"]=>
      string(19) "0000-00-00 00:00:00"
      ["to"]=>
      string(19) "0000-00-00 00:00:00"
      ["score"]=>
      string(2) "32"
    }
    ["ecotax"]=>
    float(0)
    ["weight"]=>
    float(0)
    ["quantity"]=>
    float(13)
    ["reference"]=>
    string(0) ""
    ["unit_impact"]=>
    string(8) "0.000000"
    ["minimal_quantity"]=>
    int(1)
    ["available_date"]=>
    string(10) "2016-12-22"
    ["date_formatted"]=>
    string(10) "12/22/2016"
    ["id_image"]=>
    int(11965)
    ["list"]=>
    string(6) "'7876'"
  }
  [15566]=>
  array(14) {
    ["attributes_values"]=>
    array(1) {
      [456]=>
      string(3) "304"
    }
    ["attributes"]=>
    array(1) {
      [0]=>
      int(7880)
    }
    ["price"]=>
    float(0)
    ["specific_price"]=>
    array(19) {
      ["id_specific_price"]=>
      string(6) "720763"
      ["id_specific_price_rule"]=>
      string(1) "0"
      ["id_cart"]=>
      string(1) "0"
      ["id_product"]=>
      string(4) "3517"
      ["id_shop"]=>
      string(1) "0"
      ["id_shop_group"]=>
      string(1) "0"
      ["id_currency"]=>
      string(1) "0"
      ["id_country"]=>
      string(1) "0"
      ["id_group"]=>
      string(1) "0"
      ["id_customer"]=>
      string(1) "0"
      ["id_product_attribute"]=>
      string(1) "0"
      ["price"]=>
      string(9) "-1.000000"
      ["from_quantity"]=>
      string(8) "1.000000"
      ["reduction"]=>
      string(8) "0.250000"
      ["reduction_tax"]=>
      string(1) "1"
      ["reduction_type"]=>
      string(10) "percentage"
      ["from"]=>
      string(19) "0000-00-00 00:00:00"
      ["to"]=>
      string(19) "0000-00-00 00:00:00"
      ["score"]=>
      string(2) "32"
    }
    ["ecotax"]=>
    float(0)
    ["weight"]=>
    float(0)
    ["quantity"]=>
    float(6)
    ["reference"]=>
    string(0) ""
    ["unit_impact"]=>
    string(8) "0.000000"
    ["minimal_quantity"]=>
    int(1)
    ["available_date"]=>
    string(10) "2016-12-22"
    ["date_formatted"]=>
    string(10) "12/22/2016"
    ["id_image"]=>
    int(11969)
    ["list"]=>
    string(6) "'7880'"
  }
  [15567]=>
  array(14) {
    ["attributes_values"]=>
    array(1) {
      [456]=>
      string(3) "305"
    }
    ["attributes"]=>
    array(1) {
      [0]=>
      int(7881)
    }
    ["price"]=>
    float(0)
    ["specific_price"]=>
    array(19) {
      ["id_specific_price"]=>
      string(6) "720763"
      ["id_specific_price_rule"]=>
      string(1) "0"
      ["id_cart"]=>
      string(1) "0"
      ["id_product"]=>
      string(4) "3517"
      ["id_shop"]=>
      string(1) "0"
      ["id_shop_group"]=>
      string(1) "0"
      ["id_currency"]=>
      string(1) "0"
      ["id_country"]=>
      string(1) "0"
      ["id_group"]=>
      string(1) "0"
      ["id_customer"]=>
      string(1) "0"
      ["id_product_attribute"]=>
      string(1) "0"
      ["price"]=>
      string(9) "-1.000000"
      ["from_quantity"]=>
      string(8) "1.000000"
      ["reduction"]=>
      string(8) "0.250000"
      ["reduction_tax"]=>
      string(1) "1"
      ["reduction_type"]=>
      string(10) "percentage"
      ["from"]=>
      string(19) "0000-00-00 00:00:00"
      ["to"]=>
      string(19) "0000-00-00 00:00:00"
      ["score"]=>
      string(2) "32"
    }
    ["ecotax"]=>
    float(0)
    ["weight"]=>
    float(0)
    ["quantity"]=>
    float(0)
    ["reference"]=>
    string(0) ""
    ["unit_impact"]=>
    string(8) "0.000000"
    ["minimal_quantity"]=>
    int(1)
    ["available_date"]=>
    string(10) "2016-12-22"
    ["date_formatted"]=>
    string(10) "12/22/2016"
    ["id_image"]=>
    int(11970)
    ["list"]=>
    string(6) "'7881'"
  }
  [15570]=>
  array(14) {
    ["attributes_values"]=>
    array(1) {
      [456]=>
      string(3) "308"
    }
    ["attributes"]=>
    array(1) {
      [0]=>
      int(7884)
    }
    ["price"]=>
    float(0)
    ["specific_price"]=>
    array(19) {
      ["id_specific_price"]=>
      string(6) "720763"
      ["id_specific_price_rule"]=>
      string(1) "0"
      ["id_cart"]=>
      string(1) "0"
      ["id_product"]=>
      string(4) "3517"
      ["id_shop"]=>
      string(1) "0"
      ["id_shop_group"]=>
      string(1) "0"
      ["id_currency"]=>
      string(1) "0"
      ["id_country"]=>
      string(1) "0"
      ["id_group"]=>
      string(1) "0"
      ["id_customer"]=>
      string(1) "0"
      ["id_product_attribute"]=>
      string(1) "0"
      ["price"]=>
      string(9) "-1.000000"
      ["from_quantity"]=>
      string(8) "1.000000"
      ["reduction"]=>
      string(8) "0.250000"
      ["reduction_tax"]=>
      string(1) "1"
      ["reduction_type"]=>
      string(10) "percentage"
      ["from"]=>
      string(19) "0000-00-00 00:00:00"
      ["to"]=>
      string(19) "0000-00-00 00:00:00"
      ["score"]=>
      string(2) "32"
    }
    ["ecotax"]=>
    float(0)
    ["weight"]=>
    float(0)
    ["quantity"]=>
    float(0)
    ["reference"]=>
    string(0) ""
    ["unit_impact"]=>
    string(8) "0.000000"
    ["minimal_quantity"]=>
    int(1)
    ["available_date"]=>
    string(10) "2016-12-22"
    ["date_formatted"]=>
    string(10) "12/22/2016"
    ["id_image"]=>
    int(11973)
    ["list"]=>
    string(6) "'7884'"
  }
  [15571]=>
  array(14) {
    ["attributes_values"]=>
    array(1) {
      [456]=>
      string(3) "309"
    }
    ["attributes"]=>
    array(1) {
      [0]=>
      int(7885)
    }
    ["price"]=>
    float(0)
    ["specific_price"]=>
    array(19) {
      ["id_specific_price"]=>
      string(6) "720763"
      ["id_specific_price_rule"]=>
      string(1) "0"
      ["id_cart"]=>
      string(1) "0"
      ["id_product"]=>
      string(4) "3517"
      ["id_shop"]=>
      string(1) "0"
      ["id_shop_group"]=>
      string(1) "0"
      ["id_currency"]=>
      string(1) "0"
      ["id_country"]=>
      string(1) "0"
      ["id_group"]=>
      string(1) "0"
      ["id_customer"]=>
      string(1) "0"
      ["id_product_attribute"]=>
      string(1) "0"
      ["price"]=>
      string(9) "-1.000000"
      ["from_quantity"]=>
      string(8) "1.000000"
      ["reduction"]=>
      string(8) "0.250000"
      ["reduction_tax"]=>
      string(1) "1"
      ["reduction_type"]=>
      string(10) "percentage"
      ["from"]=>
      string(19) "0000-00-00 00:00:00"
      ["to"]=>
      string(19) "0000-00-00 00:00:00"
      ["score"]=>
      string(2) "32"
    }
    ["ecotax"]=>
    float(0)
    ["weight"]=>
    float(0)
    ["quantity"]=>
    float(0)
    ["reference"]=>
    string(0) ""
    ["unit_impact"]=>
    string(8) "0.000000"
    ["minimal_quantity"]=>
    int(1)
    ["available_date"]=>
    string(10) "2016-12-22"
    ["date_formatted"]=>
    string(10) "12/22/2016"
    ["id_image"]=>
    int(11974)
    ["list"]=>
    string(6) "'7885'"
  }
}

Katia Tropicana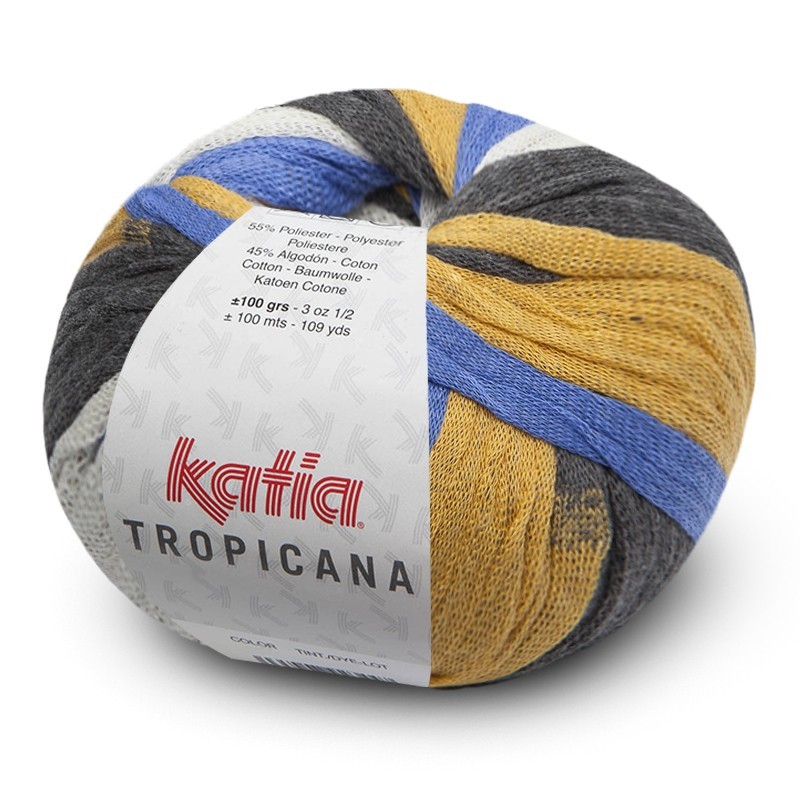  
Katia Tropicana is a depth informal yarn perfect to knit very original complement and accessories like bags, carpets, cushions and more.  
No reward points for this product because there's already a discount.
Product details
Features
Weight

100 grams

Length

100 meters

Knitting needle

8 - 9

Crochet Hook

7 - 8
Product description
Tropicana from Katia Yarns is a depth yarn perfect to knit projects like carpets, cushions, bags and a lot of complements or accessories to your house.
This speckled or coordinate yarn offers a colour mixture that forms stretches of different colours but perfectly combined. It starts with soft and elegant tones and goes to vibrant tones.
Katia Tropicana is made by:
This fibres offer very resistant cloths, perfects to knit durable accessories for your house. In addition, its finish is really soft and elegant.
You should know that Tropicana from Katia…
Each ball has 100 grams and 100 metres.

This yarn is perfect to knit with

8 - 9 mm needles and 7 - 8 mm crochet hooks.

You will need 5 balls to knit a short sleeves pull size 42.

You will have to mount 10 stitches and do 12 laps to knit a 10 x 10 cm square.

This yarn can be washed in the washing machine at 30ºC.

You can iron it

We do not recommend you to dry it in the dryer, but horizontally.
Tropicana offers really vibrant colours to knit your accessories. But also, you will be able to knit other projects with the darker colours offers by this yarn.
Have you ever used the yarn Tropicana from Katia? Give us your opinion!  
Rating:

5

out of

5

based on

4

reviews.
Customer reviews
Nº of votes

Average experience

Rating

4

star star star star star

star star star star star

star star star star star

star star star star star