array(12) {
  [19378]=>
  array(14) {
    ["attributes_values"]=>
    array(1) {
      [657]=>
      string(1) "5"
    }
    ["attributes"]=>
    array(1) {
      [0]=>
      int(10830)
    }
    ["price"]=>
    float(0)
    ["specific_price"]=>
    array(19) {
      ["id_specific_price"]=>
      string(7) "4800070"
      ["id_specific_price_rule"]=>
      string(3) "131"
      ["id_cart"]=>
      string(1) "0"
      ["id_product"]=>
      string(4) "3845"
      ["id_shop"]=>
      string(1) "1"
      ["id_shop_group"]=>
      string(1) "0"
      ["id_currency"]=>
      string(1) "0"
      ["id_country"]=>
      string(1) "0"
      ["id_group"]=>
      string(1) "0"
      ["id_customer"]=>
      string(1) "0"
      ["id_product_attribute"]=>
      string(1) "0"
      ["price"]=>
      string(9) "-1.000000"
      ["from_quantity"]=>
      string(8) "1.000000"
      ["reduction"]=>
      string(8) "0.300000"
      ["reduction_tax"]=>
      string(1) "1"
      ["reduction_type"]=>
      string(10) "percentage"
      ["from"]=>
      string(19) "2018-12-16 00:00:00"
      ["to"]=>
      string(19) "2023-01-31 23:59:00"
      ["score"]=>
      string(2) "48"
    }
    ["ecotax"]=>
    float(0)
    ["weight"]=>
    float(0)
    ["quantity"]=>
    float(0)
    ["reference"]=>
    string(0) ""
    ["unit_impact"]=>
    string(8) "0.000000"
    ["minimal_quantity"]=>
    int(1)
    ["available_date"]=>
    string(10) "2017-07-17"
    ["date_formatted"]=>
    string(10) "07/17/2017"
    ["id_image"]=>
    int(16697)
    ["list"]=>
    string(7) "'10830'"
  }
  [19379]=>
  array(14) {
    ["attributes_values"]=>
    array(1) {
      [657]=>
      string(3) "103"
    }
    ["attributes"]=>
    array(1) {
      [0]=>
      int(10831)
    }
    ["price"]=>
    float(0)
    ["specific_price"]=>
    array(19) {
      ["id_specific_price"]=>
      string(7) "4800070"
      ["id_specific_price_rule"]=>
      string(3) "131"
      ["id_cart"]=>
      string(1) "0"
      ["id_product"]=>
      string(4) "3845"
      ["id_shop"]=>
      string(1) "1"
      ["id_shop_group"]=>
      string(1) "0"
      ["id_currency"]=>
      string(1) "0"
      ["id_country"]=>
      string(1) "0"
      ["id_group"]=>
      string(1) "0"
      ["id_customer"]=>
      string(1) "0"
      ["id_product_attribute"]=>
      string(1) "0"
      ["price"]=>
      string(9) "-1.000000"
      ["from_quantity"]=>
      string(8) "1.000000"
      ["reduction"]=>
      string(8) "0.300000"
      ["reduction_tax"]=>
      string(1) "1"
      ["reduction_type"]=>
      string(10) "percentage"
      ["from"]=>
      string(19) "2018-12-16 00:00:00"
      ["to"]=>
      string(19) "2023-01-31 23:59:00"
      ["score"]=>
      string(2) "48"
    }
    ["ecotax"]=>
    float(0)
    ["weight"]=>
    float(0)
    ["quantity"]=>
    float(0)
    ["reference"]=>
    string(0) ""
    ["unit_impact"]=>
    string(8) "0.000000"
    ["minimal_quantity"]=>
    int(1)
    ["available_date"]=>
    string(10) "2017-07-17"
    ["date_formatted"]=>
    string(10) "07/17/2017"
    ["id_image"]=>
    int(16698)
    ["list"]=>
    string(7) "'10831'"
  }
  [19380]=>
  array(14) {
    ["attributes_values"]=>
    array(1) {
      [657]=>
      string(3) "200"
    }
    ["attributes"]=>
    array(1) {
      [0]=>
      int(10832)
    }
    ["price"]=>
    float(0)
    ["specific_price"]=>
    array(19) {
      ["id_specific_price"]=>
      string(7) "4800070"
      ["id_specific_price_rule"]=>
      string(3) "131"
      ["id_cart"]=>
      string(1) "0"
      ["id_product"]=>
      string(4) "3845"
      ["id_shop"]=>
      string(1) "1"
      ["id_shop_group"]=>
      string(1) "0"
      ["id_currency"]=>
      string(1) "0"
      ["id_country"]=>
      string(1) "0"
      ["id_group"]=>
      string(1) "0"
      ["id_customer"]=>
      string(1) "0"
      ["id_product_attribute"]=>
      string(1) "0"
      ["price"]=>
      string(9) "-1.000000"
      ["from_quantity"]=>
      string(8) "1.000000"
      ["reduction"]=>
      string(8) "0.300000"
      ["reduction_tax"]=>
      string(1) "1"
      ["reduction_type"]=>
      string(10) "percentage"
      ["from"]=>
      string(19) "2018-12-16 00:00:00"
      ["to"]=>
      string(19) "2023-01-31 23:59:00"
      ["score"]=>
      string(2) "48"
    }
    ["ecotax"]=>
    float(0)
    ["weight"]=>
    float(0)
    ["quantity"]=>
    float(0)
    ["reference"]=>
    string(0) ""
    ["unit_impact"]=>
    string(8) "0.000000"
    ["minimal_quantity"]=>
    int(1)
    ["available_date"]=>
    string(10) "2017-07-17"
    ["date_formatted"]=>
    string(10) "07/17/2017"
    ["id_image"]=>
    int(16699)
    ["list"]=>
    string(7) "'10832'"
  }
  [19381]=>
  array(14) {
    ["attributes_values"]=>
    array(1) {
      [657]=>
      string(3) "291"
    }
    ["attributes"]=>
    array(1) {
      [0]=>
      int(10833)
    }
    ["price"]=>
    float(0)
    ["specific_price"]=>
    array(19) {
      ["id_specific_price"]=>
      string(7) "4800070"
      ["id_specific_price_rule"]=>
      string(3) "131"
      ["id_cart"]=>
      string(1) "0"
      ["id_product"]=>
      string(4) "3845"
      ["id_shop"]=>
      string(1) "1"
      ["id_shop_group"]=>
      string(1) "0"
      ["id_currency"]=>
      string(1) "0"
      ["id_country"]=>
      string(1) "0"
      ["id_group"]=>
      string(1) "0"
      ["id_customer"]=>
      string(1) "0"
      ["id_product_attribute"]=>
      string(1) "0"
      ["price"]=>
      string(9) "-1.000000"
      ["from_quantity"]=>
      string(8) "1.000000"
      ["reduction"]=>
      string(8) "0.300000"
      ["reduction_tax"]=>
      string(1) "1"
      ["reduction_type"]=>
      string(10) "percentage"
      ["from"]=>
      string(19) "2018-12-16 00:00:00"
      ["to"]=>
      string(19) "2023-01-31 23:59:00"
      ["score"]=>
      string(2) "48"
    }
    ["ecotax"]=>
    float(0)
    ["weight"]=>
    float(0)
    ["quantity"]=>
    float(1)
    ["reference"]=>
    string(0) ""
    ["unit_impact"]=>
    string(8) "0.000000"
    ["minimal_quantity"]=>
    int(1)
    ["available_date"]=>
    string(10) "2017-07-17"
    ["date_formatted"]=>
    string(10) "07/17/2017"
    ["id_image"]=>
    int(16700)
    ["list"]=>
    string(7) "'10833'"
  }
  [19382]=>
  array(14) {
    ["attributes_values"]=>
    array(1) {
      [657]=>
      string(3) "356"
    }
    ["attributes"]=>
    array(1) {
      [0]=>
      int(10834)
    }
    ["price"]=>
    float(0)
    ["specific_price"]=>
    array(19) {
      ["id_specific_price"]=>
      string(7) "4800070"
      ["id_specific_price_rule"]=>
      string(3) "131"
      ["id_cart"]=>
      string(1) "0"
      ["id_product"]=>
      string(4) "3845"
      ["id_shop"]=>
      string(1) "1"
      ["id_shop_group"]=>
      string(1) "0"
      ["id_currency"]=>
      string(1) "0"
      ["id_country"]=>
      string(1) "0"
      ["id_group"]=>
      string(1) "0"
      ["id_customer"]=>
      string(1) "0"
      ["id_product_attribute"]=>
      string(1) "0"
      ["price"]=>
      string(9) "-1.000000"
      ["from_quantity"]=>
      string(8) "1.000000"
      ["reduction"]=>
      string(8) "0.300000"
      ["reduction_tax"]=>
      string(1) "1"
      ["reduction_type"]=>
      string(10) "percentage"
      ["from"]=>
      string(19) "2018-12-16 00:00:00"
      ["to"]=>
      string(19) "2023-01-31 23:59:00"
      ["score"]=>
      string(2) "48"
    }
    ["ecotax"]=>
    float(0)
    ["weight"]=>
    float(0)
    ["quantity"]=>
    float(0)
    ["reference"]=>
    string(0) ""
    ["unit_impact"]=>
    string(8) "0.000000"
    ["minimal_quantity"]=>
    int(1)
    ["available_date"]=>
    string(10) "2017-07-17"
    ["date_formatted"]=>
    string(10) "07/17/2017"
    ["id_image"]=>
    int(16701)
    ["list"]=>
    string(7) "'10834'"
  }
  [19383]=>
  array(14) {
    ["attributes_values"]=>
    array(1) {
      [657]=>
      string(3) "417"
    }
    ["attributes"]=>
    array(1) {
      [0]=>
      int(10835)
    }
    ["price"]=>
    float(0)
    ["specific_price"]=>
    array(19) {
      ["id_specific_price"]=>
      string(7) "4800070"
      ["id_specific_price_rule"]=>
      string(3) "131"
      ["id_cart"]=>
      string(1) "0"
      ["id_product"]=>
      string(4) "3845"
      ["id_shop"]=>
      string(1) "1"
      ["id_shop_group"]=>
      string(1) "0"
      ["id_currency"]=>
      string(1) "0"
      ["id_country"]=>
      string(1) "0"
      ["id_group"]=>
      string(1) "0"
      ["id_customer"]=>
      string(1) "0"
      ["id_product_attribute"]=>
      string(1) "0"
      ["price"]=>
      string(9) "-1.000000"
      ["from_quantity"]=>
      string(8) "1.000000"
      ["reduction"]=>
      string(8) "0.300000"
      ["reduction_tax"]=>
      string(1) "1"
      ["reduction_type"]=>
      string(10) "percentage"
      ["from"]=>
      string(19) "2018-12-16 00:00:00"
      ["to"]=>
      string(19) "2023-01-31 23:59:00"
      ["score"]=>
      string(2) "48"
    }
    ["ecotax"]=>
    float(0)
    ["weight"]=>
    float(0)
    ["quantity"]=>
    float(0)
    ["reference"]=>
    string(0) ""
    ["unit_impact"]=>
    string(8) "0.000000"
    ["minimal_quantity"]=>
    int(1)
    ["available_date"]=>
    string(10) "2017-07-17"
    ["date_formatted"]=>
    string(10) "07/17/2017"
    ["id_image"]=>
    int(16702)
    ["list"]=>
    string(7) "'10835'"
  }
  [19384]=>
  array(14) {
    ["attributes_values"]=>
    array(1) {
      [657]=>
      string(3) "426"
    }
    ["attributes"]=>
    array(1) {
      [0]=>
      int(10836)
    }
    ["price"]=>
    float(0)
    ["specific_price"]=>
    array(19) {
      ["id_specific_price"]=>
      string(7) "4800070"
      ["id_specific_price_rule"]=>
      string(3) "131"
      ["id_cart"]=>
      string(1) "0"
      ["id_product"]=>
      string(4) "3845"
      ["id_shop"]=>
      string(1) "1"
      ["id_shop_group"]=>
      string(1) "0"
      ["id_currency"]=>
      string(1) "0"
      ["id_country"]=>
      string(1) "0"
      ["id_group"]=>
      string(1) "0"
      ["id_customer"]=>
      string(1) "0"
      ["id_product_attribute"]=>
      string(1) "0"
      ["price"]=>
      string(9) "-1.000000"
      ["from_quantity"]=>
      string(8) "1.000000"
      ["reduction"]=>
      string(8) "0.300000"
      ["reduction_tax"]=>
      string(1) "1"
      ["reduction_type"]=>
      string(10) "percentage"
      ["from"]=>
      string(19) "2018-12-16 00:00:00"
      ["to"]=>
      string(19) "2023-01-31 23:59:00"
      ["score"]=>
      string(2) "48"
    }
    ["ecotax"]=>
    float(0)
    ["weight"]=>
    float(0)
    ["quantity"]=>
    float(0)
    ["reference"]=>
    string(0) ""
    ["unit_impact"]=>
    string(8) "0.000000"
    ["minimal_quantity"]=>
    int(1)
    ["available_date"]=>
    string(10) "2017-07-17"
    ["date_formatted"]=>
    string(10) "07/17/2017"
    ["id_image"]=>
    int(16703)
    ["list"]=>
    string(7) "'10836'"
  }
  [19385]=>
  array(14) {
    ["attributes_values"]=>
    array(1) {
      [657]=>
      string(3) "453"
    }
    ["attributes"]=>
    array(1) {
      [0]=>
      int(10837)
    }
    ["price"]=>
    float(0)
    ["specific_price"]=>
    array(19) {
      ["id_specific_price"]=>
      string(7) "4800070"
      ["id_specific_price_rule"]=>
      string(3) "131"
      ["id_cart"]=>
      string(1) "0"
      ["id_product"]=>
      string(4) "3845"
      ["id_shop"]=>
      string(1) "1"
      ["id_shop_group"]=>
      string(1) "0"
      ["id_currency"]=>
      string(1) "0"
      ["id_country"]=>
      string(1) "0"
      ["id_group"]=>
      string(1) "0"
      ["id_customer"]=>
      string(1) "0"
      ["id_product_attribute"]=>
      string(1) "0"
      ["price"]=>
      string(9) "-1.000000"
      ["from_quantity"]=>
      string(8) "1.000000"
      ["reduction"]=>
      string(8) "0.300000"
      ["reduction_tax"]=>
      string(1) "1"
      ["reduction_type"]=>
      string(10) "percentage"
      ["from"]=>
      string(19) "2018-12-16 00:00:00"
      ["to"]=>
      string(19) "2023-01-31 23:59:00"
      ["score"]=>
      string(2) "48"
    }
    ["ecotax"]=>
    float(0)
    ["weight"]=>
    float(0)
    ["quantity"]=>
    float(0)
    ["reference"]=>
    string(0) ""
    ["unit_impact"]=>
    string(8) "0.000000"
    ["minimal_quantity"]=>
    int(1)
    ["available_date"]=>
    string(10) "2017-07-17"
    ["date_formatted"]=>
    string(10) "07/17/2017"
    ["id_image"]=>
    int(16704)
    ["list"]=>
    string(7) "'10837'"
  }
  [19386]=>
  array(14) {
    ["attributes_values"]=>
    array(1) {
      [657]=>
      string(3) "495"
    }
    ["attributes"]=>
    array(1) {
      [0]=>
      int(10838)
    }
    ["price"]=>
    float(0)
    ["specific_price"]=>
    array(19) {
      ["id_specific_price"]=>
      string(7) "4800070"
      ["id_specific_price_rule"]=>
      string(3) "131"
      ["id_cart"]=>
      string(1) "0"
      ["id_product"]=>
      string(4) "3845"
      ["id_shop"]=>
      string(1) "1"
      ["id_shop_group"]=>
      string(1) "0"
      ["id_currency"]=>
      string(1) "0"
      ["id_country"]=>
      string(1) "0"
      ["id_group"]=>
      string(1) "0"
      ["id_customer"]=>
      string(1) "0"
      ["id_product_attribute"]=>
      string(1) "0"
      ["price"]=>
      string(9) "-1.000000"
      ["from_quantity"]=>
      string(8) "1.000000"
      ["reduction"]=>
      string(8) "0.300000"
      ["reduction_tax"]=>
      string(1) "1"
      ["reduction_type"]=>
      string(10) "percentage"
      ["from"]=>
      string(19) "2018-12-16 00:00:00"
      ["to"]=>
      string(19) "2023-01-31 23:59:00"
      ["score"]=>
      string(2) "48"
    }
    ["ecotax"]=>
    float(0)
    ["weight"]=>
    float(0)
    ["quantity"]=>
    float(0)
    ["reference"]=>
    string(0) ""
    ["unit_impact"]=>
    string(8) "0.000000"
    ["minimal_quantity"]=>
    int(1)
    ["available_date"]=>
    string(10) "2017-07-17"
    ["date_formatted"]=>
    string(10) "07/17/2017"
    ["id_image"]=>
    int(16705)
    ["list"]=>
    string(7) "'10838'"
  }
  [19387]=>
  array(14) {
    ["attributes_values"]=>
    array(1) {
      [657]=>
      string(3) "563"
    }
    ["attributes"]=>
    array(1) {
      [0]=>
      int(10839)
    }
    ["price"]=>
    float(0)
    ["specific_price"]=>
    array(19) {
      ["id_specific_price"]=>
      string(7) "4800070"
      ["id_specific_price_rule"]=>
      string(3) "131"
      ["id_cart"]=>
      string(1) "0"
      ["id_product"]=>
      string(4) "3845"
      ["id_shop"]=>
      string(1) "1"
      ["id_shop_group"]=>
      string(1) "0"
      ["id_currency"]=>
      string(1) "0"
      ["id_country"]=>
      string(1) "0"
      ["id_group"]=>
      string(1) "0"
      ["id_customer"]=>
      string(1) "0"
      ["id_product_attribute"]=>
      string(1) "0"
      ["price"]=>
      string(9) "-1.000000"
      ["from_quantity"]=>
      string(8) "1.000000"
      ["reduction"]=>
      string(8) "0.300000"
      ["reduction_tax"]=>
      string(1) "1"
      ["reduction_type"]=>
      string(10) "percentage"
      ["from"]=>
      string(19) "2018-12-16 00:00:00"
      ["to"]=>
      string(19) "2023-01-31 23:59:00"
      ["score"]=>
      string(2) "48"
    }
    ["ecotax"]=>
    float(0)
    ["weight"]=>
    float(0)
    ["quantity"]=>
    float(0)
    ["reference"]=>
    string(0) ""
    ["unit_impact"]=>
    string(8) "0.000000"
    ["minimal_quantity"]=>
    int(1)
    ["available_date"]=>
    string(10) "2017-07-17"
    ["date_formatted"]=>
    string(10) "07/17/2017"
    ["id_image"]=>
    int(16706)
    ["list"]=>
    string(7) "'10839'"
  }
  [19388]=>
  array(14) {
    ["attributes_values"]=>
    array(1) {
      [657]=>
      string(3) "701"
    }
    ["attributes"]=>
    array(1) {
      [0]=>
      int(10840)
    }
    ["price"]=>
    float(0)
    ["specific_price"]=>
    array(19) {
      ["id_specific_price"]=>
      string(7) "4800070"
      ["id_specific_price_rule"]=>
      string(3) "131"
      ["id_cart"]=>
      string(1) "0"
      ["id_product"]=>
      string(4) "3845"
      ["id_shop"]=>
      string(1) "1"
      ["id_shop_group"]=>
      string(1) "0"
      ["id_currency"]=>
      string(1) "0"
      ["id_country"]=>
      string(1) "0"
      ["id_group"]=>
      string(1) "0"
      ["id_customer"]=>
      string(1) "0"
      ["id_product_attribute"]=>
      string(1) "0"
      ["price"]=>
      string(9) "-1.000000"
      ["from_quantity"]=>
      string(8) "1.000000"
      ["reduction"]=>
      string(8) "0.300000"
      ["reduction_tax"]=>
      string(1) "1"
      ["reduction_type"]=>
      string(10) "percentage"
      ["from"]=>
      string(19) "2018-12-16 00:00:00"
      ["to"]=>
      string(19) "2023-01-31 23:59:00"
      ["score"]=>
      string(2) "48"
    }
    ["ecotax"]=>
    float(0)
    ["weight"]=>
    float(0)
    ["quantity"]=>
    float(0)
    ["reference"]=>
    string(0) ""
    ["unit_impact"]=>
    string(8) "0.000000"
    ["minimal_quantity"]=>
    int(1)
    ["available_date"]=>
    string(10) "2017-07-17"
    ["date_formatted"]=>
    string(10) "07/17/2017"
    ["id_image"]=>
    int(16707)
    ["list"]=>
    string(7) "'10840'"
  }
  [19389]=>
  array(14) {
    ["attributes_values"]=>
    array(1) {
      [657]=>
      string(3) "704"
    }
    ["attributes"]=>
    array(1) {
      [0]=>
      int(10841)
    }
    ["price"]=>
    float(0)
    ["specific_price"]=>
    array(19) {
      ["id_specific_price"]=>
      string(7) "4800070"
      ["id_specific_price_rule"]=>
      string(3) "131"
      ["id_cart"]=>
      string(1) "0"
      ["id_product"]=>
      string(4) "3845"
      ["id_shop"]=>
      string(1) "1"
      ["id_shop_group"]=>
      string(1) "0"
      ["id_currency"]=>
      string(1) "0"
      ["id_country"]=>
      string(1) "0"
      ["id_group"]=>
      string(1) "0"
      ["id_customer"]=>
      string(1) "0"
      ["id_product_attribute"]=>
      string(1) "0"
      ["price"]=>
      string(9) "-1.000000"
      ["from_quantity"]=>
      string(8) "1.000000"
      ["reduction"]=>
      string(8) "0.300000"
      ["reduction_tax"]=>
      string(1) "1"
      ["reduction_type"]=>
      string(10) "percentage"
      ["from"]=>
      string(19) "2018-12-16 00:00:00"
      ["to"]=>
      string(19) "2023-01-31 23:59:00"
      ["score"]=>
      string(2) "48"
    }
    ["ecotax"]=>
    float(0)
    ["weight"]=>
    float(0)
    ["quantity"]=>
    float(0)
    ["reference"]=>
    string(0) ""
    ["unit_impact"]=>
    string(8) "0.000000"
    ["minimal_quantity"]=>
    int(1)
    ["available_date"]=>
    string(10) "2017-07-17"
    ["date_formatted"]=>
    string(10) "07/17/2017"
    ["id_image"]=>
    int(16708)
    ["list"]=>
    string(7) "'10841'"
  }
}

Mondial Pronto Max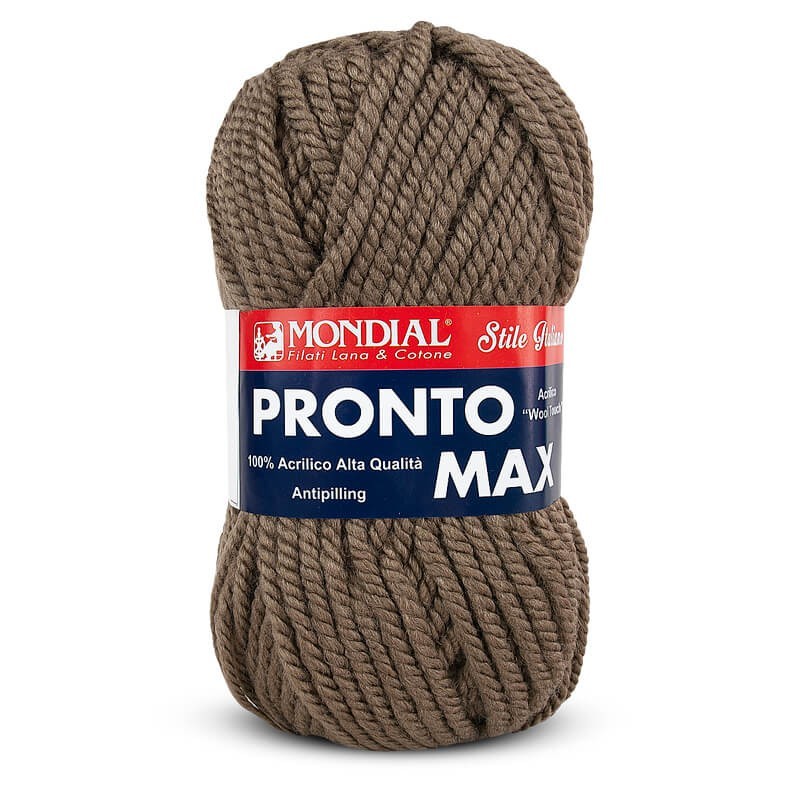  
Mondial Pronto Max is a thick yarn perfect to knit with 10-12 mm knitting needles. The balls are 200 grams and they are perfect to knit accessories such as collars, scarfs, winter ponchos or any winter cloth.
No reward points for this product because there's already a discount.
Product details
Features
Weight

200 grams

Length

120 meters

Knitting needle

10 - 12

Crochet Hook

10 - 12

Season

Autumn - Winter
Product description
Mondial Pronto Max is a XXL yarn of high thickness, recommended to knit with 10-12 mm knitting needles. This maxi-yarn allows you to knit thick and warm clothes, complements and accessories perfect to colder seasons.
It is a yarn perfect to knit big and warm collars, or fluffy and warm scarfs and kerchieves.
Furthermore, we recommend you to knit jackets or coats, sweaters or blankets and bedspreads.
Its fiber is made by three thick tail ends twisted on themselves.
The
Mondial Pronto Max
 is made by:
100% Acrylic BAYER - Dralon®
This acrylic fiber has a greater quality. It offers a natural yarn touch and qualities that make it different from other acrylic yarns due to the Dralon® treatment.
This treatment provides greater smoothness, resistance and quality to your clothes. In addition, thanks to this treatment, it is a hypoallergenic yarn that avoids irritations and itching on your skin.
Its fabric avoids little balls and fluffs in your clothes keeping them in good conditions.
You should know
that Mondial Pronto Max
…
Each ball has 200 grams and 120 mettres.

Its thickness is perfect to knit with the 10 - 12 mm knitting needles.

To knit a collar you will only need 1 ball.

To knit a long sleeve women sweater size 42 you will need 5 balls.

To knit a long sleeve men sweater size 42 you will need 6 balls.

To knit a long sleeve kids sweater size 6 years you will need 3 balls.

Mount 8 stitches and do 11 laps to knit a 10 x 10 cm square.

The yarn is suitable to be washed in the washing machine at 30ºC.

Do not iron it.

Do not dry it in the dryer.

We recommend you to dry it horizontally.

With Dralon® treatment.

Made in Italy.
This maxi-yarn is perfect to knit complements with just 1 ball. It is specially designed for beginners in tricot and crocheting.
Your skin will appreciate the high smoothness of this yarn which is perfect for women, men and kids.
Have your ever knitted with Mondial Pronto Max? Give us your experience!
Rating:

5

out of

5

based on

4

reviews.
Customer reviews
Nº of votes

Average experience

Rating

4

star star star star star

star star star star star

star star star star star

star star star star star