Kit Anchor Octopus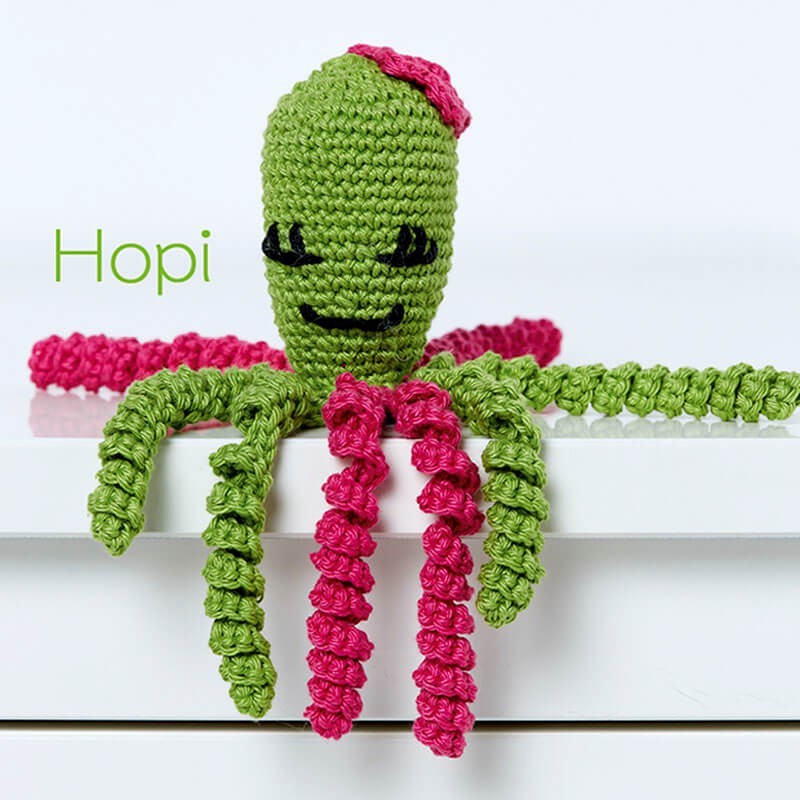  
The Crochet Kit Octopus Baby Collection – Anchor includes all the materials you will need to create little crochet octopuses. This amigurumi will be the best friend of babies since they are very pleasant to the touch and transmit different emotions. 
By buying this product you can collect up to 4 loyalty points. Your cart will total 4 points that can be converted into a voucher of €0.16.
Product description
The Crochet Kit Octopus Baby Collection – Anchor contains all the material needed to create beautiful crochet octopuses.
This kit was created by the "Octopus Initiative", a group of Danish volunteers who decided to crochet this original amigurumis for newborn babies. Their idea was to create curly tentacles in order to remind them the umbilical cord, providing them serenity.
You will be able to choose among 7 different models. Each one combines 2 tones which represent several feelings.
Each colour represents:
Turquoise represents safety. Blue tones provide calmness and offer a relaxed effect.
Orange represents optimism. This colour provides strength when babies have a difficult start and helps them to activate their immune system.
The strawberry colour represents love. This colour has been used for a long time for healing purposes and it has been proved that stimulates the human metabolisms.
Pink represents tenderness. This colour provides serenity as well as peace.
Dark orange represents strength. This colour is used to combat fear, unrest and stressful situations. It consists of a positive colour which encourage babies in a natural way.
Navy Blue represents confidence. This colour offers a relaxed and stabilising effect.
Green represents hope. This colour will help babies to recover their strength and energy.
Fuchsia represents energy. This tone provides energy and positivism.
Yellow tones represent happiness. This colour will give them optimism, interaction and joy.
Blue represents vitality. This colour provides concentration and creativity.
Aquamarine colour represents serenity. This tone provides relaxation, recovery and stability.
Dark green represents hope. This colour reduce tension.
White tone represents peace. This colour symbolises light, confidence and pureness.
Each Kit Anchor includes:
2 balls of Anchor Creativa Fino in different colours: 50 grammes and 125 metres.
3 metres of Stranded Cotton yarn in black colour.
3 patterns, graphs and instructions in 7 different languages: English, Spanish, Italian, Portuguese, German, French and Dutch.
Filling: 14 grammes of polyester.
1 crochet needle: 3 mm.
A card with the image of the octopus, its name and what represents. 
The difficulty level is 1 – easy.
Each pack includes detailed instructions which will help you to use correctly the crochet needle and the different stitches.
Characteristics:
You can choose among 7 different models:
Lola is turquoise and orange. It will protect you and will give you strength.
Rose is strawberry and pink. It will give you love and tenderness.
Milo is dark orange and navy blue. It will provide strength and confidence.
Hopi is green and fuchsia. It will give you energy.
Sunny is yellow and blue. It will make you happy.
Lilo is aquamarine and green. It will help you to relaxed.
Luma is white and navy blue. It will provide you serenity.
Have you ever used The Crochet Kit Octopus Baby Collection – Anchor? Tell us about your experience!