Tapestry Canvas Royal Paris - Along the Nile - Anchor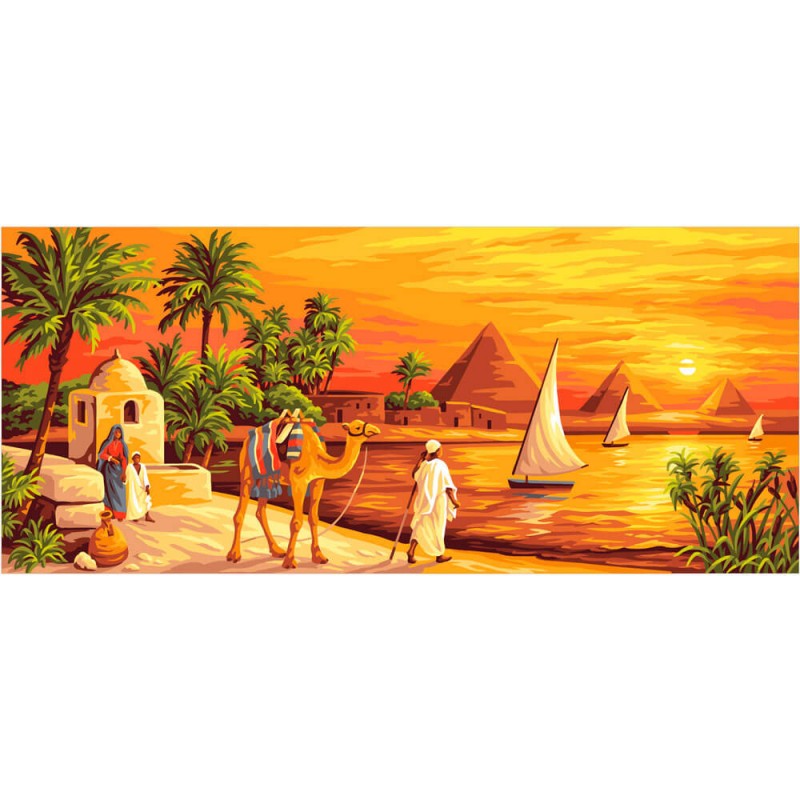  
Anchor's Royal Paris - Along the Nile tapestry canvas measures 50 x 115 centimeters. It is perfect for embroidering tapestries with Anchor threads and create this beautiful landscape of Egypt and the Nile River. You can embroider a sunset behind the pyramids surrounded by the characteristic nature of the area. It has an advanced level of difficulty.
By buying this product you can collect up to 44 loyalty points. Your cart will total 44 points that can be converted into a voucher of €1.76.
Product description
The Royal Paris - Along the Nile tapestry canvas by Anchor is perfect to embroider this design of a landscape of the Nile River, with the characteristic nature, animals and houses of this area.
The landscape shows a beautiful sunset, with the sun setting behind Egypt's pyramids. This beautiful tapestry sunset will be perfect for framing and decorating the home once finished.
You can embroider it by using the half cross stitch embroidery technique and with Anchor tapestry wool. It has a total size of 50 x 115 centimeters.
Which are the features of this tapestry canvas?
Size: 50 x 115 cm
Level of difficulty: advanced
You can use the half cross stitch technique and the following threads: Soft Cotton Retors Mat, Stranded Mouliné, Anchor tapestry wool or DMC, Soft Retors or Strd Mouliné
¿Qué hilos necesito para trabajar el Cañamazo Along the Nile?
Anchor Soft Cotton: 1(x1), 386(x4), 293(x7), 302(x13), 303(x12), 304(x11), 333(x6), 340(x4), 806(x1), 400(x1), 378(x5), 679(x3), 280(x3), 281(x7), 846(x11), 361(x8), 363(x11), 365(x4), 349(x9), 351(x9), 360(x7), 382(x10)
Anchor Stranded Mouliné: 1(x2), 386(x5), 293(x9), 302(x17), 303(x15), 304(x13), 333(x7), 340(x5), 1034(x1), 400(x2), 378(x6), 379(x4), 280(x4), 281(x9), 846(x14), 361(x9), 363(x13), 365(x5), 349(x11), 351(x11), 360(x8), 382(x12)
Anchor tapestry wool: 8000(x1), 8034(x4), 8016(x7), 8134(x13), 8152(x12), 8140(x11), 8194(x6), 8236(x4), 8736(x1), 9794(x1), 9596(x5), 9598(x3), 9196(x3), 9216(x7), 9264(x11), 9442(x8), 9524(x11), 8062(x4), 9526(x9), 9540(x9), 9642(x7), 9648(x10)