array(13) {
  [16621]=>
  array(14) {
    ["attributes_values"]=>
    array(1) {
      [319]=>
      string(4) "2 mm"
    }
    ["attributes"]=>
    array(1) {
      [0]=>
      int(6378)
    }
    ["price"]=>
    float(8.669421)
    ["specific_price"]=>
    bool(false)
    ["ecotax"]=>
    float(0)
    ["weight"]=>
    float(0)
    ["quantity"]=>
    float(11)
    ["reference"]=>
    string(14) "1407016-020000"
    ["unit_impact"]=>
    string(8) "0.000000"
    ["minimal_quantity"]=>
    int(1)
    ["date_formatted"]=>
    string(0) ""
    ["available_date"]=>
    string(0) ""
    ["id_image"]=>
    int(8989)
    ["list"]=>
    string(6) "'6378'"
  }
  [16609]=>
  array(14) {
    ["attributes_values"]=>
    array(1) {
      [319]=>
      string(6) "2,5 mm"
    }
    ["attributes"]=>
    array(1) {
      [0]=>
      int(6379)
    }
    ["price"]=>
    float(8.669421)
    ["specific_price"]=>
    bool(false)
    ["ecotax"]=>
    float(0)
    ["weight"]=>
    float(0)
    ["quantity"]=>
    float(4)
    ["reference"]=>
    string(15) " 1407016-025000"
    ["unit_impact"]=>
    string(8) "0.000000"
    ["minimal_quantity"]=>
    int(1)
    ["date_formatted"]=>
    string(0) ""
    ["available_date"]=>
    string(0) ""
    ["id_image"]=>
    int(8995)
    ["list"]=>
    string(6) "'6379'"
  }
  [16610]=>
  array(14) {
    ["attributes_values"]=>
    array(1) {
      [319]=>
      string(4) "3 mm"
    }
    ["attributes"]=>
    array(1) {
      [0]=>
      int(6380)
    }
    ["price"]=>
    float(8.669421)
    ["specific_price"]=>
    bool(false)
    ["ecotax"]=>
    float(0)
    ["weight"]=>
    float(0)
    ["quantity"]=>
    float(0)
    ["reference"]=>
    string(15) " 1407016-030000"
    ["unit_impact"]=>
    string(8) "0.000000"
    ["minimal_quantity"]=>
    int(1)
    ["date_formatted"]=>
    string(0) ""
    ["available_date"]=>
    string(0) ""
    ["id_image"]=>
    int(8990)
    ["list"]=>
    string(6) "'6380'"
  }
  [16611]=>
  array(14) {
    ["attributes_values"]=>
    array(1) {
      [319]=>
      string(7) "3,25 mm"
    }
    ["attributes"]=>
    array(1) {
      [0]=>
      int(6565)
    }
    ["price"]=>
    float(8.669421)
    ["specific_price"]=>
    bool(false)
    ["ecotax"]=>
    float(0)
    ["weight"]=>
    float(0)
    ["quantity"]=>
    float(7)
    ["reference"]=>
    string(15) " 1407016-032500"
    ["unit_impact"]=>
    string(8) "0.000000"
    ["minimal_quantity"]=>
    int(1)
    ["date_formatted"]=>
    string(0) ""
    ["available_date"]=>
    string(0) ""
    ["id_image"]=>
    int(8991)
    ["list"]=>
    string(6) "'6565'"
  }
  [16612]=>
  array(14) {
    ["attributes_values"]=>
    array(1) {
      [319]=>
      string(6) "3,5 mm"
    }
    ["attributes"]=>
    array(1) {
      [0]=>
      int(6381)
    }
    ["price"]=>
    float(8.669421)
    ["specific_price"]=>
    bool(false)
    ["ecotax"]=>
    float(0)
    ["weight"]=>
    float(0)
    ["quantity"]=>
    float(10)
    ["reference"]=>
    string(15) " 1407016-035000"
    ["unit_impact"]=>
    string(8) "0.000000"
    ["minimal_quantity"]=>
    int(1)
    ["date_formatted"]=>
    string(0) ""
    ["available_date"]=>
    string(0) ""
    ["id_image"]=>
    int(8992)
    ["list"]=>
    string(6) "'6381'"
  }
  [16613]=>
  array(14) {
    ["attributes_values"]=>
    array(1) {
      [319]=>
      string(7) "3,75 mm"
    }
    ["attributes"]=>
    array(1) {
      [0]=>
      int(6566)
    }
    ["price"]=>
    float(8.669421)
    ["specific_price"]=>
    bool(false)
    ["ecotax"]=>
    float(0)
    ["weight"]=>
    float(0)
    ["quantity"]=>
    float(7)
    ["reference"]=>
    string(15) " 1407016-037500"
    ["unit_impact"]=>
    string(8) "0.000000"
    ["minimal_quantity"]=>
    int(1)
    ["date_formatted"]=>
    string(0) ""
    ["available_date"]=>
    string(0) ""
    ["id_image"]=>
    int(8993)
    ["list"]=>
    string(6) "'6566'"
  }
  [16614]=>
  array(14) {
    ["attributes_values"]=>
    array(1) {
      [319]=>
      string(4) "4 mm"
    }
    ["attributes"]=>
    array(1) {
      [0]=>
      int(6382)
    }
    ["price"]=>
    float(8.669421)
    ["specific_price"]=>
    bool(false)
    ["ecotax"]=>
    float(0)
    ["weight"]=>
    float(0)
    ["quantity"]=>
    float(7)
    ["reference"]=>
    string(15) " 1407016-040000"
    ["unit_impact"]=>
    string(8) "0.000000"
    ["minimal_quantity"]=>
    int(1)
    ["date_formatted"]=>
    string(0) ""
    ["available_date"]=>
    string(0) ""
    ["id_image"]=>
    int(8994)
    ["list"]=>
    string(6) "'6382'"
  }
  [16615]=>
  array(14) {
    ["attributes_values"]=>
    array(1) {
      [319]=>
      string(6) "4,5 mm"
    }
    ["attributes"]=>
    array(1) {
      [0]=>
      int(6383)
    }
    ["price"]=>
    float(8.669421)
    ["specific_price"]=>
    bool(false)
    ["ecotax"]=>
    float(0)
    ["weight"]=>
    float(0)
    ["quantity"]=>
    float(8)
    ["reference"]=>
    string(15) " 1407016-045000"
    ["unit_impact"]=>
    string(8) "0.000000"
    ["minimal_quantity"]=>
    int(1)
    ["date_formatted"]=>
    string(0) ""
    ["available_date"]=>
    string(0) ""
    ["id_image"]=>
    int(8995)
    ["list"]=>
    string(6) "'6383'"
  }
  [16616]=>
  array(14) {
    ["attributes_values"]=>
    array(1) {
      [319]=>
      string(4) "5 mm"
    }
    ["attributes"]=>
    array(1) {
      [0]=>
      int(6384)
    }
    ["price"]=>
    float(8.669421)
    ["specific_price"]=>
    bool(false)
    ["ecotax"]=>
    float(0)
    ["weight"]=>
    float(0)
    ["quantity"]=>
    float(4)
    ["reference"]=>
    string(15) " 1407016-050000"
    ["unit_impact"]=>
    string(8) "0.000000"
    ["minimal_quantity"]=>
    int(1)
    ["date_formatted"]=>
    string(0) ""
    ["available_date"]=>
    string(0) ""
    ["id_image"]=>
    int(8996)
    ["list"]=>
    string(6) "'6384'"
  }
  [16617]=>
  array(14) {
    ["attributes_values"]=>
    array(1) {
      [319]=>
      string(6) "5,5 mm"
    }
    ["attributes"]=>
    array(1) {
      [0]=>
      int(6385)
    }
    ["price"]=>
    float(8.669421)
    ["specific_price"]=>
    bool(false)
    ["ecotax"]=>
    float(0)
    ["weight"]=>
    float(0)
    ["quantity"]=>
    float(8)
    ["reference"]=>
    string(15) " 1407016-055000"
    ["unit_impact"]=>
    string(8) "0.000000"
    ["minimal_quantity"]=>
    int(1)
    ["date_formatted"]=>
    string(0) ""
    ["available_date"]=>
    string(0) ""
    ["id_image"]=>
    int(8997)
    ["list"]=>
    string(6) "'6385'"
  }
  [16618]=>
  array(14) {
    ["attributes_values"]=>
    array(1) {
      [319]=>
      string(4) "6 mm"
    }
    ["attributes"]=>
    array(1) {
      [0]=>
      int(6386)
    }
    ["price"]=>
    float(8.669421)
    ["specific_price"]=>
    bool(false)
    ["ecotax"]=>
    float(0)
    ["weight"]=>
    float(0)
    ["quantity"]=>
    float(6)
    ["reference"]=>
    string(14) "1407016-060000"
    ["unit_impact"]=>
    string(8) "0.000000"
    ["minimal_quantity"]=>
    int(1)
    ["date_formatted"]=>
    string(0) ""
    ["available_date"]=>
    string(0) ""
    ["id_image"]=>
    int(8998)
    ["list"]=>
    string(6) "'6386'"
  }
  [16619]=>
  array(14) {
    ["attributes_values"]=>
    array(1) {
      [319]=>
      string(4) "7 mm"
    }
    ["attributes"]=>
    array(1) {
      [0]=>
      int(6388)
    }
    ["price"]=>
    float(12.38843)
    ["specific_price"]=>
    bool(false)
    ["ecotax"]=>
    float(0)
    ["weight"]=>
    float(0)
    ["quantity"]=>
    float(6)
    ["reference"]=>
    string(15) " 1407016-070000"
    ["unit_impact"]=>
    string(8) "0.000000"
    ["minimal_quantity"]=>
    int(1)
    ["date_formatted"]=>
    string(0) ""
    ["available_date"]=>
    string(0) ""
    ["id_image"]=>
    int(8999)
    ["list"]=>
    string(6) "'6388'"
  }
  [16620]=>
  array(14) {
    ["attributes_values"]=>
    array(1) {
      [319]=>
      string(4) "8 mm"
    }
    ["attributes"]=>
    array(1) {
      [0]=>
      int(6389)
    }
    ["price"]=>
    float(12.38843)
    ["specific_price"]=>
    bool(false)
    ["ecotax"]=>
    float(0)
    ["weight"]=>
    float(0)
    ["quantity"]=>
    float(6)
    ["reference"]=>
    string(15) " 1407016-080000"
    ["unit_impact"]=>
    string(8) "0.000000"
    ["minimal_quantity"]=>
    int(1)
    ["date_formatted"]=>
    string(0) ""
    ["available_date"]=>
    string(0) ""
    ["id_image"]=>
    int(9000)
    ["list"]=>
    string(6) "'6389'"
  }
}

Addi Swing Ergonomic Crochet Hook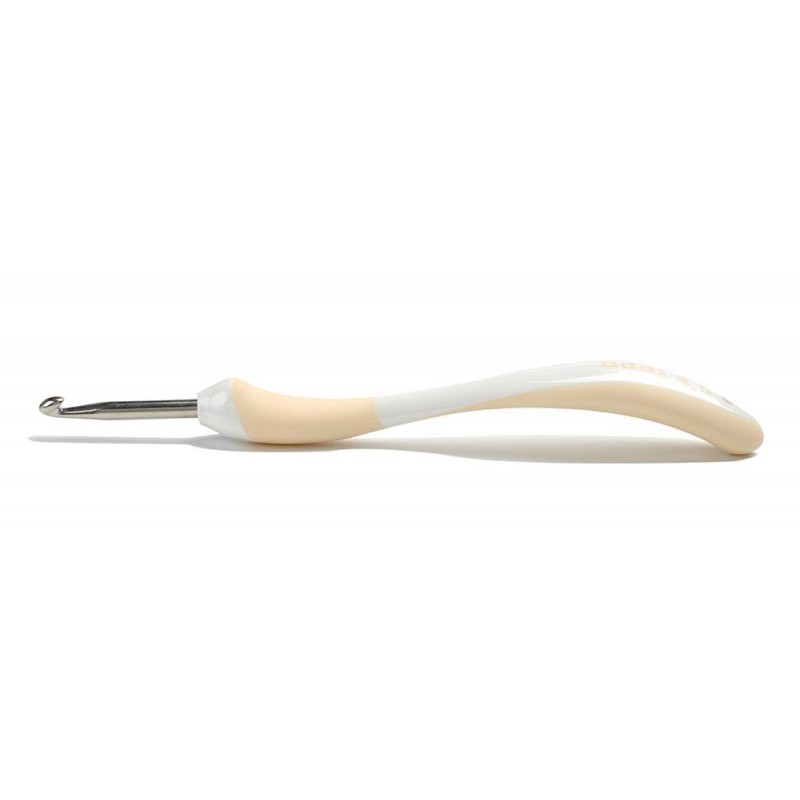  
Crochet hooks Addi, these ergonomic crochet hooks mades in aluminium and with silicone handle will provide your hand with comfort.
By buying this product you can collect up to 7 loyalty points. Your cart will total 7 points that can be converted into a voucher of €0.28.
Product description
Crochet hooks Addi, made in aluminium, with silicone handle to work your sewing pieces with comfort and without effort.
Ergonomic crochet hooks of excellent quality, very soft in the contact with the hand to make clothes, amigurumis and all kind of crochet sewing pieces. The ergonomic shape of the handle adjust perfectly to an easy fastening and a best use.
When you will try these crochet hooks, you'll never want to use other. They give quality to your sewing pieces anf a large comfort for the weaver.
They have 16 cm of lenght and each thickness has a different colour:
2,00 mm : Blue
3,00 mm : Orange
3,25 mm : Cherry
3,50 mm : Red
3,75 mm : Turquoise
4,00 mm : Green
4,50 mm : Beige
5,00 mm : Brown
5,50 mm : Baby blue
6,00 mm : Dark blue
7,00 mm : Pistachio
8,00 mm : Purple
Crochet hooks Addi Swing
Rating:

5

out of

5

based on

10

reviews.
Customer reviews
Nº of votes

Average experience

Rating

10

star star star star star

star star star star star

star star star star star

star star star star star
Page 1
Loading more results...