array(16) {
  [24261]=>
  array(14) {
    ["attributes_values"]=>
    array(1) {
      [931]=>
      string(3) "400"
    }
    ["attributes"]=>
    array(1) {
      [0]=>
      int(15116)
    }
    ["price"]=>
    float(0)
    ["specific_price"]=>
    bool(false)
    ["ecotax"]=>
    float(0)
    ["weight"]=>
    float(0)
    ["quantity"]=>
    float(0)
    ["reference"]=>
    string(0) ""
    ["unit_impact"]=>
    string(8) "0.000000"
    ["minimal_quantity"]=>
    int(1)
    ["available_date"]=>
    string(10) "2018-07-23"
    ["date_formatted"]=>
    string(10) "07/23/2018"
    ["id_image"]=>
    int(24262)
    ["list"]=>
    string(7) "'15116'"
  }
  [24262]=>
  array(14) {
    ["attributes_values"]=>
    array(1) {
      [931]=>
      string(3) "401"
    }
    ["attributes"]=>
    array(1) {
      [0]=>
      int(15117)
    }
    ["price"]=>
    float(0)
    ["specific_price"]=>
    bool(false)
    ["ecotax"]=>
    float(0)
    ["weight"]=>
    float(0)
    ["quantity"]=>
    float(0)
    ["reference"]=>
    string(0) ""
    ["unit_impact"]=>
    string(8) "0.000000"
    ["minimal_quantity"]=>
    int(1)
    ["available_date"]=>
    string(10) "2018-07-23"
    ["date_formatted"]=>
    string(10) "07/23/2018"
    ["id_image"]=>
    int(24263)
    ["list"]=>
    string(7) "'15117'"
  }
  [24263]=>
  array(14) {
    ["attributes_values"]=>
    array(1) {
      [931]=>
      string(3) "402"
    }
    ["attributes"]=>
    array(1) {
      [0]=>
      int(15118)
    }
    ["price"]=>
    float(0)
    ["specific_price"]=>
    bool(false)
    ["ecotax"]=>
    float(0)
    ["weight"]=>
    float(0)
    ["quantity"]=>
    float(25)
    ["reference"]=>
    string(0) ""
    ["unit_impact"]=>
    string(8) "0.000000"
    ["minimal_quantity"]=>
    int(1)
    ["available_date"]=>
    string(10) "2018-07-23"
    ["date_formatted"]=>
    string(10) "07/23/2018"
    ["id_image"]=>
    int(24264)
    ["list"]=>
    string(7) "'15118'"
  }
  [24264]=>
  array(14) {
    ["attributes_values"]=>
    array(1) {
      [931]=>
      string(3) "403"
    }
    ["attributes"]=>
    array(1) {
      [0]=>
      int(15119)
    }
    ["price"]=>
    float(0)
    ["specific_price"]=>
    bool(false)
    ["ecotax"]=>
    float(0)
    ["weight"]=>
    float(0)
    ["quantity"]=>
    float(-1)
    ["reference"]=>
    string(0) ""
    ["unit_impact"]=>
    string(8) "0.000000"
    ["minimal_quantity"]=>
    int(1)
    ["available_date"]=>
    string(10) "2018-07-23"
    ["date_formatted"]=>
    string(10) "07/23/2018"
    ["id_image"]=>
    int(24265)
    ["list"]=>
    string(7) "'15119'"
  }
  [24265]=>
  array(14) {
    ["attributes_values"]=>
    array(1) {
      [931]=>
      string(3) "404"
    }
    ["attributes"]=>
    array(1) {
      [0]=>
      int(15120)
    }
    ["price"]=>
    float(0)
    ["specific_price"]=>
    bool(false)
    ["ecotax"]=>
    float(0)
    ["weight"]=>
    float(0)
    ["quantity"]=>
    float(0)
    ["reference"]=>
    string(0) ""
    ["unit_impact"]=>
    string(8) "0.000000"
    ["minimal_quantity"]=>
    int(1)
    ["available_date"]=>
    string(10) "2018-07-23"
    ["date_formatted"]=>
    string(10) "07/23/2018"
    ["id_image"]=>
    int(24266)
    ["list"]=>
    string(7) "'15120'"
  }
  [24266]=>
  array(14) {
    ["attributes_values"]=>
    array(1) {
      [931]=>
      string(3) "405"
    }
    ["attributes"]=>
    array(1) {
      [0]=>
      int(15121)
    }
    ["price"]=>
    float(0)
    ["specific_price"]=>
    bool(false)
    ["ecotax"]=>
    float(0)
    ["weight"]=>
    float(0)
    ["quantity"]=>
    float(0)
    ["reference"]=>
    string(0) ""
    ["unit_impact"]=>
    string(8) "0.000000"
    ["minimal_quantity"]=>
    int(1)
    ["available_date"]=>
    string(10) "2018-07-23"
    ["date_formatted"]=>
    string(10) "07/23/2018"
    ["id_image"]=>
    int(24267)
    ["list"]=>
    string(7) "'15121'"
  }
  [24267]=>
  array(14) {
    ["attributes_values"]=>
    array(1) {
      [931]=>
      string(3) "406"
    }
    ["attributes"]=>
    array(1) {
      [0]=>
      int(15122)
    }
    ["price"]=>
    float(0)
    ["specific_price"]=>
    bool(false)
    ["ecotax"]=>
    float(0)
    ["weight"]=>
    float(0)
    ["quantity"]=>
    float(0)
    ["reference"]=>
    string(0) ""
    ["unit_impact"]=>
    string(8) "0.000000"
    ["minimal_quantity"]=>
    int(1)
    ["available_date"]=>
    string(10) "2018-07-23"
    ["date_formatted"]=>
    string(10) "07/23/2018"
    ["id_image"]=>
    int(24268)
    ["list"]=>
    string(7) "'15122'"
  }
  [24268]=>
  array(14) {
    ["attributes_values"]=>
    array(1) {
      [931]=>
      string(3) "407"
    }
    ["attributes"]=>
    array(1) {
      [0]=>
      int(15123)
    }
    ["price"]=>
    float(0)
    ["specific_price"]=>
    bool(false)
    ["ecotax"]=>
    float(0)
    ["weight"]=>
    float(0)
    ["quantity"]=>
    float(0)
    ["reference"]=>
    string(0) ""
    ["unit_impact"]=>
    string(8) "0.000000"
    ["minimal_quantity"]=>
    int(1)
    ["available_date"]=>
    string(10) "2018-07-23"
    ["date_formatted"]=>
    string(10) "07/23/2018"
    ["id_image"]=>
    int(24269)
    ["list"]=>
    string(7) "'15123'"
  }
  [24269]=>
  array(14) {
    ["attributes_values"]=>
    array(1) {
      [931]=>
      string(3) "408"
    }
    ["attributes"]=>
    array(1) {
      [0]=>
      int(15124)
    }
    ["price"]=>
    float(0)
    ["specific_price"]=>
    bool(false)
    ["ecotax"]=>
    float(0)
    ["weight"]=>
    float(0)
    ["quantity"]=>
    float(0)
    ["reference"]=>
    string(0) ""
    ["unit_impact"]=>
    string(8) "0.000000"
    ["minimal_quantity"]=>
    int(1)
    ["available_date"]=>
    string(10) "2018-07-23"
    ["date_formatted"]=>
    string(10) "07/23/2018"
    ["id_image"]=>
    int(24270)
    ["list"]=>
    string(7) "'15124'"
  }
  [24270]=>
  array(14) {
    ["attributes_values"]=>
    array(1) {
      [931]=>
      string(3) "409"
    }
    ["attributes"]=>
    array(1) {
      [0]=>
      int(15125)
    }
    ["price"]=>
    float(0)
    ["specific_price"]=>
    bool(false)
    ["ecotax"]=>
    float(0)
    ["weight"]=>
    float(0)
    ["quantity"]=>
    float(23)
    ["reference"]=>
    string(0) ""
    ["unit_impact"]=>
    string(8) "0.000000"
    ["minimal_quantity"]=>
    int(1)
    ["available_date"]=>
    string(10) "2018-07-23"
    ["date_formatted"]=>
    string(10) "07/23/2018"
    ["id_image"]=>
    int(24271)
    ["list"]=>
    string(7) "'15125'"
  }
  [32158]=>
  array(14) {
    ["attributes_values"]=>
    array(1) {
      [931]=>
      string(3) "415"
    }
    ["attributes"]=>
    array(1) {
      [0]=>
      int(21697)
    }
    ["price"]=>
    float(0)
    ["specific_price"]=>
    bool(false)
    ["ecotax"]=>
    float(0)
    ["weight"]=>
    float(0)
    ["quantity"]=>
    float(0)
    ["reference"]=>
    string(0) ""
    ["unit_impact"]=>
    string(8) "0.000000"
    ["minimal_quantity"]=>
    int(1)
    ["available_date"]=>
    string(10) "2019-09-07"
    ["date_formatted"]=>
    string(10) "09/07/2019"
    ["id_image"]=>
    int(36120)
    ["list"]=>
    string(7) "'21697'"
  }
  [32159]=>
  array(14) {
    ["attributes_values"]=>
    array(1) {
      [931]=>
      string(3) "416"
    }
    ["attributes"]=>
    array(1) {
      [0]=>
      int(21698)
    }
    ["price"]=>
    float(0)
    ["specific_price"]=>
    bool(false)
    ["ecotax"]=>
    float(0)
    ["weight"]=>
    float(0)
    ["quantity"]=>
    float(0)
    ["reference"]=>
    string(0) ""
    ["unit_impact"]=>
    string(8) "0.000000"
    ["minimal_quantity"]=>
    int(1)
    ["available_date"]=>
    string(10) "2019-09-07"
    ["date_formatted"]=>
    string(10) "09/07/2019"
    ["id_image"]=>
    int(36121)
    ["list"]=>
    string(7) "'21698'"
  }
  [32160]=>
  array(14) {
    ["attributes_values"]=>
    array(1) {
      [931]=>
      string(3) "417"
    }
    ["attributes"]=>
    array(1) {
      [0]=>
      int(21699)
    }
    ["price"]=>
    float(0)
    ["specific_price"]=>
    bool(false)
    ["ecotax"]=>
    float(0)
    ["weight"]=>
    float(0)
    ["quantity"]=>
    float(0)
    ["reference"]=>
    string(0) ""
    ["unit_impact"]=>
    string(8) "0.000000"
    ["minimal_quantity"]=>
    int(1)
    ["available_date"]=>
    string(10) "2019-09-07"
    ["date_formatted"]=>
    string(10) "09/07/2019"
    ["id_image"]=>
    int(36122)
    ["list"]=>
    string(7) "'21699'"
  }
  [32161]=>
  array(14) {
    ["attributes_values"]=>
    array(1) {
      [931]=>
      string(3) "418"
    }
    ["attributes"]=>
    array(1) {
      [0]=>
      int(21700)
    }
    ["price"]=>
    float(0)
    ["specific_price"]=>
    bool(false)
    ["ecotax"]=>
    float(0)
    ["weight"]=>
    float(0)
    ["quantity"]=>
    float(-2)
    ["reference"]=>
    string(0) ""
    ["unit_impact"]=>
    string(8) "0.000000"
    ["minimal_quantity"]=>
    int(1)
    ["available_date"]=>
    string(10) "2019-09-07"
    ["date_formatted"]=>
    string(10) "09/07/2019"
    ["id_image"]=>
    int(36123)
    ["list"]=>
    string(7) "'21700'"
  }
  [32162]=>
  array(14) {
    ["attributes_values"]=>
    array(1) {
      [931]=>
      string(3) "419"
    }
    ["attributes"]=>
    array(1) {
      [0]=>
      int(21701)
    }
    ["price"]=>
    float(0)
    ["specific_price"]=>
    bool(false)
    ["ecotax"]=>
    float(0)
    ["weight"]=>
    float(0)
    ["quantity"]=>
    float(-1)
    ["reference"]=>
    string(0) ""
    ["unit_impact"]=>
    string(8) "0.000000"
    ["minimal_quantity"]=>
    int(1)
    ["available_date"]=>
    string(10) "2019-09-07"
    ["date_formatted"]=>
    string(10) "09/07/2019"
    ["id_image"]=>
    int(36124)
    ["list"]=>
    string(7) "'21701'"
  }
  [32163]=>
  array(14) {
    ["attributes_values"]=>
    array(1) {
      [931]=>
      string(3) "420"
    }
    ["attributes"]=>
    array(1) {
      [0]=>
      int(21702)
    }
    ["price"]=>
    float(0)
    ["specific_price"]=>
    bool(false)
    ["ecotax"]=>
    float(0)
    ["weight"]=>
    float(0)
    ["quantity"]=>
    float(4)
    ["reference"]=>
    string(0) ""
    ["unit_impact"]=>
    string(8) "0.000000"
    ["minimal_quantity"]=>
    int(1)
    ["available_date"]=>
    string(10) "2019-09-07"
    ["date_formatted"]=>
    string(10) "09/07/2019"
    ["id_image"]=>
    int(36125)
    ["list"]=>
    string(7) "'21702'"
  }
}

DMC Brio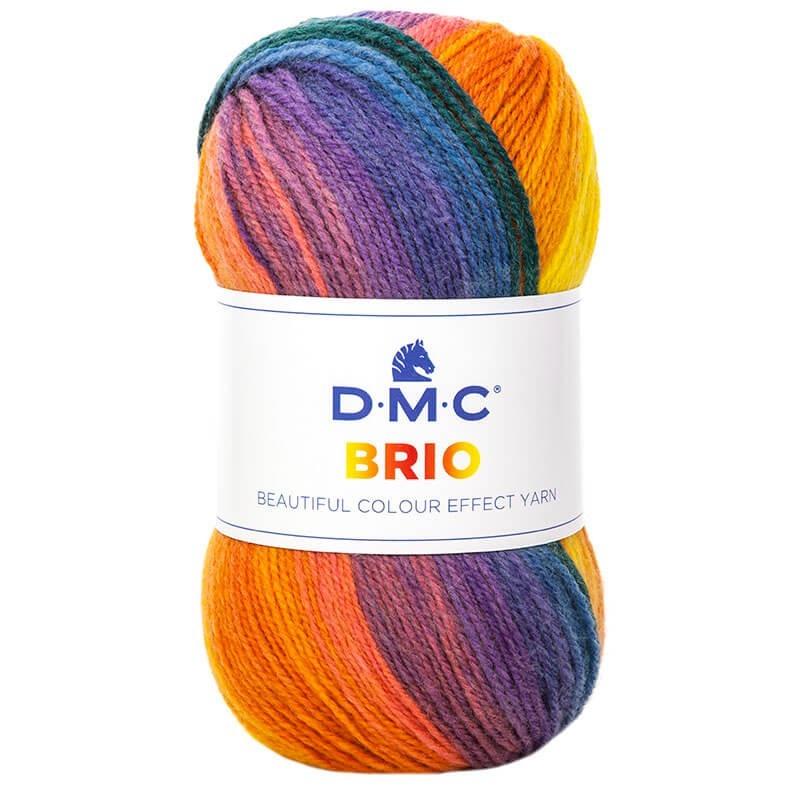  
DMC Brio is a fine, colourful and pleasant to the touch yarn made of acrylic and wool fibres. It is characterised by its beautiful combination of colours which creates an original marbled effect.
By buying this product you can collect up to 2 loyalty points. Your cart will total 2 points that can be converted into a voucher of €0.08.
Product details
Features
Weight

100 grams

Length

340 meters

Knitting needle

4

Crochet Hook

4

Season

Autumn - Winter
Product description
Brio from DMC is a flashy yarn which combines different tones in order to obtain garments with an original marbled effect.
This comfortable and soft yarn will protect your skin from irritations and blotches.
It consists of 3 threads twisted together. Besides, it is available in a wide of different colours.
DMC Brio is the perfect yarn to knit all sorts of garments for winter like scarves, hats, blouses, pullovers, cardigans and accessories for your home like blankets or pillowcases.
DMC Brio composition:
This yarn is made of acrylic fibres which make this yarn more resistant and durable.
In addition, it is characterised by wool fibres which will keep you warm in winter.
DMC Brio characteristics:
Each ball has about 100 grammes and 345 metres approximately.
Recommended knitting needles and crochet hooks size: 4 mm.
Tension square: 10×10 cm (4×4 inches), 22 stitches x 28 rows.
Machine washable at 40ºC maximum.
Do not tumble dry.
It can be ironed at a moderate temperature (110ºC).
Create your own garments and complements with this colourful yarn from DMC.
Have you ever knitted with DMC Brio? Tell us about your experience!
Rating:

5

out of

5

based on

28

reviews.
Customer reviews
Nº of votes

Average experience

Rating

28

star star star star star

star star star star star

star star star star star

star star star star star
Page 1
Loading more results...