array(48) {
  [42471]=>
  array(14) {
    ["attributes_values"]=>
    array(1) {
      [1767]=>
      string(3) "204"
    }
    ["attributes"]=>
    array(1) {
      [0]=>
      int(29134)
    }
    ["price"]=>
    float(0)
    ["specific_price"]=>
    bool(false)
    ["ecotax"]=>
    float(0)
    ["weight"]=>
    float(0)
    ["quantity"]=>
    float(10)
    ["reference"]=>
    string(0) ""
    ["unit_impact"]=>
    string(8) "0.000000"
    ["minimal_quantity"]=>
    int(1)
    ["available_date"]=>
    string(10) "2021-02-22"
    ["date_formatted"]=>
    string(10) "02/22/2021"
    ["id_image"]=>
    int(51892)
    ["list"]=>
    string(7) "'29134'"
  }
  [42472]=>
  array(14) {
    ["attributes_values"]=>
    array(1) {
      [1767]=>
      string(3) "210"
    }
    ["attributes"]=>
    array(1) {
      [0]=>
      int(29135)
    }
    ["price"]=>
    float(0)
    ["specific_price"]=>
    bool(false)
    ["ecotax"]=>
    float(0)
    ["weight"]=>
    float(0)
    ["quantity"]=>
    float(16)
    ["reference"]=>
    string(0) ""
    ["unit_impact"]=>
    string(8) "0.000000"
    ["minimal_quantity"]=>
    int(1)
    ["available_date"]=>
    string(10) "2021-02-22"
    ["date_formatted"]=>
    string(10) "02/22/2021"
    ["id_image"]=>
    int(51893)
    ["list"]=>
    string(7) "'29135'"
  }
  [42473]=>
  array(14) {
    ["attributes_values"]=>
    array(1) {
      [1767]=>
      string(3) "212"
    }
    ["attributes"]=>
    array(1) {
      [0]=>
      int(29136)
    }
    ["price"]=>
    float(0)
    ["specific_price"]=>
    bool(false)
    ["ecotax"]=>
    float(0)
    ["weight"]=>
    float(0)
    ["quantity"]=>
    float(10)
    ["reference"]=>
    string(0) ""
    ["unit_impact"]=>
    string(8) "0.000000"
    ["minimal_quantity"]=>
    int(1)
    ["available_date"]=>
    string(10) "2021-02-22"
    ["date_formatted"]=>
    string(10) "02/22/2021"
    ["id_image"]=>
    int(51894)
    ["list"]=>
    string(7) "'29136'"
  }
  [42474]=>
  array(14) {
    ["attributes_values"]=>
    array(1) {
      [1767]=>
      string(3) "222"
    }
    ["attributes"]=>
    array(1) {
      [0]=>
      int(29137)
    }
    ["price"]=>
    float(0)
    ["specific_price"]=>
    bool(false)
    ["ecotax"]=>
    float(0)
    ["weight"]=>
    float(0)
    ["quantity"]=>
    float(8)
    ["reference"]=>
    string(0) ""
    ["unit_impact"]=>
    string(8) "0.000000"
    ["minimal_quantity"]=>
    int(1)
    ["available_date"]=>
    string(10) "2021-02-22"
    ["date_formatted"]=>
    string(10) "02/22/2021"
    ["id_image"]=>
    int(51895)
    ["list"]=>
    string(7) "'29137'"
  }
  [42475]=>
  array(14) {
    ["attributes_values"]=>
    array(1) {
      [1767]=>
      string(3) "225"
    }
    ["attributes"]=>
    array(1) {
      [0]=>
      int(29138)
    }
    ["price"]=>
    float(0)
    ["specific_price"]=>
    bool(false)
    ["ecotax"]=>
    float(0)
    ["weight"]=>
    float(0)
    ["quantity"]=>
    float(16)
    ["reference"]=>
    string(0) ""
    ["unit_impact"]=>
    string(8) "0.000000"
    ["minimal_quantity"]=>
    int(1)
    ["available_date"]=>
    string(10) "2021-02-22"
    ["date_formatted"]=>
    string(10) "02/22/2021"
    ["id_image"]=>
    int(51896)
    ["list"]=>
    string(7) "'29138'"
  }
  [42476]=>
  array(14) {
    ["attributes_values"]=>
    array(1) {
      [1767]=>
      string(3) "228"
    }
    ["attributes"]=>
    array(1) {
      [0]=>
      int(29139)
    }
    ["price"]=>
    float(0)
    ["specific_price"]=>
    bool(false)
    ["ecotax"]=>
    float(0)
    ["weight"]=>
    float(0)
    ["quantity"]=>
    float(10)
    ["reference"]=>
    string(0) ""
    ["unit_impact"]=>
    string(8) "0.000000"
    ["minimal_quantity"]=>
    int(1)
    ["available_date"]=>
    string(10) "2021-02-22"
    ["date_formatted"]=>
    string(10) "02/22/2021"
    ["id_image"]=>
    int(51897)
    ["list"]=>
    string(7) "'29139'"
  }
  [42477]=>
  array(14) {
    ["attributes_values"]=>
    array(1) {
      [1767]=>
      string(3) "229"
    }
    ["attributes"]=>
    array(1) {
      [0]=>
      int(29140)
    }
    ["price"]=>
    float(0)
    ["specific_price"]=>
    bool(false)
    ["ecotax"]=>
    float(0)
    ["weight"]=>
    float(0)
    ["quantity"]=>
    float(0)
    ["reference"]=>
    string(0) ""
    ["unit_impact"]=>
    string(8) "0.000000"
    ["minimal_quantity"]=>
    int(1)
    ["available_date"]=>
    string(10) "2021-02-22"
    ["date_formatted"]=>
    string(10) "02/22/2021"
    ["id_image"]=>
    int(51898)
    ["list"]=>
    string(7) "'29140'"
  }
  [42478]=>
  array(14) {
    ["attributes_values"]=>
    array(1) {
      [1767]=>
      string(3) "237"
    }
    ["attributes"]=>
    array(1) {
      [0]=>
      int(29141)
    }
    ["price"]=>
    float(0)
    ["specific_price"]=>
    bool(false)
    ["ecotax"]=>
    float(0)
    ["weight"]=>
    float(0)
    ["quantity"]=>
    float(10)
    ["reference"]=>
    string(0) ""
    ["unit_impact"]=>
    string(8) "0.000000"
    ["minimal_quantity"]=>
    int(1)
    ["available_date"]=>
    string(10) "2021-02-22"
    ["date_formatted"]=>
    string(10) "02/22/2021"
    ["id_image"]=>
    int(51899)
    ["list"]=>
    string(7) "'29141'"
  }
  [42479]=>
  array(14) {
    ["attributes_values"]=>
    array(1) {
      [1767]=>
      string(3) "249"
    }
    ["attributes"]=>
    array(1) {
      [0]=>
      int(29142)
    }
    ["price"]=>
    float(0)
    ["specific_price"]=>
    bool(false)
    ["ecotax"]=>
    float(0)
    ["weight"]=>
    float(0)
    ["quantity"]=>
    float(10)
    ["reference"]=>
    string(0) ""
    ["unit_impact"]=>
    string(8) "0.000000"
    ["minimal_quantity"]=>
    int(1)
    ["available_date"]=>
    string(10) "2021-02-22"
    ["date_formatted"]=>
    string(10) "02/22/2021"
    ["id_image"]=>
    int(51900)
    ["list"]=>
    string(7) "'29142'"
  }
  [42480]=>
  array(14) {
    ["attributes_values"]=>
    array(1) {
      [1767]=>
      string(3) "269"
    }
    ["attributes"]=>
    array(1) {
      [0]=>
      int(29143)
    }
    ["price"]=>
    float(0)
    ["specific_price"]=>
    bool(false)
    ["ecotax"]=>
    float(0)
    ["weight"]=>
    float(0)
    ["quantity"]=>
    float(10)
    ["reference"]=>
    string(0) ""
    ["unit_impact"]=>
    string(8) "0.000000"
    ["minimal_quantity"]=>
    int(1)
    ["available_date"]=>
    string(10) "2021-02-22"
    ["date_formatted"]=>
    string(10) "02/22/2021"
    ["id_image"]=>
    int(51901)
    ["list"]=>
    string(7) "'29143'"
  }
  [42481]=>
  array(14) {
    ["attributes_values"]=>
    array(1) {
      [1767]=>
      string(3) "272"
    }
    ["attributes"]=>
    array(1) {
      [0]=>
      int(29144)
    }
    ["price"]=>
    float(0)
    ["specific_price"]=>
    bool(false)
    ["ecotax"]=>
    float(0)
    ["weight"]=>
    float(0)
    ["quantity"]=>
    float(10)
    ["reference"]=>
    string(0) ""
    ["unit_impact"]=>
    string(8) "0.000000"
    ["minimal_quantity"]=>
    int(1)
    ["available_date"]=>
    string(10) "2021-02-22"
    ["date_formatted"]=>
    string(10) "02/22/2021"
    ["id_image"]=>
    int(51902)
    ["list"]=>
    string(7) "'29144'"
  }
  [42482]=>
  array(14) {
    ["attributes_values"]=>
    array(1) {
      [1767]=>
      string(3) "289"
    }
    ["attributes"]=>
    array(1) {
      [0]=>
      int(29145)
    }
    ["price"]=>
    float(0)
    ["specific_price"]=>
    bool(false)
    ["ecotax"]=>
    float(0)
    ["weight"]=>
    float(0)
    ["quantity"]=>
    float(0)
    ["reference"]=>
    string(0) ""
    ["unit_impact"]=>
    string(8) "0.000000"
    ["minimal_quantity"]=>
    int(1)
    ["available_date"]=>
    string(10) "2021-02-22"
    ["date_formatted"]=>
    string(10) "02/22/2021"
    ["id_image"]=>
    int(51903)
    ["list"]=>
    string(7) "'29145'"
  }
  [42483]=>
  array(14) {
    ["attributes_values"]=>
    array(1) {
      [1767]=>
      string(3) "290"
    }
    ["attributes"]=>
    array(1) {
      [0]=>
      int(29146)
    }
    ["price"]=>
    float(0)
    ["specific_price"]=>
    bool(false)
    ["ecotax"]=>
    float(0)
    ["weight"]=>
    float(0)
    ["quantity"]=>
    float(10)
    ["reference"]=>
    string(0) ""
    ["unit_impact"]=>
    string(8) "0.000000"
    ["minimal_quantity"]=>
    int(1)
    ["available_date"]=>
    string(10) "2021-02-22"
    ["date_formatted"]=>
    string(10) "02/22/2021"
    ["id_image"]=>
    int(51904)
    ["list"]=>
    string(7) "'29146'"
  }
  [42484]=>
  array(14) {
    ["attributes_values"]=>
    array(1) {
      [1767]=>
      string(3) "296"
    }
    ["attributes"]=>
    array(1) {
      [0]=>
      int(29147)
    }
    ["price"]=>
    float(0)
    ["specific_price"]=>
    bool(false)
    ["ecotax"]=>
    float(0)
    ["weight"]=>
    float(0)
    ["quantity"]=>
    float(10)
    ["reference"]=>
    string(0) ""
    ["unit_impact"]=>
    string(8) "0.000000"
    ["minimal_quantity"]=>
    int(1)
    ["available_date"]=>
    string(10) "2021-02-22"
    ["date_formatted"]=>
    string(10) "02/22/2021"
    ["id_image"]=>
    int(51905)
    ["list"]=>
    string(7) "'29147'"
  }
  [42485]=>
  array(14) {
    ["attributes_values"]=>
    array(1) {
      [1767]=>
      string(3) "310"
    }
    ["attributes"]=>
    array(1) {
      [0]=>
      int(29148)
    }
    ["price"]=>
    float(0)
    ["specific_price"]=>
    bool(false)
    ["ecotax"]=>
    float(0)
    ["weight"]=>
    float(0)
    ["quantity"]=>
    float(20)
    ["reference"]=>
    string(0) ""
    ["unit_impact"]=>
    string(8) "0.000000"
    ["minimal_quantity"]=>
    int(1)
    ["available_date"]=>
    string(10) "2021-02-22"
    ["date_formatted"]=>
    string(10) "02/22/2021"
    ["id_image"]=>
    int(51906)
    ["list"]=>
    string(7) "'29148'"
  }
  [42486]=>
  array(14) {
    ["attributes_values"]=>
    array(1) {
      [1767]=>
      string(3) "316"
    }
    ["attributes"]=>
    array(1) {
      [0]=>
      int(29149)
    }
    ["price"]=>
    float(0)
    ["specific_price"]=>
    bool(false)
    ["ecotax"]=>
    float(0)
    ["weight"]=>
    float(0)
    ["quantity"]=>
    float(10)
    ["reference"]=>
    string(0) ""
    ["unit_impact"]=>
    string(8) "0.000000"
    ["minimal_quantity"]=>
    int(1)
    ["available_date"]=>
    string(10) "2021-02-22"
    ["date_formatted"]=>
    string(10) "02/22/2021"
    ["id_image"]=>
    int(51907)
    ["list"]=>
    string(7) "'29149'"
  }
  [42487]=>
  array(14) {
    ["attributes_values"]=>
    array(1) {
      [1767]=>
      string(3) "321"
    }
    ["attributes"]=>
    array(1) {
      [0]=>
      int(29150)
    }
    ["price"]=>
    float(0)
    ["specific_price"]=>
    bool(false)
    ["ecotax"]=>
    float(0)
    ["weight"]=>
    float(0)
    ["quantity"]=>
    float(10)
    ["reference"]=>
    string(0) ""
    ["unit_impact"]=>
    string(8) "0.000000"
    ["minimal_quantity"]=>
    int(1)
    ["available_date"]=>
    string(10) "2021-02-22"
    ["date_formatted"]=>
    string(10) "02/22/2021"
    ["id_image"]=>
    int(51908)
    ["list"]=>
    string(7) "'29150'"
  }
  [42488]=>
  array(14) {
    ["attributes_values"]=>
    array(1) {
      [1767]=>
      string(3) "325"
    }
    ["attributes"]=>
    array(1) {
      [0]=>
      int(29151)
    }
    ["price"]=>
    float(0)
    ["specific_price"]=>
    bool(false)
    ["ecotax"]=>
    float(0)
    ["weight"]=>
    float(0)
    ["quantity"]=>
    float(19)
    ["reference"]=>
    string(0) ""
    ["unit_impact"]=>
    string(8) "0.000000"
    ["minimal_quantity"]=>
    int(1)
    ["available_date"]=>
    string(10) "2021-02-22"
    ["date_formatted"]=>
    string(10) "02/22/2021"
    ["id_image"]=>
    int(51909)
    ["list"]=>
    string(7) "'29151'"
  }
  [42489]=>
  array(14) {
    ["attributes_values"]=>
    array(1) {
      [1767]=>
      string(3) "326"
    }
    ["attributes"]=>
    array(1) {
      [0]=>
      int(29152)
    }
    ["price"]=>
    float(0)
    ["specific_price"]=>
    bool(false)
    ["ecotax"]=>
    float(0)
    ["weight"]=>
    float(0)
    ["quantity"]=>
    float(20)
    ["reference"]=>
    string(0) ""
    ["unit_impact"]=>
    string(8) "0.000000"
    ["minimal_quantity"]=>
    int(1)
    ["available_date"]=>
    string(10) "2021-02-22"
    ["date_formatted"]=>
    string(10) "02/22/2021"
    ["id_image"]=>
    int(51910)
    ["list"]=>
    string(7) "'29152'"
  }
  [42490]=>
  array(14) {
    ["attributes_values"]=>
    array(1) {
      [1767]=>
      string(3) "341"
    }
    ["attributes"]=>
    array(1) {
      [0]=>
      int(29153)
    }
    ["price"]=>
    float(0)
    ["specific_price"]=>
    bool(false)
    ["ecotax"]=>
    float(0)
    ["weight"]=>
    float(0)
    ["quantity"]=>
    float(10)
    ["reference"]=>
    string(0) ""
    ["unit_impact"]=>
    string(8) "0.000000"
    ["minimal_quantity"]=>
    int(1)
    ["available_date"]=>
    string(10) "2021-02-22"
    ["date_formatted"]=>
    string(10) "02/22/2021"
    ["id_image"]=>
    int(51911)
    ["list"]=>
    string(7) "'29153'"
  }
  [42491]=>
  array(14) {
    ["attributes_values"]=>
    array(1) {
      [1767]=>
      string(3) "343"
    }
    ["attributes"]=>
    array(1) {
      [0]=>
      int(29154)
    }
    ["price"]=>
    float(0)
    ["specific_price"]=>
    bool(false)
    ["ecotax"]=>
    float(0)
    ["weight"]=>
    float(0)
    ["quantity"]=>
    float(10)
    ["reference"]=>
    string(0) ""
    ["unit_impact"]=>
    string(8) "0.000000"
    ["minimal_quantity"]=>
    int(1)
    ["available_date"]=>
    string(10) "2021-02-22"
    ["date_formatted"]=>
    string(10) "02/22/2021"
    ["id_image"]=>
    int(51912)
    ["list"]=>
    string(7) "'29154'"
  }
  [42492]=>
  array(14) {
    ["attributes_values"]=>
    array(1) {
      [1767]=>
      string(3) "351"
    }
    ["attributes"]=>
    array(1) {
      [0]=>
      int(29155)
    }
    ["price"]=>
    float(0)
    ["specific_price"]=>
    bool(false)
    ["ecotax"]=>
    float(0)
    ["weight"]=>
    float(0)
    ["quantity"]=>
    float(5)
    ["reference"]=>
    string(0) ""
    ["unit_impact"]=>
    string(8) "0.000000"
    ["minimal_quantity"]=>
    int(1)
    ["available_date"]=>
    string(10) "2021-02-22"
    ["date_formatted"]=>
    string(10) "02/22/2021"
    ["id_image"]=>
    int(51913)
    ["list"]=>
    string(7) "'29155'"
  }
  [42493]=>
  array(14) {
    ["attributes_values"]=>
    array(1) {
      [1767]=>
      string(3) "370"
    }
    ["attributes"]=>
    array(1) {
      [0]=>
      int(29156)
    }
    ["price"]=>
    float(0)
    ["specific_price"]=>
    bool(false)
    ["ecotax"]=>
    float(0)
    ["weight"]=>
    float(0)
    ["quantity"]=>
    float(10)
    ["reference"]=>
    string(0) ""
    ["unit_impact"]=>
    string(8) "0.000000"
    ["minimal_quantity"]=>
    int(1)
    ["available_date"]=>
    string(10) "2021-02-22"
    ["date_formatted"]=>
    string(10) "02/22/2021"
    ["id_image"]=>
    int(51914)
    ["list"]=>
    string(7) "'29156'"
  }
  [42494]=>
  array(14) {
    ["attributes_values"]=>
    array(1) {
      [1767]=>
      string(3) "375"
    }
    ["attributes"]=>
    array(1) {
      [0]=>
      int(29157)
    }
    ["price"]=>
    float(0)
    ["specific_price"]=>
    bool(false)
    ["ecotax"]=>
    float(0)
    ["weight"]=>
    float(0)
    ["quantity"]=>
    float(10)
    ["reference"]=>
    string(0) ""
    ["unit_impact"]=>
    string(8) "0.000000"
    ["minimal_quantity"]=>
    int(1)
    ["available_date"]=>
    string(10) "2021-02-22"
    ["date_formatted"]=>
    string(10) "02/22/2021"
    ["id_image"]=>
    int(51915)
    ["list"]=>
    string(7) "'29157'"
  }
  [42495]=>
  array(14) {
    ["attributes_values"]=>
    array(1) {
      [1767]=>
      string(3) "396"
    }
    ["attributes"]=>
    array(1) {
      [0]=>
      int(29158)
    }
    ["price"]=>
    float(0)
    ["specific_price"]=>
    bool(false)
    ["ecotax"]=>
    float(0)
    ["weight"]=>
    float(0)
    ["quantity"]=>
    float(10)
    ["reference"]=>
    string(0) ""
    ["unit_impact"]=>
    string(8) "0.000000"
    ["minimal_quantity"]=>
    int(1)
    ["available_date"]=>
    string(10) "2021-02-22"
    ["date_formatted"]=>
    string(10) "02/22/2021"
    ["id_image"]=>
    int(51916)
    ["list"]=>
    string(7) "'29158'"
  }
  [42496]=>
  array(14) {
    ["attributes_values"]=>
    array(1) {
      [1767]=>
      string(4) "2122"
    }
    ["attributes"]=>
    array(1) {
      [0]=>
      int(29159)
    }
    ["price"]=>
    float(0)
    ["specific_price"]=>
    bool(false)
    ["ecotax"]=>
    float(0)
    ["weight"]=>
    float(0)
    ["quantity"]=>
    float(10)
    ["reference"]=>
    string(0) ""
    ["unit_impact"]=>
    string(8) "0.000000"
    ["minimal_quantity"]=>
    int(1)
    ["available_date"]=>
    string(10) "2021-02-22"
    ["date_formatted"]=>
    string(10) "02/22/2021"
    ["id_image"]=>
    int(51917)
    ["list"]=>
    string(7) "'29159'"
  }
  [42497]=>
  array(14) {
    ["attributes_values"]=>
    array(1) {
      [1767]=>
      string(4) "2123"
    }
    ["attributes"]=>
    array(1) {
      [0]=>
      int(29160)
    }
    ["price"]=>
    float(0)
    ["specific_price"]=>
    bool(false)
    ["ecotax"]=>
    float(0)
    ["weight"]=>
    float(0)
    ["quantity"]=>
    float(10)
    ["reference"]=>
    string(0) ""
    ["unit_impact"]=>
    string(8) "0.000000"
    ["minimal_quantity"]=>
    int(1)
    ["available_date"]=>
    string(10) "2021-02-22"
    ["date_formatted"]=>
    string(10) "02/22/2021"
    ["id_image"]=>
    int(51918)
    ["list"]=>
    string(7) "'29160'"
  }
  [42498]=>
  array(14) {
    ["attributes_values"]=>
    array(1) {
      [1767]=>
      string(4) "2135"
    }
    ["attributes"]=>
    array(1) {
      [0]=>
      int(29161)
    }
    ["price"]=>
    float(0)
    ["specific_price"]=>
    bool(false)
    ["ecotax"]=>
    float(0)
    ["weight"]=>
    float(0)
    ["quantity"]=>
    float(10)
    ["reference"]=>
    string(0) ""
    ["unit_impact"]=>
    string(8) "0.000000"
    ["minimal_quantity"]=>
    int(1)
    ["available_date"]=>
    string(10) "2021-02-22"
    ["date_formatted"]=>
    string(10) "02/22/2021"
    ["id_image"]=>
    int(51919)
    ["list"]=>
    string(7) "'29161'"
  }
  [42499]=>
  array(14) {
    ["attributes_values"]=>
    array(1) {
      [1767]=>
      string(4) "2137"
    }
    ["attributes"]=>
    array(1) {
      [0]=>
      int(29162)
    }
    ["price"]=>
    float(0)
    ["specific_price"]=>
    bool(false)
    ["ecotax"]=>
    float(0)
    ["weight"]=>
    float(0)
    ["quantity"]=>
    float(10)
    ["reference"]=>
    string(0) ""
    ["unit_impact"]=>
    string(8) "0.000000"
    ["minimal_quantity"]=>
    int(1)
    ["available_date"]=>
    string(10) "2021-02-22"
    ["date_formatted"]=>
    string(10) "02/22/2021"
    ["id_image"]=>
    int(51920)
    ["list"]=>
    string(7) "'29162'"
  }
  [42500]=>
  array(14) {
    ["attributes_values"]=>
    array(1) {
      [1767]=>
      string(4) "2139"
    }
    ["attributes"]=>
    array(1) {
      [0]=>
      int(29163)
    }
    ["price"]=>
    float(0)
    ["specific_price"]=>
    bool(false)
    ["ecotax"]=>
    float(0)
    ["weight"]=>
    float(0)
    ["quantity"]=>
    float(10)
    ["reference"]=>
    string(0) ""
    ["unit_impact"]=>
    string(8) "0.000000"
    ["minimal_quantity"]=>
    int(1)
    ["available_date"]=>
    string(10) "2021-02-22"
    ["date_formatted"]=>
    string(10) "02/22/2021"
    ["id_image"]=>
    int(51921)
    ["list"]=>
    string(7) "'29163'"
  }
  [42501]=>
  array(14) {
    ["attributes_values"]=>
    array(1) {
      [1767]=>
      string(4) "2140"
    }
    ["attributes"]=>
    array(1) {
      [0]=>
      int(29164)
    }
    ["price"]=>
    float(0)
    ["specific_price"]=>
    bool(false)
    ["ecotax"]=>
    float(0)
    ["weight"]=>
    float(0)
    ["quantity"]=>
    float(10)
    ["reference"]=>
    string(0) ""
    ["unit_impact"]=>
    string(8) "0.000000"
    ["minimal_quantity"]=>
    int(1)
    ["available_date"]=>
    string(10) "2021-02-22"
    ["date_formatted"]=>
    string(10) "02/22/2021"
    ["id_image"]=>
    int(51922)
    ["list"]=>
    string(7) "'29164'"
  }
  [42502]=>
  array(14) {
    ["attributes_values"]=>
    array(1) {
      [1767]=>
      string(4) "2148"
    }
    ["attributes"]=>
    array(1) {
      [0]=>
      int(29165)
    }
    ["price"]=>
    float(0)
    ["specific_price"]=>
    bool(false)
    ["ecotax"]=>
    float(0)
    ["weight"]=>
    float(0)
    ["quantity"]=>
    float(8)
    ["reference"]=>
    string(0) ""
    ["unit_impact"]=>
    string(8) "0.000000"
    ["minimal_quantity"]=>
    int(1)
    ["available_date"]=>
    string(10) "2021-02-22"
    ["date_formatted"]=>
    string(10) "02/22/2021"
    ["id_image"]=>
    int(51923)
    ["list"]=>
    string(7) "'29165'"
  }
  [42503]=>
  array(14) {
    ["attributes_values"]=>
    array(1) {
      [1767]=>
      string(4) "2149"
    }
    ["attributes"]=>
    array(1) {
      [0]=>
      int(29166)
    }
    ["price"]=>
    float(0)
    ["specific_price"]=>
    bool(false)
    ["ecotax"]=>
    float(0)
    ["weight"]=>
    float(0)
    ["quantity"]=>
    float(10)
    ["reference"]=>
    string(0) ""
    ["unit_impact"]=>
    string(8) "0.000000"
    ["minimal_quantity"]=>
    int(1)
    ["available_date"]=>
    string(10) "2021-02-22"
    ["date_formatted"]=>
    string(10) "02/22/2021"
    ["id_image"]=>
    int(51924)
    ["list"]=>
    string(7) "'29166'"
  }
  [42504]=>
  array(14) {
    ["attributes_values"]=>
    array(1) {
      [1767]=>
      string(4) "2150"
    }
    ["attributes"]=>
    array(1) {
      [0]=>
      int(29167)
    }
    ["price"]=>
    float(0)
    ["specific_price"]=>
    bool(false)
    ["ecotax"]=>
    float(0)
    ["weight"]=>
    float(0)
    ["quantity"]=>
    float(10)
    ["reference"]=>
    string(0) ""
    ["unit_impact"]=>
    string(8) "0.000000"
    ["minimal_quantity"]=>
    int(1)
    ["available_date"]=>
    string(10) "2021-02-22"
    ["date_formatted"]=>
    string(10) "02/22/2021"
    ["id_image"]=>
    int(51925)
    ["list"]=>
    string(7) "'29167'"
  }
  [42505]=>
  array(14) {
    ["attributes_values"]=>
    array(1) {
      [1767]=>
      string(4) "2168"
    }
    ["attributes"]=>
    array(1) {
      [0]=>
      int(29168)
    }
    ["price"]=>
    float(0)
    ["specific_price"]=>
    bool(false)
    ["ecotax"]=>
    float(0)
    ["weight"]=>
    float(0)
    ["quantity"]=>
    float(10)
    ["reference"]=>
    string(0) ""
    ["unit_impact"]=>
    string(8) "0.000000"
    ["minimal_quantity"]=>
    int(1)
    ["available_date"]=>
    string(10) "2021-02-22"
    ["date_formatted"]=>
    string(10) "02/22/2021"
    ["id_image"]=>
    int(51926)
    ["list"]=>
    string(7) "'29168'"
  }
  [42506]=>
  array(14) {
    ["attributes_values"]=>
    array(1) {
      [1767]=>
      string(4) "2181"
    }
    ["attributes"]=>
    array(1) {
      [0]=>
      int(29169)
    }
    ["price"]=>
    float(0)
    ["specific_price"]=>
    bool(false)
    ["ecotax"]=>
    float(0)
    ["weight"]=>
    float(0)
    ["quantity"]=>
    float(10)
    ["reference"]=>
    string(0) ""
    ["unit_impact"]=>
    string(8) "0.000000"
    ["minimal_quantity"]=>
    int(1)
    ["available_date"]=>
    string(10) "2021-02-22"
    ["date_formatted"]=>
    string(10) "02/22/2021"
    ["id_image"]=>
    int(51927)
    ["list"]=>
    string(7) "'29169'"
  }
  [42507]=>
  array(14) {
    ["attributes_values"]=>
    array(1) {
      [1767]=>
      string(4) "2182"
    }
    ["attributes"]=>
    array(1) {
      [0]=>
      int(29170)
    }
    ["price"]=>
    float(0)
    ["specific_price"]=>
    bool(false)
    ["ecotax"]=>
    float(0)
    ["weight"]=>
    float(0)
    ["quantity"]=>
    float(10)
    ["reference"]=>
    string(0) ""
    ["unit_impact"]=>
    string(8) "0.000000"
    ["minimal_quantity"]=>
    int(1)
    ["available_date"]=>
    string(10) "2021-02-22"
    ["date_formatted"]=>
    string(10) "02/22/2021"
    ["id_image"]=>
    int(51928)
    ["list"]=>
    string(7) "'29170'"
  }
  [42508]=>
  array(14) {
    ["attributes_values"]=>
    array(1) {
      [1767]=>
      string(4) "2190"
    }
    ["attributes"]=>
    array(1) {
      [0]=>
      int(29171)
    }
    ["price"]=>
    float(0)
    ["specific_price"]=>
    bool(false)
    ["ecotax"]=>
    float(0)
    ["weight"]=>
    float(0)
    ["quantity"]=>
    float(10)
    ["reference"]=>
    string(0) ""
    ["unit_impact"]=>
    string(8) "0.000000"
    ["minimal_quantity"]=>
    int(1)
    ["available_date"]=>
    string(10) "2021-02-22"
    ["date_formatted"]=>
    string(10) "02/22/2021"
    ["id_image"]=>
    int(51929)
    ["list"]=>
    string(7) "'29171'"
  }
  [42509]=>
  array(14) {
    ["attributes_values"]=>
    array(1) {
      [1767]=>
      string(4) "2192"
    }
    ["attributes"]=>
    array(1) {
      [0]=>
      int(29172)
    }
    ["price"]=>
    float(0)
    ["specific_price"]=>
    bool(false)
    ["ecotax"]=>
    float(0)
    ["weight"]=>
    float(0)
    ["quantity"]=>
    float(10)
    ["reference"]=>
    string(0) ""
    ["unit_impact"]=>
    string(8) "0.000000"
    ["minimal_quantity"]=>
    int(1)
    ["available_date"]=>
    string(10) "2021-02-22"
    ["date_formatted"]=>
    string(10) "02/22/2021"
    ["id_image"]=>
    int(51930)
    ["list"]=>
    string(7) "'29172'"
  }
  [42510]=>
  array(14) {
    ["attributes_values"]=>
    array(1) {
      [1767]=>
      string(4) "2196"
    }
    ["attributes"]=>
    array(1) {
      [0]=>
      int(29173)
    }
    ["price"]=>
    float(0)
    ["specific_price"]=>
    bool(false)
    ["ecotax"]=>
    float(0)
    ["weight"]=>
    float(0)
    ["quantity"]=>
    float(10)
    ["reference"]=>
    string(0) ""
    ["unit_impact"]=>
    string(8) "0.000000"
    ["minimal_quantity"]=>
    int(1)
    ["available_date"]=>
    string(10) "2021-02-22"
    ["date_formatted"]=>
    string(10) "02/22/2021"
    ["id_image"]=>
    int(51931)
    ["list"]=>
    string(7) "'29173'"
  }
  [42511]=>
  array(14) {
    ["attributes_values"]=>
    array(1) {
      [1767]=>
      string(4) "2208"
    }
    ["attributes"]=>
    array(1) {
      [0]=>
      int(29174)
    }
    ["price"]=>
    float(0)
    ["specific_price"]=>
    bool(false)
    ["ecotax"]=>
    float(0)
    ["weight"]=>
    float(0)
    ["quantity"]=>
    float(9)
    ["reference"]=>
    string(0) ""
    ["unit_impact"]=>
    string(8) "0.000000"
    ["minimal_quantity"]=>
    int(1)
    ["available_date"]=>
    string(10) "2021-02-22"
    ["date_formatted"]=>
    string(10) "02/22/2021"
    ["id_image"]=>
    int(51932)
    ["list"]=>
    string(7) "'29174'"
  }
  [42512]=>
  array(14) {
    ["attributes_values"]=>
    array(1) {
      [1767]=>
      string(4) "2210"
    }
    ["attributes"]=>
    array(1) {
      [0]=>
      int(29175)
    }
    ["price"]=>
    float(0)
    ["specific_price"]=>
    bool(false)
    ["ecotax"]=>
    float(0)
    ["weight"]=>
    float(0)
    ["quantity"]=>
    float(9)
    ["reference"]=>
    string(0) ""
    ["unit_impact"]=>
    string(8) "0.000000"
    ["minimal_quantity"]=>
    int(1)
    ["available_date"]=>
    string(10) "2021-02-22"
    ["date_formatted"]=>
    string(10) "02/22/2021"
    ["id_image"]=>
    int(51933)
    ["list"]=>
    string(7) "'29175'"
  }
  [42513]=>
  array(14) {
    ["attributes_values"]=>
    array(1) {
      [1767]=>
      string(4) "2228"
    }
    ["attributes"]=>
    array(1) {
      [0]=>
      int(29176)
    }
    ["price"]=>
    float(0)
    ["specific_price"]=>
    bool(false)
    ["ecotax"]=>
    float(0)
    ["weight"]=>
    float(0)
    ["quantity"]=>
    float(10)
    ["reference"]=>
    string(0) ""
    ["unit_impact"]=>
    string(8) "0.000000"
    ["minimal_quantity"]=>
    int(1)
    ["available_date"]=>
    string(10) "2021-02-22"
    ["date_formatted"]=>
    string(10) "02/22/2021"
    ["id_image"]=>
    int(51934)
    ["list"]=>
    string(7) "'29176'"
  }
  [42514]=>
  array(14) {
    ["attributes_values"]=>
    array(1) {
      [1767]=>
      string(4) "2230"
    }
    ["attributes"]=>
    array(1) {
      [0]=>
      int(29177)
    }
    ["price"]=>
    float(0)
    ["specific_price"]=>
    bool(false)
    ["ecotax"]=>
    float(0)
    ["weight"]=>
    float(0)
    ["quantity"]=>
    float(10)
    ["reference"]=>
    string(0) ""
    ["unit_impact"]=>
    string(8) "0.000000"
    ["minimal_quantity"]=>
    int(1)
    ["available_date"]=>
    string(10) "2021-02-22"
    ["date_formatted"]=>
    string(10) "02/22/2021"
    ["id_image"]=>
    int(51935)
    ["list"]=>
    string(7) "'29177'"
  }
  [42515]=>
  array(14) {
    ["attributes_values"]=>
    array(1) {
      [1767]=>
      string(4) "2231"
    }
    ["attributes"]=>
    array(1) {
      [0]=>
      int(29178)
    }
    ["price"]=>
    float(0)
    ["specific_price"]=>
    bool(false)
    ["ecotax"]=>
    float(0)
    ["weight"]=>
    float(0)
    ["quantity"]=>
    float(10)
    ["reference"]=>
    string(0) ""
    ["unit_impact"]=>
    string(8) "0.000000"
    ["minimal_quantity"]=>
    int(1)
    ["available_date"]=>
    string(10) "2021-02-22"
    ["date_formatted"]=>
    string(10) "02/22/2021"
    ["id_image"]=>
    int(51936)
    ["list"]=>
    string(7) "'29178'"
  }
  [42516]=>
  array(14) {
    ["attributes_values"]=>
    array(1) {
      [1767]=>
      string(4) "2235"
    }
    ["attributes"]=>
    array(1) {
      [0]=>
      int(29179)
    }
    ["price"]=>
    float(0)
    ["specific_price"]=>
    bool(false)
    ["ecotax"]=>
    float(0)
    ["weight"]=>
    float(0)
    ["quantity"]=>
    float(10)
    ["reference"]=>
    string(0) ""
    ["unit_impact"]=>
    string(8) "0.000000"
    ["minimal_quantity"]=>
    int(1)
    ["available_date"]=>
    string(10) "2021-02-22"
    ["date_formatted"]=>
    string(10) "02/22/2021"
    ["id_image"]=>
    int(51937)
    ["list"]=>
    string(7) "'29179'"
  }
  [42517]=>
  array(14) {
    ["attributes_values"]=>
    array(1) {
      [1767]=>
      string(4) "2237"
    }
    ["attributes"]=>
    array(1) {
      [0]=>
      int(29180)
    }
    ["price"]=>
    float(0)
    ["specific_price"]=>
    bool(false)
    ["ecotax"]=>
    float(0)
    ["weight"]=>
    float(0)
    ["quantity"]=>
    float(10)
    ["reference"]=>
    string(0) ""
    ["unit_impact"]=>
    string(8) "0.000000"
    ["minimal_quantity"]=>
    int(1)
    ["available_date"]=>
    string(10) "2021-02-22"
    ["date_formatted"]=>
    string(10) "02/22/2021"
    ["id_image"]=>
    int(51938)
    ["list"]=>
    string(7) "'29180'"
  }
  [42518]=>
  array(14) {
    ["attributes_values"]=>
    array(1) {
      [1767]=>
      string(4) "2239"
    }
    ["attributes"]=>
    array(1) {
      [0]=>
      int(29181)
    }
    ["price"]=>
    float(0)
    ["specific_price"]=>
    bool(false)
    ["ecotax"]=>
    float(0)
    ["weight"]=>
    float(0)
    ["quantity"]=>
    float(10)
    ["reference"]=>
    string(0) ""
    ["unit_impact"]=>
    string(8) "0.000000"
    ["minimal_quantity"]=>
    int(1)
    ["available_date"]=>
    string(10) "2021-02-22"
    ["date_formatted"]=>
    string(10) "02/22/2021"
    ["id_image"]=>
    int(51939)
    ["list"]=>
    string(7) "'29181'"
  }
}

Durable Cosy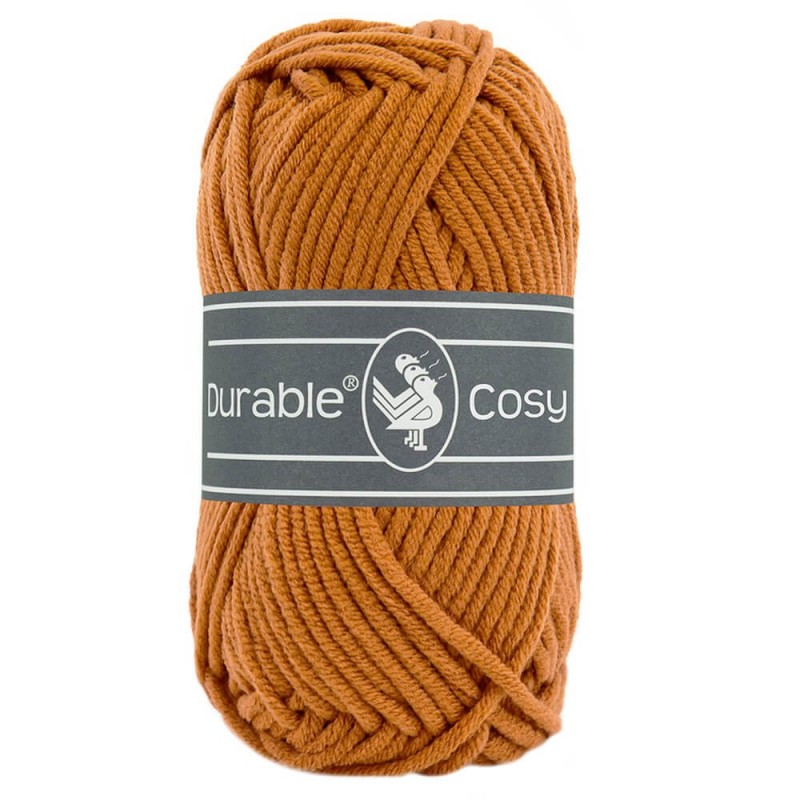  
Durable Cosy is a high-thick yarn made of cotton perfect to knit cardigans or sweaters! Thanks to its composition, this yarn is suitable for sensitive.
By buying this product you can collect up to 1 loyalty point. Your cart will total 1 point that can be converted into a voucher of €0.04.
Product details
Features
Weight

50 grams

Length

66 metros

Knitting needle

6 - 7

Crochet Hook

6 - 7

Season

Spring - Summer
Product description
Durable Cosy is a super soft and an atemporal yarn, perfect to create your own garments and accessories for the spring-summer and the autumn-winter season!
This yarn will be perfect if you want to knit warm garments made of cotton: thanks to its high-thick, it is recommended to knit garments for sensitive skins since it is itch-free. It is also perfect if you are willing to knit blankets, quilts, pillows, and other home decoration accessories. 
Durable Cosy is made of:
50% cotton
50% polyacrylic
Thanks to its cotton composition, this yarn is breathable and very pleasant to the touch. It is very fresh and itch-free.
It presents a woolly touch, perfect for all type of skins. 
Which are the features of this yarn?
Each ball has 50 grams and 66 meters.
Its thickness is perfect to work with the 6-7 mm knitting needles or crochet hook.
Mount 14 stitches and do 19 rows to knit a 10 x 10 cm gauge.
Washable at up to 30ºC.
Iron at up to 110ºC.
Amount of balls needed to:
To knit a cardigan size L you will need around 14 balls.
To knit a sweater size M you will need 12 balls.
To knit a sweater size L you will need 13 balls.
To knit a sweater size XL you will need 14 balls.
You can choose between 40 different colors for your next project!