Katia Helsinki Socks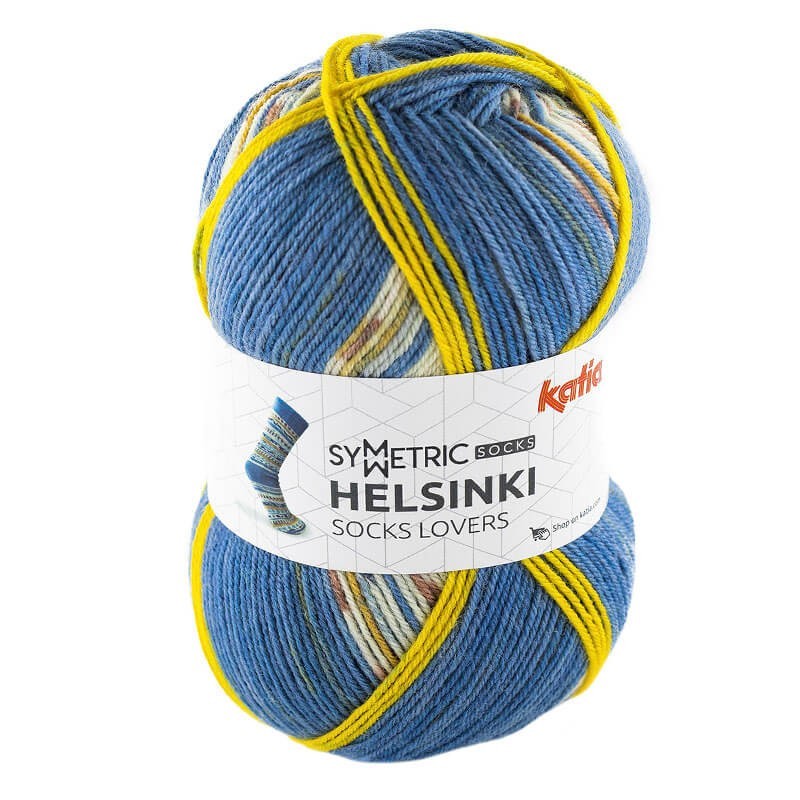  
Katia Helsinki Socks is a yarn especially designed for knitting socks with a very original design. It consists of a blend of superwash wool and polyamide, making it perfect for keeping your feet warm on the coldest days. Get a pair of socks with an original design using just 1 ball!
No reward points for this product because there's already a discount.
Product details
Features
Weight

100 grams

Length

410 meters

Knitting needle

2 ½

Season

Autumn - Winter
Product description
Katia Helsinki Socks is a yarn ideal for knitting socks. You can also make any other garment or accessory.
You will just need one ball for getting two matching socks with a Jacquard design and in cheerful shades.
Katia Helsinki Socks is made of:
75% superwash wool
25% polyamide
This yarn contains the superwash treatment, which means you can easily machine wash your garments.
It is characterized by its thermal properties that will keep your body temperature warm and protect you from the cold.
Polyamide fibers make your creations more resistant and long-lasting.
Which are the features of Katia Helsinki Socks? 
Each ball has 100 grams and 410 metres.
Its thickness is perfect to knit with the 2,5 mm knitting needles or crochet hooks.
Mount 30 stitches and do 42 rows to knit a 10 x 10 cm gauge.
Machine wash up to 30ºC.
Do not dry.
Dry flat.
Iron at low temperature.
Amount of balls needed to:
To knit a pair of socks up to size 28 – 20 you will need 50 grams.
To knit a pair of socks up to size 43 – 44 you will need 1 ball.
To knit a long sleeve sweater size 40 you will need 500 grams approx. = 5 balls.