array(15) {
  [38797]=>
  array(14) {
    ["attributes_values"]=>
    array(1) {
      [1544]=>
      string(3) "100"
    }
    ["attributes"]=>
    array(1) {
      [0]=>
      int(26359)
    }
    ["price"]=>
    float(0)
    ["specific_price"]=>
    array(19) {
      ["id_specific_price"]=>
      string(7) "4436902"
      ["id_specific_price_rule"]=>
      string(3) "225"
      ["id_cart"]=>
      string(1) "0"
      ["id_product"]=>
      string(4) "7195"
      ["id_shop"]=>
      string(1) "1"
      ["id_shop_group"]=>
      string(1) "0"
      ["id_currency"]=>
      string(1) "0"
      ["id_country"]=>
      string(1) "0"
      ["id_group"]=>
      string(1) "0"
      ["id_customer"]=>
      string(1) "0"
      ["id_product_attribute"]=>
      string(1) "0"
      ["price"]=>
      string(9) "-1.000000"
      ["from_quantity"]=>
      string(8) "1.000000"
      ["reduction"]=>
      string(8) "0.150000"
      ["reduction_tax"]=>
      string(1) "1"
      ["reduction_type"]=>
      string(10) "percentage"
      ["from"]=>
      string(19) "2021-01-06 00:00:00"
      ["to"]=>
      string(19) "2021-02-01 01:10:00"
      ["score"]=>
      string(2) "48"
    }
    ["ecotax"]=>
    float(0)
    ["weight"]=>
    float(0)
    ["quantity"]=>
    float(19)
    ["reference"]=>
    string(0) ""
    ["unit_impact"]=>
    string(8) "0.000000"
    ["minimal_quantity"]=>
    int(1)
    ["available_date"]=>
    string(10) "2020-06-17"
    ["date_formatted"]=>
    string(10) "06/17/2020"
    ["id_image"]=>
    int(45724)
    ["list"]=>
    string(7) "'26359'"
  }
  [38798]=>
  array(14) {
    ["attributes_values"]=>
    array(1) {
      [1544]=>
      string(3) "101"
    }
    ["attributes"]=>
    array(1) {
      [0]=>
      int(26360)
    }
    ["price"]=>
    float(0)
    ["specific_price"]=>
    array(19) {
      ["id_specific_price"]=>
      string(7) "4436902"
      ["id_specific_price_rule"]=>
      string(3) "225"
      ["id_cart"]=>
      string(1) "0"
      ["id_product"]=>
      string(4) "7195"
      ["id_shop"]=>
      string(1) "1"
      ["id_shop_group"]=>
      string(1) "0"
      ["id_currency"]=>
      string(1) "0"
      ["id_country"]=>
      string(1) "0"
      ["id_group"]=>
      string(1) "0"
      ["id_customer"]=>
      string(1) "0"
      ["id_product_attribute"]=>
      string(1) "0"
      ["price"]=>
      string(9) "-1.000000"
      ["from_quantity"]=>
      string(8) "1.000000"
      ["reduction"]=>
      string(8) "0.150000"
      ["reduction_tax"]=>
      string(1) "1"
      ["reduction_type"]=>
      string(10) "percentage"
      ["from"]=>
      string(19) "2021-01-06 00:00:00"
      ["to"]=>
      string(19) "2021-02-01 01:10:00"
      ["score"]=>
      string(2) "48"
    }
    ["ecotax"]=>
    float(0)
    ["weight"]=>
    float(0)
    ["quantity"]=>
    float(36)
    ["reference"]=>
    string(0) ""
    ["unit_impact"]=>
    string(8) "0.000000"
    ["minimal_quantity"]=>
    int(1)
    ["available_date"]=>
    string(10) "2020-06-17"
    ["date_formatted"]=>
    string(10) "06/17/2020"
    ["id_image"]=>
    int(45725)
    ["list"]=>
    string(7) "'26360'"
  }
  [38799]=>
  array(14) {
    ["attributes_values"]=>
    array(1) {
      [1544]=>
      string(3) "102"
    }
    ["attributes"]=>
    array(1) {
      [0]=>
      int(26361)
    }
    ["price"]=>
    float(0)
    ["specific_price"]=>
    array(19) {
      ["id_specific_price"]=>
      string(7) "4436902"
      ["id_specific_price_rule"]=>
      string(3) "225"
      ["id_cart"]=>
      string(1) "0"
      ["id_product"]=>
      string(4) "7195"
      ["id_shop"]=>
      string(1) "1"
      ["id_shop_group"]=>
      string(1) "0"
      ["id_currency"]=>
      string(1) "0"
      ["id_country"]=>
      string(1) "0"
      ["id_group"]=>
      string(1) "0"
      ["id_customer"]=>
      string(1) "0"
      ["id_product_attribute"]=>
      string(1) "0"
      ["price"]=>
      string(9) "-1.000000"
      ["from_quantity"]=>
      string(8) "1.000000"
      ["reduction"]=>
      string(8) "0.150000"
      ["reduction_tax"]=>
      string(1) "1"
      ["reduction_type"]=>
      string(10) "percentage"
      ["from"]=>
      string(19) "2021-01-06 00:00:00"
      ["to"]=>
      string(19) "2021-02-01 01:10:00"
      ["score"]=>
      string(2) "48"
    }
    ["ecotax"]=>
    float(0)
    ["weight"]=>
    float(0)
    ["quantity"]=>
    float(4)
    ["reference"]=>
    string(0) ""
    ["unit_impact"]=>
    string(8) "0.000000"
    ["minimal_quantity"]=>
    int(1)
    ["available_date"]=>
    string(10) "2020-06-17"
    ["date_formatted"]=>
    string(10) "06/17/2020"
    ["id_image"]=>
    int(45726)
    ["list"]=>
    string(7) "'26361'"
  }
  [38800]=>
  array(14) {
    ["attributes_values"]=>
    array(1) {
      [1544]=>
      string(3) "103"
    }
    ["attributes"]=>
    array(1) {
      [0]=>
      int(26362)
    }
    ["price"]=>
    float(0)
    ["specific_price"]=>
    array(19) {
      ["id_specific_price"]=>
      string(7) "4436902"
      ["id_specific_price_rule"]=>
      string(3) "225"
      ["id_cart"]=>
      string(1) "0"
      ["id_product"]=>
      string(4) "7195"
      ["id_shop"]=>
      string(1) "1"
      ["id_shop_group"]=>
      string(1) "0"
      ["id_currency"]=>
      string(1) "0"
      ["id_country"]=>
      string(1) "0"
      ["id_group"]=>
      string(1) "0"
      ["id_customer"]=>
      string(1) "0"
      ["id_product_attribute"]=>
      string(1) "0"
      ["price"]=>
      string(9) "-1.000000"
      ["from_quantity"]=>
      string(8) "1.000000"
      ["reduction"]=>
      string(8) "0.150000"
      ["reduction_tax"]=>
      string(1) "1"
      ["reduction_type"]=>
      string(10) "percentage"
      ["from"]=>
      string(19) "2021-01-06 00:00:00"
      ["to"]=>
      string(19) "2021-02-01 01:10:00"
      ["score"]=>
      string(2) "48"
    }
    ["ecotax"]=>
    float(0)
    ["weight"]=>
    float(0)
    ["quantity"]=>
    float(42)
    ["reference"]=>
    string(0) ""
    ["unit_impact"]=>
    string(8) "0.000000"
    ["minimal_quantity"]=>
    int(1)
    ["available_date"]=>
    string(10) "2020-06-17"
    ["date_formatted"]=>
    string(10) "06/17/2020"
    ["id_image"]=>
    int(45727)
    ["list"]=>
    string(7) "'26362'"
  }
  [38801]=>
  array(14) {
    ["attributes_values"]=>
    array(1) {
      [1544]=>
      string(3) "104"
    }
    ["attributes"]=>
    array(1) {
      [0]=>
      int(26363)
    }
    ["price"]=>
    float(0)
    ["specific_price"]=>
    array(19) {
      ["id_specific_price"]=>
      string(7) "4436902"
      ["id_specific_price_rule"]=>
      string(3) "225"
      ["id_cart"]=>
      string(1) "0"
      ["id_product"]=>
      string(4) "7195"
      ["id_shop"]=>
      string(1) "1"
      ["id_shop_group"]=>
      string(1) "0"
      ["id_currency"]=>
      string(1) "0"
      ["id_country"]=>
      string(1) "0"
      ["id_group"]=>
      string(1) "0"
      ["id_customer"]=>
      string(1) "0"
      ["id_product_attribute"]=>
      string(1) "0"
      ["price"]=>
      string(9) "-1.000000"
      ["from_quantity"]=>
      string(8) "1.000000"
      ["reduction"]=>
      string(8) "0.150000"
      ["reduction_tax"]=>
      string(1) "1"
      ["reduction_type"]=>
      string(10) "percentage"
      ["from"]=>
      string(19) "2021-01-06 00:00:00"
      ["to"]=>
      string(19) "2021-02-01 01:10:00"
      ["score"]=>
      string(2) "48"
    }
    ["ecotax"]=>
    float(0)
    ["weight"]=>
    float(0)
    ["quantity"]=>
    float(0)
    ["reference"]=>
    string(0) ""
    ["unit_impact"]=>
    string(8) "0.000000"
    ["minimal_quantity"]=>
    int(1)
    ["available_date"]=>
    string(10) "2020-06-17"
    ["date_formatted"]=>
    string(10) "06/17/2020"
    ["id_image"]=>
    int(45728)
    ["list"]=>
    string(7) "'26363'"
  }
  [38802]=>
  array(14) {
    ["attributes_values"]=>
    array(1) {
      [1544]=>
      string(3) "105"
    }
    ["attributes"]=>
    array(1) {
      [0]=>
      int(26364)
    }
    ["price"]=>
    float(0)
    ["specific_price"]=>
    array(19) {
      ["id_specific_price"]=>
      string(7) "4436902"
      ["id_specific_price_rule"]=>
      string(3) "225"
      ["id_cart"]=>
      string(1) "0"
      ["id_product"]=>
      string(4) "7195"
      ["id_shop"]=>
      string(1) "1"
      ["id_shop_group"]=>
      string(1) "0"
      ["id_currency"]=>
      string(1) "0"
      ["id_country"]=>
      string(1) "0"
      ["id_group"]=>
      string(1) "0"
      ["id_customer"]=>
      string(1) "0"
      ["id_product_attribute"]=>
      string(1) "0"
      ["price"]=>
      string(9) "-1.000000"
      ["from_quantity"]=>
      string(8) "1.000000"
      ["reduction"]=>
      string(8) "0.150000"
      ["reduction_tax"]=>
      string(1) "1"
      ["reduction_type"]=>
      string(10) "percentage"
      ["from"]=>
      string(19) "2021-01-06 00:00:00"
      ["to"]=>
      string(19) "2021-02-01 01:10:00"
      ["score"]=>
      string(2) "48"
    }
    ["ecotax"]=>
    float(0)
    ["weight"]=>
    float(0)
    ["quantity"]=>
    float(68)
    ["reference"]=>
    string(0) ""
    ["unit_impact"]=>
    string(8) "0.000000"
    ["minimal_quantity"]=>
    int(1)
    ["available_date"]=>
    string(10) "2020-06-17"
    ["date_formatted"]=>
    string(10) "06/17/2020"
    ["id_image"]=>
    int(45729)
    ["list"]=>
    string(7) "'26364'"
  }
  [38803]=>
  array(14) {
    ["attributes_values"]=>
    array(1) {
      [1544]=>
      string(3) "106"
    }
    ["attributes"]=>
    array(1) {
      [0]=>
      int(26365)
    }
    ["price"]=>
    float(0)
    ["specific_price"]=>
    array(19) {
      ["id_specific_price"]=>
      string(7) "4436902"
      ["id_specific_price_rule"]=>
      string(3) "225"
      ["id_cart"]=>
      string(1) "0"
      ["id_product"]=>
      string(4) "7195"
      ["id_shop"]=>
      string(1) "1"
      ["id_shop_group"]=>
      string(1) "0"
      ["id_currency"]=>
      string(1) "0"
      ["id_country"]=>
      string(1) "0"
      ["id_group"]=>
      string(1) "0"
      ["id_customer"]=>
      string(1) "0"
      ["id_product_attribute"]=>
      string(1) "0"
      ["price"]=>
      string(9) "-1.000000"
      ["from_quantity"]=>
      string(8) "1.000000"
      ["reduction"]=>
      string(8) "0.150000"
      ["reduction_tax"]=>
      string(1) "1"
      ["reduction_type"]=>
      string(10) "percentage"
      ["from"]=>
      string(19) "2021-01-06 00:00:00"
      ["to"]=>
      string(19) "2021-02-01 01:10:00"
      ["score"]=>
      string(2) "48"
    }
    ["ecotax"]=>
    float(0)
    ["weight"]=>
    float(0)
    ["quantity"]=>
    float(72)
    ["reference"]=>
    string(0) ""
    ["unit_impact"]=>
    string(8) "0.000000"
    ["minimal_quantity"]=>
    int(1)
    ["available_date"]=>
    string(10) "2020-06-17"
    ["date_formatted"]=>
    string(10) "06/17/2020"
    ["id_image"]=>
    int(45730)
    ["list"]=>
    string(7) "'26365'"
  }
  [38804]=>
  array(14) {
    ["attributes_values"]=>
    array(1) {
      [1544]=>
      string(3) "107"
    }
    ["attributes"]=>
    array(1) {
      [0]=>
      int(26366)
    }
    ["price"]=>
    float(0)
    ["specific_price"]=>
    array(19) {
      ["id_specific_price"]=>
      string(7) "4436902"
      ["id_specific_price_rule"]=>
      string(3) "225"
      ["id_cart"]=>
      string(1) "0"
      ["id_product"]=>
      string(4) "7195"
      ["id_shop"]=>
      string(1) "1"
      ["id_shop_group"]=>
      string(1) "0"
      ["id_currency"]=>
      string(1) "0"
      ["id_country"]=>
      string(1) "0"
      ["id_group"]=>
      string(1) "0"
      ["id_customer"]=>
      string(1) "0"
      ["id_product_attribute"]=>
      string(1) "0"
      ["price"]=>
      string(9) "-1.000000"
      ["from_quantity"]=>
      string(8) "1.000000"
      ["reduction"]=>
      string(8) "0.150000"
      ["reduction_tax"]=>
      string(1) "1"
      ["reduction_type"]=>
      string(10) "percentage"
      ["from"]=>
      string(19) "2021-01-06 00:00:00"
      ["to"]=>
      string(19) "2021-02-01 01:10:00"
      ["score"]=>
      string(2) "48"
    }
    ["ecotax"]=>
    float(0)
    ["weight"]=>
    float(0)
    ["quantity"]=>
    float(43)
    ["reference"]=>
    string(0) ""
    ["unit_impact"]=>
    string(8) "0.000000"
    ["minimal_quantity"]=>
    int(1)
    ["available_date"]=>
    string(10) "2020-06-17"
    ["date_formatted"]=>
    string(10) "06/17/2020"
    ["id_image"]=>
    int(45731)
    ["list"]=>
    string(7) "'26366'"
  }
  [38805]=>
  array(14) {
    ["attributes_values"]=>
    array(1) {
      [1544]=>
      string(3) "108"
    }
    ["attributes"]=>
    array(1) {
      [0]=>
      int(26367)
    }
    ["price"]=>
    float(0)
    ["specific_price"]=>
    array(19) {
      ["id_specific_price"]=>
      string(7) "4436902"
      ["id_specific_price_rule"]=>
      string(3) "225"
      ["id_cart"]=>
      string(1) "0"
      ["id_product"]=>
      string(4) "7195"
      ["id_shop"]=>
      string(1) "1"
      ["id_shop_group"]=>
      string(1) "0"
      ["id_currency"]=>
      string(1) "0"
      ["id_country"]=>
      string(1) "0"
      ["id_group"]=>
      string(1) "0"
      ["id_customer"]=>
      string(1) "0"
      ["id_product_attribute"]=>
      string(1) "0"
      ["price"]=>
      string(9) "-1.000000"
      ["from_quantity"]=>
      string(8) "1.000000"
      ["reduction"]=>
      string(8) "0.150000"
      ["reduction_tax"]=>
      string(1) "1"
      ["reduction_type"]=>
      string(10) "percentage"
      ["from"]=>
      string(19) "2021-01-06 00:00:00"
      ["to"]=>
      string(19) "2021-02-01 01:10:00"
      ["score"]=>
      string(2) "48"
    }
    ["ecotax"]=>
    float(0)
    ["weight"]=>
    float(0)
    ["quantity"]=>
    float(65)
    ["reference"]=>
    string(0) ""
    ["unit_impact"]=>
    string(8) "0.000000"
    ["minimal_quantity"]=>
    int(1)
    ["available_date"]=>
    string(10) "2020-06-17"
    ["date_formatted"]=>
    string(10) "06/17/2020"
    ["id_image"]=>
    int(45732)
    ["list"]=>
    string(7) "'26367'"
  }
  [38806]=>
  array(14) {
    ["attributes_values"]=>
    array(1) {
      [1544]=>
      string(3) "109"
    }
    ["attributes"]=>
    array(1) {
      [0]=>
      int(26368)
    }
    ["price"]=>
    float(0)
    ["specific_price"]=>
    array(19) {
      ["id_specific_price"]=>
      string(7) "4436902"
      ["id_specific_price_rule"]=>
      string(3) "225"
      ["id_cart"]=>
      string(1) "0"
      ["id_product"]=>
      string(4) "7195"
      ["id_shop"]=>
      string(1) "1"
      ["id_shop_group"]=>
      string(1) "0"
      ["id_currency"]=>
      string(1) "0"
      ["id_country"]=>
      string(1) "0"
      ["id_group"]=>
      string(1) "0"
      ["id_customer"]=>
      string(1) "0"
      ["id_product_attribute"]=>
      string(1) "0"
      ["price"]=>
      string(9) "-1.000000"
      ["from_quantity"]=>
      string(8) "1.000000"
      ["reduction"]=>
      string(8) "0.150000"
      ["reduction_tax"]=>
      string(1) "1"
      ["reduction_type"]=>
      string(10) "percentage"
      ["from"]=>
      string(19) "2021-01-06 00:00:00"
      ["to"]=>
      string(19) "2021-02-01 01:10:00"
      ["score"]=>
      string(2) "48"
    }
    ["ecotax"]=>
    float(0)
    ["weight"]=>
    float(0)
    ["quantity"]=>
    float(58)
    ["reference"]=>
    string(0) ""
    ["unit_impact"]=>
    string(8) "0.000000"
    ["minimal_quantity"]=>
    int(1)
    ["available_date"]=>
    string(10) "2020-06-17"
    ["date_formatted"]=>
    string(10) "06/17/2020"
    ["id_image"]=>
    int(45733)
    ["list"]=>
    string(7) "'26368'"
  }
  [38807]=>
  array(14) {
    ["attributes_values"]=>
    array(1) {
      [1544]=>
      string(3) "110"
    }
    ["attributes"]=>
    array(1) {
      [0]=>
      int(26369)
    }
    ["price"]=>
    float(0)
    ["specific_price"]=>
    array(19) {
      ["id_specific_price"]=>
      string(7) "4436902"
      ["id_specific_price_rule"]=>
      string(3) "225"
      ["id_cart"]=>
      string(1) "0"
      ["id_product"]=>
      string(4) "7195"
      ["id_shop"]=>
      string(1) "1"
      ["id_shop_group"]=>
      string(1) "0"
      ["id_currency"]=>
      string(1) "0"
      ["id_country"]=>
      string(1) "0"
      ["id_group"]=>
      string(1) "0"
      ["id_customer"]=>
      string(1) "0"
      ["id_product_attribute"]=>
      string(1) "0"
      ["price"]=>
      string(9) "-1.000000"
      ["from_quantity"]=>
      string(8) "1.000000"
      ["reduction"]=>
      string(8) "0.150000"
      ["reduction_tax"]=>
      string(1) "1"
      ["reduction_type"]=>
      string(10) "percentage"
      ["from"]=>
      string(19) "2021-01-06 00:00:00"
      ["to"]=>
      string(19) "2021-02-01 01:10:00"
      ["score"]=>
      string(2) "48"
    }
    ["ecotax"]=>
    float(0)
    ["weight"]=>
    float(0)
    ["quantity"]=>
    float(13)
    ["reference"]=>
    string(0) ""
    ["unit_impact"]=>
    string(8) "0.000000"
    ["minimal_quantity"]=>
    int(1)
    ["available_date"]=>
    string(10) "2020-06-17"
    ["date_formatted"]=>
    string(10) "06/17/2020"
    ["id_image"]=>
    int(45734)
    ["list"]=>
    string(7) "'26369'"
  }
  [38808]=>
  array(14) {
    ["attributes_values"]=>
    array(1) {
      [1544]=>
      string(3) "111"
    }
    ["attributes"]=>
    array(1) {
      [0]=>
      int(26370)
    }
    ["price"]=>
    float(0)
    ["specific_price"]=>
    array(19) {
      ["id_specific_price"]=>
      string(7) "4436902"
      ["id_specific_price_rule"]=>
      string(3) "225"
      ["id_cart"]=>
      string(1) "0"
      ["id_product"]=>
      string(4) "7195"
      ["id_shop"]=>
      string(1) "1"
      ["id_shop_group"]=>
      string(1) "0"
      ["id_currency"]=>
      string(1) "0"
      ["id_country"]=>
      string(1) "0"
      ["id_group"]=>
      string(1) "0"
      ["id_customer"]=>
      string(1) "0"
      ["id_product_attribute"]=>
      string(1) "0"
      ["price"]=>
      string(9) "-1.000000"
      ["from_quantity"]=>
      string(8) "1.000000"
      ["reduction"]=>
      string(8) "0.150000"
      ["reduction_tax"]=>
      string(1) "1"
      ["reduction_type"]=>
      string(10) "percentage"
      ["from"]=>
      string(19) "2021-01-06 00:00:00"
      ["to"]=>
      string(19) "2021-02-01 01:10:00"
      ["score"]=>
      string(2) "48"
    }
    ["ecotax"]=>
    float(0)
    ["weight"]=>
    float(0)
    ["quantity"]=>
    float(29)
    ["reference"]=>
    string(0) ""
    ["unit_impact"]=>
    string(8) "0.000000"
    ["minimal_quantity"]=>
    int(1)
    ["available_date"]=>
    string(10) "2020-06-17"
    ["date_formatted"]=>
    string(10) "06/17/2020"
    ["id_image"]=>
    int(45735)
    ["list"]=>
    string(7) "'26370'"
  }
  [38809]=>
  array(14) {
    ["attributes_values"]=>
    array(1) {
      [1544]=>
      string(3) "112"
    }
    ["attributes"]=>
    array(1) {
      [0]=>
      int(26371)
    }
    ["price"]=>
    float(0)
    ["specific_price"]=>
    array(19) {
      ["id_specific_price"]=>
      string(7) "4436902"
      ["id_specific_price_rule"]=>
      string(3) "225"
      ["id_cart"]=>
      string(1) "0"
      ["id_product"]=>
      string(4) "7195"
      ["id_shop"]=>
      string(1) "1"
      ["id_shop_group"]=>
      string(1) "0"
      ["id_currency"]=>
      string(1) "0"
      ["id_country"]=>
      string(1) "0"
      ["id_group"]=>
      string(1) "0"
      ["id_customer"]=>
      string(1) "0"
      ["id_product_attribute"]=>
      string(1) "0"
      ["price"]=>
      string(9) "-1.000000"
      ["from_quantity"]=>
      string(8) "1.000000"
      ["reduction"]=>
      string(8) "0.150000"
      ["reduction_tax"]=>
      string(1) "1"
      ["reduction_type"]=>
      string(10) "percentage"
      ["from"]=>
      string(19) "2021-01-06 00:00:00"
      ["to"]=>
      string(19) "2021-02-01 01:10:00"
      ["score"]=>
      string(2) "48"
    }
    ["ecotax"]=>
    float(0)
    ["weight"]=>
    float(0)
    ["quantity"]=>
    float(22)
    ["reference"]=>
    string(0) ""
    ["unit_impact"]=>
    string(8) "0.000000"
    ["minimal_quantity"]=>
    int(1)
    ["available_date"]=>
    string(10) "2020-06-17"
    ["date_formatted"]=>
    string(10) "06/17/2020"
    ["id_image"]=>
    int(45736)
    ["list"]=>
    string(7) "'26371'"
  }
  [38810]=>
  array(14) {
    ["attributes_values"]=>
    array(1) {
      [1544]=>
      string(3) "113"
    }
    ["attributes"]=>
    array(1) {
      [0]=>
      int(26372)
    }
    ["price"]=>
    float(0)
    ["specific_price"]=>
    array(19) {
      ["id_specific_price"]=>
      string(7) "4436902"
      ["id_specific_price_rule"]=>
      string(3) "225"
      ["id_cart"]=>
      string(1) "0"
      ["id_product"]=>
      string(4) "7195"
      ["id_shop"]=>
      string(1) "1"
      ["id_shop_group"]=>
      string(1) "0"
      ["id_currency"]=>
      string(1) "0"
      ["id_country"]=>
      string(1) "0"
      ["id_group"]=>
      string(1) "0"
      ["id_customer"]=>
      string(1) "0"
      ["id_product_attribute"]=>
      string(1) "0"
      ["price"]=>
      string(9) "-1.000000"
      ["from_quantity"]=>
      string(8) "1.000000"
      ["reduction"]=>
      string(8) "0.150000"
      ["reduction_tax"]=>
      string(1) "1"
      ["reduction_type"]=>
      string(10) "percentage"
      ["from"]=>
      string(19) "2021-01-06 00:00:00"
      ["to"]=>
      string(19) "2021-02-01 01:10:00"
      ["score"]=>
      string(2) "48"
    }
    ["ecotax"]=>
    float(0)
    ["weight"]=>
    float(0)
    ["quantity"]=>
    float(58)
    ["reference"]=>
    string(0) ""
    ["unit_impact"]=>
    string(8) "0.000000"
    ["minimal_quantity"]=>
    int(1)
    ["available_date"]=>
    string(10) "2020-06-17"
    ["date_formatted"]=>
    string(10) "06/17/2020"
    ["id_image"]=>
    int(45737)
    ["list"]=>
    string(7) "'26372'"
  }
  [38811]=>
  array(14) {
    ["attributes_values"]=>
    array(1) {
      [1544]=>
      string(3) "114"
    }
    ["attributes"]=>
    array(1) {
      [0]=>
      int(26373)
    }
    ["price"]=>
    float(0)
    ["specific_price"]=>
    array(19) {
      ["id_specific_price"]=>
      string(7) "4436902"
      ["id_specific_price_rule"]=>
      string(3) "225"
      ["id_cart"]=>
      string(1) "0"
      ["id_product"]=>
      string(4) "7195"
      ["id_shop"]=>
      string(1) "1"
      ["id_shop_group"]=>
      string(1) "0"
      ["id_currency"]=>
      string(1) "0"
      ["id_country"]=>
      string(1) "0"
      ["id_group"]=>
      string(1) "0"
      ["id_customer"]=>
      string(1) "0"
      ["id_product_attribute"]=>
      string(1) "0"
      ["price"]=>
      string(9) "-1.000000"
      ["from_quantity"]=>
      string(8) "1.000000"
      ["reduction"]=>
      string(8) "0.150000"
      ["reduction_tax"]=>
      string(1) "1"
      ["reduction_type"]=>
      string(10) "percentage"
      ["from"]=>
      string(19) "2021-01-06 00:00:00"
      ["to"]=>
      string(19) "2021-02-01 01:10:00"
      ["score"]=>
      string(2) "48"
    }
    ["ecotax"]=>
    float(0)
    ["weight"]=>
    float(0)
    ["quantity"]=>
    float(53)
    ["reference"]=>
    string(0) ""
    ["unit_impact"]=>
    string(8) "0.000000"
    ["minimal_quantity"]=>
    int(1)
    ["available_date"]=>
    string(10) "2020-06-17"
    ["date_formatted"]=>
    string(10) "06/17/2020"
    ["id_image"]=>
    int(45738)
    ["list"]=>
    string(7) "'26373'"
  }
}

Katia Perline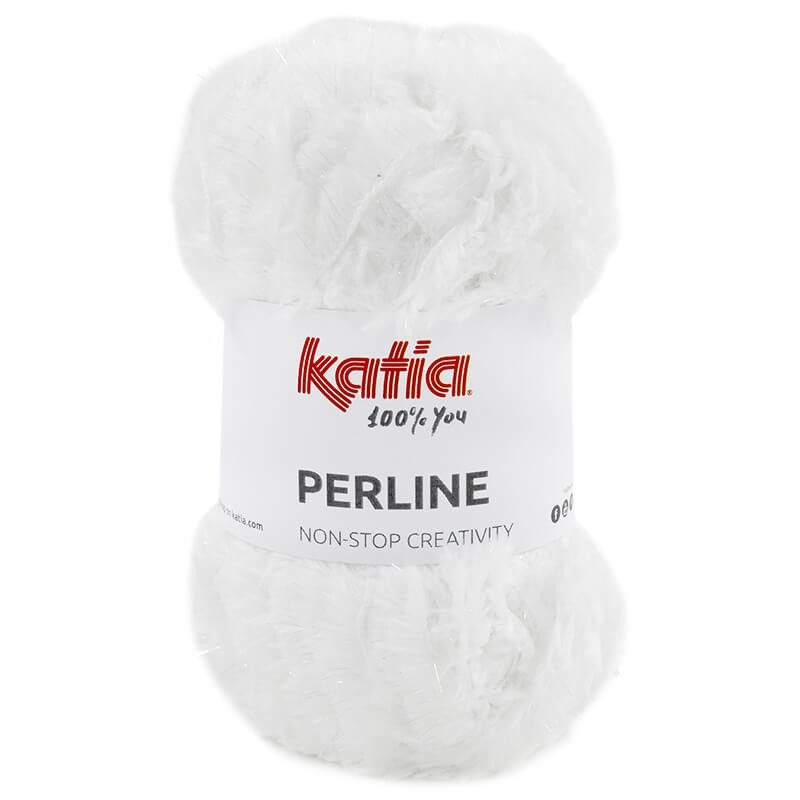  
Perline by Katia is a yarn made of polyamide and polyester, that offers a long hair with a very elegant and light brightness. Choose your favourite colour and knit soft and warm clothes for this winter! This model comes in 15 colours to choose from! What are you waiting for? 
No reward points for this product because there's already a discount.
Product details
Features
Weight

50 grams

Length

80 meters

Knitting needle

5 ½ - 6

Season

Autumn - Winter
Product description
Katia Perline is made of polyamide and polyester and it is perfect for the autumn and winter season. Its thread has long hairs and some of them are bright. Give a very elegant touch to your projects! You can knit original and bright garments or accessories for the coldest days of the winter: sweaters, hats, snoods and much more.
Thanks to its hairs, this model is very soft to the touch and it is ideal for the whole family: knit clothes for babies, children or adults… Everyone will love this bright ball! Discover all the colours and choose your favourite from the 15 available tones.
Katia Perline is made of…
60% polyamide
40% polyester
This mix gets a soft and resistant ball, that you will wash in the wash machine with cold water without damaging it.
Which are the features of Kaleido by Katia?
Each ball has 50 grams and 80 metres. 
Its thickness is perfect to knit it with 5,5 - 6 mm knitting needles.
Mount 17 stitches and do 24 laps to make a 10 x 10 cm sample.
It can be washed in the washing machine up to 30º C.
Do not tumble dry.
You can iron it up to 110ºC.
Dry flat.
Amount of balls needed to…
To knit a sweater size 42 you will need around 11 balls.
Thanks to this shiny polyester and polyamide wool you can give an original touch to your winter looks. Begin knitting warm clothes and get ready for this winter season!