array(3) {
  [14261]=>
  array(14) {
    ["attributes_values"]=>
    array(1) {
      [324]=>
      string(9) "35 - 37,5"
    }
    ["attributes"]=>
    array(1) {
      [0]=>
      int(7083)
    }
    ["price"]=>
    float(15.694215)
    ["specific_price"]=>
    bool(false)
    ["ecotax"]=>
    float(0)
    ["weight"]=>
    float(0)
    ["quantity"]=>
    float(4)
    ["reference"]=>
    string(5) "10830"
    ["unit_impact"]=>
    string(8) "0.000000"
    ["minimal_quantity"]=>
    int(1)
    ["date_formatted"]=>
    string(0) ""
    ["available_date"]=>
    string(0) ""
    ["id_image"]=>
    int(-1)
    ["list"]=>
    string(6) "'7083'"
  }
  [14262]=>
  array(14) {
    ["attributes_values"]=>
    array(1) {
      [324]=>
      string(7) "38 - 40"
    }
    ["attributes"]=>
    array(1) {
      [0]=>
      int(7084)
    }
    ["price"]=>
    float(14.867769)
    ["specific_price"]=>
    bool(false)
    ["ecotax"]=>
    float(0)
    ["weight"]=>
    float(0)
    ["quantity"]=>
    float(0)
    ["reference"]=>
    string(5) "10829"
    ["unit_impact"]=>
    string(8) "0.000000"
    ["minimal_quantity"]=>
    int(1)
    ["date_formatted"]=>
    string(0) ""
    ["available_date"]=>
    string(0) ""
    ["id_image"]=>
    int(-1)
    ["list"]=>
    string(6) "'7084'"
  }
  [14263]=>
  array(14) {
    ["attributes_values"]=>
    array(1) {
      [324]=>
      string(10) "41 or more"
    }
    ["attributes"]=>
    array(1) {
      [0]=>
      int(7085)
    }
    ["price"]=>
    float(13.628099)
    ["specific_price"]=>
    bool(false)
    ["ecotax"]=>
    float(0)
    ["weight"]=>
    float(0)
    ["quantity"]=>
    float(0)
    ["reference"]=>
    string(5) "10828"
    ["unit_impact"]=>
    string(8) "0.000000"
    ["minimal_quantity"]=>
    int(1)
    ["date_formatted"]=>
    string(0) ""
    ["available_date"]=>
    string(0) ""
    ["id_image"]=>
    int(-1)
    ["list"]=>
    string(6) "'7085'"
  }
}

KnitPro Aqua Socks Bloquers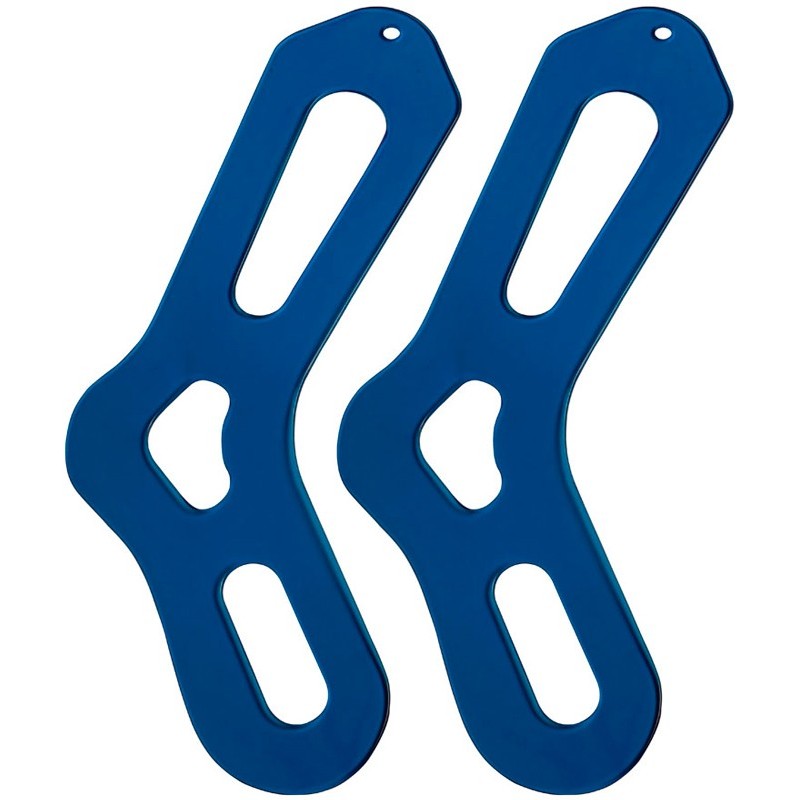  
Stencils to block socks Aqua by KnitPro, a perfect tool to block weaves of knitting and crocheting, and obtain the shape you want.
By buying this product you can collect up to 9 loyalty points. Your cart will total 9 points that can be converted into a voucher of €0.36.
Product description
Stencil for socks Aqua by KnitPro (also know by its name in english: "socks blockers") is a stencil to block socks in wet. Each pack contain 2 units.
The stencils Aqua are made in a traslucent acrylic material, strong and flexible, that will give comfort.
They are availables in 3 different sizes:
Large: For the sizes from the 41 to a largest size.
Medium: For the sizes from 38 to 40.
Small: For the sizes from 35 to 37,5.
This mould to knit socks by knitting or by crocheting will help you to block the weave.
Block a knitted garment in wet is so easy, you should to wet it with water and introduce it in the stencil.You can use t-pins to adjust the shape.  
A summary to block socks:
Wet the weave completely.
Move away the excess of water.
Introduce the socks in the stencils.
Let dry and you will have your garment perfectly to use.
This tool will help you to give shape to your sewing pieces easily.
Did you use the stencil Aqua to block socks by KnitPro? Leave us your opinion!
Rating:

5

out of

5

based on

2

reviews.
Customer reviews
Nº of votes

Average experience

Rating

2

star star star star star

star star star star star

star star star star star

star star star star star