Prym Braiding Star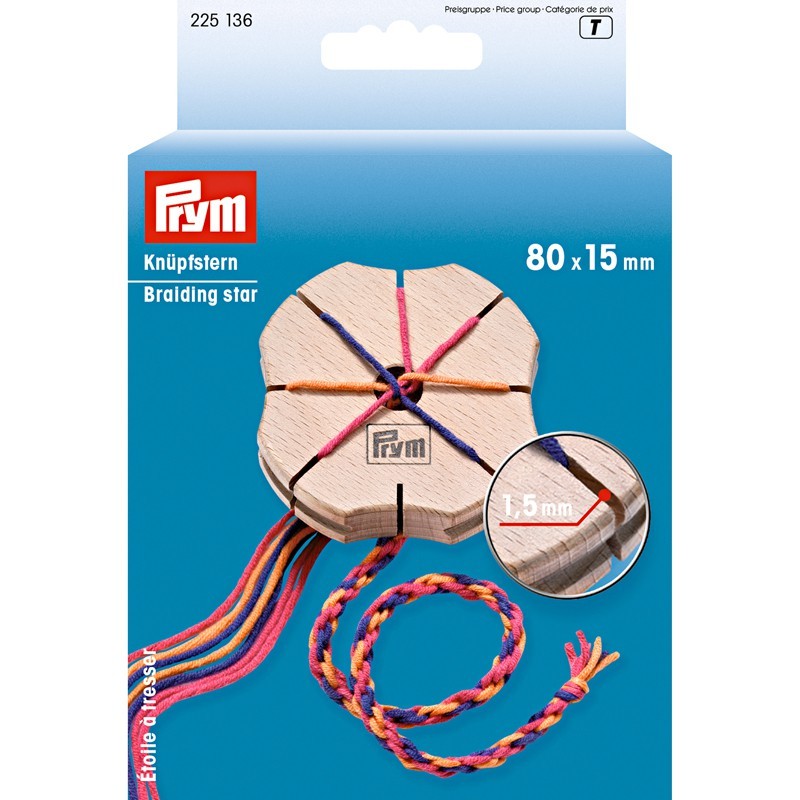  
Prym Braiding Star is perfect for making braids, instead of hand twisting yarn just use 7 stands of double knitting yarn and just fold over the slots. Instructions and an elastic band to help you make the braid are included. You can also use the MAXI Braiding Star model. This braiding star is made of wood and measures 7.5 x 7.5 x 7.5 cm.
By buying this product you can collect up to 3 loyalty points. Your cart will total 3 points that can be converted into a voucher of €0.12.
Product description
Prym Braiding Star is the smallest version, a very useful tool for making colourful braids for your crafts, making bracelets or necklaces and even bag handles.
This product is made of resistant wood that will not break easily. It has a small hole in the centre where you must place the threads that you use to knit your project (a maximum of 7 strands).
The braiding star has 8 slots of 1.5 mm wide, so you need to use threads of the same thickness or even thinner to make your braid.  
These threads should always be knitted in the same direction to prevent them from becoming entangled with each other.
Features:
Dimensions: 7.5 x 7.5 cm. This wooden braiding star measures 1.5 cm wide.

It contains a central hole of 1.5 cm wide and 8 slots of 1.5 mm over the star.

The threads used to make braids should perfectly adapt to the slots, so it won't get entangled with each other.

You can knit many projects, crafts, decorative items and more.
This product includes a small book of instructions explaining how to create a cordon in 8 steps.
It also includes information in French, Dutch, English, Spanish and Russian.  
You can knit all kind of original ribbons for hair, laces for glasses, book dividers, braces or belts for blouses and more.
Advice: the package includes an elastic band to hold all the threads you used to make the braid.
Warning: if you put all the threads in the same slot, you'll have a knot that cannot be undone. If you want to finish your project, you should make a knot in the middle of the star.
Have you ever used Prym Braiding Star? Tell us your experience!