array(8) {
  [33105]=>
  array(14) {
    ["attributes_values"]=>
    array(1) {
      [1349]=>
      string(3) "601"
    }
    ["attributes"]=>
    array(1) {
      [0]=>
      int(22330)
    }
    ["price"]=>
    float(0)
    ["specific_price"]=>
    bool(false)
    ["ecotax"]=>
    float(0)
    ["weight"]=>
    float(0)
    ["quantity"]=>
    float(26)
    ["reference"]=>
    string(0) ""
    ["unit_impact"]=>
    string(8) "0.000000"
    ["minimal_quantity"]=>
    int(1)
    ["available_date"]=>
    string(10) "2019-10-17"
    ["date_formatted"]=>
    string(10) "10/17/2019"
    ["id_image"]=>
    int(37688)
    ["list"]=>
    string(7) "'22330'"
  }
  [33106]=>
  array(14) {
    ["attributes_values"]=>
    array(1) {
      [1349]=>
      string(3) "604"
    }
    ["attributes"]=>
    array(1) {
      [0]=>
      int(22331)
    }
    ["price"]=>
    float(0)
    ["specific_price"]=>
    bool(false)
    ["ecotax"]=>
    float(0)
    ["weight"]=>
    float(0)
    ["quantity"]=>
    float(12)
    ["reference"]=>
    string(0) ""
    ["unit_impact"]=>
    string(8) "0.000000"
    ["minimal_quantity"]=>
    int(1)
    ["available_date"]=>
    string(10) "2019-10-17"
    ["date_formatted"]=>
    string(10) "10/17/2019"
    ["id_image"]=>
    int(37689)
    ["list"]=>
    string(7) "'22331'"
  }
  [33107]=>
  array(14) {
    ["attributes_values"]=>
    array(1) {
      [1349]=>
      string(3) "615"
    }
    ["attributes"]=>
    array(1) {
      [0]=>
      int(22332)
    }
    ["price"]=>
    float(0)
    ["specific_price"]=>
    bool(false)
    ["ecotax"]=>
    float(0)
    ["weight"]=>
    float(0)
    ["quantity"]=>
    float(22)
    ["reference"]=>
    string(0) ""
    ["unit_impact"]=>
    string(8) "0.000000"
    ["minimal_quantity"]=>
    int(1)
    ["available_date"]=>
    string(10) "2019-10-17"
    ["date_formatted"]=>
    string(10) "10/17/2019"
    ["id_image"]=>
    int(37690)
    ["list"]=>
    string(7) "'22332'"
  }
  [33108]=>
  array(14) {
    ["attributes_values"]=>
    array(1) {
      [1349]=>
      string(3) "690"
    }
    ["attributes"]=>
    array(1) {
      [0]=>
      int(22333)
    }
    ["price"]=>
    float(0)
    ["specific_price"]=>
    bool(false)
    ["ecotax"]=>
    float(0)
    ["weight"]=>
    float(0)
    ["quantity"]=>
    float(30)
    ["reference"]=>
    string(0) ""
    ["unit_impact"]=>
    string(8) "0.000000"
    ["minimal_quantity"]=>
    int(1)
    ["available_date"]=>
    string(10) "2019-10-17"
    ["date_formatted"]=>
    string(10) "10/17/2019"
    ["id_image"]=>
    int(37691)
    ["list"]=>
    string(7) "'22333'"
  }
  [33109]=>
  array(14) {
    ["attributes_values"]=>
    array(1) {
      [1349]=>
      string(3) "941"
    }
    ["attributes"]=>
    array(1) {
      [0]=>
      int(22334)
    }
    ["price"]=>
    float(0)
    ["specific_price"]=>
    bool(false)
    ["ecotax"]=>
    float(0)
    ["weight"]=>
    float(0)
    ["quantity"]=>
    float(27)
    ["reference"]=>
    string(0) ""
    ["unit_impact"]=>
    string(8) "0.000000"
    ["minimal_quantity"]=>
    int(1)
    ["available_date"]=>
    string(10) "2019-10-17"
    ["date_formatted"]=>
    string(10) "10/17/2019"
    ["id_image"]=>
    int(37692)
    ["list"]=>
    string(7) "'22334'"
  }
  [33110]=>
  array(14) {
    ["attributes_values"]=>
    array(1) {
      [1349]=>
      string(3) "945"
    }
    ["attributes"]=>
    array(1) {
      [0]=>
      int(22335)
    }
    ["price"]=>
    float(0)
    ["specific_price"]=>
    bool(false)
    ["ecotax"]=>
    float(0)
    ["weight"]=>
    float(0)
    ["quantity"]=>
    float(11)
    ["reference"]=>
    string(0) ""
    ["unit_impact"]=>
    string(8) "0.000000"
    ["minimal_quantity"]=>
    int(1)
    ["available_date"]=>
    string(10) "2019-10-17"
    ["date_formatted"]=>
    string(10) "10/17/2019"
    ["id_image"]=>
    int(37693)
    ["list"]=>
    string(7) "'22335'"
  }
  [33111]=>
  array(14) {
    ["attributes_values"]=>
    array(1) {
      [1349]=>
      string(3) "953"
    }
    ["attributes"]=>
    array(1) {
      [0]=>
      int(22336)
    }
    ["price"]=>
    float(0)
    ["specific_price"]=>
    bool(false)
    ["ecotax"]=>
    float(0)
    ["weight"]=>
    float(0)
    ["quantity"]=>
    float(24)
    ["reference"]=>
    string(0) ""
    ["unit_impact"]=>
    string(8) "0.000000"
    ["minimal_quantity"]=>
    int(1)
    ["available_date"]=>
    string(10) "2019-10-17"
    ["date_formatted"]=>
    string(10) "10/17/2019"
    ["id_image"]=>
    int(37694)
    ["list"]=>
    string(7) "'22336'"
  }
  [33112]=>
  array(14) {
    ["attributes_values"]=>
    array(1) {
      [1349]=>
      string(3) "965"
    }
    ["attributes"]=>
    array(1) {
      [0]=>
      int(22337)
    }
    ["price"]=>
    float(0)
    ["specific_price"]=>
    bool(false)
    ["ecotax"]=>
    float(0)
    ["weight"]=>
    float(0)
    ["quantity"]=>
    float(1)
    ["reference"]=>
    string(0) ""
    ["unit_impact"]=>
    string(8) "0.000000"
    ["minimal_quantity"]=>
    int(1)
    ["available_date"]=>
    string(10) "2019-10-17"
    ["date_formatted"]=>
    string(10) "10/17/2019"
    ["id_image"]=>
    int(37695)
    ["list"]=>
    string(7) "'22337'"
  }
}

Lana Grossa Cool Wool Big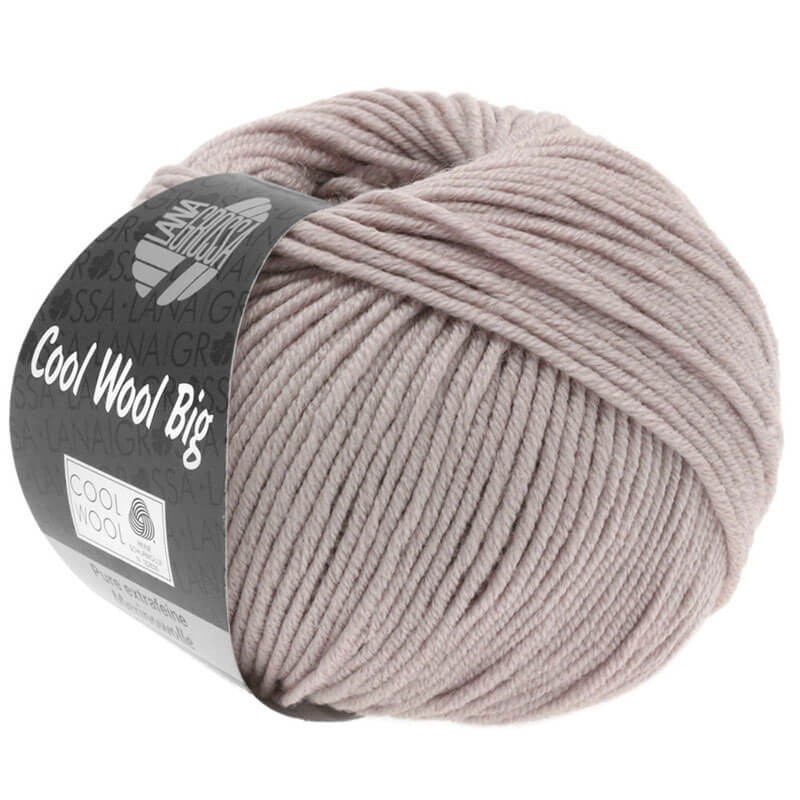  
Lana Grossa Cool Wool Big is a high quality merino yarn with an elegant design and a pleasant feel that suits with all kind of skins because of its hypoallergenic properties. It is perfect for creating clothes for kids and adults alike.
By buying this product you can collect up to 2 loyalty points. Your cart will total 2 points that can be converted into a voucher of €0.08.
Product details
Features
Weight

50 grams

Length

120 meters

Knitting needle

3 ½ - 4

Crochet Hook

3 ½ - 4

Season

Autumn - Winter
Product description
Lana Grossa Cool Wool Big provides a greater quality on your handmade garments. It is made from pure extrafine merino wool offering very polished, elegant and smooth strand.
This yarn is ideal for making baby, kids and adults projects alike. Its extrasoft touch and fluffy effect will please the whole family. In addition, it is hypoallergenic and breathable.
Lana Grossa Cool Wool Big is made from:
100% pure extrafine merino wool.
These fibres contain the WOOLMARK certificate that gurantees the fibres are carefully selected for ensuring high quality levels of wool fibres. They are soft, hypoallergenic, breathable and easy-care yarn.
What should I know about Cool Wool Big?
Each ball has 50 grams and 120 metres.
Its thickness is perfect to knit with the 3,5 – 4 mm knitting needles or crochet hooks.
Mount 19 stitches and do 26 rows to knit a 10 x 10 cm gauge.
With the WOOLMARK certificate: 3388TL79W.
You can wash this yarn in the washing machine at up to 30ºC.
Do not dry.
You can iron this yarn at low temperature.
Dry flat.
Amount of balls needed to…
To knit a long sleeve sweater size 38 – 40 you will need 11 balls.

To knit a kid sweater size 8 years you will need 6 – 7 balls.

To knit a baby sweater size 12 months you will need 3 balls.
Create high quality garments with Cool Wool Big and obtain warm and soft results!