array(18) {
  [32246]=>
  array(14) {
    ["attributes_values"]=>
    array(1) {
      [1306]=>
      string(1) "1"
    }
    ["attributes"]=>
    array(1) {
      [0]=>
      int(21775)
    }
    ["price"]=>
    float(0)
    ["specific_price"]=>
    bool(false)
    ["ecotax"]=>
    float(0)
    ["weight"]=>
    float(0)
    ["quantity"]=>
    float(14)
    ["reference"]=>
    string(0) ""
    ["unit_impact"]=>
    string(8) "0.000000"
    ["minimal_quantity"]=>
    int(1)
    ["available_date"]=>
    string(10) "2019-09-16"
    ["date_formatted"]=>
    string(10) "09/16/2019"
    ["id_image"]=>
    int(36314)
    ["list"]=>
    string(7) "'21775'"
  }
  [32247]=>
  array(14) {
    ["attributes_values"]=>
    array(1) {
      [1306]=>
      string(1) "2"
    }
    ["attributes"]=>
    array(1) {
      [0]=>
      int(21776)
    }
    ["price"]=>
    float(0)
    ["specific_price"]=>
    bool(false)
    ["ecotax"]=>
    float(0)
    ["weight"]=>
    float(0)
    ["quantity"]=>
    float(17)
    ["reference"]=>
    string(0) ""
    ["unit_impact"]=>
    string(8) "0.000000"
    ["minimal_quantity"]=>
    int(1)
    ["available_date"]=>
    string(10) "2019-09-16"
    ["date_formatted"]=>
    string(10) "09/16/2019"
    ["id_image"]=>
    int(36315)
    ["list"]=>
    string(7) "'21776'"
  }
  [32248]=>
  array(14) {
    ["attributes_values"]=>
    array(1) {
      [1306]=>
      string(1) "3"
    }
    ["attributes"]=>
    array(1) {
      [0]=>
      int(21777)
    }
    ["price"]=>
    float(0)
    ["specific_price"]=>
    bool(false)
    ["ecotax"]=>
    float(0)
    ["weight"]=>
    float(0)
    ["quantity"]=>
    float(29)
    ["reference"]=>
    string(0) ""
    ["unit_impact"]=>
    string(8) "0.000000"
    ["minimal_quantity"]=>
    int(1)
    ["available_date"]=>
    string(10) "2019-09-16"
    ["date_formatted"]=>
    string(10) "09/16/2019"
    ["id_image"]=>
    int(36316)
    ["list"]=>
    string(7) "'21777'"
  }
  [32249]=>
  array(14) {
    ["attributes_values"]=>
    array(1) {
      [1306]=>
      string(1) "4"
    }
    ["attributes"]=>
    array(1) {
      [0]=>
      int(21778)
    }
    ["price"]=>
    float(0)
    ["specific_price"]=>
    bool(false)
    ["ecotax"]=>
    float(0)
    ["weight"]=>
    float(0)
    ["quantity"]=>
    float(19)
    ["reference"]=>
    string(0) ""
    ["unit_impact"]=>
    string(8) "0.000000"
    ["minimal_quantity"]=>
    int(1)
    ["available_date"]=>
    string(10) "2019-09-16"
    ["date_formatted"]=>
    string(10) "09/16/2019"
    ["id_image"]=>
    int(36317)
    ["list"]=>
    string(7) "'21778'"
  }
  [32250]=>
  array(14) {
    ["attributes_values"]=>
    array(1) {
      [1306]=>
      string(1) "5"
    }
    ["attributes"]=>
    array(1) {
      [0]=>
      int(21779)
    }
    ["price"]=>
    float(0)
    ["specific_price"]=>
    bool(false)
    ["ecotax"]=>
    float(0)
    ["weight"]=>
    float(0)
    ["quantity"]=>
    float(17)
    ["reference"]=>
    string(0) ""
    ["unit_impact"]=>
    string(8) "0.000000"
    ["minimal_quantity"]=>
    int(1)
    ["available_date"]=>
    string(10) "2019-09-16"
    ["date_formatted"]=>
    string(10) "09/16/2019"
    ["id_image"]=>
    int(36318)
    ["list"]=>
    string(7) "'21779'"
  }
  [32251]=>
  array(14) {
    ["attributes_values"]=>
    array(1) {
      [1306]=>
      string(1) "6"
    }
    ["attributes"]=>
    array(1) {
      [0]=>
      int(21780)
    }
    ["price"]=>
    float(0)
    ["specific_price"]=>
    bool(false)
    ["ecotax"]=>
    float(0)
    ["weight"]=>
    float(0)
    ["quantity"]=>
    float(20)
    ["reference"]=>
    string(0) ""
    ["unit_impact"]=>
    string(8) "0.000000"
    ["minimal_quantity"]=>
    int(1)
    ["available_date"]=>
    string(10) "2019-09-16"
    ["date_formatted"]=>
    string(10) "09/16/2019"
    ["id_image"]=>
    int(36319)
    ["list"]=>
    string(7) "'21780'"
  }
  [32252]=>
  array(14) {
    ["attributes_values"]=>
    array(1) {
      [1306]=>
      string(1) "7"
    }
    ["attributes"]=>
    array(1) {
      [0]=>
      int(21781)
    }
    ["price"]=>
    float(0)
    ["specific_price"]=>
    bool(false)
    ["ecotax"]=>
    float(0)
    ["weight"]=>
    float(0)
    ["quantity"]=>
    float(10)
    ["reference"]=>
    string(0) ""
    ["unit_impact"]=>
    string(8) "0.000000"
    ["minimal_quantity"]=>
    int(1)
    ["available_date"]=>
    string(10) "2019-09-16"
    ["date_formatted"]=>
    string(10) "09/16/2019"
    ["id_image"]=>
    int(36320)
    ["list"]=>
    string(7) "'21781'"
  }
  [32253]=>
  array(14) {
    ["attributes_values"]=>
    array(1) {
      [1306]=>
      string(1) "8"
    }
    ["attributes"]=>
    array(1) {
      [0]=>
      int(21782)
    }
    ["price"]=>
    float(0)
    ["specific_price"]=>
    bool(false)
    ["ecotax"]=>
    float(0)
    ["weight"]=>
    float(0)
    ["quantity"]=>
    float(12)
    ["reference"]=>
    string(0) ""
    ["unit_impact"]=>
    string(8) "0.000000"
    ["minimal_quantity"]=>
    int(1)
    ["available_date"]=>
    string(10) "2019-09-16"
    ["date_formatted"]=>
    string(10) "09/16/2019"
    ["id_image"]=>
    int(36321)
    ["list"]=>
    string(7) "'21782'"
  }
  [32254]=>
  array(14) {
    ["attributes_values"]=>
    array(1) {
      [1306]=>
      string(1) "9"
    }
    ["attributes"]=>
    array(1) {
      [0]=>
      int(21783)
    }
    ["price"]=>
    float(0)
    ["specific_price"]=>
    bool(false)
    ["ecotax"]=>
    float(0)
    ["weight"]=>
    float(0)
    ["quantity"]=>
    float(18)
    ["reference"]=>
    string(0) ""
    ["unit_impact"]=>
    string(8) "0.000000"
    ["minimal_quantity"]=>
    int(1)
    ["available_date"]=>
    string(10) "2019-09-16"
    ["date_formatted"]=>
    string(10) "09/16/2019"
    ["id_image"]=>
    int(36322)
    ["list"]=>
    string(7) "'21783'"
  }
  [32255]=>
  array(14) {
    ["attributes_values"]=>
    array(1) {
      [1306]=>
      string(2) "10"
    }
    ["attributes"]=>
    array(1) {
      [0]=>
      int(21784)
    }
    ["price"]=>
    float(0)
    ["specific_price"]=>
    bool(false)
    ["ecotax"]=>
    float(0)
    ["weight"]=>
    float(0)
    ["quantity"]=>
    float(10)
    ["reference"]=>
    string(0) ""
    ["unit_impact"]=>
    string(8) "0.000000"
    ["minimal_quantity"]=>
    int(1)
    ["available_date"]=>
    string(10) "2019-09-16"
    ["date_formatted"]=>
    string(10) "09/16/2019"
    ["id_image"]=>
    int(36323)
    ["list"]=>
    string(7) "'21784'"
  }
  [32256]=>
  array(14) {
    ["attributes_values"]=>
    array(1) {
      [1306]=>
      string(2) "11"
    }
    ["attributes"]=>
    array(1) {
      [0]=>
      int(21785)
    }
    ["price"]=>
    float(0)
    ["specific_price"]=>
    bool(false)
    ["ecotax"]=>
    float(0)
    ["weight"]=>
    float(0)
    ["quantity"]=>
    float(17)
    ["reference"]=>
    string(0) ""
    ["unit_impact"]=>
    string(8) "0.000000"
    ["minimal_quantity"]=>
    int(1)
    ["available_date"]=>
    string(10) "2019-09-16"
    ["date_formatted"]=>
    string(10) "09/16/2019"
    ["id_image"]=>
    int(36324)
    ["list"]=>
    string(7) "'21785'"
  }
  [32257]=>
  array(14) {
    ["attributes_values"]=>
    array(1) {
      [1306]=>
      string(2) "12"
    }
    ["attributes"]=>
    array(1) {
      [0]=>
      int(21786)
    }
    ["price"]=>
    float(0)
    ["specific_price"]=>
    bool(false)
    ["ecotax"]=>
    float(0)
    ["weight"]=>
    float(0)
    ["quantity"]=>
    float(19)
    ["reference"]=>
    string(0) ""
    ["unit_impact"]=>
    string(8) "0.000000"
    ["minimal_quantity"]=>
    int(1)
    ["available_date"]=>
    string(10) "2019-09-16"
    ["date_formatted"]=>
    string(10) "09/16/2019"
    ["id_image"]=>
    int(36325)
    ["list"]=>
    string(7) "'21786'"
  }
  [32258]=>
  array(14) {
    ["attributes_values"]=>
    array(1) {
      [1306]=>
      string(3) "101"
    }
    ["attributes"]=>
    array(1) {
      [0]=>
      int(21787)
    }
    ["price"]=>
    float(0)
    ["specific_price"]=>
    bool(false)
    ["ecotax"]=>
    float(0)
    ["weight"]=>
    float(0)
    ["quantity"]=>
    float(10)
    ["reference"]=>
    string(0) ""
    ["unit_impact"]=>
    string(8) "0.000000"
    ["minimal_quantity"]=>
    int(1)
    ["available_date"]=>
    string(10) "2019-09-16"
    ["date_formatted"]=>
    string(10) "09/16/2019"
    ["id_image"]=>
    int(36326)
    ["list"]=>
    string(7) "'21787'"
  }
  [32259]=>
  array(14) {
    ["attributes_values"]=>
    array(1) {
      [1306]=>
      string(3) "102"
    }
    ["attributes"]=>
    array(1) {
      [0]=>
      int(21788)
    }
    ["price"]=>
    float(0)
    ["specific_price"]=>
    bool(false)
    ["ecotax"]=>
    float(0)
    ["weight"]=>
    float(0)
    ["quantity"]=>
    float(18)
    ["reference"]=>
    string(0) ""
    ["unit_impact"]=>
    string(8) "0.000000"
    ["minimal_quantity"]=>
    int(1)
    ["available_date"]=>
    string(10) "2019-09-16"
    ["date_formatted"]=>
    string(10) "09/16/2019"
    ["id_image"]=>
    int(36327)
    ["list"]=>
    string(7) "'21788'"
  }
  [32260]=>
  array(14) {
    ["attributes_values"]=>
    array(1) {
      [1306]=>
      string(3) "103"
    }
    ["attributes"]=>
    array(1) {
      [0]=>
      int(21789)
    }
    ["price"]=>
    float(0)
    ["specific_price"]=>
    bool(false)
    ["ecotax"]=>
    float(0)
    ["weight"]=>
    float(0)
    ["quantity"]=>
    float(20)
    ["reference"]=>
    string(0) ""
    ["unit_impact"]=>
    string(8) "0.000000"
    ["minimal_quantity"]=>
    int(1)
    ["available_date"]=>
    string(10) "2019-09-16"
    ["date_formatted"]=>
    string(10) "09/16/2019"
    ["id_image"]=>
    int(36328)
    ["list"]=>
    string(7) "'21789'"
  }
  [32261]=>
  array(14) {
    ["attributes_values"]=>
    array(1) {
      [1306]=>
      string(3) "104"
    }
    ["attributes"]=>
    array(1) {
      [0]=>
      int(21790)
    }
    ["price"]=>
    float(0)
    ["specific_price"]=>
    bool(false)
    ["ecotax"]=>
    float(0)
    ["weight"]=>
    float(0)
    ["quantity"]=>
    float(11)
    ["reference"]=>
    string(0) ""
    ["unit_impact"]=>
    string(8) "0.000000"
    ["minimal_quantity"]=>
    int(1)
    ["available_date"]=>
    string(10) "2019-09-16"
    ["date_formatted"]=>
    string(10) "09/16/2019"
    ["id_image"]=>
    int(36329)
    ["list"]=>
    string(7) "'21790'"
  }
  [32262]=>
  array(14) {
    ["attributes_values"]=>
    array(1) {
      [1306]=>
      string(3) "105"
    }
    ["attributes"]=>
    array(1) {
      [0]=>
      int(21791)
    }
    ["price"]=>
    float(0)
    ["specific_price"]=>
    bool(false)
    ["ecotax"]=>
    float(0)
    ["weight"]=>
    float(0)
    ["quantity"]=>
    float(18)
    ["reference"]=>
    string(0) ""
    ["unit_impact"]=>
    string(8) "0.000000"
    ["minimal_quantity"]=>
    int(1)
    ["available_date"]=>
    string(10) "2019-09-16"
    ["date_formatted"]=>
    string(10) "09/16/2019"
    ["id_image"]=>
    int(36330)
    ["list"]=>
    string(7) "'21791'"
  }
  [32263]=>
  array(14) {
    ["attributes_values"]=>
    array(1) {
      [1306]=>
      string(3) "106"
    }
    ["attributes"]=>
    array(1) {
      [0]=>
      int(21792)
    }
    ["price"]=>
    float(0)
    ["specific_price"]=>
    bool(false)
    ["ecotax"]=>
    float(0)
    ["weight"]=>
    float(0)
    ["quantity"]=>
    float(6)
    ["reference"]=>
    string(0) ""
    ["unit_impact"]=>
    string(8) "0.000000"
    ["minimal_quantity"]=>
    int(1)
    ["available_date"]=>
    string(10) "2019-09-16"
    ["date_formatted"]=>
    string(10) "09/16/2019"
    ["id_image"]=>
    int(36331)
    ["list"]=>
    string(7) "'21792'"
  }
}

Lana Grossa Lala Berlin Chunky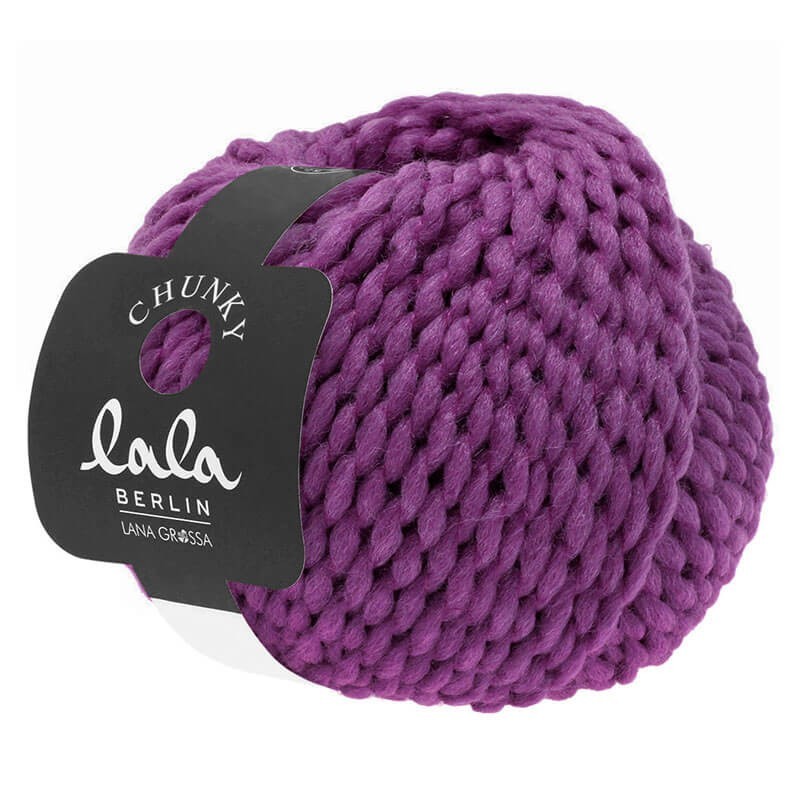  
Lana Grossa Lala Berlin Chunky stands out for its thickness and softness, allowing you to create garments for the coldest days of winter. It offers a solid and gradient colour palette, so you can choose the most suitable colour for your projects. 
By buying this product you can collect up to 4 loyalty points. Your cart will total 4 points that can be converted into a voucher of €0.16.
Product details
Features
Weight

50 grams

Length

50 meters

Knitting needle

8 - 9

Season

Autumn - Winter
Product description
Lala Berlin Chunky of Lana Grossa is a soft and nice yarn that contains a twisted thick strand, perfect to make warm garments and accessories that will keep your body temperature in the coldest days of winter.
This model offers 18 different colours: 12 solid colours and the rest of colours have a gradient effect. Some are darker and others lighter, so, in short, you have a great variety of colours to choose between them. You'll obtain incredible garments with original designs.
Lala Berlin Chunky is made of:
80% virgin wool
15% silk
5% polyamide
The combination of silk and virgin wool fibres provides a soft fabric, perfect for any skin types, including the most sensitives ones. So, you can knit garments and accessories for the whole family.
You should know that Lala Berlin Chunky…
Each ball has 50 grams and 50 metres.
Its thickness is perfect to knit with the 8 - 9 mm crochet hooks.
Mount 10 stitches and do 14 laps to knit a 10 x 10 cm square.
We recommend you to wash it by hand.
Do not use the dryer. We recommend you to dry it horizontally without hanging out.
Do not iron this product.
Create warm garments in solid or combined colours and feel the softness in your skin!
Rating:

5

out of

5

based on

2

reviews.
Customer reviews
Nº of votes

Average experience

Rating

2

star star star star star

star star star star star

star star star star star

star star star star star