array(8) {
  [27792]=>
  array(14) {
    ["attributes_values"]=>
    array(1) {
      [1109]=>
      string(1) "1"
    }
    ["attributes"]=>
    array(1) {
      [0]=>
      int(18218)
    }
    ["price"]=>
    float(0)
    ["specific_price"]=>
    bool(false)
    ["ecotax"]=>
    float(0)
    ["weight"]=>
    float(0)
    ["quantity"]=>
    float(20)
    ["reference"]=>
    string(0) ""
    ["unit_impact"]=>
    string(8) "0.000000"
    ["minimal_quantity"]=>
    int(1)
    ["available_date"]=>
    string(10) "2019-02-27"
    ["date_formatted"]=>
    string(10) "02/27/2019"
    ["id_image"]=>
    int(29739)
    ["list"]=>
    string(7) "'18218'"
  }
  [27793]=>
  array(14) {
    ["attributes_values"]=>
    array(1) {
      [1109]=>
      string(1) "3"
    }
    ["attributes"]=>
    array(1) {
      [0]=>
      int(18219)
    }
    ["price"]=>
    float(0)
    ["specific_price"]=>
    bool(false)
    ["ecotax"]=>
    float(0)
    ["weight"]=>
    float(0)
    ["quantity"]=>
    float(13)
    ["reference"]=>
    string(0) ""
    ["unit_impact"]=>
    string(8) "0.000000"
    ["minimal_quantity"]=>
    int(1)
    ["available_date"]=>
    string(10) "2019-02-27"
    ["date_formatted"]=>
    string(10) "02/27/2019"
    ["id_image"]=>
    int(31152)
    ["list"]=>
    string(7) "'18219'"
  }
  [27794]=>
  array(14) {
    ["attributes_values"]=>
    array(1) {
      [1109]=>
      string(2) "10"
    }
    ["attributes"]=>
    array(1) {
      [0]=>
      int(18220)
    }
    ["price"]=>
    float(0)
    ["specific_price"]=>
    bool(false)
    ["ecotax"]=>
    float(0)
    ["weight"]=>
    float(0)
    ["quantity"]=>
    float(23)
    ["reference"]=>
    string(0) ""
    ["unit_impact"]=>
    string(8) "0.000000"
    ["minimal_quantity"]=>
    int(1)
    ["available_date"]=>
    string(10) "2019-02-27"
    ["date_formatted"]=>
    string(10) "02/27/2019"
    ["id_image"]=>
    int(29741)
    ["list"]=>
    string(7) "'18220'"
  }
  [27795]=>
  array(14) {
    ["attributes_values"]=>
    array(1) {
      [1109]=>
      string(2) "22"
    }
    ["attributes"]=>
    array(1) {
      [0]=>
      int(18221)
    }
    ["price"]=>
    float(0)
    ["specific_price"]=>
    bool(false)
    ["ecotax"]=>
    float(0)
    ["weight"]=>
    float(0)
    ["quantity"]=>
    float(11)
    ["reference"]=>
    string(0) ""
    ["unit_impact"]=>
    string(8) "0.000000"
    ["minimal_quantity"]=>
    int(1)
    ["available_date"]=>
    string(10) "2019-02-27"
    ["date_formatted"]=>
    string(10) "02/27/2019"
    ["id_image"]=>
    int(29742)
    ["list"]=>
    string(7) "'18221'"
  }
  [27796]=>
  array(14) {
    ["attributes_values"]=>
    array(1) {
      [1109]=>
      string(2) "27"
    }
    ["attributes"]=>
    array(1) {
      [0]=>
      int(18222)
    }
    ["price"]=>
    float(0)
    ["specific_price"]=>
    bool(false)
    ["ecotax"]=>
    float(0)
    ["weight"]=>
    float(0)
    ["quantity"]=>
    float(21)
    ["reference"]=>
    string(0) ""
    ["unit_impact"]=>
    string(8) "0.000000"
    ["minimal_quantity"]=>
    int(1)
    ["available_date"]=>
    string(10) "2019-02-27"
    ["date_formatted"]=>
    string(10) "02/27/2019"
    ["id_image"]=>
    int(29743)
    ["list"]=>
    string(7) "'18222'"
  }
  [27797]=>
  array(14) {
    ["attributes_values"]=>
    array(1) {
      [1109]=>
      string(2) "30"
    }
    ["attributes"]=>
    array(1) {
      [0]=>
      int(18223)
    }
    ["price"]=>
    float(0)
    ["specific_price"]=>
    bool(false)
    ["ecotax"]=>
    float(0)
    ["weight"]=>
    float(0)
    ["quantity"]=>
    float(8)
    ["reference"]=>
    string(0) ""
    ["unit_impact"]=>
    string(8) "0.000000"
    ["minimal_quantity"]=>
    int(1)
    ["available_date"]=>
    string(10) "2019-02-27"
    ["date_formatted"]=>
    string(10) "02/27/2019"
    ["id_image"]=>
    int(29744)
    ["list"]=>
    string(7) "'18223'"
  }
  [27798]=>
  array(14) {
    ["attributes_values"]=>
    array(1) {
      [1109]=>
      string(2) "41"
    }
    ["attributes"]=>
    array(1) {
      [0]=>
      int(18224)
    }
    ["price"]=>
    float(0)
    ["specific_price"]=>
    bool(false)
    ["ecotax"]=>
    float(0)
    ["weight"]=>
    float(0)
    ["quantity"]=>
    float(20)
    ["reference"]=>
    string(0) ""
    ["unit_impact"]=>
    string(8) "0.000000"
    ["minimal_quantity"]=>
    int(1)
    ["available_date"]=>
    string(10) "2019-02-27"
    ["date_formatted"]=>
    string(10) "02/27/2019"
    ["id_image"]=>
    int(29745)
    ["list"]=>
    string(7) "'18224'"
  }
  [27799]=>
  array(14) {
    ["attributes_values"]=>
    array(1) {
      [1109]=>
      string(2) "50"
    }
    ["attributes"]=>
    array(1) {
      [0]=>
      int(18225)
    }
    ["price"]=>
    float(0)
    ["specific_price"]=>
    bool(false)
    ["ecotax"]=>
    float(0)
    ["weight"]=>
    float(0)
    ["quantity"]=>
    float(11)
    ["reference"]=>
    string(0) ""
    ["unit_impact"]=>
    string(8) "0.000000"
    ["minimal_quantity"]=>
    int(1)
    ["available_date"]=>
    string(10) "2019-02-27"
    ["date_formatted"]=>
    string(10) "02/27/2019"
    ["id_image"]=>
    int(29746)
    ["list"]=>
    string(7) "'18225'"
  }
}

Plassard Songe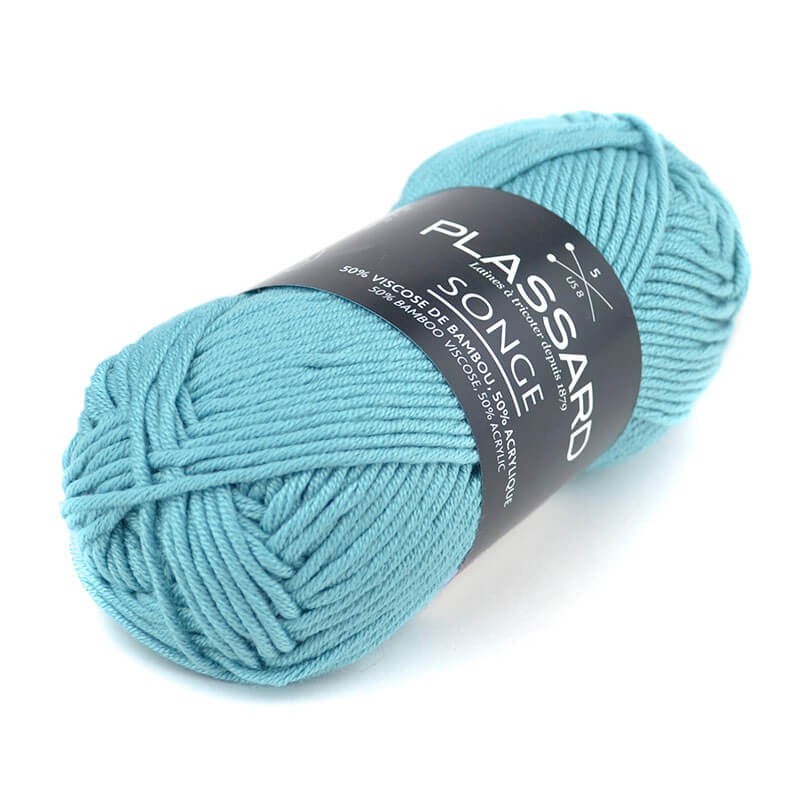  
Plassard Songe is a spongy and fresh yarn that is made of bamboo viscose and acrylic fibres. Its bright colour makes it perfect to create all kind of garments and accessories for children and adults. There's a wide range of coulours available!
By buying this product you can collect up to 1 loyalty point. Your cart will total 1 point that can be converted into a voucher of €0.04.
Product details
Features
Weight

50 grams

Length

72 meters

Knitting needle

5

Season

Spring - Summer
Product description
Plassard Songe is a soft yarn as fresh as the cotton fibres, which is perfect for knitting garments for the summer season. It's made of bamboo viscose and acrylic fibres, the perfect combination for making cardigans and creative bags. Its wide range of colours is perfect for making casual outfits.
This yarn for tricot and crochet lovers is made by 7 thin threads that are twisted between them. Your clothes will be nice, comfortable and elegant thanks to Plassard Songe.
A nice yarn similar to the cotton fibres that contains great qualities for the skin. It's perfect for the most sensitive skins thanks to its nice touch.
Plassard Songe is made of:
50% Bamboo viscose

50% Acrylic
Viscose fibres come from bamboo cellulose, a material that gives a soft and bright touch to this natural wool. This yarn is perfect for the most sensitive skins because it doesn't irritate and it's breathable. A soft and easy-care fabric!
You should know that Plassard Songe…
Each ball has 50 grams and 72 metres.

Its thickness is perfect to knit with the 5 mm knitting needles.

Mount 24 stitches and do 18 laps to knit a 10 x 10 cm square.

It can be washed in the washing machine up to 20ºC.

Do not use the dryer. We recommend you to dry it horizontally without hanging out.

It can be ironed at a low temperature.
Amount of balls needed to…
To knit a long sleeve sweater - size 40 years, you will need 11 balls approx.
A nice bamboo viscose yarn perfect to knit garments for the spring/summer season.