Ice Cream pattern Nº 56 from Yarn the after party of Scheepjes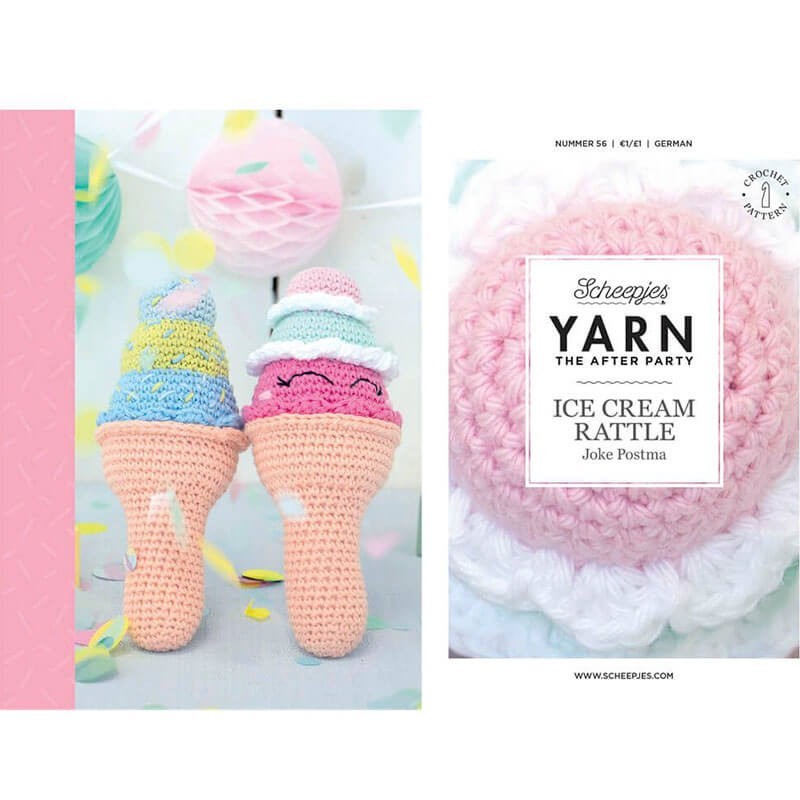  
The Ice Cream pattern Nº 56 from Yarn the after party of Scheepjes is designed by Joke Postma and presents the instructions in English to crochet two baby rattles with the Scheepjes Organicon thread.
Create the funniest gift for babies by using the crochet technique!
No reward points for this product.
Product description
The Ice Cream pattern Nº 56 from Yarn the after party of Scheepjes presents instructions to crochet two baby rattles designed by Joke Postma. Instructions are only available in English.
Inside the practical booklet, the necessary explanations are presented so that you can easily knit any of the two rattles that you can see on the cover. The perfect gift for newborns and their parents!
These rattles are crocheted with the Scheepjes Organicon yarn, a sweet vegan yarn made of organic cotton, suitable for use in baby accessories.
What materials should I use to crochet these Scheepjes Ice Cream rattles?
You will need to use the following materials to crochet these rattles:
8 Scheepjes Organicon yarns in the following colours: 206, 207, 208, 213, 214, 216, 217 and 219.
1 Crochet hook of 2,5 mm.
Black thread to embroider the face.
2 Rattles of 38 cm.
Filling.
Stitch markers.
The book recommends you to use some specific colours, but you can choose your favourite ones between the more of 20 colours presented by the Scheepjes Organicon range.
The explanations are only written, it doesn't contain graphics.