array(53) {
  [25497]=>
  array(14) {
    ["attributes_values"]=>
    array(1) {
      [1008]=>
      string(3) "100"
    }
    ["attributes"]=>
    array(1) {
      [0]=>
      int(16182)
    }
    ["price"]=>
    float(0)
    ["specific_price"]=>
    array(19) {
      ["id_specific_price"]=>
      string(7) "4436337"
      ["id_specific_price_rule"]=>
      string(3) "225"
      ["id_cart"]=>
      string(1) "0"
      ["id_product"]=>
      string(4) "4610"
      ["id_shop"]=>
      string(1) "1"
      ["id_shop_group"]=>
      string(1) "0"
      ["id_currency"]=>
      string(1) "0"
      ["id_country"]=>
      string(1) "0"
      ["id_group"]=>
      string(1) "0"
      ["id_customer"]=>
      string(1) "0"
      ["id_product_attribute"]=>
      string(1) "0"
      ["price"]=>
      string(9) "-1.000000"
      ["from_quantity"]=>
      string(8) "1.000000"
      ["reduction"]=>
      string(8) "0.150000"
      ["reduction_tax"]=>
      string(1) "1"
      ["reduction_type"]=>
      string(10) "percentage"
      ["from"]=>
      string(19) "2021-01-06 00:00:00"
      ["to"]=>
      string(19) "2021-02-01 01:10:00"
      ["score"]=>
      string(2) "48"
    }
    ["ecotax"]=>
    float(0)
    ["weight"]=>
    float(0)
    ["quantity"]=>
    float(0)
    ["reference"]=>
    string(0) ""
    ["unit_impact"]=>
    string(8) "0.000000"
    ["minimal_quantity"]=>
    int(1)
    ["available_date"]=>
    string(10) "2018-10-18"
    ["date_formatted"]=>
    string(10) "10/18/2018"
    ["id_image"]=>
    int(26182)
    ["list"]=>
    string(7) "'16182'"
  }
  [25498]=>
  array(14) {
    ["attributes_values"]=>
    array(1) {
      [1008]=>
      string(3) "155"
    }
    ["attributes"]=>
    array(1) {
      [0]=>
      int(16183)
    }
    ["price"]=>
    float(0)
    ["specific_price"]=>
    array(19) {
      ["id_specific_price"]=>
      string(7) "4436337"
      ["id_specific_price_rule"]=>
      string(3) "225"
      ["id_cart"]=>
      string(1) "0"
      ["id_product"]=>
      string(4) "4610"
      ["id_shop"]=>
      string(1) "1"
      ["id_shop_group"]=>
      string(1) "0"
      ["id_currency"]=>
      string(1) "0"
      ["id_country"]=>
      string(1) "0"
      ["id_group"]=>
      string(1) "0"
      ["id_customer"]=>
      string(1) "0"
      ["id_product_attribute"]=>
      string(1) "0"
      ["price"]=>
      string(9) "-1.000000"
      ["from_quantity"]=>
      string(8) "1.000000"
      ["reduction"]=>
      string(8) "0.150000"
      ["reduction_tax"]=>
      string(1) "1"
      ["reduction_type"]=>
      string(10) "percentage"
      ["from"]=>
      string(19) "2021-01-06 00:00:00"
      ["to"]=>
      string(19) "2021-02-01 01:10:00"
      ["score"]=>
      string(2) "48"
    }
    ["ecotax"]=>
    float(0)
    ["weight"]=>
    float(0)
    ["quantity"]=>
    float(35)
    ["reference"]=>
    string(0) ""
    ["unit_impact"]=>
    string(8) "0.000000"
    ["minimal_quantity"]=>
    int(1)
    ["available_date"]=>
    string(10) "2018-10-18"
    ["date_formatted"]=>
    string(10) "10/18/2018"
    ["id_image"]=>
    int(26183)
    ["list"]=>
    string(7) "'16183'"
  }
  [25499]=>
  array(14) {
    ["attributes_values"]=>
    array(1) {
      [1008]=>
      string(3) "156"
    }
    ["attributes"]=>
    array(1) {
      [0]=>
      int(16184)
    }
    ["price"]=>
    float(0)
    ["specific_price"]=>
    array(19) {
      ["id_specific_price"]=>
      string(7) "4436337"
      ["id_specific_price_rule"]=>
      string(3) "225"
      ["id_cart"]=>
      string(1) "0"
      ["id_product"]=>
      string(4) "4610"
      ["id_shop"]=>
      string(1) "1"
      ["id_shop_group"]=>
      string(1) "0"
      ["id_currency"]=>
      string(1) "0"
      ["id_country"]=>
      string(1) "0"
      ["id_group"]=>
      string(1) "0"
      ["id_customer"]=>
      string(1) "0"
      ["id_product_attribute"]=>
      string(1) "0"
      ["price"]=>
      string(9) "-1.000000"
      ["from_quantity"]=>
      string(8) "1.000000"
      ["reduction"]=>
      string(8) "0.150000"
      ["reduction_tax"]=>
      string(1) "1"
      ["reduction_type"]=>
      string(10) "percentage"
      ["from"]=>
      string(19) "2021-01-06 00:00:00"
      ["to"]=>
      string(19) "2021-02-01 01:10:00"
      ["score"]=>
      string(2) "48"
    }
    ["ecotax"]=>
    float(0)
    ["weight"]=>
    float(0)
    ["quantity"]=>
    float(0)
    ["reference"]=>
    string(0) ""
    ["unit_impact"]=>
    string(8) "0.000000"
    ["minimal_quantity"]=>
    int(1)
    ["available_date"]=>
    string(10) "2018-10-18"
    ["date_formatted"]=>
    string(10) "10/18/2018"
    ["id_image"]=>
    int(26184)
    ["list"]=>
    string(7) "'16184'"
  }
  [25500]=>
  array(14) {
    ["attributes_values"]=>
    array(1) {
      [1008]=>
      string(3) "199"
    }
    ["attributes"]=>
    array(1) {
      [0]=>
      int(16185)
    }
    ["price"]=>
    float(0)
    ["specific_price"]=>
    array(19) {
      ["id_specific_price"]=>
      string(7) "4436337"
      ["id_specific_price_rule"]=>
      string(3) "225"
      ["id_cart"]=>
      string(1) "0"
      ["id_product"]=>
      string(4) "4610"
      ["id_shop"]=>
      string(1) "1"
      ["id_shop_group"]=>
      string(1) "0"
      ["id_currency"]=>
      string(1) "0"
      ["id_country"]=>
      string(1) "0"
      ["id_group"]=>
      string(1) "0"
      ["id_customer"]=>
      string(1) "0"
      ["id_product_attribute"]=>
      string(1) "0"
      ["price"]=>
      string(9) "-1.000000"
      ["from_quantity"]=>
      string(8) "1.000000"
      ["reduction"]=>
      string(8) "0.150000"
      ["reduction_tax"]=>
      string(1) "1"
      ["reduction_type"]=>
      string(10) "percentage"
      ["from"]=>
      string(19) "2021-01-06 00:00:00"
      ["to"]=>
      string(19) "2021-02-01 01:10:00"
      ["score"]=>
      string(2) "48"
    }
    ["ecotax"]=>
    float(0)
    ["weight"]=>
    float(0)
    ["quantity"]=>
    float(4)
    ["reference"]=>
    string(0) ""
    ["unit_impact"]=>
    string(8) "0.000000"
    ["minimal_quantity"]=>
    int(1)
    ["available_date"]=>
    string(10) "2018-10-18"
    ["date_formatted"]=>
    string(10) "10/18/2018"
    ["id_image"]=>
    int(26185)
    ["list"]=>
    string(7) "'16185'"
  }
  [25501]=>
  array(14) {
    ["attributes_values"]=>
    array(1) {
      [1008]=>
      string(3) "200"
    }
    ["attributes"]=>
    array(1) {
      [0]=>
      int(16186)
    }
    ["price"]=>
    float(0)
    ["specific_price"]=>
    array(19) {
      ["id_specific_price"]=>
      string(7) "4436337"
      ["id_specific_price_rule"]=>
      string(3) "225"
      ["id_cart"]=>
      string(1) "0"
      ["id_product"]=>
      string(4) "4610"
      ["id_shop"]=>
      string(1) "1"
      ["id_shop_group"]=>
      string(1) "0"
      ["id_currency"]=>
      string(1) "0"
      ["id_country"]=>
      string(1) "0"
      ["id_group"]=>
      string(1) "0"
      ["id_customer"]=>
      string(1) "0"
      ["id_product_attribute"]=>
      string(1) "0"
      ["price"]=>
      string(9) "-1.000000"
      ["from_quantity"]=>
      string(8) "1.000000"
      ["reduction"]=>
      string(8) "0.150000"
      ["reduction_tax"]=>
      string(1) "1"
      ["reduction_type"]=>
      string(10) "percentage"
      ["from"]=>
      string(19) "2021-01-06 00:00:00"
      ["to"]=>
      string(19) "2021-02-01 01:10:00"
      ["score"]=>
      string(2) "48"
    }
    ["ecotax"]=>
    float(0)
    ["weight"]=>
    float(0)
    ["quantity"]=>
    float(3)
    ["reference"]=>
    string(0) ""
    ["unit_impact"]=>
    string(8) "0.000000"
    ["minimal_quantity"]=>
    int(1)
    ["available_date"]=>
    string(10) "2018-10-18"
    ["date_formatted"]=>
    string(10) "10/18/2018"
    ["id_image"]=>
    int(26186)
    ["list"]=>
    string(7) "'16186'"
  }
  [25502]=>
  array(14) {
    ["attributes_values"]=>
    array(1) {
      [1008]=>
      string(3) "212"
    }
    ["attributes"]=>
    array(1) {
      [0]=>
      int(16187)
    }
    ["price"]=>
    float(0)
    ["specific_price"]=>
    array(19) {
      ["id_specific_price"]=>
      string(7) "4436337"
      ["id_specific_price_rule"]=>
      string(3) "225"
      ["id_cart"]=>
      string(1) "0"
      ["id_product"]=>
      string(4) "4610"
      ["id_shop"]=>
      string(1) "1"
      ["id_shop_group"]=>
      string(1) "0"
      ["id_currency"]=>
      string(1) "0"
      ["id_country"]=>
      string(1) "0"
      ["id_group"]=>
      string(1) "0"
      ["id_customer"]=>
      string(1) "0"
      ["id_product_attribute"]=>
      string(1) "0"
      ["price"]=>
      string(9) "-1.000000"
      ["from_quantity"]=>
      string(8) "1.000000"
      ["reduction"]=>
      string(8) "0.150000"
      ["reduction_tax"]=>
      string(1) "1"
      ["reduction_type"]=>
      string(10) "percentage"
      ["from"]=>
      string(19) "2021-01-06 00:00:00"
      ["to"]=>
      string(19) "2021-02-01 01:10:00"
      ["score"]=>
      string(2) "48"
    }
    ["ecotax"]=>
    float(0)
    ["weight"]=>
    float(0)
    ["quantity"]=>
    float(0)
    ["reference"]=>
    string(0) ""
    ["unit_impact"]=>
    string(8) "0.000000"
    ["minimal_quantity"]=>
    int(1)
    ["available_date"]=>
    string(10) "2018-10-18"
    ["date_formatted"]=>
    string(10) "10/18/2018"
    ["id_image"]=>
    int(26187)
    ["list"]=>
    string(7) "'16187'"
  }
  [25503]=>
  array(14) {
    ["attributes_values"]=>
    array(1) {
      [1008]=>
      string(3) "215"
    }
    ["attributes"]=>
    array(1) {
      [0]=>
      int(16188)
    }
    ["price"]=>
    float(0)
    ["specific_price"]=>
    array(19) {
      ["id_specific_price"]=>
      string(7) "4436337"
      ["id_specific_price_rule"]=>
      string(3) "225"
      ["id_cart"]=>
      string(1) "0"
      ["id_product"]=>
      string(4) "4610"
      ["id_shop"]=>
      string(1) "1"
      ["id_shop_group"]=>
      string(1) "0"
      ["id_currency"]=>
      string(1) "0"
      ["id_country"]=>
      string(1) "0"
      ["id_group"]=>
      string(1) "0"
      ["id_customer"]=>
      string(1) "0"
      ["id_product_attribute"]=>
      string(1) "0"
      ["price"]=>
      string(9) "-1.000000"
      ["from_quantity"]=>
      string(8) "1.000000"
      ["reduction"]=>
      string(8) "0.150000"
      ["reduction_tax"]=>
      string(1) "1"
      ["reduction_type"]=>
      string(10) "percentage"
      ["from"]=>
      string(19) "2021-01-06 00:00:00"
      ["to"]=>
      string(19) "2021-02-01 01:10:00"
      ["score"]=>
      string(2) "48"
    }
    ["ecotax"]=>
    float(0)
    ["weight"]=>
    float(0)
    ["quantity"]=>
    float(0)
    ["reference"]=>
    string(0) ""
    ["unit_impact"]=>
    string(8) "0.000000"
    ["minimal_quantity"]=>
    int(1)
    ["available_date"]=>
    string(10) "2018-10-18"
    ["date_formatted"]=>
    string(10) "10/18/2018"
    ["id_image"]=>
    int(26188)
    ["list"]=>
    string(7) "'16188'"
  }
  [25504]=>
  array(14) {
    ["attributes_values"]=>
    array(1) {
      [1008]=>
      string(3) "222"
    }
    ["attributes"]=>
    array(1) {
      [0]=>
      int(16189)
    }
    ["price"]=>
    float(0)
    ["specific_price"]=>
    array(19) {
      ["id_specific_price"]=>
      string(7) "4436337"
      ["id_specific_price_rule"]=>
      string(3) "225"
      ["id_cart"]=>
      string(1) "0"
      ["id_product"]=>
      string(4) "4610"
      ["id_shop"]=>
      string(1) "1"
      ["id_shop_group"]=>
      string(1) "0"
      ["id_currency"]=>
      string(1) "0"
      ["id_country"]=>
      string(1) "0"
      ["id_group"]=>
      string(1) "0"
      ["id_customer"]=>
      string(1) "0"
      ["id_product_attribute"]=>
      string(1) "0"
      ["price"]=>
      string(9) "-1.000000"
      ["from_quantity"]=>
      string(8) "1.000000"
      ["reduction"]=>
      string(8) "0.150000"
      ["reduction_tax"]=>
      string(1) "1"
      ["reduction_type"]=>
      string(10) "percentage"
      ["from"]=>
      string(19) "2021-01-06 00:00:00"
      ["to"]=>
      string(19) "2021-02-01 01:10:00"
      ["score"]=>
      string(2) "48"
    }
    ["ecotax"]=>
    float(0)
    ["weight"]=>
    float(0)
    ["quantity"]=>
    float(29)
    ["reference"]=>
    string(0) ""
    ["unit_impact"]=>
    string(8) "0.000000"
    ["minimal_quantity"]=>
    int(1)
    ["available_date"]=>
    string(10) "2018-10-18"
    ["date_formatted"]=>
    string(10) "10/18/2018"
    ["id_image"]=>
    int(26189)
    ["list"]=>
    string(7) "'16189'"
  }
  [25505]=>
  array(14) {
    ["attributes_values"]=>
    array(1) {
      [1008]=>
      string(3) "257"
    }
    ["attributes"]=>
    array(1) {
      [0]=>
      int(16190)
    }
    ["price"]=>
    float(0)
    ["specific_price"]=>
    array(19) {
      ["id_specific_price"]=>
      string(7) "4436337"
      ["id_specific_price_rule"]=>
      string(3) "225"
      ["id_cart"]=>
      string(1) "0"
      ["id_product"]=>
      string(4) "4610"
      ["id_shop"]=>
      string(1) "1"
      ["id_shop_group"]=>
      string(1) "0"
      ["id_currency"]=>
      string(1) "0"
      ["id_country"]=>
      string(1) "0"
      ["id_group"]=>
      string(1) "0"
      ["id_customer"]=>
      string(1) "0"
      ["id_product_attribute"]=>
      string(1) "0"
      ["price"]=>
      string(9) "-1.000000"
      ["from_quantity"]=>
      string(8) "1.000000"
      ["reduction"]=>
      string(8) "0.150000"
      ["reduction_tax"]=>
      string(1) "1"
      ["reduction_type"]=>
      string(10) "percentage"
      ["from"]=>
      string(19) "2021-01-06 00:00:00"
      ["to"]=>
      string(19) "2021-02-01 01:10:00"
      ["score"]=>
      string(2) "48"
    }
    ["ecotax"]=>
    float(0)
    ["weight"]=>
    float(0)
    ["quantity"]=>
    float(30)
    ["reference"]=>
    string(0) ""
    ["unit_impact"]=>
    string(8) "0.000000"
    ["minimal_quantity"]=>
    int(1)
    ["available_date"]=>
    string(10) "2018-10-18"
    ["date_formatted"]=>
    string(10) "10/18/2018"
    ["id_image"]=>
    int(26190)
    ["list"]=>
    string(7) "'16190'"
  }
  [25506]=>
  array(14) {
    ["attributes_values"]=>
    array(1) {
      [1008]=>
      string(3) "258"
    }
    ["attributes"]=>
    array(1) {
      [0]=>
      int(16191)
    }
    ["price"]=>
    float(0)
    ["specific_price"]=>
    array(19) {
      ["id_specific_price"]=>
      string(7) "4436337"
      ["id_specific_price_rule"]=>
      string(3) "225"
      ["id_cart"]=>
      string(1) "0"
      ["id_product"]=>
      string(4) "4610"
      ["id_shop"]=>
      string(1) "1"
      ["id_shop_group"]=>
      string(1) "0"
      ["id_currency"]=>
      string(1) "0"
      ["id_country"]=>
      string(1) "0"
      ["id_group"]=>
      string(1) "0"
      ["id_customer"]=>
      string(1) "0"
      ["id_product_attribute"]=>
      string(1) "0"
      ["price"]=>
      string(9) "-1.000000"
      ["from_quantity"]=>
      string(8) "1.000000"
      ["reduction"]=>
      string(8) "0.150000"
      ["reduction_tax"]=>
      string(1) "1"
      ["reduction_type"]=>
      string(10) "percentage"
      ["from"]=>
      string(19) "2021-01-06 00:00:00"
      ["to"]=>
      string(19) "2021-02-01 01:10:00"
      ["score"]=>
      string(2) "48"
    }
    ["ecotax"]=>
    float(0)
    ["weight"]=>
    float(0)
    ["quantity"]=>
    float(34)
    ["reference"]=>
    string(0) ""
    ["unit_impact"]=>
    string(8) "0.000000"
    ["minimal_quantity"]=>
    int(1)
    ["available_date"]=>
    string(10) "2018-10-18"
    ["date_formatted"]=>
    string(10) "10/18/2018"
    ["id_image"]=>
    int(26191)
    ["list"]=>
    string(7) "'16191'"
  }
  [25507]=>
  array(14) {
    ["attributes_values"]=>
    array(1) {
      [1008]=>
      string(3) "268"
    }
    ["attributes"]=>
    array(1) {
      [0]=>
      int(16192)
    }
    ["price"]=>
    float(0)
    ["specific_price"]=>
    array(19) {
      ["id_specific_price"]=>
      string(7) "4436337"
      ["id_specific_price_rule"]=>
      string(3) "225"
      ["id_cart"]=>
      string(1) "0"
      ["id_product"]=>
      string(4) "4610"
      ["id_shop"]=>
      string(1) "1"
      ["id_shop_group"]=>
      string(1) "0"
      ["id_currency"]=>
      string(1) "0"
      ["id_country"]=>
      string(1) "0"
      ["id_group"]=>
      string(1) "0"
      ["id_customer"]=>
      string(1) "0"
      ["id_product_attribute"]=>
      string(1) "0"
      ["price"]=>
      string(9) "-1.000000"
      ["from_quantity"]=>
      string(8) "1.000000"
      ["reduction"]=>
      string(8) "0.150000"
      ["reduction_tax"]=>
      string(1) "1"
      ["reduction_type"]=>
      string(10) "percentage"
      ["from"]=>
      string(19) "2021-01-06 00:00:00"
      ["to"]=>
      string(19) "2021-02-01 01:10:00"
      ["score"]=>
      string(2) "48"
    }
    ["ecotax"]=>
    float(0)
    ["weight"]=>
    float(0)
    ["quantity"]=>
    float(0)
    ["reference"]=>
    string(0) ""
    ["unit_impact"]=>
    string(8) "0.000000"
    ["minimal_quantity"]=>
    int(1)
    ["available_date"]=>
    string(10) "2018-10-18"
    ["date_formatted"]=>
    string(10) "10/18/2018"
    ["id_image"]=>
    int(26192)
    ["list"]=>
    string(7) "'16192'"
  }
  [25508]=>
  array(14) {
    ["attributes_values"]=>
    array(1) {
      [1008]=>
      string(3) "269"
    }
    ["attributes"]=>
    array(1) {
      [0]=>
      int(16193)
    }
    ["price"]=>
    float(0)
    ["specific_price"]=>
    array(19) {
      ["id_specific_price"]=>
      string(7) "4436337"
      ["id_specific_price_rule"]=>
      string(3) "225"
      ["id_cart"]=>
      string(1) "0"
      ["id_product"]=>
      string(4) "4610"
      ["id_shop"]=>
      string(1) "1"
      ["id_shop_group"]=>
      string(1) "0"
      ["id_currency"]=>
      string(1) "0"
      ["id_country"]=>
      string(1) "0"
      ["id_group"]=>
      string(1) "0"
      ["id_customer"]=>
      string(1) "0"
      ["id_product_attribute"]=>
      string(1) "0"
      ["price"]=>
      string(9) "-1.000000"
      ["from_quantity"]=>
      string(8) "1.000000"
      ["reduction"]=>
      string(8) "0.150000"
      ["reduction_tax"]=>
      string(1) "1"
      ["reduction_type"]=>
      string(10) "percentage"
      ["from"]=>
      string(19) "2021-01-06 00:00:00"
      ["to"]=>
      string(19) "2021-02-01 01:10:00"
      ["score"]=>
      string(2) "48"
    }
    ["ecotax"]=>
    float(0)
    ["weight"]=>
    float(0)
    ["quantity"]=>
    float(49)
    ["reference"]=>
    string(0) ""
    ["unit_impact"]=>
    string(8) "0.000000"
    ["minimal_quantity"]=>
    int(1)
    ["available_date"]=>
    string(10) "2018-10-18"
    ["date_formatted"]=>
    string(10) "10/18/2018"
    ["id_image"]=>
    int(26193)
    ["list"]=>
    string(7) "'16193'"
  }
  [38373]=>
  array(14) {
    ["attributes_values"]=>
    array(1) {
      [1008]=>
      string(3) "360"
    }
    ["attributes"]=>
    array(1) {
      [0]=>
      int(26051)
    }
    ["price"]=>
    float(0)
    ["specific_price"]=>
    array(19) {
      ["id_specific_price"]=>
      string(7) "4436337"
      ["id_specific_price_rule"]=>
      string(3) "225"
      ["id_cart"]=>
      string(1) "0"
      ["id_product"]=>
      string(4) "4610"
      ["id_shop"]=>
      string(1) "1"
      ["id_shop_group"]=>
      string(1) "0"
      ["id_currency"]=>
      string(1) "0"
      ["id_country"]=>
      string(1) "0"
      ["id_group"]=>
      string(1) "0"
      ["id_customer"]=>
      string(1) "0"
      ["id_product_attribute"]=>
      string(1) "0"
      ["price"]=>
      string(9) "-1.000000"
      ["from_quantity"]=>
      string(8) "1.000000"
      ["reduction"]=>
      string(8) "0.150000"
      ["reduction_tax"]=>
      string(1) "1"
      ["reduction_type"]=>
      string(10) "percentage"
      ["from"]=>
      string(19) "2021-01-06 00:00:00"
      ["to"]=>
      string(19) "2021-02-01 01:10:00"
      ["score"]=>
      string(2) "48"
    }
    ["ecotax"]=>
    float(0)
    ["weight"]=>
    float(0)
    ["quantity"]=>
    float(16)
    ["reference"]=>
    string(0) ""
    ["unit_impact"]=>
    string(8) "0.000000"
    ["minimal_quantity"]=>
    int(1)
    ["available_date"]=>
    string(10) "2020-06-10"
    ["date_formatted"]=>
    string(10) "06/10/2020"
    ["id_image"]=>
    int(45125)
    ["list"]=>
    string(7) "'26051'"
  }
  [38374]=>
  array(14) {
    ["attributes_values"]=>
    array(1) {
      [1008]=>
      string(3) "361"
    }
    ["attributes"]=>
    array(1) {
      [0]=>
      int(26052)
    }
    ["price"]=>
    float(0)
    ["specific_price"]=>
    array(19) {
      ["id_specific_price"]=>
      string(7) "4436337"
      ["id_specific_price_rule"]=>
      string(3) "225"
      ["id_cart"]=>
      string(1) "0"
      ["id_product"]=>
      string(4) "4610"
      ["id_shop"]=>
      string(1) "1"
      ["id_shop_group"]=>
      string(1) "0"
      ["id_currency"]=>
      string(1) "0"
      ["id_country"]=>
      string(1) "0"
      ["id_group"]=>
      string(1) "0"
      ["id_customer"]=>
      string(1) "0"
      ["id_product_attribute"]=>
      string(1) "0"
      ["price"]=>
      string(9) "-1.000000"
      ["from_quantity"]=>
      string(8) "1.000000"
      ["reduction"]=>
      string(8) "0.150000"
      ["reduction_tax"]=>
      string(1) "1"
      ["reduction_type"]=>
      string(10) "percentage"
      ["from"]=>
      string(19) "2021-01-06 00:00:00"
      ["to"]=>
      string(19) "2021-02-01 01:10:00"
      ["score"]=>
      string(2) "48"
    }
    ["ecotax"]=>
    float(0)
    ["weight"]=>
    float(0)
    ["quantity"]=>
    float(27)
    ["reference"]=>
    string(0) ""
    ["unit_impact"]=>
    string(8) "0.000000"
    ["minimal_quantity"]=>
    int(1)
    ["available_date"]=>
    string(10) "2020-06-10"
    ["date_formatted"]=>
    string(10) "06/10/2020"
    ["id_image"]=>
    int(45126)
    ["list"]=>
    string(7) "'26052'"
  }
  [25509]=>
  array(14) {
    ["attributes_values"]=>
    array(1) {
      [1008]=>
      string(3) "417"
    }
    ["attributes"]=>
    array(1) {
      [0]=>
      int(16194)
    }
    ["price"]=>
    float(0)
    ["specific_price"]=>
    array(19) {
      ["id_specific_price"]=>
      string(7) "4436337"
      ["id_specific_price_rule"]=>
      string(3) "225"
      ["id_cart"]=>
      string(1) "0"
      ["id_product"]=>
      string(4) "4610"
      ["id_shop"]=>
      string(1) "1"
      ["id_shop_group"]=>
      string(1) "0"
      ["id_currency"]=>
      string(1) "0"
      ["id_country"]=>
      string(1) "0"
      ["id_group"]=>
      string(1) "0"
      ["id_customer"]=>
      string(1) "0"
      ["id_product_attribute"]=>
      string(1) "0"
      ["price"]=>
      string(9) "-1.000000"
      ["from_quantity"]=>
      string(8) "1.000000"
      ["reduction"]=>
      string(8) "0.150000"
      ["reduction_tax"]=>
      string(1) "1"
      ["reduction_type"]=>
      string(10) "percentage"
      ["from"]=>
      string(19) "2021-01-06 00:00:00"
      ["to"]=>
      string(19) "2021-02-01 01:10:00"
      ["score"]=>
      string(2) "48"
    }
    ["ecotax"]=>
    float(0)
    ["weight"]=>
    float(0)
    ["quantity"]=>
    float(0)
    ["reference"]=>
    string(0) ""
    ["unit_impact"]=>
    string(8) "0.000000"
    ["minimal_quantity"]=>
    int(1)
    ["available_date"]=>
    string(10) "2018-10-18"
    ["date_formatted"]=>
    string(10) "10/18/2018"
    ["id_image"]=>
    int(26194)
    ["list"]=>
    string(7) "'16194'"
  }
  [25510]=>
  array(14) {
    ["attributes_values"]=>
    array(1) {
      [1008]=>
      string(3) "426"
    }
    ["attributes"]=>
    array(1) {
      [0]=>
      int(16195)
    }
    ["price"]=>
    float(0)
    ["specific_price"]=>
    array(19) {
      ["id_specific_price"]=>
      string(7) "4436337"
      ["id_specific_price_rule"]=>
      string(3) "225"
      ["id_cart"]=>
      string(1) "0"
      ["id_product"]=>
      string(4) "4610"
      ["id_shop"]=>
      string(1) "1"
      ["id_shop_group"]=>
      string(1) "0"
      ["id_currency"]=>
      string(1) "0"
      ["id_country"]=>
      string(1) "0"
      ["id_group"]=>
      string(1) "0"
      ["id_customer"]=>
      string(1) "0"
      ["id_product_attribute"]=>
      string(1) "0"
      ["price"]=>
      string(9) "-1.000000"
      ["from_quantity"]=>
      string(8) "1.000000"
      ["reduction"]=>
      string(8) "0.150000"
      ["reduction_tax"]=>
      string(1) "1"
      ["reduction_type"]=>
      string(10) "percentage"
      ["from"]=>
      string(19) "2021-01-06 00:00:00"
      ["to"]=>
      string(19) "2021-02-01 01:10:00"
      ["score"]=>
      string(2) "48"
    }
    ["ecotax"]=>
    float(0)
    ["weight"]=>
    float(0)
    ["quantity"]=>
    float(30)
    ["reference"]=>
    string(0) ""
    ["unit_impact"]=>
    string(8) "0.000000"
    ["minimal_quantity"]=>
    int(1)
    ["available_date"]=>
    string(10) "2018-10-18"
    ["date_formatted"]=>
    string(10) "10/18/2018"
    ["id_image"]=>
    int(26195)
    ["list"]=>
    string(7) "'16195'"
  }
  [25511]=>
  array(14) {
    ["attributes_values"]=>
    array(1) {
      [1008]=>
      string(3) "437"
    }
    ["attributes"]=>
    array(1) {
      [0]=>
      int(16196)
    }
    ["price"]=>
    float(0)
    ["specific_price"]=>
    array(19) {
      ["id_specific_price"]=>
      string(7) "4436337"
      ["id_specific_price_rule"]=>
      string(3) "225"
      ["id_cart"]=>
      string(1) "0"
      ["id_product"]=>
      string(4) "4610"
      ["id_shop"]=>
      string(1) "1"
      ["id_shop_group"]=>
      string(1) "0"
      ["id_currency"]=>
      string(1) "0"
      ["id_country"]=>
      string(1) "0"
      ["id_group"]=>
      string(1) "0"
      ["id_customer"]=>
      string(1) "0"
      ["id_product_attribute"]=>
      string(1) "0"
      ["price"]=>
      string(9) "-1.000000"
      ["from_quantity"]=>
      string(8) "1.000000"
      ["reduction"]=>
      string(8) "0.150000"
      ["reduction_tax"]=>
      string(1) "1"
      ["reduction_type"]=>
      string(10) "percentage"
      ["from"]=>
      string(19) "2021-01-06 00:00:00"
      ["to"]=>
      string(19) "2021-02-01 01:10:00"
      ["score"]=>
      string(2) "48"
    }
    ["ecotax"]=>
    float(0)
    ["weight"]=>
    float(0)
    ["quantity"]=>
    float(58)
    ["reference"]=>
    string(0) ""
    ["unit_impact"]=>
    string(8) "0.000000"
    ["minimal_quantity"]=>
    int(1)
    ["available_date"]=>
    string(10) "2018-10-18"
    ["date_formatted"]=>
    string(10) "10/18/2018"
    ["id_image"]=>
    int(26196)
    ["list"]=>
    string(7) "'16196'"
  }
  [25512]=>
  array(14) {
    ["attributes_values"]=>
    array(1) {
      [1008]=>
      string(3) "438"
    }
    ["attributes"]=>
    array(1) {
      [0]=>
      int(16197)
    }
    ["price"]=>
    float(0)
    ["specific_price"]=>
    array(19) {
      ["id_specific_price"]=>
      string(7) "4436337"
      ["id_specific_price_rule"]=>
      string(3) "225"
      ["id_cart"]=>
      string(1) "0"
      ["id_product"]=>
      string(4) "4610"
      ["id_shop"]=>
      string(1) "1"
      ["id_shop_group"]=>
      string(1) "0"
      ["id_currency"]=>
      string(1) "0"
      ["id_country"]=>
      string(1) "0"
      ["id_group"]=>
      string(1) "0"
      ["id_customer"]=>
      string(1) "0"
      ["id_product_attribute"]=>
      string(1) "0"
      ["price"]=>
      string(9) "-1.000000"
      ["from_quantity"]=>
      string(8) "1.000000"
      ["reduction"]=>
      string(8) "0.150000"
      ["reduction_tax"]=>
      string(1) "1"
      ["reduction_type"]=>
      string(10) "percentage"
      ["from"]=>
      string(19) "2021-01-06 00:00:00"
      ["to"]=>
      string(19) "2021-02-01 01:10:00"
      ["score"]=>
      string(2) "48"
    }
    ["ecotax"]=>
    float(0)
    ["weight"]=>
    float(0)
    ["quantity"]=>
    float(0)
    ["reference"]=>
    string(0) ""
    ["unit_impact"]=>
    string(8) "0.000000"
    ["minimal_quantity"]=>
    int(1)
    ["available_date"]=>
    string(10) "2018-10-18"
    ["date_formatted"]=>
    string(10) "10/18/2018"
    ["id_image"]=>
    int(26197)
    ["list"]=>
    string(7) "'16197'"
  }
  [25513]=>
  array(14) {
    ["attributes_values"]=>
    array(1) {
      [1008]=>
      string(3) "439"
    }
    ["attributes"]=>
    array(1) {
      [0]=>
      int(16198)
    }
    ["price"]=>
    float(0)
    ["specific_price"]=>
    array(19) {
      ["id_specific_price"]=>
      string(7) "4436337"
      ["id_specific_price_rule"]=>
      string(3) "225"
      ["id_cart"]=>
      string(1) "0"
      ["id_product"]=>
      string(4) "4610"
      ["id_shop"]=>
      string(1) "1"
      ["id_shop_group"]=>
      string(1) "0"
      ["id_currency"]=>
      string(1) "0"
      ["id_country"]=>
      string(1) "0"
      ["id_group"]=>
      string(1) "0"
      ["id_customer"]=>
      string(1) "0"
      ["id_product_attribute"]=>
      string(1) "0"
      ["price"]=>
      string(9) "-1.000000"
      ["from_quantity"]=>
      string(8) "1.000000"
      ["reduction"]=>
      string(8) "0.150000"
      ["reduction_tax"]=>
      string(1) "1"
      ["reduction_type"]=>
      string(10) "percentage"
      ["from"]=>
      string(19) "2021-01-06 00:00:00"
      ["to"]=>
      string(19) "2021-02-01 01:10:00"
      ["score"]=>
      string(2) "48"
    }
    ["ecotax"]=>
    float(0)
    ["weight"]=>
    float(0)
    ["quantity"]=>
    float(16)
    ["reference"]=>
    string(0) ""
    ["unit_impact"]=>
    string(8) "0.000000"
    ["minimal_quantity"]=>
    int(1)
    ["available_date"]=>
    string(10) "2018-10-18"
    ["date_formatted"]=>
    string(10) "10/18/2018"
    ["id_image"]=>
    int(26198)
    ["list"]=>
    string(7) "'16198'"
  }
  [25514]=>
  array(14) {
    ["attributes_values"]=>
    array(1) {
      [1008]=>
      string(3) "440"
    }
    ["attributes"]=>
    array(1) {
      [0]=>
      int(16199)
    }
    ["price"]=>
    float(0)
    ["specific_price"]=>
    array(19) {
      ["id_specific_price"]=>
      string(7) "4436337"
      ["id_specific_price_rule"]=>
      string(3) "225"
      ["id_cart"]=>
      string(1) "0"
      ["id_product"]=>
      string(4) "4610"
      ["id_shop"]=>
      string(1) "1"
      ["id_shop_group"]=>
      string(1) "0"
      ["id_currency"]=>
      string(1) "0"
      ["id_country"]=>
      string(1) "0"
      ["id_group"]=>
      string(1) "0"
      ["id_customer"]=>
      string(1) "0"
      ["id_product_attribute"]=>
      string(1) "0"
      ["price"]=>
      string(9) "-1.000000"
      ["from_quantity"]=>
      string(8) "1.000000"
      ["reduction"]=>
      string(8) "0.150000"
      ["reduction_tax"]=>
      string(1) "1"
      ["reduction_type"]=>
      string(10) "percentage"
      ["from"]=>
      string(19) "2021-01-06 00:00:00"
      ["to"]=>
      string(19) "2021-02-01 01:10:00"
      ["score"]=>
      string(2) "48"
    }
    ["ecotax"]=>
    float(0)
    ["weight"]=>
    float(0)
    ["quantity"]=>
    float(39)
    ["reference"]=>
    string(0) ""
    ["unit_impact"]=>
    string(8) "0.000000"
    ["minimal_quantity"]=>
    int(1)
    ["available_date"]=>
    string(10) "2018-10-18"
    ["date_formatted"]=>
    string(10) "10/18/2018"
    ["id_image"]=>
    int(26199)
    ["list"]=>
    string(7) "'16199'"
  }
  [25515]=>
  array(14) {
    ["attributes_values"]=>
    array(1) {
      [1008]=>
      string(3) "441"
    }
    ["attributes"]=>
    array(1) {
      [0]=>
      int(16200)
    }
    ["price"]=>
    float(0)
    ["specific_price"]=>
    array(19) {
      ["id_specific_price"]=>
      string(7) "4436337"
      ["id_specific_price_rule"]=>
      string(3) "225"
      ["id_cart"]=>
      string(1) "0"
      ["id_product"]=>
      string(4) "4610"
      ["id_shop"]=>
      string(1) "1"
      ["id_shop_group"]=>
      string(1) "0"
      ["id_currency"]=>
      string(1) "0"
      ["id_country"]=>
      string(1) "0"
      ["id_group"]=>
      string(1) "0"
      ["id_customer"]=>
      string(1) "0"
      ["id_product_attribute"]=>
      string(1) "0"
      ["price"]=>
      string(9) "-1.000000"
      ["from_quantity"]=>
      string(8) "1.000000"
      ["reduction"]=>
      string(8) "0.150000"
      ["reduction_tax"]=>
      string(1) "1"
      ["reduction_type"]=>
      string(10) "percentage"
      ["from"]=>
      string(19) "2021-01-06 00:00:00"
      ["to"]=>
      string(19) "2021-02-01 01:10:00"
      ["score"]=>
      string(2) "48"
    }
    ["ecotax"]=>
    float(0)
    ["weight"]=>
    float(0)
    ["quantity"]=>
    float(33)
    ["reference"]=>
    string(0) ""
    ["unit_impact"]=>
    string(8) "0.000000"
    ["minimal_quantity"]=>
    int(1)
    ["available_date"]=>
    string(10) "2018-10-18"
    ["date_formatted"]=>
    string(10) "10/18/2018"
    ["id_image"]=>
    int(26200)
    ["list"]=>
    string(7) "'16200'"
  }
  [25516]=>
  array(14) {
    ["attributes_values"]=>
    array(1) {
      [1008]=>
      string(3) "444"
    }
    ["attributes"]=>
    array(1) {
      [0]=>
      int(16201)
    }
    ["price"]=>
    float(0)
    ["specific_price"]=>
    array(19) {
      ["id_specific_price"]=>
      string(7) "4436337"
      ["id_specific_price_rule"]=>
      string(3) "225"
      ["id_cart"]=>
      string(1) "0"
      ["id_product"]=>
      string(4) "4610"
      ["id_shop"]=>
      string(1) "1"
      ["id_shop_group"]=>
      string(1) "0"
      ["id_currency"]=>
      string(1) "0"
      ["id_country"]=>
      string(1) "0"
      ["id_group"]=>
      string(1) "0"
      ["id_customer"]=>
      string(1) "0"
      ["id_product_attribute"]=>
      string(1) "0"
      ["price"]=>
      string(9) "-1.000000"
      ["from_quantity"]=>
      string(8) "1.000000"
      ["reduction"]=>
      string(8) "0.150000"
      ["reduction_tax"]=>
      string(1) "1"
      ["reduction_type"]=>
      string(10) "percentage"
      ["from"]=>
      string(19) "2021-01-06 00:00:00"
      ["to"]=>
      string(19) "2021-02-01 01:10:00"
      ["score"]=>
      string(2) "48"
    }
    ["ecotax"]=>
    float(0)
    ["weight"]=>
    float(0)
    ["quantity"]=>
    float(0)
    ["reference"]=>
    string(0) ""
    ["unit_impact"]=>
    string(8) "0.000000"
    ["minimal_quantity"]=>
    int(1)
    ["available_date"]=>
    string(10) "2018-10-18"
    ["date_formatted"]=>
    string(10) "10/18/2018"
    ["id_image"]=>
    int(26201)
    ["list"]=>
    string(7) "'16201'"
  }
  [25517]=>
  array(14) {
    ["attributes_values"]=>
    array(1) {
      [1008]=>
      string(3) "445"
    }
    ["attributes"]=>
    array(1) {
      [0]=>
      int(16202)
    }
    ["price"]=>
    float(0)
    ["specific_price"]=>
    array(19) {
      ["id_specific_price"]=>
      string(7) "4436337"
      ["id_specific_price_rule"]=>
      string(3) "225"
      ["id_cart"]=>
      string(1) "0"
      ["id_product"]=>
      string(4) "4610"
      ["id_shop"]=>
      string(1) "1"
      ["id_shop_group"]=>
      string(1) "0"
      ["id_currency"]=>
      string(1) "0"
      ["id_country"]=>
      string(1) "0"
      ["id_group"]=>
      string(1) "0"
      ["id_customer"]=>
      string(1) "0"
      ["id_product_attribute"]=>
      string(1) "0"
      ["price"]=>
      string(9) "-1.000000"
      ["from_quantity"]=>
      string(8) "1.000000"
      ["reduction"]=>
      string(8) "0.150000"
      ["reduction_tax"]=>
      string(1) "1"
      ["reduction_type"]=>
      string(10) "percentage"
      ["from"]=>
      string(19) "2021-01-06 00:00:00"
      ["to"]=>
      string(19) "2021-02-01 01:10:00"
      ["score"]=>
      string(2) "48"
    }
    ["ecotax"]=>
    float(0)
    ["weight"]=>
    float(0)
    ["quantity"]=>
    float(9)
    ["reference"]=>
    string(0) ""
    ["unit_impact"]=>
    string(8) "0.000000"
    ["minimal_quantity"]=>
    int(1)
    ["available_date"]=>
    string(10) "2018-10-18"
    ["date_formatted"]=>
    string(10) "10/18/2018"
    ["id_image"]=>
    int(26202)
    ["list"]=>
    string(7) "'16202'"
  }
  [25518]=>
  array(14) {
    ["attributes_values"]=>
    array(1) {
      [1008]=>
      string(3) "446"
    }
    ["attributes"]=>
    array(1) {
      [0]=>
      int(16203)
    }
    ["price"]=>
    float(0)
    ["specific_price"]=>
    array(19) {
      ["id_specific_price"]=>
      string(7) "4436337"
      ["id_specific_price_rule"]=>
      string(3) "225"
      ["id_cart"]=>
      string(1) "0"
      ["id_product"]=>
      string(4) "4610"
      ["id_shop"]=>
      string(1) "1"
      ["id_shop_group"]=>
      string(1) "0"
      ["id_currency"]=>
      string(1) "0"
      ["id_country"]=>
      string(1) "0"
      ["id_group"]=>
      string(1) "0"
      ["id_customer"]=>
      string(1) "0"
      ["id_product_attribute"]=>
      string(1) "0"
      ["price"]=>
      string(9) "-1.000000"
      ["from_quantity"]=>
      string(8) "1.000000"
      ["reduction"]=>
      string(8) "0.150000"
      ["reduction_tax"]=>
      string(1) "1"
      ["reduction_type"]=>
      string(10) "percentage"
      ["from"]=>
      string(19) "2021-01-06 00:00:00"
      ["to"]=>
      string(19) "2021-02-01 01:10:00"
      ["score"]=>
      string(2) "48"
    }
    ["ecotax"]=>
    float(0)
    ["weight"]=>
    float(0)
    ["quantity"]=>
    float(16)
    ["reference"]=>
    string(0) ""
    ["unit_impact"]=>
    string(8) "0.000000"
    ["minimal_quantity"]=>
    int(1)
    ["available_date"]=>
    string(10) "2018-10-18"
    ["date_formatted"]=>
    string(10) "10/18/2018"
    ["id_image"]=>
    int(26203)
    ["list"]=>
    string(7) "'16203'"
  }
  [25519]=>
  array(14) {
    ["attributes_values"]=>
    array(1) {
      [1008]=>
      string(3) "447"
    }
    ["attributes"]=>
    array(1) {
      [0]=>
      int(16204)
    }
    ["price"]=>
    float(0)
    ["specific_price"]=>
    array(19) {
      ["id_specific_price"]=>
      string(7) "4436337"
      ["id_specific_price_rule"]=>
      string(3) "225"
      ["id_cart"]=>
      string(1) "0"
      ["id_product"]=>
      string(4) "4610"
      ["id_shop"]=>
      string(1) "1"
      ["id_shop_group"]=>
      string(1) "0"
      ["id_currency"]=>
      string(1) "0"
      ["id_country"]=>
      string(1) "0"
      ["id_group"]=>
      string(1) "0"
      ["id_customer"]=>
      string(1) "0"
      ["id_product_attribute"]=>
      string(1) "0"
      ["price"]=>
      string(9) "-1.000000"
      ["from_quantity"]=>
      string(8) "1.000000"
      ["reduction"]=>
      string(8) "0.150000"
      ["reduction_tax"]=>
      string(1) "1"
      ["reduction_type"]=>
      string(10) "percentage"
      ["from"]=>
      string(19) "2021-01-06 00:00:00"
      ["to"]=>
      string(19) "2021-02-01 01:10:00"
      ["score"]=>
      string(2) "48"
    }
    ["ecotax"]=>
    float(0)
    ["weight"]=>
    float(0)
    ["quantity"]=>
    float(0)
    ["reference"]=>
    string(0) ""
    ["unit_impact"]=>
    string(8) "0.000000"
    ["minimal_quantity"]=>
    int(1)
    ["available_date"]=>
    string(10) "2018-10-18"
    ["date_formatted"]=>
    string(10) "10/18/2018"
    ["id_image"]=>
    int(26204)
    ["list"]=>
    string(7) "'16204'"
  }
  [25520]=>
  array(14) {
    ["attributes_values"]=>
    array(1) {
      [1008]=>
      string(3) "448"
    }
    ["attributes"]=>
    array(1) {
      [0]=>
      int(16205)
    }
    ["price"]=>
    float(0)
    ["specific_price"]=>
    array(19) {
      ["id_specific_price"]=>
      string(7) "4436337"
      ["id_specific_price_rule"]=>
      string(3) "225"
      ["id_cart"]=>
      string(1) "0"
      ["id_product"]=>
      string(4) "4610"
      ["id_shop"]=>
      string(1) "1"
      ["id_shop_group"]=>
      string(1) "0"
      ["id_currency"]=>
      string(1) "0"
      ["id_country"]=>
      string(1) "0"
      ["id_group"]=>
      string(1) "0"
      ["id_customer"]=>
      string(1) "0"
      ["id_product_attribute"]=>
      string(1) "0"
      ["price"]=>
      string(9) "-1.000000"
      ["from_quantity"]=>
      string(8) "1.000000"
      ["reduction"]=>
      string(8) "0.150000"
      ["reduction_tax"]=>
      string(1) "1"
      ["reduction_type"]=>
      string(10) "percentage"
      ["from"]=>
      string(19) "2021-01-06 00:00:00"
      ["to"]=>
      string(19) "2021-02-01 01:10:00"
      ["score"]=>
      string(2) "48"
    }
    ["ecotax"]=>
    float(0)
    ["weight"]=>
    float(0)
    ["quantity"]=>
    float(0)
    ["reference"]=>
    string(0) ""
    ["unit_impact"]=>
    string(8) "0.000000"
    ["minimal_quantity"]=>
    int(1)
    ["available_date"]=>
    string(10) "2018-10-18"
    ["date_formatted"]=>
    string(10) "10/18/2018"
    ["id_image"]=>
    int(26205)
    ["list"]=>
    string(7) "'16205'"
  }
  [25521]=>
  array(14) {
    ["attributes_values"]=>
    array(1) {
      [1008]=>
      string(3) "454"
    }
    ["attributes"]=>
    array(1) {
      [0]=>
      int(16206)
    }
    ["price"]=>
    float(0)
    ["specific_price"]=>
    array(19) {
      ["id_specific_price"]=>
      string(7) "4436337"
      ["id_specific_price_rule"]=>
      string(3) "225"
      ["id_cart"]=>
      string(1) "0"
      ["id_product"]=>
      string(4) "4610"
      ["id_shop"]=>
      string(1) "1"
      ["id_shop_group"]=>
      string(1) "0"
      ["id_currency"]=>
      string(1) "0"
      ["id_country"]=>
      string(1) "0"
      ["id_group"]=>
      string(1) "0"
      ["id_customer"]=>
      string(1) "0"
      ["id_product_attribute"]=>
      string(1) "0"
      ["price"]=>
      string(9) "-1.000000"
      ["from_quantity"]=>
      string(8) "1.000000"
      ["reduction"]=>
      string(8) "0.150000"
      ["reduction_tax"]=>
      string(1) "1"
      ["reduction_type"]=>
      string(10) "percentage"
      ["from"]=>
      string(19) "2021-01-06 00:00:00"
      ["to"]=>
      string(19) "2021-02-01 01:10:00"
      ["score"]=>
      string(2) "48"
    }
    ["ecotax"]=>
    float(0)
    ["weight"]=>
    float(0)
    ["quantity"]=>
    float(0)
    ["reference"]=>
    string(0) ""
    ["unit_impact"]=>
    string(8) "0.000000"
    ["minimal_quantity"]=>
    int(1)
    ["available_date"]=>
    string(10) "2018-10-18"
    ["date_formatted"]=>
    string(10) "10/18/2018"
    ["id_image"]=>
    int(26206)
    ["list"]=>
    string(7) "'16206'"
  }
  [25522]=>
  array(14) {
    ["attributes_values"]=>
    array(1) {
      [1008]=>
      string(3) "455"
    }
    ["attributes"]=>
    array(1) {
      [0]=>
      int(16207)
    }
    ["price"]=>
    float(0)
    ["specific_price"]=>
    array(19) {
      ["id_specific_price"]=>
      string(7) "4436337"
      ["id_specific_price_rule"]=>
      string(3) "225"
      ["id_cart"]=>
      string(1) "0"
      ["id_product"]=>
      string(4) "4610"
      ["id_shop"]=>
      string(1) "1"
      ["id_shop_group"]=>
      string(1) "0"
      ["id_currency"]=>
      string(1) "0"
      ["id_country"]=>
      string(1) "0"
      ["id_group"]=>
      string(1) "0"
      ["id_customer"]=>
      string(1) "0"
      ["id_product_attribute"]=>
      string(1) "0"
      ["price"]=>
      string(9) "-1.000000"
      ["from_quantity"]=>
      string(8) "1.000000"
      ["reduction"]=>
      string(8) "0.150000"
      ["reduction_tax"]=>
      string(1) "1"
      ["reduction_type"]=>
      string(10) "percentage"
      ["from"]=>
      string(19) "2021-01-06 00:00:00"
      ["to"]=>
      string(19) "2021-02-01 01:10:00"
      ["score"]=>
      string(2) "48"
    }
    ["ecotax"]=>
    float(0)
    ["weight"]=>
    float(0)
    ["quantity"]=>
    float(10)
    ["reference"]=>
    string(0) ""
    ["unit_impact"]=>
    string(8) "0.000000"
    ["minimal_quantity"]=>
    int(1)
    ["available_date"]=>
    string(10) "2018-10-18"
    ["date_formatted"]=>
    string(10) "10/18/2018"
    ["id_image"]=>
    int(26207)
    ["list"]=>
    string(7) "'16207'"
  }
  [25523]=>
  array(14) {
    ["attributes_values"]=>
    array(1) {
      [1008]=>
      string(3) "457"
    }
    ["attributes"]=>
    array(1) {
      [0]=>
      int(16208)
    }
    ["price"]=>
    float(0)
    ["specific_price"]=>
    array(19) {
      ["id_specific_price"]=>
      string(7) "4436337"
      ["id_specific_price_rule"]=>
      string(3) "225"
      ["id_cart"]=>
      string(1) "0"
      ["id_product"]=>
      string(4) "4610"
      ["id_shop"]=>
      string(1) "1"
      ["id_shop_group"]=>
      string(1) "0"
      ["id_currency"]=>
      string(1) "0"
      ["id_country"]=>
      string(1) "0"
      ["id_group"]=>
      string(1) "0"
      ["id_customer"]=>
      string(1) "0"
      ["id_product_attribute"]=>
      string(1) "0"
      ["price"]=>
      string(9) "-1.000000"
      ["from_quantity"]=>
      string(8) "1.000000"
      ["reduction"]=>
      string(8) "0.150000"
      ["reduction_tax"]=>
      string(1) "1"
      ["reduction_type"]=>
      string(10) "percentage"
      ["from"]=>
      string(19) "2021-01-06 00:00:00"
      ["to"]=>
      string(19) "2021-02-01 01:10:00"
      ["score"]=>
      string(2) "48"
    }
    ["ecotax"]=>
    float(0)
    ["weight"]=>
    float(0)
    ["quantity"]=>
    float(28)
    ["reference"]=>
    string(0) ""
    ["unit_impact"]=>
    string(8) "0.000000"
    ["minimal_quantity"]=>
    int(1)
    ["available_date"]=>
    string(10) "2018-10-18"
    ["date_formatted"]=>
    string(10) "10/18/2018"
    ["id_image"]=>
    int(26208)
    ["list"]=>
    string(7) "'16208'"
  }
  [25524]=>
  array(14) {
    ["attributes_values"]=>
    array(1) {
      [1008]=>
      string(3) "458"
    }
    ["attributes"]=>
    array(1) {
      [0]=>
      int(16209)
    }
    ["price"]=>
    float(0)
    ["specific_price"]=>
    array(19) {
      ["id_specific_price"]=>
      string(7) "4436337"
      ["id_specific_price_rule"]=>
      string(3) "225"
      ["id_cart"]=>
      string(1) "0"
      ["id_product"]=>
      string(4) "4610"
      ["id_shop"]=>
      string(1) "1"
      ["id_shop_group"]=>
      string(1) "0"
      ["id_currency"]=>
      string(1) "0"
      ["id_country"]=>
      string(1) "0"
      ["id_group"]=>
      string(1) "0"
      ["id_customer"]=>
      string(1) "0"
      ["id_product_attribute"]=>
      string(1) "0"
      ["price"]=>
      string(9) "-1.000000"
      ["from_quantity"]=>
      string(8) "1.000000"
      ["reduction"]=>
      string(8) "0.150000"
      ["reduction_tax"]=>
      string(1) "1"
      ["reduction_type"]=>
      string(10) "percentage"
      ["from"]=>
      string(19) "2021-01-06 00:00:00"
      ["to"]=>
      string(19) "2021-02-01 01:10:00"
      ["score"]=>
      string(2) "48"
    }
    ["ecotax"]=>
    float(0)
    ["weight"]=>
    float(0)
    ["quantity"]=>
    float(18)
    ["reference"]=>
    string(0) ""
    ["unit_impact"]=>
    string(8) "0.000000"
    ["minimal_quantity"]=>
    int(1)
    ["available_date"]=>
    string(10) "2018-10-18"
    ["date_formatted"]=>
    string(10) "10/18/2018"
    ["id_image"]=>
    int(26209)
    ["list"]=>
    string(7) "'16209'"
  }
  [25525]=>
  array(14) {
    ["attributes_values"]=>
    array(1) {
      [1008]=>
      string(3) "459"
    }
    ["attributes"]=>
    array(1) {
      [0]=>
      int(16210)
    }
    ["price"]=>
    float(0)
    ["specific_price"]=>
    array(19) {
      ["id_specific_price"]=>
      string(7) "4436337"
      ["id_specific_price_rule"]=>
      string(3) "225"
      ["id_cart"]=>
      string(1) "0"
      ["id_product"]=>
      string(4) "4610"
      ["id_shop"]=>
      string(1) "1"
      ["id_shop_group"]=>
      string(1) "0"
      ["id_currency"]=>
      string(1) "0"
      ["id_country"]=>
      string(1) "0"
      ["id_group"]=>
      string(1) "0"
      ["id_customer"]=>
      string(1) "0"
      ["id_product_attribute"]=>
      string(1) "0"
      ["price"]=>
      string(9) "-1.000000"
      ["from_quantity"]=>
      string(8) "1.000000"
      ["reduction"]=>
      string(8) "0.150000"
      ["reduction_tax"]=>
      string(1) "1"
      ["reduction_type"]=>
      string(10) "percentage"
      ["from"]=>
      string(19) "2021-01-06 00:00:00"
      ["to"]=>
      string(19) "2021-02-01 01:10:00"
      ["score"]=>
      string(2) "48"
    }
    ["ecotax"]=>
    float(0)
    ["weight"]=>
    float(0)
    ["quantity"]=>
    float(27)
    ["reference"]=>
    string(0) ""
    ["unit_impact"]=>
    string(8) "0.000000"
    ["minimal_quantity"]=>
    int(1)
    ["available_date"]=>
    string(10) "2018-10-18"
    ["date_formatted"]=>
    string(10) "10/18/2018"
    ["id_image"]=>
    int(26210)
    ["list"]=>
    string(7) "'16210'"
  }
  [25526]=>
  array(14) {
    ["attributes_values"]=>
    array(1) {
      [1008]=>
      string(3) "460"
    }
    ["attributes"]=>
    array(1) {
      [0]=>
      int(16211)
    }
    ["price"]=>
    float(0)
    ["specific_price"]=>
    array(19) {
      ["id_specific_price"]=>
      string(7) "4436337"
      ["id_specific_price_rule"]=>
      string(3) "225"
      ["id_cart"]=>
      string(1) "0"
      ["id_product"]=>
      string(4) "4610"
      ["id_shop"]=>
      string(1) "1"
      ["id_shop_group"]=>
      string(1) "0"
      ["id_currency"]=>
      string(1) "0"
      ["id_country"]=>
      string(1) "0"
      ["id_group"]=>
      string(1) "0"
      ["id_customer"]=>
      string(1) "0"
      ["id_product_attribute"]=>
      string(1) "0"
      ["price"]=>
      string(9) "-1.000000"
      ["from_quantity"]=>
      string(8) "1.000000"
      ["reduction"]=>
      string(8) "0.150000"
      ["reduction_tax"]=>
      string(1) "1"
      ["reduction_type"]=>
      string(10) "percentage"
      ["from"]=>
      string(19) "2021-01-06 00:00:00"
      ["to"]=>
      string(19) "2021-02-01 01:10:00"
      ["score"]=>
      string(2) "48"
    }
    ["ecotax"]=>
    float(0)
    ["weight"]=>
    float(0)
    ["quantity"]=>
    float(0)
    ["reference"]=>
    string(0) ""
    ["unit_impact"]=>
    string(8) "0.000000"
    ["minimal_quantity"]=>
    int(1)
    ["available_date"]=>
    string(10) "2018-10-18"
    ["date_formatted"]=>
    string(10) "10/18/2018"
    ["id_image"]=>
    int(26211)
    ["list"]=>
    string(7) "'16211'"
  }
  [25527]=>
  array(14) {
    ["attributes_values"]=>
    array(1) {
      [1008]=>
      string(3) "461"
    }
    ["attributes"]=>
    array(1) {
      [0]=>
      int(16212)
    }
    ["price"]=>
    float(0)
    ["specific_price"]=>
    array(19) {
      ["id_specific_price"]=>
      string(7) "4436337"
      ["id_specific_price_rule"]=>
      string(3) "225"
      ["id_cart"]=>
      string(1) "0"
      ["id_product"]=>
      string(4) "4610"
      ["id_shop"]=>
      string(1) "1"
      ["id_shop_group"]=>
      string(1) "0"
      ["id_currency"]=>
      string(1) "0"
      ["id_country"]=>
      string(1) "0"
      ["id_group"]=>
      string(1) "0"
      ["id_customer"]=>
      string(1) "0"
      ["id_product_attribute"]=>
      string(1) "0"
      ["price"]=>
      string(9) "-1.000000"
      ["from_quantity"]=>
      string(8) "1.000000"
      ["reduction"]=>
      string(8) "0.150000"
      ["reduction_tax"]=>
      string(1) "1"
      ["reduction_type"]=>
      string(10) "percentage"
      ["from"]=>
      string(19) "2021-01-06 00:00:00"
      ["to"]=>
      string(19) "2021-02-01 01:10:00"
      ["score"]=>
      string(2) "48"
    }
    ["ecotax"]=>
    float(0)
    ["weight"]=>
    float(0)
    ["quantity"]=>
    float(14)
    ["reference"]=>
    string(0) ""
    ["unit_impact"]=>
    string(8) "0.000000"
    ["minimal_quantity"]=>
    int(1)
    ["available_date"]=>
    string(10) "2018-10-18"
    ["date_formatted"]=>
    string(10) "10/18/2018"
    ["id_image"]=>
    int(26212)
    ["list"]=>
    string(7) "'16212'"
  }
  [25528]=>
  array(14) {
    ["attributes_values"]=>
    array(1) {
      [1008]=>
      string(3) "463"
    }
    ["attributes"]=>
    array(1) {
      [0]=>
      int(16213)
    }
    ["price"]=>
    float(0)
    ["specific_price"]=>
    array(19) {
      ["id_specific_price"]=>
      string(7) "4436337"
      ["id_specific_price_rule"]=>
      string(3) "225"
      ["id_cart"]=>
      string(1) "0"
      ["id_product"]=>
      string(4) "4610"
      ["id_shop"]=>
      string(1) "1"
      ["id_shop_group"]=>
      string(1) "0"
      ["id_currency"]=>
      string(1) "0"
      ["id_country"]=>
      string(1) "0"
      ["id_group"]=>
      string(1) "0"
      ["id_customer"]=>
      string(1) "0"
      ["id_product_attribute"]=>
      string(1) "0"
      ["price"]=>
      string(9) "-1.000000"
      ["from_quantity"]=>
      string(8) "1.000000"
      ["reduction"]=>
      string(8) "0.150000"
      ["reduction_tax"]=>
      string(1) "1"
      ["reduction_type"]=>
      string(10) "percentage"
      ["from"]=>
      string(19) "2021-01-06 00:00:00"
      ["to"]=>
      string(19) "2021-02-01 01:10:00"
      ["score"]=>
      string(2) "48"
    }
    ["ecotax"]=>
    float(0)
    ["weight"]=>
    float(0)
    ["quantity"]=>
    float(0)
    ["reference"]=>
    string(0) ""
    ["unit_impact"]=>
    string(8) "0.000000"
    ["minimal_quantity"]=>
    int(1)
    ["available_date"]=>
    string(10) "2018-10-18"
    ["date_formatted"]=>
    string(10) "10/18/2018"
    ["id_image"]=>
    int(26213)
    ["list"]=>
    string(7) "'16213'"
  }
  [25529]=>
  array(14) {
    ["attributes_values"]=>
    array(1) {
      [1008]=>
      string(3) "464"
    }
    ["attributes"]=>
    array(1) {
      [0]=>
      int(16214)
    }
    ["price"]=>
    float(0)
    ["specific_price"]=>
    array(19) {
      ["id_specific_price"]=>
      string(7) "4436337"
      ["id_specific_price_rule"]=>
      string(3) "225"
      ["id_cart"]=>
      string(1) "0"
      ["id_product"]=>
      string(4) "4610"
      ["id_shop"]=>
      string(1) "1"
      ["id_shop_group"]=>
      string(1) "0"
      ["id_currency"]=>
      string(1) "0"
      ["id_country"]=>
      string(1) "0"
      ["id_group"]=>
      string(1) "0"
      ["id_customer"]=>
      string(1) "0"
      ["id_product_attribute"]=>
      string(1) "0"
      ["price"]=>
      string(9) "-1.000000"
      ["from_quantity"]=>
      string(8) "1.000000"
      ["reduction"]=>
      string(8) "0.150000"
      ["reduction_tax"]=>
      string(1) "1"
      ["reduction_type"]=>
      string(10) "percentage"
      ["from"]=>
      string(19) "2021-01-06 00:00:00"
      ["to"]=>
      string(19) "2021-02-01 01:10:00"
      ["score"]=>
      string(2) "48"
    }
    ["ecotax"]=>
    float(0)
    ["weight"]=>
    float(0)
    ["quantity"]=>
    float(2)
    ["reference"]=>
    string(0) ""
    ["unit_impact"]=>
    string(8) "0.000000"
    ["minimal_quantity"]=>
    int(1)
    ["available_date"]=>
    string(10) "2018-10-18"
    ["date_formatted"]=>
    string(10) "10/18/2018"
    ["id_image"]=>
    int(26214)
    ["list"]=>
    string(7) "'16214'"
  }
  [25530]=>
  array(14) {
    ["attributes_values"]=>
    array(1) {
      [1008]=>
      string(3) "465"
    }
    ["attributes"]=>
    array(1) {
      [0]=>
      int(16215)
    }
    ["price"]=>
    float(0)
    ["specific_price"]=>
    array(19) {
      ["id_specific_price"]=>
      string(7) "4436337"
      ["id_specific_price_rule"]=>
      string(3) "225"
      ["id_cart"]=>
      string(1) "0"
      ["id_product"]=>
      string(4) "4610"
      ["id_shop"]=>
      string(1) "1"
      ["id_shop_group"]=>
      string(1) "0"
      ["id_currency"]=>
      string(1) "0"
      ["id_country"]=>
      string(1) "0"
      ["id_group"]=>
      string(1) "0"
      ["id_customer"]=>
      string(1) "0"
      ["id_product_attribute"]=>
      string(1) "0"
      ["price"]=>
      string(9) "-1.000000"
      ["from_quantity"]=>
      string(8) "1.000000"
      ["reduction"]=>
      string(8) "0.150000"
      ["reduction_tax"]=>
      string(1) "1"
      ["reduction_type"]=>
      string(10) "percentage"
      ["from"]=>
      string(19) "2021-01-06 00:00:00"
      ["to"]=>
      string(19) "2021-02-01 01:10:00"
      ["score"]=>
      string(2) "48"
    }
    ["ecotax"]=>
    float(0)
    ["weight"]=>
    float(0)
    ["quantity"]=>
    float(0)
    ["reference"]=>
    string(0) ""
    ["unit_impact"]=>
    string(8) "0.000000"
    ["minimal_quantity"]=>
    int(1)
    ["available_date"]=>
    string(10) "2018-10-18"
    ["date_formatted"]=>
    string(10) "10/18/2018"
    ["id_image"]=>
    int(26215)
    ["list"]=>
    string(7) "'16215'"
  }
  [25531]=>
  array(14) {
    ["attributes_values"]=>
    array(1) {
      [1008]=>
      string(3) "468"
    }
    ["attributes"]=>
    array(1) {
      [0]=>
      int(16216)
    }
    ["price"]=>
    float(0)
    ["specific_price"]=>
    array(19) {
      ["id_specific_price"]=>
      string(7) "4436337"
      ["id_specific_price_rule"]=>
      string(3) "225"
      ["id_cart"]=>
      string(1) "0"
      ["id_product"]=>
      string(4) "4610"
      ["id_shop"]=>
      string(1) "1"
      ["id_shop_group"]=>
      string(1) "0"
      ["id_currency"]=>
      string(1) "0"
      ["id_country"]=>
      string(1) "0"
      ["id_group"]=>
      string(1) "0"
      ["id_customer"]=>
      string(1) "0"
      ["id_product_attribute"]=>
      string(1) "0"
      ["price"]=>
      string(9) "-1.000000"
      ["from_quantity"]=>
      string(8) "1.000000"
      ["reduction"]=>
      string(8) "0.150000"
      ["reduction_tax"]=>
      string(1) "1"
      ["reduction_type"]=>
      string(10) "percentage"
      ["from"]=>
      string(19) "2021-01-06 00:00:00"
      ["to"]=>
      string(19) "2021-02-01 01:10:00"
      ["score"]=>
      string(2) "48"
    }
    ["ecotax"]=>
    float(0)
    ["weight"]=>
    float(0)
    ["quantity"]=>
    float(42)
    ["reference"]=>
    string(0) ""
    ["unit_impact"]=>
    string(8) "0.000000"
    ["minimal_quantity"]=>
    int(1)
    ["available_date"]=>
    string(10) "2018-10-18"
    ["date_formatted"]=>
    string(10) "10/18/2018"
    ["id_image"]=>
    int(26216)
    ["list"]=>
    string(7) "'16216'"
  }
  [25532]=>
  array(14) {
    ["attributes_values"]=>
    array(1) {
      [1008]=>
      string(3) "469"
    }
    ["attributes"]=>
    array(1) {
      [0]=>
      int(16217)
    }
    ["price"]=>
    float(0)
    ["specific_price"]=>
    array(19) {
      ["id_specific_price"]=>
      string(7) "4436337"
      ["id_specific_price_rule"]=>
      string(3) "225"
      ["id_cart"]=>
      string(1) "0"
      ["id_product"]=>
      string(4) "4610"
      ["id_shop"]=>
      string(1) "1"
      ["id_shop_group"]=>
      string(1) "0"
      ["id_currency"]=>
      string(1) "0"
      ["id_country"]=>
      string(1) "0"
      ["id_group"]=>
      string(1) "0"
      ["id_customer"]=>
      string(1) "0"
      ["id_product_attribute"]=>
      string(1) "0"
      ["price"]=>
      string(9) "-1.000000"
      ["from_quantity"]=>
      string(8) "1.000000"
      ["reduction"]=>
      string(8) "0.150000"
      ["reduction_tax"]=>
      string(1) "1"
      ["reduction_type"]=>
      string(10) "percentage"
      ["from"]=>
      string(19) "2021-01-06 00:00:00"
      ["to"]=>
      string(19) "2021-02-01 01:10:00"
      ["score"]=>
      string(2) "48"
    }
    ["ecotax"]=>
    float(0)
    ["weight"]=>
    float(0)
    ["quantity"]=>
    float(0)
    ["reference"]=>
    string(0) ""
    ["unit_impact"]=>
    string(8) "0.000000"
    ["minimal_quantity"]=>
    int(1)
    ["available_date"]=>
    string(10) "2018-10-18"
    ["date_formatted"]=>
    string(10) "10/18/2018"
    ["id_image"]=>
    int(26217)
    ["list"]=>
    string(7) "'16217'"
  }
  [25533]=>
  array(14) {
    ["attributes_values"]=>
    array(1) {
      [1008]=>
      string(3) "470"
    }
    ["attributes"]=>
    array(1) {
      [0]=>
      int(16218)
    }
    ["price"]=>
    float(0)
    ["specific_price"]=>
    array(19) {
      ["id_specific_price"]=>
      string(7) "4436337"
      ["id_specific_price_rule"]=>
      string(3) "225"
      ["id_cart"]=>
      string(1) "0"
      ["id_product"]=>
      string(4) "4610"
      ["id_shop"]=>
      string(1) "1"
      ["id_shop_group"]=>
      string(1) "0"
      ["id_currency"]=>
      string(1) "0"
      ["id_country"]=>
      string(1) "0"
      ["id_group"]=>
      string(1) "0"
      ["id_customer"]=>
      string(1) "0"
      ["id_product_attribute"]=>
      string(1) "0"
      ["price"]=>
      string(9) "-1.000000"
      ["from_quantity"]=>
      string(8) "1.000000"
      ["reduction"]=>
      string(8) "0.150000"
      ["reduction_tax"]=>
      string(1) "1"
      ["reduction_type"]=>
      string(10) "percentage"
      ["from"]=>
      string(19) "2021-01-06 00:00:00"
      ["to"]=>
      string(19) "2021-02-01 01:10:00"
      ["score"]=>
      string(2) "48"
    }
    ["ecotax"]=>
    float(0)
    ["weight"]=>
    float(0)
    ["quantity"]=>
    float(10)
    ["reference"]=>
    string(0) ""
    ["unit_impact"]=>
    string(8) "0.000000"
    ["minimal_quantity"]=>
    int(1)
    ["available_date"]=>
    string(10) "2018-10-18"
    ["date_formatted"]=>
    string(10) "10/18/2018"
    ["id_image"]=>
    int(26218)
    ["list"]=>
    string(7) "'16218'"
  }
  [34121]=>
  array(14) {
    ["attributes_values"]=>
    array(1) {
      [1008]=>
      string(3) "490"
    }
    ["attributes"]=>
    array(1) {
      [0]=>
      int(23125)
    }
    ["price"]=>
    float(0)
    ["specific_price"]=>
    array(19) {
      ["id_specific_price"]=>
      string(7) "4436337"
      ["id_specific_price_rule"]=>
      string(3) "225"
      ["id_cart"]=>
      string(1) "0"
      ["id_product"]=>
      string(4) "4610"
      ["id_shop"]=>
      string(1) "1"
      ["id_shop_group"]=>
      string(1) "0"
      ["id_currency"]=>
      string(1) "0"
      ["id_country"]=>
      string(1) "0"
      ["id_group"]=>
      string(1) "0"
      ["id_customer"]=>
      string(1) "0"
      ["id_product_attribute"]=>
      string(1) "0"
      ["price"]=>
      string(9) "-1.000000"
      ["from_quantity"]=>
      string(8) "1.000000"
      ["reduction"]=>
      string(8) "0.150000"
      ["reduction_tax"]=>
      string(1) "1"
      ["reduction_type"]=>
      string(10) "percentage"
      ["from"]=>
      string(19) "2021-01-06 00:00:00"
      ["to"]=>
      string(19) "2021-02-01 01:10:00"
      ["score"]=>
      string(2) "48"
    }
    ["ecotax"]=>
    float(0)
    ["weight"]=>
    float(0)
    ["quantity"]=>
    float(0)
    ["reference"]=>
    string(0) ""
    ["unit_impact"]=>
    string(8) "0.000000"
    ["minimal_quantity"]=>
    int(1)
    ["available_date"]=>
    string(10) "2020-01-15"
    ["date_formatted"]=>
    string(10) "01/15/2020"
    ["id_image"]=>
    int(39877)
    ["list"]=>
    string(7) "'23125'"
  }
  [34122]=>
  array(14) {
    ["attributes_values"]=>
    array(1) {
      [1008]=>
      string(3) "491"
    }
    ["attributes"]=>
    array(1) {
      [0]=>
      int(23126)
    }
    ["price"]=>
    float(0)
    ["specific_price"]=>
    array(19) {
      ["id_specific_price"]=>
      string(7) "4436337"
      ["id_specific_price_rule"]=>
      string(3) "225"
      ["id_cart"]=>
      string(1) "0"
      ["id_product"]=>
      string(4) "4610"
      ["id_shop"]=>
      string(1) "1"
      ["id_shop_group"]=>
      string(1) "0"
      ["id_currency"]=>
      string(1) "0"
      ["id_country"]=>
      string(1) "0"
      ["id_group"]=>
      string(1) "0"
      ["id_customer"]=>
      string(1) "0"
      ["id_product_attribute"]=>
      string(1) "0"
      ["price"]=>
      string(9) "-1.000000"
      ["from_quantity"]=>
      string(8) "1.000000"
      ["reduction"]=>
      string(8) "0.150000"
      ["reduction_tax"]=>
      string(1) "1"
      ["reduction_type"]=>
      string(10) "percentage"
      ["from"]=>
      string(19) "2021-01-06 00:00:00"
      ["to"]=>
      string(19) "2021-02-01 01:10:00"
      ["score"]=>
      string(2) "48"
    }
    ["ecotax"]=>
    float(0)
    ["weight"]=>
    float(0)
    ["quantity"]=>
    float(16)
    ["reference"]=>
    string(0) ""
    ["unit_impact"]=>
    string(8) "0.000000"
    ["minimal_quantity"]=>
    int(1)
    ["available_date"]=>
    string(10) "2020-01-15"
    ["date_formatted"]=>
    string(10) "01/15/2020"
    ["id_image"]=>
    int(39878)
    ["list"]=>
    string(7) "'23126'"
  }
  [34123]=>
  array(14) {
    ["attributes_values"]=>
    array(1) {
      [1008]=>
      string(3) "492"
    }
    ["attributes"]=>
    array(1) {
      [0]=>
      int(23127)
    }
    ["price"]=>
    float(0)
    ["specific_price"]=>
    array(19) {
      ["id_specific_price"]=>
      string(7) "4436337"
      ["id_specific_price_rule"]=>
      string(3) "225"
      ["id_cart"]=>
      string(1) "0"
      ["id_product"]=>
      string(4) "4610"
      ["id_shop"]=>
      string(1) "1"
      ["id_shop_group"]=>
      string(1) "0"
      ["id_currency"]=>
      string(1) "0"
      ["id_country"]=>
      string(1) "0"
      ["id_group"]=>
      string(1) "0"
      ["id_customer"]=>
      string(1) "0"
      ["id_product_attribute"]=>
      string(1) "0"
      ["price"]=>
      string(9) "-1.000000"
      ["from_quantity"]=>
      string(8) "1.000000"
      ["reduction"]=>
      string(8) "0.150000"
      ["reduction_tax"]=>
      string(1) "1"
      ["reduction_type"]=>
      string(10) "percentage"
      ["from"]=>
      string(19) "2021-01-06 00:00:00"
      ["to"]=>
      string(19) "2021-02-01 01:10:00"
      ["score"]=>
      string(2) "48"
    }
    ["ecotax"]=>
    float(0)
    ["weight"]=>
    float(0)
    ["quantity"]=>
    float(5)
    ["reference"]=>
    string(0) ""
    ["unit_impact"]=>
    string(8) "0.000000"
    ["minimal_quantity"]=>
    int(1)
    ["available_date"]=>
    string(10) "2020-01-15"
    ["date_formatted"]=>
    string(10) "01/15/2020"
    ["id_image"]=>
    int(39879)
    ["list"]=>
    string(7) "'23127'"
  }
  [34124]=>
  array(14) {
    ["attributes_values"]=>
    array(1) {
      [1008]=>
      string(3) "493"
    }
    ["attributes"]=>
    array(1) {
      [0]=>
      int(23128)
    }
    ["price"]=>
    float(0)
    ["specific_price"]=>
    array(19) {
      ["id_specific_price"]=>
      string(7) "4436337"
      ["id_specific_price_rule"]=>
      string(3) "225"
      ["id_cart"]=>
      string(1) "0"
      ["id_product"]=>
      string(4) "4610"
      ["id_shop"]=>
      string(1) "1"
      ["id_shop_group"]=>
      string(1) "0"
      ["id_currency"]=>
      string(1) "0"
      ["id_country"]=>
      string(1) "0"
      ["id_group"]=>
      string(1) "0"
      ["id_customer"]=>
      string(1) "0"
      ["id_product_attribute"]=>
      string(1) "0"
      ["price"]=>
      string(9) "-1.000000"
      ["from_quantity"]=>
      string(8) "1.000000"
      ["reduction"]=>
      string(8) "0.150000"
      ["reduction_tax"]=>
      string(1) "1"
      ["reduction_type"]=>
      string(10) "percentage"
      ["from"]=>
      string(19) "2021-01-06 00:00:00"
      ["to"]=>
      string(19) "2021-02-01 01:10:00"
      ["score"]=>
      string(2) "48"
    }
    ["ecotax"]=>
    float(0)
    ["weight"]=>
    float(0)
    ["quantity"]=>
    float(34)
    ["reference"]=>
    string(0) ""
    ["unit_impact"]=>
    string(8) "0.000000"
    ["minimal_quantity"]=>
    int(1)
    ["available_date"]=>
    string(10) "2020-01-15"
    ["date_formatted"]=>
    string(10) "01/15/2020"
    ["id_image"]=>
    int(39880)
    ["list"]=>
    string(7) "'23128'"
  }
  [34125]=>
  array(14) {
    ["attributes_values"]=>
    array(1) {
      [1008]=>
      string(3) "494"
    }
    ["attributes"]=>
    array(1) {
      [0]=>
      int(23129)
    }
    ["price"]=>
    float(0)
    ["specific_price"]=>
    array(19) {
      ["id_specific_price"]=>
      string(7) "4436337"
      ["id_specific_price_rule"]=>
      string(3) "225"
      ["id_cart"]=>
      string(1) "0"
      ["id_product"]=>
      string(4) "4610"
      ["id_shop"]=>
      string(1) "1"
      ["id_shop_group"]=>
      string(1) "0"
      ["id_currency"]=>
      string(1) "0"
      ["id_country"]=>
      string(1) "0"
      ["id_group"]=>
      string(1) "0"
      ["id_customer"]=>
      string(1) "0"
      ["id_product_attribute"]=>
      string(1) "0"
      ["price"]=>
      string(9) "-1.000000"
      ["from_quantity"]=>
      string(8) "1.000000"
      ["reduction"]=>
      string(8) "0.150000"
      ["reduction_tax"]=>
      string(1) "1"
      ["reduction_type"]=>
      string(10) "percentage"
      ["from"]=>
      string(19) "2021-01-06 00:00:00"
      ["to"]=>
      string(19) "2021-02-01 01:10:00"
      ["score"]=>
      string(2) "48"
    }
    ["ecotax"]=>
    float(0)
    ["weight"]=>
    float(0)
    ["quantity"]=>
    float(24)
    ["reference"]=>
    string(0) ""
    ["unit_impact"]=>
    string(8) "0.000000"
    ["minimal_quantity"]=>
    int(1)
    ["available_date"]=>
    string(10) "2020-01-15"
    ["date_formatted"]=>
    string(10) "01/15/2020"
    ["id_image"]=>
    int(39881)
    ["list"]=>
    string(7) "'23129'"
  }
  [25534]=>
  array(14) {
    ["attributes_values"]=>
    array(1) {
      [1008]=>
      string(3) "495"
    }
    ["attributes"]=>
    array(1) {
      [0]=>
      int(16219)
    }
    ["price"]=>
    float(0)
    ["specific_price"]=>
    array(19) {
      ["id_specific_price"]=>
      string(7) "4436337"
      ["id_specific_price_rule"]=>
      string(3) "225"
      ["id_cart"]=>
      string(1) "0"
      ["id_product"]=>
      string(4) "4610"
      ["id_shop"]=>
      string(1) "1"
      ["id_shop_group"]=>
      string(1) "0"
      ["id_currency"]=>
      string(1) "0"
      ["id_country"]=>
      string(1) "0"
      ["id_group"]=>
      string(1) "0"
      ["id_customer"]=>
      string(1) "0"
      ["id_product_attribute"]=>
      string(1) "0"
      ["price"]=>
      string(9) "-1.000000"
      ["from_quantity"]=>
      string(8) "1.000000"
      ["reduction"]=>
      string(8) "0.150000"
      ["reduction_tax"]=>
      string(1) "1"
      ["reduction_type"]=>
      string(10) "percentage"
      ["from"]=>
      string(19) "2021-01-06 00:00:00"
      ["to"]=>
      string(19) "2021-02-01 01:10:00"
      ["score"]=>
      string(2) "48"
    }
    ["ecotax"]=>
    float(0)
    ["weight"]=>
    float(0)
    ["quantity"]=>
    float(36)
    ["reference"]=>
    string(0) ""
    ["unit_impact"]=>
    string(8) "0.000000"
    ["minimal_quantity"]=>
    int(1)
    ["available_date"]=>
    string(10) "2018-10-18"
    ["date_formatted"]=>
    string(10) "10/18/2018"
    ["id_image"]=>
    int(26219)
    ["list"]=>
    string(7) "'16219'"
  }
  [25535]=>
  array(14) {
    ["attributes_values"]=>
    array(1) {
      [1008]=>
      string(3) "533"
    }
    ["attributes"]=>
    array(1) {
      [0]=>
      int(16220)
    }
    ["price"]=>
    float(0)
    ["specific_price"]=>
    array(19) {
      ["id_specific_price"]=>
      string(7) "4436337"
      ["id_specific_price_rule"]=>
      string(3) "225"
      ["id_cart"]=>
      string(1) "0"
      ["id_product"]=>
      string(4) "4610"
      ["id_shop"]=>
      string(1) "1"
      ["id_shop_group"]=>
      string(1) "0"
      ["id_currency"]=>
      string(1) "0"
      ["id_country"]=>
      string(1) "0"
      ["id_group"]=>
      string(1) "0"
      ["id_customer"]=>
      string(1) "0"
      ["id_product_attribute"]=>
      string(1) "0"
      ["price"]=>
      string(9) "-1.000000"
      ["from_quantity"]=>
      string(8) "1.000000"
      ["reduction"]=>
      string(8) "0.150000"
      ["reduction_tax"]=>
      string(1) "1"
      ["reduction_type"]=>
      string(10) "percentage"
      ["from"]=>
      string(19) "2021-01-06 00:00:00"
      ["to"]=>
      string(19) "2021-02-01 01:10:00"
      ["score"]=>
      string(2) "48"
    }
    ["ecotax"]=>
    float(0)
    ["weight"]=>
    float(0)
    ["quantity"]=>
    float(22)
    ["reference"]=>
    string(0) ""
    ["unit_impact"]=>
    string(8) "0.000000"
    ["minimal_quantity"]=>
    int(1)
    ["available_date"]=>
    string(10) "2018-10-18"
    ["date_formatted"]=>
    string(10) "10/18/2018"
    ["id_image"]=>
    int(26220)
    ["list"]=>
    string(7) "'16220'"
  }
  [25536]=>
  array(14) {
    ["attributes_values"]=>
    array(1) {
      [1008]=>
      string(3) "539"
    }
    ["attributes"]=>
    array(1) {
      [0]=>
      int(16221)
    }
    ["price"]=>
    float(0)
    ["specific_price"]=>
    array(19) {
      ["id_specific_price"]=>
      string(7) "4436337"
      ["id_specific_price_rule"]=>
      string(3) "225"
      ["id_cart"]=>
      string(1) "0"
      ["id_product"]=>
      string(4) "4610"
      ["id_shop"]=>
      string(1) "1"
      ["id_shop_group"]=>
      string(1) "0"
      ["id_currency"]=>
      string(1) "0"
      ["id_country"]=>
      string(1) "0"
      ["id_group"]=>
      string(1) "0"
      ["id_customer"]=>
      string(1) "0"
      ["id_product_attribute"]=>
      string(1) "0"
      ["price"]=>
      string(9) "-1.000000"
      ["from_quantity"]=>
      string(8) "1.000000"
      ["reduction"]=>
      string(8) "0.150000"
      ["reduction_tax"]=>
      string(1) "1"
      ["reduction_type"]=>
      string(10) "percentage"
      ["from"]=>
      string(19) "2021-01-06 00:00:00"
      ["to"]=>
      string(19) "2021-02-01 01:10:00"
      ["score"]=>
      string(2) "48"
    }
    ["ecotax"]=>
    float(0)
    ["weight"]=>
    float(0)
    ["quantity"]=>
    float(32)
    ["reference"]=>
    string(0) ""
    ["unit_impact"]=>
    string(8) "0.000000"
    ["minimal_quantity"]=>
    int(1)
    ["available_date"]=>
    string(10) "2018-10-18"
    ["date_formatted"]=>
    string(10) "10/18/2018"
    ["id_image"]=>
    int(26221)
    ["list"]=>
    string(7) "'16221'"
  }
  [25537]=>
  array(14) {
    ["attributes_values"]=>
    array(1) {
      [1008]=>
      string(3) "563"
    }
    ["attributes"]=>
    array(1) {
      [0]=>
      int(16222)
    }
    ["price"]=>
    float(0)
    ["specific_price"]=>
    array(19) {
      ["id_specific_price"]=>
      string(7) "4436337"
      ["id_specific_price_rule"]=>
      string(3) "225"
      ["id_cart"]=>
      string(1) "0"
      ["id_product"]=>
      string(4) "4610"
      ["id_shop"]=>
      string(1) "1"
      ["id_shop_group"]=>
      string(1) "0"
      ["id_currency"]=>
      string(1) "0"
      ["id_country"]=>
      string(1) "0"
      ["id_group"]=>
      string(1) "0"
      ["id_customer"]=>
      string(1) "0"
      ["id_product_attribute"]=>
      string(1) "0"
      ["price"]=>
      string(9) "-1.000000"
      ["from_quantity"]=>
      string(8) "1.000000"
      ["reduction"]=>
      string(8) "0.150000"
      ["reduction_tax"]=>
      string(1) "1"
      ["reduction_type"]=>
      string(10) "percentage"
      ["from"]=>
      string(19) "2021-01-06 00:00:00"
      ["to"]=>
      string(19) "2021-02-01 01:10:00"
      ["score"]=>
      string(2) "48"
    }
    ["ecotax"]=>
    float(0)
    ["weight"]=>
    float(0)
    ["quantity"]=>
    float(25)
    ["reference"]=>
    string(0) ""
    ["unit_impact"]=>
    string(8) "0.000000"
    ["minimal_quantity"]=>
    int(1)
    ["available_date"]=>
    string(10) "2018-10-18"
    ["date_formatted"]=>
    string(10) "10/18/2018"
    ["id_image"]=>
    int(26222)
    ["list"]=>
    string(7) "'16222'"
  }
  [25538]=>
  array(14) {
    ["attributes_values"]=>
    array(1) {
      [1008]=>
      string(3) "683"
    }
    ["attributes"]=>
    array(1) {
      [0]=>
      int(16223)
    }
    ["price"]=>
    float(0)
    ["specific_price"]=>
    array(19) {
      ["id_specific_price"]=>
      string(7) "4436337"
      ["id_specific_price_rule"]=>
      string(3) "225"
      ["id_cart"]=>
      string(1) "0"
      ["id_product"]=>
      string(4) "4610"
      ["id_shop"]=>
      string(1) "1"
      ["id_shop_group"]=>
      string(1) "0"
      ["id_currency"]=>
      string(1) "0"
      ["id_country"]=>
      string(1) "0"
      ["id_group"]=>
      string(1) "0"
      ["id_customer"]=>
      string(1) "0"
      ["id_product_attribute"]=>
      string(1) "0"
      ["price"]=>
      string(9) "-1.000000"
      ["from_quantity"]=>
      string(8) "1.000000"
      ["reduction"]=>
      string(8) "0.150000"
      ["reduction_tax"]=>
      string(1) "1"
      ["reduction_type"]=>
      string(10) "percentage"
      ["from"]=>
      string(19) "2021-01-06 00:00:00"
      ["to"]=>
      string(19) "2021-02-01 01:10:00"
      ["score"]=>
      string(2) "48"
    }
    ["ecotax"]=>
    float(0)
    ["weight"]=>
    float(0)
    ["quantity"]=>
    float(0)
    ["reference"]=>
    string(0) ""
    ["unit_impact"]=>
    string(8) "0.000000"
    ["minimal_quantity"]=>
    int(1)
    ["available_date"]=>
    string(10) "2018-10-18"
    ["date_formatted"]=>
    string(10) "10/18/2018"
    ["id_image"]=>
    int(26223)
    ["list"]=>
    string(7) "'16223'"
  }
  [25539]=>
  array(14) {
    ["attributes_values"]=>
    array(1) {
      [1008]=>
      string(3) "695"
    }
    ["attributes"]=>
    array(1) {
      [0]=>
      int(16224)
    }
    ["price"]=>
    float(0)
    ["specific_price"]=>
    array(19) {
      ["id_specific_price"]=>
      string(7) "4436337"
      ["id_specific_price_rule"]=>
      string(3) "225"
      ["id_cart"]=>
      string(1) "0"
      ["id_product"]=>
      string(4) "4610"
      ["id_shop"]=>
      string(1) "1"
      ["id_shop_group"]=>
      string(1) "0"
      ["id_currency"]=>
      string(1) "0"
      ["id_country"]=>
      string(1) "0"
      ["id_group"]=>
      string(1) "0"
      ["id_customer"]=>
      string(1) "0"
      ["id_product_attribute"]=>
      string(1) "0"
      ["price"]=>
      string(9) "-1.000000"
      ["from_quantity"]=>
      string(8) "1.000000"
      ["reduction"]=>
      string(8) "0.150000"
      ["reduction_tax"]=>
      string(1) "1"
      ["reduction_type"]=>
      string(10) "percentage"
      ["from"]=>
      string(19) "2021-01-06 00:00:00"
      ["to"]=>
      string(19) "2021-02-01 01:10:00"
      ["score"]=>
      string(2) "48"
    }
    ["ecotax"]=>
    float(0)
    ["weight"]=>
    float(0)
    ["quantity"]=>
    float(27)
    ["reference"]=>
    string(0) ""
    ["unit_impact"]=>
    string(8) "0.000000"
    ["minimal_quantity"]=>
    int(1)
    ["available_date"]=>
    string(10) "2018-10-18"
    ["date_formatted"]=>
    string(10) "10/18/2018"
    ["id_image"]=>
    int(26224)
    ["list"]=>
    string(7) "'16224'"
  }
  [25540]=>
  array(14) {
    ["attributes_values"]=>
    array(1) {
      [1008]=>
      string(3) "701"
    }
    ["attributes"]=>
    array(1) {
      [0]=>
      int(16225)
    }
    ["price"]=>
    float(0)
    ["specific_price"]=>
    array(19) {
      ["id_specific_price"]=>
      string(7) "4436337"
      ["id_specific_price_rule"]=>
      string(3) "225"
      ["id_cart"]=>
      string(1) "0"
      ["id_product"]=>
      string(4) "4610"
      ["id_shop"]=>
      string(1) "1"
      ["id_shop_group"]=>
      string(1) "0"
      ["id_currency"]=>
      string(1) "0"
      ["id_country"]=>
      string(1) "0"
      ["id_group"]=>
      string(1) "0"
      ["id_customer"]=>
      string(1) "0"
      ["id_product_attribute"]=>
      string(1) "0"
      ["price"]=>
      string(9) "-1.000000"
      ["from_quantity"]=>
      string(8) "1.000000"
      ["reduction"]=>
      string(8) "0.150000"
      ["reduction_tax"]=>
      string(1) "1"
      ["reduction_type"]=>
      string(10) "percentage"
      ["from"]=>
      string(19) "2021-01-06 00:00:00"
      ["to"]=>
      string(19) "2021-02-01 01:10:00"
      ["score"]=>
      string(2) "48"
    }
    ["ecotax"]=>
    float(0)
    ["weight"]=>
    float(0)
    ["quantity"]=>
    float(0)
    ["reference"]=>
    string(0) ""
    ["unit_impact"]=>
    string(8) "0.000000"
    ["minimal_quantity"]=>
    int(1)
    ["available_date"]=>
    string(10) "2018-10-18"
    ["date_formatted"]=>
    string(10) "10/18/2018"
    ["id_image"]=>
    int(26225)
    ["list"]=>
    string(7) "'16225'"
  }
  [25541]=>
  array(14) {
    ["attributes_values"]=>
    array(1) {
      [1008]=>
      string(3) "704"
    }
    ["attributes"]=>
    array(1) {
      [0]=>
      int(16226)
    }
    ["price"]=>
    float(0)
    ["specific_price"]=>
    array(19) {
      ["id_specific_price"]=>
      string(7) "4436337"
      ["id_specific_price_rule"]=>
      string(3) "225"
      ["id_cart"]=>
      string(1) "0"
      ["id_product"]=>
      string(4) "4610"
      ["id_shop"]=>
      string(1) "1"
      ["id_shop_group"]=>
      string(1) "0"
      ["id_currency"]=>
      string(1) "0"
      ["id_country"]=>
      string(1) "0"
      ["id_group"]=>
      string(1) "0"
      ["id_customer"]=>
      string(1) "0"
      ["id_product_attribute"]=>
      string(1) "0"
      ["price"]=>
      string(9) "-1.000000"
      ["from_quantity"]=>
      string(8) "1.000000"
      ["reduction"]=>
      string(8) "0.150000"
      ["reduction_tax"]=>
      string(1) "1"
      ["reduction_type"]=>
      string(10) "percentage"
      ["from"]=>
      string(19) "2021-01-06 00:00:00"
      ["to"]=>
      string(19) "2021-02-01 01:10:00"
      ["score"]=>
      string(2) "48"
    }
    ["ecotax"]=>
    float(0)
    ["weight"]=>
    float(0)
    ["quantity"]=>
    float(24)
    ["reference"]=>
    string(0) ""
    ["unit_impact"]=>
    string(8) "0.000000"
    ["minimal_quantity"]=>
    int(1)
    ["available_date"]=>
    string(10) "2018-10-18"
    ["date_formatted"]=>
    string(10) "10/18/2018"
    ["id_image"]=>
    int(26226)
    ["list"]=>
    string(7) "'16226'"
  }
  [25542]=>
  array(14) {
    ["attributes_values"]=>
    array(1) {
      [1008]=>
      string(3) "889"
    }
    ["attributes"]=>
    array(1) {
      [0]=>
      int(16227)
    }
    ["price"]=>
    float(0)
    ["specific_price"]=>
    array(19) {
      ["id_specific_price"]=>
      string(7) "4436337"
      ["id_specific_price_rule"]=>
      string(3) "225"
      ["id_cart"]=>
      string(1) "0"
      ["id_product"]=>
      string(4) "4610"
      ["id_shop"]=>
      string(1) "1"
      ["id_shop_group"]=>
      string(1) "0"
      ["id_currency"]=>
      string(1) "0"
      ["id_country"]=>
      string(1) "0"
      ["id_group"]=>
      string(1) "0"
      ["id_customer"]=>
      string(1) "0"
      ["id_product_attribute"]=>
      string(1) "0"
      ["price"]=>
      string(9) "-1.000000"
      ["from_quantity"]=>
      string(8) "1.000000"
      ["reduction"]=>
      string(8) "0.150000"
      ["reduction_tax"]=>
      string(1) "1"
      ["reduction_type"]=>
      string(10) "percentage"
      ["from"]=>
      string(19) "2021-01-06 00:00:00"
      ["to"]=>
      string(19) "2021-02-01 01:10:00"
      ["score"]=>
      string(2) "48"
    }
    ["ecotax"]=>
    float(0)
    ["weight"]=>
    float(0)
    ["quantity"]=>
    float(0)
    ["reference"]=>
    string(0) ""
    ["unit_impact"]=>
    string(8) "0.000000"
    ["minimal_quantity"]=>
    int(1)
    ["available_date"]=>
    string(10) "2018-10-18"
    ["date_formatted"]=>
    string(10) "10/18/2018"
    ["id_image"]=>
    int(26227)
    ["list"]=>
    string(7) "'16227'"
  }
}

Mondial Anna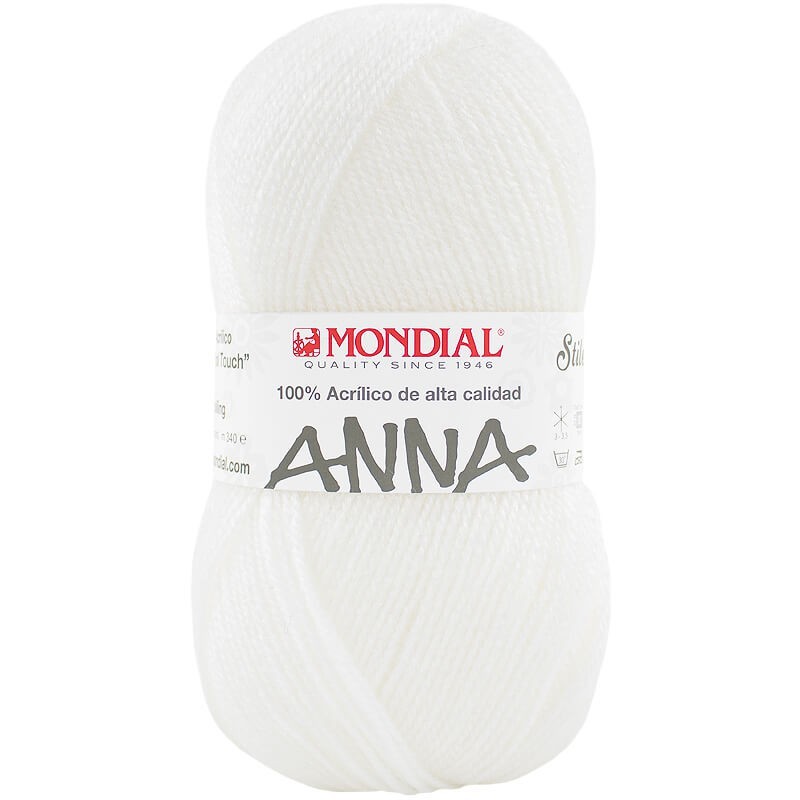  
Mondial Anna is a sweet and soft yarn perfect to knit all kind of winter clothes and home accessories. Thanks to its Antipilling treatment, this yarn avoids lint on your clothes. It is available in solid and flashy colours.
No reward points for this product because there's already a discount.
Product details
Features
Weight

100 grams

Length

340 meters

Knitting needle

3 - 3 ½

Crochet Hook

3 - 3 ½

Season

Autumn - Winter
Product description
Mondial Anna is made of high quality acrylic fibres with a wool effect that provide softness to your projects.
It is made in different solid colours to be combined between them for creating original mixtures of colours. It has a 3-Ply thread, a thread made by 3 ends twisted on themselves
This yarn has a slight sheen and it is perfect for knitting sweaters, jackets, waistcoats and more warm, light and thin clothes.
The Mondial Anna yarn is made of:
Its high quality acrylic fibres make it a resistant and long lasting yarn.
In Addition, this yarn has the Antipilling treatment in order to prevent the formation of lint on your clothes and complements.
You should know that Mondial Anna…
Each ball has 100 grams and 340 metres.

Its thickness is perfect to knit with the 3 – 3.5 mm knitting needles or crochet hooks.

Mount 25 stitches and do 32 laps to knit a 10 x 10 cm square with the 8 mm knitting needles.

It can be washed in the washing machine up to 30ºC.

Do not use the dryer.

It cannot be ironned.
Amount of balls needed to…
To knit a long sleeve sweater…
Kids – size 10 years, you will need 250 – 300 gr = 3 balls approx.

Adult – size 42, you will need 350 – 400 gr = 4 balls approx.

Adult -

 

size 48, you will need 450 – 500 gr = 5 balls.
Knit an endless list of original projects both for adults and kids with your favourite colours. You will be warm this autumn/winter season thanks to Mondial Anna.
Have you ever knitted with Mondial Anna? Give us your experience!
Rating:

4.5

out of

5

based on

10

reviews.
Customer reviews
Nº of votes

Average experience

Rating

10

star star star star star

star star star star star

star star star star star

star star star star star_half
Page 1
Loading more results...