array(12) {
  [42322]=>
  array(14) {
    ["attributes_values"]=>
    array(1) {
      [1756]=>
      string(3) "788"
    }
    ["attributes"]=>
    array(1) {
      [0]=>
      int(29039)
    }
    ["price"]=>
    float(0)
    ["specific_price"]=>
    bool(false)
    ["ecotax"]=>
    float(0)
    ["weight"]=>
    float(0)
    ["quantity"]=>
    float(13)
    ["reference"]=>
    string(0) ""
    ["unit_impact"]=>
    string(8) "0.000000"
    ["minimal_quantity"]=>
    int(1)
    ["available_date"]=>
    string(10) "2021-02-17"
    ["date_formatted"]=>
    string(10) "02/17/2021"
    ["id_image"]=>
    int(51450)
    ["list"]=>
    string(7) "'29039'"
  }
  [42323]=>
  array(14) {
    ["attributes_values"]=>
    array(1) {
      [1756]=>
      string(3) "789"
    }
    ["attributes"]=>
    array(1) {
      [0]=>
      int(29040)
    }
    ["price"]=>
    float(0)
    ["specific_price"]=>
    bool(false)
    ["ecotax"]=>
    float(0)
    ["weight"]=>
    float(0)
    ["quantity"]=>
    float(18)
    ["reference"]=>
    string(0) ""
    ["unit_impact"]=>
    string(8) "0.000000"
    ["minimal_quantity"]=>
    int(1)
    ["available_date"]=>
    string(10) "2021-02-17"
    ["date_formatted"]=>
    string(10) "02/17/2021"
    ["id_image"]=>
    int(51451)
    ["list"]=>
    string(7) "'29040'"
  }
  [42324]=>
  array(14) {
    ["attributes_values"]=>
    array(1) {
      [1756]=>
      string(3) "790"
    }
    ["attributes"]=>
    array(1) {
      [0]=>
      int(29041)
    }
    ["price"]=>
    float(0)
    ["specific_price"]=>
    bool(false)
    ["ecotax"]=>
    float(0)
    ["weight"]=>
    float(0)
    ["quantity"]=>
    float(19)
    ["reference"]=>
    string(0) ""
    ["unit_impact"]=>
    string(8) "0.000000"
    ["minimal_quantity"]=>
    int(1)
    ["available_date"]=>
    string(10) "2021-02-17"
    ["date_formatted"]=>
    string(10) "02/17/2021"
    ["id_image"]=>
    int(51452)
    ["list"]=>
    string(7) "'29041'"
  }
  [42325]=>
  array(14) {
    ["attributes_values"]=>
    array(1) {
      [1756]=>
      string(3) "791"
    }
    ["attributes"]=>
    array(1) {
      [0]=>
      int(29042)
    }
    ["price"]=>
    float(0)
    ["specific_price"]=>
    bool(false)
    ["ecotax"]=>
    float(0)
    ["weight"]=>
    float(0)
    ["quantity"]=>
    float(17)
    ["reference"]=>
    string(0) ""
    ["unit_impact"]=>
    string(8) "0.000000"
    ["minimal_quantity"]=>
    int(1)
    ["available_date"]=>
    string(10) "2021-02-17"
    ["date_formatted"]=>
    string(10) "02/17/2021"
    ["id_image"]=>
    int(51453)
    ["list"]=>
    string(7) "'29042'"
  }
  [42326]=>
  array(14) {
    ["attributes_values"]=>
    array(1) {
      [1756]=>
      string(3) "792"
    }
    ["attributes"]=>
    array(1) {
      [0]=>
      int(29043)
    }
    ["price"]=>
    float(0)
    ["specific_price"]=>
    bool(false)
    ["ecotax"]=>
    float(0)
    ["weight"]=>
    float(0)
    ["quantity"]=>
    float(20)
    ["reference"]=>
    string(0) ""
    ["unit_impact"]=>
    string(8) "0.000000"
    ["minimal_quantity"]=>
    int(1)
    ["available_date"]=>
    string(10) "2021-02-17"
    ["date_formatted"]=>
    string(10) "02/17/2021"
    ["id_image"]=>
    int(51454)
    ["list"]=>
    string(7) "'29043'"
  }
  [42327]=>
  array(14) {
    ["attributes_values"]=>
    array(1) {
      [1756]=>
      string(3) "793"
    }
    ["attributes"]=>
    array(1) {
      [0]=>
      int(29044)
    }
    ["price"]=>
    float(0)
    ["specific_price"]=>
    bool(false)
    ["ecotax"]=>
    float(0)
    ["weight"]=>
    float(0)
    ["quantity"]=>
    float(20)
    ["reference"]=>
    string(0) ""
    ["unit_impact"]=>
    string(8) "0.000000"
    ["minimal_quantity"]=>
    int(1)
    ["available_date"]=>
    string(10) "2021-02-17"
    ["date_formatted"]=>
    string(10) "02/17/2021"
    ["id_image"]=>
    int(51455)
    ["list"]=>
    string(7) "'29044'"
  }
  [42328]=>
  array(14) {
    ["attributes_values"]=>
    array(1) {
      [1756]=>
      string(3) "794"
    }
    ["attributes"]=>
    array(1) {
      [0]=>
      int(29045)
    }
    ["price"]=>
    float(0)
    ["specific_price"]=>
    bool(false)
    ["ecotax"]=>
    float(0)
    ["weight"]=>
    float(0)
    ["quantity"]=>
    float(20)
    ["reference"]=>
    string(0) ""
    ["unit_impact"]=>
    string(8) "0.000000"
    ["minimal_quantity"]=>
    int(1)
    ["available_date"]=>
    string(10) "2021-02-17"
    ["date_formatted"]=>
    string(10) "02/17/2021"
    ["id_image"]=>
    int(51456)
    ["list"]=>
    string(7) "'29045'"
  }
  [42329]=>
  array(14) {
    ["attributes_values"]=>
    array(1) {
      [1756]=>
      string(3) "795"
    }
    ["attributes"]=>
    array(1) {
      [0]=>
      int(29046)
    }
    ["price"]=>
    float(0)
    ["specific_price"]=>
    bool(false)
    ["ecotax"]=>
    float(0)
    ["weight"]=>
    float(0)
    ["quantity"]=>
    float(19)
    ["reference"]=>
    string(0) ""
    ["unit_impact"]=>
    string(8) "0.000000"
    ["minimal_quantity"]=>
    int(1)
    ["available_date"]=>
    string(10) "2021-02-17"
    ["date_formatted"]=>
    string(10) "02/17/2021"
    ["id_image"]=>
    int(51457)
    ["list"]=>
    string(7) "'29046'"
  }
  [42330]=>
  array(14) {
    ["attributes_values"]=>
    array(1) {
      [1756]=>
      string(3) "796"
    }
    ["attributes"]=>
    array(1) {
      [0]=>
      int(29047)
    }
    ["price"]=>
    float(0)
    ["specific_price"]=>
    bool(false)
    ["ecotax"]=>
    float(0)
    ["weight"]=>
    float(0)
    ["quantity"]=>
    float(20)
    ["reference"]=>
    string(0) ""
    ["unit_impact"]=>
    string(8) "0.000000"
    ["minimal_quantity"]=>
    int(1)
    ["available_date"]=>
    string(10) "2021-02-17"
    ["date_formatted"]=>
    string(10) "02/17/2021"
    ["id_image"]=>
    int(51458)
    ["list"]=>
    string(7) "'29047'"
  }
  [42331]=>
  array(14) {
    ["attributes_values"]=>
    array(1) {
      [1756]=>
      string(3) "797"
    }
    ["attributes"]=>
    array(1) {
      [0]=>
      int(29048)
    }
    ["price"]=>
    float(0)
    ["specific_price"]=>
    bool(false)
    ["ecotax"]=>
    float(0)
    ["weight"]=>
    float(0)
    ["quantity"]=>
    float(19)
    ["reference"]=>
    string(0) ""
    ["unit_impact"]=>
    string(8) "0.000000"
    ["minimal_quantity"]=>
    int(1)
    ["available_date"]=>
    string(10) "2021-02-17"
    ["date_formatted"]=>
    string(10) "02/17/2021"
    ["id_image"]=>
    int(51459)
    ["list"]=>
    string(7) "'29048'"
  }
  [42332]=>
  array(14) {
    ["attributes_values"]=>
    array(1) {
      [1756]=>
      string(3) "798"
    }
    ["attributes"]=>
    array(1) {
      [0]=>
      int(29049)
    }
    ["price"]=>
    float(0)
    ["specific_price"]=>
    bool(false)
    ["ecotax"]=>
    float(0)
    ["weight"]=>
    float(0)
    ["quantity"]=>
    float(20)
    ["reference"]=>
    string(0) ""
    ["unit_impact"]=>
    string(8) "0.000000"
    ["minimal_quantity"]=>
    int(1)
    ["available_date"]=>
    string(10) "2021-02-17"
    ["date_formatted"]=>
    string(10) "02/17/2021"
    ["id_image"]=>
    int(51460)
    ["list"]=>
    string(7) "'29049'"
  }
  [42333]=>
  array(14) {
    ["attributes_values"]=>
    array(1) {
      [1756]=>
      string(3) "799"
    }
    ["attributes"]=>
    array(1) {
      [0]=>
      int(29050)
    }
    ["price"]=>
    float(0)
    ["specific_price"]=>
    bool(false)
    ["ecotax"]=>
    float(0)
    ["weight"]=>
    float(0)
    ["quantity"]=>
    float(17)
    ["reference"]=>
    string(0) ""
    ["unit_impact"]=>
    string(8) "0.000000"
    ["minimal_quantity"]=>
    int(1)
    ["available_date"]=>
    string(10) "2021-02-17"
    ["date_formatted"]=>
    string(10) "02/17/2021"
    ["id_image"]=>
    int(51461)
    ["list"]=>
    string(7) "'29050'"
  }
}

Mondial Macramore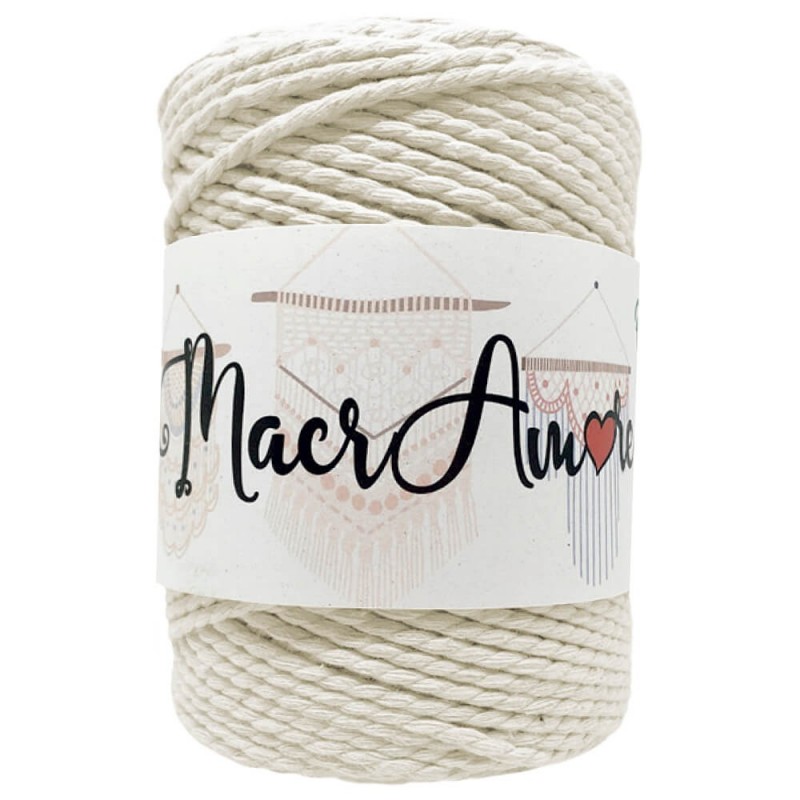  
Macramore by Mondial is the perfect yarn for macrame projects: create your own flowerpots, rugs, decorative tapestries, and much more! Its 3 mm twisted thread is made of recycled cotton and polyester. Discover all the available colors!
By buying this product you can collect up to 7 loyalty points. Your cart will total 7 points that can be converted into a voucher of €0.28.
Product details
Features
Weight

500 grams

Length

140 meters

Ply Thickness

3 mm
Product description
Mondial presents Macramore, the perfect yarn to carry through macrame projects. This 500-gram yarn is eco-friendly since it has been manufactured with recycled materials. This is the perfect yarn for everyone willing to take care of the environment!
This yarn presents a 3 mm thick thread, and it is twisted on itself. This is the perfect thread to carry through all type of macrame projects such as bags, baskets, flowerpots, and any other decorative accessory!
Mondial Macramore is made of:
80% recycled cotton
20% recycled polyester
This material combination results in a light, soft, and pleasant yarn. You will also find it very resistant and very easy to work with.
Which are the features of this yarn?
Each ball has 500 grams and around 140 meters.
Thread thick: 3 mm.
With only one bobbin you can knit a 32 x 40 cm gauge.
Handwashing with products without bleach recommended.
Do not tumble dry.
Do not iron.
Dry flat recommended.
Discover the available shades and think outside the box with this macrame thread, you will love it for sure!