array(8) {
  [42264]=>
  array(14) {
    ["attributes_values"]=>
    array(1) {
      [1754]=>
      string(3) "552"
    }
    ["attributes"]=>
    array(1) {
      [0]=>
      int(29023)
    }
    ["price"]=>
    float(0)
    ["specific_price"]=>
    bool(false)
    ["ecotax"]=>
    float(0)
    ["weight"]=>
    float(0)
    ["quantity"]=>
    float(57)
    ["reference"]=>
    string(0) ""
    ["unit_impact"]=>
    string(8) "0.000000"
    ["minimal_quantity"]=>
    int(1)
    ["available_date"]=>
    string(10) "2021-02-16"
    ["date_formatted"]=>
    string(10) "02/16/2021"
    ["id_image"]=>
    int(51363)
    ["list"]=>
    string(7) "'29023'"
  }
  [42265]=>
  array(14) {
    ["attributes_values"]=>
    array(1) {
      [1754]=>
      string(3) "553"
    }
    ["attributes"]=>
    array(1) {
      [0]=>
      int(29024)
    }
    ["price"]=>
    float(0)
    ["specific_price"]=>
    bool(false)
    ["ecotax"]=>
    float(0)
    ["weight"]=>
    float(0)
    ["quantity"]=>
    float(56)
    ["reference"]=>
    string(0) ""
    ["unit_impact"]=>
    string(8) "0.000000"
    ["minimal_quantity"]=>
    int(1)
    ["available_date"]=>
    string(10) "2021-02-16"
    ["date_formatted"]=>
    string(10) "02/16/2021"
    ["id_image"]=>
    int(51364)
    ["list"]=>
    string(7) "'29024'"
  }
  [42266]=>
  array(14) {
    ["attributes_values"]=>
    array(1) {
      [1754]=>
      string(3) "554"
    }
    ["attributes"]=>
    array(1) {
      [0]=>
      int(29025)
    }
    ["price"]=>
    float(0)
    ["specific_price"]=>
    bool(false)
    ["ecotax"]=>
    float(0)
    ["weight"]=>
    float(0)
    ["quantity"]=>
    float(60)
    ["reference"]=>
    string(0) ""
    ["unit_impact"]=>
    string(8) "0.000000"
    ["minimal_quantity"]=>
    int(1)
    ["available_date"]=>
    string(10) "2021-02-16"
    ["date_formatted"]=>
    string(10) "02/16/2021"
    ["id_image"]=>
    int(51365)
    ["list"]=>
    string(7) "'29025'"
  }
  [42267]=>
  array(14) {
    ["attributes_values"]=>
    array(1) {
      [1754]=>
      string(3) "555"
    }
    ["attributes"]=>
    array(1) {
      [0]=>
      int(29026)
    }
    ["price"]=>
    float(0)
    ["specific_price"]=>
    bool(false)
    ["ecotax"]=>
    float(0)
    ["weight"]=>
    float(0)
    ["quantity"]=>
    float(47)
    ["reference"]=>
    string(0) ""
    ["unit_impact"]=>
    string(8) "0.000000"
    ["minimal_quantity"]=>
    int(1)
    ["available_date"]=>
    string(10) "2021-02-16"
    ["date_formatted"]=>
    string(10) "02/16/2021"
    ["id_image"]=>
    int(51366)
    ["list"]=>
    string(7) "'29026'"
  }
  [42268]=>
  array(14) {
    ["attributes_values"]=>
    array(1) {
      [1754]=>
      string(3) "556"
    }
    ["attributes"]=>
    array(1) {
      [0]=>
      int(29027)
    }
    ["price"]=>
    float(0)
    ["specific_price"]=>
    bool(false)
    ["ecotax"]=>
    float(0)
    ["weight"]=>
    float(0)
    ["quantity"]=>
    float(52)
    ["reference"]=>
    string(0) ""
    ["unit_impact"]=>
    string(8) "0.000000"
    ["minimal_quantity"]=>
    int(1)
    ["available_date"]=>
    string(10) "2021-02-16"
    ["date_formatted"]=>
    string(10) "02/16/2021"
    ["id_image"]=>
    int(51367)
    ["list"]=>
    string(7) "'29027'"
  }
  [42269]=>
  array(14) {
    ["attributes_values"]=>
    array(1) {
      [1754]=>
      string(3) "557"
    }
    ["attributes"]=>
    array(1) {
      [0]=>
      int(29028)
    }
    ["price"]=>
    float(0)
    ["specific_price"]=>
    bool(false)
    ["ecotax"]=>
    float(0)
    ["weight"]=>
    float(0)
    ["quantity"]=>
    float(60)
    ["reference"]=>
    string(0) ""
    ["unit_impact"]=>
    string(8) "0.000000"
    ["minimal_quantity"]=>
    int(1)
    ["available_date"]=>
    string(10) "2021-02-16"
    ["date_formatted"]=>
    string(10) "02/16/2021"
    ["id_image"]=>
    int(51368)
    ["list"]=>
    string(7) "'29028'"
  }
  [42270]=>
  array(14) {
    ["attributes_values"]=>
    array(1) {
      [1754]=>
      string(3) "558"
    }
    ["attributes"]=>
    array(1) {
      [0]=>
      int(29029)
    }
    ["price"]=>
    float(0)
    ["specific_price"]=>
    bool(false)
    ["ecotax"]=>
    float(0)
    ["weight"]=>
    float(0)
    ["quantity"]=>
    float(54)
    ["reference"]=>
    string(0) ""
    ["unit_impact"]=>
    string(8) "0.000000"
    ["minimal_quantity"]=>
    int(1)
    ["available_date"]=>
    string(10) "2021-02-16"
    ["date_formatted"]=>
    string(10) "02/16/2021"
    ["id_image"]=>
    int(51369)
    ["list"]=>
    string(7) "'29029'"
  }
  [42271]=>
  array(14) {
    ["attributes_values"]=>
    array(1) {
      [1754]=>
      string(3) "559"
    }
    ["attributes"]=>
    array(1) {
      [0]=>
      int(29030)
    }
    ["price"]=>
    float(0)
    ["specific_price"]=>
    bool(false)
    ["ecotax"]=>
    float(0)
    ["weight"]=>
    float(0)
    ["quantity"]=>
    float(60)
    ["reference"]=>
    string(0) ""
    ["unit_impact"]=>
    string(8) "0.000000"
    ["minimal_quantity"]=>
    int(1)
    ["available_date"]=>
    string(10) "2021-02-16"
    ["date_formatted"]=>
    string(10) "02/16/2021"
    ["id_image"]=>
    int(51370)
    ["list"]=>
    string(7) "'29030'"
  }
}

Mondial Mantra Color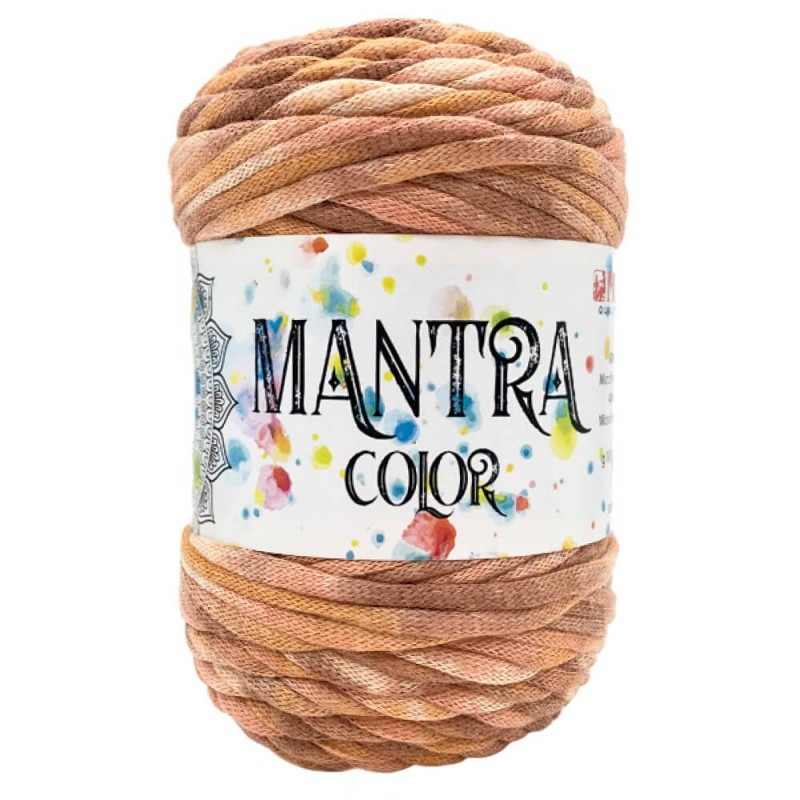  
Mantra Color by Mondial presents a very original color combination. This is a ribbon-type thread useful to create accessories such as light baskets presenting a colorful design. Choose your favorite color combination and dare to knit all type of projects!
By buying this product you can collect up to 3 loyalty points. Your cart will total 3 points that can be converted into a voucher of €0.12.
Product details
Features
Weight

100 grams

Length

110 meters

Knitting needle

3 - 4
Product description
Mondial presents Mantra Color, a ribbon-type thread, perfect to create all type of projects such as baskets, bags, wallets, flowerpots, and much more! This high-quality yarn combines polyamide and acrylic fibers, so you will find it very resistant and pleasant to the touch.
With no doubt, the best of this yarn is its original color combination. While knitting it you will discover a marbled effect in different shades which everyone will love. You only need to choose your favorite color combination and create a 100% handmade accessory. Remember that you can combine this yarn with Mondial Mantra, another yarn presenting the same features but available in plain colors.
Mondial Mantra Color is made of:
60% polyamide microfiber
40% acrylic microfiber
This combination results in a soft, light, and resistant yarn at the same time. This is the perfect yarn to create your own accessories!
Which are the features of this yarn?
Each ball has 100 grams and around 110 meters.
Its thickness is perfect to work with the 3-4 mm knitting needles.
Mount 16 stitches to knit a 10 cm gauge.
Washable at up to 40ºC.
Do not tumble dry.
Dry flat recommended.
Do not iron.
Amount of balls needed to:
To knit a small bag you will need 500-600 grams (5-6 balls).