array(2) {
  [32195]=>
  array(14) {
    ["attributes_values"]=>
    array(1) {
      [1300]=>
      string(10) "3,5 - 5 cm"
    }
    ["attributes"]=>
    array(1) {
      [0]=>
      int(21724)
    }
    ["price"]=>
    float(9.504132)
    ["specific_price"]=>
    bool(false)
    ["ecotax"]=>
    float(0)
    ["weight"]=>
    float(0)
    ["quantity"]=>
    float(15)
    ["reference"]=>
    string(7) "624 180"
    ["unit_impact"]=>
    string(8) "0.000000"
    ["minimal_quantity"]=>
    int(1)
    ["date_formatted"]=>
    string(0) ""
    ["available_date"]=>
    string(0) ""
    ["id_image"]=>
    int(38112)
    ["list"]=>
    string(7) "'21724'"
  }
  [32196]=>
  array(14) {
    ["attributes_values"]=>
    array(1) {
      [1300]=>
      string(8) "7 - 9 cm"
    }
    ["attributes"]=>
    array(1) {
      [0]=>
      int(21725)
    }
    ["price"]=>
    float(11.157025)
    ["specific_price"]=>
    bool(false)
    ["ecotax"]=>
    float(0)
    ["weight"]=>
    float(0)
    ["quantity"]=>
    float(11)
    ["reference"]=>
    string(7) "624 182"
    ["unit_impact"]=>
    string(8) "0.000000"
    ["minimal_quantity"]=>
    int(1)
    ["date_formatted"]=>
    string(0) ""
    ["available_date"]=>
    string(0) ""
    ["id_image"]=>
    int(38109)
    ["list"]=>
    string(7) "'21725'"
  }
}

Pompom Maker - Prym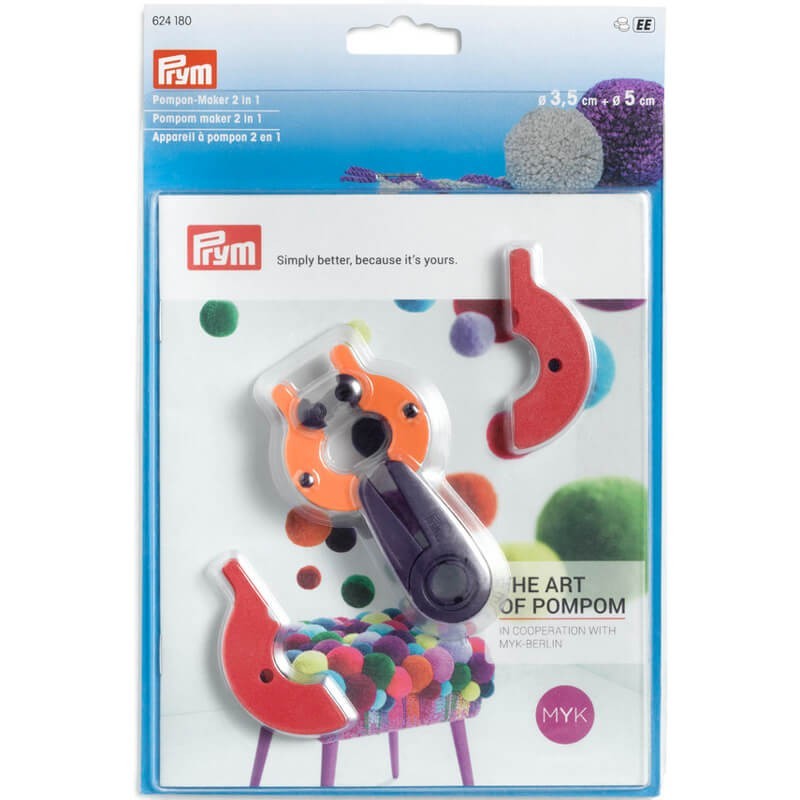  
The Prym Pompom Maker allows you to quickly and easily create pompoms and add them to your creations! To help you create your pompoms, you will find instructions inside.
The Prym Pompom Maker is available in two sizes: S and L. Each pack contains two different disc sizes.
By buying this product you can collect up to 6 loyalty points. Your cart will total 6 points that can be converted into a voucher of €0.24.
Product description
The Prym Pompom Maker is perfect if you want to make pompoms easily. You can make pompoms in different sizes and in your favorite colors with it. In addition, you can create pompoms with color mixtures.
To make a pompom, you must roll the wool around the discs, close the machine and cut the wool between the discs. Make a knot with a piece of wool in order to the pompoms do not fall apart. Finally, cut around the pompom to achieve the desired result.
Instructions are included to guide you through the creation of your magnificent pompoms.
Two sizes are available:
Size S: machine with the lilac handle with a red disc of 5 cm and an orange disc of 3.5 cm.
Size L: machine with the lilac handle with a blue disc of 7 cm and a green disc of 9 cm.
What do you need to create the pompoms?
The Prym pompom maker
Wool
Scissors
You can easily make perfect pompoms in different sizes with the Prym pompom maker. You will embellish your accessories such as your bags, key rings, headbands... and much more !