array(93) {
  [31337]=>
  array(14) {
    ["attributes_values"]=>
    array(1) {
      [1248]=>
      string(4) "1001"
    }
    ["attributes"]=>
    array(1) {
      [0]=>
      int(20947)
    }
    ["price"]=>
    float(0)
    ["specific_price"]=>
    array(19) {
      ["id_specific_price"]=>
      string(7) "4357939"
      ["id_specific_price_rule"]=>
      string(3) "227"
      ["id_cart"]=>
      string(1) "0"
      ["id_product"]=>
      string(4) "5836"
      ["id_shop"]=>
      string(1) "1"
      ["id_shop_group"]=>
      string(1) "0"
      ["id_currency"]=>
      string(1) "0"
      ["id_country"]=>
      string(1) "0"
      ["id_group"]=>
      string(1) "0"
      ["id_customer"]=>
      string(1) "0"
      ["id_product_attribute"]=>
      string(1) "0"
      ["price"]=>
      string(9) "-1.000000"
      ["from_quantity"]=>
      string(8) "1.000000"
      ["reduction"]=>
      string(8) "0.050000"
      ["reduction_tax"]=>
      string(1) "1"
      ["reduction_type"]=>
      string(10) "percentage"
      ["from"]=>
      string(19) "2021-01-06 00:00:00"
      ["to"]=>
      string(19) "2021-02-01 01:10:00"
      ["score"]=>
      string(2) "48"
    }
    ["ecotax"]=>
    float(0)
    ["weight"]=>
    float(0)
    ["quantity"]=>
    float(24)
    ["reference"]=>
    string(0) ""
    ["unit_impact"]=>
    string(8) "0.000000"
    ["minimal_quantity"]=>
    int(1)
    ["available_date"]=>
    string(10) "2019-07-09"
    ["date_formatted"]=>
    string(10) "07/09/2019"
    ["id_image"]=>
    int(34655)
    ["list"]=>
    string(7) "'20947'"
  }
  [31338]=>
  array(14) {
    ["attributes_values"]=>
    array(1) {
      [1248]=>
      string(4) "1002"
    }
    ["attributes"]=>
    array(1) {
      [0]=>
      int(20948)
    }
    ["price"]=>
    float(0)
    ["specific_price"]=>
    array(19) {
      ["id_specific_price"]=>
      string(7) "4357939"
      ["id_specific_price_rule"]=>
      string(3) "227"
      ["id_cart"]=>
      string(1) "0"
      ["id_product"]=>
      string(4) "5836"
      ["id_shop"]=>
      string(1) "1"
      ["id_shop_group"]=>
      string(1) "0"
      ["id_currency"]=>
      string(1) "0"
      ["id_country"]=>
      string(1) "0"
      ["id_group"]=>
      string(1) "0"
      ["id_customer"]=>
      string(1) "0"
      ["id_product_attribute"]=>
      string(1) "0"
      ["price"]=>
      string(9) "-1.000000"
      ["from_quantity"]=>
      string(8) "1.000000"
      ["reduction"]=>
      string(8) "0.050000"
      ["reduction_tax"]=>
      string(1) "1"
      ["reduction_type"]=>
      string(10) "percentage"
      ["from"]=>
      string(19) "2021-01-06 00:00:00"
      ["to"]=>
      string(19) "2021-02-01 01:10:00"
      ["score"]=>
      string(2) "48"
    }
    ["ecotax"]=>
    float(0)
    ["weight"]=>
    float(0)
    ["quantity"]=>
    float(15)
    ["reference"]=>
    string(0) ""
    ["unit_impact"]=>
    string(8) "0.000000"
    ["minimal_quantity"]=>
    int(1)
    ["available_date"]=>
    string(10) "2019-07-09"
    ["date_formatted"]=>
    string(10) "07/09/2019"
    ["id_image"]=>
    int(34656)
    ["list"]=>
    string(7) "'20948'"
  }
  [31339]=>
  array(14) {
    ["attributes_values"]=>
    array(1) {
      [1248]=>
      string(4) "1003"
    }
    ["attributes"]=>
    array(1) {
      [0]=>
      int(20949)
    }
    ["price"]=>
    float(0)
    ["specific_price"]=>
    array(19) {
      ["id_specific_price"]=>
      string(7) "4357939"
      ["id_specific_price_rule"]=>
      string(3) "227"
      ["id_cart"]=>
      string(1) "0"
      ["id_product"]=>
      string(4) "5836"
      ["id_shop"]=>
      string(1) "1"
      ["id_shop_group"]=>
      string(1) "0"
      ["id_currency"]=>
      string(1) "0"
      ["id_country"]=>
      string(1) "0"
      ["id_group"]=>
      string(1) "0"
      ["id_customer"]=>
      string(1) "0"
      ["id_product_attribute"]=>
      string(1) "0"
      ["price"]=>
      string(9) "-1.000000"
      ["from_quantity"]=>
      string(8) "1.000000"
      ["reduction"]=>
      string(8) "0.050000"
      ["reduction_tax"]=>
      string(1) "1"
      ["reduction_type"]=>
      string(10) "percentage"
      ["from"]=>
      string(19) "2021-01-06 00:00:00"
      ["to"]=>
      string(19) "2021-02-01 01:10:00"
      ["score"]=>
      string(2) "48"
    }
    ["ecotax"]=>
    float(0)
    ["weight"]=>
    float(0)
    ["quantity"]=>
    float(5)
    ["reference"]=>
    string(0) ""
    ["unit_impact"]=>
    string(8) "0.000000"
    ["minimal_quantity"]=>
    int(1)
    ["available_date"]=>
    string(10) "2019-07-09"
    ["date_formatted"]=>
    string(10) "07/09/2019"
    ["id_image"]=>
    int(34657)
    ["list"]=>
    string(7) "'20949'"
  }
  [31340]=>
  array(14) {
    ["attributes_values"]=>
    array(1) {
      [1248]=>
      string(4) "1004"
    }
    ["attributes"]=>
    array(1) {
      [0]=>
      int(20950)
    }
    ["price"]=>
    float(0)
    ["specific_price"]=>
    array(19) {
      ["id_specific_price"]=>
      string(7) "4357939"
      ["id_specific_price_rule"]=>
      string(3) "227"
      ["id_cart"]=>
      string(1) "0"
      ["id_product"]=>
      string(4) "5836"
      ["id_shop"]=>
      string(1) "1"
      ["id_shop_group"]=>
      string(1) "0"
      ["id_currency"]=>
      string(1) "0"
      ["id_country"]=>
      string(1) "0"
      ["id_group"]=>
      string(1) "0"
      ["id_customer"]=>
      string(1) "0"
      ["id_product_attribute"]=>
      string(1) "0"
      ["price"]=>
      string(9) "-1.000000"
      ["from_quantity"]=>
      string(8) "1.000000"
      ["reduction"]=>
      string(8) "0.050000"
      ["reduction_tax"]=>
      string(1) "1"
      ["reduction_type"]=>
      string(10) "percentage"
      ["from"]=>
      string(19) "2021-01-06 00:00:00"
      ["to"]=>
      string(19) "2021-02-01 01:10:00"
      ["score"]=>
      string(2) "48"
    }
    ["ecotax"]=>
    float(0)
    ["weight"]=>
    float(0)
    ["quantity"]=>
    float(18)
    ["reference"]=>
    string(0) ""
    ["unit_impact"]=>
    string(8) "0.000000"
    ["minimal_quantity"]=>
    int(1)
    ["available_date"]=>
    string(10) "2019-07-09"
    ["date_formatted"]=>
    string(10) "07/09/2019"
    ["id_image"]=>
    int(34658)
    ["list"]=>
    string(7) "'20950'"
  }
  [31341]=>
  array(14) {
    ["attributes_values"]=>
    array(1) {
      [1248]=>
      string(4) "1005"
    }
    ["attributes"]=>
    array(1) {
      [0]=>
      int(20951)
    }
    ["price"]=>
    float(0)
    ["specific_price"]=>
    array(19) {
      ["id_specific_price"]=>
      string(7) "4357939"
      ["id_specific_price_rule"]=>
      string(3) "227"
      ["id_cart"]=>
      string(1) "0"
      ["id_product"]=>
      string(4) "5836"
      ["id_shop"]=>
      string(1) "1"
      ["id_shop_group"]=>
      string(1) "0"
      ["id_currency"]=>
      string(1) "0"
      ["id_country"]=>
      string(1) "0"
      ["id_group"]=>
      string(1) "0"
      ["id_customer"]=>
      string(1) "0"
      ["id_product_attribute"]=>
      string(1) "0"
      ["price"]=>
      string(9) "-1.000000"
      ["from_quantity"]=>
      string(8) "1.000000"
      ["reduction"]=>
      string(8) "0.050000"
      ["reduction_tax"]=>
      string(1) "1"
      ["reduction_type"]=>
      string(10) "percentage"
      ["from"]=>
      string(19) "2021-01-06 00:00:00"
      ["to"]=>
      string(19) "2021-02-01 01:10:00"
      ["score"]=>
      string(2) "48"
    }
    ["ecotax"]=>
    float(0)
    ["weight"]=>
    float(0)
    ["quantity"]=>
    float(0)
    ["reference"]=>
    string(0) ""
    ["unit_impact"]=>
    string(8) "0.000000"
    ["minimal_quantity"]=>
    int(1)
    ["available_date"]=>
    string(10) "2019-07-09"
    ["date_formatted"]=>
    string(10) "07/09/2019"
    ["id_image"]=>
    int(34659)
    ["list"]=>
    string(7) "'20951'"
  }
  [31342]=>
  array(14) {
    ["attributes_values"]=>
    array(1) {
      [1248]=>
      string(4) "1009"
    }
    ["attributes"]=>
    array(1) {
      [0]=>
      int(20952)
    }
    ["price"]=>
    float(0)
    ["specific_price"]=>
    array(19) {
      ["id_specific_price"]=>
      string(7) "4357939"
      ["id_specific_price_rule"]=>
      string(3) "227"
      ["id_cart"]=>
      string(1) "0"
      ["id_product"]=>
      string(4) "5836"
      ["id_shop"]=>
      string(1) "1"
      ["id_shop_group"]=>
      string(1) "0"
      ["id_currency"]=>
      string(1) "0"
      ["id_country"]=>
      string(1) "0"
      ["id_group"]=>
      string(1) "0"
      ["id_customer"]=>
      string(1) "0"
      ["id_product_attribute"]=>
      string(1) "0"
      ["price"]=>
      string(9) "-1.000000"
      ["from_quantity"]=>
      string(8) "1.000000"
      ["reduction"]=>
      string(8) "0.050000"
      ["reduction_tax"]=>
      string(1) "1"
      ["reduction_type"]=>
      string(10) "percentage"
      ["from"]=>
      string(19) "2021-01-06 00:00:00"
      ["to"]=>
      string(19) "2021-02-01 01:10:00"
      ["score"]=>
      string(2) "48"
    }
    ["ecotax"]=>
    float(0)
    ["weight"]=>
    float(0)
    ["quantity"]=>
    float(0)
    ["reference"]=>
    string(0) ""
    ["unit_impact"]=>
    string(8) "0.000000"
    ["minimal_quantity"]=>
    int(1)
    ["available_date"]=>
    string(10) "2019-07-09"
    ["date_formatted"]=>
    string(10) "07/09/2019"
    ["id_image"]=>
    int(34660)
    ["list"]=>
    string(7) "'20952'"
  }
  [31343]=>
  array(14) {
    ["attributes_values"]=>
    array(1) {
      [1248]=>
      string(4) "1010"
    }
    ["attributes"]=>
    array(1) {
      [0]=>
      int(20953)
    }
    ["price"]=>
    float(0)
    ["specific_price"]=>
    array(19) {
      ["id_specific_price"]=>
      string(7) "4357939"
      ["id_specific_price_rule"]=>
      string(3) "227"
      ["id_cart"]=>
      string(1) "0"
      ["id_product"]=>
      string(4) "5836"
      ["id_shop"]=>
      string(1) "1"
      ["id_shop_group"]=>
      string(1) "0"
      ["id_currency"]=>
      string(1) "0"
      ["id_country"]=>
      string(1) "0"
      ["id_group"]=>
      string(1) "0"
      ["id_customer"]=>
      string(1) "0"
      ["id_product_attribute"]=>
      string(1) "0"
      ["price"]=>
      string(9) "-1.000000"
      ["from_quantity"]=>
      string(8) "1.000000"
      ["reduction"]=>
      string(8) "0.050000"
      ["reduction_tax"]=>
      string(1) "1"
      ["reduction_type"]=>
      string(10) "percentage"
      ["from"]=>
      string(19) "2021-01-06 00:00:00"
      ["to"]=>
      string(19) "2021-02-01 01:10:00"
      ["score"]=>
      string(2) "48"
    }
    ["ecotax"]=>
    float(0)
    ["weight"]=>
    float(0)
    ["quantity"]=>
    float(0)
    ["reference"]=>
    string(0) ""
    ["unit_impact"]=>
    string(8) "0.000000"
    ["minimal_quantity"]=>
    int(1)
    ["available_date"]=>
    string(10) "2019-07-09"
    ["date_formatted"]=>
    string(10) "07/09/2019"
    ["id_image"]=>
    int(34661)
    ["list"]=>
    string(7) "'20953'"
  }
  [31344]=>
  array(14) {
    ["attributes_values"]=>
    array(1) {
      [1248]=>
      string(4) "1011"
    }
    ["attributes"]=>
    array(1) {
      [0]=>
      int(20954)
    }
    ["price"]=>
    float(0)
    ["specific_price"]=>
    array(19) {
      ["id_specific_price"]=>
      string(7) "4357939"
      ["id_specific_price_rule"]=>
      string(3) "227"
      ["id_cart"]=>
      string(1) "0"
      ["id_product"]=>
      string(4) "5836"
      ["id_shop"]=>
      string(1) "1"
      ["id_shop_group"]=>
      string(1) "0"
      ["id_currency"]=>
      string(1) "0"
      ["id_country"]=>
      string(1) "0"
      ["id_group"]=>
      string(1) "0"
      ["id_customer"]=>
      string(1) "0"
      ["id_product_attribute"]=>
      string(1) "0"
      ["price"]=>
      string(9) "-1.000000"
      ["from_quantity"]=>
      string(8) "1.000000"
      ["reduction"]=>
      string(8) "0.050000"
      ["reduction_tax"]=>
      string(1) "1"
      ["reduction_type"]=>
      string(10) "percentage"
      ["from"]=>
      string(19) "2021-01-06 00:00:00"
      ["to"]=>
      string(19) "2021-02-01 01:10:00"
      ["score"]=>
      string(2) "48"
    }
    ["ecotax"]=>
    float(0)
    ["weight"]=>
    float(0)
    ["quantity"]=>
    float(20)
    ["reference"]=>
    string(0) ""
    ["unit_impact"]=>
    string(8) "0.000000"
    ["minimal_quantity"]=>
    int(1)
    ["available_date"]=>
    string(10) "2019-07-09"
    ["date_formatted"]=>
    string(10) "07/09/2019"
    ["id_image"]=>
    int(34662)
    ["list"]=>
    string(7) "'20954'"
  }
  [31345]=>
  array(14) {
    ["attributes_values"]=>
    array(1) {
      [1248]=>
      string(4) "1019"
    }
    ["attributes"]=>
    array(1) {
      [0]=>
      int(20955)
    }
    ["price"]=>
    float(0)
    ["specific_price"]=>
    array(19) {
      ["id_specific_price"]=>
      string(7) "4357939"
      ["id_specific_price_rule"]=>
      string(3) "227"
      ["id_cart"]=>
      string(1) "0"
      ["id_product"]=>
      string(4) "5836"
      ["id_shop"]=>
      string(1) "1"
      ["id_shop_group"]=>
      string(1) "0"
      ["id_currency"]=>
      string(1) "0"
      ["id_country"]=>
      string(1) "0"
      ["id_group"]=>
      string(1) "0"
      ["id_customer"]=>
      string(1) "0"
      ["id_product_attribute"]=>
      string(1) "0"
      ["price"]=>
      string(9) "-1.000000"
      ["from_quantity"]=>
      string(8) "1.000000"
      ["reduction"]=>
      string(8) "0.050000"
      ["reduction_tax"]=>
      string(1) "1"
      ["reduction_type"]=>
      string(10) "percentage"
      ["from"]=>
      string(19) "2021-01-06 00:00:00"
      ["to"]=>
      string(19) "2021-02-01 01:10:00"
      ["score"]=>
      string(2) "48"
    }
    ["ecotax"]=>
    float(0)
    ["weight"]=>
    float(0)
    ["quantity"]=>
    float(13)
    ["reference"]=>
    string(0) ""
    ["unit_impact"]=>
    string(8) "0.000000"
    ["minimal_quantity"]=>
    int(1)
    ["available_date"]=>
    string(10) "2019-07-09"
    ["date_formatted"]=>
    string(10) "07/09/2019"
    ["id_image"]=>
    int(34663)
    ["list"]=>
    string(7) "'20955'"
  }
  [31346]=>
  array(14) {
    ["attributes_values"]=>
    array(1) {
      [1248]=>
      string(4) "1020"
    }
    ["attributes"]=>
    array(1) {
      [0]=>
      int(20956)
    }
    ["price"]=>
    float(0)
    ["specific_price"]=>
    array(19) {
      ["id_specific_price"]=>
      string(7) "4357939"
      ["id_specific_price_rule"]=>
      string(3) "227"
      ["id_cart"]=>
      string(1) "0"
      ["id_product"]=>
      string(4) "5836"
      ["id_shop"]=>
      string(1) "1"
      ["id_shop_group"]=>
      string(1) "0"
      ["id_currency"]=>
      string(1) "0"
      ["id_country"]=>
      string(1) "0"
      ["id_group"]=>
      string(1) "0"
      ["id_customer"]=>
      string(1) "0"
      ["id_product_attribute"]=>
      string(1) "0"
      ["price"]=>
      string(9) "-1.000000"
      ["from_quantity"]=>
      string(8) "1.000000"
      ["reduction"]=>
      string(8) "0.050000"
      ["reduction_tax"]=>
      string(1) "1"
      ["reduction_type"]=>
      string(10) "percentage"
      ["from"]=>
      string(19) "2021-01-06 00:00:00"
      ["to"]=>
      string(19) "2021-02-01 01:10:00"
      ["score"]=>
      string(2) "48"
    }
    ["ecotax"]=>
    float(0)
    ["weight"]=>
    float(0)
    ["quantity"]=>
    float(33)
    ["reference"]=>
    string(0) ""
    ["unit_impact"]=>
    string(8) "0.000000"
    ["minimal_quantity"]=>
    int(1)
    ["available_date"]=>
    string(10) "2019-07-09"
    ["date_formatted"]=>
    string(10) "07/09/2019"
    ["id_image"]=>
    int(34664)
    ["list"]=>
    string(7) "'20956'"
  }
  [31347]=>
  array(14) {
    ["attributes_values"]=>
    array(1) {
      [1248]=>
      string(4) "1023"
    }
    ["attributes"]=>
    array(1) {
      [0]=>
      int(20957)
    }
    ["price"]=>
    float(0)
    ["specific_price"]=>
    array(19) {
      ["id_specific_price"]=>
      string(7) "4357939"
      ["id_specific_price_rule"]=>
      string(3) "227"
      ["id_cart"]=>
      string(1) "0"
      ["id_product"]=>
      string(4) "5836"
      ["id_shop"]=>
      string(1) "1"
      ["id_shop_group"]=>
      string(1) "0"
      ["id_currency"]=>
      string(1) "0"
      ["id_country"]=>
      string(1) "0"
      ["id_group"]=>
      string(1) "0"
      ["id_customer"]=>
      string(1) "0"
      ["id_product_attribute"]=>
      string(1) "0"
      ["price"]=>
      string(9) "-1.000000"
      ["from_quantity"]=>
      string(8) "1.000000"
      ["reduction"]=>
      string(8) "0.050000"
      ["reduction_tax"]=>
      string(1) "1"
      ["reduction_type"]=>
      string(10) "percentage"
      ["from"]=>
      string(19) "2021-01-06 00:00:00"
      ["to"]=>
      string(19) "2021-02-01 01:10:00"
      ["score"]=>
      string(2) "48"
    }
    ["ecotax"]=>
    float(0)
    ["weight"]=>
    float(0)
    ["quantity"]=>
    float(9)
    ["reference"]=>
    string(0) ""
    ["unit_impact"]=>
    string(8) "0.000000"
    ["minimal_quantity"]=>
    int(1)
    ["available_date"]=>
    string(10) "2019-07-09"
    ["date_formatted"]=>
    string(10) "07/09/2019"
    ["id_image"]=>
    int(34665)
    ["list"]=>
    string(7) "'20957'"
  }
  [31348]=>
  array(14) {
    ["attributes_values"]=>
    array(1) {
      [1248]=>
      string(4) "1026"
    }
    ["attributes"]=>
    array(1) {
      [0]=>
      int(20958)
    }
    ["price"]=>
    float(0)
    ["specific_price"]=>
    array(19) {
      ["id_specific_price"]=>
      string(7) "4357939"
      ["id_specific_price_rule"]=>
      string(3) "227"
      ["id_cart"]=>
      string(1) "0"
      ["id_product"]=>
      string(4) "5836"
      ["id_shop"]=>
      string(1) "1"
      ["id_shop_group"]=>
      string(1) "0"
      ["id_currency"]=>
      string(1) "0"
      ["id_country"]=>
      string(1) "0"
      ["id_group"]=>
      string(1) "0"
      ["id_customer"]=>
      string(1) "0"
      ["id_product_attribute"]=>
      string(1) "0"
      ["price"]=>
      string(9) "-1.000000"
      ["from_quantity"]=>
      string(8) "1.000000"
      ["reduction"]=>
      string(8) "0.050000"
      ["reduction_tax"]=>
      string(1) "1"
      ["reduction_type"]=>
      string(10) "percentage"
      ["from"]=>
      string(19) "2021-01-06 00:00:00"
      ["to"]=>
      string(19) "2021-02-01 01:10:00"
      ["score"]=>
      string(2) "48"
    }
    ["ecotax"]=>
    float(0)
    ["weight"]=>
    float(0)
    ["quantity"]=>
    float(28)
    ["reference"]=>
    string(0) ""
    ["unit_impact"]=>
    string(8) "0.000000"
    ["minimal_quantity"]=>
    int(1)
    ["available_date"]=>
    string(10) "2019-07-09"
    ["date_formatted"]=>
    string(10) "07/09/2019"
    ["id_image"]=>
    int(34666)
    ["list"]=>
    string(7) "'20958'"
  }
  [31349]=>
  array(14) {
    ["attributes_values"]=>
    array(1) {
      [1248]=>
      string(4) "1027"
    }
    ["attributes"]=>
    array(1) {
      [0]=>
      int(20959)
    }
    ["price"]=>
    float(0)
    ["specific_price"]=>
    array(19) {
      ["id_specific_price"]=>
      string(7) "4357939"
      ["id_specific_price_rule"]=>
      string(3) "227"
      ["id_cart"]=>
      string(1) "0"
      ["id_product"]=>
      string(4) "5836"
      ["id_shop"]=>
      string(1) "1"
      ["id_shop_group"]=>
      string(1) "0"
      ["id_currency"]=>
      string(1) "0"
      ["id_country"]=>
      string(1) "0"
      ["id_group"]=>
      string(1) "0"
      ["id_customer"]=>
      string(1) "0"
      ["id_product_attribute"]=>
      string(1) "0"
      ["price"]=>
      string(9) "-1.000000"
      ["from_quantity"]=>
      string(8) "1.000000"
      ["reduction"]=>
      string(8) "0.050000"
      ["reduction_tax"]=>
      string(1) "1"
      ["reduction_type"]=>
      string(10) "percentage"
      ["from"]=>
      string(19) "2021-01-06 00:00:00"
      ["to"]=>
      string(19) "2021-02-01 01:10:00"
      ["score"]=>
      string(2) "48"
    }
    ["ecotax"]=>
    float(0)
    ["weight"]=>
    float(0)
    ["quantity"]=>
    float(17)
    ["reference"]=>
    string(0) ""
    ["unit_impact"]=>
    string(8) "0.000000"
    ["minimal_quantity"]=>
    int(1)
    ["available_date"]=>
    string(10) "2019-07-09"
    ["date_formatted"]=>
    string(10) "07/09/2019"
    ["id_image"]=>
    int(34667)
    ["list"]=>
    string(7) "'20959'"
  }
  [31350]=>
  array(14) {
    ["attributes_values"]=>
    array(1) {
      [1248]=>
      string(4) "1029"
    }
    ["attributes"]=>
    array(1) {
      [0]=>
      int(20960)
    }
    ["price"]=>
    float(0)
    ["specific_price"]=>
    array(19) {
      ["id_specific_price"]=>
      string(7) "4357939"
      ["id_specific_price_rule"]=>
      string(3) "227"
      ["id_cart"]=>
      string(1) "0"
      ["id_product"]=>
      string(4) "5836"
      ["id_shop"]=>
      string(1) "1"
      ["id_shop_group"]=>
      string(1) "0"
      ["id_currency"]=>
      string(1) "0"
      ["id_country"]=>
      string(1) "0"
      ["id_group"]=>
      string(1) "0"
      ["id_customer"]=>
      string(1) "0"
      ["id_product_attribute"]=>
      string(1) "0"
      ["price"]=>
      string(9) "-1.000000"
      ["from_quantity"]=>
      string(8) "1.000000"
      ["reduction"]=>
      string(8) "0.050000"
      ["reduction_tax"]=>
      string(1) "1"
      ["reduction_type"]=>
      string(10) "percentage"
      ["from"]=>
      string(19) "2021-01-06 00:00:00"
      ["to"]=>
      string(19) "2021-02-01 01:10:00"
      ["score"]=>
      string(2) "48"
    }
    ["ecotax"]=>
    float(0)
    ["weight"]=>
    float(0)
    ["quantity"]=>
    float(24)
    ["reference"]=>
    string(0) ""
    ["unit_impact"]=>
    string(8) "0.000000"
    ["minimal_quantity"]=>
    int(1)
    ["available_date"]=>
    string(10) "2019-07-09"
    ["date_formatted"]=>
    string(10) "07/09/2019"
    ["id_image"]=>
    int(34668)
    ["list"]=>
    string(7) "'20960'"
  }
  [31351]=>
  array(14) {
    ["attributes_values"]=>
    array(1) {
      [1248]=>
      string(4) "1034"
    }
    ["attributes"]=>
    array(1) {
      [0]=>
      int(20961)
    }
    ["price"]=>
    float(0)
    ["specific_price"]=>
    array(19) {
      ["id_specific_price"]=>
      string(7) "4357939"
      ["id_specific_price_rule"]=>
      string(3) "227"
      ["id_cart"]=>
      string(1) "0"
      ["id_product"]=>
      string(4) "5836"
      ["id_shop"]=>
      string(1) "1"
      ["id_shop_group"]=>
      string(1) "0"
      ["id_currency"]=>
      string(1) "0"
      ["id_country"]=>
      string(1) "0"
      ["id_group"]=>
      string(1) "0"
      ["id_customer"]=>
      string(1) "0"
      ["id_product_attribute"]=>
      string(1) "0"
      ["price"]=>
      string(9) "-1.000000"
      ["from_quantity"]=>
      string(8) "1.000000"
      ["reduction"]=>
      string(8) "0.050000"
      ["reduction_tax"]=>
      string(1) "1"
      ["reduction_type"]=>
      string(10) "percentage"
      ["from"]=>
      string(19) "2021-01-06 00:00:00"
      ["to"]=>
      string(19) "2021-02-01 01:10:00"
      ["score"]=>
      string(2) "48"
    }
    ["ecotax"]=>
    float(0)
    ["weight"]=>
    float(0)
    ["quantity"]=>
    float(22)
    ["reference"]=>
    string(0) ""
    ["unit_impact"]=>
    string(8) "0.000000"
    ["minimal_quantity"]=>
    int(1)
    ["available_date"]=>
    string(10) "2019-07-09"
    ["date_formatted"]=>
    string(10) "07/09/2019"
    ["id_image"]=>
    int(34669)
    ["list"]=>
    string(7) "'20961'"
  }
  [31352]=>
  array(14) {
    ["attributes_values"]=>
    array(1) {
      [1248]=>
      string(4) "1035"
    }
    ["attributes"]=>
    array(1) {
      [0]=>
      int(20962)
    }
    ["price"]=>
    float(0)
    ["specific_price"]=>
    array(19) {
      ["id_specific_price"]=>
      string(7) "4357939"
      ["id_specific_price_rule"]=>
      string(3) "227"
      ["id_cart"]=>
      string(1) "0"
      ["id_product"]=>
      string(4) "5836"
      ["id_shop"]=>
      string(1) "1"
      ["id_shop_group"]=>
      string(1) "0"
      ["id_currency"]=>
      string(1) "0"
      ["id_country"]=>
      string(1) "0"
      ["id_group"]=>
      string(1) "0"
      ["id_customer"]=>
      string(1) "0"
      ["id_product_attribute"]=>
      string(1) "0"
      ["price"]=>
      string(9) "-1.000000"
      ["from_quantity"]=>
      string(8) "1.000000"
      ["reduction"]=>
      string(8) "0.050000"
      ["reduction_tax"]=>
      string(1) "1"
      ["reduction_type"]=>
      string(10) "percentage"
      ["from"]=>
      string(19) "2021-01-06 00:00:00"
      ["to"]=>
      string(19) "2021-02-01 01:10:00"
      ["score"]=>
      string(2) "48"
    }
    ["ecotax"]=>
    float(0)
    ["weight"]=>
    float(0)
    ["quantity"]=>
    float(12)
    ["reference"]=>
    string(0) ""
    ["unit_impact"]=>
    string(8) "0.000000"
    ["minimal_quantity"]=>
    int(1)
    ["available_date"]=>
    string(10) "2019-07-09"
    ["date_formatted"]=>
    string(10) "07/09/2019"
    ["id_image"]=>
    int(34670)
    ["list"]=>
    string(7) "'20962'"
  }
  [31353]=>
  array(14) {
    ["attributes_values"]=>
    array(1) {
      [1248]=>
      string(4) "1054"
    }
    ["attributes"]=>
    array(1) {
      [0]=>
      int(20963)
    }
    ["price"]=>
    float(0)
    ["specific_price"]=>
    array(19) {
      ["id_specific_price"]=>
      string(7) "4357939"
      ["id_specific_price_rule"]=>
      string(3) "227"
      ["id_cart"]=>
      string(1) "0"
      ["id_product"]=>
      string(4) "5836"
      ["id_shop"]=>
      string(1) "1"
      ["id_shop_group"]=>
      string(1) "0"
      ["id_currency"]=>
      string(1) "0"
      ["id_country"]=>
      string(1) "0"
      ["id_group"]=>
      string(1) "0"
      ["id_customer"]=>
      string(1) "0"
      ["id_product_attribute"]=>
      string(1) "0"
      ["price"]=>
      string(9) "-1.000000"
      ["from_quantity"]=>
      string(8) "1.000000"
      ["reduction"]=>
      string(8) "0.050000"
      ["reduction_tax"]=>
      string(1) "1"
      ["reduction_type"]=>
      string(10) "percentage"
      ["from"]=>
      string(19) "2021-01-06 00:00:00"
      ["to"]=>
      string(19) "2021-02-01 01:10:00"
      ["score"]=>
      string(2) "48"
    }
    ["ecotax"]=>
    float(0)
    ["weight"]=>
    float(0)
    ["quantity"]=>
    float(24)
    ["reference"]=>
    string(0) ""
    ["unit_impact"]=>
    string(8) "0.000000"
    ["minimal_quantity"]=>
    int(1)
    ["available_date"]=>
    string(10) "2019-07-09"
    ["date_formatted"]=>
    string(10) "07/09/2019"
    ["id_image"]=>
    int(34671)
    ["list"]=>
    string(7) "'20963'"
  }
  [31354]=>
  array(14) {
    ["attributes_values"]=>
    array(1) {
      [1248]=>
      string(4) "1061"
    }
    ["attributes"]=>
    array(1) {
      [0]=>
      int(20964)
    }
    ["price"]=>
    float(0)
    ["specific_price"]=>
    array(19) {
      ["id_specific_price"]=>
      string(7) "4357939"
      ["id_specific_price_rule"]=>
      string(3) "227"
      ["id_cart"]=>
      string(1) "0"
      ["id_product"]=>
      string(4) "5836"
      ["id_shop"]=>
      string(1) "1"
      ["id_shop_group"]=>
      string(1) "0"
      ["id_currency"]=>
      string(1) "0"
      ["id_country"]=>
      string(1) "0"
      ["id_group"]=>
      string(1) "0"
      ["id_customer"]=>
      string(1) "0"
      ["id_product_attribute"]=>
      string(1) "0"
      ["price"]=>
      string(9) "-1.000000"
      ["from_quantity"]=>
      string(8) "1.000000"
      ["reduction"]=>
      string(8) "0.050000"
      ["reduction_tax"]=>
      string(1) "1"
      ["reduction_type"]=>
      string(10) "percentage"
      ["from"]=>
      string(19) "2021-01-06 00:00:00"
      ["to"]=>
      string(19) "2021-02-01 01:10:00"
      ["score"]=>
      string(2) "48"
    }
    ["ecotax"]=>
    float(0)
    ["weight"]=>
    float(0)
    ["quantity"]=>
    float(15)
    ["reference"]=>
    string(0) ""
    ["unit_impact"]=>
    string(8) "0.000000"
    ["minimal_quantity"]=>
    int(1)
    ["available_date"]=>
    string(10) "2019-07-09"
    ["date_formatted"]=>
    string(10) "07/09/2019"
    ["id_image"]=>
    int(34672)
    ["list"]=>
    string(7) "'20964'"
  }
  [31355]=>
  array(14) {
    ["attributes_values"]=>
    array(1) {
      [1248]=>
      string(4) "1062"
    }
    ["attributes"]=>
    array(1) {
      [0]=>
      int(20965)
    }
    ["price"]=>
    float(0)
    ["specific_price"]=>
    array(19) {
      ["id_specific_price"]=>
      string(7) "4357939"
      ["id_specific_price_rule"]=>
      string(3) "227"
      ["id_cart"]=>
      string(1) "0"
      ["id_product"]=>
      string(4) "5836"
      ["id_shop"]=>
      string(1) "1"
      ["id_shop_group"]=>
      string(1) "0"
      ["id_currency"]=>
      string(1) "0"
      ["id_country"]=>
      string(1) "0"
      ["id_group"]=>
      string(1) "0"
      ["id_customer"]=>
      string(1) "0"
      ["id_product_attribute"]=>
      string(1) "0"
      ["price"]=>
      string(9) "-1.000000"
      ["from_quantity"]=>
      string(8) "1.000000"
      ["reduction"]=>
      string(8) "0.050000"
      ["reduction_tax"]=>
      string(1) "1"
      ["reduction_type"]=>
      string(10) "percentage"
      ["from"]=>
      string(19) "2021-01-06 00:00:00"
      ["to"]=>
      string(19) "2021-02-01 01:10:00"
      ["score"]=>
      string(2) "48"
    }
    ["ecotax"]=>
    float(0)
    ["weight"]=>
    float(0)
    ["quantity"]=>
    float(20)
    ["reference"]=>
    string(0) ""
    ["unit_impact"]=>
    string(8) "0.000000"
    ["minimal_quantity"]=>
    int(1)
    ["available_date"]=>
    string(10) "2019-07-09"
    ["date_formatted"]=>
    string(10) "07/09/2019"
    ["id_image"]=>
    int(34673)
    ["list"]=>
    string(7) "'20965'"
  }
  [31356]=>
  array(14) {
    ["attributes_values"]=>
    array(1) {
      [1248]=>
      string(4) "1063"
    }
    ["attributes"]=>
    array(1) {
      [0]=>
      int(20966)
    }
    ["price"]=>
    float(0)
    ["specific_price"]=>
    array(19) {
      ["id_specific_price"]=>
      string(7) "4357939"
      ["id_specific_price_rule"]=>
      string(3) "227"
      ["id_cart"]=>
      string(1) "0"
      ["id_product"]=>
      string(4) "5836"
      ["id_shop"]=>
      string(1) "1"
      ["id_shop_group"]=>
      string(1) "0"
      ["id_currency"]=>
      string(1) "0"
      ["id_country"]=>
      string(1) "0"
      ["id_group"]=>
      string(1) "0"
      ["id_customer"]=>
      string(1) "0"
      ["id_product_attribute"]=>
      string(1) "0"
      ["price"]=>
      string(9) "-1.000000"
      ["from_quantity"]=>
      string(8) "1.000000"
      ["reduction"]=>
      string(8) "0.050000"
      ["reduction_tax"]=>
      string(1) "1"
      ["reduction_type"]=>
      string(10) "percentage"
      ["from"]=>
      string(19) "2021-01-06 00:00:00"
      ["to"]=>
      string(19) "2021-02-01 01:10:00"
      ["score"]=>
      string(2) "48"
    }
    ["ecotax"]=>
    float(0)
    ["weight"]=>
    float(0)
    ["quantity"]=>
    float(8)
    ["reference"]=>
    string(0) ""
    ["unit_impact"]=>
    string(8) "0.000000"
    ["minimal_quantity"]=>
    int(1)
    ["available_date"]=>
    string(10) "2019-07-09"
    ["date_formatted"]=>
    string(10) "07/09/2019"
    ["id_image"]=>
    int(34674)
    ["list"]=>
    string(7) "'20966'"
  }
  [31357]=>
  array(14) {
    ["attributes_values"]=>
    array(1) {
      [1248]=>
      string(4) "1064"
    }
    ["attributes"]=>
    array(1) {
      [0]=>
      int(20967)
    }
    ["price"]=>
    float(0)
    ["specific_price"]=>
    array(19) {
      ["id_specific_price"]=>
      string(7) "4357939"
      ["id_specific_price_rule"]=>
      string(3) "227"
      ["id_cart"]=>
      string(1) "0"
      ["id_product"]=>
      string(4) "5836"
      ["id_shop"]=>
      string(1) "1"
      ["id_shop_group"]=>
      string(1) "0"
      ["id_currency"]=>
      string(1) "0"
      ["id_country"]=>
      string(1) "0"
      ["id_group"]=>
      string(1) "0"
      ["id_customer"]=>
      string(1) "0"
      ["id_product_attribute"]=>
      string(1) "0"
      ["price"]=>
      string(9) "-1.000000"
      ["from_quantity"]=>
      string(8) "1.000000"
      ["reduction"]=>
      string(8) "0.050000"
      ["reduction_tax"]=>
      string(1) "1"
      ["reduction_type"]=>
      string(10) "percentage"
      ["from"]=>
      string(19) "2021-01-06 00:00:00"
      ["to"]=>
      string(19) "2021-02-01 01:10:00"
      ["score"]=>
      string(2) "48"
    }
    ["ecotax"]=>
    float(0)
    ["weight"]=>
    float(0)
    ["quantity"]=>
    float(29)
    ["reference"]=>
    string(0) ""
    ["unit_impact"]=>
    string(8) "0.000000"
    ["minimal_quantity"]=>
    int(1)
    ["available_date"]=>
    string(10) "2019-07-09"
    ["date_formatted"]=>
    string(10) "07/09/2019"
    ["id_image"]=>
    int(34675)
    ["list"]=>
    string(7) "'20967'"
  }
  [31358]=>
  array(14) {
    ["attributes_values"]=>
    array(1) {
      [1248]=>
      string(4) "1065"
    }
    ["attributes"]=>
    array(1) {
      [0]=>
      int(20968)
    }
    ["price"]=>
    float(0)
    ["specific_price"]=>
    array(19) {
      ["id_specific_price"]=>
      string(7) "4357939"
      ["id_specific_price_rule"]=>
      string(3) "227"
      ["id_cart"]=>
      string(1) "0"
      ["id_product"]=>
      string(4) "5836"
      ["id_shop"]=>
      string(1) "1"
      ["id_shop_group"]=>
      string(1) "0"
      ["id_currency"]=>
      string(1) "0"
      ["id_country"]=>
      string(1) "0"
      ["id_group"]=>
      string(1) "0"
      ["id_customer"]=>
      string(1) "0"
      ["id_product_attribute"]=>
      string(1) "0"
      ["price"]=>
      string(9) "-1.000000"
      ["from_quantity"]=>
      string(8) "1.000000"
      ["reduction"]=>
      string(8) "0.050000"
      ["reduction_tax"]=>
      string(1) "1"
      ["reduction_type"]=>
      string(10) "percentage"
      ["from"]=>
      string(19) "2021-01-06 00:00:00"
      ["to"]=>
      string(19) "2021-02-01 01:10:00"
      ["score"]=>
      string(2) "48"
    }
    ["ecotax"]=>
    float(0)
    ["weight"]=>
    float(0)
    ["quantity"]=>
    float(31)
    ["reference"]=>
    string(0) ""
    ["unit_impact"]=>
    string(8) "0.000000"
    ["minimal_quantity"]=>
    int(1)
    ["available_date"]=>
    string(10) "2019-07-09"
    ["date_formatted"]=>
    string(10) "07/09/2019"
    ["id_image"]=>
    int(34676)
    ["list"]=>
    string(7) "'20968'"
  }
  [31359]=>
  array(14) {
    ["attributes_values"]=>
    array(1) {
      [1248]=>
      string(4) "1067"
    }
    ["attributes"]=>
    array(1) {
      [0]=>
      int(20969)
    }
    ["price"]=>
    float(0)
    ["specific_price"]=>
    array(19) {
      ["id_specific_price"]=>
      string(7) "4357939"
      ["id_specific_price_rule"]=>
      string(3) "227"
      ["id_cart"]=>
      string(1) "0"
      ["id_product"]=>
      string(4) "5836"
      ["id_shop"]=>
      string(1) "1"
      ["id_shop_group"]=>
      string(1) "0"
      ["id_currency"]=>
      string(1) "0"
      ["id_country"]=>
      string(1) "0"
      ["id_group"]=>
      string(1) "0"
      ["id_customer"]=>
      string(1) "0"
      ["id_product_attribute"]=>
      string(1) "0"
      ["price"]=>
      string(9) "-1.000000"
      ["from_quantity"]=>
      string(8) "1.000000"
      ["reduction"]=>
      string(8) "0.050000"
      ["reduction_tax"]=>
      string(1) "1"
      ["reduction_type"]=>
      string(10) "percentage"
      ["from"]=>
      string(19) "2021-01-06 00:00:00"
      ["to"]=>
      string(19) "2021-02-01 01:10:00"
      ["score"]=>
      string(2) "48"
    }
    ["ecotax"]=>
    float(0)
    ["weight"]=>
    float(0)
    ["quantity"]=>
    float(11)
    ["reference"]=>
    string(0) ""
    ["unit_impact"]=>
    string(8) "0.000000"
    ["minimal_quantity"]=>
    int(1)
    ["available_date"]=>
    string(10) "2019-07-09"
    ["date_formatted"]=>
    string(10) "07/09/2019"
    ["id_image"]=>
    int(34677)
    ["list"]=>
    string(7) "'20969'"
  }
  [31360]=>
  array(14) {
    ["attributes_values"]=>
    array(1) {
      [1248]=>
      string(4) "1068"
    }
    ["attributes"]=>
    array(1) {
      [0]=>
      int(20970)
    }
    ["price"]=>
    float(0)
    ["specific_price"]=>
    array(19) {
      ["id_specific_price"]=>
      string(7) "4357939"
      ["id_specific_price_rule"]=>
      string(3) "227"
      ["id_cart"]=>
      string(1) "0"
      ["id_product"]=>
      string(4) "5836"
      ["id_shop"]=>
      string(1) "1"
      ["id_shop_group"]=>
      string(1) "0"
      ["id_currency"]=>
      string(1) "0"
      ["id_country"]=>
      string(1) "0"
      ["id_group"]=>
      string(1) "0"
      ["id_customer"]=>
      string(1) "0"
      ["id_product_attribute"]=>
      string(1) "0"
      ["price"]=>
      string(9) "-1.000000"
      ["from_quantity"]=>
      string(8) "1.000000"
      ["reduction"]=>
      string(8) "0.050000"
      ["reduction_tax"]=>
      string(1) "1"
      ["reduction_type"]=>
      string(10) "percentage"
      ["from"]=>
      string(19) "2021-01-06 00:00:00"
      ["to"]=>
      string(19) "2021-02-01 01:10:00"
      ["score"]=>
      string(2) "48"
    }
    ["ecotax"]=>
    float(0)
    ["weight"]=>
    float(0)
    ["quantity"]=>
    float(14)
    ["reference"]=>
    string(0) ""
    ["unit_impact"]=>
    string(8) "0.000000"
    ["minimal_quantity"]=>
    int(1)
    ["available_date"]=>
    string(10) "2019-07-09"
    ["date_formatted"]=>
    string(10) "07/09/2019"
    ["id_image"]=>
    int(34678)
    ["list"]=>
    string(7) "'20970'"
  }
  [31361]=>
  array(14) {
    ["attributes_values"]=>
    array(1) {
      [1248]=>
      string(4) "1080"
    }
    ["attributes"]=>
    array(1) {
      [0]=>
      int(20971)
    }
    ["price"]=>
    float(0)
    ["specific_price"]=>
    array(19) {
      ["id_specific_price"]=>
      string(7) "4357939"
      ["id_specific_price_rule"]=>
      string(3) "227"
      ["id_cart"]=>
      string(1) "0"
      ["id_product"]=>
      string(4) "5836"
      ["id_shop"]=>
      string(1) "1"
      ["id_shop_group"]=>
      string(1) "0"
      ["id_currency"]=>
      string(1) "0"
      ["id_country"]=>
      string(1) "0"
      ["id_group"]=>
      string(1) "0"
      ["id_customer"]=>
      string(1) "0"
      ["id_product_attribute"]=>
      string(1) "0"
      ["price"]=>
      string(9) "-1.000000"
      ["from_quantity"]=>
      string(8) "1.000000"
      ["reduction"]=>
      string(8) "0.050000"
      ["reduction_tax"]=>
      string(1) "1"
      ["reduction_type"]=>
      string(10) "percentage"
      ["from"]=>
      string(19) "2021-01-06 00:00:00"
      ["to"]=>
      string(19) "2021-02-01 01:10:00"
      ["score"]=>
      string(2) "48"
    }
    ["ecotax"]=>
    float(0)
    ["weight"]=>
    float(0)
    ["quantity"]=>
    float(26)
    ["reference"]=>
    string(0) ""
    ["unit_impact"]=>
    string(8) "0.000000"
    ["minimal_quantity"]=>
    int(1)
    ["available_date"]=>
    string(10) "2019-07-09"
    ["date_formatted"]=>
    string(10) "07/09/2019"
    ["id_image"]=>
    int(34679)
    ["list"]=>
    string(7) "'20971'"
  }
  [31362]=>
  array(14) {
    ["attributes_values"]=>
    array(1) {
      [1248]=>
      string(4) "1081"
    }
    ["attributes"]=>
    array(1) {
      [0]=>
      int(20972)
    }
    ["price"]=>
    float(0)
    ["specific_price"]=>
    array(19) {
      ["id_specific_price"]=>
      string(7) "4357939"
      ["id_specific_price_rule"]=>
      string(3) "227"
      ["id_cart"]=>
      string(1) "0"
      ["id_product"]=>
      string(4) "5836"
      ["id_shop"]=>
      string(1) "1"
      ["id_shop_group"]=>
      string(1) "0"
      ["id_currency"]=>
      string(1) "0"
      ["id_country"]=>
      string(1) "0"
      ["id_group"]=>
      string(1) "0"
      ["id_customer"]=>
      string(1) "0"
      ["id_product_attribute"]=>
      string(1) "0"
      ["price"]=>
      string(9) "-1.000000"
      ["from_quantity"]=>
      string(8) "1.000000"
      ["reduction"]=>
      string(8) "0.050000"
      ["reduction_tax"]=>
      string(1) "1"
      ["reduction_type"]=>
      string(10) "percentage"
      ["from"]=>
      string(19) "2021-01-06 00:00:00"
      ["to"]=>
      string(19) "2021-02-01 01:10:00"
      ["score"]=>
      string(2) "48"
    }
    ["ecotax"]=>
    float(0)
    ["weight"]=>
    float(0)
    ["quantity"]=>
    float(13)
    ["reference"]=>
    string(0) ""
    ["unit_impact"]=>
    string(8) "0.000000"
    ["minimal_quantity"]=>
    int(1)
    ["available_date"]=>
    string(10) "2019-07-09"
    ["date_formatted"]=>
    string(10) "07/09/2019"
    ["id_image"]=>
    int(34680)
    ["list"]=>
    string(7) "'20972'"
  }
  [31363]=>
  array(14) {
    ["attributes_values"]=>
    array(1) {
      [1248]=>
      string(4) "1082"
    }
    ["attributes"]=>
    array(1) {
      [0]=>
      int(20973)
    }
    ["price"]=>
    float(0)
    ["specific_price"]=>
    array(19) {
      ["id_specific_price"]=>
      string(7) "4357939"
      ["id_specific_price_rule"]=>
      string(3) "227"
      ["id_cart"]=>
      string(1) "0"
      ["id_product"]=>
      string(4) "5836"
      ["id_shop"]=>
      string(1) "1"
      ["id_shop_group"]=>
      string(1) "0"
      ["id_currency"]=>
      string(1) "0"
      ["id_country"]=>
      string(1) "0"
      ["id_group"]=>
      string(1) "0"
      ["id_customer"]=>
      string(1) "0"
      ["id_product_attribute"]=>
      string(1) "0"
      ["price"]=>
      string(9) "-1.000000"
      ["from_quantity"]=>
      string(8) "1.000000"
      ["reduction"]=>
      string(8) "0.050000"
      ["reduction_tax"]=>
      string(1) "1"
      ["reduction_type"]=>
      string(10) "percentage"
      ["from"]=>
      string(19) "2021-01-06 00:00:00"
      ["to"]=>
      string(19) "2021-02-01 01:10:00"
      ["score"]=>
      string(2) "48"
    }
    ["ecotax"]=>
    float(0)
    ["weight"]=>
    float(0)
    ["quantity"]=>
    float(27)
    ["reference"]=>
    string(0) ""
    ["unit_impact"]=>
    string(8) "0.000000"
    ["minimal_quantity"]=>
    int(1)
    ["available_date"]=>
    string(10) "2019-07-09"
    ["date_formatted"]=>
    string(10) "07/09/2019"
    ["id_image"]=>
    int(34681)
    ["list"]=>
    string(7) "'20973'"
  }
  [31364]=>
  array(14) {
    ["attributes_values"]=>
    array(1) {
      [1248]=>
      string(4) "1083"
    }
    ["attributes"]=>
    array(1) {
      [0]=>
      int(20974)
    }
    ["price"]=>
    float(0)
    ["specific_price"]=>
    array(19) {
      ["id_specific_price"]=>
      string(7) "4357939"
      ["id_specific_price_rule"]=>
      string(3) "227"
      ["id_cart"]=>
      string(1) "0"
      ["id_product"]=>
      string(4) "5836"
      ["id_shop"]=>
      string(1) "1"
      ["id_shop_group"]=>
      string(1) "0"
      ["id_currency"]=>
      string(1) "0"
      ["id_country"]=>
      string(1) "0"
      ["id_group"]=>
      string(1) "0"
      ["id_customer"]=>
      string(1) "0"
      ["id_product_attribute"]=>
      string(1) "0"
      ["price"]=>
      string(9) "-1.000000"
      ["from_quantity"]=>
      string(8) "1.000000"
      ["reduction"]=>
      string(8) "0.050000"
      ["reduction_tax"]=>
      string(1) "1"
      ["reduction_type"]=>
      string(10) "percentage"
      ["from"]=>
      string(19) "2021-01-06 00:00:00"
      ["to"]=>
      string(19) "2021-02-01 01:10:00"
      ["score"]=>
      string(2) "48"
    }
    ["ecotax"]=>
    float(0)
    ["weight"]=>
    float(0)
    ["quantity"]=>
    float(15)
    ["reference"]=>
    string(0) ""
    ["unit_impact"]=>
    string(8) "0.000000"
    ["minimal_quantity"]=>
    int(1)
    ["available_date"]=>
    string(10) "2019-07-09"
    ["date_formatted"]=>
    string(10) "07/09/2019"
    ["id_image"]=>
    int(34682)
    ["list"]=>
    string(7) "'20974'"
  }
  [31365]=>
  array(14) {
    ["attributes_values"]=>
    array(1) {
      [1248]=>
      string(4) "1084"
    }
    ["attributes"]=>
    array(1) {
      [0]=>
      int(20975)
    }
    ["price"]=>
    float(0)
    ["specific_price"]=>
    array(19) {
      ["id_specific_price"]=>
      string(7) "4357939"
      ["id_specific_price_rule"]=>
      string(3) "227"
      ["id_cart"]=>
      string(1) "0"
      ["id_product"]=>
      string(4) "5836"
      ["id_shop"]=>
      string(1) "1"
      ["id_shop_group"]=>
      string(1) "0"
      ["id_currency"]=>
      string(1) "0"
      ["id_country"]=>
      string(1) "0"
      ["id_group"]=>
      string(1) "0"
      ["id_customer"]=>
      string(1) "0"
      ["id_product_attribute"]=>
      string(1) "0"
      ["price"]=>
      string(9) "-1.000000"
      ["from_quantity"]=>
      string(8) "1.000000"
      ["reduction"]=>
      string(8) "0.050000"
      ["reduction_tax"]=>
      string(1) "1"
      ["reduction_type"]=>
      string(10) "percentage"
      ["from"]=>
      string(19) "2021-01-06 00:00:00"
      ["to"]=>
      string(19) "2021-02-01 01:10:00"
      ["score"]=>
      string(2) "48"
    }
    ["ecotax"]=>
    float(0)
    ["weight"]=>
    float(0)
    ["quantity"]=>
    float(12)
    ["reference"]=>
    string(0) ""
    ["unit_impact"]=>
    string(8) "0.000000"
    ["minimal_quantity"]=>
    int(1)
    ["available_date"]=>
    string(10) "2019-07-09"
    ["date_formatted"]=>
    string(10) "07/09/2019"
    ["id_image"]=>
    int(34683)
    ["list"]=>
    string(7) "'20975'"
  }
  [31366]=>
  array(14) {
    ["attributes_values"]=>
    array(1) {
      [1248]=>
      string(4) "1099"
    }
    ["attributes"]=>
    array(1) {
      [0]=>
      int(20976)
    }
    ["price"]=>
    float(0)
    ["specific_price"]=>
    array(19) {
      ["id_specific_price"]=>
      string(7) "4357939"
      ["id_specific_price_rule"]=>
      string(3) "227"
      ["id_cart"]=>
      string(1) "0"
      ["id_product"]=>
      string(4) "5836"
      ["id_shop"]=>
      string(1) "1"
      ["id_shop_group"]=>
      string(1) "0"
      ["id_currency"]=>
      string(1) "0"
      ["id_country"]=>
      string(1) "0"
      ["id_group"]=>
      string(1) "0"
      ["id_customer"]=>
      string(1) "0"
      ["id_product_attribute"]=>
      string(1) "0"
      ["price"]=>
      string(9) "-1.000000"
      ["from_quantity"]=>
      string(8) "1.000000"
      ["reduction"]=>
      string(8) "0.050000"
      ["reduction_tax"]=>
      string(1) "1"
      ["reduction_type"]=>
      string(10) "percentage"
      ["from"]=>
      string(19) "2021-01-06 00:00:00"
      ["to"]=>
      string(19) "2021-02-01 01:10:00"
      ["score"]=>
      string(2) "48"
    }
    ["ecotax"]=>
    float(0)
    ["weight"]=>
    float(0)
    ["quantity"]=>
    float(25)
    ["reference"]=>
    string(0) ""
    ["unit_impact"]=>
    string(8) "0.000000"
    ["minimal_quantity"]=>
    int(1)
    ["available_date"]=>
    string(10) "2019-07-09"
    ["date_formatted"]=>
    string(10) "07/09/2019"
    ["id_image"]=>
    int(34684)
    ["list"]=>
    string(7) "'20976'"
  }
  [31367]=>
  array(14) {
    ["attributes_values"]=>
    array(1) {
      [1248]=>
      string(4) "1114"
    }
    ["attributes"]=>
    array(1) {
      [0]=>
      int(20977)
    }
    ["price"]=>
    float(0)
    ["specific_price"]=>
    array(19) {
      ["id_specific_price"]=>
      string(7) "4357939"
      ["id_specific_price_rule"]=>
      string(3) "227"
      ["id_cart"]=>
      string(1) "0"
      ["id_product"]=>
      string(4) "5836"
      ["id_shop"]=>
      string(1) "1"
      ["id_shop_group"]=>
      string(1) "0"
      ["id_currency"]=>
      string(1) "0"
      ["id_country"]=>
      string(1) "0"
      ["id_group"]=>
      string(1) "0"
      ["id_customer"]=>
      string(1) "0"
      ["id_product_attribute"]=>
      string(1) "0"
      ["price"]=>
      string(9) "-1.000000"
      ["from_quantity"]=>
      string(8) "1.000000"
      ["reduction"]=>
      string(8) "0.050000"
      ["reduction_tax"]=>
      string(1) "1"
      ["reduction_type"]=>
      string(10) "percentage"
      ["from"]=>
      string(19) "2021-01-06 00:00:00"
      ["to"]=>
      string(19) "2021-02-01 01:10:00"
      ["score"]=>
      string(2) "48"
    }
    ["ecotax"]=>
    float(0)
    ["weight"]=>
    float(0)
    ["quantity"]=>
    float(7)
    ["reference"]=>
    string(0) ""
    ["unit_impact"]=>
    string(8) "0.000000"
    ["minimal_quantity"]=>
    int(1)
    ["available_date"]=>
    string(10) "2019-07-09"
    ["date_formatted"]=>
    string(10) "07/09/2019"
    ["id_image"]=>
    int(34685)
    ["list"]=>
    string(7) "'20977'"
  }
  [31368]=>
  array(14) {
    ["attributes_values"]=>
    array(1) {
      [1248]=>
      string(4) "1116"
    }
    ["attributes"]=>
    array(1) {
      [0]=>
      int(20978)
    }
    ["price"]=>
    float(0)
    ["specific_price"]=>
    array(19) {
      ["id_specific_price"]=>
      string(7) "4357939"
      ["id_specific_price_rule"]=>
      string(3) "227"
      ["id_cart"]=>
      string(1) "0"
      ["id_product"]=>
      string(4) "5836"
      ["id_shop"]=>
      string(1) "1"
      ["id_shop_group"]=>
      string(1) "0"
      ["id_currency"]=>
      string(1) "0"
      ["id_country"]=>
      string(1) "0"
      ["id_group"]=>
      string(1) "0"
      ["id_customer"]=>
      string(1) "0"
      ["id_product_attribute"]=>
      string(1) "0"
      ["price"]=>
      string(9) "-1.000000"
      ["from_quantity"]=>
      string(8) "1.000000"
      ["reduction"]=>
      string(8) "0.050000"
      ["reduction_tax"]=>
      string(1) "1"
      ["reduction_type"]=>
      string(10) "percentage"
      ["from"]=>
      string(19) "2021-01-06 00:00:00"
      ["to"]=>
      string(19) "2021-02-01 01:10:00"
      ["score"]=>
      string(2) "48"
    }
    ["ecotax"]=>
    float(0)
    ["weight"]=>
    float(0)
    ["quantity"]=>
    float(25)
    ["reference"]=>
    string(0) ""
    ["unit_impact"]=>
    string(8) "0.000000"
    ["minimal_quantity"]=>
    int(1)
    ["available_date"]=>
    string(10) "2019-07-09"
    ["date_formatted"]=>
    string(10) "07/09/2019"
    ["id_image"]=>
    int(34686)
    ["list"]=>
    string(7) "'20978'"
  }
  [31369]=>
  array(14) {
    ["attributes_values"]=>
    array(1) {
      [1248]=>
      string(4) "1117"
    }
    ["attributes"]=>
    array(1) {
      [0]=>
      int(20979)
    }
    ["price"]=>
    float(0)
    ["specific_price"]=>
    array(19) {
      ["id_specific_price"]=>
      string(7) "4357939"
      ["id_specific_price_rule"]=>
      string(3) "227"
      ["id_cart"]=>
      string(1) "0"
      ["id_product"]=>
      string(4) "5836"
      ["id_shop"]=>
      string(1) "1"
      ["id_shop_group"]=>
      string(1) "0"
      ["id_currency"]=>
      string(1) "0"
      ["id_country"]=>
      string(1) "0"
      ["id_group"]=>
      string(1) "0"
      ["id_customer"]=>
      string(1) "0"
      ["id_product_attribute"]=>
      string(1) "0"
      ["price"]=>
      string(9) "-1.000000"
      ["from_quantity"]=>
      string(8) "1.000000"
      ["reduction"]=>
      string(8) "0.050000"
      ["reduction_tax"]=>
      string(1) "1"
      ["reduction_type"]=>
      string(10) "percentage"
      ["from"]=>
      string(19) "2021-01-06 00:00:00"
      ["to"]=>
      string(19) "2021-02-01 01:10:00"
      ["score"]=>
      string(2) "48"
    }
    ["ecotax"]=>
    float(0)
    ["weight"]=>
    float(0)
    ["quantity"]=>
    float(4)
    ["reference"]=>
    string(0) ""
    ["unit_impact"]=>
    string(8) "0.000000"
    ["minimal_quantity"]=>
    int(1)
    ["available_date"]=>
    string(10) "2019-07-09"
    ["date_formatted"]=>
    string(10) "07/09/2019"
    ["id_image"]=>
    int(34687)
    ["list"]=>
    string(7) "'20979'"
  }
  [31370]=>
  array(14) {
    ["attributes_values"]=>
    array(1) {
      [1248]=>
      string(4) "1123"
    }
    ["attributes"]=>
    array(1) {
      [0]=>
      int(20980)
    }
    ["price"]=>
    float(0)
    ["specific_price"]=>
    array(19) {
      ["id_specific_price"]=>
      string(7) "4357939"
      ["id_specific_price_rule"]=>
      string(3) "227"
      ["id_cart"]=>
      string(1) "0"
      ["id_product"]=>
      string(4) "5836"
      ["id_shop"]=>
      string(1) "1"
      ["id_shop_group"]=>
      string(1) "0"
      ["id_currency"]=>
      string(1) "0"
      ["id_country"]=>
      string(1) "0"
      ["id_group"]=>
      string(1) "0"
      ["id_customer"]=>
      string(1) "0"
      ["id_product_attribute"]=>
      string(1) "0"
      ["price"]=>
      string(9) "-1.000000"
      ["from_quantity"]=>
      string(8) "1.000000"
      ["reduction"]=>
      string(8) "0.050000"
      ["reduction_tax"]=>
      string(1) "1"
      ["reduction_type"]=>
      string(10) "percentage"
      ["from"]=>
      string(19) "2021-01-06 00:00:00"
      ["to"]=>
      string(19) "2021-02-01 01:10:00"
      ["score"]=>
      string(2) "48"
    }
    ["ecotax"]=>
    float(0)
    ["weight"]=>
    float(0)
    ["quantity"]=>
    float(20)
    ["reference"]=>
    string(0) ""
    ["unit_impact"]=>
    string(8) "0.000000"
    ["minimal_quantity"]=>
    int(1)
    ["available_date"]=>
    string(10) "2019-07-09"
    ["date_formatted"]=>
    string(10) "07/09/2019"
    ["id_image"]=>
    int(34688)
    ["list"]=>
    string(7) "'20980'"
  }
  [31371]=>
  array(14) {
    ["attributes_values"]=>
    array(1) {
      [1248]=>
      string(4) "1130"
    }
    ["attributes"]=>
    array(1) {
      [0]=>
      int(20981)
    }
    ["price"]=>
    float(0)
    ["specific_price"]=>
    array(19) {
      ["id_specific_price"]=>
      string(7) "4357939"
      ["id_specific_price_rule"]=>
      string(3) "227"
      ["id_cart"]=>
      string(1) "0"
      ["id_product"]=>
      string(4) "5836"
      ["id_shop"]=>
      string(1) "1"
      ["id_shop_group"]=>
      string(1) "0"
      ["id_currency"]=>
      string(1) "0"
      ["id_country"]=>
      string(1) "0"
      ["id_group"]=>
      string(1) "0"
      ["id_customer"]=>
      string(1) "0"
      ["id_product_attribute"]=>
      string(1) "0"
      ["price"]=>
      string(9) "-1.000000"
      ["from_quantity"]=>
      string(8) "1.000000"
      ["reduction"]=>
      string(8) "0.050000"
      ["reduction_tax"]=>
      string(1) "1"
      ["reduction_type"]=>
      string(10) "percentage"
      ["from"]=>
      string(19) "2021-01-06 00:00:00"
      ["to"]=>
      string(19) "2021-02-01 01:10:00"
      ["score"]=>
      string(2) "48"
    }
    ["ecotax"]=>
    float(0)
    ["weight"]=>
    float(0)
    ["quantity"]=>
    float(18)
    ["reference"]=>
    string(0) ""
    ["unit_impact"]=>
    string(8) "0.000000"
    ["minimal_quantity"]=>
    int(1)
    ["available_date"]=>
    string(10) "2019-07-09"
    ["date_formatted"]=>
    string(10) "07/09/2019"
    ["id_image"]=>
    int(34689)
    ["list"]=>
    string(7) "'20981'"
  }
  [31372]=>
  array(14) {
    ["attributes_values"]=>
    array(1) {
      [1248]=>
      string(4) "1132"
    }
    ["attributes"]=>
    array(1) {
      [0]=>
      int(20982)
    }
    ["price"]=>
    float(0)
    ["specific_price"]=>
    array(19) {
      ["id_specific_price"]=>
      string(7) "4357939"
      ["id_specific_price_rule"]=>
      string(3) "227"
      ["id_cart"]=>
      string(1) "0"
      ["id_product"]=>
      string(4) "5836"
      ["id_shop"]=>
      string(1) "1"
      ["id_shop_group"]=>
      string(1) "0"
      ["id_currency"]=>
      string(1) "0"
      ["id_country"]=>
      string(1) "0"
      ["id_group"]=>
      string(1) "0"
      ["id_customer"]=>
      string(1) "0"
      ["id_product_attribute"]=>
      string(1) "0"
      ["price"]=>
      string(9) "-1.000000"
      ["from_quantity"]=>
      string(8) "1.000000"
      ["reduction"]=>
      string(8) "0.050000"
      ["reduction_tax"]=>
      string(1) "1"
      ["reduction_type"]=>
      string(10) "percentage"
      ["from"]=>
      string(19) "2021-01-06 00:00:00"
      ["to"]=>
      string(19) "2021-02-01 01:10:00"
      ["score"]=>
      string(2) "48"
    }
    ["ecotax"]=>
    float(0)
    ["weight"]=>
    float(0)
    ["quantity"]=>
    float(14)
    ["reference"]=>
    string(0) ""
    ["unit_impact"]=>
    string(8) "0.000000"
    ["minimal_quantity"]=>
    int(1)
    ["available_date"]=>
    string(10) "2019-07-09"
    ["date_formatted"]=>
    string(10) "07/09/2019"
    ["id_image"]=>
    int(34690)
    ["list"]=>
    string(7) "'20982'"
  }
  [31373]=>
  array(14) {
    ["attributes_values"]=>
    array(1) {
      [1248]=>
      string(4) "1188"
    }
    ["attributes"]=>
    array(1) {
      [0]=>
      int(20983)
    }
    ["price"]=>
    float(0)
    ["specific_price"]=>
    array(19) {
      ["id_specific_price"]=>
      string(7) "4357939"
      ["id_specific_price_rule"]=>
      string(3) "227"
      ["id_cart"]=>
      string(1) "0"
      ["id_product"]=>
      string(4) "5836"
      ["id_shop"]=>
      string(1) "1"
      ["id_shop_group"]=>
      string(1) "0"
      ["id_currency"]=>
      string(1) "0"
      ["id_country"]=>
      string(1) "0"
      ["id_group"]=>
      string(1) "0"
      ["id_customer"]=>
      string(1) "0"
      ["id_product_attribute"]=>
      string(1) "0"
      ["price"]=>
      string(9) "-1.000000"
      ["from_quantity"]=>
      string(8) "1.000000"
      ["reduction"]=>
      string(8) "0.050000"
      ["reduction_tax"]=>
      string(1) "1"
      ["reduction_type"]=>
      string(10) "percentage"
      ["from"]=>
      string(19) "2021-01-06 00:00:00"
      ["to"]=>
      string(19) "2021-02-01 01:10:00"
      ["score"]=>
      string(2) "48"
    }
    ["ecotax"]=>
    float(0)
    ["weight"]=>
    float(0)
    ["quantity"]=>
    float(25)
    ["reference"]=>
    string(0) ""
    ["unit_impact"]=>
    string(8) "0.000000"
    ["minimal_quantity"]=>
    int(1)
    ["available_date"]=>
    string(10) "2019-07-09"
    ["date_formatted"]=>
    string(10) "07/09/2019"
    ["id_image"]=>
    int(34691)
    ["list"]=>
    string(7) "'20983'"
  }
  [31374]=>
  array(14) {
    ["attributes_values"]=>
    array(1) {
      [1248]=>
      string(4) "1203"
    }
    ["attributes"]=>
    array(1) {
      [0]=>
      int(20984)
    }
    ["price"]=>
    float(0)
    ["specific_price"]=>
    array(19) {
      ["id_specific_price"]=>
      string(7) "4357939"
      ["id_specific_price_rule"]=>
      string(3) "227"
      ["id_cart"]=>
      string(1) "0"
      ["id_product"]=>
      string(4) "5836"
      ["id_shop"]=>
      string(1) "1"
      ["id_shop_group"]=>
      string(1) "0"
      ["id_currency"]=>
      string(1) "0"
      ["id_country"]=>
      string(1) "0"
      ["id_group"]=>
      string(1) "0"
      ["id_customer"]=>
      string(1) "0"
      ["id_product_attribute"]=>
      string(1) "0"
      ["price"]=>
      string(9) "-1.000000"
      ["from_quantity"]=>
      string(8) "1.000000"
      ["reduction"]=>
      string(8) "0.050000"
      ["reduction_tax"]=>
      string(1) "1"
      ["reduction_type"]=>
      string(10) "percentage"
      ["from"]=>
      string(19) "2021-01-06 00:00:00"
      ["to"]=>
      string(19) "2021-02-01 01:10:00"
      ["score"]=>
      string(2) "48"
    }
    ["ecotax"]=>
    float(0)
    ["weight"]=>
    float(0)
    ["quantity"]=>
    float(2)
    ["reference"]=>
    string(0) ""
    ["unit_impact"]=>
    string(8) "0.000000"
    ["minimal_quantity"]=>
    int(1)
    ["available_date"]=>
    string(10) "2019-07-09"
    ["date_formatted"]=>
    string(10) "07/09/2019"
    ["id_image"]=>
    int(34692)
    ["list"]=>
    string(7) "'20984'"
  }
  [31375]=>
  array(14) {
    ["attributes_values"]=>
    array(1) {
      [1248]=>
      string(4) "1218"
    }
    ["attributes"]=>
    array(1) {
      [0]=>
      int(20985)
    }
    ["price"]=>
    float(0)
    ["specific_price"]=>
    array(19) {
      ["id_specific_price"]=>
      string(7) "4357939"
      ["id_specific_price_rule"]=>
      string(3) "227"
      ["id_cart"]=>
      string(1) "0"
      ["id_product"]=>
      string(4) "5836"
      ["id_shop"]=>
      string(1) "1"
      ["id_shop_group"]=>
      string(1) "0"
      ["id_currency"]=>
      string(1) "0"
      ["id_country"]=>
      string(1) "0"
      ["id_group"]=>
      string(1) "0"
      ["id_customer"]=>
      string(1) "0"
      ["id_product_attribute"]=>
      string(1) "0"
      ["price"]=>
      string(9) "-1.000000"
      ["from_quantity"]=>
      string(8) "1.000000"
      ["reduction"]=>
      string(8) "0.050000"
      ["reduction_tax"]=>
      string(1) "1"
      ["reduction_type"]=>
      string(10) "percentage"
      ["from"]=>
      string(19) "2021-01-06 00:00:00"
      ["to"]=>
      string(19) "2021-02-01 01:10:00"
      ["score"]=>
      string(2) "48"
    }
    ["ecotax"]=>
    float(0)
    ["weight"]=>
    float(0)
    ["quantity"]=>
    float(19)
    ["reference"]=>
    string(0) ""
    ["unit_impact"]=>
    string(8) "0.000000"
    ["minimal_quantity"]=>
    int(1)
    ["available_date"]=>
    string(10) "2019-07-09"
    ["date_formatted"]=>
    string(10) "07/09/2019"
    ["id_image"]=>
    int(34693)
    ["list"]=>
    string(7) "'20985'"
  }
  [31376]=>
  array(14) {
    ["attributes_values"]=>
    array(1) {
      [1248]=>
      string(4) "1240"
    }
    ["attributes"]=>
    array(1) {
      [0]=>
      int(20986)
    }
    ["price"]=>
    float(0)
    ["specific_price"]=>
    array(19) {
      ["id_specific_price"]=>
      string(7) "4357939"
      ["id_specific_price_rule"]=>
      string(3) "227"
      ["id_cart"]=>
      string(1) "0"
      ["id_product"]=>
      string(4) "5836"
      ["id_shop"]=>
      string(1) "1"
      ["id_shop_group"]=>
      string(1) "0"
      ["id_currency"]=>
      string(1) "0"
      ["id_country"]=>
      string(1) "0"
      ["id_group"]=>
      string(1) "0"
      ["id_customer"]=>
      string(1) "0"
      ["id_product_attribute"]=>
      string(1) "0"
      ["price"]=>
      string(9) "-1.000000"
      ["from_quantity"]=>
      string(8) "1.000000"
      ["reduction"]=>
      string(8) "0.050000"
      ["reduction_tax"]=>
      string(1) "1"
      ["reduction_type"]=>
      string(10) "percentage"
      ["from"]=>
      string(19) "2021-01-06 00:00:00"
      ["to"]=>
      string(19) "2021-02-01 01:10:00"
      ["score"]=>
      string(2) "48"
    }
    ["ecotax"]=>
    float(0)
    ["weight"]=>
    float(0)
    ["quantity"]=>
    float(20)
    ["reference"]=>
    string(0) ""
    ["unit_impact"]=>
    string(8) "0.000000"
    ["minimal_quantity"]=>
    int(1)
    ["available_date"]=>
    string(10) "2019-07-09"
    ["date_formatted"]=>
    string(10) "07/09/2019"
    ["id_image"]=>
    int(34694)
    ["list"]=>
    string(7) "'20986'"
  }
  [31377]=>
  array(14) {
    ["attributes_values"]=>
    array(1) {
      [1248]=>
      string(4) "1241"
    }
    ["attributes"]=>
    array(1) {
      [0]=>
      int(20987)
    }
    ["price"]=>
    float(0)
    ["specific_price"]=>
    array(19) {
      ["id_specific_price"]=>
      string(7) "4357939"
      ["id_specific_price_rule"]=>
      string(3) "227"
      ["id_cart"]=>
      string(1) "0"
      ["id_product"]=>
      string(4) "5836"
      ["id_shop"]=>
      string(1) "1"
      ["id_shop_group"]=>
      string(1) "0"
      ["id_currency"]=>
      string(1) "0"
      ["id_country"]=>
      string(1) "0"
      ["id_group"]=>
      string(1) "0"
      ["id_customer"]=>
      string(1) "0"
      ["id_product_attribute"]=>
      string(1) "0"
      ["price"]=>
      string(9) "-1.000000"
      ["from_quantity"]=>
      string(8) "1.000000"
      ["reduction"]=>
      string(8) "0.050000"
      ["reduction_tax"]=>
      string(1) "1"
      ["reduction_type"]=>
      string(10) "percentage"
      ["from"]=>
      string(19) "2021-01-06 00:00:00"
      ["to"]=>
      string(19) "2021-02-01 01:10:00"
      ["score"]=>
      string(2) "48"
    }
    ["ecotax"]=>
    float(0)
    ["weight"]=>
    float(0)
    ["quantity"]=>
    float(17)
    ["reference"]=>
    string(0) ""
    ["unit_impact"]=>
    string(8) "0.000000"
    ["minimal_quantity"]=>
    int(1)
    ["available_date"]=>
    string(10) "2019-07-09"
    ["date_formatted"]=>
    string(10) "07/09/2019"
    ["id_image"]=>
    int(34695)
    ["list"]=>
    string(7) "'20987'"
  }
  [31378]=>
  array(14) {
    ["attributes_values"]=>
    array(1) {
      [1248]=>
      string(4) "1246"
    }
    ["attributes"]=>
    array(1) {
      [0]=>
      int(20988)
    }
    ["price"]=>
    float(0)
    ["specific_price"]=>
    array(19) {
      ["id_specific_price"]=>
      string(7) "4357939"
      ["id_specific_price_rule"]=>
      string(3) "227"
      ["id_cart"]=>
      string(1) "0"
      ["id_product"]=>
      string(4) "5836"
      ["id_shop"]=>
      string(1) "1"
      ["id_shop_group"]=>
      string(1) "0"
      ["id_currency"]=>
      string(1) "0"
      ["id_country"]=>
      string(1) "0"
      ["id_group"]=>
      string(1) "0"
      ["id_customer"]=>
      string(1) "0"
      ["id_product_attribute"]=>
      string(1) "0"
      ["price"]=>
      string(9) "-1.000000"
      ["from_quantity"]=>
      string(8) "1.000000"
      ["reduction"]=>
      string(8) "0.050000"
      ["reduction_tax"]=>
      string(1) "1"
      ["reduction_type"]=>
      string(10) "percentage"
      ["from"]=>
      string(19) "2021-01-06 00:00:00"
      ["to"]=>
      string(19) "2021-02-01 01:10:00"
      ["score"]=>
      string(2) "48"
    }
    ["ecotax"]=>
    float(0)
    ["weight"]=>
    float(0)
    ["quantity"]=>
    float(14)
    ["reference"]=>
    string(0) ""
    ["unit_impact"]=>
    string(8) "0.000000"
    ["minimal_quantity"]=>
    int(1)
    ["available_date"]=>
    string(10) "2019-07-09"
    ["date_formatted"]=>
    string(10) "07/09/2019"
    ["id_image"]=>
    int(34696)
    ["list"]=>
    string(7) "'20988'"
  }
  [31379]=>
  array(14) {
    ["attributes_values"]=>
    array(1) {
      [1248]=>
      string(4) "1256"
    }
    ["attributes"]=>
    array(1) {
      [0]=>
      int(20989)
    }
    ["price"]=>
    float(0)
    ["specific_price"]=>
    array(19) {
      ["id_specific_price"]=>
      string(7) "4357939"
      ["id_specific_price_rule"]=>
      string(3) "227"
      ["id_cart"]=>
      string(1) "0"
      ["id_product"]=>
      string(4) "5836"
      ["id_shop"]=>
      string(1) "1"
      ["id_shop_group"]=>
      string(1) "0"
      ["id_currency"]=>
      string(1) "0"
      ["id_country"]=>
      string(1) "0"
      ["id_group"]=>
      string(1) "0"
      ["id_customer"]=>
      string(1) "0"
      ["id_product_attribute"]=>
      string(1) "0"
      ["price"]=>
      string(9) "-1.000000"
      ["from_quantity"]=>
      string(8) "1.000000"
      ["reduction"]=>
      string(8) "0.050000"
      ["reduction_tax"]=>
      string(1) "1"
      ["reduction_type"]=>
      string(10) "percentage"
      ["from"]=>
      string(19) "2021-01-06 00:00:00"
      ["to"]=>
      string(19) "2021-02-01 01:10:00"
      ["score"]=>
      string(2) "48"
    }
    ["ecotax"]=>
    float(0)
    ["weight"]=>
    float(0)
    ["quantity"]=>
    float(16)
    ["reference"]=>
    string(0) ""
    ["unit_impact"]=>
    string(8) "0.000000"
    ["minimal_quantity"]=>
    int(1)
    ["available_date"]=>
    string(10) "2019-07-09"
    ["date_formatted"]=>
    string(10) "07/09/2019"
    ["id_image"]=>
    int(34697)
    ["list"]=>
    string(7) "'20989'"
  }
  [31380]=>
  array(14) {
    ["attributes_values"]=>
    array(1) {
      [1248]=>
      string(4) "1257"
    }
    ["attributes"]=>
    array(1) {
      [0]=>
      int(20990)
    }
    ["price"]=>
    float(0)
    ["specific_price"]=>
    array(19) {
      ["id_specific_price"]=>
      string(7) "4357939"
      ["id_specific_price_rule"]=>
      string(3) "227"
      ["id_cart"]=>
      string(1) "0"
      ["id_product"]=>
      string(4) "5836"
      ["id_shop"]=>
      string(1) "1"
      ["id_shop_group"]=>
      string(1) "0"
      ["id_currency"]=>
      string(1) "0"
      ["id_country"]=>
      string(1) "0"
      ["id_group"]=>
      string(1) "0"
      ["id_customer"]=>
      string(1) "0"
      ["id_product_attribute"]=>
      string(1) "0"
      ["price"]=>
      string(9) "-1.000000"
      ["from_quantity"]=>
      string(8) "1.000000"
      ["reduction"]=>
      string(8) "0.050000"
      ["reduction_tax"]=>
      string(1) "1"
      ["reduction_type"]=>
      string(10) "percentage"
      ["from"]=>
      string(19) "2021-01-06 00:00:00"
      ["to"]=>
      string(19) "2021-02-01 01:10:00"
      ["score"]=>
      string(2) "48"
    }
    ["ecotax"]=>
    float(0)
    ["weight"]=>
    float(0)
    ["quantity"]=>
    float(10)
    ["reference"]=>
    string(0) ""
    ["unit_impact"]=>
    string(8) "0.000000"
    ["minimal_quantity"]=>
    int(1)
    ["available_date"]=>
    string(10) "2019-07-09"
    ["date_formatted"]=>
    string(10) "07/09/2019"
    ["id_image"]=>
    int(34698)
    ["list"]=>
    string(7) "'20990'"
  }
  [31381]=>
  array(14) {
    ["attributes_values"]=>
    array(1) {
      [1248]=>
      string(4) "1259"
    }
    ["attributes"]=>
    array(1) {
      [0]=>
      int(20991)
    }
    ["price"]=>
    float(0)
    ["specific_price"]=>
    array(19) {
      ["id_specific_price"]=>
      string(7) "4357939"
      ["id_specific_price_rule"]=>
      string(3) "227"
      ["id_cart"]=>
      string(1) "0"
      ["id_product"]=>
      string(4) "5836"
      ["id_shop"]=>
      string(1) "1"
      ["id_shop_group"]=>
      string(1) "0"
      ["id_currency"]=>
      string(1) "0"
      ["id_country"]=>
      string(1) "0"
      ["id_group"]=>
      string(1) "0"
      ["id_customer"]=>
      string(1) "0"
      ["id_product_attribute"]=>
      string(1) "0"
      ["price"]=>
      string(9) "-1.000000"
      ["from_quantity"]=>
      string(8) "1.000000"
      ["reduction"]=>
      string(8) "0.050000"
      ["reduction_tax"]=>
      string(1) "1"
      ["reduction_type"]=>
      string(10) "percentage"
      ["from"]=>
      string(19) "2021-01-06 00:00:00"
      ["to"]=>
      string(19) "2021-02-01 01:10:00"
      ["score"]=>
      string(2) "48"
    }
    ["ecotax"]=>
    float(0)
    ["weight"]=>
    float(0)
    ["quantity"]=>
    float(15)
    ["reference"]=>
    string(0) ""
    ["unit_impact"]=>
    string(8) "0.000000"
    ["minimal_quantity"]=>
    int(1)
    ["available_date"]=>
    string(10) "2019-07-09"
    ["date_formatted"]=>
    string(10) "07/09/2019"
    ["id_image"]=>
    int(34699)
    ["list"]=>
    string(7) "'20991'"
  }
  [31382]=>
  array(14) {
    ["attributes_values"]=>
    array(1) {
      [1248]=>
      string(4) "1263"
    }
    ["attributes"]=>
    array(1) {
      [0]=>
      int(20992)
    }
    ["price"]=>
    float(0)
    ["specific_price"]=>
    array(19) {
      ["id_specific_price"]=>
      string(7) "4357939"
      ["id_specific_price_rule"]=>
      string(3) "227"
      ["id_cart"]=>
      string(1) "0"
      ["id_product"]=>
      string(4) "5836"
      ["id_shop"]=>
      string(1) "1"
      ["id_shop_group"]=>
      string(1) "0"
      ["id_currency"]=>
      string(1) "0"
      ["id_country"]=>
      string(1) "0"
      ["id_group"]=>
      string(1) "0"
      ["id_customer"]=>
      string(1) "0"
      ["id_product_attribute"]=>
      string(1) "0"
      ["price"]=>
      string(9) "-1.000000"
      ["from_quantity"]=>
      string(8) "1.000000"
      ["reduction"]=>
      string(8) "0.050000"
      ["reduction_tax"]=>
      string(1) "1"
      ["reduction_type"]=>
      string(10) "percentage"
      ["from"]=>
      string(19) "2021-01-06 00:00:00"
      ["to"]=>
      string(19) "2021-02-01 01:10:00"
      ["score"]=>
      string(2) "48"
    }
    ["ecotax"]=>
    float(0)
    ["weight"]=>
    float(0)
    ["quantity"]=>
    float(9)
    ["reference"]=>
    string(0) ""
    ["unit_impact"]=>
    string(8) "0.000000"
    ["minimal_quantity"]=>
    int(1)
    ["available_date"]=>
    string(10) "2019-07-09"
    ["date_formatted"]=>
    string(10) "07/09/2019"
    ["id_image"]=>
    int(34700)
    ["list"]=>
    string(7) "'20992'"
  }
  [31383]=>
  array(14) {
    ["attributes_values"]=>
    array(1) {
      [1248]=>
      string(4) "1277"
    }
    ["attributes"]=>
    array(1) {
      [0]=>
      int(20993)
    }
    ["price"]=>
    float(0)
    ["specific_price"]=>
    array(19) {
      ["id_specific_price"]=>
      string(7) "4357939"
      ["id_specific_price_rule"]=>
      string(3) "227"
      ["id_cart"]=>
      string(1) "0"
      ["id_product"]=>
      string(4) "5836"
      ["id_shop"]=>
      string(1) "1"
      ["id_shop_group"]=>
      string(1) "0"
      ["id_currency"]=>
      string(1) "0"
      ["id_country"]=>
      string(1) "0"
      ["id_group"]=>
      string(1) "0"
      ["id_customer"]=>
      string(1) "0"
      ["id_product_attribute"]=>
      string(1) "0"
      ["price"]=>
      string(9) "-1.000000"
      ["from_quantity"]=>
      string(8) "1.000000"
      ["reduction"]=>
      string(8) "0.050000"
      ["reduction_tax"]=>
      string(1) "1"
      ["reduction_type"]=>
      string(10) "percentage"
      ["from"]=>
      string(19) "2021-01-06 00:00:00"
      ["to"]=>
      string(19) "2021-02-01 01:10:00"
      ["score"]=>
      string(2) "48"
    }
    ["ecotax"]=>
    float(0)
    ["weight"]=>
    float(0)
    ["quantity"]=>
    float(12)
    ["reference"]=>
    string(0) ""
    ["unit_impact"]=>
    string(8) "0.000000"
    ["minimal_quantity"]=>
    int(1)
    ["available_date"]=>
    string(10) "2019-07-09"
    ["date_formatted"]=>
    string(10) "07/09/2019"
    ["id_image"]=>
    int(34701)
    ["list"]=>
    string(7) "'20993'"
  }
  [31384]=>
  array(14) {
    ["attributes_values"]=>
    array(1) {
      [1248]=>
      string(4) "1302"
    }
    ["attributes"]=>
    array(1) {
      [0]=>
      int(20994)
    }
    ["price"]=>
    float(0)
    ["specific_price"]=>
    array(19) {
      ["id_specific_price"]=>
      string(7) "4357939"
      ["id_specific_price_rule"]=>
      string(3) "227"
      ["id_cart"]=>
      string(1) "0"
      ["id_product"]=>
      string(4) "5836"
      ["id_shop"]=>
      string(1) "1"
      ["id_shop_group"]=>
      string(1) "0"
      ["id_currency"]=>
      string(1) "0"
      ["id_country"]=>
      string(1) "0"
      ["id_group"]=>
      string(1) "0"
      ["id_customer"]=>
      string(1) "0"
      ["id_product_attribute"]=>
      string(1) "0"
      ["price"]=>
      string(9) "-1.000000"
      ["from_quantity"]=>
      string(8) "1.000000"
      ["reduction"]=>
      string(8) "0.050000"
      ["reduction_tax"]=>
      string(1) "1"
      ["reduction_type"]=>
      string(10) "percentage"
      ["from"]=>
      string(19) "2021-01-06 00:00:00"
      ["to"]=>
      string(19) "2021-02-01 01:10:00"
      ["score"]=>
      string(2) "48"
    }
    ["ecotax"]=>
    float(0)
    ["weight"]=>
    float(0)
    ["quantity"]=>
    float(22)
    ["reference"]=>
    string(0) ""
    ["unit_impact"]=>
    string(8) "0.000000"
    ["minimal_quantity"]=>
    int(1)
    ["available_date"]=>
    string(10) "2019-07-09"
    ["date_formatted"]=>
    string(10) "07/09/2019"
    ["id_image"]=>
    int(34702)
    ["list"]=>
    string(7) "'20994'"
  }
  [31385]=>
  array(14) {
    ["attributes_values"]=>
    array(1) {
      [1248]=>
      string(4) "1316"
    }
    ["attributes"]=>
    array(1) {
      [0]=>
      int(20995)
    }
    ["price"]=>
    float(0)
    ["specific_price"]=>
    array(19) {
      ["id_specific_price"]=>
      string(7) "4357939"
      ["id_specific_price_rule"]=>
      string(3) "227"
      ["id_cart"]=>
      string(1) "0"
      ["id_product"]=>
      string(4) "5836"
      ["id_shop"]=>
      string(1) "1"
      ["id_shop_group"]=>
      string(1) "0"
      ["id_currency"]=>
      string(1) "0"
      ["id_country"]=>
      string(1) "0"
      ["id_group"]=>
      string(1) "0"
      ["id_customer"]=>
      string(1) "0"
      ["id_product_attribute"]=>
      string(1) "0"
      ["price"]=>
      string(9) "-1.000000"
      ["from_quantity"]=>
      string(8) "1.000000"
      ["reduction"]=>
      string(8) "0.050000"
      ["reduction_tax"]=>
      string(1) "1"
      ["reduction_type"]=>
      string(10) "percentage"
      ["from"]=>
      string(19) "2021-01-06 00:00:00"
      ["to"]=>
      string(19) "2021-02-01 01:10:00"
      ["score"]=>
      string(2) "48"
    }
    ["ecotax"]=>
    float(0)
    ["weight"]=>
    float(0)
    ["quantity"]=>
    float(16)
    ["reference"]=>
    string(0) ""
    ["unit_impact"]=>
    string(8) "0.000000"
    ["minimal_quantity"]=>
    int(1)
    ["available_date"]=>
    string(10) "2019-07-09"
    ["date_formatted"]=>
    string(10) "07/09/2019"
    ["id_image"]=>
    int(34703)
    ["list"]=>
    string(7) "'20995'"
  }
  [31386]=>
  array(14) {
    ["attributes_values"]=>
    array(1) {
      [1248]=>
      string(4) "1390"
    }
    ["attributes"]=>
    array(1) {
      [0]=>
      int(20996)
    }
    ["price"]=>
    float(0)
    ["specific_price"]=>
    array(19) {
      ["id_specific_price"]=>
      string(7) "4357939"
      ["id_specific_price_rule"]=>
      string(3) "227"
      ["id_cart"]=>
      string(1) "0"
      ["id_product"]=>
      string(4) "5836"
      ["id_shop"]=>
      string(1) "1"
      ["id_shop_group"]=>
      string(1) "0"
      ["id_currency"]=>
      string(1) "0"
      ["id_country"]=>
      string(1) "0"
      ["id_group"]=>
      string(1) "0"
      ["id_customer"]=>
      string(1) "0"
      ["id_product_attribute"]=>
      string(1) "0"
      ["price"]=>
      string(9) "-1.000000"
      ["from_quantity"]=>
      string(8) "1.000000"
      ["reduction"]=>
      string(8) "0.050000"
      ["reduction_tax"]=>
      string(1) "1"
      ["reduction_type"]=>
      string(10) "percentage"
      ["from"]=>
      string(19) "2021-01-06 00:00:00"
      ["to"]=>
      string(19) "2021-02-01 01:10:00"
      ["score"]=>
      string(2) "48"
    }
    ["ecotax"]=>
    float(0)
    ["weight"]=>
    float(0)
    ["quantity"]=>
    float(21)
    ["reference"]=>
    string(0) ""
    ["unit_impact"]=>
    string(8) "0.000000"
    ["minimal_quantity"]=>
    int(1)
    ["available_date"]=>
    string(10) "2019-07-09"
    ["date_formatted"]=>
    string(10) "07/09/2019"
    ["id_image"]=>
    int(34704)
    ["list"]=>
    string(7) "'20996'"
  }
  [31387]=>
  array(14) {
    ["attributes_values"]=>
    array(1) {
      [1248]=>
      string(4) "1420"
    }
    ["attributes"]=>
    array(1) {
      [0]=>
      int(20997)
    }
    ["price"]=>
    float(0)
    ["specific_price"]=>
    array(19) {
      ["id_specific_price"]=>
      string(7) "4357939"
      ["id_specific_price_rule"]=>
      string(3) "227"
      ["id_cart"]=>
      string(1) "0"
      ["id_product"]=>
      string(4) "5836"
      ["id_shop"]=>
      string(1) "1"
      ["id_shop_group"]=>
      string(1) "0"
      ["id_currency"]=>
      string(1) "0"
      ["id_country"]=>
      string(1) "0"
      ["id_group"]=>
      string(1) "0"
      ["id_customer"]=>
      string(1) "0"
      ["id_product_attribute"]=>
      string(1) "0"
      ["price"]=>
      string(9) "-1.000000"
      ["from_quantity"]=>
      string(8) "1.000000"
      ["reduction"]=>
      string(8) "0.050000"
      ["reduction_tax"]=>
      string(1) "1"
      ["reduction_type"]=>
      string(10) "percentage"
      ["from"]=>
      string(19) "2021-01-06 00:00:00"
      ["to"]=>
      string(19) "2021-02-01 01:10:00"
      ["score"]=>
      string(2) "48"
    }
    ["ecotax"]=>
    float(0)
    ["weight"]=>
    float(0)
    ["quantity"]=>
    float(16)
    ["reference"]=>
    string(0) ""
    ["unit_impact"]=>
    string(8) "0.000000"
    ["minimal_quantity"]=>
    int(1)
    ["available_date"]=>
    string(10) "2019-07-09"
    ["date_formatted"]=>
    string(10) "07/09/2019"
    ["id_image"]=>
    int(49526)
    ["list"]=>
    string(7) "'20997'"
  }
  [31388]=>
  array(14) {
    ["attributes_values"]=>
    array(1) {
      [1248]=>
      string(4) "1422"
    }
    ["attributes"]=>
    array(1) {
      [0]=>
      int(20998)
    }
    ["price"]=>
    float(0)
    ["specific_price"]=>
    array(19) {
      ["id_specific_price"]=>
      string(7) "4357939"
      ["id_specific_price_rule"]=>
      string(3) "227"
      ["id_cart"]=>
      string(1) "0"
      ["id_product"]=>
      string(4) "5836"
      ["id_shop"]=>
      string(1) "1"
      ["id_shop_group"]=>
      string(1) "0"
      ["id_currency"]=>
      string(1) "0"
      ["id_country"]=>
      string(1) "0"
      ["id_group"]=>
      string(1) "0"
      ["id_customer"]=>
      string(1) "0"
      ["id_product_attribute"]=>
      string(1) "0"
      ["price"]=>
      string(9) "-1.000000"
      ["from_quantity"]=>
      string(8) "1.000000"
      ["reduction"]=>
      string(8) "0.050000"
      ["reduction_tax"]=>
      string(1) "1"
      ["reduction_type"]=>
      string(10) "percentage"
      ["from"]=>
      string(19) "2021-01-06 00:00:00"
      ["to"]=>
      string(19) "2021-02-01 01:10:00"
      ["score"]=>
      string(2) "48"
    }
    ["ecotax"]=>
    float(0)
    ["weight"]=>
    float(0)
    ["quantity"]=>
    float(11)
    ["reference"]=>
    string(0) ""
    ["unit_impact"]=>
    string(8) "0.000000"
    ["minimal_quantity"]=>
    int(1)
    ["available_date"]=>
    string(10) "2019-07-09"
    ["date_formatted"]=>
    string(10) "07/09/2019"
    ["id_image"]=>
    int(34706)
    ["list"]=>
    string(7) "'20998'"
  }
  [31389]=>
  array(14) {
    ["attributes_values"]=>
    array(1) {
      [1248]=>
      string(4) "1425"
    }
    ["attributes"]=>
    array(1) {
      [0]=>
      int(20999)
    }
    ["price"]=>
    float(0)
    ["specific_price"]=>
    array(19) {
      ["id_specific_price"]=>
      string(7) "4357939"
      ["id_specific_price_rule"]=>
      string(3) "227"
      ["id_cart"]=>
      string(1) "0"
      ["id_product"]=>
      string(4) "5836"
      ["id_shop"]=>
      string(1) "1"
      ["id_shop_group"]=>
      string(1) "0"
      ["id_currency"]=>
      string(1) "0"
      ["id_country"]=>
      string(1) "0"
      ["id_group"]=>
      string(1) "0"
      ["id_customer"]=>
      string(1) "0"
      ["id_product_attribute"]=>
      string(1) "0"
      ["price"]=>
      string(9) "-1.000000"
      ["from_quantity"]=>
      string(8) "1.000000"
      ["reduction"]=>
      string(8) "0.050000"
      ["reduction_tax"]=>
      string(1) "1"
      ["reduction_type"]=>
      string(10) "percentage"
      ["from"]=>
      string(19) "2021-01-06 00:00:00"
      ["to"]=>
      string(19) "2021-02-01 01:10:00"
      ["score"]=>
      string(2) "48"
    }
    ["ecotax"]=>
    float(0)
    ["weight"]=>
    float(0)
    ["quantity"]=>
    float(15)
    ["reference"]=>
    string(0) ""
    ["unit_impact"]=>
    string(8) "0.000000"
    ["minimal_quantity"]=>
    int(1)
    ["available_date"]=>
    string(10) "2019-07-09"
    ["date_formatted"]=>
    string(10) "07/09/2019"
    ["id_image"]=>
    int(34707)
    ["list"]=>
    string(7) "'20999'"
  }
  [31390]=>
  array(14) {
    ["attributes_values"]=>
    array(1) {
      [1248]=>
      string(4) "1432"
    }
    ["attributes"]=>
    array(1) {
      [0]=>
      int(21000)
    }
    ["price"]=>
    float(0)
    ["specific_price"]=>
    array(19) {
      ["id_specific_price"]=>
      string(7) "4357939"
      ["id_specific_price_rule"]=>
      string(3) "227"
      ["id_cart"]=>
      string(1) "0"
      ["id_product"]=>
      string(4) "5836"
      ["id_shop"]=>
      string(1) "1"
      ["id_shop_group"]=>
      string(1) "0"
      ["id_currency"]=>
      string(1) "0"
      ["id_country"]=>
      string(1) "0"
      ["id_group"]=>
      string(1) "0"
      ["id_customer"]=>
      string(1) "0"
      ["id_product_attribute"]=>
      string(1) "0"
      ["price"]=>
      string(9) "-1.000000"
      ["from_quantity"]=>
      string(8) "1.000000"
      ["reduction"]=>
      string(8) "0.050000"
      ["reduction_tax"]=>
      string(1) "1"
      ["reduction_type"]=>
      string(10) "percentage"
      ["from"]=>
      string(19) "2021-01-06 00:00:00"
      ["to"]=>
      string(19) "2021-02-01 01:10:00"
      ["score"]=>
      string(2) "48"
    }
    ["ecotax"]=>
    float(0)
    ["weight"]=>
    float(0)
    ["quantity"]=>
    float(6)
    ["reference"]=>
    string(0) ""
    ["unit_impact"]=>
    string(8) "0.000000"
    ["minimal_quantity"]=>
    int(1)
    ["available_date"]=>
    string(10) "2019-07-09"
    ["date_formatted"]=>
    string(10) "07/09/2019"
    ["id_image"]=>
    int(34708)
    ["list"]=>
    string(7) "'21000'"
  }
  [31391]=>
  array(14) {
    ["attributes_values"]=>
    array(1) {
      [1248]=>
      string(4) "1435"
    }
    ["attributes"]=>
    array(1) {
      [0]=>
      int(21001)
    }
    ["price"]=>
    float(0)
    ["specific_price"]=>
    array(19) {
      ["id_specific_price"]=>
      string(7) "4357939"
      ["id_specific_price_rule"]=>
      string(3) "227"
      ["id_cart"]=>
      string(1) "0"
      ["id_product"]=>
      string(4) "5836"
      ["id_shop"]=>
      string(1) "1"
      ["id_shop_group"]=>
      string(1) "0"
      ["id_currency"]=>
      string(1) "0"
      ["id_country"]=>
      string(1) "0"
      ["id_group"]=>
      string(1) "0"
      ["id_customer"]=>
      string(1) "0"
      ["id_product_attribute"]=>
      string(1) "0"
      ["price"]=>
      string(9) "-1.000000"
      ["from_quantity"]=>
      string(8) "1.000000"
      ["reduction"]=>
      string(8) "0.050000"
      ["reduction_tax"]=>
      string(1) "1"
      ["reduction_type"]=>
      string(10) "percentage"
      ["from"]=>
      string(19) "2021-01-06 00:00:00"
      ["to"]=>
      string(19) "2021-02-01 01:10:00"
      ["score"]=>
      string(2) "48"
    }
    ["ecotax"]=>
    float(0)
    ["weight"]=>
    float(0)
    ["quantity"]=>
    float(26)
    ["reference"]=>
    string(0) ""
    ["unit_impact"]=>
    string(8) "0.000000"
    ["minimal_quantity"]=>
    int(1)
    ["available_date"]=>
    string(10) "2019-07-09"
    ["date_formatted"]=>
    string(10) "07/09/2019"
    ["id_image"]=>
    int(34709)
    ["list"]=>
    string(7) "'21001'"
  }
  [31392]=>
  array(14) {
    ["attributes_values"]=>
    array(1) {
      [1248]=>
      string(4) "1708"
    }
    ["attributes"]=>
    array(1) {
      [0]=>
      int(21002)
    }
    ["price"]=>
    float(0)
    ["specific_price"]=>
    array(19) {
      ["id_specific_price"]=>
      string(7) "4357939"
      ["id_specific_price_rule"]=>
      string(3) "227"
      ["id_cart"]=>
      string(1) "0"
      ["id_product"]=>
      string(4) "5836"
      ["id_shop"]=>
      string(1) "1"
      ["id_shop_group"]=>
      string(1) "0"
      ["id_currency"]=>
      string(1) "0"
      ["id_country"]=>
      string(1) "0"
      ["id_group"]=>
      string(1) "0"
      ["id_customer"]=>
      string(1) "0"
      ["id_product_attribute"]=>
      string(1) "0"
      ["price"]=>
      string(9) "-1.000000"
      ["from_quantity"]=>
      string(8) "1.000000"
      ["reduction"]=>
      string(8) "0.050000"
      ["reduction_tax"]=>
      string(1) "1"
      ["reduction_type"]=>
      string(10) "percentage"
      ["from"]=>
      string(19) "2021-01-06 00:00:00"
      ["to"]=>
      string(19) "2021-02-01 01:10:00"
      ["score"]=>
      string(2) "48"
    }
    ["ecotax"]=>
    float(0)
    ["weight"]=>
    float(0)
    ["quantity"]=>
    float(23)
    ["reference"]=>
    string(0) ""
    ["unit_impact"]=>
    string(8) "0.000000"
    ["minimal_quantity"]=>
    int(1)
    ["available_date"]=>
    string(10) "2019-07-09"
    ["date_formatted"]=>
    string(10) "07/09/2019"
    ["id_image"]=>
    int(34710)
    ["list"]=>
    string(7) "'21002'"
  }
  [31393]=>
  array(14) {
    ["attributes_values"]=>
    array(1) {
      [1248]=>
      string(4) "1709"
    }
    ["attributes"]=>
    array(1) {
      [0]=>
      int(21003)
    }
    ["price"]=>
    float(0)
    ["specific_price"]=>
    array(19) {
      ["id_specific_price"]=>
      string(7) "4357939"
      ["id_specific_price_rule"]=>
      string(3) "227"
      ["id_cart"]=>
      string(1) "0"
      ["id_product"]=>
      string(4) "5836"
      ["id_shop"]=>
      string(1) "1"
      ["id_shop_group"]=>
      string(1) "0"
      ["id_currency"]=>
      string(1) "0"
      ["id_country"]=>
      string(1) "0"
      ["id_group"]=>
      string(1) "0"
      ["id_customer"]=>
      string(1) "0"
      ["id_product_attribute"]=>
      string(1) "0"
      ["price"]=>
      string(9) "-1.000000"
      ["from_quantity"]=>
      string(8) "1.000000"
      ["reduction"]=>
      string(8) "0.050000"
      ["reduction_tax"]=>
      string(1) "1"
      ["reduction_type"]=>
      string(10) "percentage"
      ["from"]=>
      string(19) "2021-01-06 00:00:00"
      ["to"]=>
      string(19) "2021-02-01 01:10:00"
      ["score"]=>
      string(2) "48"
    }
    ["ecotax"]=>
    float(0)
    ["weight"]=>
    float(0)
    ["quantity"]=>
    float(8)
    ["reference"]=>
    string(0) ""
    ["unit_impact"]=>
    string(8) "0.000000"
    ["minimal_quantity"]=>
    int(1)
    ["available_date"]=>
    string(10) "2019-07-09"
    ["date_formatted"]=>
    string(10) "07/09/2019"
    ["id_image"]=>
    int(34711)
    ["list"]=>
    string(7) "'21003'"
  }
  [31394]=>
  array(14) {
    ["attributes_values"]=>
    array(1) {
      [1248]=>
      string(4) "1710"
    }
    ["attributes"]=>
    array(1) {
      [0]=>
      int(21004)
    }
    ["price"]=>
    float(0)
    ["specific_price"]=>
    array(19) {
      ["id_specific_price"]=>
      string(7) "4357939"
      ["id_specific_price_rule"]=>
      string(3) "227"
      ["id_cart"]=>
      string(1) "0"
      ["id_product"]=>
      string(4) "5836"
      ["id_shop"]=>
      string(1) "1"
      ["id_shop_group"]=>
      string(1) "0"
      ["id_currency"]=>
      string(1) "0"
      ["id_country"]=>
      string(1) "0"
      ["id_group"]=>
      string(1) "0"
      ["id_customer"]=>
      string(1) "0"
      ["id_product_attribute"]=>
      string(1) "0"
      ["price"]=>
      string(9) "-1.000000"
      ["from_quantity"]=>
      string(8) "1.000000"
      ["reduction"]=>
      string(8) "0.050000"
      ["reduction_tax"]=>
      string(1) "1"
      ["reduction_type"]=>
      string(10) "percentage"
      ["from"]=>
      string(19) "2021-01-06 00:00:00"
      ["to"]=>
      string(19) "2021-02-01 01:10:00"
      ["score"]=>
      string(2) "48"
    }
    ["ecotax"]=>
    float(0)
    ["weight"]=>
    float(0)
    ["quantity"]=>
    float(0)
    ["reference"]=>
    string(0) ""
    ["unit_impact"]=>
    string(8) "0.000000"
    ["minimal_quantity"]=>
    int(1)
    ["available_date"]=>
    string(10) "2019-07-09"
    ["date_formatted"]=>
    string(10) "07/09/2019"
    ["id_image"]=>
    int(49527)
    ["list"]=>
    string(7) "'21004'"
  }
  [31395]=>
  array(14) {
    ["attributes_values"]=>
    array(1) {
      [1248]=>
      string(4) "1711"
    }
    ["attributes"]=>
    array(1) {
      [0]=>
      int(21005)
    }
    ["price"]=>
    float(0)
    ["specific_price"]=>
    array(19) {
      ["id_specific_price"]=>
      string(7) "4357939"
      ["id_specific_price_rule"]=>
      string(3) "227"
      ["id_cart"]=>
      string(1) "0"
      ["id_product"]=>
      string(4) "5836"
      ["id_shop"]=>
      string(1) "1"
      ["id_shop_group"]=>
      string(1) "0"
      ["id_currency"]=>
      string(1) "0"
      ["id_country"]=>
      string(1) "0"
      ["id_group"]=>
      string(1) "0"
      ["id_customer"]=>
      string(1) "0"
      ["id_product_attribute"]=>
      string(1) "0"
      ["price"]=>
      string(9) "-1.000000"
      ["from_quantity"]=>
      string(8) "1.000000"
      ["reduction"]=>
      string(8) "0.050000"
      ["reduction_tax"]=>
      string(1) "1"
      ["reduction_type"]=>
      string(10) "percentage"
      ["from"]=>
      string(19) "2021-01-06 00:00:00"
      ["to"]=>
      string(19) "2021-02-01 01:10:00"
      ["score"]=>
      string(2) "48"
    }
    ["ecotax"]=>
    float(0)
    ["weight"]=>
    float(0)
    ["quantity"]=>
    float(21)
    ["reference"]=>
    string(0) ""
    ["unit_impact"]=>
    string(8) "0.000000"
    ["minimal_quantity"]=>
    int(1)
    ["available_date"]=>
    string(10) "2019-07-09"
    ["date_formatted"]=>
    string(10) "07/09/2019"
    ["id_image"]=>
    int(34713)
    ["list"]=>
    string(7) "'21005'"
  }
  [31396]=>
  array(14) {
    ["attributes_values"]=>
    array(1) {
      [1248]=>
      string(4) "1712"
    }
    ["attributes"]=>
    array(1) {
      [0]=>
      int(21006)
    }
    ["price"]=>
    float(0)
    ["specific_price"]=>
    array(19) {
      ["id_specific_price"]=>
      string(7) "4357939"
      ["id_specific_price_rule"]=>
      string(3) "227"
      ["id_cart"]=>
      string(1) "0"
      ["id_product"]=>
      string(4) "5836"
      ["id_shop"]=>
      string(1) "1"
      ["id_shop_group"]=>
      string(1) "0"
      ["id_currency"]=>
      string(1) "0"
      ["id_country"]=>
      string(1) "0"
      ["id_group"]=>
      string(1) "0"
      ["id_customer"]=>
      string(1) "0"
      ["id_product_attribute"]=>
      string(1) "0"
      ["price"]=>
      string(9) "-1.000000"
      ["from_quantity"]=>
      string(8) "1.000000"
      ["reduction"]=>
      string(8) "0.050000"
      ["reduction_tax"]=>
      string(1) "1"
      ["reduction_type"]=>
      string(10) "percentage"
      ["from"]=>
      string(19) "2021-01-06 00:00:00"
      ["to"]=>
      string(19) "2021-02-01 01:10:00"
      ["score"]=>
      string(2) "48"
    }
    ["ecotax"]=>
    float(0)
    ["weight"]=>
    float(0)
    ["quantity"]=>
    float(24)
    ["reference"]=>
    string(0) ""
    ["unit_impact"]=>
    string(8) "0.000000"
    ["minimal_quantity"]=>
    int(1)
    ["available_date"]=>
    string(10) "2019-07-09"
    ["date_formatted"]=>
    string(10) "07/09/2019"
    ["id_image"]=>
    int(34714)
    ["list"]=>
    string(7) "'21006'"
  }
  [31397]=>
  array(14) {
    ["attributes_values"]=>
    array(1) {
      [1248]=>
      string(4) "1722"
    }
    ["attributes"]=>
    array(1) {
      [0]=>
      int(21007)
    }
    ["price"]=>
    float(0)
    ["specific_price"]=>
    array(19) {
      ["id_specific_price"]=>
      string(7) "4357939"
      ["id_specific_price_rule"]=>
      string(3) "227"
      ["id_cart"]=>
      string(1) "0"
      ["id_product"]=>
      string(4) "5836"
      ["id_shop"]=>
      string(1) "1"
      ["id_shop_group"]=>
      string(1) "0"
      ["id_currency"]=>
      string(1) "0"
      ["id_country"]=>
      string(1) "0"
      ["id_group"]=>
      string(1) "0"
      ["id_customer"]=>
      string(1) "0"
      ["id_product_attribute"]=>
      string(1) "0"
      ["price"]=>
      string(9) "-1.000000"
      ["from_quantity"]=>
      string(8) "1.000000"
      ["reduction"]=>
      string(8) "0.050000"
      ["reduction_tax"]=>
      string(1) "1"
      ["reduction_type"]=>
      string(10) "percentage"
      ["from"]=>
      string(19) "2021-01-06 00:00:00"
      ["to"]=>
      string(19) "2021-02-01 01:10:00"
      ["score"]=>
      string(2) "48"
    }
    ["ecotax"]=>
    float(0)
    ["weight"]=>
    float(0)
    ["quantity"]=>
    float(19)
    ["reference"]=>
    string(0) ""
    ["unit_impact"]=>
    string(8) "0.000000"
    ["minimal_quantity"]=>
    int(1)
    ["available_date"]=>
    string(10) "2019-07-09"
    ["date_formatted"]=>
    string(10) "07/09/2019"
    ["id_image"]=>
    int(34715)
    ["list"]=>
    string(7) "'21007'"
  }
  [31398]=>
  array(14) {
    ["attributes_values"]=>
    array(1) {
      [1248]=>
      string(4) "1723"
    }
    ["attributes"]=>
    array(1) {
      [0]=>
      int(21008)
    }
    ["price"]=>
    float(0)
    ["specific_price"]=>
    array(19) {
      ["id_specific_price"]=>
      string(7) "4357939"
      ["id_specific_price_rule"]=>
      string(3) "227"
      ["id_cart"]=>
      string(1) "0"
      ["id_product"]=>
      string(4) "5836"
      ["id_shop"]=>
      string(1) "1"
      ["id_shop_group"]=>
      string(1) "0"
      ["id_currency"]=>
      string(1) "0"
      ["id_country"]=>
      string(1) "0"
      ["id_group"]=>
      string(1) "0"
      ["id_customer"]=>
      string(1) "0"
      ["id_product_attribute"]=>
      string(1) "0"
      ["price"]=>
      string(9) "-1.000000"
      ["from_quantity"]=>
      string(8) "1.000000"
      ["reduction"]=>
      string(8) "0.050000"
      ["reduction_tax"]=>
      string(1) "1"
      ["reduction_type"]=>
      string(10) "percentage"
      ["from"]=>
      string(19) "2021-01-06 00:00:00"
      ["to"]=>
      string(19) "2021-02-01 01:10:00"
      ["score"]=>
      string(2) "48"
    }
    ["ecotax"]=>
    float(0)
    ["weight"]=>
    float(0)
    ["quantity"]=>
    float(17)
    ["reference"]=>
    string(0) ""
    ["unit_impact"]=>
    string(8) "0.000000"
    ["minimal_quantity"]=>
    int(1)
    ["available_date"]=>
    string(10) "2019-07-09"
    ["date_formatted"]=>
    string(10) "07/09/2019"
    ["id_image"]=>
    int(34716)
    ["list"]=>
    string(7) "'21008'"
  }
  [31399]=>
  array(14) {
    ["attributes_values"]=>
    array(1) {
      [1248]=>
      string(4) "1724"
    }
    ["attributes"]=>
    array(1) {
      [0]=>
      int(21009)
    }
    ["price"]=>
    float(0)
    ["specific_price"]=>
    array(19) {
      ["id_specific_price"]=>
      string(7) "4357939"
      ["id_specific_price_rule"]=>
      string(3) "227"
      ["id_cart"]=>
      string(1) "0"
      ["id_product"]=>
      string(4) "5836"
      ["id_shop"]=>
      string(1) "1"
      ["id_shop_group"]=>
      string(1) "0"
      ["id_currency"]=>
      string(1) "0"
      ["id_country"]=>
      string(1) "0"
      ["id_group"]=>
      string(1) "0"
      ["id_customer"]=>
      string(1) "0"
      ["id_product_attribute"]=>
      string(1) "0"
      ["price"]=>
      string(9) "-1.000000"
      ["from_quantity"]=>
      string(8) "1.000000"
      ["reduction"]=>
      string(8) "0.050000"
      ["reduction_tax"]=>
      string(1) "1"
      ["reduction_type"]=>
      string(10) "percentage"
      ["from"]=>
      string(19) "2021-01-06 00:00:00"
      ["to"]=>
      string(19) "2021-02-01 01:10:00"
      ["score"]=>
      string(2) "48"
    }
    ["ecotax"]=>
    float(0)
    ["weight"]=>
    float(0)
    ["quantity"]=>
    float(25)
    ["reference"]=>
    string(0) ""
    ["unit_impact"]=>
    string(8) "0.000000"
    ["minimal_quantity"]=>
    int(1)
    ["available_date"]=>
    string(10) "2019-07-09"
    ["date_formatted"]=>
    string(10) "07/09/2019"
    ["id_image"]=>
    int(34717)
    ["list"]=>
    string(7) "'21009'"
  }
  [31400]=>
  array(14) {
    ["attributes_values"]=>
    array(1) {
      [1248]=>
      string(4) "1725"
    }
    ["attributes"]=>
    array(1) {
      [0]=>
      int(21010)
    }
    ["price"]=>
    float(0)
    ["specific_price"]=>
    array(19) {
      ["id_specific_price"]=>
      string(7) "4357939"
      ["id_specific_price_rule"]=>
      string(3) "227"
      ["id_cart"]=>
      string(1) "0"
      ["id_product"]=>
      string(4) "5836"
      ["id_shop"]=>
      string(1) "1"
      ["id_shop_group"]=>
      string(1) "0"
      ["id_currency"]=>
      string(1) "0"
      ["id_country"]=>
      string(1) "0"
      ["id_group"]=>
      string(1) "0"
      ["id_customer"]=>
      string(1) "0"
      ["id_product_attribute"]=>
      string(1) "0"
      ["price"]=>
      string(9) "-1.000000"
      ["from_quantity"]=>
      string(8) "1.000000"
      ["reduction"]=>
      string(8) "0.050000"
      ["reduction_tax"]=>
      string(1) "1"
      ["reduction_type"]=>
      string(10) "percentage"
      ["from"]=>
      string(19) "2021-01-06 00:00:00"
      ["to"]=>
      string(19) "2021-02-01 01:10:00"
      ["score"]=>
      string(2) "48"
    }
    ["ecotax"]=>
    float(0)
    ["weight"]=>
    float(0)
    ["quantity"]=>
    float(24)
    ["reference"]=>
    string(0) ""
    ["unit_impact"]=>
    string(8) "0.000000"
    ["minimal_quantity"]=>
    int(1)
    ["available_date"]=>
    string(10) "2019-07-09"
    ["date_formatted"]=>
    string(10) "07/09/2019"
    ["id_image"]=>
    int(34718)
    ["list"]=>
    string(7) "'21010'"
  }
  [31401]=>
  array(14) {
    ["attributes_values"]=>
    array(1) {
      [1248]=>
      string(4) "1820"
    }
    ["attributes"]=>
    array(1) {
      [0]=>
      int(21011)
    }
    ["price"]=>
    float(0)
    ["specific_price"]=>
    array(19) {
      ["id_specific_price"]=>
      string(7) "4357939"
      ["id_specific_price_rule"]=>
      string(3) "227"
      ["id_cart"]=>
      string(1) "0"
      ["id_product"]=>
      string(4) "5836"
      ["id_shop"]=>
      string(1) "1"
      ["id_shop_group"]=>
      string(1) "0"
      ["id_currency"]=>
      string(1) "0"
      ["id_country"]=>
      string(1) "0"
      ["id_group"]=>
      string(1) "0"
      ["id_customer"]=>
      string(1) "0"
      ["id_product_attribute"]=>
      string(1) "0"
      ["price"]=>
      string(9) "-1.000000"
      ["from_quantity"]=>
      string(8) "1.000000"
      ["reduction"]=>
      string(8) "0.050000"
      ["reduction_tax"]=>
      string(1) "1"
      ["reduction_type"]=>
      string(10) "percentage"
      ["from"]=>
      string(19) "2021-01-06 00:00:00"
      ["to"]=>
      string(19) "2021-02-01 01:10:00"
      ["score"]=>
      string(2) "48"
    }
    ["ecotax"]=>
    float(0)
    ["weight"]=>
    float(0)
    ["quantity"]=>
    float(16)
    ["reference"]=>
    string(0) ""
    ["unit_impact"]=>
    string(8) "0.000000"
    ["minimal_quantity"]=>
    int(1)
    ["available_date"]=>
    string(10) "2019-07-09"
    ["date_formatted"]=>
    string(10) "07/09/2019"
    ["id_image"]=>
    int(34719)
    ["list"]=>
    string(7) "'21011'"
  }
  [31402]=>
  array(14) {
    ["attributes_values"]=>
    array(1) {
      [1248]=>
      string(4) "1821"
    }
    ["attributes"]=>
    array(1) {
      [0]=>
      int(21012)
    }
    ["price"]=>
    float(0)
    ["specific_price"]=>
    array(19) {
      ["id_specific_price"]=>
      string(7) "4357939"
      ["id_specific_price_rule"]=>
      string(3) "227"
      ["id_cart"]=>
      string(1) "0"
      ["id_product"]=>
      string(4) "5836"
      ["id_shop"]=>
      string(1) "1"
      ["id_shop_group"]=>
      string(1) "0"
      ["id_currency"]=>
      string(1) "0"
      ["id_country"]=>
      string(1) "0"
      ["id_group"]=>
      string(1) "0"
      ["id_customer"]=>
      string(1) "0"
      ["id_product_attribute"]=>
      string(1) "0"
      ["price"]=>
      string(9) "-1.000000"
      ["from_quantity"]=>
      string(8) "1.000000"
      ["reduction"]=>
      string(8) "0.050000"
      ["reduction_tax"]=>
      string(1) "1"
      ["reduction_type"]=>
      string(10) "percentage"
      ["from"]=>
      string(19) "2021-01-06 00:00:00"
      ["to"]=>
      string(19) "2021-02-01 01:10:00"
      ["score"]=>
      string(2) "48"
    }
    ["ecotax"]=>
    float(0)
    ["weight"]=>
    float(0)
    ["quantity"]=>
    float(16)
    ["reference"]=>
    string(0) ""
    ["unit_impact"]=>
    string(8) "0.000000"
    ["minimal_quantity"]=>
    int(1)
    ["available_date"]=>
    string(10) "2019-07-09"
    ["date_formatted"]=>
    string(10) "07/09/2019"
    ["id_image"]=>
    int(34720)
    ["list"]=>
    string(7) "'21012'"
  }
  [31403]=>
  array(14) {
    ["attributes_values"]=>
    array(1) {
      [1248]=>
      string(4) "1822"
    }
    ["attributes"]=>
    array(1) {
      [0]=>
      int(21013)
    }
    ["price"]=>
    float(0)
    ["specific_price"]=>
    array(19) {
      ["id_specific_price"]=>
      string(7) "4357939"
      ["id_specific_price_rule"]=>
      string(3) "227"
      ["id_cart"]=>
      string(1) "0"
      ["id_product"]=>
      string(4) "5836"
      ["id_shop"]=>
      string(1) "1"
      ["id_shop_group"]=>
      string(1) "0"
      ["id_currency"]=>
      string(1) "0"
      ["id_country"]=>
      string(1) "0"
      ["id_group"]=>
      string(1) "0"
      ["id_customer"]=>
      string(1) "0"
      ["id_product_attribute"]=>
      string(1) "0"
      ["price"]=>
      string(9) "-1.000000"
      ["from_quantity"]=>
      string(8) "1.000000"
      ["reduction"]=>
      string(8) "0.050000"
      ["reduction_tax"]=>
      string(1) "1"
      ["reduction_type"]=>
      string(10) "percentage"
      ["from"]=>
      string(19) "2021-01-06 00:00:00"
      ["to"]=>
      string(19) "2021-02-01 01:10:00"
      ["score"]=>
      string(2) "48"
    }
    ["ecotax"]=>
    float(0)
    ["weight"]=>
    float(0)
    ["quantity"]=>
    float(30)
    ["reference"]=>
    string(0) ""
    ["unit_impact"]=>
    string(8) "0.000000"
    ["minimal_quantity"]=>
    int(1)
    ["available_date"]=>
    string(10) "2019-07-09"
    ["date_formatted"]=>
    string(10) "07/09/2019"
    ["id_image"]=>
    int(34721)
    ["list"]=>
    string(7) "'21013'"
  }
  [31404]=>
  array(14) {
    ["attributes_values"]=>
    array(1) {
      [1248]=>
      string(4) "1823"
    }
    ["attributes"]=>
    array(1) {
      [0]=>
      int(21014)
    }
    ["price"]=>
    float(0)
    ["specific_price"]=>
    array(19) {
      ["id_specific_price"]=>
      string(7) "4357939"
      ["id_specific_price_rule"]=>
      string(3) "227"
      ["id_cart"]=>
      string(1) "0"
      ["id_product"]=>
      string(4) "5836"
      ["id_shop"]=>
      string(1) "1"
      ["id_shop_group"]=>
      string(1) "0"
      ["id_currency"]=>
      string(1) "0"
      ["id_country"]=>
      string(1) "0"
      ["id_group"]=>
      string(1) "0"
      ["id_customer"]=>
      string(1) "0"
      ["id_product_attribute"]=>
      string(1) "0"
      ["price"]=>
      string(9) "-1.000000"
      ["from_quantity"]=>
      string(8) "1.000000"
      ["reduction"]=>
      string(8) "0.050000"
      ["reduction_tax"]=>
      string(1) "1"
      ["reduction_type"]=>
      string(10) "percentage"
      ["from"]=>
      string(19) "2021-01-06 00:00:00"
      ["to"]=>
      string(19) "2021-02-01 01:10:00"
      ["score"]=>
      string(2) "48"
    }
    ["ecotax"]=>
    float(0)
    ["weight"]=>
    float(0)
    ["quantity"]=>
    float(36)
    ["reference"]=>
    string(0) ""
    ["unit_impact"]=>
    string(8) "0.000000"
    ["minimal_quantity"]=>
    int(1)
    ["available_date"]=>
    string(10) "2019-07-09"
    ["date_formatted"]=>
    string(10) "07/09/2019"
    ["id_image"]=>
    int(34722)
    ["list"]=>
    string(7) "'21014'"
  }
  [31405]=>
  array(14) {
    ["attributes_values"]=>
    array(1) {
      [1248]=>
      string(4) "1824"
    }
    ["attributes"]=>
    array(1) {
      [0]=>
      int(21015)
    }
    ["price"]=>
    float(0)
    ["specific_price"]=>
    array(19) {
      ["id_specific_price"]=>
      string(7) "4357939"
      ["id_specific_price_rule"]=>
      string(3) "227"
      ["id_cart"]=>
      string(1) "0"
      ["id_product"]=>
      string(4) "5836"
      ["id_shop"]=>
      string(1) "1"
      ["id_shop_group"]=>
      string(1) "0"
      ["id_currency"]=>
      string(1) "0"
      ["id_country"]=>
      string(1) "0"
      ["id_group"]=>
      string(1) "0"
      ["id_customer"]=>
      string(1) "0"
      ["id_product_attribute"]=>
      string(1) "0"
      ["price"]=>
      string(9) "-1.000000"
      ["from_quantity"]=>
      string(8) "1.000000"
      ["reduction"]=>
      string(8) "0.050000"
      ["reduction_tax"]=>
      string(1) "1"
      ["reduction_type"]=>
      string(10) "percentage"
      ["from"]=>
      string(19) "2021-01-06 00:00:00"
      ["to"]=>
      string(19) "2021-02-01 01:10:00"
      ["score"]=>
      string(2) "48"
    }
    ["ecotax"]=>
    float(0)
    ["weight"]=>
    float(0)
    ["quantity"]=>
    float(17)
    ["reference"]=>
    string(0) ""
    ["unit_impact"]=>
    string(8) "0.000000"
    ["minimal_quantity"]=>
    int(1)
    ["available_date"]=>
    string(10) "2019-07-09"
    ["date_formatted"]=>
    string(10) "07/09/2019"
    ["id_image"]=>
    int(34723)
    ["list"]=>
    string(7) "'21015'"
  }
  [31406]=>
  array(14) {
    ["attributes_values"]=>
    array(1) {
      [1248]=>
      string(4) "1825"
    }
    ["attributes"]=>
    array(1) {
      [0]=>
      int(21016)
    }
    ["price"]=>
    float(0)
    ["specific_price"]=>
    array(19) {
      ["id_specific_price"]=>
      string(7) "4357939"
      ["id_specific_price_rule"]=>
      string(3) "227"
      ["id_cart"]=>
      string(1) "0"
      ["id_product"]=>
      string(4) "5836"
      ["id_shop"]=>
      string(1) "1"
      ["id_shop_group"]=>
      string(1) "0"
      ["id_currency"]=>
      string(1) "0"
      ["id_country"]=>
      string(1) "0"
      ["id_group"]=>
      string(1) "0"
      ["id_customer"]=>
      string(1) "0"
      ["id_product_attribute"]=>
      string(1) "0"
      ["price"]=>
      string(9) "-1.000000"
      ["from_quantity"]=>
      string(8) "1.000000"
      ["reduction"]=>
      string(8) "0.050000"
      ["reduction_tax"]=>
      string(1) "1"
      ["reduction_type"]=>
      string(10) "percentage"
      ["from"]=>
      string(19) "2021-01-06 00:00:00"
      ["to"]=>
      string(19) "2021-02-01 01:10:00"
      ["score"]=>
      string(2) "48"
    }
    ["ecotax"]=>
    float(0)
    ["weight"]=>
    float(0)
    ["quantity"]=>
    float(22)
    ["reference"]=>
    string(0) ""
    ["unit_impact"]=>
    string(8) "0.000000"
    ["minimal_quantity"]=>
    int(1)
    ["available_date"]=>
    string(10) "2019-07-09"
    ["date_formatted"]=>
    string(10) "07/09/2019"
    ["id_image"]=>
    int(34724)
    ["list"]=>
    string(7) "'21016'"
  }
  [31407]=>
  array(14) {
    ["attributes_values"]=>
    array(1) {
      [1248]=>
      string(4) "1826"
    }
    ["attributes"]=>
    array(1) {
      [0]=>
      int(21017)
    }
    ["price"]=>
    float(0)
    ["specific_price"]=>
    array(19) {
      ["id_specific_price"]=>
      string(7) "4357939"
      ["id_specific_price_rule"]=>
      string(3) "227"
      ["id_cart"]=>
      string(1) "0"
      ["id_product"]=>
      string(4) "5836"
      ["id_shop"]=>
      string(1) "1"
      ["id_shop_group"]=>
      string(1) "0"
      ["id_currency"]=>
      string(1) "0"
      ["id_country"]=>
      string(1) "0"
      ["id_group"]=>
      string(1) "0"
      ["id_customer"]=>
      string(1) "0"
      ["id_product_attribute"]=>
      string(1) "0"
      ["price"]=>
      string(9) "-1.000000"
      ["from_quantity"]=>
      string(8) "1.000000"
      ["reduction"]=>
      string(8) "0.050000"
      ["reduction_tax"]=>
      string(1) "1"
      ["reduction_type"]=>
      string(10) "percentage"
      ["from"]=>
      string(19) "2021-01-06 00:00:00"
      ["to"]=>
      string(19) "2021-02-01 01:10:00"
      ["score"]=>
      string(2) "48"
    }
    ["ecotax"]=>
    float(0)
    ["weight"]=>
    float(0)
    ["quantity"]=>
    float(14)
    ["reference"]=>
    string(0) ""
    ["unit_impact"]=>
    string(8) "0.000000"
    ["minimal_quantity"]=>
    int(1)
    ["available_date"]=>
    string(10) "2019-07-09"
    ["date_formatted"]=>
    string(10) "07/09/2019"
    ["id_image"]=>
    int(34725)
    ["list"]=>
    string(7) "'21017'"
  }
  [31408]=>
  array(14) {
    ["attributes_values"]=>
    array(1) {
      [1248]=>
      string(4) "1827"
    }
    ["attributes"]=>
    array(1) {
      [0]=>
      int(21018)
    }
    ["price"]=>
    float(0)
    ["specific_price"]=>
    array(19) {
      ["id_specific_price"]=>
      string(7) "4357939"
      ["id_specific_price_rule"]=>
      string(3) "227"
      ["id_cart"]=>
      string(1) "0"
      ["id_product"]=>
      string(4) "5836"
      ["id_shop"]=>
      string(1) "1"
      ["id_shop_group"]=>
      string(1) "0"
      ["id_currency"]=>
      string(1) "0"
      ["id_country"]=>
      string(1) "0"
      ["id_group"]=>
      string(1) "0"
      ["id_customer"]=>
      string(1) "0"
      ["id_product_attribute"]=>
      string(1) "0"
      ["price"]=>
      string(9) "-1.000000"
      ["from_quantity"]=>
      string(8) "1.000000"
      ["reduction"]=>
      string(8) "0.050000"
      ["reduction_tax"]=>
      string(1) "1"
      ["reduction_type"]=>
      string(10) "percentage"
      ["from"]=>
      string(19) "2021-01-06 00:00:00"
      ["to"]=>
      string(19) "2021-02-01 01:10:00"
      ["score"]=>
      string(2) "48"
    }
    ["ecotax"]=>
    float(0)
    ["weight"]=>
    float(0)
    ["quantity"]=>
    float(19)
    ["reference"]=>
    string(0) ""
    ["unit_impact"]=>
    string(8) "0.000000"
    ["minimal_quantity"]=>
    int(1)
    ["available_date"]=>
    string(10) "2019-07-09"
    ["date_formatted"]=>
    string(10) "07/09/2019"
    ["id_image"]=>
    int(34726)
    ["list"]=>
    string(7) "'21018'"
  }
  [31409]=>
  array(14) {
    ["attributes_values"]=>
    array(1) {
      [1248]=>
      string(4) "1828"
    }
    ["attributes"]=>
    array(1) {
      [0]=>
      int(21019)
    }
    ["price"]=>
    float(0)
    ["specific_price"]=>
    array(19) {
      ["id_specific_price"]=>
      string(7) "4357939"
      ["id_specific_price_rule"]=>
      string(3) "227"
      ["id_cart"]=>
      string(1) "0"
      ["id_product"]=>
      string(4) "5836"
      ["id_shop"]=>
      string(1) "1"
      ["id_shop_group"]=>
      string(1) "0"
      ["id_currency"]=>
      string(1) "0"
      ["id_country"]=>
      string(1) "0"
      ["id_group"]=>
      string(1) "0"
      ["id_customer"]=>
      string(1) "0"
      ["id_product_attribute"]=>
      string(1) "0"
      ["price"]=>
      string(9) "-1.000000"
      ["from_quantity"]=>
      string(8) "1.000000"
      ["reduction"]=>
      string(8) "0.050000"
      ["reduction_tax"]=>
      string(1) "1"
      ["reduction_type"]=>
      string(10) "percentage"
      ["from"]=>
      string(19) "2021-01-06 00:00:00"
      ["to"]=>
      string(19) "2021-02-01 01:10:00"
      ["score"]=>
      string(2) "48"
    }
    ["ecotax"]=>
    float(0)
    ["weight"]=>
    float(0)
    ["quantity"]=>
    float(10)
    ["reference"]=>
    string(0) ""
    ["unit_impact"]=>
    string(8) "0.000000"
    ["minimal_quantity"]=>
    int(1)
    ["available_date"]=>
    string(10) "2019-07-09"
    ["date_formatted"]=>
    string(10) "07/09/2019"
    ["id_image"]=>
    int(34727)
    ["list"]=>
    string(7) "'21019'"
  }
  [31410]=>
  array(14) {
    ["attributes_values"]=>
    array(1) {
      [1248]=>
      string(4) "1829"
    }
    ["attributes"]=>
    array(1) {
      [0]=>
      int(21020)
    }
    ["price"]=>
    float(0)
    ["specific_price"]=>
    array(19) {
      ["id_specific_price"]=>
      string(7) "4357939"
      ["id_specific_price_rule"]=>
      string(3) "227"
      ["id_cart"]=>
      string(1) "0"
      ["id_product"]=>
      string(4) "5836"
      ["id_shop"]=>
      string(1) "1"
      ["id_shop_group"]=>
      string(1) "0"
      ["id_currency"]=>
      string(1) "0"
      ["id_country"]=>
      string(1) "0"
      ["id_group"]=>
      string(1) "0"
      ["id_customer"]=>
      string(1) "0"
      ["id_product_attribute"]=>
      string(1) "0"
      ["price"]=>
      string(9) "-1.000000"
      ["from_quantity"]=>
      string(8) "1.000000"
      ["reduction"]=>
      string(8) "0.050000"
      ["reduction_tax"]=>
      string(1) "1"
      ["reduction_type"]=>
      string(10) "percentage"
      ["from"]=>
      string(19) "2021-01-06 00:00:00"
      ["to"]=>
      string(19) "2021-02-01 01:10:00"
      ["score"]=>
      string(2) "48"
    }
    ["ecotax"]=>
    float(0)
    ["weight"]=>
    float(0)
    ["quantity"]=>
    float(18)
    ["reference"]=>
    string(0) ""
    ["unit_impact"]=>
    string(8) "0.000000"
    ["minimal_quantity"]=>
    int(1)
    ["available_date"]=>
    string(10) "2019-07-09"
    ["date_formatted"]=>
    string(10) "07/09/2019"
    ["id_image"]=>
    int(34728)
    ["list"]=>
    string(7) "'21020'"
  }
  [31411]=>
  array(14) {
    ["attributes_values"]=>
    array(1) {
      [1248]=>
      string(4) "2001"
    }
    ["attributes"]=>
    array(1) {
      [0]=>
      int(21021)
    }
    ["price"]=>
    float(0)
    ["specific_price"]=>
    array(19) {
      ["id_specific_price"]=>
      string(7) "4357939"
      ["id_specific_price_rule"]=>
      string(3) "227"
      ["id_cart"]=>
      string(1) "0"
      ["id_product"]=>
      string(4) "5836"
      ["id_shop"]=>
      string(1) "1"
      ["id_shop_group"]=>
      string(1) "0"
      ["id_currency"]=>
      string(1) "0"
      ["id_country"]=>
      string(1) "0"
      ["id_group"]=>
      string(1) "0"
      ["id_customer"]=>
      string(1) "0"
      ["id_product_attribute"]=>
      string(1) "0"
      ["price"]=>
      string(9) "-1.000000"
      ["from_quantity"]=>
      string(8) "1.000000"
      ["reduction"]=>
      string(8) "0.050000"
      ["reduction_tax"]=>
      string(1) "1"
      ["reduction_type"]=>
      string(10) "percentage"
      ["from"]=>
      string(19) "2021-01-06 00:00:00"
      ["to"]=>
      string(19) "2021-02-01 01:10:00"
      ["score"]=>
      string(2) "48"
    }
    ["ecotax"]=>
    float(0)
    ["weight"]=>
    float(0)
    ["quantity"]=>
    float(23)
    ["reference"]=>
    string(0) ""
    ["unit_impact"]=>
    string(8) "0.000000"
    ["minimal_quantity"]=>
    int(1)
    ["available_date"]=>
    string(10) "2019-07-09"
    ["date_formatted"]=>
    string(10) "07/09/2019"
    ["id_image"]=>
    int(34729)
    ["list"]=>
    string(7) "'21021'"
  }
  [31412]=>
  array(14) {
    ["attributes_values"]=>
    array(1) {
      [1248]=>
      string(4) "2002"
    }
    ["attributes"]=>
    array(1) {
      [0]=>
      int(21022)
    }
    ["price"]=>
    float(0)
    ["specific_price"]=>
    array(19) {
      ["id_specific_price"]=>
      string(7) "4357939"
      ["id_specific_price_rule"]=>
      string(3) "227"
      ["id_cart"]=>
      string(1) "0"
      ["id_product"]=>
      string(4) "5836"
      ["id_shop"]=>
      string(1) "1"
      ["id_shop_group"]=>
      string(1) "0"
      ["id_currency"]=>
      string(1) "0"
      ["id_country"]=>
      string(1) "0"
      ["id_group"]=>
      string(1) "0"
      ["id_customer"]=>
      string(1) "0"
      ["id_product_attribute"]=>
      string(1) "0"
      ["price"]=>
      string(9) "-1.000000"
      ["from_quantity"]=>
      string(8) "1.000000"
      ["reduction"]=>
      string(8) "0.050000"
      ["reduction_tax"]=>
      string(1) "1"
      ["reduction_type"]=>
      string(10) "percentage"
      ["from"]=>
      string(19) "2021-01-06 00:00:00"
      ["to"]=>
      string(19) "2021-02-01 01:10:00"
      ["score"]=>
      string(2) "48"
    }
    ["ecotax"]=>
    float(0)
    ["weight"]=>
    float(0)
    ["quantity"]=>
    float(25)
    ["reference"]=>
    string(0) ""
    ["unit_impact"]=>
    string(8) "0.000000"
    ["minimal_quantity"]=>
    int(1)
    ["available_date"]=>
    string(10) "2019-07-09"
    ["date_formatted"]=>
    string(10) "07/09/2019"
    ["id_image"]=>
    int(34730)
    ["list"]=>
    string(7) "'21022'"
  }
  [31413]=>
  array(14) {
    ["attributes_values"]=>
    array(1) {
      [1248]=>
      string(4) "2003"
    }
    ["attributes"]=>
    array(1) {
      [0]=>
      int(21023)
    }
    ["price"]=>
    float(0)
    ["specific_price"]=>
    array(19) {
      ["id_specific_price"]=>
      string(7) "4357939"
      ["id_specific_price_rule"]=>
      string(3) "227"
      ["id_cart"]=>
      string(1) "0"
      ["id_product"]=>
      string(4) "5836"
      ["id_shop"]=>
      string(1) "1"
      ["id_shop_group"]=>
      string(1) "0"
      ["id_currency"]=>
      string(1) "0"
      ["id_country"]=>
      string(1) "0"
      ["id_group"]=>
      string(1) "0"
      ["id_customer"]=>
      string(1) "0"
      ["id_product_attribute"]=>
      string(1) "0"
      ["price"]=>
      string(9) "-1.000000"
      ["from_quantity"]=>
      string(8) "1.000000"
      ["reduction"]=>
      string(8) "0.050000"
      ["reduction_tax"]=>
      string(1) "1"
      ["reduction_type"]=>
      string(10) "percentage"
      ["from"]=>
      string(19) "2021-01-06 00:00:00"
      ["to"]=>
      string(19) "2021-02-01 01:10:00"
      ["score"]=>
      string(2) "48"
    }
    ["ecotax"]=>
    float(0)
    ["weight"]=>
    float(0)
    ["quantity"]=>
    float(24)
    ["reference"]=>
    string(0) ""
    ["unit_impact"]=>
    string(8) "0.000000"
    ["minimal_quantity"]=>
    int(1)
    ["available_date"]=>
    string(10) "2019-07-09"
    ["date_formatted"]=>
    string(10) "07/09/2019"
    ["id_image"]=>
    int(34731)
    ["list"]=>
    string(7) "'21023'"
  }
  [31414]=>
  array(14) {
    ["attributes_values"]=>
    array(1) {
      [1248]=>
      string(4) "2004"
    }
    ["attributes"]=>
    array(1) {
      [0]=>
      int(21024)
    }
    ["price"]=>
    float(0)
    ["specific_price"]=>
    array(19) {
      ["id_specific_price"]=>
      string(7) "4357939"
      ["id_specific_price_rule"]=>
      string(3) "227"
      ["id_cart"]=>
      string(1) "0"
      ["id_product"]=>
      string(4) "5836"
      ["id_shop"]=>
      string(1) "1"
      ["id_shop_group"]=>
      string(1) "0"
      ["id_currency"]=>
      string(1) "0"
      ["id_country"]=>
      string(1) "0"
      ["id_group"]=>
      string(1) "0"
      ["id_customer"]=>
      string(1) "0"
      ["id_product_attribute"]=>
      string(1) "0"
      ["price"]=>
      string(9) "-1.000000"
      ["from_quantity"]=>
      string(8) "1.000000"
      ["reduction"]=>
      string(8) "0.050000"
      ["reduction_tax"]=>
      string(1) "1"
      ["reduction_type"]=>
      string(10) "percentage"
      ["from"]=>
      string(19) "2021-01-06 00:00:00"
      ["to"]=>
      string(19) "2021-02-01 01:10:00"
      ["score"]=>
      string(2) "48"
    }
    ["ecotax"]=>
    float(0)
    ["weight"]=>
    float(0)
    ["quantity"]=>
    float(15)
    ["reference"]=>
    string(0) ""
    ["unit_impact"]=>
    string(8) "0.000000"
    ["minimal_quantity"]=>
    int(1)
    ["available_date"]=>
    string(10) "2019-07-09"
    ["date_formatted"]=>
    string(10) "07/09/2019"
    ["id_image"]=>
    int(34732)
    ["list"]=>
    string(7) "'21024'"
  }
  [31415]=>
  array(14) {
    ["attributes_values"]=>
    array(1) {
      [1248]=>
      string(4) "2005"
    }
    ["attributes"]=>
    array(1) {
      [0]=>
      int(21025)
    }
    ["price"]=>
    float(0)
    ["specific_price"]=>
    array(19) {
      ["id_specific_price"]=>
      string(7) "4357939"
      ["id_specific_price_rule"]=>
      string(3) "227"
      ["id_cart"]=>
      string(1) "0"
      ["id_product"]=>
      string(4) "5836"
      ["id_shop"]=>
      string(1) "1"
      ["id_shop_group"]=>
      string(1) "0"
      ["id_currency"]=>
      string(1) "0"
      ["id_country"]=>
      string(1) "0"
      ["id_group"]=>
      string(1) "0"
      ["id_customer"]=>
      string(1) "0"
      ["id_product_attribute"]=>
      string(1) "0"
      ["price"]=>
      string(9) "-1.000000"
      ["from_quantity"]=>
      string(8) "1.000000"
      ["reduction"]=>
      string(8) "0.050000"
      ["reduction_tax"]=>
      string(1) "1"
      ["reduction_type"]=>
      string(10) "percentage"
      ["from"]=>
      string(19) "2021-01-06 00:00:00"
      ["to"]=>
      string(19) "2021-02-01 01:10:00"
      ["score"]=>
      string(2) "48"
    }
    ["ecotax"]=>
    float(0)
    ["weight"]=>
    float(0)
    ["quantity"]=>
    float(7)
    ["reference"]=>
    string(0) ""
    ["unit_impact"]=>
    string(8) "0.000000"
    ["minimal_quantity"]=>
    int(1)
    ["available_date"]=>
    string(10) "2019-07-09"
    ["date_formatted"]=>
    string(10) "07/09/2019"
    ["id_image"]=>
    int(34733)
    ["list"]=>
    string(7) "'21025'"
  }
  [31416]=>
  array(14) {
    ["attributes_values"]=>
    array(1) {
      [1248]=>
      string(4) "2006"
    }
    ["attributes"]=>
    array(1) {
      [0]=>
      int(21026)
    }
    ["price"]=>
    float(0)
    ["specific_price"]=>
    array(19) {
      ["id_specific_price"]=>
      string(7) "4357939"
      ["id_specific_price_rule"]=>
      string(3) "227"
      ["id_cart"]=>
      string(1) "0"
      ["id_product"]=>
      string(4) "5836"
      ["id_shop"]=>
      string(1) "1"
      ["id_shop_group"]=>
      string(1) "0"
      ["id_currency"]=>
      string(1) "0"
      ["id_country"]=>
      string(1) "0"
      ["id_group"]=>
      string(1) "0"
      ["id_customer"]=>
      string(1) "0"
      ["id_product_attribute"]=>
      string(1) "0"
      ["price"]=>
      string(9) "-1.000000"
      ["from_quantity"]=>
      string(8) "1.000000"
      ["reduction"]=>
      string(8) "0.050000"
      ["reduction_tax"]=>
      string(1) "1"
      ["reduction_type"]=>
      string(10) "percentage"
      ["from"]=>
      string(19) "2021-01-06 00:00:00"
      ["to"]=>
      string(19) "2021-02-01 01:10:00"
      ["score"]=>
      string(2) "48"
    }
    ["ecotax"]=>
    float(0)
    ["weight"]=>
    float(0)
    ["quantity"]=>
    float(11)
    ["reference"]=>
    string(0) ""
    ["unit_impact"]=>
    string(8) "0.000000"
    ["minimal_quantity"]=>
    int(1)
    ["available_date"]=>
    string(10) "2019-07-09"
    ["date_formatted"]=>
    string(10) "07/09/2019"
    ["id_image"]=>
    int(34734)
    ["list"]=>
    string(7) "'21026'"
  }
  [31417]=>
  array(14) {
    ["attributes_values"]=>
    array(1) {
      [1248]=>
      string(4) "2007"
    }
    ["attributes"]=>
    array(1) {
      [0]=>
      int(21027)
    }
    ["price"]=>
    float(0)
    ["specific_price"]=>
    array(19) {
      ["id_specific_price"]=>
      string(7) "4357939"
      ["id_specific_price_rule"]=>
      string(3) "227"
      ["id_cart"]=>
      string(1) "0"
      ["id_product"]=>
      string(4) "5836"
      ["id_shop"]=>
      string(1) "1"
      ["id_shop_group"]=>
      string(1) "0"
      ["id_currency"]=>
      string(1) "0"
      ["id_country"]=>
      string(1) "0"
      ["id_group"]=>
      string(1) "0"
      ["id_customer"]=>
      string(1) "0"
      ["id_product_attribute"]=>
      string(1) "0"
      ["price"]=>
      string(9) "-1.000000"
      ["from_quantity"]=>
      string(8) "1.000000"
      ["reduction"]=>
      string(8) "0.050000"
      ["reduction_tax"]=>
      string(1) "1"
      ["reduction_type"]=>
      string(10) "percentage"
      ["from"]=>
      string(19) "2021-01-06 00:00:00"
      ["to"]=>
      string(19) "2021-02-01 01:10:00"
      ["score"]=>
      string(2) "48"
    }
    ["ecotax"]=>
    float(0)
    ["weight"]=>
    float(0)
    ["quantity"]=>
    float(23)
    ["reference"]=>
    string(0) ""
    ["unit_impact"]=>
    string(8) "0.000000"
    ["minimal_quantity"]=>
    int(1)
    ["available_date"]=>
    string(10) "2019-07-09"
    ["date_formatted"]=>
    string(10) "07/09/2019"
    ["id_image"]=>
    int(34735)
    ["list"]=>
    string(7) "'21027'"
  }
  [31418]=>
  array(14) {
    ["attributes_values"]=>
    array(1) {
      [1248]=>
      string(4) "2008"
    }
    ["attributes"]=>
    array(1) {
      [0]=>
      int(21028)
    }
    ["price"]=>
    float(0)
    ["specific_price"]=>
    array(19) {
      ["id_specific_price"]=>
      string(7) "4357939"
      ["id_specific_price_rule"]=>
      string(3) "227"
      ["id_cart"]=>
      string(1) "0"
      ["id_product"]=>
      string(4) "5836"
      ["id_shop"]=>
      string(1) "1"
      ["id_shop_group"]=>
      string(1) "0"
      ["id_currency"]=>
      string(1) "0"
      ["id_country"]=>
      string(1) "0"
      ["id_group"]=>
      string(1) "0"
      ["id_customer"]=>
      string(1) "0"
      ["id_product_attribute"]=>
      string(1) "0"
      ["price"]=>
      string(9) "-1.000000"
      ["from_quantity"]=>
      string(8) "1.000000"
      ["reduction"]=>
      string(8) "0.050000"
      ["reduction_tax"]=>
      string(1) "1"
      ["reduction_type"]=>
      string(10) "percentage"
      ["from"]=>
      string(19) "2021-01-06 00:00:00"
      ["to"]=>
      string(19) "2021-02-01 01:10:00"
      ["score"]=>
      string(2) "48"
    }
    ["ecotax"]=>
    float(0)
    ["weight"]=>
    float(0)
    ["quantity"]=>
    float(32)
    ["reference"]=>
    string(0) ""
    ["unit_impact"]=>
    string(8) "0.000000"
    ["minimal_quantity"]=>
    int(1)
    ["available_date"]=>
    string(10) "2019-07-09"
    ["date_formatted"]=>
    string(10) "07/09/2019"
    ["id_image"]=>
    int(34736)
    ["list"]=>
    string(7) "'21028'"
  }
  [31419]=>
  array(14) {
    ["attributes_values"]=>
    array(1) {
      [1248]=>
      string(4) "2009"
    }
    ["attributes"]=>
    array(1) {
      [0]=>
      int(21029)
    }
    ["price"]=>
    float(0)
    ["specific_price"]=>
    array(19) {
      ["id_specific_price"]=>
      string(7) "4357939"
      ["id_specific_price_rule"]=>
      string(3) "227"
      ["id_cart"]=>
      string(1) "0"
      ["id_product"]=>
      string(4) "5836"
      ["id_shop"]=>
      string(1) "1"
      ["id_shop_group"]=>
      string(1) "0"
      ["id_currency"]=>
      string(1) "0"
      ["id_country"]=>
      string(1) "0"
      ["id_group"]=>
      string(1) "0"
      ["id_customer"]=>
      string(1) "0"
      ["id_product_attribute"]=>
      string(1) "0"
      ["price"]=>
      string(9) "-1.000000"
      ["from_quantity"]=>
      string(8) "1.000000"
      ["reduction"]=>
      string(8) "0.050000"
      ["reduction_tax"]=>
      string(1) "1"
      ["reduction_type"]=>
      string(10) "percentage"
      ["from"]=>
      string(19) "2021-01-06 00:00:00"
      ["to"]=>
      string(19) "2021-02-01 01:10:00"
      ["score"]=>
      string(2) "48"
    }
    ["ecotax"]=>
    float(0)
    ["weight"]=>
    float(0)
    ["quantity"]=>
    float(15)
    ["reference"]=>
    string(0) ""
    ["unit_impact"]=>
    string(8) "0.000000"
    ["minimal_quantity"]=>
    int(1)
    ["available_date"]=>
    string(10) "2019-07-09"
    ["date_formatted"]=>
    string(10) "07/09/2019"
    ["id_image"]=>
    int(34737)
    ["list"]=>
    string(7) "'21029'"
  }
  [31420]=>
  array(14) {
    ["attributes_values"]=>
    array(1) {
      [1248]=>
      string(4) "2010"
    }
    ["attributes"]=>
    array(1) {
      [0]=>
      int(21030)
    }
    ["price"]=>
    float(0)
    ["specific_price"]=>
    array(19) {
      ["id_specific_price"]=>
      string(7) "4357939"
      ["id_specific_price_rule"]=>
      string(3) "227"
      ["id_cart"]=>
      string(1) "0"
      ["id_product"]=>
      string(4) "5836"
      ["id_shop"]=>
      string(1) "1"
      ["id_shop_group"]=>
      string(1) "0"
      ["id_currency"]=>
      string(1) "0"
      ["id_country"]=>
      string(1) "0"
      ["id_group"]=>
      string(1) "0"
      ["id_customer"]=>
      string(1) "0"
      ["id_product_attribute"]=>
      string(1) "0"
      ["price"]=>
      string(9) "-1.000000"
      ["from_quantity"]=>
      string(8) "1.000000"
      ["reduction"]=>
      string(8) "0.050000"
      ["reduction_tax"]=>
      string(1) "1"
      ["reduction_type"]=>
      string(10) "percentage"
      ["from"]=>
      string(19) "2021-01-06 00:00:00"
      ["to"]=>
      string(19) "2021-02-01 01:10:00"
      ["score"]=>
      string(2) "48"
    }
    ["ecotax"]=>
    float(0)
    ["weight"]=>
    float(0)
    ["quantity"]=>
    float(23)
    ["reference"]=>
    string(0) ""
    ["unit_impact"]=>
    string(8) "0.000000"
    ["minimal_quantity"]=>
    int(1)
    ["available_date"]=>
    string(10) "2019-07-09"
    ["date_formatted"]=>
    string(10) "07/09/2019"
    ["id_image"]=>
    int(34738)
    ["list"]=>
    string(7) "'21030'"
  }
  [31421]=>
  array(14) {
    ["attributes_values"]=>
    array(1) {
      [1248]=>
      string(4) "2011"
    }
    ["attributes"]=>
    array(1) {
      [0]=>
      int(21031)
    }
    ["price"]=>
    float(0)
    ["specific_price"]=>
    array(19) {
      ["id_specific_price"]=>
      string(7) "4357939"
      ["id_specific_price_rule"]=>
      string(3) "227"
      ["id_cart"]=>
      string(1) "0"
      ["id_product"]=>
      string(4) "5836"
      ["id_shop"]=>
      string(1) "1"
      ["id_shop_group"]=>
      string(1) "0"
      ["id_currency"]=>
      string(1) "0"
      ["id_country"]=>
      string(1) "0"
      ["id_group"]=>
      string(1) "0"
      ["id_customer"]=>
      string(1) "0"
      ["id_product_attribute"]=>
      string(1) "0"
      ["price"]=>
      string(9) "-1.000000"
      ["from_quantity"]=>
      string(8) "1.000000"
      ["reduction"]=>
      string(8) "0.050000"
      ["reduction_tax"]=>
      string(1) "1"
      ["reduction_type"]=>
      string(10) "percentage"
      ["from"]=>
      string(19) "2021-01-06 00:00:00"
      ["to"]=>
      string(19) "2021-02-01 01:10:00"
      ["score"]=>
      string(2) "48"
    }
    ["ecotax"]=>
    float(0)
    ["weight"]=>
    float(0)
    ["quantity"]=>
    float(7)
    ["reference"]=>
    string(0) ""
    ["unit_impact"]=>
    string(8) "0.000000"
    ["minimal_quantity"]=>
    int(1)
    ["available_date"]=>
    string(10) "2019-07-09"
    ["date_formatted"]=>
    string(10) "07/09/2019"
    ["id_image"]=>
    int(34739)
    ["list"]=>
    string(7) "'21031'"
  }
  [31422]=>
  array(14) {
    ["attributes_values"]=>
    array(1) {
      [1248]=>
      string(4) "2012"
    }
    ["attributes"]=>
    array(1) {
      [0]=>
      int(21032)
    }
    ["price"]=>
    float(0)
    ["specific_price"]=>
    array(19) {
      ["id_specific_price"]=>
      string(7) "4357939"
      ["id_specific_price_rule"]=>
      string(3) "227"
      ["id_cart"]=>
      string(1) "0"
      ["id_product"]=>
      string(4) "5836"
      ["id_shop"]=>
      string(1) "1"
      ["id_shop_group"]=>
      string(1) "0"
      ["id_currency"]=>
      string(1) "0"
      ["id_country"]=>
      string(1) "0"
      ["id_group"]=>
      string(1) "0"
      ["id_customer"]=>
      string(1) "0"
      ["id_product_attribute"]=>
      string(1) "0"
      ["price"]=>
      string(9) "-1.000000"
      ["from_quantity"]=>
      string(8) "1.000000"
      ["reduction"]=>
      string(8) "0.050000"
      ["reduction_tax"]=>
      string(1) "1"
      ["reduction_type"]=>
      string(10) "percentage"
      ["from"]=>
      string(19) "2021-01-06 00:00:00"
      ["to"]=>
      string(19) "2021-02-01 01:10:00"
      ["score"]=>
      string(2) "48"
    }
    ["ecotax"]=>
    float(0)
    ["weight"]=>
    float(0)
    ["quantity"]=>
    float(27)
    ["reference"]=>
    string(0) ""
    ["unit_impact"]=>
    string(8) "0.000000"
    ["minimal_quantity"]=>
    int(1)
    ["available_date"]=>
    string(10) "2019-07-09"
    ["date_formatted"]=>
    string(10) "07/09/2019"
    ["id_image"]=>
    int(34740)
    ["list"]=>
    string(7) "'21032'"
  }
  [31423]=>
  array(14) {
    ["attributes_values"]=>
    array(1) {
      [1248]=>
      string(4) "2013"
    }
    ["attributes"]=>
    array(1) {
      [0]=>
      int(21033)
    }
    ["price"]=>
    float(0)
    ["specific_price"]=>
    array(19) {
      ["id_specific_price"]=>
      string(7) "4357939"
      ["id_specific_price_rule"]=>
      string(3) "227"
      ["id_cart"]=>
      string(1) "0"
      ["id_product"]=>
      string(4) "5836"
      ["id_shop"]=>
      string(1) "1"
      ["id_shop_group"]=>
      string(1) "0"
      ["id_currency"]=>
      string(1) "0"
      ["id_country"]=>
      string(1) "0"
      ["id_group"]=>
      string(1) "0"
      ["id_customer"]=>
      string(1) "0"
      ["id_product_attribute"]=>
      string(1) "0"
      ["price"]=>
      string(9) "-1.000000"
      ["from_quantity"]=>
      string(8) "1.000000"
      ["reduction"]=>
      string(8) "0.050000"
      ["reduction_tax"]=>
      string(1) "1"
      ["reduction_type"]=>
      string(10) "percentage"
      ["from"]=>
      string(19) "2021-01-06 00:00:00"
      ["to"]=>
      string(19) "2021-02-01 01:10:00"
      ["score"]=>
      string(2) "48"
    }
    ["ecotax"]=>
    float(0)
    ["weight"]=>
    float(0)
    ["quantity"]=>
    float(22)
    ["reference"]=>
    string(0) ""
    ["unit_impact"]=>
    string(8) "0.000000"
    ["minimal_quantity"]=>
    int(1)
    ["available_date"]=>
    string(10) "2019-07-09"
    ["date_formatted"]=>
    string(10) "07/09/2019"
    ["id_image"]=>
    int(34741)
    ["list"]=>
    string(7) "'21033'"
  }
  [31424]=>
  array(14) {
    ["attributes_values"]=>
    array(1) {
      [1248]=>
      string(4) "2014"
    }
    ["attributes"]=>
    array(1) {
      [0]=>
      int(21034)
    }
    ["price"]=>
    float(0)
    ["specific_price"]=>
    array(19) {
      ["id_specific_price"]=>
      string(7) "4357939"
      ["id_specific_price_rule"]=>
      string(3) "227"
      ["id_cart"]=>
      string(1) "0"
      ["id_product"]=>
      string(4) "5836"
      ["id_shop"]=>
      string(1) "1"
      ["id_shop_group"]=>
      string(1) "0"
      ["id_currency"]=>
      string(1) "0"
      ["id_country"]=>
      string(1) "0"
      ["id_group"]=>
      string(1) "0"
      ["id_customer"]=>
      string(1) "0"
      ["id_product_attribute"]=>
      string(1) "0"
      ["price"]=>
      string(9) "-1.000000"
      ["from_quantity"]=>
      string(8) "1.000000"
      ["reduction"]=>
      string(8) "0.050000"
      ["reduction_tax"]=>
      string(1) "1"
      ["reduction_type"]=>
      string(10) "percentage"
      ["from"]=>
      string(19) "2021-01-06 00:00:00"
      ["to"]=>
      string(19) "2021-02-01 01:10:00"
      ["score"]=>
      string(2) "48"
    }
    ["ecotax"]=>
    float(0)
    ["weight"]=>
    float(0)
    ["quantity"]=>
    float(20)
    ["reference"]=>
    string(0) ""
    ["unit_impact"]=>
    string(8) "0.000000"
    ["minimal_quantity"]=>
    int(1)
    ["available_date"]=>
    string(10) "2019-07-09"
    ["date_formatted"]=>
    string(10) "07/09/2019"
    ["id_image"]=>
    int(34742)
    ["list"]=>
    string(7) "'21034'"
  }
  [31425]=>
  array(14) {
    ["attributes_values"]=>
    array(1) {
      [1248]=>
      string(4) "2015"
    }
    ["attributes"]=>
    array(1) {
      [0]=>
      int(21035)
    }
    ["price"]=>
    float(0)
    ["specific_price"]=>
    array(19) {
      ["id_specific_price"]=>
      string(7) "4357939"
      ["id_specific_price_rule"]=>
      string(3) "227"
      ["id_cart"]=>
      string(1) "0"
      ["id_product"]=>
      string(4) "5836"
      ["id_shop"]=>
      string(1) "1"
      ["id_shop_group"]=>
      string(1) "0"
      ["id_currency"]=>
      string(1) "0"
      ["id_country"]=>
      string(1) "0"
      ["id_group"]=>
      string(1) "0"
      ["id_customer"]=>
      string(1) "0"
      ["id_product_attribute"]=>
      string(1) "0"
      ["price"]=>
      string(9) "-1.000000"
      ["from_quantity"]=>
      string(8) "1.000000"
      ["reduction"]=>
      string(8) "0.050000"
      ["reduction_tax"]=>
      string(1) "1"
      ["reduction_type"]=>
      string(10) "percentage"
      ["from"]=>
      string(19) "2021-01-06 00:00:00"
      ["to"]=>
      string(19) "2021-02-01 01:10:00"
      ["score"]=>
      string(2) "48"
    }
    ["ecotax"]=>
    float(0)
    ["weight"]=>
    float(0)
    ["quantity"]=>
    float(16)
    ["reference"]=>
    string(0) ""
    ["unit_impact"]=>
    string(8) "0.000000"
    ["minimal_quantity"]=>
    int(1)
    ["available_date"]=>
    string(10) "2019-07-09"
    ["date_formatted"]=>
    string(10) "07/09/2019"
    ["id_image"]=>
    int(34743)
    ["list"]=>
    string(7) "'21035'"
  }
  [31426]=>
  array(14) {
    ["attributes_values"]=>
    array(1) {
      [1248]=>
      string(4) "2016"
    }
    ["attributes"]=>
    array(1) {
      [0]=>
      int(21036)
    }
    ["price"]=>
    float(0)
    ["specific_price"]=>
    array(19) {
      ["id_specific_price"]=>
      string(7) "4357939"
      ["id_specific_price_rule"]=>
      string(3) "227"
      ["id_cart"]=>
      string(1) "0"
      ["id_product"]=>
      string(4) "5836"
      ["id_shop"]=>
      string(1) "1"
      ["id_shop_group"]=>
      string(1) "0"
      ["id_currency"]=>
      string(1) "0"
      ["id_country"]=>
      string(1) "0"
      ["id_group"]=>
      string(1) "0"
      ["id_customer"]=>
      string(1) "0"
      ["id_product_attribute"]=>
      string(1) "0"
      ["price"]=>
      string(9) "-1.000000"
      ["from_quantity"]=>
      string(8) "1.000000"
      ["reduction"]=>
      string(8) "0.050000"
      ["reduction_tax"]=>
      string(1) "1"
      ["reduction_type"]=>
      string(10) "percentage"
      ["from"]=>
      string(19) "2021-01-06 00:00:00"
      ["to"]=>
      string(19) "2021-02-01 01:10:00"
      ["score"]=>
      string(2) "48"
    }
    ["ecotax"]=>
    float(0)
    ["weight"]=>
    float(0)
    ["quantity"]=>
    float(30)
    ["reference"]=>
    string(0) ""
    ["unit_impact"]=>
    string(8) "0.000000"
    ["minimal_quantity"]=>
    int(1)
    ["available_date"]=>
    string(10) "2019-07-09"
    ["date_formatted"]=>
    string(10) "07/09/2019"
    ["id_image"]=>
    int(34744)
    ["list"]=>
    string(7) "'21036'"
  }
  [31427]=>
  array(14) {
    ["attributes_values"]=>
    array(1) {
      [1248]=>
      string(4) "2017"
    }
    ["attributes"]=>
    array(1) {
      [0]=>
      int(21037)
    }
    ["price"]=>
    float(0)
    ["specific_price"]=>
    array(19) {
      ["id_specific_price"]=>
      string(7) "4357939"
      ["id_specific_price_rule"]=>
      string(3) "227"
      ["id_cart"]=>
      string(1) "0"
      ["id_product"]=>
      string(4) "5836"
      ["id_shop"]=>
      string(1) "1"
      ["id_shop_group"]=>
      string(1) "0"
      ["id_currency"]=>
      string(1) "0"
      ["id_country"]=>
      string(1) "0"
      ["id_group"]=>
      string(1) "0"
      ["id_customer"]=>
      string(1) "0"
      ["id_product_attribute"]=>
      string(1) "0"
      ["price"]=>
      string(9) "-1.000000"
      ["from_quantity"]=>
      string(8) "1.000000"
      ["reduction"]=>
      string(8) "0.050000"
      ["reduction_tax"]=>
      string(1) "1"
      ["reduction_type"]=>
      string(10) "percentage"
      ["from"]=>
      string(19) "2021-01-06 00:00:00"
      ["to"]=>
      string(19) "2021-02-01 01:10:00"
      ["score"]=>
      string(2) "48"
    }
    ["ecotax"]=>
    float(0)
    ["weight"]=>
    float(0)
    ["quantity"]=>
    float(16)
    ["reference"]=>
    string(0) ""
    ["unit_impact"]=>
    string(8) "0.000000"
    ["minimal_quantity"]=>
    int(1)
    ["available_date"]=>
    string(10) "2019-07-09"
    ["date_formatted"]=>
    string(10) "07/09/2019"
    ["id_image"]=>
    int(34745)
    ["list"]=>
    string(7) "'21037'"
  }
  [31428]=>
  array(14) {
    ["attributes_values"]=>
    array(1) {
      [1248]=>
      string(4) "2018"
    }
    ["attributes"]=>
    array(1) {
      [0]=>
      int(21038)
    }
    ["price"]=>
    float(0)
    ["specific_price"]=>
    array(19) {
      ["id_specific_price"]=>
      string(7) "4357939"
      ["id_specific_price_rule"]=>
      string(3) "227"
      ["id_cart"]=>
      string(1) "0"
      ["id_product"]=>
      string(4) "5836"
      ["id_shop"]=>
      string(1) "1"
      ["id_shop_group"]=>
      string(1) "0"
      ["id_currency"]=>
      string(1) "0"
      ["id_country"]=>
      string(1) "0"
      ["id_group"]=>
      string(1) "0"
      ["id_customer"]=>
      string(1) "0"
      ["id_product_attribute"]=>
      string(1) "0"
      ["price"]=>
      string(9) "-1.000000"
      ["from_quantity"]=>
      string(8) "1.000000"
      ["reduction"]=>
      string(8) "0.050000"
      ["reduction_tax"]=>
      string(1) "1"
      ["reduction_type"]=>
      string(10) "percentage"
      ["from"]=>
      string(19) "2021-01-06 00:00:00"
      ["to"]=>
      string(19) "2021-02-01 01:10:00"
      ["score"]=>
      string(2) "48"
    }
    ["ecotax"]=>
    float(0)
    ["weight"]=>
    float(0)
    ["quantity"]=>
    float(20)
    ["reference"]=>
    string(0) ""
    ["unit_impact"]=>
    string(8) "0.000000"
    ["minimal_quantity"]=>
    int(1)
    ["available_date"]=>
    string(10) "2019-07-09"
    ["date_formatted"]=>
    string(10) "07/09/2019"
    ["id_image"]=>
    int(34746)
    ["list"]=>
    string(7) "'21038'"
  }
  [31429]=>
  array(14) {
    ["attributes_values"]=>
    array(1) {
      [1248]=>
      string(4) "2019"
    }
    ["attributes"]=>
    array(1) {
      [0]=>
      int(21039)
    }
    ["price"]=>
    float(0)
    ["specific_price"]=>
    array(19) {
      ["id_specific_price"]=>
      string(7) "4357939"
      ["id_specific_price_rule"]=>
      string(3) "227"
      ["id_cart"]=>
      string(1) "0"
      ["id_product"]=>
      string(4) "5836"
      ["id_shop"]=>
      string(1) "1"
      ["id_shop_group"]=>
      string(1) "0"
      ["id_currency"]=>
      string(1) "0"
      ["id_country"]=>
      string(1) "0"
      ["id_group"]=>
      string(1) "0"
      ["id_customer"]=>
      string(1) "0"
      ["id_product_attribute"]=>
      string(1) "0"
      ["price"]=>
      string(9) "-1.000000"
      ["from_quantity"]=>
      string(8) "1.000000"
      ["reduction"]=>
      string(8) "0.050000"
      ["reduction_tax"]=>
      string(1) "1"
      ["reduction_type"]=>
      string(10) "percentage"
      ["from"]=>
      string(19) "2021-01-06 00:00:00"
      ["to"]=>
      string(19) "2021-02-01 01:10:00"
      ["score"]=>
      string(2) "48"
    }
    ["ecotax"]=>
    float(0)
    ["weight"]=>
    float(0)
    ["quantity"]=>
    float(0)
    ["reference"]=>
    string(0) ""
    ["unit_impact"]=>
    string(8) "0.000000"
    ["minimal_quantity"]=>
    int(1)
    ["available_date"]=>
    string(10) "2019-07-09"
    ["date_formatted"]=>
    string(10) "07/09/2019"
    ["id_image"]=>
    int(34747)
    ["list"]=>
    string(7) "'21039'"
  }
}

Scheepjes Chunky Monkey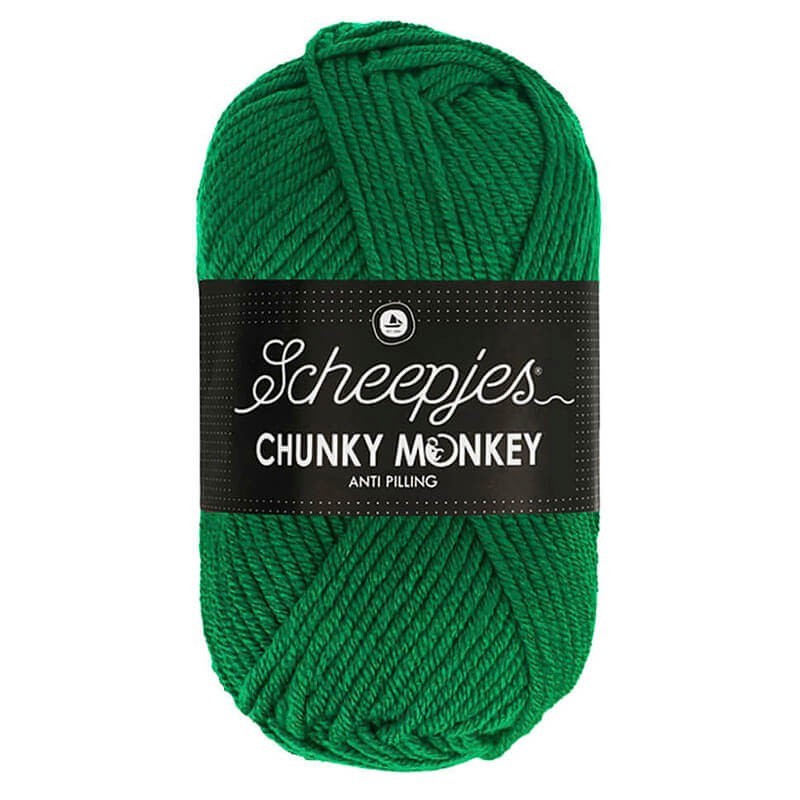  
Scheepjes Chunky Monkey is an acrylic yarn with an anti-pilling finish. Avoid the appearance of pills and fluffs in your fabrics! It offers a range of more than 90 colours, perfect to create all kind of colours combinations.
No reward points for this product because there's already a discount.
Product details
Features
Weight

100 grams

Length

115 meters

Knitting needle

5

Crochet Hook

5

Season

Autumn - Winter
Product description
Chunky Monkey by Scheepjes is the perfect yarn for knitters who need colour combinations in their projects. You can make all kind of combinations thanks to its range of more than 90 colors.
It is a hypoallergenic yarn whose fabric is smooth and pleasant to the touch, perfect for sensitive skins. Use it to create baby, kids or adults garments and accessories.
It is ideal for weaving colourful or monochromatic blankets… create Granny Squares, Amigurumis or other projects in need of colour combination.
Perfect to make home decoration sewing pieces, as well as pullovers, coats, jackets, dresses, baby onesies, scarfs, and many more!
An anti-pilling yarn is obtained from the treatment of these balls, and it doesn't produce pills or fluffs in the fabric. Your projects will remain smooth and in good condition, despite its frequent use and the regular washing.
Scheepjes Chunky Monkey is made of:
Characteristics of Chunky Monkey by Scheepjes:
Each balls contains 100 grams and 116 metres.

Its thickness is perfect to weave with 5 mm knitting needle or crochet hook.

Mount 13 stitches and do 18 laps to knit a 10 x 10 cm square.

You can wash it in the washing machine at low temperature, up to 40ºC.

It can be ironed at a maximum of 110ºC.

Use the dryer! It is suitable for dryer use.
Its easy care allows you for using your sewing pieces frequently. You can use the washing machine and the dryer, making it perfect as kid's clothing. 
How many balls do I need to weave my sewing pieces?
To weave a long-sleeve pullover (size 42) you will need about 7 balls.

1 ball is enough to weave a hat.

To weave a kid coat (size 4/until 8 years) you will need 5 - 6 balls.
Rating:

4.5

out of

5

based on

6

reviews.
Customer reviews
Nº of votes

Average experience

Rating

6

star star star star star_half

star star star star star

star star star star star

star star star star star_half
Page 1
Loading more results...