array(15) {
  [27618]=>
  array(14) {
    ["attributes_values"]=>
    array(1) {
      [1093]=>
      string(3) "200"
    }
    ["attributes"]=>
    array(1) {
      [0]=>
      int(18076)
    }
    ["price"]=>
    float(0)
    ["specific_price"]=>
    array(19) {
      ["id_specific_price"]=>
      string(7) "4357935"
      ["id_specific_price_rule"]=>
      string(3) "227"
      ["id_cart"]=>
      string(1) "0"
      ["id_product"]=>
      string(4) "5220"
      ["id_shop"]=>
      string(1) "1"
      ["id_shop_group"]=>
      string(1) "0"
      ["id_currency"]=>
      string(1) "0"
      ["id_country"]=>
      string(1) "0"
      ["id_group"]=>
      string(1) "0"
      ["id_customer"]=>
      string(1) "0"
      ["id_product_attribute"]=>
      string(1) "0"
      ["price"]=>
      string(9) "-1.000000"
      ["from_quantity"]=>
      string(8) "1.000000"
      ["reduction"]=>
      string(8) "0.050000"
      ["reduction_tax"]=>
      string(1) "1"
      ["reduction_type"]=>
      string(10) "percentage"
      ["from"]=>
      string(19) "2021-01-06 00:00:00"
      ["to"]=>
      string(19) "2021-02-01 01:10:00"
      ["score"]=>
      string(2) "48"
    }
    ["ecotax"]=>
    float(0)
    ["weight"]=>
    float(0)
    ["quantity"]=>
    float(2)
    ["reference"]=>
    string(0) ""
    ["unit_impact"]=>
    string(8) "0.000000"
    ["minimal_quantity"]=>
    int(1)
    ["available_date"]=>
    string(10) "2019-02-20"
    ["date_formatted"]=>
    string(10) "02/20/2019"
    ["id_image"]=>
    int(29407)
    ["list"]=>
    string(7) "'18076'"
  }
  [27619]=>
  array(14) {
    ["attributes_values"]=>
    array(1) {
      [1093]=>
      string(3) "201"
    }
    ["attributes"]=>
    array(1) {
      [0]=>
      int(18077)
    }
    ["price"]=>
    float(0)
    ["specific_price"]=>
    array(19) {
      ["id_specific_price"]=>
      string(7) "4357935"
      ["id_specific_price_rule"]=>
      string(3) "227"
      ["id_cart"]=>
      string(1) "0"
      ["id_product"]=>
      string(4) "5220"
      ["id_shop"]=>
      string(1) "1"
      ["id_shop_group"]=>
      string(1) "0"
      ["id_currency"]=>
      string(1) "0"
      ["id_country"]=>
      string(1) "0"
      ["id_group"]=>
      string(1) "0"
      ["id_customer"]=>
      string(1) "0"
      ["id_product_attribute"]=>
      string(1) "0"
      ["price"]=>
      string(9) "-1.000000"
      ["from_quantity"]=>
      string(8) "1.000000"
      ["reduction"]=>
      string(8) "0.050000"
      ["reduction_tax"]=>
      string(1) "1"
      ["reduction_type"]=>
      string(10) "percentage"
      ["from"]=>
      string(19) "2021-01-06 00:00:00"
      ["to"]=>
      string(19) "2021-02-01 01:10:00"
      ["score"]=>
      string(2) "48"
    }
    ["ecotax"]=>
    float(0)
    ["weight"]=>
    float(0)
    ["quantity"]=>
    float(4)
    ["reference"]=>
    string(0) ""
    ["unit_impact"]=>
    string(8) "0.000000"
    ["minimal_quantity"]=>
    int(1)
    ["available_date"]=>
    string(10) "2019-02-20"
    ["date_formatted"]=>
    string(10) "02/20/2019"
    ["id_image"]=>
    int(29408)
    ["list"]=>
    string(7) "'18077'"
  }
  [27620]=>
  array(14) {
    ["attributes_values"]=>
    array(1) {
      [1093]=>
      string(3) "202"
    }
    ["attributes"]=>
    array(1) {
      [0]=>
      int(18078)
    }
    ["price"]=>
    float(0)
    ["specific_price"]=>
    array(19) {
      ["id_specific_price"]=>
      string(7) "4357935"
      ["id_specific_price_rule"]=>
      string(3) "227"
      ["id_cart"]=>
      string(1) "0"
      ["id_product"]=>
      string(4) "5220"
      ["id_shop"]=>
      string(1) "1"
      ["id_shop_group"]=>
      string(1) "0"
      ["id_currency"]=>
      string(1) "0"
      ["id_country"]=>
      string(1) "0"
      ["id_group"]=>
      string(1) "0"
      ["id_customer"]=>
      string(1) "0"
      ["id_product_attribute"]=>
      string(1) "0"
      ["price"]=>
      string(9) "-1.000000"
      ["from_quantity"]=>
      string(8) "1.000000"
      ["reduction"]=>
      string(8) "0.050000"
      ["reduction_tax"]=>
      string(1) "1"
      ["reduction_type"]=>
      string(10) "percentage"
      ["from"]=>
      string(19) "2021-01-06 00:00:00"
      ["to"]=>
      string(19) "2021-02-01 01:10:00"
      ["score"]=>
      string(2) "48"
    }
    ["ecotax"]=>
    float(0)
    ["weight"]=>
    float(0)
    ["quantity"]=>
    float(1)
    ["reference"]=>
    string(0) ""
    ["unit_impact"]=>
    string(8) "0.000000"
    ["minimal_quantity"]=>
    int(1)
    ["available_date"]=>
    string(10) "2019-02-20"
    ["date_formatted"]=>
    string(10) "02/20/2019"
    ["id_image"]=>
    int(29409)
    ["list"]=>
    string(7) "'18078'"
  }
  [27621]=>
  array(14) {
    ["attributes_values"]=>
    array(1) {
      [1093]=>
      string(3) "203"
    }
    ["attributes"]=>
    array(1) {
      [0]=>
      int(18079)
    }
    ["price"]=>
    float(0)
    ["specific_price"]=>
    array(19) {
      ["id_specific_price"]=>
      string(7) "4357935"
      ["id_specific_price_rule"]=>
      string(3) "227"
      ["id_cart"]=>
      string(1) "0"
      ["id_product"]=>
      string(4) "5220"
      ["id_shop"]=>
      string(1) "1"
      ["id_shop_group"]=>
      string(1) "0"
      ["id_currency"]=>
      string(1) "0"
      ["id_country"]=>
      string(1) "0"
      ["id_group"]=>
      string(1) "0"
      ["id_customer"]=>
      string(1) "0"
      ["id_product_attribute"]=>
      string(1) "0"
      ["price"]=>
      string(9) "-1.000000"
      ["from_quantity"]=>
      string(8) "1.000000"
      ["reduction"]=>
      string(8) "0.050000"
      ["reduction_tax"]=>
      string(1) "1"
      ["reduction_type"]=>
      string(10) "percentage"
      ["from"]=>
      string(19) "2021-01-06 00:00:00"
      ["to"]=>
      string(19) "2021-02-01 01:10:00"
      ["score"]=>
      string(2) "48"
    }
    ["ecotax"]=>
    float(0)
    ["weight"]=>
    float(0)
    ["quantity"]=>
    float(0)
    ["reference"]=>
    string(0) ""
    ["unit_impact"]=>
    string(8) "0.000000"
    ["minimal_quantity"]=>
    int(1)
    ["available_date"]=>
    string(10) "2019-02-20"
    ["date_formatted"]=>
    string(10) "02/20/2019"
    ["id_image"]=>
    int(29410)
    ["list"]=>
    string(7) "'18079'"
  }
  [27622]=>
  array(14) {
    ["attributes_values"]=>
    array(1) {
      [1093]=>
      string(3) "204"
    }
    ["attributes"]=>
    array(1) {
      [0]=>
      int(18080)
    }
    ["price"]=>
    float(0)
    ["specific_price"]=>
    array(19) {
      ["id_specific_price"]=>
      string(7) "4357935"
      ["id_specific_price_rule"]=>
      string(3) "227"
      ["id_cart"]=>
      string(1) "0"
      ["id_product"]=>
      string(4) "5220"
      ["id_shop"]=>
      string(1) "1"
      ["id_shop_group"]=>
      string(1) "0"
      ["id_currency"]=>
      string(1) "0"
      ["id_country"]=>
      string(1) "0"
      ["id_group"]=>
      string(1) "0"
      ["id_customer"]=>
      string(1) "0"
      ["id_product_attribute"]=>
      string(1) "0"
      ["price"]=>
      string(9) "-1.000000"
      ["from_quantity"]=>
      string(8) "1.000000"
      ["reduction"]=>
      string(8) "0.050000"
      ["reduction_tax"]=>
      string(1) "1"
      ["reduction_type"]=>
      string(10) "percentage"
      ["from"]=>
      string(19) "2021-01-06 00:00:00"
      ["to"]=>
      string(19) "2021-02-01 01:10:00"
      ["score"]=>
      string(2) "48"
    }
    ["ecotax"]=>
    float(0)
    ["weight"]=>
    float(0)
    ["quantity"]=>
    float(4)
    ["reference"]=>
    string(0) ""
    ["unit_impact"]=>
    string(8) "0.000000"
    ["minimal_quantity"]=>
    int(1)
    ["available_date"]=>
    string(10) "2019-02-20"
    ["date_formatted"]=>
    string(10) "02/20/2019"
    ["id_image"]=>
    int(29411)
    ["list"]=>
    string(7) "'18080'"
  }
  [27623]=>
  array(14) {
    ["attributes_values"]=>
    array(1) {
      [1093]=>
      string(3) "205"
    }
    ["attributes"]=>
    array(1) {
      [0]=>
      int(18081)
    }
    ["price"]=>
    float(0)
    ["specific_price"]=>
    array(19) {
      ["id_specific_price"]=>
      string(7) "4357935"
      ["id_specific_price_rule"]=>
      string(3) "227"
      ["id_cart"]=>
      string(1) "0"
      ["id_product"]=>
      string(4) "5220"
      ["id_shop"]=>
      string(1) "1"
      ["id_shop_group"]=>
      string(1) "0"
      ["id_currency"]=>
      string(1) "0"
      ["id_country"]=>
      string(1) "0"
      ["id_group"]=>
      string(1) "0"
      ["id_customer"]=>
      string(1) "0"
      ["id_product_attribute"]=>
      string(1) "0"
      ["price"]=>
      string(9) "-1.000000"
      ["from_quantity"]=>
      string(8) "1.000000"
      ["reduction"]=>
      string(8) "0.050000"
      ["reduction_tax"]=>
      string(1) "1"
      ["reduction_type"]=>
      string(10) "percentage"
      ["from"]=>
      string(19) "2021-01-06 00:00:00"
      ["to"]=>
      string(19) "2021-02-01 01:10:00"
      ["score"]=>
      string(2) "48"
    }
    ["ecotax"]=>
    float(0)
    ["weight"]=>
    float(0)
    ["quantity"]=>
    float(3)
    ["reference"]=>
    string(0) ""
    ["unit_impact"]=>
    string(8) "0.000000"
    ["minimal_quantity"]=>
    int(1)
    ["available_date"]=>
    string(10) "2019-02-20"
    ["date_formatted"]=>
    string(10) "02/20/2019"
    ["id_image"]=>
    int(29412)
    ["list"]=>
    string(7) "'18081'"
  }
  [27624]=>
  array(14) {
    ["attributes_values"]=>
    array(1) {
      [1093]=>
      string(3) "206"
    }
    ["attributes"]=>
    array(1) {
      [0]=>
      int(18082)
    }
    ["price"]=>
    float(0)
    ["specific_price"]=>
    array(19) {
      ["id_specific_price"]=>
      string(7) "4357935"
      ["id_specific_price_rule"]=>
      string(3) "227"
      ["id_cart"]=>
      string(1) "0"
      ["id_product"]=>
      string(4) "5220"
      ["id_shop"]=>
      string(1) "1"
      ["id_shop_group"]=>
      string(1) "0"
      ["id_currency"]=>
      string(1) "0"
      ["id_country"]=>
      string(1) "0"
      ["id_group"]=>
      string(1) "0"
      ["id_customer"]=>
      string(1) "0"
      ["id_product_attribute"]=>
      string(1) "0"
      ["price"]=>
      string(9) "-1.000000"
      ["from_quantity"]=>
      string(8) "1.000000"
      ["reduction"]=>
      string(8) "0.050000"
      ["reduction_tax"]=>
      string(1) "1"
      ["reduction_type"]=>
      string(10) "percentage"
      ["from"]=>
      string(19) "2021-01-06 00:00:00"
      ["to"]=>
      string(19) "2021-02-01 01:10:00"
      ["score"]=>
      string(2) "48"
    }
    ["ecotax"]=>
    float(0)
    ["weight"]=>
    float(0)
    ["quantity"]=>
    float(3)
    ["reference"]=>
    string(0) ""
    ["unit_impact"]=>
    string(8) "0.000000"
    ["minimal_quantity"]=>
    int(1)
    ["available_date"]=>
    string(10) "2019-02-20"
    ["date_formatted"]=>
    string(10) "02/20/2019"
    ["id_image"]=>
    int(29413)
    ["list"]=>
    string(7) "'18082'"
  }
  [27625]=>
  array(14) {
    ["attributes_values"]=>
    array(1) {
      [1093]=>
      string(3) "207"
    }
    ["attributes"]=>
    array(1) {
      [0]=>
      int(18083)
    }
    ["price"]=>
    float(0)
    ["specific_price"]=>
    array(19) {
      ["id_specific_price"]=>
      string(7) "4357935"
      ["id_specific_price_rule"]=>
      string(3) "227"
      ["id_cart"]=>
      string(1) "0"
      ["id_product"]=>
      string(4) "5220"
      ["id_shop"]=>
      string(1) "1"
      ["id_shop_group"]=>
      string(1) "0"
      ["id_currency"]=>
      string(1) "0"
      ["id_country"]=>
      string(1) "0"
      ["id_group"]=>
      string(1) "0"
      ["id_customer"]=>
      string(1) "0"
      ["id_product_attribute"]=>
      string(1) "0"
      ["price"]=>
      string(9) "-1.000000"
      ["from_quantity"]=>
      string(8) "1.000000"
      ["reduction"]=>
      string(8) "0.050000"
      ["reduction_tax"]=>
      string(1) "1"
      ["reduction_type"]=>
      string(10) "percentage"
      ["from"]=>
      string(19) "2021-01-06 00:00:00"
      ["to"]=>
      string(19) "2021-02-01 01:10:00"
      ["score"]=>
      string(2) "48"
    }
    ["ecotax"]=>
    float(0)
    ["weight"]=>
    float(0)
    ["quantity"]=>
    float(3)
    ["reference"]=>
    string(0) ""
    ["unit_impact"]=>
    string(8) "0.000000"
    ["minimal_quantity"]=>
    int(1)
    ["available_date"]=>
    string(10) "2019-02-20"
    ["date_formatted"]=>
    string(10) "02/20/2019"
    ["id_image"]=>
    int(29414)
    ["list"]=>
    string(7) "'18083'"
  }
  [27626]=>
  array(14) {
    ["attributes_values"]=>
    array(1) {
      [1093]=>
      string(3) "208"
    }
    ["attributes"]=>
    array(1) {
      [0]=>
      int(18084)
    }
    ["price"]=>
    float(0)
    ["specific_price"]=>
    array(19) {
      ["id_specific_price"]=>
      string(7) "4357935"
      ["id_specific_price_rule"]=>
      string(3) "227"
      ["id_cart"]=>
      string(1) "0"
      ["id_product"]=>
      string(4) "5220"
      ["id_shop"]=>
      string(1) "1"
      ["id_shop_group"]=>
      string(1) "0"
      ["id_currency"]=>
      string(1) "0"
      ["id_country"]=>
      string(1) "0"
      ["id_group"]=>
      string(1) "0"
      ["id_customer"]=>
      string(1) "0"
      ["id_product_attribute"]=>
      string(1) "0"
      ["price"]=>
      string(9) "-1.000000"
      ["from_quantity"]=>
      string(8) "1.000000"
      ["reduction"]=>
      string(8) "0.050000"
      ["reduction_tax"]=>
      string(1) "1"
      ["reduction_type"]=>
      string(10) "percentage"
      ["from"]=>
      string(19) "2021-01-06 00:00:00"
      ["to"]=>
      string(19) "2021-02-01 01:10:00"
      ["score"]=>
      string(2) "48"
    }
    ["ecotax"]=>
    float(0)
    ["weight"]=>
    float(0)
    ["quantity"]=>
    float(0)
    ["reference"]=>
    string(0) ""
    ["unit_impact"]=>
    string(8) "0.000000"
    ["minimal_quantity"]=>
    int(1)
    ["available_date"]=>
    string(10) "2019-02-20"
    ["date_formatted"]=>
    string(10) "02/20/2019"
    ["id_image"]=>
    int(29415)
    ["list"]=>
    string(7) "'18084'"
  }
  [27627]=>
  array(14) {
    ["attributes_values"]=>
    array(1) {
      [1093]=>
      string(3) "209"
    }
    ["attributes"]=>
    array(1) {
      [0]=>
      int(18085)
    }
    ["price"]=>
    float(0)
    ["specific_price"]=>
    array(19) {
      ["id_specific_price"]=>
      string(7) "4357935"
      ["id_specific_price_rule"]=>
      string(3) "227"
      ["id_cart"]=>
      string(1) "0"
      ["id_product"]=>
      string(4) "5220"
      ["id_shop"]=>
      string(1) "1"
      ["id_shop_group"]=>
      string(1) "0"
      ["id_currency"]=>
      string(1) "0"
      ["id_country"]=>
      string(1) "0"
      ["id_group"]=>
      string(1) "0"
      ["id_customer"]=>
      string(1) "0"
      ["id_product_attribute"]=>
      string(1) "0"
      ["price"]=>
      string(9) "-1.000000"
      ["from_quantity"]=>
      string(8) "1.000000"
      ["reduction"]=>
      string(8) "0.050000"
      ["reduction_tax"]=>
      string(1) "1"
      ["reduction_type"]=>
      string(10) "percentage"
      ["from"]=>
      string(19) "2021-01-06 00:00:00"
      ["to"]=>
      string(19) "2021-02-01 01:10:00"
      ["score"]=>
      string(2) "48"
    }
    ["ecotax"]=>
    float(0)
    ["weight"]=>
    float(0)
    ["quantity"]=>
    float(0)
    ["reference"]=>
    string(0) ""
    ["unit_impact"]=>
    string(8) "0.000000"
    ["minimal_quantity"]=>
    int(1)
    ["available_date"]=>
    string(10) "2019-02-20"
    ["date_formatted"]=>
    string(10) "02/20/2019"
    ["id_image"]=>
    int(29427)
    ["list"]=>
    string(7) "'18085'"
  }
  [27628]=>
  array(14) {
    ["attributes_values"]=>
    array(1) {
      [1093]=>
      string(3) "210"
    }
    ["attributes"]=>
    array(1) {
      [0]=>
      int(18086)
    }
    ["price"]=>
    float(0)
    ["specific_price"]=>
    array(19) {
      ["id_specific_price"]=>
      string(7) "4357935"
      ["id_specific_price_rule"]=>
      string(3) "227"
      ["id_cart"]=>
      string(1) "0"
      ["id_product"]=>
      string(4) "5220"
      ["id_shop"]=>
      string(1) "1"
      ["id_shop_group"]=>
      string(1) "0"
      ["id_currency"]=>
      string(1) "0"
      ["id_country"]=>
      string(1) "0"
      ["id_group"]=>
      string(1) "0"
      ["id_customer"]=>
      string(1) "0"
      ["id_product_attribute"]=>
      string(1) "0"
      ["price"]=>
      string(9) "-1.000000"
      ["from_quantity"]=>
      string(8) "1.000000"
      ["reduction"]=>
      string(8) "0.050000"
      ["reduction_tax"]=>
      string(1) "1"
      ["reduction_type"]=>
      string(10) "percentage"
      ["from"]=>
      string(19) "2021-01-06 00:00:00"
      ["to"]=>
      string(19) "2021-02-01 01:10:00"
      ["score"]=>
      string(2) "48"
    }
    ["ecotax"]=>
    float(0)
    ["weight"]=>
    float(0)
    ["quantity"]=>
    float(0)
    ["reference"]=>
    string(0) ""
    ["unit_impact"]=>
    string(8) "0.000000"
    ["minimal_quantity"]=>
    int(1)
    ["available_date"]=>
    string(10) "2019-02-20"
    ["date_formatted"]=>
    string(10) "02/20/2019"
    ["id_image"]=>
    int(29417)
    ["list"]=>
    string(7) "'18086'"
  }
  [27629]=>
  array(14) {
    ["attributes_values"]=>
    array(1) {
      [1093]=>
      string(3) "211"
    }
    ["attributes"]=>
    array(1) {
      [0]=>
      int(18087)
    }
    ["price"]=>
    float(0)
    ["specific_price"]=>
    array(19) {
      ["id_specific_price"]=>
      string(7) "4357935"
      ["id_specific_price_rule"]=>
      string(3) "227"
      ["id_cart"]=>
      string(1) "0"
      ["id_product"]=>
      string(4) "5220"
      ["id_shop"]=>
      string(1) "1"
      ["id_shop_group"]=>
      string(1) "0"
      ["id_currency"]=>
      string(1) "0"
      ["id_country"]=>
      string(1) "0"
      ["id_group"]=>
      string(1) "0"
      ["id_customer"]=>
      string(1) "0"
      ["id_product_attribute"]=>
      string(1) "0"
      ["price"]=>
      string(9) "-1.000000"
      ["from_quantity"]=>
      string(8) "1.000000"
      ["reduction"]=>
      string(8) "0.050000"
      ["reduction_tax"]=>
      string(1) "1"
      ["reduction_type"]=>
      string(10) "percentage"
      ["from"]=>
      string(19) "2021-01-06 00:00:00"
      ["to"]=>
      string(19) "2021-02-01 01:10:00"
      ["score"]=>
      string(2) "48"
    }
    ["ecotax"]=>
    float(0)
    ["weight"]=>
    float(0)
    ["quantity"]=>
    float(3)
    ["reference"]=>
    string(0) ""
    ["unit_impact"]=>
    string(8) "0.000000"
    ["minimal_quantity"]=>
    int(1)
    ["available_date"]=>
    string(10) "2019-02-20"
    ["date_formatted"]=>
    string(10) "02/20/2019"
    ["id_image"]=>
    int(29418)
    ["list"]=>
    string(7) "'18087'"
  }
  [27630]=>
  array(14) {
    ["attributes_values"]=>
    array(1) {
      [1093]=>
      string(3) "212"
    }
    ["attributes"]=>
    array(1) {
      [0]=>
      int(18088)
    }
    ["price"]=>
    float(0)
    ["specific_price"]=>
    array(19) {
      ["id_specific_price"]=>
      string(7) "4357935"
      ["id_specific_price_rule"]=>
      string(3) "227"
      ["id_cart"]=>
      string(1) "0"
      ["id_product"]=>
      string(4) "5220"
      ["id_shop"]=>
      string(1) "1"
      ["id_shop_group"]=>
      string(1) "0"
      ["id_currency"]=>
      string(1) "0"
      ["id_country"]=>
      string(1) "0"
      ["id_group"]=>
      string(1) "0"
      ["id_customer"]=>
      string(1) "0"
      ["id_product_attribute"]=>
      string(1) "0"
      ["price"]=>
      string(9) "-1.000000"
      ["from_quantity"]=>
      string(8) "1.000000"
      ["reduction"]=>
      string(8) "0.050000"
      ["reduction_tax"]=>
      string(1) "1"
      ["reduction_type"]=>
      string(10) "percentage"
      ["from"]=>
      string(19) "2021-01-06 00:00:00"
      ["to"]=>
      string(19) "2021-02-01 01:10:00"
      ["score"]=>
      string(2) "48"
    }
    ["ecotax"]=>
    float(0)
    ["weight"]=>
    float(0)
    ["quantity"]=>
    float(6)
    ["reference"]=>
    string(0) ""
    ["unit_impact"]=>
    string(8) "0.000000"
    ["minimal_quantity"]=>
    int(1)
    ["available_date"]=>
    string(10) "2019-02-20"
    ["date_formatted"]=>
    string(10) "02/20/2019"
    ["id_image"]=>
    int(29419)
    ["list"]=>
    string(7) "'18088'"
  }
  [27631]=>
  array(14) {
    ["attributes_values"]=>
    array(1) {
      [1093]=>
      string(3) "213"
    }
    ["attributes"]=>
    array(1) {
      [0]=>
      int(18089)
    }
    ["price"]=>
    float(0)
    ["specific_price"]=>
    array(19) {
      ["id_specific_price"]=>
      string(7) "4357935"
      ["id_specific_price_rule"]=>
      string(3) "227"
      ["id_cart"]=>
      string(1) "0"
      ["id_product"]=>
      string(4) "5220"
      ["id_shop"]=>
      string(1) "1"
      ["id_shop_group"]=>
      string(1) "0"
      ["id_currency"]=>
      string(1) "0"
      ["id_country"]=>
      string(1) "0"
      ["id_group"]=>
      string(1) "0"
      ["id_customer"]=>
      string(1) "0"
      ["id_product_attribute"]=>
      string(1) "0"
      ["price"]=>
      string(9) "-1.000000"
      ["from_quantity"]=>
      string(8) "1.000000"
      ["reduction"]=>
      string(8) "0.050000"
      ["reduction_tax"]=>
      string(1) "1"
      ["reduction_type"]=>
      string(10) "percentage"
      ["from"]=>
      string(19) "2021-01-06 00:00:00"
      ["to"]=>
      string(19) "2021-02-01 01:10:00"
      ["score"]=>
      string(2) "48"
    }
    ["ecotax"]=>
    float(0)
    ["weight"]=>
    float(0)
    ["quantity"]=>
    float(0)
    ["reference"]=>
    string(0) ""
    ["unit_impact"]=>
    string(8) "0.000000"
    ["minimal_quantity"]=>
    int(1)
    ["available_date"]=>
    string(10) "2019-02-20"
    ["date_formatted"]=>
    string(10) "02/20/2019"
    ["id_image"]=>
    int(29420)
    ["list"]=>
    string(7) "'18089'"
  }
  [27632]=>
  array(14) {
    ["attributes_values"]=>
    array(1) {
      [1093]=>
      string(3) "214"
    }
    ["attributes"]=>
    array(1) {
      [0]=>
      int(18090)
    }
    ["price"]=>
    float(0)
    ["specific_price"]=>
    array(19) {
      ["id_specific_price"]=>
      string(7) "4357935"
      ["id_specific_price_rule"]=>
      string(3) "227"
      ["id_cart"]=>
      string(1) "0"
      ["id_product"]=>
      string(4) "5220"
      ["id_shop"]=>
      string(1) "1"
      ["id_shop_group"]=>
      string(1) "0"
      ["id_currency"]=>
      string(1) "0"
      ["id_country"]=>
      string(1) "0"
      ["id_group"]=>
      string(1) "0"
      ["id_customer"]=>
      string(1) "0"
      ["id_product_attribute"]=>
      string(1) "0"
      ["price"]=>
      string(9) "-1.000000"
      ["from_quantity"]=>
      string(8) "1.000000"
      ["reduction"]=>
      string(8) "0.050000"
      ["reduction_tax"]=>
      string(1) "1"
      ["reduction_type"]=>
      string(10) "percentage"
      ["from"]=>
      string(19) "2021-01-06 00:00:00"
      ["to"]=>
      string(19) "2021-02-01 01:10:00"
      ["score"]=>
      string(2) "48"
    }
    ["ecotax"]=>
    float(0)
    ["weight"]=>
    float(0)
    ["quantity"]=>
    float(1)
    ["reference"]=>
    string(0) ""
    ["unit_impact"]=>
    string(8) "0.000000"
    ["minimal_quantity"]=>
    int(1)
    ["available_date"]=>
    string(10) "2019-02-20"
    ["date_formatted"]=>
    string(10) "02/20/2019"
    ["id_image"]=>
    int(29421)
    ["list"]=>
    string(7) "'18090'"
  }
}

Scheepjes Whirligig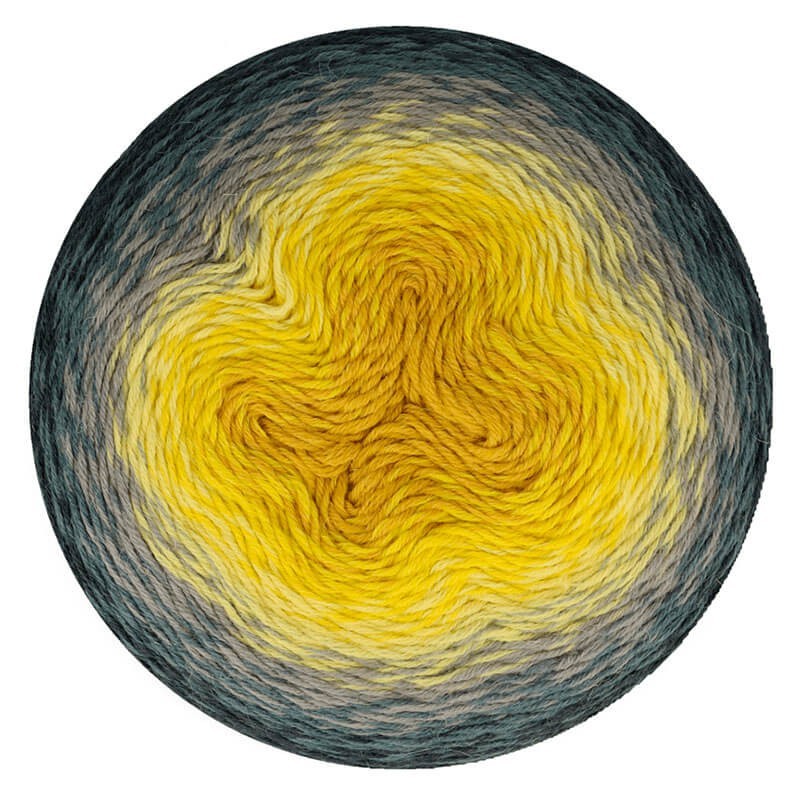  
Scheepjes Whirligig is a multicolour ball of 450 grams made of virgin and alpaca wool fibres. It offers a wide range of bright and funny colours that are perfect to create your winter looks. This yarn is ideal to knit projects with only a ball.
No reward points for this product because there's already a discount.
Product details
Features
Weight

450 gr

Length

1000 meters

Knitting needle

3 ½

Season

Autumn - Winter
Product description
Scheepjes Whirligig are balls of 450 grams made of alpaca and virgin wool fibres. Its original colour will provide a special touch to your projects. This wool is ideal to knit shawls, ponchos and other large creations with only one ball.
This yarn offers colour combinations for knitting very original and creative degraded pieces. This silky yarn made of several strands that are twisted between them will provide elegant finishes to your garments.
You will find several solid and degraded colours in the same ball. What more can you ask to you yarns? More metres? Here you have!
Whirligig by Scheepjes is made of:
80% virgin wool

20% alpaca wool
These high-quality fibres are perfect to create silky and long-lasting pieces that will allow you to knit warm and light clothes. Whirligig is the best option for the coldest days!
You should know that…
Each ball has 450 grams and 1000 metres.

Its thickness is perfect to knit with the 3 ½ mm knitting needles.

you can knit a piece of 200 x 150 cm approx. with only a ball

Mount 20 stitches and do 26 laps to knit a 10 x 10 cm square.

It is advisable to wash by hand.

Do not use the dryer.

We recommend you to dry it horizontally.

 

It can be ironed at a low temperature.
Colours:
200: grey - ochre

201: grey- lilac

202: grey - blue

203: turquoise - yellow

204: turquoise - lilac

205: degraded torquoise

206: green - ochre

207: green - blue

208: green - purple

209: plum colour - red

210: plum colour - ochre

211: plum colour - pink

212: sapphire - blue

213: sapphire - turquoise

214: sapphire – jade green
Combine Whirligig and Whirligigette in any of your garments or accessories to get a more professional finish!
Have you ever knitted with Scheepjes Whirligig? Tell us your experience!