array(61) {
  [32189]=>
  array(14) {
    ["attributes_values"]=>
    array(1) {
      [723]=>
      string(3) "632"
    }
    ["attributes"]=>
    array(1) {
      [0]=>
      int(21718)
    }
    ["price"]=>
    float(0)
    ["specific_price"]=>
    array(19) {
      ["id_specific_price"]=>
      string(7) "4297696"
      ["id_specific_price_rule"]=>
      string(3) "210"
      ["id_cart"]=>
      string(1) "0"
      ["id_product"]=>
      string(4) "3945"
      ["id_shop"]=>
      string(1) "1"
      ["id_shop_group"]=>
      string(1) "0"
      ["id_currency"]=>
      string(1) "0"
      ["id_country"]=>
      string(1) "0"
      ["id_group"]=>
      string(1) "0"
      ["id_customer"]=>
      string(1) "0"
      ["id_product_attribute"]=>
      string(1) "0"
      ["price"]=>
      string(9) "-1.000000"
      ["from_quantity"]=>
      string(8) "1.000000"
      ["reduction"]=>
      string(8) "0.200000"
      ["reduction_tax"]=>
      string(1) "1"
      ["reduction_type"]=>
      string(10) "percentage"
      ["from"]=>
      string(19) "2020-11-16 00:02:00"
      ["to"]=>
      string(19) "2020-12-01 01:30:00"
      ["score"]=>
      string(2) "48"
    }
    ["ecotax"]=>
    float(0)
    ["weight"]=>
    float(0)
    ["quantity"]=>
    float(25)
    ["reference"]=>
    string(0) ""
    ["unit_impact"]=>
    string(8) "0.000000"
    ["minimal_quantity"]=>
    int(1)
    ["available_date"]=>
    string(10) "2019-09-10"
    ["date_formatted"]=>
    string(10) "09/10/2019"
    ["id_image"]=>
    int(36242)
    ["list"]=>
    string(7) "'21718'"
  }
  [32190]=>
  array(14) {
    ["attributes_values"]=>
    array(1) {
      [723]=>
      string(3) "633"
    }
    ["attributes"]=>
    array(1) {
      [0]=>
      int(21719)
    }
    ["price"]=>
    float(0)
    ["specific_price"]=>
    array(19) {
      ["id_specific_price"]=>
      string(7) "4297696"
      ["id_specific_price_rule"]=>
      string(3) "210"
      ["id_cart"]=>
      string(1) "0"
      ["id_product"]=>
      string(4) "3945"
      ["id_shop"]=>
      string(1) "1"
      ["id_shop_group"]=>
      string(1) "0"
      ["id_currency"]=>
      string(1) "0"
      ["id_country"]=>
      string(1) "0"
      ["id_group"]=>
      string(1) "0"
      ["id_customer"]=>
      string(1) "0"
      ["id_product_attribute"]=>
      string(1) "0"
      ["price"]=>
      string(9) "-1.000000"
      ["from_quantity"]=>
      string(8) "1.000000"
      ["reduction"]=>
      string(8) "0.200000"
      ["reduction_tax"]=>
      string(1) "1"
      ["reduction_type"]=>
      string(10) "percentage"
      ["from"]=>
      string(19) "2020-11-16 00:02:00"
      ["to"]=>
      string(19) "2020-12-01 01:30:00"
      ["score"]=>
      string(2) "48"
    }
    ["ecotax"]=>
    float(0)
    ["weight"]=>
    float(0)
    ["quantity"]=>
    float(20)
    ["reference"]=>
    string(0) ""
    ["unit_impact"]=>
    string(8) "0.000000"
    ["minimal_quantity"]=>
    int(1)
    ["available_date"]=>
    string(10) "2019-09-10"
    ["date_formatted"]=>
    string(10) "09/10/2019"
    ["id_image"]=>
    int(36243)
    ["list"]=>
    string(7) "'21719'"
  }
  [32191]=>
  array(14) {
    ["attributes_values"]=>
    array(1) {
      [723]=>
      string(3) "634"
    }
    ["attributes"]=>
    array(1) {
      [0]=>
      int(21720)
    }
    ["price"]=>
    float(0)
    ["specific_price"]=>
    array(19) {
      ["id_specific_price"]=>
      string(7) "4297696"
      ["id_specific_price_rule"]=>
      string(3) "210"
      ["id_cart"]=>
      string(1) "0"
      ["id_product"]=>
      string(4) "3945"
      ["id_shop"]=>
      string(1) "1"
      ["id_shop_group"]=>
      string(1) "0"
      ["id_currency"]=>
      string(1) "0"
      ["id_country"]=>
      string(1) "0"
      ["id_group"]=>
      string(1) "0"
      ["id_customer"]=>
      string(1) "0"
      ["id_product_attribute"]=>
      string(1) "0"
      ["price"]=>
      string(9) "-1.000000"
      ["from_quantity"]=>
      string(8) "1.000000"
      ["reduction"]=>
      string(8) "0.200000"
      ["reduction_tax"]=>
      string(1) "1"
      ["reduction_type"]=>
      string(10) "percentage"
      ["from"]=>
      string(19) "2020-11-16 00:02:00"
      ["to"]=>
      string(19) "2020-12-01 01:30:00"
      ["score"]=>
      string(2) "48"
    }
    ["ecotax"]=>
    float(0)
    ["weight"]=>
    float(0)
    ["quantity"]=>
    float(13)
    ["reference"]=>
    string(0) ""
    ["unit_impact"]=>
    string(8) "0.000000"
    ["minimal_quantity"]=>
    int(1)
    ["available_date"]=>
    string(10) "2019-09-10"
    ["date_formatted"]=>
    string(10) "09/10/2019"
    ["id_image"]=>
    int(36244)
    ["list"]=>
    string(7) "'21720'"
  }
  [32192]=>
  array(14) {
    ["attributes_values"]=>
    array(1) {
      [723]=>
      string(3) "635"
    }
    ["attributes"]=>
    array(1) {
      [0]=>
      int(21721)
    }
    ["price"]=>
    float(0)
    ["specific_price"]=>
    array(19) {
      ["id_specific_price"]=>
      string(7) "4297696"
      ["id_specific_price_rule"]=>
      string(3) "210"
      ["id_cart"]=>
      string(1) "0"
      ["id_product"]=>
      string(4) "3945"
      ["id_shop"]=>
      string(1) "1"
      ["id_shop_group"]=>
      string(1) "0"
      ["id_currency"]=>
      string(1) "0"
      ["id_country"]=>
      string(1) "0"
      ["id_group"]=>
      string(1) "0"
      ["id_customer"]=>
      string(1) "0"
      ["id_product_attribute"]=>
      string(1) "0"
      ["price"]=>
      string(9) "-1.000000"
      ["from_quantity"]=>
      string(8) "1.000000"
      ["reduction"]=>
      string(8) "0.200000"
      ["reduction_tax"]=>
      string(1) "1"
      ["reduction_type"]=>
      string(10) "percentage"
      ["from"]=>
      string(19) "2020-11-16 00:02:00"
      ["to"]=>
      string(19) "2020-12-01 01:30:00"
      ["score"]=>
      string(2) "48"
    }
    ["ecotax"]=>
    float(0)
    ["weight"]=>
    float(0)
    ["quantity"]=>
    float(39)
    ["reference"]=>
    string(0) ""
    ["unit_impact"]=>
    string(8) "0.000000"
    ["minimal_quantity"]=>
    int(1)
    ["available_date"]=>
    string(10) "2019-09-10"
    ["date_formatted"]=>
    string(10) "09/10/2019"
    ["id_image"]=>
    int(36245)
    ["list"]=>
    string(7) "'21721'"
  }
  [32193]=>
  array(14) {
    ["attributes_values"]=>
    array(1) {
      [723]=>
      string(3) "646"
    }
    ["attributes"]=>
    array(1) {
      [0]=>
      int(21722)
    }
    ["price"]=>
    float(0)
    ["specific_price"]=>
    array(19) {
      ["id_specific_price"]=>
      string(7) "4297696"
      ["id_specific_price_rule"]=>
      string(3) "210"
      ["id_cart"]=>
      string(1) "0"
      ["id_product"]=>
      string(4) "3945"
      ["id_shop"]=>
      string(1) "1"
      ["id_shop_group"]=>
      string(1) "0"
      ["id_currency"]=>
      string(1) "0"
      ["id_country"]=>
      string(1) "0"
      ["id_group"]=>
      string(1) "0"
      ["id_customer"]=>
      string(1) "0"
      ["id_product_attribute"]=>
      string(1) "0"
      ["price"]=>
      string(9) "-1.000000"
      ["from_quantity"]=>
      string(8) "1.000000"
      ["reduction"]=>
      string(8) "0.200000"
      ["reduction_tax"]=>
      string(1) "1"
      ["reduction_type"]=>
      string(10) "percentage"
      ["from"]=>
      string(19) "2020-11-16 00:02:00"
      ["to"]=>
      string(19) "2020-12-01 01:30:00"
      ["score"]=>
      string(2) "48"
    }
    ["ecotax"]=>
    float(0)
    ["weight"]=>
    float(0)
    ["quantity"]=>
    float(18)
    ["reference"]=>
    string(0) ""
    ["unit_impact"]=>
    string(8) "0.000000"
    ["minimal_quantity"]=>
    int(1)
    ["available_date"]=>
    string(10) "2019-09-10"
    ["date_formatted"]=>
    string(10) "09/10/2019"
    ["id_image"]=>
    int(36246)
    ["list"]=>
    string(7) "'21722'"
  }
  [32194]=>
  array(14) {
    ["attributes_values"]=>
    array(1) {
      [723]=>
      string(3) "647"
    }
    ["attributes"]=>
    array(1) {
      [0]=>
      int(21723)
    }
    ["price"]=>
    float(0)
    ["specific_price"]=>
    array(19) {
      ["id_specific_price"]=>
      string(7) "4297696"
      ["id_specific_price_rule"]=>
      string(3) "210"
      ["id_cart"]=>
      string(1) "0"
      ["id_product"]=>
      string(4) "3945"
      ["id_shop"]=>
      string(1) "1"
      ["id_shop_group"]=>
      string(1) "0"
      ["id_currency"]=>
      string(1) "0"
      ["id_country"]=>
      string(1) "0"
      ["id_group"]=>
      string(1) "0"
      ["id_customer"]=>
      string(1) "0"
      ["id_product_attribute"]=>
      string(1) "0"
      ["price"]=>
      string(9) "-1.000000"
      ["from_quantity"]=>
      string(8) "1.000000"
      ["reduction"]=>
      string(8) "0.200000"
      ["reduction_tax"]=>
      string(1) "1"
      ["reduction_type"]=>
      string(10) "percentage"
      ["from"]=>
      string(19) "2020-11-16 00:02:00"
      ["to"]=>
      string(19) "2020-12-01 01:30:00"
      ["score"]=>
      string(2) "48"
    }
    ["ecotax"]=>
    float(0)
    ["weight"]=>
    float(0)
    ["quantity"]=>
    float(15)
    ["reference"]=>
    string(0) ""
    ["unit_impact"]=>
    string(8) "0.000000"
    ["minimal_quantity"]=>
    int(1)
    ["available_date"]=>
    string(10) "2019-09-10"
    ["date_formatted"]=>
    string(10) "09/10/2019"
    ["id_image"]=>
    int(36247)
    ["list"]=>
    string(7) "'21723'"
  }
  [25388]=>
  array(14) {
    ["attributes_values"]=>
    array(1) {
      [723]=>
      string(3) "666"
    }
    ["attributes"]=>
    array(1) {
      [0]=>
      int(16077)
    }
    ["price"]=>
    float(0)
    ["specific_price"]=>
    array(19) {
      ["id_specific_price"]=>
      string(7) "4297696"
      ["id_specific_price_rule"]=>
      string(3) "210"
      ["id_cart"]=>
      string(1) "0"
      ["id_product"]=>
      string(4) "3945"
      ["id_shop"]=>
      string(1) "1"
      ["id_shop_group"]=>
      string(1) "0"
      ["id_currency"]=>
      string(1) "0"
      ["id_country"]=>
      string(1) "0"
      ["id_group"]=>
      string(1) "0"
      ["id_customer"]=>
      string(1) "0"
      ["id_product_attribute"]=>
      string(1) "0"
      ["price"]=>
      string(9) "-1.000000"
      ["from_quantity"]=>
      string(8) "1.000000"
      ["reduction"]=>
      string(8) "0.200000"
      ["reduction_tax"]=>
      string(1) "1"
      ["reduction_type"]=>
      string(10) "percentage"
      ["from"]=>
      string(19) "2020-11-16 00:02:00"
      ["to"]=>
      string(19) "2020-12-01 01:30:00"
      ["score"]=>
      string(2) "48"
    }
    ["ecotax"]=>
    float(0)
    ["weight"]=>
    float(0)
    ["quantity"]=>
    float(6)
    ["reference"]=>
    string(0) ""
    ["unit_impact"]=>
    string(8) "0.000000"
    ["minimal_quantity"]=>
    int(1)
    ["available_date"]=>
    string(10) "2018-10-03"
    ["date_formatted"]=>
    string(10) "10/03/2018"
    ["id_image"]=>
    int(25977)
    ["list"]=>
    string(7) "'16077'"
  }
  [25389]=>
  array(14) {
    ["attributes_values"]=>
    array(1) {
      [723]=>
      string(3) "667"
    }
    ["attributes"]=>
    array(1) {
      [0]=>
      int(16078)
    }
    ["price"]=>
    float(0)
    ["specific_price"]=>
    array(19) {
      ["id_specific_price"]=>
      string(7) "4297696"
      ["id_specific_price_rule"]=>
      string(3) "210"
      ["id_cart"]=>
      string(1) "0"
      ["id_product"]=>
      string(4) "3945"
      ["id_shop"]=>
      string(1) "1"
      ["id_shop_group"]=>
      string(1) "0"
      ["id_currency"]=>
      string(1) "0"
      ["id_country"]=>
      string(1) "0"
      ["id_group"]=>
      string(1) "0"
      ["id_customer"]=>
      string(1) "0"
      ["id_product_attribute"]=>
      string(1) "0"
      ["price"]=>
      string(9) "-1.000000"
      ["from_quantity"]=>
      string(8) "1.000000"
      ["reduction"]=>
      string(8) "0.200000"
      ["reduction_tax"]=>
      string(1) "1"
      ["reduction_type"]=>
      string(10) "percentage"
      ["from"]=>
      string(19) "2020-11-16 00:02:00"
      ["to"]=>
      string(19) "2020-12-01 01:30:00"
      ["score"]=>
      string(2) "48"
    }
    ["ecotax"]=>
    float(0)
    ["weight"]=>
    float(0)
    ["quantity"]=>
    float(19)
    ["reference"]=>
    string(0) ""
    ["unit_impact"]=>
    string(8) "0.000000"
    ["minimal_quantity"]=>
    int(1)
    ["available_date"]=>
    string(10) "2018-10-03"
    ["date_formatted"]=>
    string(10) "10/03/2018"
    ["id_image"]=>
    int(25978)
    ["list"]=>
    string(7) "'16078'"
  }
  [25390]=>
  array(14) {
    ["attributes_values"]=>
    array(1) {
      [723]=>
      string(3) "668"
    }
    ["attributes"]=>
    array(1) {
      [0]=>
      int(16079)
    }
    ["price"]=>
    float(0)
    ["specific_price"]=>
    array(19) {
      ["id_specific_price"]=>
      string(7) "4297696"
      ["id_specific_price_rule"]=>
      string(3) "210"
      ["id_cart"]=>
      string(1) "0"
      ["id_product"]=>
      string(4) "3945"
      ["id_shop"]=>
      string(1) "1"
      ["id_shop_group"]=>
      string(1) "0"
      ["id_currency"]=>
      string(1) "0"
      ["id_country"]=>
      string(1) "0"
      ["id_group"]=>
      string(1) "0"
      ["id_customer"]=>
      string(1) "0"
      ["id_product_attribute"]=>
      string(1) "0"
      ["price"]=>
      string(9) "-1.000000"
      ["from_quantity"]=>
      string(8) "1.000000"
      ["reduction"]=>
      string(8) "0.200000"
      ["reduction_tax"]=>
      string(1) "1"
      ["reduction_type"]=>
      string(10) "percentage"
      ["from"]=>
      string(19) "2020-11-16 00:02:00"
      ["to"]=>
      string(19) "2020-12-01 01:30:00"
      ["score"]=>
      string(2) "48"
    }
    ["ecotax"]=>
    float(0)
    ["weight"]=>
    float(0)
    ["quantity"]=>
    float(18)
    ["reference"]=>
    string(0) ""
    ["unit_impact"]=>
    string(8) "0.000000"
    ["minimal_quantity"]=>
    int(1)
    ["available_date"]=>
    string(10) "2018-10-03"
    ["date_formatted"]=>
    string(10) "10/03/2018"
    ["id_image"]=>
    int(30311)
    ["list"]=>
    string(7) "'16079'"
  }
  [25391]=>
  array(14) {
    ["attributes_values"]=>
    array(1) {
      [723]=>
      string(3) "669"
    }
    ["attributes"]=>
    array(1) {
      [0]=>
      int(16080)
    }
    ["price"]=>
    float(0)
    ["specific_price"]=>
    array(19) {
      ["id_specific_price"]=>
      string(7) "4297696"
      ["id_specific_price_rule"]=>
      string(3) "210"
      ["id_cart"]=>
      string(1) "0"
      ["id_product"]=>
      string(4) "3945"
      ["id_shop"]=>
      string(1) "1"
      ["id_shop_group"]=>
      string(1) "0"
      ["id_currency"]=>
      string(1) "0"
      ["id_country"]=>
      string(1) "0"
      ["id_group"]=>
      string(1) "0"
      ["id_customer"]=>
      string(1) "0"
      ["id_product_attribute"]=>
      string(1) "0"
      ["price"]=>
      string(9) "-1.000000"
      ["from_quantity"]=>
      string(8) "1.000000"
      ["reduction"]=>
      string(8) "0.200000"
      ["reduction_tax"]=>
      string(1) "1"
      ["reduction_type"]=>
      string(10) "percentage"
      ["from"]=>
      string(19) "2020-11-16 00:02:00"
      ["to"]=>
      string(19) "2020-12-01 01:30:00"
      ["score"]=>
      string(2) "48"
    }
    ["ecotax"]=>
    float(0)
    ["weight"]=>
    float(0)
    ["quantity"]=>
    float(25)
    ["reference"]=>
    string(0) ""
    ["unit_impact"]=>
    string(8) "0.000000"
    ["minimal_quantity"]=>
    int(1)
    ["available_date"]=>
    string(10) "2018-10-03"
    ["date_formatted"]=>
    string(10) "10/03/2018"
    ["id_image"]=>
    int(25980)
    ["list"]=>
    string(7) "'16080'"
  }
  [20293]=>
  array(14) {
    ["attributes_values"]=>
    array(1) {
      [723]=>
      string(3) "679"
    }
    ["attributes"]=>
    array(1) {
      [0]=>
      int(11591)
    }
    ["price"]=>
    float(0)
    ["specific_price"]=>
    array(19) {
      ["id_specific_price"]=>
      string(7) "4297696"
      ["id_specific_price_rule"]=>
      string(3) "210"
      ["id_cart"]=>
      string(1) "0"
      ["id_product"]=>
      string(4) "3945"
      ["id_shop"]=>
      string(1) "1"
      ["id_shop_group"]=>
      string(1) "0"
      ["id_currency"]=>
      string(1) "0"
      ["id_country"]=>
      string(1) "0"
      ["id_group"]=>
      string(1) "0"
      ["id_customer"]=>
      string(1) "0"
      ["id_product_attribute"]=>
      string(1) "0"
      ["price"]=>
      string(9) "-1.000000"
      ["from_quantity"]=>
      string(8) "1.000000"
      ["reduction"]=>
      string(8) "0.200000"
      ["reduction_tax"]=>
      string(1) "1"
      ["reduction_type"]=>
      string(10) "percentage"
      ["from"]=>
      string(19) "2020-11-16 00:02:00"
      ["to"]=>
      string(19) "2020-12-01 01:30:00"
      ["score"]=>
      string(2) "48"
    }
    ["ecotax"]=>
    float(0)
    ["weight"]=>
    float(0)
    ["quantity"]=>
    float(24)
    ["reference"]=>
    string(0) ""
    ["unit_impact"]=>
    string(8) "0.000000"
    ["minimal_quantity"]=>
    int(1)
    ["available_date"]=>
    string(10) "2017-10-13"
    ["date_formatted"]=>
    string(10) "10/13/2017"
    ["id_image"]=>
    int(18116)
    ["list"]=>
    string(7) "'11591'"
  }
  [20236]=>
  array(14) {
    ["attributes_values"]=>
    array(1) {
      [723]=>
      string(3) "688"
    }
    ["attributes"]=>
    array(1) {
      [0]=>
      int(11539)
    }
    ["price"]=>
    float(0)
    ["specific_price"]=>
    array(19) {
      ["id_specific_price"]=>
      string(7) "4297696"
      ["id_specific_price_rule"]=>
      string(3) "210"
      ["id_cart"]=>
      string(1) "0"
      ["id_product"]=>
      string(4) "3945"
      ["id_shop"]=>
      string(1) "1"
      ["id_shop_group"]=>
      string(1) "0"
      ["id_currency"]=>
      string(1) "0"
      ["id_country"]=>
      string(1) "0"
      ["id_group"]=>
      string(1) "0"
      ["id_customer"]=>
      string(1) "0"
      ["id_product_attribute"]=>
      string(1) "0"
      ["price"]=>
      string(9) "-1.000000"
      ["from_quantity"]=>
      string(8) "1.000000"
      ["reduction"]=>
      string(8) "0.200000"
      ["reduction_tax"]=>
      string(1) "1"
      ["reduction_type"]=>
      string(10) "percentage"
      ["from"]=>
      string(19) "2020-11-16 00:02:00"
      ["to"]=>
      string(19) "2020-12-01 01:30:00"
      ["score"]=>
      string(2) "48"
    }
    ["ecotax"]=>
    float(0)
    ["weight"]=>
    float(0)
    ["quantity"]=>
    float(12)
    ["reference"]=>
    string(0) ""
    ["unit_impact"]=>
    string(8) "0.000000"
    ["minimal_quantity"]=>
    int(1)
    ["available_date"]=>
    string(10) "2017-10-03"
    ["date_formatted"]=>
    string(10) "10/03/2017"
    ["id_image"]=>
    int(18059)
    ["list"]=>
    string(7) "'11539'"
  }
  [20237]=>
  array(14) {
    ["attributes_values"]=>
    array(1) {
      [723]=>
      string(3) "689"
    }
    ["attributes"]=>
    array(1) {
      [0]=>
      int(11540)
    }
    ["price"]=>
    float(0)
    ["specific_price"]=>
    array(19) {
      ["id_specific_price"]=>
      string(7) "4297696"
      ["id_specific_price_rule"]=>
      string(3) "210"
      ["id_cart"]=>
      string(1) "0"
      ["id_product"]=>
      string(4) "3945"
      ["id_shop"]=>
      string(1) "1"
      ["id_shop_group"]=>
      string(1) "0"
      ["id_currency"]=>
      string(1) "0"
      ["id_country"]=>
      string(1) "0"
      ["id_group"]=>
      string(1) "0"
      ["id_customer"]=>
      string(1) "0"
      ["id_product_attribute"]=>
      string(1) "0"
      ["price"]=>
      string(9) "-1.000000"
      ["from_quantity"]=>
      string(8) "1.000000"
      ["reduction"]=>
      string(8) "0.200000"
      ["reduction_tax"]=>
      string(1) "1"
      ["reduction_type"]=>
      string(10) "percentage"
      ["from"]=>
      string(19) "2020-11-16 00:02:00"
      ["to"]=>
      string(19) "2020-12-01 01:30:00"
      ["score"]=>
      string(2) "48"
    }
    ["ecotax"]=>
    float(0)
    ["weight"]=>
    float(0)
    ["quantity"]=>
    float(20)
    ["reference"]=>
    string(0) ""
    ["unit_impact"]=>
    string(8) "0.000000"
    ["minimal_quantity"]=>
    int(1)
    ["available_date"]=>
    string(10) "2017-10-03"
    ["date_formatted"]=>
    string(10) "10/03/2017"
    ["id_image"]=>
    int(18060)
    ["list"]=>
    string(7) "'11540'"
  }
  [20238]=>
  array(14) {
    ["attributes_values"]=>
    array(1) {
      [723]=>
      string(3) "690"
    }
    ["attributes"]=>
    array(1) {
      [0]=>
      int(11541)
    }
    ["price"]=>
    float(0)
    ["specific_price"]=>
    array(19) {
      ["id_specific_price"]=>
      string(7) "4297696"
      ["id_specific_price_rule"]=>
      string(3) "210"
      ["id_cart"]=>
      string(1) "0"
      ["id_product"]=>
      string(4) "3945"
      ["id_shop"]=>
      string(1) "1"
      ["id_shop_group"]=>
      string(1) "0"
      ["id_currency"]=>
      string(1) "0"
      ["id_country"]=>
      string(1) "0"
      ["id_group"]=>
      string(1) "0"
      ["id_customer"]=>
      string(1) "0"
      ["id_product_attribute"]=>
      string(1) "0"
      ["price"]=>
      string(9) "-1.000000"
      ["from_quantity"]=>
      string(8) "1.000000"
      ["reduction"]=>
      string(8) "0.200000"
      ["reduction_tax"]=>
      string(1) "1"
      ["reduction_type"]=>
      string(10) "percentage"
      ["from"]=>
      string(19) "2020-11-16 00:02:00"
      ["to"]=>
      string(19) "2020-12-01 01:30:00"
      ["score"]=>
      string(2) "48"
    }
    ["ecotax"]=>
    float(0)
    ["weight"]=>
    float(0)
    ["quantity"]=>
    float(8)
    ["reference"]=>
    string(0) ""
    ["unit_impact"]=>
    string(8) "0.000000"
    ["minimal_quantity"]=>
    int(1)
    ["available_date"]=>
    string(10) "2017-10-03"
    ["date_formatted"]=>
    string(10) "10/03/2017"
    ["id_image"]=>
    int(18061)
    ["list"]=>
    string(7) "'11541'"
  }
  [20239]=>
  array(14) {
    ["attributes_values"]=>
    array(1) {
      [723]=>
      string(3) "691"
    }
    ["attributes"]=>
    array(1) {
      [0]=>
      int(11542)
    }
    ["price"]=>
    float(0)
    ["specific_price"]=>
    array(19) {
      ["id_specific_price"]=>
      string(7) "4297696"
      ["id_specific_price_rule"]=>
      string(3) "210"
      ["id_cart"]=>
      string(1) "0"
      ["id_product"]=>
      string(4) "3945"
      ["id_shop"]=>
      string(1) "1"
      ["id_shop_group"]=>
      string(1) "0"
      ["id_currency"]=>
      string(1) "0"
      ["id_country"]=>
      string(1) "0"
      ["id_group"]=>
      string(1) "0"
      ["id_customer"]=>
      string(1) "0"
      ["id_product_attribute"]=>
      string(1) "0"
      ["price"]=>
      string(9) "-1.000000"
      ["from_quantity"]=>
      string(8) "1.000000"
      ["reduction"]=>
      string(8) "0.200000"
      ["reduction_tax"]=>
      string(1) "1"
      ["reduction_type"]=>
      string(10) "percentage"
      ["from"]=>
      string(19) "2020-11-16 00:02:00"
      ["to"]=>
      string(19) "2020-12-01 01:30:00"
      ["score"]=>
      string(2) "48"
    }
    ["ecotax"]=>
    float(0)
    ["weight"]=>
    float(0)
    ["quantity"]=>
    float(15)
    ["reference"]=>
    string(0) ""
    ["unit_impact"]=>
    string(8) "0.000000"
    ["minimal_quantity"]=>
    int(1)
    ["available_date"]=>
    string(10) "2017-10-03"
    ["date_formatted"]=>
    string(10) "10/03/2017"
    ["id_image"]=>
    int(25979)
    ["list"]=>
    string(7) "'11542'"
  }
  [20240]=>
  array(14) {
    ["attributes_values"]=>
    array(1) {
      [723]=>
      string(3) "699"
    }
    ["attributes"]=>
    array(1) {
      [0]=>
      int(11543)
    }
    ["price"]=>
    float(0)
    ["specific_price"]=>
    array(19) {
      ["id_specific_price"]=>
      string(7) "4297696"
      ["id_specific_price_rule"]=>
      string(3) "210"
      ["id_cart"]=>
      string(1) "0"
      ["id_product"]=>
      string(4) "3945"
      ["id_shop"]=>
      string(1) "1"
      ["id_shop_group"]=>
      string(1) "0"
      ["id_currency"]=>
      string(1) "0"
      ["id_country"]=>
      string(1) "0"
      ["id_group"]=>
      string(1) "0"
      ["id_customer"]=>
      string(1) "0"
      ["id_product_attribute"]=>
      string(1) "0"
      ["price"]=>
      string(9) "-1.000000"
      ["from_quantity"]=>
      string(8) "1.000000"
      ["reduction"]=>
      string(8) "0.200000"
      ["reduction_tax"]=>
      string(1) "1"
      ["reduction_type"]=>
      string(10) "percentage"
      ["from"]=>
      string(19) "2020-11-16 00:02:00"
      ["to"]=>
      string(19) "2020-12-01 01:30:00"
      ["score"]=>
      string(2) "48"
    }
    ["ecotax"]=>
    float(0)
    ["weight"]=>
    float(0)
    ["quantity"]=>
    float(22)
    ["reference"]=>
    string(0) ""
    ["unit_impact"]=>
    string(8) "0.000000"
    ["minimal_quantity"]=>
    int(1)
    ["available_date"]=>
    string(10) "2017-10-03"
    ["date_formatted"]=>
    string(10) "10/03/2017"
    ["id_image"]=>
    int(18063)
    ["list"]=>
    string(7) "'11543'"
  }
  [20241]=>
  array(14) {
    ["attributes_values"]=>
    array(1) {
      [723]=>
      string(3) "700"
    }
    ["attributes"]=>
    array(1) {
      [0]=>
      int(11544)
    }
    ["price"]=>
    float(0)
    ["specific_price"]=>
    array(19) {
      ["id_specific_price"]=>
      string(7) "4297696"
      ["id_specific_price_rule"]=>
      string(3) "210"
      ["id_cart"]=>
      string(1) "0"
      ["id_product"]=>
      string(4) "3945"
      ["id_shop"]=>
      string(1) "1"
      ["id_shop_group"]=>
      string(1) "0"
      ["id_currency"]=>
      string(1) "0"
      ["id_country"]=>
      string(1) "0"
      ["id_group"]=>
      string(1) "0"
      ["id_customer"]=>
      string(1) "0"
      ["id_product_attribute"]=>
      string(1) "0"
      ["price"]=>
      string(9) "-1.000000"
      ["from_quantity"]=>
      string(8) "1.000000"
      ["reduction"]=>
      string(8) "0.200000"
      ["reduction_tax"]=>
      string(1) "1"
      ["reduction_type"]=>
      string(10) "percentage"
      ["from"]=>
      string(19) "2020-11-16 00:02:00"
      ["to"]=>
      string(19) "2020-12-01 01:30:00"
      ["score"]=>
      string(2) "48"
    }
    ["ecotax"]=>
    float(0)
    ["weight"]=>
    float(0)
    ["quantity"]=>
    float(37)
    ["reference"]=>
    string(0) ""
    ["unit_impact"]=>
    string(8) "0.000000"
    ["minimal_quantity"]=>
    int(1)
    ["available_date"]=>
    string(10) "2017-10-03"
    ["date_formatted"]=>
    string(10) "10/03/2017"
    ["id_image"]=>
    int(18064)
    ["list"]=>
    string(7) "'11544'"
  }
  [20242]=>
  array(14) {
    ["attributes_values"]=>
    array(1) {
      [723]=>
      string(3) "701"
    }
    ["attributes"]=>
    array(1) {
      [0]=>
      int(11545)
    }
    ["price"]=>
    float(0)
    ["specific_price"]=>
    array(19) {
      ["id_specific_price"]=>
      string(7) "4297696"
      ["id_specific_price_rule"]=>
      string(3) "210"
      ["id_cart"]=>
      string(1) "0"
      ["id_product"]=>
      string(4) "3945"
      ["id_shop"]=>
      string(1) "1"
      ["id_shop_group"]=>
      string(1) "0"
      ["id_currency"]=>
      string(1) "0"
      ["id_country"]=>
      string(1) "0"
      ["id_group"]=>
      string(1) "0"
      ["id_customer"]=>
      string(1) "0"
      ["id_product_attribute"]=>
      string(1) "0"
      ["price"]=>
      string(9) "-1.000000"
      ["from_quantity"]=>
      string(8) "1.000000"
      ["reduction"]=>
      string(8) "0.200000"
      ["reduction_tax"]=>
      string(1) "1"
      ["reduction_type"]=>
      string(10) "percentage"
      ["from"]=>
      string(19) "2020-11-16 00:02:00"
      ["to"]=>
      string(19) "2020-12-01 01:30:00"
      ["score"]=>
      string(2) "48"
    }
    ["ecotax"]=>
    float(0)
    ["weight"]=>
    float(0)
    ["quantity"]=>
    float(31)
    ["reference"]=>
    string(0) ""
    ["unit_impact"]=>
    string(8) "0.000000"
    ["minimal_quantity"]=>
    int(1)
    ["available_date"]=>
    string(10) "2017-10-03"
    ["date_formatted"]=>
    string(10) "10/03/2017"
    ["id_image"]=>
    int(18065)
    ["list"]=>
    string(7) "'11545'"
  }
  [20291]=>
  array(14) {
    ["attributes_values"]=>
    array(1) {
      [723]=>
      string(3) "702"
    }
    ["attributes"]=>
    array(1) {
      [0]=>
      int(11592)
    }
    ["price"]=>
    float(0)
    ["specific_price"]=>
    array(19) {
      ["id_specific_price"]=>
      string(7) "4297696"
      ["id_specific_price_rule"]=>
      string(3) "210"
      ["id_cart"]=>
      string(1) "0"
      ["id_product"]=>
      string(4) "3945"
      ["id_shop"]=>
      string(1) "1"
      ["id_shop_group"]=>
      string(1) "0"
      ["id_currency"]=>
      string(1) "0"
      ["id_country"]=>
      string(1) "0"
      ["id_group"]=>
      string(1) "0"
      ["id_customer"]=>
      string(1) "0"
      ["id_product_attribute"]=>
      string(1) "0"
      ["price"]=>
      string(9) "-1.000000"
      ["from_quantity"]=>
      string(8) "1.000000"
      ["reduction"]=>
      string(8) "0.200000"
      ["reduction_tax"]=>
      string(1) "1"
      ["reduction_type"]=>
      string(10) "percentage"
      ["from"]=>
      string(19) "2020-11-16 00:02:00"
      ["to"]=>
      string(19) "2020-12-01 01:30:00"
      ["score"]=>
      string(2) "48"
    }
    ["ecotax"]=>
    float(0)
    ["weight"]=>
    float(0)
    ["quantity"]=>
    float(27)
    ["reference"]=>
    string(0) ""
    ["unit_impact"]=>
    string(8) "0.000000"
    ["minimal_quantity"]=>
    int(1)
    ["available_date"]=>
    string(10) "2017-10-03"
    ["date_formatted"]=>
    string(10) "10/03/2017"
    ["id_image"]=>
    int(18114)
    ["list"]=>
    string(7) "'11592'"
  }
  [20243]=>
  array(14) {
    ["attributes_values"]=>
    array(1) {
      [723]=>
      string(3) "727"
    }
    ["attributes"]=>
    array(1) {
      [0]=>
      int(11546)
    }
    ["price"]=>
    float(0)
    ["specific_price"]=>
    array(19) {
      ["id_specific_price"]=>
      string(7) "4297696"
      ["id_specific_price_rule"]=>
      string(3) "210"
      ["id_cart"]=>
      string(1) "0"
      ["id_product"]=>
      string(4) "3945"
      ["id_shop"]=>
      string(1) "1"
      ["id_shop_group"]=>
      string(1) "0"
      ["id_currency"]=>
      string(1) "0"
      ["id_country"]=>
      string(1) "0"
      ["id_group"]=>
      string(1) "0"
      ["id_customer"]=>
      string(1) "0"
      ["id_product_attribute"]=>
      string(1) "0"
      ["price"]=>
      string(9) "-1.000000"
      ["from_quantity"]=>
      string(8) "1.000000"
      ["reduction"]=>
      string(8) "0.200000"
      ["reduction_tax"]=>
      string(1) "1"
      ["reduction_type"]=>
      string(10) "percentage"
      ["from"]=>
      string(19) "2020-11-16 00:02:00"
      ["to"]=>
      string(19) "2020-12-01 01:30:00"
      ["score"]=>
      string(2) "48"
    }
    ["ecotax"]=>
    float(0)
    ["weight"]=>
    float(0)
    ["quantity"]=>
    float(14)
    ["reference"]=>
    string(0) ""
    ["unit_impact"]=>
    string(8) "0.000000"
    ["minimal_quantity"]=>
    int(1)
    ["available_date"]=>
    string(10) "2017-10-03"
    ["date_formatted"]=>
    string(10) "10/03/2017"
    ["id_image"]=>
    int(18066)
    ["list"]=>
    string(7) "'11546'"
  }
  [25392]=>
  array(14) {
    ["attributes_values"]=>
    array(1) {
      [723]=>
      string(3) "728"
    }
    ["attributes"]=>
    array(1) {
      [0]=>
      int(16081)
    }
    ["price"]=>
    float(0)
    ["specific_price"]=>
    array(19) {
      ["id_specific_price"]=>
      string(7) "4297696"
      ["id_specific_price_rule"]=>
      string(3) "210"
      ["id_cart"]=>
      string(1) "0"
      ["id_product"]=>
      string(4) "3945"
      ["id_shop"]=>
      string(1) "1"
      ["id_shop_group"]=>
      string(1) "0"
      ["id_currency"]=>
      string(1) "0"
      ["id_country"]=>
      string(1) "0"
      ["id_group"]=>
      string(1) "0"
      ["id_customer"]=>
      string(1) "0"
      ["id_product_attribute"]=>
      string(1) "0"
      ["price"]=>
      string(9) "-1.000000"
      ["from_quantity"]=>
      string(8) "1.000000"
      ["reduction"]=>
      string(8) "0.200000"
      ["reduction_tax"]=>
      string(1) "1"
      ["reduction_type"]=>
      string(10) "percentage"
      ["from"]=>
      string(19) "2020-11-16 00:02:00"
      ["to"]=>
      string(19) "2020-12-01 01:30:00"
      ["score"]=>
      string(2) "48"
    }
    ["ecotax"]=>
    float(0)
    ["weight"]=>
    float(0)
    ["quantity"]=>
    float(30)
    ["reference"]=>
    string(0) ""
    ["unit_impact"]=>
    string(8) "0.000000"
    ["minimal_quantity"]=>
    int(1)
    ["available_date"]=>
    string(10) "2018-10-03"
    ["date_formatted"]=>
    string(10) "10/03/2018"
    ["id_image"]=>
    int(25981)
    ["list"]=>
    string(7) "'16081'"
  }
  [25393]=>
  array(14) {
    ["attributes_values"]=>
    array(1) {
      [723]=>
      string(3) "766"
    }
    ["attributes"]=>
    array(1) {
      [0]=>
      int(16082)
    }
    ["price"]=>
    float(0)
    ["specific_price"]=>
    array(19) {
      ["id_specific_price"]=>
      string(7) "4297696"
      ["id_specific_price_rule"]=>
      string(3) "210"
      ["id_cart"]=>
      string(1) "0"
      ["id_product"]=>
      string(4) "3945"
      ["id_shop"]=>
      string(1) "1"
      ["id_shop_group"]=>
      string(1) "0"
      ["id_currency"]=>
      string(1) "0"
      ["id_country"]=>
      string(1) "0"
      ["id_group"]=>
      string(1) "0"
      ["id_customer"]=>
      string(1) "0"
      ["id_product_attribute"]=>
      string(1) "0"
      ["price"]=>
      string(9) "-1.000000"
      ["from_quantity"]=>
      string(8) "1.000000"
      ["reduction"]=>
      string(8) "0.200000"
      ["reduction_tax"]=>
      string(1) "1"
      ["reduction_type"]=>
      string(10) "percentage"
      ["from"]=>
      string(19) "2020-11-16 00:02:00"
      ["to"]=>
      string(19) "2020-12-01 01:30:00"
      ["score"]=>
      string(2) "48"
    }
    ["ecotax"]=>
    float(0)
    ["weight"]=>
    float(0)
    ["quantity"]=>
    float(25)
    ["reference"]=>
    string(0) ""
    ["unit_impact"]=>
    string(8) "0.000000"
    ["minimal_quantity"]=>
    int(1)
    ["available_date"]=>
    string(10) "2018-10-03"
    ["date_formatted"]=>
    string(10) "10/03/2018"
    ["id_image"]=>
    int(25982)
    ["list"]=>
    string(7) "'16082'"
  }
  [20244]=>
  array(14) {
    ["attributes_values"]=>
    array(1) {
      [723]=>
      string(3) "790"
    }
    ["attributes"]=>
    array(1) {
      [0]=>
      int(11547)
    }
    ["price"]=>
    float(0)
    ["specific_price"]=>
    array(19) {
      ["id_specific_price"]=>
      string(7) "4297696"
      ["id_specific_price_rule"]=>
      string(3) "210"
      ["id_cart"]=>
      string(1) "0"
      ["id_product"]=>
      string(4) "3945"
      ["id_shop"]=>
      string(1) "1"
      ["id_shop_group"]=>
      string(1) "0"
      ["id_currency"]=>
      string(1) "0"
      ["id_country"]=>
      string(1) "0"
      ["id_group"]=>
      string(1) "0"
      ["id_customer"]=>
      string(1) "0"
      ["id_product_attribute"]=>
      string(1) "0"
      ["price"]=>
      string(9) "-1.000000"
      ["from_quantity"]=>
      string(8) "1.000000"
      ["reduction"]=>
      string(8) "0.200000"
      ["reduction_tax"]=>
      string(1) "1"
      ["reduction_type"]=>
      string(10) "percentage"
      ["from"]=>
      string(19) "2020-11-16 00:02:00"
      ["to"]=>
      string(19) "2020-12-01 01:30:00"
      ["score"]=>
      string(2) "48"
    }
    ["ecotax"]=>
    float(0)
    ["weight"]=>
    float(0)
    ["quantity"]=>
    float(18)
    ["reference"]=>
    string(0) ""
    ["unit_impact"]=>
    string(8) "0.000000"
    ["minimal_quantity"]=>
    int(1)
    ["available_date"]=>
    string(10) "2017-10-03"
    ["date_formatted"]=>
    string(10) "10/03/2017"
    ["id_image"]=>
    int(18067)
    ["list"]=>
    string(7) "'11547'"
  }
  [20292]=>
  array(14) {
    ["attributes_values"]=>
    array(1) {
      [723]=>
      string(3) "812"
    }
    ["attributes"]=>
    array(1) {
      [0]=>
      int(11593)
    }
    ["price"]=>
    float(0)
    ["specific_price"]=>
    array(19) {
      ["id_specific_price"]=>
      string(7) "4297696"
      ["id_specific_price_rule"]=>
      string(3) "210"
      ["id_cart"]=>
      string(1) "0"
      ["id_product"]=>
      string(4) "3945"
      ["id_shop"]=>
      string(1) "1"
      ["id_shop_group"]=>
      string(1) "0"
      ["id_currency"]=>
      string(1) "0"
      ["id_country"]=>
      string(1) "0"
      ["id_group"]=>
      string(1) "0"
      ["id_customer"]=>
      string(1) "0"
      ["id_product_attribute"]=>
      string(1) "0"
      ["price"]=>
      string(9) "-1.000000"
      ["from_quantity"]=>
      string(8) "1.000000"
      ["reduction"]=>
      string(8) "0.200000"
      ["reduction_tax"]=>
      string(1) "1"
      ["reduction_type"]=>
      string(10) "percentage"
      ["from"]=>
      string(19) "2020-11-16 00:02:00"
      ["to"]=>
      string(19) "2020-12-01 01:30:00"
      ["score"]=>
      string(2) "48"
    }
    ["ecotax"]=>
    float(0)
    ["weight"]=>
    float(0)
    ["quantity"]=>
    float(0)
    ["reference"]=>
    string(0) ""
    ["unit_impact"]=>
    string(8) "0.000000"
    ["minimal_quantity"]=>
    int(1)
    ["available_date"]=>
    string(10) "2017-10-03"
    ["date_formatted"]=>
    string(10) "10/03/2017"
    ["id_image"]=>
    int(18115)
    ["list"]=>
    string(7) "'11593'"
  }
  [20245]=>
  array(14) {
    ["attributes_values"]=>
    array(1) {
      [723]=>
      string(3) "814"
    }
    ["attributes"]=>
    array(1) {
      [0]=>
      int(11548)
    }
    ["price"]=>
    float(0)
    ["specific_price"]=>
    array(19) {
      ["id_specific_price"]=>
      string(7) "4297696"
      ["id_specific_price_rule"]=>
      string(3) "210"
      ["id_cart"]=>
      string(1) "0"
      ["id_product"]=>
      string(4) "3945"
      ["id_shop"]=>
      string(1) "1"
      ["id_shop_group"]=>
      string(1) "0"
      ["id_currency"]=>
      string(1) "0"
      ["id_country"]=>
      string(1) "0"
      ["id_group"]=>
      string(1) "0"
      ["id_customer"]=>
      string(1) "0"
      ["id_product_attribute"]=>
      string(1) "0"
      ["price"]=>
      string(9) "-1.000000"
      ["from_quantity"]=>
      string(8) "1.000000"
      ["reduction"]=>
      string(8) "0.200000"
      ["reduction_tax"]=>
      string(1) "1"
      ["reduction_type"]=>
      string(10) "percentage"
      ["from"]=>
      string(19) "2020-11-16 00:02:00"
      ["to"]=>
      string(19) "2020-12-01 01:30:00"
      ["score"]=>
      string(2) "48"
    }
    ["ecotax"]=>
    float(0)
    ["weight"]=>
    float(0)
    ["quantity"]=>
    float(1)
    ["reference"]=>
    string(0) ""
    ["unit_impact"]=>
    string(8) "0.000000"
    ["minimal_quantity"]=>
    int(1)
    ["available_date"]=>
    string(10) "2017-10-03"
    ["date_formatted"]=>
    string(10) "10/03/2017"
    ["id_image"]=>
    int(18068)
    ["list"]=>
    string(7) "'11548'"
  }
  [20246]=>
  array(14) {
    ["attributes_values"]=>
    array(1) {
      [723]=>
      string(3) "819"
    }
    ["attributes"]=>
    array(1) {
      [0]=>
      int(11549)
    }
    ["price"]=>
    float(0)
    ["specific_price"]=>
    array(19) {
      ["id_specific_price"]=>
      string(7) "4297696"
      ["id_specific_price_rule"]=>
      string(3) "210"
      ["id_cart"]=>
      string(1) "0"
      ["id_product"]=>
      string(4) "3945"
      ["id_shop"]=>
      string(1) "1"
      ["id_shop_group"]=>
      string(1) "0"
      ["id_currency"]=>
      string(1) "0"
      ["id_country"]=>
      string(1) "0"
      ["id_group"]=>
      string(1) "0"
      ["id_customer"]=>
      string(1) "0"
      ["id_product_attribute"]=>
      string(1) "0"
      ["price"]=>
      string(9) "-1.000000"
      ["from_quantity"]=>
      string(8) "1.000000"
      ["reduction"]=>
      string(8) "0.200000"
      ["reduction_tax"]=>
      string(1) "1"
      ["reduction_type"]=>
      string(10) "percentage"
      ["from"]=>
      string(19) "2020-11-16 00:02:00"
      ["to"]=>
      string(19) "2020-12-01 01:30:00"
      ["score"]=>
      string(2) "48"
    }
    ["ecotax"]=>
    float(0)
    ["weight"]=>
    float(0)
    ["quantity"]=>
    float(17)
    ["reference"]=>
    string(0) ""
    ["unit_impact"]=>
    string(8) "0.000000"
    ["minimal_quantity"]=>
    int(1)
    ["available_date"]=>
    string(10) "2017-10-03"
    ["date_formatted"]=>
    string(10) "10/03/2017"
    ["id_image"]=>
    int(18069)
    ["list"]=>
    string(7) "'11549'"
  }
  [25394]=>
  array(14) {
    ["attributes_values"]=>
    array(1) {
      [723]=>
      string(3) "833"
    }
    ["attributes"]=>
    array(1) {
      [0]=>
      int(16083)
    }
    ["price"]=>
    float(0)
    ["specific_price"]=>
    array(19) {
      ["id_specific_price"]=>
      string(7) "4297696"
      ["id_specific_price_rule"]=>
      string(3) "210"
      ["id_cart"]=>
      string(1) "0"
      ["id_product"]=>
      string(4) "3945"
      ["id_shop"]=>
      string(1) "1"
      ["id_shop_group"]=>
      string(1) "0"
      ["id_currency"]=>
      string(1) "0"
      ["id_country"]=>
      string(1) "0"
      ["id_group"]=>
      string(1) "0"
      ["id_customer"]=>
      string(1) "0"
      ["id_product_attribute"]=>
      string(1) "0"
      ["price"]=>
      string(9) "-1.000000"
      ["from_quantity"]=>
      string(8) "1.000000"
      ["reduction"]=>
      string(8) "0.200000"
      ["reduction_tax"]=>
      string(1) "1"
      ["reduction_type"]=>
      string(10) "percentage"
      ["from"]=>
      string(19) "2020-11-16 00:02:00"
      ["to"]=>
      string(19) "2020-12-01 01:30:00"
      ["score"]=>
      string(2) "48"
    }
    ["ecotax"]=>
    float(0)
    ["weight"]=>
    float(0)
    ["quantity"]=>
    float(24)
    ["reference"]=>
    string(0) ""
    ["unit_impact"]=>
    string(8) "0.000000"
    ["minimal_quantity"]=>
    int(1)
    ["available_date"]=>
    string(10) "2018-10-03"
    ["date_formatted"]=>
    string(10) "10/03/2018"
    ["id_image"]=>
    int(25983)
    ["list"]=>
    string(7) "'16083'"
  }
  [25395]=>
  array(14) {
    ["attributes_values"]=>
    array(1) {
      [723]=>
      string(3) "838"
    }
    ["attributes"]=>
    array(1) {
      [0]=>
      int(16084)
    }
    ["price"]=>
    float(0)
    ["specific_price"]=>
    array(19) {
      ["id_specific_price"]=>
      string(7) "4297696"
      ["id_specific_price_rule"]=>
      string(3) "210"
      ["id_cart"]=>
      string(1) "0"
      ["id_product"]=>
      string(4) "3945"
      ["id_shop"]=>
      string(1) "1"
      ["id_shop_group"]=>
      string(1) "0"
      ["id_currency"]=>
      string(1) "0"
      ["id_country"]=>
      string(1) "0"
      ["id_group"]=>
      string(1) "0"
      ["id_customer"]=>
      string(1) "0"
      ["id_product_attribute"]=>
      string(1) "0"
      ["price"]=>
      string(9) "-1.000000"
      ["from_quantity"]=>
      string(8) "1.000000"
      ["reduction"]=>
      string(8) "0.200000"
      ["reduction_tax"]=>
      string(1) "1"
      ["reduction_type"]=>
      string(10) "percentage"
      ["from"]=>
      string(19) "2020-11-16 00:02:00"
      ["to"]=>
      string(19) "2020-12-01 01:30:00"
      ["score"]=>
      string(2) "48"
    }
    ["ecotax"]=>
    float(0)
    ["weight"]=>
    float(0)
    ["quantity"]=>
    float(39)
    ["reference"]=>
    string(0) ""
    ["unit_impact"]=>
    string(8) "0.000000"
    ["minimal_quantity"]=>
    int(1)
    ["available_date"]=>
    string(10) "2018-10-03"
    ["date_formatted"]=>
    string(10) "10/03/2018"
    ["id_image"]=>
    int(25984)
    ["list"]=>
    string(7) "'16084'"
  }
  [20247]=>
  array(14) {
    ["attributes_values"]=>
    array(1) {
      [723]=>
      string(3) "839"
    }
    ["attributes"]=>
    array(1) {
      [0]=>
      int(11550)
    }
    ["price"]=>
    float(0)
    ["specific_price"]=>
    array(19) {
      ["id_specific_price"]=>
      string(7) "4297696"
      ["id_specific_price_rule"]=>
      string(3) "210"
      ["id_cart"]=>
      string(1) "0"
      ["id_product"]=>
      string(4) "3945"
      ["id_shop"]=>
      string(1) "1"
      ["id_shop_group"]=>
      string(1) "0"
      ["id_currency"]=>
      string(1) "0"
      ["id_country"]=>
      string(1) "0"
      ["id_group"]=>
      string(1) "0"
      ["id_customer"]=>
      string(1) "0"
      ["id_product_attribute"]=>
      string(1) "0"
      ["price"]=>
      string(9) "-1.000000"
      ["from_quantity"]=>
      string(8) "1.000000"
      ["reduction"]=>
      string(8) "0.200000"
      ["reduction_tax"]=>
      string(1) "1"
      ["reduction_type"]=>
      string(10) "percentage"
      ["from"]=>
      string(19) "2020-11-16 00:02:00"
      ["to"]=>
      string(19) "2020-12-01 01:30:00"
      ["score"]=>
      string(2) "48"
    }
    ["ecotax"]=>
    float(0)
    ["weight"]=>
    float(0)
    ["quantity"]=>
    float(19)
    ["reference"]=>
    string(0) ""
    ["unit_impact"]=>
    string(8) "0.000000"
    ["minimal_quantity"]=>
    int(1)
    ["available_date"]=>
    string(10) "2017-10-03"
    ["date_formatted"]=>
    string(10) "10/03/2017"
    ["id_image"]=>
    int(18070)
    ["list"]=>
    string(7) "'11550'"
  }
  [20248]=>
  array(14) {
    ["attributes_values"]=>
    array(1) {
      [723]=>
      string(3) "840"
    }
    ["attributes"]=>
    array(1) {
      [0]=>
      int(11551)
    }
    ["price"]=>
    float(0)
    ["specific_price"]=>
    array(19) {
      ["id_specific_price"]=>
      string(7) "4297696"
      ["id_specific_price_rule"]=>
      string(3) "210"
      ["id_cart"]=>
      string(1) "0"
      ["id_product"]=>
      string(4) "3945"
      ["id_shop"]=>
      string(1) "1"
      ["id_shop_group"]=>
      string(1) "0"
      ["id_currency"]=>
      string(1) "0"
      ["id_country"]=>
      string(1) "0"
      ["id_group"]=>
      string(1) "0"
      ["id_customer"]=>
      string(1) "0"
      ["id_product_attribute"]=>
      string(1) "0"
      ["price"]=>
      string(9) "-1.000000"
      ["from_quantity"]=>
      string(8) "1.000000"
      ["reduction"]=>
      string(8) "0.200000"
      ["reduction_tax"]=>
      string(1) "1"
      ["reduction_type"]=>
      string(10) "percentage"
      ["from"]=>
      string(19) "2020-11-16 00:02:00"
      ["to"]=>
      string(19) "2020-12-01 01:30:00"
      ["score"]=>
      string(2) "48"
    }
    ["ecotax"]=>
    float(0)
    ["weight"]=>
    float(0)
    ["quantity"]=>
    float(23)
    ["reference"]=>
    string(0) ""
    ["unit_impact"]=>
    string(8) "0.000000"
    ["minimal_quantity"]=>
    int(1)
    ["available_date"]=>
    string(10) "2017-10-03"
    ["date_formatted"]=>
    string(10) "10/03/2017"
    ["id_image"]=>
    int(18071)
    ["list"]=>
    string(7) "'11551'"
  }
  [20249]=>
  array(14) {
    ["attributes_values"]=>
    array(1) {
      [723]=>
      string(3) "841"
    }
    ["attributes"]=>
    array(1) {
      [0]=>
      int(11552)
    }
    ["price"]=>
    float(0)
    ["specific_price"]=>
    array(19) {
      ["id_specific_price"]=>
      string(7) "4297696"
      ["id_specific_price_rule"]=>
      string(3) "210"
      ["id_cart"]=>
      string(1) "0"
      ["id_product"]=>
      string(4) "3945"
      ["id_shop"]=>
      string(1) "1"
      ["id_shop_group"]=>
      string(1) "0"
      ["id_currency"]=>
      string(1) "0"
      ["id_country"]=>
      string(1) "0"
      ["id_group"]=>
      string(1) "0"
      ["id_customer"]=>
      string(1) "0"
      ["id_product_attribute"]=>
      string(1) "0"
      ["price"]=>
      string(9) "-1.000000"
      ["from_quantity"]=>
      string(8) "1.000000"
      ["reduction"]=>
      string(8) "0.200000"
      ["reduction_tax"]=>
      string(1) "1"
      ["reduction_type"]=>
      string(10) "percentage"
      ["from"]=>
      string(19) "2020-11-16 00:02:00"
      ["to"]=>
      string(19) "2020-12-01 01:30:00"
      ["score"]=>
      string(2) "48"
    }
    ["ecotax"]=>
    float(0)
    ["weight"]=>
    float(0)
    ["quantity"]=>
    float(36)
    ["reference"]=>
    string(0) ""
    ["unit_impact"]=>
    string(8) "0.000000"
    ["minimal_quantity"]=>
    int(1)
    ["available_date"]=>
    string(10) "2017-10-03"
    ["date_formatted"]=>
    string(10) "10/03/2017"
    ["id_image"]=>
    int(18072)
    ["list"]=>
    string(7) "'11552'"
  }
  [25396]=>
  array(14) {
    ["attributes_values"]=>
    array(1) {
      [723]=>
      string(3) "850"
    }
    ["attributes"]=>
    array(1) {
      [0]=>
      int(16085)
    }
    ["price"]=>
    float(0)
    ["specific_price"]=>
    array(19) {
      ["id_specific_price"]=>
      string(7) "4297696"
      ["id_specific_price_rule"]=>
      string(3) "210"
      ["id_cart"]=>
      string(1) "0"
      ["id_product"]=>
      string(4) "3945"
      ["id_shop"]=>
      string(1) "1"
      ["id_shop_group"]=>
      string(1) "0"
      ["id_currency"]=>
      string(1) "0"
      ["id_country"]=>
      string(1) "0"
      ["id_group"]=>
      string(1) "0"
      ["id_customer"]=>
      string(1) "0"
      ["id_product_attribute"]=>
      string(1) "0"
      ["price"]=>
      string(9) "-1.000000"
      ["from_quantity"]=>
      string(8) "1.000000"
      ["reduction"]=>
      string(8) "0.200000"
      ["reduction_tax"]=>
      string(1) "1"
      ["reduction_type"]=>
      string(10) "percentage"
      ["from"]=>
      string(19) "2020-11-16 00:02:00"
      ["to"]=>
      string(19) "2020-12-01 01:30:00"
      ["score"]=>
      string(2) "48"
    }
    ["ecotax"]=>
    float(0)
    ["weight"]=>
    float(0)
    ["quantity"]=>
    float(82)
    ["reference"]=>
    string(0) ""
    ["unit_impact"]=>
    string(8) "0.000000"
    ["minimal_quantity"]=>
    int(1)
    ["available_date"]=>
    string(10) "2018-10-03"
    ["date_formatted"]=>
    string(10) "10/03/2018"
    ["id_image"]=>
    int(25985)
    ["list"]=>
    string(7) "'16085'"
  }
  [25397]=>
  array(14) {
    ["attributes_values"]=>
    array(1) {
      [723]=>
      string(3) "851"
    }
    ["attributes"]=>
    array(1) {
      [0]=>
      int(16086)
    }
    ["price"]=>
    float(0)
    ["specific_price"]=>
    array(19) {
      ["id_specific_price"]=>
      string(7) "4297696"
      ["id_specific_price_rule"]=>
      string(3) "210"
      ["id_cart"]=>
      string(1) "0"
      ["id_product"]=>
      string(4) "3945"
      ["id_shop"]=>
      string(1) "1"
      ["id_shop_group"]=>
      string(1) "0"
      ["id_currency"]=>
      string(1) "0"
      ["id_country"]=>
      string(1) "0"
      ["id_group"]=>
      string(1) "0"
      ["id_customer"]=>
      string(1) "0"
      ["id_product_attribute"]=>
      string(1) "0"
      ["price"]=>
      string(9) "-1.000000"
      ["from_quantity"]=>
      string(8) "1.000000"
      ["reduction"]=>
      string(8) "0.200000"
      ["reduction_tax"]=>
      string(1) "1"
      ["reduction_type"]=>
      string(10) "percentage"
      ["from"]=>
      string(19) "2020-11-16 00:02:00"
      ["to"]=>
      string(19) "2020-12-01 01:30:00"
      ["score"]=>
      string(2) "48"
    }
    ["ecotax"]=>
    float(0)
    ["weight"]=>
    float(0)
    ["quantity"]=>
    float(111)
    ["reference"]=>
    string(0) ""
    ["unit_impact"]=>
    string(8) "0.000000"
    ["minimal_quantity"]=>
    int(1)
    ["available_date"]=>
    string(10) "2018-10-03"
    ["date_formatted"]=>
    string(10) "10/03/2018"
    ["id_image"]=>
    int(25986)
    ["list"]=>
    string(7) "'16086'"
  }
  [25398]=>
  array(14) {
    ["attributes_values"]=>
    array(1) {
      [723]=>
      string(3) "852"
    }
    ["attributes"]=>
    array(1) {
      [0]=>
      int(16087)
    }
    ["price"]=>
    float(0)
    ["specific_price"]=>
    array(19) {
      ["id_specific_price"]=>
      string(7) "4297696"
      ["id_specific_price_rule"]=>
      string(3) "210"
      ["id_cart"]=>
      string(1) "0"
      ["id_product"]=>
      string(4) "3945"
      ["id_shop"]=>
      string(1) "1"
      ["id_shop_group"]=>
      string(1) "0"
      ["id_currency"]=>
      string(1) "0"
      ["id_country"]=>
      string(1) "0"
      ["id_group"]=>
      string(1) "0"
      ["id_customer"]=>
      string(1) "0"
      ["id_product_attribute"]=>
      string(1) "0"
      ["price"]=>
      string(9) "-1.000000"
      ["from_quantity"]=>
      string(8) "1.000000"
      ["reduction"]=>
      string(8) "0.200000"
      ["reduction_tax"]=>
      string(1) "1"
      ["reduction_type"]=>
      string(10) "percentage"
      ["from"]=>
      string(19) "2020-11-16 00:02:00"
      ["to"]=>
      string(19) "2020-12-01 01:30:00"
      ["score"]=>
      string(2) "48"
    }
    ["ecotax"]=>
    float(0)
    ["weight"]=>
    float(0)
    ["quantity"]=>
    float(93)
    ["reference"]=>
    string(0) ""
    ["unit_impact"]=>
    string(8) "0.000000"
    ["minimal_quantity"]=>
    int(1)
    ["available_date"]=>
    string(10) "2018-10-03"
    ["date_formatted"]=>
    string(10) "10/03/2018"
    ["id_image"]=>
    int(25987)
    ["list"]=>
    string(7) "'16087'"
  }
  [25399]=>
  array(14) {
    ["attributes_values"]=>
    array(1) {
      [723]=>
      string(3) "853"
    }
    ["attributes"]=>
    array(1) {
      [0]=>
      int(16088)
    }
    ["price"]=>
    float(0)
    ["specific_price"]=>
    array(19) {
      ["id_specific_price"]=>
      string(7) "4297696"
      ["id_specific_price_rule"]=>
      string(3) "210"
      ["id_cart"]=>
      string(1) "0"
      ["id_product"]=>
      string(4) "3945"
      ["id_shop"]=>
      string(1) "1"
      ["id_shop_group"]=>
      string(1) "0"
      ["id_currency"]=>
      string(1) "0"
      ["id_country"]=>
      string(1) "0"
      ["id_group"]=>
      string(1) "0"
      ["id_customer"]=>
      string(1) "0"
      ["id_product_attribute"]=>
      string(1) "0"
      ["price"]=>
      string(9) "-1.000000"
      ["from_quantity"]=>
      string(8) "1.000000"
      ["reduction"]=>
      string(8) "0.200000"
      ["reduction_tax"]=>
      string(1) "1"
      ["reduction_type"]=>
      string(10) "percentage"
      ["from"]=>
      string(19) "2020-11-16 00:02:00"
      ["to"]=>
      string(19) "2020-12-01 01:30:00"
      ["score"]=>
      string(2) "48"
    }
    ["ecotax"]=>
    float(0)
    ["weight"]=>
    float(0)
    ["quantity"]=>
    float(86)
    ["reference"]=>
    string(0) ""
    ["unit_impact"]=>
    string(8) "0.000000"
    ["minimal_quantity"]=>
    int(1)
    ["available_date"]=>
    string(10) "2018-10-03"
    ["date_formatted"]=>
    string(10) "10/03/2018"
    ["id_image"]=>
    int(25988)
    ["list"]=>
    string(7) "'16088'"
  }
  [25400]=>
  array(14) {
    ["attributes_values"]=>
    array(1) {
      [723]=>
      string(3) "854"
    }
    ["attributes"]=>
    array(1) {
      [0]=>
      int(16089)
    }
    ["price"]=>
    float(0)
    ["specific_price"]=>
    array(19) {
      ["id_specific_price"]=>
      string(7) "4297696"
      ["id_specific_price_rule"]=>
      string(3) "210"
      ["id_cart"]=>
      string(1) "0"
      ["id_product"]=>
      string(4) "3945"
      ["id_shop"]=>
      string(1) "1"
      ["id_shop_group"]=>
      string(1) "0"
      ["id_currency"]=>
      string(1) "0"
      ["id_country"]=>
      string(1) "0"
      ["id_group"]=>
      string(1) "0"
      ["id_customer"]=>
      string(1) "0"
      ["id_product_attribute"]=>
      string(1) "0"
      ["price"]=>
      string(9) "-1.000000"
      ["from_quantity"]=>
      string(8) "1.000000"
      ["reduction"]=>
      string(8) "0.200000"
      ["reduction_tax"]=>
      string(1) "1"
      ["reduction_type"]=>
      string(10) "percentage"
      ["from"]=>
      string(19) "2020-11-16 00:02:00"
      ["to"]=>
      string(19) "2020-12-01 01:30:00"
      ["score"]=>
      string(2) "48"
    }
    ["ecotax"]=>
    float(0)
    ["weight"]=>
    float(0)
    ["quantity"]=>
    float(59)
    ["reference"]=>
    string(0) ""
    ["unit_impact"]=>
    string(8) "0.000000"
    ["minimal_quantity"]=>
    int(1)
    ["available_date"]=>
    string(10) "2018-10-03"
    ["date_formatted"]=>
    string(10) "10/03/2018"
    ["id_image"]=>
    int(25989)
    ["list"]=>
    string(7) "'16089'"
  }
  [20250]=>
  array(14) {
    ["attributes_values"]=>
    array(1) {
      [723]=>
      string(3) "882"
    }
    ["attributes"]=>
    array(1) {
      [0]=>
      int(11553)
    }
    ["price"]=>
    float(0)
    ["specific_price"]=>
    array(19) {
      ["id_specific_price"]=>
      string(7) "4297696"
      ["id_specific_price_rule"]=>
      string(3) "210"
      ["id_cart"]=>
      string(1) "0"
      ["id_product"]=>
      string(4) "3945"
      ["id_shop"]=>
      string(1) "1"
      ["id_shop_group"]=>
      string(1) "0"
      ["id_currency"]=>
      string(1) "0"
      ["id_country"]=>
      string(1) "0"
      ["id_group"]=>
      string(1) "0"
      ["id_customer"]=>
      string(1) "0"
      ["id_product_attribute"]=>
      string(1) "0"
      ["price"]=>
      string(9) "-1.000000"
      ["from_quantity"]=>
      string(8) "1.000000"
      ["reduction"]=>
      string(8) "0.200000"
      ["reduction_tax"]=>
      string(1) "1"
      ["reduction_type"]=>
      string(10) "percentage"
      ["from"]=>
      string(19) "2020-11-16 00:02:00"
      ["to"]=>
      string(19) "2020-12-01 01:30:00"
      ["score"]=>
      string(2) "48"
    }
    ["ecotax"]=>
    float(0)
    ["weight"]=>
    float(0)
    ["quantity"]=>
    float(30)
    ["reference"]=>
    string(0) ""
    ["unit_impact"]=>
    string(8) "0.000000"
    ["minimal_quantity"]=>
    int(1)
    ["available_date"]=>
    string(10) "2017-10-03"
    ["date_formatted"]=>
    string(10) "10/03/2017"
    ["id_image"]=>
    int(18073)
    ["list"]=>
    string(7) "'11553'"
  }
  [20251]=>
  array(14) {
    ["attributes_values"]=>
    array(1) {
      [723]=>
      string(3) "884"
    }
    ["attributes"]=>
    array(1) {
      [0]=>
      int(11554)
    }
    ["price"]=>
    float(0)
    ["specific_price"]=>
    array(19) {
      ["id_specific_price"]=>
      string(7) "4297696"
      ["id_specific_price_rule"]=>
      string(3) "210"
      ["id_cart"]=>
      string(1) "0"
      ["id_product"]=>
      string(4) "3945"
      ["id_shop"]=>
      string(1) "1"
      ["id_shop_group"]=>
      string(1) "0"
      ["id_currency"]=>
      string(1) "0"
      ["id_country"]=>
      string(1) "0"
      ["id_group"]=>
      string(1) "0"
      ["id_customer"]=>
      string(1) "0"
      ["id_product_attribute"]=>
      string(1) "0"
      ["price"]=>
      string(9) "-1.000000"
      ["from_quantity"]=>
      string(8) "1.000000"
      ["reduction"]=>
      string(8) "0.200000"
      ["reduction_tax"]=>
      string(1) "1"
      ["reduction_type"]=>
      string(10) "percentage"
      ["from"]=>
      string(19) "2020-11-16 00:02:00"
      ["to"]=>
      string(19) "2020-12-01 01:30:00"
      ["score"]=>
      string(2) "48"
    }
    ["ecotax"]=>
    float(0)
    ["weight"]=>
    float(0)
    ["quantity"]=>
    float(28)
    ["reference"]=>
    string(0) ""
    ["unit_impact"]=>
    string(8) "0.000000"
    ["minimal_quantity"]=>
    int(1)
    ["available_date"]=>
    string(10) "2017-10-03"
    ["date_formatted"]=>
    string(10) "10/03/2017"
    ["id_image"]=>
    int(18074)
    ["list"]=>
    string(7) "'11554'"
  }
  [20252]=>
  array(14) {
    ["attributes_values"]=>
    array(1) {
      [723]=>
      string(3) "904"
    }
    ["attributes"]=>
    array(1) {
      [0]=>
      int(11555)
    }
    ["price"]=>
    float(0)
    ["specific_price"]=>
    array(19) {
      ["id_specific_price"]=>
      string(7) "4297696"
      ["id_specific_price_rule"]=>
      string(3) "210"
      ["id_cart"]=>
      string(1) "0"
      ["id_product"]=>
      string(4) "3945"
      ["id_shop"]=>
      string(1) "1"
      ["id_shop_group"]=>
      string(1) "0"
      ["id_currency"]=>
      string(1) "0"
      ["id_country"]=>
      string(1) "0"
      ["id_group"]=>
      string(1) "0"
      ["id_customer"]=>
      string(1) "0"
      ["id_product_attribute"]=>
      string(1) "0"
      ["price"]=>
      string(9) "-1.000000"
      ["from_quantity"]=>
      string(8) "1.000000"
      ["reduction"]=>
      string(8) "0.200000"
      ["reduction_tax"]=>
      string(1) "1"
      ["reduction_type"]=>
      string(10) "percentage"
      ["from"]=>
      string(19) "2020-11-16 00:02:00"
      ["to"]=>
      string(19) "2020-12-01 01:30:00"
      ["score"]=>
      string(2) "48"
    }
    ["ecotax"]=>
    float(0)
    ["weight"]=>
    float(0)
    ["quantity"]=>
    float(9)
    ["reference"]=>
    string(0) ""
    ["unit_impact"]=>
    string(8) "0.000000"
    ["minimal_quantity"]=>
    int(1)
    ["available_date"]=>
    string(10) "2017-10-03"
    ["date_formatted"]=>
    string(10) "10/03/2017"
    ["id_image"]=>
    int(18075)
    ["list"]=>
    string(7) "'11555'"
  }
  [25401]=>
  array(14) {
    ["attributes_values"]=>
    array(1) {
      [723]=>
      string(3) "906"
    }
    ["attributes"]=>
    array(1) {
      [0]=>
      int(16090)
    }
    ["price"]=>
    float(0)
    ["specific_price"]=>
    array(19) {
      ["id_specific_price"]=>
      string(7) "4297696"
      ["id_specific_price_rule"]=>
      string(3) "210"
      ["id_cart"]=>
      string(1) "0"
      ["id_product"]=>
      string(4) "3945"
      ["id_shop"]=>
      string(1) "1"
      ["id_shop_group"]=>
      string(1) "0"
      ["id_currency"]=>
      string(1) "0"
      ["id_country"]=>
      string(1) "0"
      ["id_group"]=>
      string(1) "0"
      ["id_customer"]=>
      string(1) "0"
      ["id_product_attribute"]=>
      string(1) "0"
      ["price"]=>
      string(9) "-1.000000"
      ["from_quantity"]=>
      string(8) "1.000000"
      ["reduction"]=>
      string(8) "0.200000"
      ["reduction_tax"]=>
      string(1) "1"
      ["reduction_type"]=>
      string(10) "percentage"
      ["from"]=>
      string(19) "2020-11-16 00:02:00"
      ["to"]=>
      string(19) "2020-12-01 01:30:00"
      ["score"]=>
      string(2) "48"
    }
    ["ecotax"]=>
    float(0)
    ["weight"]=>
    float(0)
    ["quantity"]=>
    float(21)
    ["reference"]=>
    string(0) ""
    ["unit_impact"]=>
    string(8) "0.000000"
    ["minimal_quantity"]=>
    int(1)
    ["available_date"]=>
    string(10) "2018-10-03"
    ["date_formatted"]=>
    string(10) "10/03/2018"
    ["id_image"]=>
    int(25990)
    ["list"]=>
    string(7) "'16090'"
  }
  [20253]=>
  array(14) {
    ["attributes_values"]=>
    array(1) {
      [723]=>
      string(3) "916"
    }
    ["attributes"]=>
    array(1) {
      [0]=>
      int(11556)
    }
    ["price"]=>
    float(0)
    ["specific_price"]=>
    array(19) {
      ["id_specific_price"]=>
      string(7) "4297696"
      ["id_specific_price_rule"]=>
      string(3) "210"
      ["id_cart"]=>
      string(1) "0"
      ["id_product"]=>
      string(4) "3945"
      ["id_shop"]=>
      string(1) "1"
      ["id_shop_group"]=>
      string(1) "0"
      ["id_currency"]=>
      string(1) "0"
      ["id_country"]=>
      string(1) "0"
      ["id_group"]=>
      string(1) "0"
      ["id_customer"]=>
      string(1) "0"
      ["id_product_attribute"]=>
      string(1) "0"
      ["price"]=>
      string(9) "-1.000000"
      ["from_quantity"]=>
      string(8) "1.000000"
      ["reduction"]=>
      string(8) "0.200000"
      ["reduction_tax"]=>
      string(1) "1"
      ["reduction_type"]=>
      string(10) "percentage"
      ["from"]=>
      string(19) "2020-11-16 00:02:00"
      ["to"]=>
      string(19) "2020-12-01 01:30:00"
      ["score"]=>
      string(2) "48"
    }
    ["ecotax"]=>
    float(0)
    ["weight"]=>
    float(0)
    ["quantity"]=>
    float(44)
    ["reference"]=>
    string(0) ""
    ["unit_impact"]=>
    string(8) "0.000000"
    ["minimal_quantity"]=>
    int(1)
    ["available_date"]=>
    string(10) "2017-10-03"
    ["date_formatted"]=>
    string(10) "10/03/2017"
    ["id_image"]=>
    int(18076)
    ["list"]=>
    string(7) "'11556'"
  }
  [20254]=>
  array(14) {
    ["attributes_values"]=>
    array(1) {
      [723]=>
      string(3) "927"
    }
    ["attributes"]=>
    array(1) {
      [0]=>
      int(11557)
    }
    ["price"]=>
    float(0)
    ["specific_price"]=>
    array(19) {
      ["id_specific_price"]=>
      string(7) "4297696"
      ["id_specific_price_rule"]=>
      string(3) "210"
      ["id_cart"]=>
      string(1) "0"
      ["id_product"]=>
      string(4) "3945"
      ["id_shop"]=>
      string(1) "1"
      ["id_shop_group"]=>
      string(1) "0"
      ["id_currency"]=>
      string(1) "0"
      ["id_country"]=>
      string(1) "0"
      ["id_group"]=>
      string(1) "0"
      ["id_customer"]=>
      string(1) "0"
      ["id_product_attribute"]=>
      string(1) "0"
      ["price"]=>
      string(9) "-1.000000"
      ["from_quantity"]=>
      string(8) "1.000000"
      ["reduction"]=>
      string(8) "0.200000"
      ["reduction_tax"]=>
      string(1) "1"
      ["reduction_type"]=>
      string(10) "percentage"
      ["from"]=>
      string(19) "2020-11-16 00:02:00"
      ["to"]=>
      string(19) "2020-12-01 01:30:00"
      ["score"]=>
      string(2) "48"
    }
    ["ecotax"]=>
    float(0)
    ["weight"]=>
    float(0)
    ["quantity"]=>
    float(1)
    ["reference"]=>
    string(0) ""
    ["unit_impact"]=>
    string(8) "0.000000"
    ["minimal_quantity"]=>
    int(1)
    ["available_date"]=>
    string(10) "2017-10-03"
    ["date_formatted"]=>
    string(10) "10/03/2017"
    ["id_image"]=>
    int(18077)
    ["list"]=>
    string(7) "'11557'"
  }
  [25402]=>
  array(14) {
    ["attributes_values"]=>
    array(1) {
      [723]=>
      string(3) "930"
    }
    ["attributes"]=>
    array(1) {
      [0]=>
      int(16091)
    }
    ["price"]=>
    float(0)
    ["specific_price"]=>
    array(19) {
      ["id_specific_price"]=>
      string(7) "4297696"
      ["id_specific_price_rule"]=>
      string(3) "210"
      ["id_cart"]=>
      string(1) "0"
      ["id_product"]=>
      string(4) "3945"
      ["id_shop"]=>
      string(1) "1"
      ["id_shop_group"]=>
      string(1) "0"
      ["id_currency"]=>
      string(1) "0"
      ["id_country"]=>
      string(1) "0"
      ["id_group"]=>
      string(1) "0"
      ["id_customer"]=>
      string(1) "0"
      ["id_product_attribute"]=>
      string(1) "0"
      ["price"]=>
      string(9) "-1.000000"
      ["from_quantity"]=>
      string(8) "1.000000"
      ["reduction"]=>
      string(8) "0.200000"
      ["reduction_tax"]=>
      string(1) "1"
      ["reduction_type"]=>
      string(10) "percentage"
      ["from"]=>
      string(19) "2020-11-16 00:02:00"
      ["to"]=>
      string(19) "2020-12-01 01:30:00"
      ["score"]=>
      string(2) "48"
    }
    ["ecotax"]=>
    float(0)
    ["weight"]=>
    float(0)
    ["quantity"]=>
    float(8)
    ["reference"]=>
    string(0) ""
    ["unit_impact"]=>
    string(8) "0.000000"
    ["minimal_quantity"]=>
    int(1)
    ["available_date"]=>
    string(10) "2018-10-03"
    ["date_formatted"]=>
    string(10) "10/03/2018"
    ["id_image"]=>
    int(25991)
    ["list"]=>
    string(7) "'16091'"
  }
  [20255]=>
  array(14) {
    ["attributes_values"]=>
    array(1) {
      [723]=>
      string(3) "947"
    }
    ["attributes"]=>
    array(1) {
      [0]=>
      int(11558)
    }
    ["price"]=>
    float(0)
    ["specific_price"]=>
    array(19) {
      ["id_specific_price"]=>
      string(7) "4297696"
      ["id_specific_price_rule"]=>
      string(3) "210"
      ["id_cart"]=>
      string(1) "0"
      ["id_product"]=>
      string(4) "3945"
      ["id_shop"]=>
      string(1) "1"
      ["id_shop_group"]=>
      string(1) "0"
      ["id_currency"]=>
      string(1) "0"
      ["id_country"]=>
      string(1) "0"
      ["id_group"]=>
      string(1) "0"
      ["id_customer"]=>
      string(1) "0"
      ["id_product_attribute"]=>
      string(1) "0"
      ["price"]=>
      string(9) "-1.000000"
      ["from_quantity"]=>
      string(8) "1.000000"
      ["reduction"]=>
      string(8) "0.200000"
      ["reduction_tax"]=>
      string(1) "1"
      ["reduction_type"]=>
      string(10) "percentage"
      ["from"]=>
      string(19) "2020-11-16 00:02:00"
      ["to"]=>
      string(19) "2020-12-01 01:30:00"
      ["score"]=>
      string(2) "48"
    }
    ["ecotax"]=>
    float(0)
    ["weight"]=>
    float(0)
    ["quantity"]=>
    float(18)
    ["reference"]=>
    string(0) ""
    ["unit_impact"]=>
    string(8) "0.000000"
    ["minimal_quantity"]=>
    int(1)
    ["available_date"]=>
    string(10) "2017-10-03"
    ["date_formatted"]=>
    string(10) "10/03/2017"
    ["id_image"]=>
    int(18078)
    ["list"]=>
    string(7) "'11558'"
  }
  [20256]=>
  array(14) {
    ["attributes_values"]=>
    array(1) {
      [723]=>
      string(3) "956"
    }
    ["attributes"]=>
    array(1) {
      [0]=>
      int(11559)
    }
    ["price"]=>
    float(0)
    ["specific_price"]=>
    array(19) {
      ["id_specific_price"]=>
      string(7) "4297696"
      ["id_specific_price_rule"]=>
      string(3) "210"
      ["id_cart"]=>
      string(1) "0"
      ["id_product"]=>
      string(4) "3945"
      ["id_shop"]=>
      string(1) "1"
      ["id_shop_group"]=>
      string(1) "0"
      ["id_currency"]=>
      string(1) "0"
      ["id_country"]=>
      string(1) "0"
      ["id_group"]=>
      string(1) "0"
      ["id_customer"]=>
      string(1) "0"
      ["id_product_attribute"]=>
      string(1) "0"
      ["price"]=>
      string(9) "-1.000000"
      ["from_quantity"]=>
      string(8) "1.000000"
      ["reduction"]=>
      string(8) "0.200000"
      ["reduction_tax"]=>
      string(1) "1"
      ["reduction_type"]=>
      string(10) "percentage"
      ["from"]=>
      string(19) "2020-11-16 00:02:00"
      ["to"]=>
      string(19) "2020-12-01 01:30:00"
      ["score"]=>
      string(2) "48"
    }
    ["ecotax"]=>
    float(0)
    ["weight"]=>
    float(0)
    ["quantity"]=>
    float(10)
    ["reference"]=>
    string(0) ""
    ["unit_impact"]=>
    string(8) "0.000000"
    ["minimal_quantity"]=>
    int(1)
    ["available_date"]=>
    string(10) "2017-10-03"
    ["date_formatted"]=>
    string(10) "10/03/2017"
    ["id_image"]=>
    int(18079)
    ["list"]=>
    string(7) "'11559'"
  }
  [20257]=>
  array(14) {
    ["attributes_values"]=>
    array(1) {
      [723]=>
      string(3) "957"
    }
    ["attributes"]=>
    array(1) {
      [0]=>
      int(11560)
    }
    ["price"]=>
    float(0)
    ["specific_price"]=>
    array(19) {
      ["id_specific_price"]=>
      string(7) "4297696"
      ["id_specific_price_rule"]=>
      string(3) "210"
      ["id_cart"]=>
      string(1) "0"
      ["id_product"]=>
      string(4) "3945"
      ["id_shop"]=>
      string(1) "1"
      ["id_shop_group"]=>
      string(1) "0"
      ["id_currency"]=>
      string(1) "0"
      ["id_country"]=>
      string(1) "0"
      ["id_group"]=>
      string(1) "0"
      ["id_customer"]=>
      string(1) "0"
      ["id_product_attribute"]=>
      string(1) "0"
      ["price"]=>
      string(9) "-1.000000"
      ["from_quantity"]=>
      string(8) "1.000000"
      ["reduction"]=>
      string(8) "0.200000"
      ["reduction_tax"]=>
      string(1) "1"
      ["reduction_type"]=>
      string(10) "percentage"
      ["from"]=>
      string(19) "2020-11-16 00:02:00"
      ["to"]=>
      string(19) "2020-12-01 01:30:00"
      ["score"]=>
      string(2) "48"
    }
    ["ecotax"]=>
    float(0)
    ["weight"]=>
    float(0)
    ["quantity"]=>
    float(31)
    ["reference"]=>
    string(0) ""
    ["unit_impact"]=>
    string(8) "0.000000"
    ["minimal_quantity"]=>
    int(1)
    ["available_date"]=>
    string(10) "2017-10-03"
    ["date_formatted"]=>
    string(10) "10/03/2017"
    ["id_image"]=>
    int(18080)
    ["list"]=>
    string(7) "'11560'"
  }
  [20258]=>
  array(14) {
    ["attributes_values"]=>
    array(1) {
      [723]=>
      string(3) "958"
    }
    ["attributes"]=>
    array(1) {
      [0]=>
      int(11561)
    }
    ["price"]=>
    float(0)
    ["specific_price"]=>
    array(19) {
      ["id_specific_price"]=>
      string(7) "4297696"
      ["id_specific_price_rule"]=>
      string(3) "210"
      ["id_cart"]=>
      string(1) "0"
      ["id_product"]=>
      string(4) "3945"
      ["id_shop"]=>
      string(1) "1"
      ["id_shop_group"]=>
      string(1) "0"
      ["id_currency"]=>
      string(1) "0"
      ["id_country"]=>
      string(1) "0"
      ["id_group"]=>
      string(1) "0"
      ["id_customer"]=>
      string(1) "0"
      ["id_product_attribute"]=>
      string(1) "0"
      ["price"]=>
      string(9) "-1.000000"
      ["from_quantity"]=>
      string(8) "1.000000"
      ["reduction"]=>
      string(8) "0.200000"
      ["reduction_tax"]=>
      string(1) "1"
      ["reduction_type"]=>
      string(10) "percentage"
      ["from"]=>
      string(19) "2020-11-16 00:02:00"
      ["to"]=>
      string(19) "2020-12-01 01:30:00"
      ["score"]=>
      string(2) "48"
    }
    ["ecotax"]=>
    float(0)
    ["weight"]=>
    float(0)
    ["quantity"]=>
    float(38)
    ["reference"]=>
    string(0) ""
    ["unit_impact"]=>
    string(8) "0.000000"
    ["minimal_quantity"]=>
    int(1)
    ["available_date"]=>
    string(10) "2017-10-03"
    ["date_formatted"]=>
    string(10) "10/03/2017"
    ["id_image"]=>
    int(18081)
    ["list"]=>
    string(7) "'11561'"
  }
  [20259]=>
  array(14) {
    ["attributes_values"]=>
    array(1) {
      [723]=>
      string(3) "959"
    }
    ["attributes"]=>
    array(1) {
      [0]=>
      int(11562)
    }
    ["price"]=>
    float(0)
    ["specific_price"]=>
    array(19) {
      ["id_specific_price"]=>
      string(7) "4297696"
      ["id_specific_price_rule"]=>
      string(3) "210"
      ["id_cart"]=>
      string(1) "0"
      ["id_product"]=>
      string(4) "3945"
      ["id_shop"]=>
      string(1) "1"
      ["id_shop_group"]=>
      string(1) "0"
      ["id_currency"]=>
      string(1) "0"
      ["id_country"]=>
      string(1) "0"
      ["id_group"]=>
      string(1) "0"
      ["id_customer"]=>
      string(1) "0"
      ["id_product_attribute"]=>
      string(1) "0"
      ["price"]=>
      string(9) "-1.000000"
      ["from_quantity"]=>
      string(8) "1.000000"
      ["reduction"]=>
      string(8) "0.200000"
      ["reduction_tax"]=>
      string(1) "1"
      ["reduction_type"]=>
      string(10) "percentage"
      ["from"]=>
      string(19) "2020-11-16 00:02:00"
      ["to"]=>
      string(19) "2020-12-01 01:30:00"
      ["score"]=>
      string(2) "48"
    }
    ["ecotax"]=>
    float(0)
    ["weight"]=>
    float(0)
    ["quantity"]=>
    float(48)
    ["reference"]=>
    string(0) ""
    ["unit_impact"]=>
    string(8) "0.000000"
    ["minimal_quantity"]=>
    int(1)
    ["available_date"]=>
    string(10) "2017-10-03"
    ["date_formatted"]=>
    string(10) "10/03/2017"
    ["id_image"]=>
    int(18082)
    ["list"]=>
    string(7) "'11562'"
  }
  [20260]=>
  array(14) {
    ["attributes_values"]=>
    array(1) {
      [723]=>
      string(3) "960"
    }
    ["attributes"]=>
    array(1) {
      [0]=>
      int(11563)
    }
    ["price"]=>
    float(0)
    ["specific_price"]=>
    array(19) {
      ["id_specific_price"]=>
      string(7) "4297696"
      ["id_specific_price_rule"]=>
      string(3) "210"
      ["id_cart"]=>
      string(1) "0"
      ["id_product"]=>
      string(4) "3945"
      ["id_shop"]=>
      string(1) "1"
      ["id_shop_group"]=>
      string(1) "0"
      ["id_currency"]=>
      string(1) "0"
      ["id_country"]=>
      string(1) "0"
      ["id_group"]=>
      string(1) "0"
      ["id_customer"]=>
      string(1) "0"
      ["id_product_attribute"]=>
      string(1) "0"
      ["price"]=>
      string(9) "-1.000000"
      ["from_quantity"]=>
      string(8) "1.000000"
      ["reduction"]=>
      string(8) "0.200000"
      ["reduction_tax"]=>
      string(1) "1"
      ["reduction_type"]=>
      string(10) "percentage"
      ["from"]=>
      string(19) "2020-11-16 00:02:00"
      ["to"]=>
      string(19) "2020-12-01 01:30:00"
      ["score"]=>
      string(2) "48"
    }
    ["ecotax"]=>
    float(0)
    ["weight"]=>
    float(0)
    ["quantity"]=>
    float(24)
    ["reference"]=>
    string(0) ""
    ["unit_impact"]=>
    string(8) "0.000000"
    ["minimal_quantity"]=>
    int(1)
    ["available_date"]=>
    string(10) "2017-10-03"
    ["date_formatted"]=>
    string(10) "10/03/2017"
    ["id_image"]=>
    int(18083)
    ["list"]=>
    string(7) "'11563'"
  }
  [20261]=>
  array(14) {
    ["attributes_values"]=>
    array(1) {
      [723]=>
      string(3) "961"
    }
    ["attributes"]=>
    array(1) {
      [0]=>
      int(11564)
    }
    ["price"]=>
    float(0)
    ["specific_price"]=>
    array(19) {
      ["id_specific_price"]=>
      string(7) "4297696"
      ["id_specific_price_rule"]=>
      string(3) "210"
      ["id_cart"]=>
      string(1) "0"
      ["id_product"]=>
      string(4) "3945"
      ["id_shop"]=>
      string(1) "1"
      ["id_shop_group"]=>
      string(1) "0"
      ["id_currency"]=>
      string(1) "0"
      ["id_country"]=>
      string(1) "0"
      ["id_group"]=>
      string(1) "0"
      ["id_customer"]=>
      string(1) "0"
      ["id_product_attribute"]=>
      string(1) "0"
      ["price"]=>
      string(9) "-1.000000"
      ["from_quantity"]=>
      string(8) "1.000000"
      ["reduction"]=>
      string(8) "0.200000"
      ["reduction_tax"]=>
      string(1) "1"
      ["reduction_type"]=>
      string(10) "percentage"
      ["from"]=>
      string(19) "2020-11-16 00:02:00"
      ["to"]=>
      string(19) "2020-12-01 01:30:00"
      ["score"]=>
      string(2) "48"
    }
    ["ecotax"]=>
    float(0)
    ["weight"]=>
    float(0)
    ["quantity"]=>
    float(0)
    ["reference"]=>
    string(0) ""
    ["unit_impact"]=>
    string(8) "0.000000"
    ["minimal_quantity"]=>
    int(1)
    ["available_date"]=>
    string(10) "2017-10-03"
    ["date_formatted"]=>
    string(10) "10/03/2017"
    ["id_image"]=>
    int(18084)
    ["list"]=>
    string(7) "'11564'"
  }
  [20262]=>
  array(14) {
    ["attributes_values"]=>
    array(1) {
      [723]=>
      string(3) "964"
    }
    ["attributes"]=>
    array(1) {
      [0]=>
      int(11565)
    }
    ["price"]=>
    float(0)
    ["specific_price"]=>
    array(19) {
      ["id_specific_price"]=>
      string(7) "4297696"
      ["id_specific_price_rule"]=>
      string(3) "210"
      ["id_cart"]=>
      string(1) "0"
      ["id_product"]=>
      string(4) "3945"
      ["id_shop"]=>
      string(1) "1"
      ["id_shop_group"]=>
      string(1) "0"
      ["id_currency"]=>
      string(1) "0"
      ["id_country"]=>
      string(1) "0"
      ["id_group"]=>
      string(1) "0"
      ["id_customer"]=>
      string(1) "0"
      ["id_product_attribute"]=>
      string(1) "0"
      ["price"]=>
      string(9) "-1.000000"
      ["from_quantity"]=>
      string(8) "1.000000"
      ["reduction"]=>
      string(8) "0.200000"
      ["reduction_tax"]=>
      string(1) "1"
      ["reduction_type"]=>
      string(10) "percentage"
      ["from"]=>
      string(19) "2020-11-16 00:02:00"
      ["to"]=>
      string(19) "2020-12-01 01:30:00"
      ["score"]=>
      string(2) "48"
    }
    ["ecotax"]=>
    float(0)
    ["weight"]=>
    float(0)
    ["quantity"]=>
    float(2)
    ["reference"]=>
    string(0) ""
    ["unit_impact"]=>
    string(8) "0.000000"
    ["minimal_quantity"]=>
    int(1)
    ["available_date"]=>
    string(10) "2017-10-03"
    ["date_formatted"]=>
    string(10) "10/03/2017"
    ["id_image"]=>
    int(18085)
    ["list"]=>
    string(7) "'11565'"
  }
  [20263]=>
  array(14) {
    ["attributes_values"]=>
    array(1) {
      [723]=>
      string(3) "965"
    }
    ["attributes"]=>
    array(1) {
      [0]=>
      int(11566)
    }
    ["price"]=>
    float(0)
    ["specific_price"]=>
    array(19) {
      ["id_specific_price"]=>
      string(7) "4297696"
      ["id_specific_price_rule"]=>
      string(3) "210"
      ["id_cart"]=>
      string(1) "0"
      ["id_product"]=>
      string(4) "3945"
      ["id_shop"]=>
      string(1) "1"
      ["id_shop_group"]=>
      string(1) "0"
      ["id_currency"]=>
      string(1) "0"
      ["id_country"]=>
      string(1) "0"
      ["id_group"]=>
      string(1) "0"
      ["id_customer"]=>
      string(1) "0"
      ["id_product_attribute"]=>
      string(1) "0"
      ["price"]=>
      string(9) "-1.000000"
      ["from_quantity"]=>
      string(8) "1.000000"
      ["reduction"]=>
      string(8) "0.200000"
      ["reduction_tax"]=>
      string(1) "1"
      ["reduction_type"]=>
      string(10) "percentage"
      ["from"]=>
      string(19) "2020-11-16 00:02:00"
      ["to"]=>
      string(19) "2020-12-01 01:30:00"
      ["score"]=>
      string(2) "48"
    }
    ["ecotax"]=>
    float(0)
    ["weight"]=>
    float(0)
    ["quantity"]=>
    float(8)
    ["reference"]=>
    string(0) ""
    ["unit_impact"]=>
    string(8) "0.000000"
    ["minimal_quantity"]=>
    int(1)
    ["available_date"]=>
    string(10) "2017-10-03"
    ["date_formatted"]=>
    string(10) "10/03/2017"
    ["id_image"]=>
    int(18086)
    ["list"]=>
    string(7) "'11566'"
  }
  [20264]=>
  array(14) {
    ["attributes_values"]=>
    array(1) {
      [723]=>
      string(3) "969"
    }
    ["attributes"]=>
    array(1) {
      [0]=>
      int(11567)
    }
    ["price"]=>
    float(0)
    ["specific_price"]=>
    array(19) {
      ["id_specific_price"]=>
      string(7) "4297696"
      ["id_specific_price_rule"]=>
      string(3) "210"
      ["id_cart"]=>
      string(1) "0"
      ["id_product"]=>
      string(4) "3945"
      ["id_shop"]=>
      string(1) "1"
      ["id_shop_group"]=>
      string(1) "0"
      ["id_currency"]=>
      string(1) "0"
      ["id_country"]=>
      string(1) "0"
      ["id_group"]=>
      string(1) "0"
      ["id_customer"]=>
      string(1) "0"
      ["id_product_attribute"]=>
      string(1) "0"
      ["price"]=>
      string(9) "-1.000000"
      ["from_quantity"]=>
      string(8) "1.000000"
      ["reduction"]=>
      string(8) "0.200000"
      ["reduction_tax"]=>
      string(1) "1"
      ["reduction_type"]=>
      string(10) "percentage"
      ["from"]=>
      string(19) "2020-11-16 00:02:00"
      ["to"]=>
      string(19) "2020-12-01 01:30:00"
      ["score"]=>
      string(2) "48"
    }
    ["ecotax"]=>
    float(0)
    ["weight"]=>
    float(0)
    ["quantity"]=>
    float(40)
    ["reference"]=>
    string(0) ""
    ["unit_impact"]=>
    string(8) "0.000000"
    ["minimal_quantity"]=>
    int(1)
    ["available_date"]=>
    string(10) "2017-10-03"
    ["date_formatted"]=>
    string(10) "10/03/2017"
    ["id_image"]=>
    int(18087)
    ["list"]=>
    string(7) "'11567'"
  }
  [20265]=>
  array(14) {
    ["attributes_values"]=>
    array(1) {
      [723]=>
      string(3) "971"
    }
    ["attributes"]=>
    array(1) {
      [0]=>
      int(11568)
    }
    ["price"]=>
    float(0)
    ["specific_price"]=>
    array(19) {
      ["id_specific_price"]=>
      string(7) "4297696"
      ["id_specific_price_rule"]=>
      string(3) "210"
      ["id_cart"]=>
      string(1) "0"
      ["id_product"]=>
      string(4) "3945"
      ["id_shop"]=>
      string(1) "1"
      ["id_shop_group"]=>
      string(1) "0"
      ["id_currency"]=>
      string(1) "0"
      ["id_country"]=>
      string(1) "0"
      ["id_group"]=>
      string(1) "0"
      ["id_customer"]=>
      string(1) "0"
      ["id_product_attribute"]=>
      string(1) "0"
      ["price"]=>
      string(9) "-1.000000"
      ["from_quantity"]=>
      string(8) "1.000000"
      ["reduction"]=>
      string(8) "0.200000"
      ["reduction_tax"]=>
      string(1) "1"
      ["reduction_type"]=>
      string(10) "percentage"
      ["from"]=>
      string(19) "2020-11-16 00:02:00"
      ["to"]=>
      string(19) "2020-12-01 01:30:00"
      ["score"]=>
      string(2) "48"
    }
    ["ecotax"]=>
    float(0)
    ["weight"]=>
    float(0)
    ["quantity"]=>
    float(31)
    ["reference"]=>
    string(0) ""
    ["unit_impact"]=>
    string(8) "0.000000"
    ["minimal_quantity"]=>
    int(1)
    ["available_date"]=>
    string(10) "2017-10-03"
    ["date_formatted"]=>
    string(10) "10/03/2017"
    ["id_image"]=>
    int(18088)
    ["list"]=>
    string(7) "'11568'"
  }
  [20266]=>
  array(14) {
    ["attributes_values"]=>
    array(1) {
      [723]=>
      string(3) "977"
    }
    ["attributes"]=>
    array(1) {
      [0]=>
      int(11569)
    }
    ["price"]=>
    float(0)
    ["specific_price"]=>
    array(19) {
      ["id_specific_price"]=>
      string(7) "4297696"
      ["id_specific_price_rule"]=>
      string(3) "210"
      ["id_cart"]=>
      string(1) "0"
      ["id_product"]=>
      string(4) "3945"
      ["id_shop"]=>
      string(1) "1"
      ["id_shop_group"]=>
      string(1) "0"
      ["id_currency"]=>
      string(1) "0"
      ["id_country"]=>
      string(1) "0"
      ["id_group"]=>
      string(1) "0"
      ["id_customer"]=>
      string(1) "0"
      ["id_product_attribute"]=>
      string(1) "0"
      ["price"]=>
      string(9) "-1.000000"
      ["from_quantity"]=>
      string(8) "1.000000"
      ["reduction"]=>
      string(8) "0.200000"
      ["reduction_tax"]=>
      string(1) "1"
      ["reduction_type"]=>
      string(10) "percentage"
      ["from"]=>
      string(19) "2020-11-16 00:02:00"
      ["to"]=>
      string(19) "2020-12-01 01:30:00"
      ["score"]=>
      string(2) "48"
    }
    ["ecotax"]=>
    float(0)
    ["weight"]=>
    float(0)
    ["quantity"]=>
    float(38)
    ["reference"]=>
    string(0) ""
    ["unit_impact"]=>
    string(8) "0.000000"
    ["minimal_quantity"]=>
    int(1)
    ["available_date"]=>
    string(10) "2017-10-03"
    ["date_formatted"]=>
    string(10) "10/03/2017"
    ["id_image"]=>
    int(18089)
    ["list"]=>
    string(7) "'11569'"
  }
  [20267]=>
  array(14) {
    ["attributes_values"]=>
    array(1) {
      [723]=>
      string(3) "978"
    }
    ["attributes"]=>
    array(1) {
      [0]=>
      int(11570)
    }
    ["price"]=>
    float(0)
    ["specific_price"]=>
    array(19) {
      ["id_specific_price"]=>
      string(7) "4297696"
      ["id_specific_price_rule"]=>
      string(3) "210"
      ["id_cart"]=>
      string(1) "0"
      ["id_product"]=>
      string(4) "3945"
      ["id_shop"]=>
      string(1) "1"
      ["id_shop_group"]=>
      string(1) "0"
      ["id_currency"]=>
      string(1) "0"
      ["id_country"]=>
      string(1) "0"
      ["id_group"]=>
      string(1) "0"
      ["id_customer"]=>
      string(1) "0"
      ["id_product_attribute"]=>
      string(1) "0"
      ["price"]=>
      string(9) "-1.000000"
      ["from_quantity"]=>
      string(8) "1.000000"
      ["reduction"]=>
      string(8) "0.200000"
      ["reduction_tax"]=>
      string(1) "1"
      ["reduction_type"]=>
      string(10) "percentage"
      ["from"]=>
      string(19) "2020-11-16 00:02:00"
      ["to"]=>
      string(19) "2020-12-01 01:30:00"
      ["score"]=>
      string(2) "48"
    }
    ["ecotax"]=>
    float(0)
    ["weight"]=>
    float(0)
    ["quantity"]=>
    float(22)
    ["reference"]=>
    string(0) ""
    ["unit_impact"]=>
    string(8) "0.000000"
    ["minimal_quantity"]=>
    int(1)
    ["available_date"]=>
    string(10) "2017-10-03"
    ["date_formatted"]=>
    string(10) "10/03/2017"
    ["id_image"]=>
    int(18090)
    ["list"]=>
    string(7) "'11570'"
  }
  [20268]=>
  array(14) {
    ["attributes_values"]=>
    array(1) {
      [723]=>
      string(3) "979"
    }
    ["attributes"]=>
    array(1) {
      [0]=>
      int(11571)
    }
    ["price"]=>
    float(0)
    ["specific_price"]=>
    array(19) {
      ["id_specific_price"]=>
      string(7) "4297696"
      ["id_specific_price_rule"]=>
      string(3) "210"
      ["id_cart"]=>
      string(1) "0"
      ["id_product"]=>
      string(4) "3945"
      ["id_shop"]=>
      string(1) "1"
      ["id_shop_group"]=>
      string(1) "0"
      ["id_currency"]=>
      string(1) "0"
      ["id_country"]=>
      string(1) "0"
      ["id_group"]=>
      string(1) "0"
      ["id_customer"]=>
      string(1) "0"
      ["id_product_attribute"]=>
      string(1) "0"
      ["price"]=>
      string(9) "-1.000000"
      ["from_quantity"]=>
      string(8) "1.000000"
      ["reduction"]=>
      string(8) "0.200000"
      ["reduction_tax"]=>
      string(1) "1"
      ["reduction_type"]=>
      string(10) "percentage"
      ["from"]=>
      string(19) "2020-11-16 00:02:00"
      ["to"]=>
      string(19) "2020-12-01 01:30:00"
      ["score"]=>
      string(2) "48"
    }
    ["ecotax"]=>
    float(0)
    ["weight"]=>
    float(0)
    ["quantity"]=>
    float(26)
    ["reference"]=>
    string(0) ""
    ["unit_impact"]=>
    string(8) "0.000000"
    ["minimal_quantity"]=>
    int(1)
    ["available_date"]=>
    string(10) "2017-10-03"
    ["date_formatted"]=>
    string(10) "10/03/2017"
    ["id_image"]=>
    int(18091)
    ["list"]=>
    string(7) "'11571'"
  }
  [20269]=>
  array(14) {
    ["attributes_values"]=>
    array(1) {
      [723]=>
      string(3) "984"
    }
    ["attributes"]=>
    array(1) {
      [0]=>
      int(11572)
    }
    ["price"]=>
    float(0)
    ["specific_price"]=>
    array(19) {
      ["id_specific_price"]=>
      string(7) "4297696"
      ["id_specific_price_rule"]=>
      string(3) "210"
      ["id_cart"]=>
      string(1) "0"
      ["id_product"]=>
      string(4) "3945"
      ["id_shop"]=>
      string(1) "1"
      ["id_shop_group"]=>
      string(1) "0"
      ["id_currency"]=>
      string(1) "0"
      ["id_country"]=>
      string(1) "0"
      ["id_group"]=>
      string(1) "0"
      ["id_customer"]=>
      string(1) "0"
      ["id_product_attribute"]=>
      string(1) "0"
      ["price"]=>
      string(9) "-1.000000"
      ["from_quantity"]=>
      string(8) "1.000000"
      ["reduction"]=>
      string(8) "0.200000"
      ["reduction_tax"]=>
      string(1) "1"
      ["reduction_type"]=>
      string(10) "percentage"
      ["from"]=>
      string(19) "2020-11-16 00:02:00"
      ["to"]=>
      string(19) "2020-12-01 01:30:00"
      ["score"]=>
      string(2) "48"
    }
    ["ecotax"]=>
    float(0)
    ["weight"]=>
    float(0)
    ["quantity"]=>
    float(15)
    ["reference"]=>
    string(0) ""
    ["unit_impact"]=>
    string(8) "0.000000"
    ["minimal_quantity"]=>
    int(1)
    ["available_date"]=>
    string(10) "2017-10-03"
    ["date_formatted"]=>
    string(10) "10/03/2017"
    ["id_image"]=>
    int(18092)
    ["list"]=>
    string(7) "'11572'"
  }
  [20270]=>
  array(14) {
    ["attributes_values"]=>
    array(1) {
      [723]=>
      string(3) "992"
    }
    ["attributes"]=>
    array(1) {
      [0]=>
      int(11573)
    }
    ["price"]=>
    float(0)
    ["specific_price"]=>
    array(19) {
      ["id_specific_price"]=>
      string(7) "4297696"
      ["id_specific_price_rule"]=>
      string(3) "210"
      ["id_cart"]=>
      string(1) "0"
      ["id_product"]=>
      string(4) "3945"
      ["id_shop"]=>
      string(1) "1"
      ["id_shop_group"]=>
      string(1) "0"
      ["id_currency"]=>
      string(1) "0"
      ["id_country"]=>
      string(1) "0"
      ["id_group"]=>
      string(1) "0"
      ["id_customer"]=>
      string(1) "0"
      ["id_product_attribute"]=>
      string(1) "0"
      ["price"]=>
      string(9) "-1.000000"
      ["from_quantity"]=>
      string(8) "1.000000"
      ["reduction"]=>
      string(8) "0.200000"
      ["reduction_tax"]=>
      string(1) "1"
      ["reduction_type"]=>
      string(10) "percentage"
      ["from"]=>
      string(19) "2020-11-16 00:02:00"
      ["to"]=>
      string(19) "2020-12-01 01:30:00"
      ["score"]=>
      string(2) "48"
    }
    ["ecotax"]=>
    float(0)
    ["weight"]=>
    float(0)
    ["quantity"]=>
    float(21)
    ["reference"]=>
    string(0) ""
    ["unit_impact"]=>
    string(8) "0.000000"
    ["minimal_quantity"]=>
    int(1)
    ["available_date"]=>
    string(10) "2017-10-03"
    ["date_formatted"]=>
    string(10) "10/03/2017"
    ["id_image"]=>
    int(18093)
    ["list"]=>
    string(7) "'11573'"
  }
  [20271]=>
  array(14) {
    ["attributes_values"]=>
    array(1) {
      [723]=>
      string(3) "993"
    }
    ["attributes"]=>
    array(1) {
      [0]=>
      int(11574)
    }
    ["price"]=>
    float(0)
    ["specific_price"]=>
    array(19) {
      ["id_specific_price"]=>
      string(7) "4297696"
      ["id_specific_price_rule"]=>
      string(3) "210"
      ["id_cart"]=>
      string(1) "0"
      ["id_product"]=>
      string(4) "3945"
      ["id_shop"]=>
      string(1) "1"
      ["id_shop_group"]=>
      string(1) "0"
      ["id_currency"]=>
      string(1) "0"
      ["id_country"]=>
      string(1) "0"
      ["id_group"]=>
      string(1) "0"
      ["id_customer"]=>
      string(1) "0"
      ["id_product_attribute"]=>
      string(1) "0"
      ["price"]=>
      string(9) "-1.000000"
      ["from_quantity"]=>
      string(8) "1.000000"
      ["reduction"]=>
      string(8) "0.200000"
      ["reduction_tax"]=>
      string(1) "1"
      ["reduction_type"]=>
      string(10) "percentage"
      ["from"]=>
      string(19) "2020-11-16 00:02:00"
      ["to"]=>
      string(19) "2020-12-01 01:30:00"
      ["score"]=>
      string(2) "48"
    }
    ["ecotax"]=>
    float(0)
    ["weight"]=>
    float(0)
    ["quantity"]=>
    float(0)
    ["reference"]=>
    string(0) ""
    ["unit_impact"]=>
    string(8) "0.000000"
    ["minimal_quantity"]=>
    int(1)
    ["available_date"]=>
    string(10) "2017-10-03"
    ["date_formatted"]=>
    string(10) "10/03/2017"
    ["id_image"]=>
    int(18094)
    ["list"]=>
    string(7) "'11574'"
  }
  [20272]=>
  array(14) {
    ["attributes_values"]=>
    array(1) {
      [723]=>
      string(3) "994"
    }
    ["attributes"]=>
    array(1) {
      [0]=>
      int(11575)
    }
    ["price"]=>
    float(0)
    ["specific_price"]=>
    array(19) {
      ["id_specific_price"]=>
      string(7) "4297696"
      ["id_specific_price_rule"]=>
      string(3) "210"
      ["id_cart"]=>
      string(1) "0"
      ["id_product"]=>
      string(4) "3945"
      ["id_shop"]=>
      string(1) "1"
      ["id_shop_group"]=>
      string(1) "0"
      ["id_currency"]=>
      string(1) "0"
      ["id_country"]=>
      string(1) "0"
      ["id_group"]=>
      string(1) "0"
      ["id_customer"]=>
      string(1) "0"
      ["id_product_attribute"]=>
      string(1) "0"
      ["price"]=>
      string(9) "-1.000000"
      ["from_quantity"]=>
      string(8) "1.000000"
      ["reduction"]=>
      string(8) "0.200000"
      ["reduction_tax"]=>
      string(1) "1"
      ["reduction_type"]=>
      string(10) "percentage"
      ["from"]=>
      string(19) "2020-11-16 00:02:00"
      ["to"]=>
      string(19) "2020-12-01 01:30:00"
      ["score"]=>
      string(2) "48"
    }
    ["ecotax"]=>
    float(0)
    ["weight"]=>
    float(0)
    ["quantity"]=>
    float(36)
    ["reference"]=>
    string(0) ""
    ["unit_impact"]=>
    string(8) "0.000000"
    ["minimal_quantity"]=>
    int(1)
    ["available_date"]=>
    string(10) "2017-10-03"
    ["date_formatted"]=>
    string(10) "10/03/2017"
    ["id_image"]=>
    int(18095)
    ["list"]=>
    string(7) "'11575'"
  }
}

DMC Knitty4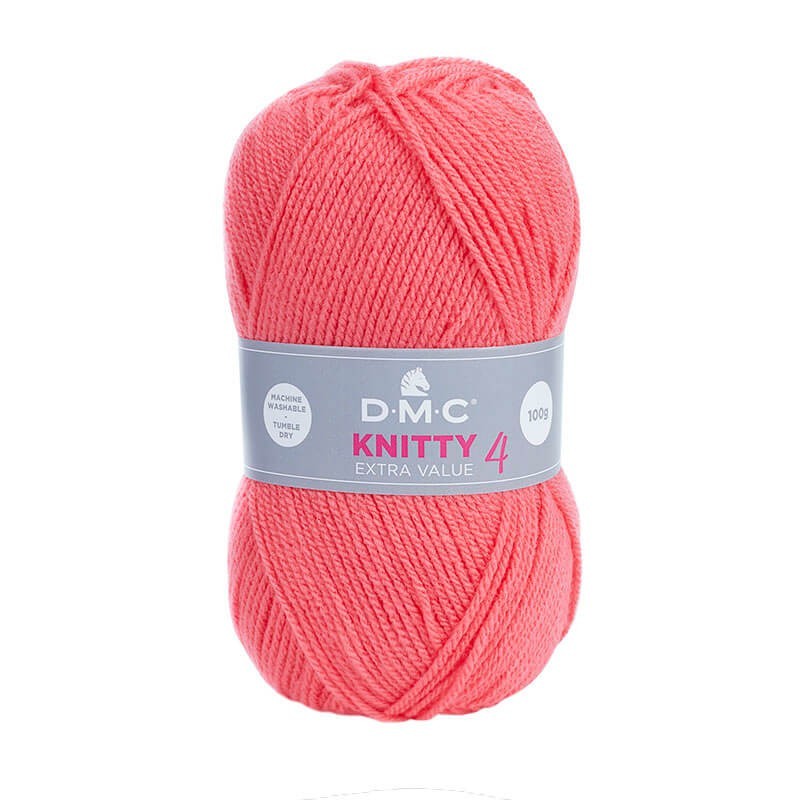  
DMC Knitty 4 is an acrylic yarn available in a wide range of basic colours with a soft and warm texture. It is perfect to create your own warm clothes and accessories. You will be able to knit clothes, accessories and complements and combine them as you please.
No reward points for this product because there's already a discount.
Product details
Features
Weight

100 grams

Length

280 meters

Knitting needle

4

Crochet Hook

4

Season

Autumn - Winter
Product description
DMC Knitty 4 is a soft yarn made by 4 fine ends which is available in a wide range of basic colours. This yarn will keep your body temperature warm.
This basic and thin yarn is recommended to knit any kind of clothes for kids, babies or adults, such as pulls, jackets, ponchos, bootees, scarfs, snood scarfs, or accessories and complements such as cushions, bedspreads, blankets, and more.
Its wide range of colours will allow you to combinethem as you please. This yarn is also perfect to create Granny Squares.
The DMC Knitty 4 yarn is made by:
The acrylic fiber which is hypoallergenic provide a greater softness perfect to the most sensitive skins.
These balls are ideal for knitting warm clothes and complements. Its main characteristic is the greater thermal and heat regulation capacity.
This yarn is perfect for knitting clothes both for kids and adults. Its soft touch will provide a greater sense of comfort when coming into contact with your skin.
The acrylic fiber will keep the shape and quality of your clothes despite the use.
You should know that DMC Knitty 4…
Each ball has 100 grams and 280 metres.
Its thickness is perfect to knit with the 4 mm knitting needles or crochet hooks.

Mount 22 stitches and do 28 laps to knit a 10 x 10 cm square.

You can wash this yarn in the washing machine up to 40ºC.

You can use the dryer.

It can be ironned at a low temperature.
With the OEKO-TEX® standard 100 certificate that guarantees your creations will be free of hazardous substances that could be harmful for customers.
We recommend you to separate dark colours from clear ones when washing.
You can combine this warm yarn with other colours of DMC and create your own pulls, jackets, scarfs, caps, bags, etc.
Have you ever knitted with DMC Knitty 4? Give us your experience!
Rating:

5

out of

5

based on

17

reviews.
Customer reviews
Nº of votes

Average experience

Rating

17

star star star star star

star star star star star

star star star star star

star star star star star
Page 1
Loading more results...