array(6) {
  [27193]=>
  array(14) {
    ["attributes_values"]=>
    array(1) {
      [123]=>
      string(2) "70"
    }
    ["attributes"]=>
    array(1) {
      [0]=>
      int(17781)
    }
    ["price"]=>
    float(0)
    ["specific_price"]=>
    array(19) {
      ["id_specific_price"]=>
      string(7) "4357280"
      ["id_specific_price_rule"]=>
      string(3) "131"
      ["id_cart"]=>
      string(1) "0"
      ["id_product"]=>
      string(4) "2902"
      ["id_shop"]=>
      string(1) "1"
      ["id_shop_group"]=>
      string(1) "0"
      ["id_currency"]=>
      string(1) "0"
      ["id_country"]=>
      string(1) "0"
      ["id_group"]=>
      string(1) "0"
      ["id_customer"]=>
      string(1) "0"
      ["id_product_attribute"]=>
      string(1) "0"
      ["price"]=>
      string(9) "-1.000000"
      ["from_quantity"]=>
      string(8) "1.000000"
      ["reduction"]=>
      string(8) "0.350000"
      ["reduction_tax"]=>
      string(1) "1"
      ["reduction_type"]=>
      string(10) "percentage"
      ["from"]=>
      string(19) "2018-12-16 00:00:00"
      ["to"]=>
      string(19) "2021-01-31 23:59:00"
      ["score"]=>
      string(2) "48"
    }
    ["ecotax"]=>
    float(0)
    ["weight"]=>
    float(0)
    ["quantity"]=>
    float(0)
    ["reference"]=>
    string(0) ""
    ["unit_impact"]=>
    string(8) "0.000000"
    ["minimal_quantity"]=>
    int(1)
    ["available_date"]=>
    string(10) "2019-02-05"
    ["date_formatted"]=>
    string(10) "02/05/2019"
    ["id_image"]=>
    int(28926)
    ["list"]=>
    string(7) "'17781'"
  }
  [27194]=>
  array(14) {
    ["attributes_values"]=>
    array(1) {
      [123]=>
      string(2) "71"
    }
    ["attributes"]=>
    array(1) {
      [0]=>
      int(17782)
    }
    ["price"]=>
    float(0)
    ["specific_price"]=>
    array(19) {
      ["id_specific_price"]=>
      string(7) "4357280"
      ["id_specific_price_rule"]=>
      string(3) "131"
      ["id_cart"]=>
      string(1) "0"
      ["id_product"]=>
      string(4) "2902"
      ["id_shop"]=>
      string(1) "1"
      ["id_shop_group"]=>
      string(1) "0"
      ["id_currency"]=>
      string(1) "0"
      ["id_country"]=>
      string(1) "0"
      ["id_group"]=>
      string(1) "0"
      ["id_customer"]=>
      string(1) "0"
      ["id_product_attribute"]=>
      string(1) "0"
      ["price"]=>
      string(9) "-1.000000"
      ["from_quantity"]=>
      string(8) "1.000000"
      ["reduction"]=>
      string(8) "0.350000"
      ["reduction_tax"]=>
      string(1) "1"
      ["reduction_type"]=>
      string(10) "percentage"
      ["from"]=>
      string(19) "2018-12-16 00:00:00"
      ["to"]=>
      string(19) "2021-01-31 23:59:00"
      ["score"]=>
      string(2) "48"
    }
    ["ecotax"]=>
    float(0)
    ["weight"]=>
    float(0)
    ["quantity"]=>
    float(0)
    ["reference"]=>
    string(0) ""
    ["unit_impact"]=>
    string(8) "0.000000"
    ["minimal_quantity"]=>
    int(1)
    ["available_date"]=>
    string(10) "2019-02-05"
    ["date_formatted"]=>
    string(10) "02/05/2019"
    ["id_image"]=>
    int(28928)
    ["list"]=>
    string(7) "'17782'"
  }
  [27195]=>
  array(14) {
    ["attributes_values"]=>
    array(1) {
      [123]=>
      string(2) "72"
    }
    ["attributes"]=>
    array(1) {
      [0]=>
      int(17783)
    }
    ["price"]=>
    float(0)
    ["specific_price"]=>
    array(19) {
      ["id_specific_price"]=>
      string(7) "4357280"
      ["id_specific_price_rule"]=>
      string(3) "131"
      ["id_cart"]=>
      string(1) "0"
      ["id_product"]=>
      string(4) "2902"
      ["id_shop"]=>
      string(1) "1"
      ["id_shop_group"]=>
      string(1) "0"
      ["id_currency"]=>
      string(1) "0"
      ["id_country"]=>
      string(1) "0"
      ["id_group"]=>
      string(1) "0"
      ["id_customer"]=>
      string(1) "0"
      ["id_product_attribute"]=>
      string(1) "0"
      ["price"]=>
      string(9) "-1.000000"
      ["from_quantity"]=>
      string(8) "1.000000"
      ["reduction"]=>
      string(8) "0.350000"
      ["reduction_tax"]=>
      string(1) "1"
      ["reduction_type"]=>
      string(10) "percentage"
      ["from"]=>
      string(19) "2018-12-16 00:00:00"
      ["to"]=>
      string(19) "2021-01-31 23:59:00"
      ["score"]=>
      string(2) "48"
    }
    ["ecotax"]=>
    float(0)
    ["weight"]=>
    float(0)
    ["quantity"]=>
    float(0)
    ["reference"]=>
    string(0) ""
    ["unit_impact"]=>
    string(8) "0.000000"
    ["minimal_quantity"]=>
    int(1)
    ["available_date"]=>
    string(10) "2019-02-05"
    ["date_formatted"]=>
    string(10) "02/05/2019"
    ["id_image"]=>
    int(28930)
    ["list"]=>
    string(7) "'17783'"
  }
  [27196]=>
  array(14) {
    ["attributes_values"]=>
    array(1) {
      [123]=>
      string(2) "73"
    }
    ["attributes"]=>
    array(1) {
      [0]=>
      int(17784)
    }
    ["price"]=>
    float(0)
    ["specific_price"]=>
    array(19) {
      ["id_specific_price"]=>
      string(7) "4357280"
      ["id_specific_price_rule"]=>
      string(3) "131"
      ["id_cart"]=>
      string(1) "0"
      ["id_product"]=>
      string(4) "2902"
      ["id_shop"]=>
      string(1) "1"
      ["id_shop_group"]=>
      string(1) "0"
      ["id_currency"]=>
      string(1) "0"
      ["id_country"]=>
      string(1) "0"
      ["id_group"]=>
      string(1) "0"
      ["id_customer"]=>
      string(1) "0"
      ["id_product_attribute"]=>
      string(1) "0"
      ["price"]=>
      string(9) "-1.000000"
      ["from_quantity"]=>
      string(8) "1.000000"
      ["reduction"]=>
      string(8) "0.350000"
      ["reduction_tax"]=>
      string(1) "1"
      ["reduction_type"]=>
      string(10) "percentage"
      ["from"]=>
      string(19) "2018-12-16 00:00:00"
      ["to"]=>
      string(19) "2021-01-31 23:59:00"
      ["score"]=>
      string(2) "48"
    }
    ["ecotax"]=>
    float(0)
    ["weight"]=>
    float(0)
    ["quantity"]=>
    float(0)
    ["reference"]=>
    string(0) ""
    ["unit_impact"]=>
    string(8) "0.000000"
    ["minimal_quantity"]=>
    int(1)
    ["available_date"]=>
    string(10) "2019-02-05"
    ["date_formatted"]=>
    string(10) "02/05/2019"
    ["id_image"]=>
    int(28932)
    ["list"]=>
    string(7) "'17784'"
  }
  [27197]=>
  array(14) {
    ["attributes_values"]=>
    array(1) {
      [123]=>
      string(2) "74"
    }
    ["attributes"]=>
    array(1) {
      [0]=>
      int(17785)
    }
    ["price"]=>
    float(0)
    ["specific_price"]=>
    array(19) {
      ["id_specific_price"]=>
      string(7) "4357280"
      ["id_specific_price_rule"]=>
      string(3) "131"
      ["id_cart"]=>
      string(1) "0"
      ["id_product"]=>
      string(4) "2902"
      ["id_shop"]=>
      string(1) "1"
      ["id_shop_group"]=>
      string(1) "0"
      ["id_currency"]=>
      string(1) "0"
      ["id_country"]=>
      string(1) "0"
      ["id_group"]=>
      string(1) "0"
      ["id_customer"]=>
      string(1) "0"
      ["id_product_attribute"]=>
      string(1) "0"
      ["price"]=>
      string(9) "-1.000000"
      ["from_quantity"]=>
      string(8) "1.000000"
      ["reduction"]=>
      string(8) "0.350000"
      ["reduction_tax"]=>
      string(1) "1"
      ["reduction_type"]=>
      string(10) "percentage"
      ["from"]=>
      string(19) "2018-12-16 00:00:00"
      ["to"]=>
      string(19) "2021-01-31 23:59:00"
      ["score"]=>
      string(2) "48"
    }
    ["ecotax"]=>
    float(0)
    ["weight"]=>
    float(0)
    ["quantity"]=>
    float(0)
    ["reference"]=>
    string(0) ""
    ["unit_impact"]=>
    string(8) "0.000000"
    ["minimal_quantity"]=>
    int(1)
    ["available_date"]=>
    string(10) "2019-02-05"
    ["date_formatted"]=>
    string(10) "02/05/2019"
    ["id_image"]=>
    int(28934)
    ["list"]=>
    string(7) "'17785'"
  }
  [27198]=>
  array(14) {
    ["attributes_values"]=>
    array(1) {
      [123]=>
      string(2) "75"
    }
    ["attributes"]=>
    array(1) {
      [0]=>
      int(17786)
    }
    ["price"]=>
    float(0)
    ["specific_price"]=>
    array(19) {
      ["id_specific_price"]=>
      string(7) "4357280"
      ["id_specific_price_rule"]=>
      string(3) "131"
      ["id_cart"]=>
      string(1) "0"
      ["id_product"]=>
      string(4) "2902"
      ["id_shop"]=>
      string(1) "1"
      ["id_shop_group"]=>
      string(1) "0"
      ["id_currency"]=>
      string(1) "0"
      ["id_country"]=>
      string(1) "0"
      ["id_group"]=>
      string(1) "0"
      ["id_customer"]=>
      string(1) "0"
      ["id_product_attribute"]=>
      string(1) "0"
      ["price"]=>
      string(9) "-1.000000"
      ["from_quantity"]=>
      string(8) "1.000000"
      ["reduction"]=>
      string(8) "0.350000"
      ["reduction_tax"]=>
      string(1) "1"
      ["reduction_type"]=>
      string(10) "percentage"
      ["from"]=>
      string(19) "2018-12-16 00:00:00"
      ["to"]=>
      string(19) "2021-01-31 23:59:00"
      ["score"]=>
      string(2) "48"
    }
    ["ecotax"]=>
    float(0)
    ["weight"]=>
    float(0)
    ["quantity"]=>
    float(0)
    ["reference"]=>
    string(0) ""
    ["unit_impact"]=>
    string(8) "0.000000"
    ["minimal_quantity"]=>
    int(1)
    ["available_date"]=>
    string(10) "2019-02-05"
    ["date_formatted"]=>
    string(10) "02/05/2019"
    ["id_image"]=>
    int(28936)
    ["list"]=>
    string(7) "'17786'"
  }
}

Bombay Socks II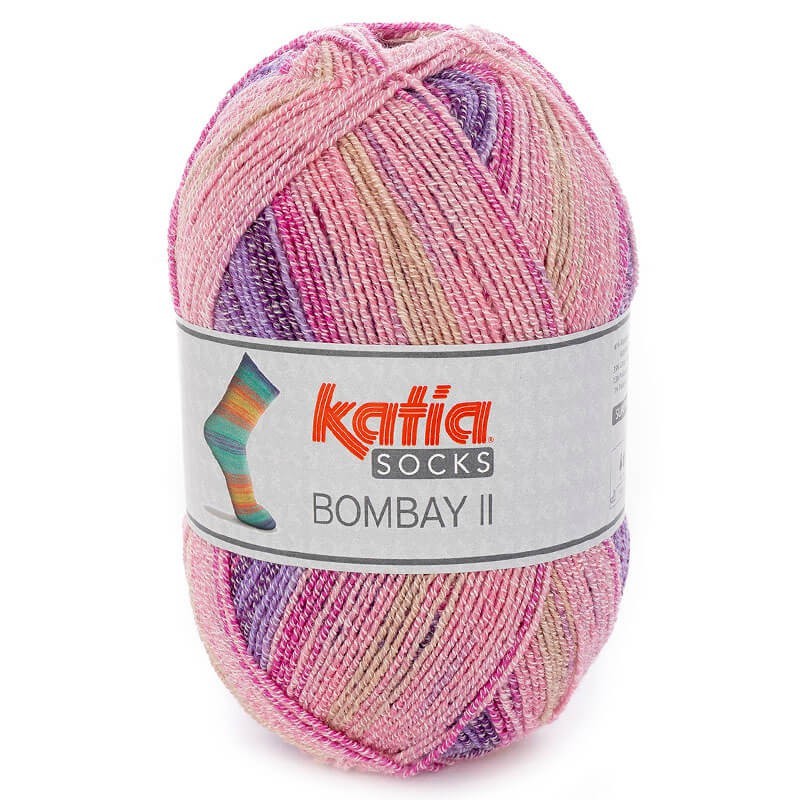  
Katia Bombay Socks is a yarn that Katia yarns offers to knit original socks for children or for adults in speckled colours. 
No reward points for this product because there's already a discount.
Product description
Bombay Socks by Katia yarns, is a yarn to knit funny socks for cold or hot days. Your sewing pieces will be perfect for your kids due to its speckled colours. They will wear funny and comfortable socks.
Katia yarns offers 6 different colours in tons mixture, to choose your favourite and knit funny socks. 
The yarn Katia Bombay Socks is made by:
41% Cotton

39% Wool

13% Polyamide

7% Polyester
A fibres mixture that provides softness comfort and a nice touch to your feet, keeping them warm in cold days and diving them freshness in hot days. This yarn is suitable to regulate your body temperature, keeping it stable.
You should know that...
Each ball contain 100 grams and 460 metres.

Its thickness is perfect to knit with knitting needles of 3 mm or with crochet hooks of 1.75 mm.

You can knit a pair of socks for an adult size 43 - 44, with just a ball.

It has a Superwash treatment, so you can wash this

yarn

in the washing machine at 30ºC and with a short spin-cycle.

It is possible to iron it at 110ºC.
You will love its colours mixture. This yarn will form non-defined lines.
Did you like this yarn by Katia to knit socks? Give us your opinion!
Rating:

5

out of

5

based on

2

reviews.
Customer reviews
Nº of votes

Average experience

Rating

2

star star star star star

star star star star star

star star star star star

star star star star star