array(6) {
  [17997]=>
  array(14) {
    ["attributes_values"]=>
    array(1) {
      [576]=>
      string(2) "70"
    }
    ["attributes"]=>
    array(1) {
      [0]=>
      int(9627)
    }
    ["price"]=>
    float(0)
    ["specific_price"]=>
    array(19) {
      ["id_specific_price"]=>
      string(7) "4394094"
      ["id_specific_price_rule"]=>
      string(3) "131"
      ["id_cart"]=>
      string(1) "0"
      ["id_product"]=>
      string(4) "3710"
      ["id_shop"]=>
      string(1) "1"
      ["id_shop_group"]=>
      string(1) "0"
      ["id_currency"]=>
      string(1) "0"
      ["id_country"]=>
      string(1) "0"
      ["id_group"]=>
      string(1) "0"
      ["id_customer"]=>
      string(1) "0"
      ["id_product_attribute"]=>
      string(1) "0"
      ["price"]=>
      string(9) "-1.000000"
      ["from_quantity"]=>
      string(8) "1.000000"
      ["reduction"]=>
      string(8) "0.350000"
      ["reduction_tax"]=>
      string(1) "1"
      ["reduction_type"]=>
      string(10) "percentage"
      ["from"]=>
      string(19) "2018-12-16 00:00:00"
      ["to"]=>
      string(19) "2021-01-31 23:59:00"
      ["score"]=>
      string(2) "48"
    }
    ["ecotax"]=>
    float(0)
    ["weight"]=>
    float(0)
    ["quantity"]=>
    float(0)
    ["reference"]=>
    string(0) ""
    ["unit_impact"]=>
    string(8) "0.000000"
    ["minimal_quantity"]=>
    int(1)
    ["available_date"]=>
    string(10) "2017-06-06"
    ["date_formatted"]=>
    string(10) "06/06/2017"
    ["id_image"]=>
    int(14980)
    ["list"]=>
    string(6) "'9627'"
  }
  [17998]=>
  array(14) {
    ["attributes_values"]=>
    array(1) {
      [576]=>
      string(2) "71"
    }
    ["attributes"]=>
    array(1) {
      [0]=>
      int(9628)
    }
    ["price"]=>
    float(0)
    ["specific_price"]=>
    array(19) {
      ["id_specific_price"]=>
      string(7) "4394094"
      ["id_specific_price_rule"]=>
      string(3) "131"
      ["id_cart"]=>
      string(1) "0"
      ["id_product"]=>
      string(4) "3710"
      ["id_shop"]=>
      string(1) "1"
      ["id_shop_group"]=>
      string(1) "0"
      ["id_currency"]=>
      string(1) "0"
      ["id_country"]=>
      string(1) "0"
      ["id_group"]=>
      string(1) "0"
      ["id_customer"]=>
      string(1) "0"
      ["id_product_attribute"]=>
      string(1) "0"
      ["price"]=>
      string(9) "-1.000000"
      ["from_quantity"]=>
      string(8) "1.000000"
      ["reduction"]=>
      string(8) "0.350000"
      ["reduction_tax"]=>
      string(1) "1"
      ["reduction_type"]=>
      string(10) "percentage"
      ["from"]=>
      string(19) "2018-12-16 00:00:00"
      ["to"]=>
      string(19) "2021-01-31 23:59:00"
      ["score"]=>
      string(2) "48"
    }
    ["ecotax"]=>
    float(0)
    ["weight"]=>
    float(0)
    ["quantity"]=>
    float(0)
    ["reference"]=>
    string(0) ""
    ["unit_impact"]=>
    string(8) "0.000000"
    ["minimal_quantity"]=>
    int(1)
    ["available_date"]=>
    string(10) "2017-06-06"
    ["date_formatted"]=>
    string(10) "06/06/2017"
    ["id_image"]=>
    int(14981)
    ["list"]=>
    string(6) "'9628'"
  }
  [17999]=>
  array(14) {
    ["attributes_values"]=>
    array(1) {
      [576]=>
      string(2) "72"
    }
    ["attributes"]=>
    array(1) {
      [0]=>
      int(9629)
    }
    ["price"]=>
    float(0)
    ["specific_price"]=>
    array(19) {
      ["id_specific_price"]=>
      string(7) "4394094"
      ["id_specific_price_rule"]=>
      string(3) "131"
      ["id_cart"]=>
      string(1) "0"
      ["id_product"]=>
      string(4) "3710"
      ["id_shop"]=>
      string(1) "1"
      ["id_shop_group"]=>
      string(1) "0"
      ["id_currency"]=>
      string(1) "0"
      ["id_country"]=>
      string(1) "0"
      ["id_group"]=>
      string(1) "0"
      ["id_customer"]=>
      string(1) "0"
      ["id_product_attribute"]=>
      string(1) "0"
      ["price"]=>
      string(9) "-1.000000"
      ["from_quantity"]=>
      string(8) "1.000000"
      ["reduction"]=>
      string(8) "0.350000"
      ["reduction_tax"]=>
      string(1) "1"
      ["reduction_type"]=>
      string(10) "percentage"
      ["from"]=>
      string(19) "2018-12-16 00:00:00"
      ["to"]=>
      string(19) "2021-01-31 23:59:00"
      ["score"]=>
      string(2) "48"
    }
    ["ecotax"]=>
    float(0)
    ["weight"]=>
    float(0)
    ["quantity"]=>
    float(0)
    ["reference"]=>
    string(0) ""
    ["unit_impact"]=>
    string(8) "0.000000"
    ["minimal_quantity"]=>
    int(1)
    ["available_date"]=>
    string(10) "2017-06-06"
    ["date_formatted"]=>
    string(10) "06/06/2017"
    ["id_image"]=>
    int(14982)
    ["list"]=>
    string(6) "'9629'"
  }
  [18000]=>
  array(14) {
    ["attributes_values"]=>
    array(1) {
      [576]=>
      string(2) "73"
    }
    ["attributes"]=>
    array(1) {
      [0]=>
      int(9630)
    }
    ["price"]=>
    float(0)
    ["specific_price"]=>
    array(19) {
      ["id_specific_price"]=>
      string(7) "4394094"
      ["id_specific_price_rule"]=>
      string(3) "131"
      ["id_cart"]=>
      string(1) "0"
      ["id_product"]=>
      string(4) "3710"
      ["id_shop"]=>
      string(1) "1"
      ["id_shop_group"]=>
      string(1) "0"
      ["id_currency"]=>
      string(1) "0"
      ["id_country"]=>
      string(1) "0"
      ["id_group"]=>
      string(1) "0"
      ["id_customer"]=>
      string(1) "0"
      ["id_product_attribute"]=>
      string(1) "0"
      ["price"]=>
      string(9) "-1.000000"
      ["from_quantity"]=>
      string(8) "1.000000"
      ["reduction"]=>
      string(8) "0.350000"
      ["reduction_tax"]=>
      string(1) "1"
      ["reduction_type"]=>
      string(10) "percentage"
      ["from"]=>
      string(19) "2018-12-16 00:00:00"
      ["to"]=>
      string(19) "2021-01-31 23:59:00"
      ["score"]=>
      string(2) "48"
    }
    ["ecotax"]=>
    float(0)
    ["weight"]=>
    float(0)
    ["quantity"]=>
    float(0)
    ["reference"]=>
    string(0) ""
    ["unit_impact"]=>
    string(8) "0.000000"
    ["minimal_quantity"]=>
    int(1)
    ["available_date"]=>
    string(10) "2017-06-06"
    ["date_formatted"]=>
    string(10) "06/06/2017"
    ["id_image"]=>
    int(14983)
    ["list"]=>
    string(6) "'9630'"
  }
  [18001]=>
  array(14) {
    ["attributes_values"]=>
    array(1) {
      [576]=>
      string(2) "74"
    }
    ["attributes"]=>
    array(1) {
      [0]=>
      int(9631)
    }
    ["price"]=>
    float(0)
    ["specific_price"]=>
    array(19) {
      ["id_specific_price"]=>
      string(7) "4394094"
      ["id_specific_price_rule"]=>
      string(3) "131"
      ["id_cart"]=>
      string(1) "0"
      ["id_product"]=>
      string(4) "3710"
      ["id_shop"]=>
      string(1) "1"
      ["id_shop_group"]=>
      string(1) "0"
      ["id_currency"]=>
      string(1) "0"
      ["id_country"]=>
      string(1) "0"
      ["id_group"]=>
      string(1) "0"
      ["id_customer"]=>
      string(1) "0"
      ["id_product_attribute"]=>
      string(1) "0"
      ["price"]=>
      string(9) "-1.000000"
      ["from_quantity"]=>
      string(8) "1.000000"
      ["reduction"]=>
      string(8) "0.350000"
      ["reduction_tax"]=>
      string(1) "1"
      ["reduction_type"]=>
      string(10) "percentage"
      ["from"]=>
      string(19) "2018-12-16 00:00:00"
      ["to"]=>
      string(19) "2021-01-31 23:59:00"
      ["score"]=>
      string(2) "48"
    }
    ["ecotax"]=>
    float(0)
    ["weight"]=>
    float(0)
    ["quantity"]=>
    float(0)
    ["reference"]=>
    string(0) ""
    ["unit_impact"]=>
    string(8) "0.000000"
    ["minimal_quantity"]=>
    int(1)
    ["available_date"]=>
    string(10) "2017-06-06"
    ["date_formatted"]=>
    string(10) "06/06/2017"
    ["id_image"]=>
    int(14984)
    ["list"]=>
    string(6) "'9631'"
  }
  [18002]=>
  array(14) {
    ["attributes_values"]=>
    array(1) {
      [576]=>
      string(2) "75"
    }
    ["attributes"]=>
    array(1) {
      [0]=>
      int(9632)
    }
    ["price"]=>
    float(0)
    ["specific_price"]=>
    array(19) {
      ["id_specific_price"]=>
      string(7) "4394094"
      ["id_specific_price_rule"]=>
      string(3) "131"
      ["id_cart"]=>
      string(1) "0"
      ["id_product"]=>
      string(4) "3710"
      ["id_shop"]=>
      string(1) "1"
      ["id_shop_group"]=>
      string(1) "0"
      ["id_currency"]=>
      string(1) "0"
      ["id_country"]=>
      string(1) "0"
      ["id_group"]=>
      string(1) "0"
      ["id_customer"]=>
      string(1) "0"
      ["id_product_attribute"]=>
      string(1) "0"
      ["price"]=>
      string(9) "-1.000000"
      ["from_quantity"]=>
      string(8) "1.000000"
      ["reduction"]=>
      string(8) "0.350000"
      ["reduction_tax"]=>
      string(1) "1"
      ["reduction_type"]=>
      string(10) "percentage"
      ["from"]=>
      string(19) "2018-12-16 00:00:00"
      ["to"]=>
      string(19) "2021-01-31 23:59:00"
      ["score"]=>
      string(2) "48"
    }
    ["ecotax"]=>
    float(0)
    ["weight"]=>
    float(0)
    ["quantity"]=>
    float(0)
    ["reference"]=>
    string(0) ""
    ["unit_impact"]=>
    string(8) "0.000000"
    ["minimal_quantity"]=>
    int(1)
    ["available_date"]=>
    string(10) "2017-06-06"
    ["date_formatted"]=>
    string(10) "06/06/2017"
    ["id_image"]=>
    int(14985)
    ["list"]=>
    string(6) "'9632'"
  }
}

Katia Camel Socks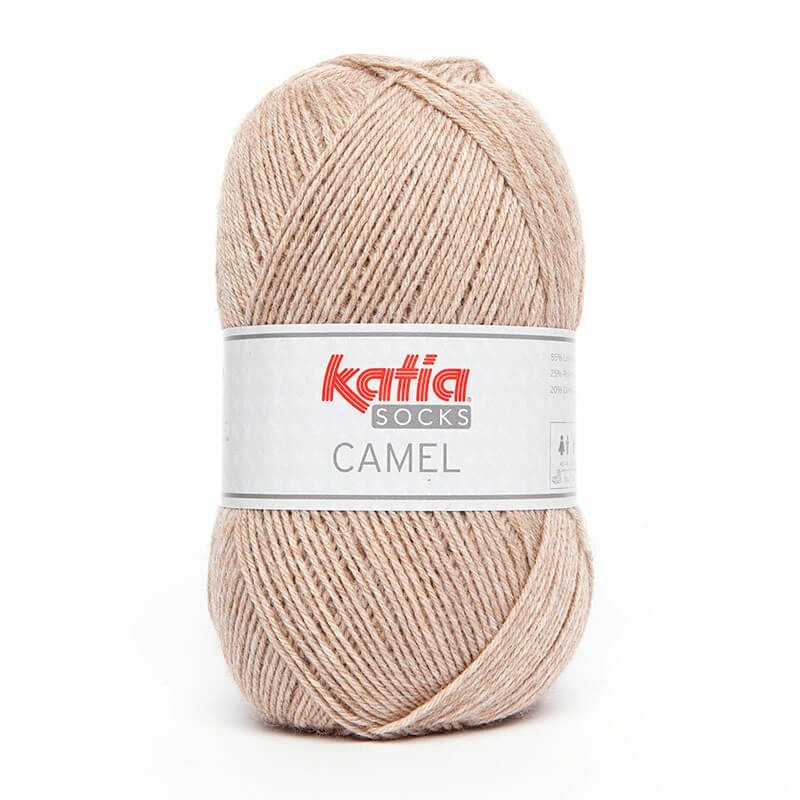  
Katia Camel Socks is a yarn made of merino, camel wool and polyamide, so it has wonderful qualities. Its colouring is perfect to knit clothes for man, but it is specially thought to knit socks.  
No reward points for this product because there's already a discount.
Product details
Features
Weight

100 grams

Length

400 meters

Knitting needle

2 ½ - 3

Crochet Hook

2 ½ - 3

Season

Autumn - Winter
Product description
Camel Socks by Katia yarns is a yarn specially thought to knit warm socks, but it can also be used to knit all kind of sewing pieces like pulls, jackets, ponchos and more.
The yarn has a simple white speckled that gives a beautiful touch to your creations. It is available in natural tones like browns, grey and blue. Its colouring makes it perfect to knit clothes for man.
With just one ball you will be able to knit a pair of socks, size 43 - 44.
The yarn Katia Camel Socks is made by:
55% Merino Superwash Yarn
25% Polyamide
20% Camel
The merino wool fibre has a soft and nice touch, in addition it is a really light and warm fibre, so you will be really comfortable wearing it.
It keeps perfectly your body temperature, so, although the cold, you will be really warm wearing these clothes. It is perfect to knit comfortable and fine socks.
The camel wool is also a thin fibre and it has a super soft touch.
It has excellent qualities because it is elastic and resistant, so it allows you to work it easily by crocheting or by knitting. In addition it is really comfortable to wear.
This fibre cannot lose shape and it is a high quality yarn, so your sewing pieces will be perfect despite the years.
The polyamide is also an elastic fibre, so it will be really easy to work this yarn.
You should know that Camel Socks...
Each ball has 100 grams and 400 metres.
With just one ball you can knit a pair of socks, size 43 - 44.
Knit socks, pulls, plaids and other creations with Camel Socks.
Its beautiful colouring makes it perfect to knit clothes, complements or accessories for man.
Have you ever knitted with Camel Socks by Katia? Give us your opinion!
Rating:

5

out of

5

based on

2

reviews.
Customer reviews
Nº of votes

Average experience

Rating

2

star star star star star

star star star star star

star star star star star

star star star star star