array(8) {
  [14172]=>
  array(14) {
    ["attributes_values"]=>
    array(1) {
      [357]=>
      string(3) "500"
    }
    ["attributes"]=>
    array(1) {
      [0]=>
      int(6902)
    }
    ["price"]=>
    float(0)
    ["specific_price"]=>
    bool(false)
    ["ecotax"]=>
    float(0)
    ["weight"]=>
    float(0)
    ["quantity"]=>
    float(53)
    ["reference"]=>
    string(0) ""
    ["unit_impact"]=>
    string(8) "0.000000"
    ["minimal_quantity"]=>
    int(1)
    ["date_formatted"]=>
    string(0) ""
    ["available_date"]=>
    string(0) ""
    ["id_image"]=>
    int(16155)
    ["list"]=>
    string(6) "'6902'"
  }
  [14173]=>
  array(14) {
    ["attributes_values"]=>
    array(1) {
      [357]=>
      string(3) "501"
    }
    ["attributes"]=>
    array(1) {
      [0]=>
      int(6903)
    }
    ["price"]=>
    float(0)
    ["specific_price"]=>
    bool(false)
    ["ecotax"]=>
    float(0)
    ["weight"]=>
    float(0)
    ["quantity"]=>
    float(11)
    ["reference"]=>
    string(0) ""
    ["unit_impact"]=>
    string(8) "0.000000"
    ["minimal_quantity"]=>
    int(1)
    ["date_formatted"]=>
    string(0) ""
    ["available_date"]=>
    string(0) ""
    ["id_image"]=>
    int(16154)
    ["list"]=>
    string(6) "'6903'"
  }
  [14174]=>
  array(14) {
    ["attributes_values"]=>
    array(1) {
      [357]=>
      string(3) "502"
    }
    ["attributes"]=>
    array(1) {
      [0]=>
      int(6904)
    }
    ["price"]=>
    float(0)
    ["specific_price"]=>
    bool(false)
    ["ecotax"]=>
    float(0)
    ["weight"]=>
    float(0)
    ["quantity"]=>
    float(37)
    ["reference"]=>
    string(0) ""
    ["unit_impact"]=>
    string(8) "0.000000"
    ["minimal_quantity"]=>
    int(1)
    ["date_formatted"]=>
    string(0) ""
    ["available_date"]=>
    string(0) ""
    ["id_image"]=>
    int(16153)
    ["list"]=>
    string(6) "'6904'"
  }
  [14175]=>
  array(14) {
    ["attributes_values"]=>
    array(1) {
      [357]=>
      string(3) "503"
    }
    ["attributes"]=>
    array(1) {
      [0]=>
      int(6905)
    }
    ["price"]=>
    float(0)
    ["specific_price"]=>
    bool(false)
    ["ecotax"]=>
    float(0)
    ["weight"]=>
    float(0)
    ["quantity"]=>
    float(4)
    ["reference"]=>
    string(0) ""
    ["unit_impact"]=>
    string(8) "0.000000"
    ["minimal_quantity"]=>
    int(1)
    ["date_formatted"]=>
    string(0) ""
    ["available_date"]=>
    string(0) ""
    ["id_image"]=>
    int(16152)
    ["list"]=>
    string(6) "'6905'"
  }
  [14176]=>
  array(14) {
    ["attributes_values"]=>
    array(1) {
      [357]=>
      string(3) "504"
    }
    ["attributes"]=>
    array(1) {
      [0]=>
      int(6906)
    }
    ["price"]=>
    float(0)
    ["specific_price"]=>
    bool(false)
    ["ecotax"]=>
    float(0)
    ["weight"]=>
    float(0)
    ["quantity"]=>
    float(19)
    ["reference"]=>
    string(0) ""
    ["unit_impact"]=>
    string(8) "0.000000"
    ["minimal_quantity"]=>
    int(1)
    ["date_formatted"]=>
    string(0) ""
    ["available_date"]=>
    string(0) ""
    ["id_image"]=>
    int(16151)
    ["list"]=>
    string(6) "'6906'"
  }
  [19161]=>
  array(14) {
    ["attributes_values"]=>
    array(1) {
      [357]=>
      string(3) "505"
    }
    ["attributes"]=>
    array(1) {
      [0]=>
      int(10648)
    }
    ["price"]=>
    float(0)
    ["specific_price"]=>
    bool(false)
    ["ecotax"]=>
    float(0)
    ["weight"]=>
    float(0)
    ["quantity"]=>
    float(0)
    ["reference"]=>
    string(0) ""
    ["unit_impact"]=>
    string(8) "0.000000"
    ["minimal_quantity"]=>
    int(1)
    ["available_date"]=>
    string(10) "2017-06-28"
    ["date_formatted"]=>
    string(10) "06/28/2017"
    ["id_image"]=>
    int(16146)
    ["list"]=>
    string(7) "'10648'"
  }
  [19162]=>
  array(14) {
    ["attributes_values"]=>
    array(1) {
      [357]=>
      string(3) "506"
    }
    ["attributes"]=>
    array(1) {
      [0]=>
      int(10649)
    }
    ["price"]=>
    float(0)
    ["specific_price"]=>
    bool(false)
    ["ecotax"]=>
    float(0)
    ["weight"]=>
    float(0)
    ["quantity"]=>
    float(21)
    ["reference"]=>
    string(0) ""
    ["unit_impact"]=>
    string(8) "0.000000"
    ["minimal_quantity"]=>
    int(1)
    ["available_date"]=>
    string(10) "2017-06-28"
    ["date_formatted"]=>
    string(10) "06/28/2017"
    ["id_image"]=>
    int(16147)
    ["list"]=>
    string(7) "'10649'"
  }
  [19163]=>
  array(14) {
    ["attributes_values"]=>
    array(1) {
      [357]=>
      string(3) "507"
    }
    ["attributes"]=>
    array(1) {
      [0]=>
      int(10650)
    }
    ["price"]=>
    float(0)
    ["specific_price"]=>
    bool(false)
    ["ecotax"]=>
    float(0)
    ["weight"]=>
    float(0)
    ["quantity"]=>
    float(45)
    ["reference"]=>
    string(0) ""
    ["unit_impact"]=>
    string(8) "0.000000"
    ["minimal_quantity"]=>
    int(1)
    ["available_date"]=>
    string(10) "2017-06-28"
    ["date_formatted"]=>
    string(10) "06/28/2017"
    ["id_image"]=>
    int(16148)
    ["list"]=>
    string(7) "'10650'"
  }
}

Schachenmayr Merino Extrafine Color 120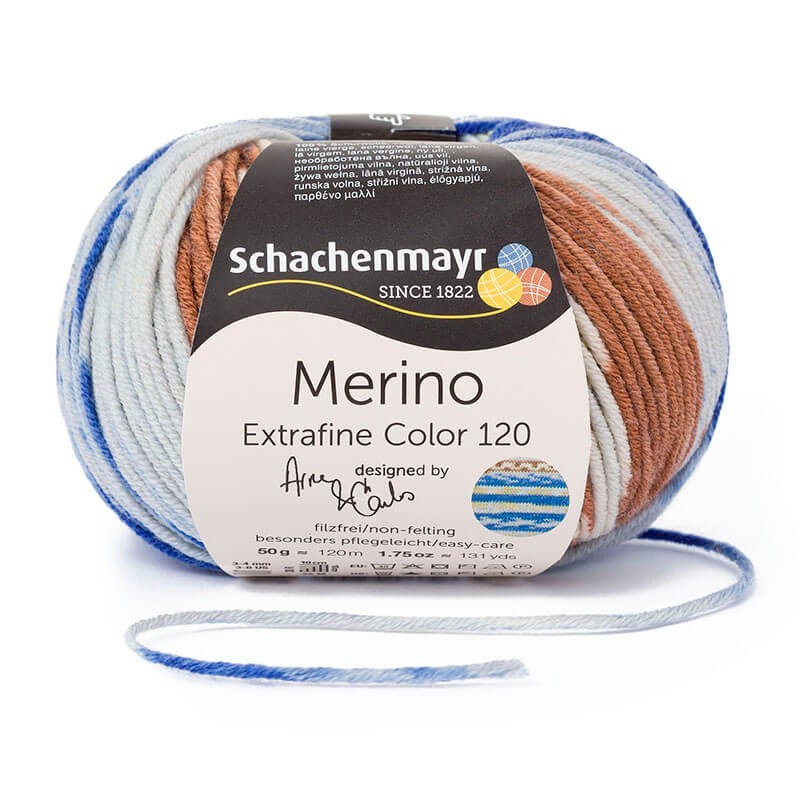  
Merino Extrafine Color 120 by Schachenmayr designed by Arne & Carlos, is a speckled yarn that offers yarns with edgings of different shapes and colours, an original and unique yarn.
By buying this product you can collect up to 3 loyalty points. Your cart will total 3 points that can be converted into a voucher of €0.12.
Product details
Features
Weight

50 grams

Length

120 meters

Knitting needle

3 - 4

Season

Autumn - Winter
Product description
Schachenmayr Merino Extrafine Color 120 is a speckled yarn designed by Arne & Carlos that offers beautiful colour combinations that will form striped yarns.
The colour mixture of its strand are designed to form edgings with different shapes.
This yarn is characterized by the colour mixture that forms original edgings, and also for its natural composition.
The yarn Merino Extrafine Color Schachenmayr is made by:
The strand of merino yarn offers soft and nice textures, perfect for sensitive skins.
Its sweet touch will be perfect for your children's skin and also for you.
You should know that Schachenmayr Merino Extrafine Color...
Each ball has 50 grams and 120 metres.

Its thickness is perfect to work with the 3 - 4 mm knitting needles.

You need 2 balls to knit a bonnet.

You need 5 balls to make a scarf.

To make a pull with long sleeves of the size 40, you'll need 10 balls.

To make a 10 x 10 cm square, mount 22 stitches and work 30 laps.

This yarn can be washed in the washing machine at 40ºC maximum.
This yarn is perfect to knit sheltered clothes for adults and children.
Did you like Merino Extrafine Color by Arne & Carlos? Give us your opinion!