array(14) {
  [32385]=>
  array(14) {
    ["attributes_values"]=>
    array(1) {
      [1310]=>
      string(1) "1"
    }
    ["attributes"]=>
    array(1) {
      [0]=>
      int(21844)
    }
    ["price"]=>
    float(0)
    ["specific_price"]=>
    bool(false)
    ["ecotax"]=>
    float(0)
    ["weight"]=>
    float(0)
    ["quantity"]=>
    float(20)
    ["reference"]=>
    string(0) ""
    ["unit_impact"]=>
    string(8) "0.000000"
    ["minimal_quantity"]=>
    int(1)
    ["available_date"]=>
    string(10) "2019-09-17"
    ["date_formatted"]=>
    string(10) "09/17/2019"
    ["id_image"]=>
    int(36465)
    ["list"]=>
    string(7) "'21844'"
  }
  [32430]=>
  array(14) {
    ["attributes_values"]=>
    array(1) {
      [1310]=>
      string(1) "2"
    }
    ["attributes"]=>
    array(1) {
      [0]=>
      int(21862)
    }
    ["price"]=>
    float(0)
    ["specific_price"]=>
    bool(false)
    ["ecotax"]=>
    float(0)
    ["weight"]=>
    float(0)
    ["quantity"]=>
    float(43)
    ["reference"]=>
    string(0) ""
    ["unit_impact"]=>
    string(8) "0.000000"
    ["minimal_quantity"]=>
    int(1)
    ["available_date"]=>
    string(10) "2019-09-18"
    ["date_formatted"]=>
    string(10) "09/18/2019"
    ["id_image"]=>
    int(36560)
    ["list"]=>
    string(7) "'21862'"
  }
  [33393]=>
  array(14) {
    ["attributes_values"]=>
    array(1) {
      [1310]=>
      string(1) "3"
    }
    ["attributes"]=>
    array(1) {
      [0]=>
      int(22484)
    }
    ["price"]=>
    float(0)
    ["specific_price"]=>
    bool(false)
    ["ecotax"]=>
    float(0)
    ["weight"]=>
    float(0)
    ["quantity"]=>
    float(12)
    ["reference"]=>
    string(0) ""
    ["unit_impact"]=>
    string(8) "0.000000"
    ["minimal_quantity"]=>
    int(1)
    ["available_date"]=>
    string(10) "2019-10-23"
    ["date_formatted"]=>
    string(10) "10/23/2019"
    ["id_image"]=>
    int(38264)
    ["list"]=>
    string(7) "'22484'"
  }
  [32431]=>
  array(14) {
    ["attributes_values"]=>
    array(1) {
      [1310]=>
      string(1) "4"
    }
    ["attributes"]=>
    array(1) {
      [0]=>
      int(21863)
    }
    ["price"]=>
    float(0)
    ["specific_price"]=>
    bool(false)
    ["ecotax"]=>
    float(0)
    ["weight"]=>
    float(0)
    ["quantity"]=>
    float(17)
    ["reference"]=>
    string(0) ""
    ["unit_impact"]=>
    string(8) "0.000000"
    ["minimal_quantity"]=>
    int(1)
    ["available_date"]=>
    string(10) "2019-09-18"
    ["date_formatted"]=>
    string(10) "09/18/2019"
    ["id_image"]=>
    int(36561)
    ["list"]=>
    string(7) "'21863'"
  }
  [32386]=>
  array(14) {
    ["attributes_values"]=>
    array(1) {
      [1310]=>
      string(1) "5"
    }
    ["attributes"]=>
    array(1) {
      [0]=>
      int(21845)
    }
    ["price"]=>
    float(0)
    ["specific_price"]=>
    bool(false)
    ["ecotax"]=>
    float(0)
    ["weight"]=>
    float(0)
    ["quantity"]=>
    float(20)
    ["reference"]=>
    string(0) ""
    ["unit_impact"]=>
    string(8) "0.000000"
    ["minimal_quantity"]=>
    int(1)
    ["available_date"]=>
    string(10) "2019-09-17"
    ["date_formatted"]=>
    string(10) "09/17/2019"
    ["id_image"]=>
    int(36466)
    ["list"]=>
    string(7) "'21845'"
  }
  [32387]=>
  array(14) {
    ["attributes_values"]=>
    array(1) {
      [1310]=>
      string(1) "6"
    }
    ["attributes"]=>
    array(1) {
      [0]=>
      int(21846)
    }
    ["price"]=>
    float(0)
    ["specific_price"]=>
    bool(false)
    ["ecotax"]=>
    float(0)
    ["weight"]=>
    float(0)
    ["quantity"]=>
    float(25)
    ["reference"]=>
    string(0) ""
    ["unit_impact"]=>
    string(8) "0.000000"
    ["minimal_quantity"]=>
    int(1)
    ["available_date"]=>
    string(10) "2019-09-17"
    ["date_formatted"]=>
    string(10) "09/17/2019"
    ["id_image"]=>
    int(36467)
    ["list"]=>
    string(7) "'21846'"
  }
  [32388]=>
  array(14) {
    ["attributes_values"]=>
    array(1) {
      [1310]=>
      string(1) "7"
    }
    ["attributes"]=>
    array(1) {
      [0]=>
      int(21847)
    }
    ["price"]=>
    float(0)
    ["specific_price"]=>
    bool(false)
    ["ecotax"]=>
    float(0)
    ["weight"]=>
    float(0)
    ["quantity"]=>
    float(20)
    ["reference"]=>
    string(0) ""
    ["unit_impact"]=>
    string(8) "0.000000"
    ["minimal_quantity"]=>
    int(1)
    ["available_date"]=>
    string(10) "2019-09-17"
    ["date_formatted"]=>
    string(10) "09/17/2019"
    ["id_image"]=>
    int(36468)
    ["list"]=>
    string(7) "'21847'"
  }
  [32389]=>
  array(14) {
    ["attributes_values"]=>
    array(1) {
      [1310]=>
      string(1) "8"
    }
    ["attributes"]=>
    array(1) {
      [0]=>
      int(21848)
    }
    ["price"]=>
    float(0)
    ["specific_price"]=>
    bool(false)
    ["ecotax"]=>
    float(0)
    ["weight"]=>
    float(0)
    ["quantity"]=>
    float(19)
    ["reference"]=>
    string(0) ""
    ["unit_impact"]=>
    string(8) "0.000000"
    ["minimal_quantity"]=>
    int(1)
    ["available_date"]=>
    string(10) "2019-09-17"
    ["date_formatted"]=>
    string(10) "09/17/2019"
    ["id_image"]=>
    int(36469)
    ["list"]=>
    string(7) "'21848'"
  }
  [32390]=>
  array(14) {
    ["attributes_values"]=>
    array(1) {
      [1310]=>
      string(1) "9"
    }
    ["attributes"]=>
    array(1) {
      [0]=>
      int(21849)
    }
    ["price"]=>
    float(0)
    ["specific_price"]=>
    bool(false)
    ["ecotax"]=>
    float(0)
    ["weight"]=>
    float(0)
    ["quantity"]=>
    float(12)
    ["reference"]=>
    string(0) ""
    ["unit_impact"]=>
    string(8) "0.000000"
    ["minimal_quantity"]=>
    int(1)
    ["available_date"]=>
    string(10) "2019-09-17"
    ["date_formatted"]=>
    string(10) "09/17/2019"
    ["id_image"]=>
    int(36470)
    ["list"]=>
    string(7) "'21849'"
  }
  [32391]=>
  array(14) {
    ["attributes_values"]=>
    array(1) {
      [1310]=>
      string(2) "10"
    }
    ["attributes"]=>
    array(1) {
      [0]=>
      int(21850)
    }
    ["price"]=>
    float(0)
    ["specific_price"]=>
    bool(false)
    ["ecotax"]=>
    float(0)
    ["weight"]=>
    float(0)
    ["quantity"]=>
    float(13)
    ["reference"]=>
    string(0) ""
    ["unit_impact"]=>
    string(8) "0.000000"
    ["minimal_quantity"]=>
    int(1)
    ["available_date"]=>
    string(10) "2019-09-17"
    ["date_formatted"]=>
    string(10) "09/17/2019"
    ["id_image"]=>
    int(36471)
    ["list"]=>
    string(7) "'21850'"
  }
  [32392]=>
  array(14) {
    ["attributes_values"]=>
    array(1) {
      [1310]=>
      string(2) "11"
    }
    ["attributes"]=>
    array(1) {
      [0]=>
      int(21851)
    }
    ["price"]=>
    float(0)
    ["specific_price"]=>
    bool(false)
    ["ecotax"]=>
    float(0)
    ["weight"]=>
    float(0)
    ["quantity"]=>
    float(5)
    ["reference"]=>
    string(0) ""
    ["unit_impact"]=>
    string(8) "0.000000"
    ["minimal_quantity"]=>
    int(1)
    ["available_date"]=>
    string(10) "2019-09-17"
    ["date_formatted"]=>
    string(10) "09/17/2019"
    ["id_image"]=>
    int(36472)
    ["list"]=>
    string(7) "'21851'"
  }
  [32393]=>
  array(14) {
    ["attributes_values"]=>
    array(1) {
      [1310]=>
      string(2) "12"
    }
    ["attributes"]=>
    array(1) {
      [0]=>
      int(21852)
    }
    ["price"]=>
    float(0)
    ["specific_price"]=>
    bool(false)
    ["ecotax"]=>
    float(0)
    ["weight"]=>
    float(0)
    ["quantity"]=>
    float(28)
    ["reference"]=>
    string(0) ""
    ["unit_impact"]=>
    string(8) "0.000000"
    ["minimal_quantity"]=>
    int(1)
    ["available_date"]=>
    string(10) "2019-09-17"
    ["date_formatted"]=>
    string(10) "09/17/2019"
    ["id_image"]=>
    int(36473)
    ["list"]=>
    string(7) "'21852'"
  }
  [32394]=>
  array(14) {
    ["attributes_values"]=>
    array(1) {
      [1310]=>
      string(2) "13"
    }
    ["attributes"]=>
    array(1) {
      [0]=>
      int(21853)
    }
    ["price"]=>
    float(0)
    ["specific_price"]=>
    bool(false)
    ["ecotax"]=>
    float(0)
    ["weight"]=>
    float(0)
    ["quantity"]=>
    float(19)
    ["reference"]=>
    string(0) ""
    ["unit_impact"]=>
    string(8) "0.000000"
    ["minimal_quantity"]=>
    int(1)
    ["available_date"]=>
    string(10) "2019-09-17"
    ["date_formatted"]=>
    string(10) "09/17/2019"
    ["id_image"]=>
    int(36474)
    ["list"]=>
    string(7) "'21853'"
  }
  [32395]=>
  array(14) {
    ["attributes_values"]=>
    array(1) {
      [1310]=>
      string(2) "14"
    }
    ["attributes"]=>
    array(1) {
      [0]=>
      int(21854)
    }
    ["price"]=>
    float(0)
    ["specific_price"]=>
    bool(false)
    ["ecotax"]=>
    float(0)
    ["weight"]=>
    float(0)
    ["quantity"]=>
    float(20)
    ["reference"]=>
    string(0) ""
    ["unit_impact"]=>
    string(8) "0.000000"
    ["minimal_quantity"]=>
    int(1)
    ["available_date"]=>
    string(10) "2019-09-17"
    ["date_formatted"]=>
    string(10) "09/17/2019"
    ["id_image"]=>
    int(36475)
    ["list"]=>
    string(7) "'21854'"
  }
}

Lana Grossa Benessere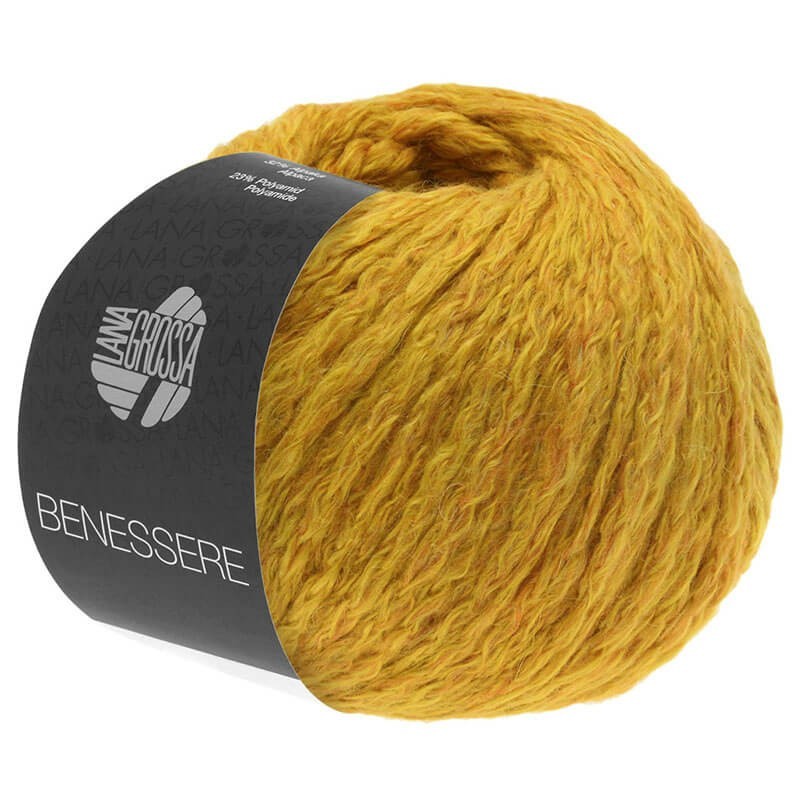  
Lana Grossa Benessere is a marbled wool with which you can create projects for the whole year.
By buying this product you can collect up to 3 loyalty points. Your cart will total 3 points that can be converted into a voucher of €0.12.
Product details
Features
Weight

50 grams

Length

125 meters

Knitting needle

6 - 7

Crochet Hook

6 - 7

Season

Autumn - Winter
Product description
Lana Grossa Benessere is a yarn perfect for knitting original and colourful garments. Each ball has a different and original marbled design.
You can knit soft, nice and comfortable garments thanks to its cotton and alpaca fibres.
This yarn is available in 14 different marbled colours.
Lana Grossa Benessere is made of:
40% Cotton
32% Alpaca
23% Polyamide
You can crochet many garments for any season thanks to its composition.
You should know that Lana Grossa Benessere…
Each ball has 50 grams and 125 metres.
Its thickness is perfect to knit with the 6 -7 mm crochet hooks.
Mount 15 stitches and do 20 laps to knit a 10 x 10 cm square.
It can be washed in the washing machine up to 30ºC.
Do not use the dryer. We recommend you to dry it horizontally without hanging out.
It can be ironed at a low temperature.
Amount of balls to…
To knit a long sleeve sweater size 38 - 40, you will need to use 450 grams = 9 balls approx.
Enjoy knitting this marbled wool and create soft, nice and colourful projects for the whole year.