array(37) {
  [32341]=>
  array(14) {
    ["attributes_values"]=>
    array(1) {
      [1308]=>
      string(3) "101"
    }
    ["attributes"]=>
    array(1) {
      [0]=>
      int(21800)
    }
    ["price"]=>
    float(0)
    ["specific_price"]=>
    bool(false)
    ["ecotax"]=>
    float(0)
    ["weight"]=>
    float(0)
    ["quantity"]=>
    float(20)
    ["reference"]=>
    string(0) ""
    ["unit_impact"]=>
    string(8) "0.000000"
    ["minimal_quantity"]=>
    int(1)
    ["available_date"]=>
    string(10) "2019-09-16"
    ["date_formatted"]=>
    string(10) "09/16/2019"
    ["id_image"]=>
    int(36416)
    ["list"]=>
    string(7) "'21800'"
  }
  [32342]=>
  array(14) {
    ["attributes_values"]=>
    array(1) {
      [1308]=>
      string(3) "102"
    }
    ["attributes"]=>
    array(1) {
      [0]=>
      int(21801)
    }
    ["price"]=>
    float(0)
    ["specific_price"]=>
    bool(false)
    ["ecotax"]=>
    float(0)
    ["weight"]=>
    float(0)
    ["quantity"]=>
    float(18)
    ["reference"]=>
    string(0) ""
    ["unit_impact"]=>
    string(8) "0.000000"
    ["minimal_quantity"]=>
    int(1)
    ["available_date"]=>
    string(10) "2019-09-16"
    ["date_formatted"]=>
    string(10) "09/16/2019"
    ["id_image"]=>
    int(36417)
    ["list"]=>
    string(7) "'21801'"
  }
  [32343]=>
  array(14) {
    ["attributes_values"]=>
    array(1) {
      [1308]=>
      string(3) "103"
    }
    ["attributes"]=>
    array(1) {
      [0]=>
      int(21802)
    }
    ["price"]=>
    float(0)
    ["specific_price"]=>
    bool(false)
    ["ecotax"]=>
    float(0)
    ["weight"]=>
    float(0)
    ["quantity"]=>
    float(7)
    ["reference"]=>
    string(0) ""
    ["unit_impact"]=>
    string(8) "0.000000"
    ["minimal_quantity"]=>
    int(1)
    ["available_date"]=>
    string(10) "2019-09-16"
    ["date_formatted"]=>
    string(10) "09/16/2019"
    ["id_image"]=>
    int(36418)
    ["list"]=>
    string(7) "'21802'"
  }
  [32344]=>
  array(14) {
    ["attributes_values"]=>
    array(1) {
      [1308]=>
      string(3) "104"
    }
    ["attributes"]=>
    array(1) {
      [0]=>
      int(21803)
    }
    ["price"]=>
    float(0)
    ["specific_price"]=>
    bool(false)
    ["ecotax"]=>
    float(0)
    ["weight"]=>
    float(0)
    ["quantity"]=>
    float(28)
    ["reference"]=>
    string(0) ""
    ["unit_impact"]=>
    string(8) "0.000000"
    ["minimal_quantity"]=>
    int(1)
    ["available_date"]=>
    string(10) "2019-09-16"
    ["date_formatted"]=>
    string(10) "09/16/2019"
    ["id_image"]=>
    int(36419)
    ["list"]=>
    string(7) "'21803'"
  }
  [32345]=>
  array(14) {
    ["attributes_values"]=>
    array(1) {
      [1308]=>
      string(3) "105"
    }
    ["attributes"]=>
    array(1) {
      [0]=>
      int(21804)
    }
    ["price"]=>
    float(0)
    ["specific_price"]=>
    bool(false)
    ["ecotax"]=>
    float(0)
    ["weight"]=>
    float(0)
    ["quantity"]=>
    float(10)
    ["reference"]=>
    string(0) ""
    ["unit_impact"]=>
    string(8) "0.000000"
    ["minimal_quantity"]=>
    int(1)
    ["available_date"]=>
    string(10) "2019-09-16"
    ["date_formatted"]=>
    string(10) "09/16/2019"
    ["id_image"]=>
    int(36420)
    ["list"]=>
    string(7) "'21804'"
  }
  [32346]=>
  array(14) {
    ["attributes_values"]=>
    array(1) {
      [1308]=>
      string(3) "106"
    }
    ["attributes"]=>
    array(1) {
      [0]=>
      int(21805)
    }
    ["price"]=>
    float(0)
    ["specific_price"]=>
    bool(false)
    ["ecotax"]=>
    float(0)
    ["weight"]=>
    float(0)
    ["quantity"]=>
    float(8)
    ["reference"]=>
    string(0) ""
    ["unit_impact"]=>
    string(8) "0.000000"
    ["minimal_quantity"]=>
    int(1)
    ["available_date"]=>
    string(10) "2019-09-16"
    ["date_formatted"]=>
    string(10) "09/16/2019"
    ["id_image"]=>
    int(36421)
    ["list"]=>
    string(7) "'21805'"
  }
  [32347]=>
  array(14) {
    ["attributes_values"]=>
    array(1) {
      [1308]=>
      string(3) "107"
    }
    ["attributes"]=>
    array(1) {
      [0]=>
      int(21806)
    }
    ["price"]=>
    float(0)
    ["specific_price"]=>
    bool(false)
    ["ecotax"]=>
    float(0)
    ["weight"]=>
    float(0)
    ["quantity"]=>
    float(28)
    ["reference"]=>
    string(0) ""
    ["unit_impact"]=>
    string(8) "0.000000"
    ["minimal_quantity"]=>
    int(1)
    ["available_date"]=>
    string(10) "2019-09-16"
    ["date_formatted"]=>
    string(10) "09/16/2019"
    ["id_image"]=>
    int(36422)
    ["list"]=>
    string(7) "'21806'"
  }
  [32348]=>
  array(14) {
    ["attributes_values"]=>
    array(1) {
      [1308]=>
      string(3) "108"
    }
    ["attributes"]=>
    array(1) {
      [0]=>
      int(21807)
    }
    ["price"]=>
    float(0)
    ["specific_price"]=>
    bool(false)
    ["ecotax"]=>
    float(0)
    ["weight"]=>
    float(0)
    ["quantity"]=>
    float(24)
    ["reference"]=>
    string(0) ""
    ["unit_impact"]=>
    string(8) "0.000000"
    ["minimal_quantity"]=>
    int(1)
    ["available_date"]=>
    string(10) "2019-09-16"
    ["date_formatted"]=>
    string(10) "09/16/2019"
    ["id_image"]=>
    int(36423)
    ["list"]=>
    string(7) "'21807'"
  }
  [32349]=>
  array(14) {
    ["attributes_values"]=>
    array(1) {
      [1308]=>
      string(3) "109"
    }
    ["attributes"]=>
    array(1) {
      [0]=>
      int(21808)
    }
    ["price"]=>
    float(0)
    ["specific_price"]=>
    bool(false)
    ["ecotax"]=>
    float(0)
    ["weight"]=>
    float(0)
    ["quantity"]=>
    float(10)
    ["reference"]=>
    string(0) ""
    ["unit_impact"]=>
    string(8) "0.000000"
    ["minimal_quantity"]=>
    int(1)
    ["available_date"]=>
    string(10) "2019-09-16"
    ["date_formatted"]=>
    string(10) "09/16/2019"
    ["id_image"]=>
    int(36424)
    ["list"]=>
    string(7) "'21808'"
  }
  [32350]=>
  array(14) {
    ["attributes_values"]=>
    array(1) {
      [1308]=>
      string(3) "110"
    }
    ["attributes"]=>
    array(1) {
      [0]=>
      int(21809)
    }
    ["price"]=>
    float(0)
    ["specific_price"]=>
    bool(false)
    ["ecotax"]=>
    float(0)
    ["weight"]=>
    float(0)
    ["quantity"]=>
    float(18)
    ["reference"]=>
    string(0) ""
    ["unit_impact"]=>
    string(8) "0.000000"
    ["minimal_quantity"]=>
    int(1)
    ["available_date"]=>
    string(10) "2019-09-16"
    ["date_formatted"]=>
    string(10) "09/16/2019"
    ["id_image"]=>
    int(36425)
    ["list"]=>
    string(7) "'21809'"
  }
  [32351]=>
  array(14) {
    ["attributes_values"]=>
    array(1) {
      [1308]=>
      string(3) "111"
    }
    ["attributes"]=>
    array(1) {
      [0]=>
      int(21810)
    }
    ["price"]=>
    float(0)
    ["specific_price"]=>
    bool(false)
    ["ecotax"]=>
    float(0)
    ["weight"]=>
    float(0)
    ["quantity"]=>
    float(6)
    ["reference"]=>
    string(0) ""
    ["unit_impact"]=>
    string(8) "0.000000"
    ["minimal_quantity"]=>
    int(1)
    ["available_date"]=>
    string(10) "2019-09-16"
    ["date_formatted"]=>
    string(10) "09/16/2019"
    ["id_image"]=>
    int(36426)
    ["list"]=>
    string(7) "'21810'"
  }
  [32352]=>
  array(14) {
    ["attributes_values"]=>
    array(1) {
      [1308]=>
      string(3) "112"
    }
    ["attributes"]=>
    array(1) {
      [0]=>
      int(21811)
    }
    ["price"]=>
    float(0)
    ["specific_price"]=>
    bool(false)
    ["ecotax"]=>
    float(0)
    ["weight"]=>
    float(0)
    ["quantity"]=>
    float(29)
    ["reference"]=>
    string(0) ""
    ["unit_impact"]=>
    string(8) "0.000000"
    ["minimal_quantity"]=>
    int(1)
    ["available_date"]=>
    string(10) "2019-09-16"
    ["date_formatted"]=>
    string(10) "09/16/2019"
    ["id_image"]=>
    int(36427)
    ["list"]=>
    string(7) "'21811'"
  }
  [32353]=>
  array(14) {
    ["attributes_values"]=>
    array(1) {
      [1308]=>
      string(3) "113"
    }
    ["attributes"]=>
    array(1) {
      [0]=>
      int(21812)
    }
    ["price"]=>
    float(0)
    ["specific_price"]=>
    bool(false)
    ["ecotax"]=>
    float(0)
    ["weight"]=>
    float(0)
    ["quantity"]=>
    float(1)
    ["reference"]=>
    string(0) ""
    ["unit_impact"]=>
    string(8) "0.000000"
    ["minimal_quantity"]=>
    int(1)
    ["available_date"]=>
    string(10) "2019-09-16"
    ["date_formatted"]=>
    string(10) "09/16/2019"
    ["id_image"]=>
    int(36428)
    ["list"]=>
    string(7) "'21812'"
  }
  [32354]=>
  array(14) {
    ["attributes_values"]=>
    array(1) {
      [1308]=>
      string(3) "114"
    }
    ["attributes"]=>
    array(1) {
      [0]=>
      int(21813)
    }
    ["price"]=>
    float(0)
    ["specific_price"]=>
    bool(false)
    ["ecotax"]=>
    float(0)
    ["weight"]=>
    float(0)
    ["quantity"]=>
    float(9)
    ["reference"]=>
    string(0) ""
    ["unit_impact"]=>
    string(8) "0.000000"
    ["minimal_quantity"]=>
    int(1)
    ["available_date"]=>
    string(10) "2019-09-16"
    ["date_formatted"]=>
    string(10) "09/16/2019"
    ["id_image"]=>
    int(36429)
    ["list"]=>
    string(7) "'21813'"
  }
  [32355]=>
  array(14) {
    ["attributes_values"]=>
    array(1) {
      [1308]=>
      string(3) "115"
    }
    ["attributes"]=>
    array(1) {
      [0]=>
      int(21814)
    }
    ["price"]=>
    float(0)
    ["specific_price"]=>
    bool(false)
    ["ecotax"]=>
    float(0)
    ["weight"]=>
    float(0)
    ["quantity"]=>
    float(10)
    ["reference"]=>
    string(0) ""
    ["unit_impact"]=>
    string(8) "0.000000"
    ["minimal_quantity"]=>
    int(1)
    ["available_date"]=>
    string(10) "2019-09-16"
    ["date_formatted"]=>
    string(10) "09/16/2019"
    ["id_image"]=>
    int(36430)
    ["list"]=>
    string(7) "'21814'"
  }
  [32356]=>
  array(14) {
    ["attributes_values"]=>
    array(1) {
      [1308]=>
      string(3) "116"
    }
    ["attributes"]=>
    array(1) {
      [0]=>
      int(21815)
    }
    ["price"]=>
    float(0)
    ["specific_price"]=>
    bool(false)
    ["ecotax"]=>
    float(0)
    ["weight"]=>
    float(0)
    ["quantity"]=>
    float(10)
    ["reference"]=>
    string(0) ""
    ["unit_impact"]=>
    string(8) "0.000000"
    ["minimal_quantity"]=>
    int(1)
    ["available_date"]=>
    string(10) "2019-09-16"
    ["date_formatted"]=>
    string(10) "09/16/2019"
    ["id_image"]=>
    int(36431)
    ["list"]=>
    string(7) "'21815'"
  }
  [32357]=>
  array(14) {
    ["attributes_values"]=>
    array(1) {
      [1308]=>
      string(3) "117"
    }
    ["attributes"]=>
    array(1) {
      [0]=>
      int(21816)
    }
    ["price"]=>
    float(0)
    ["specific_price"]=>
    bool(false)
    ["ecotax"]=>
    float(0)
    ["weight"]=>
    float(0)
    ["quantity"]=>
    float(9)
    ["reference"]=>
    string(0) ""
    ["unit_impact"]=>
    string(8) "0.000000"
    ["minimal_quantity"]=>
    int(1)
    ["available_date"]=>
    string(10) "2019-09-16"
    ["date_formatted"]=>
    string(10) "09/16/2019"
    ["id_image"]=>
    int(36432)
    ["list"]=>
    string(7) "'21816'"
  }
  [33395]=>
  array(14) {
    ["attributes_values"]=>
    array(1) {
      [1308]=>
      string(3) "118"
    }
    ["attributes"]=>
    array(1) {
      [0]=>
      int(22486)
    }
    ["price"]=>
    float(0)
    ["specific_price"]=>
    bool(false)
    ["ecotax"]=>
    float(0)
    ["weight"]=>
    float(0)
    ["quantity"]=>
    float(2)
    ["reference"]=>
    string(0) ""
    ["unit_impact"]=>
    string(8) "0.000000"
    ["minimal_quantity"]=>
    int(1)
    ["available_date"]=>
    string(10) "2019-10-23"
    ["date_formatted"]=>
    string(10) "10/23/2019"
    ["id_image"]=>
    int(38267)
    ["list"]=>
    string(7) "'22486'"
  }
  [32358]=>
  array(14) {
    ["attributes_values"]=>
    array(1) {
      [1308]=>
      string(3) "119"
    }
    ["attributes"]=>
    array(1) {
      [0]=>
      int(21817)
    }
    ["price"]=>
    float(0)
    ["specific_price"]=>
    bool(false)
    ["ecotax"]=>
    float(0)
    ["weight"]=>
    float(0)
    ["quantity"]=>
    float(25)
    ["reference"]=>
    string(0) ""
    ["unit_impact"]=>
    string(8) "0.000000"
    ["minimal_quantity"]=>
    int(1)
    ["available_date"]=>
    string(10) "2019-09-16"
    ["date_formatted"]=>
    string(10) "09/16/2019"
    ["id_image"]=>
    int(36433)
    ["list"]=>
    string(7) "'21817'"
  }
  [32359]=>
  array(14) {
    ["attributes_values"]=>
    array(1) {
      [1308]=>
      string(3) "120"
    }
    ["attributes"]=>
    array(1) {
      [0]=>
      int(21818)
    }
    ["price"]=>
    float(0)
    ["specific_price"]=>
    bool(false)
    ["ecotax"]=>
    float(0)
    ["weight"]=>
    float(0)
    ["quantity"]=>
    float(10)
    ["reference"]=>
    string(0) ""
    ["unit_impact"]=>
    string(8) "0.000000"
    ["minimal_quantity"]=>
    int(1)
    ["available_date"]=>
    string(10) "2019-09-16"
    ["date_formatted"]=>
    string(10) "09/16/2019"
    ["id_image"]=>
    int(36434)
    ["list"]=>
    string(7) "'21818'"
  }
  [32360]=>
  array(14) {
    ["attributes_values"]=>
    array(1) {
      [1308]=>
      string(3) "121"
    }
    ["attributes"]=>
    array(1) {
      [0]=>
      int(21819)
    }
    ["price"]=>
    float(0)
    ["specific_price"]=>
    bool(false)
    ["ecotax"]=>
    float(0)
    ["weight"]=>
    float(0)
    ["quantity"]=>
    float(9)
    ["reference"]=>
    string(0) ""
    ["unit_impact"]=>
    string(8) "0.000000"
    ["minimal_quantity"]=>
    int(1)
    ["available_date"]=>
    string(10) "2019-09-16"
    ["date_formatted"]=>
    string(10) "09/16/2019"
    ["id_image"]=>
    int(36435)
    ["list"]=>
    string(7) "'21819'"
  }
  [32361]=>
  array(14) {
    ["attributes_values"]=>
    array(1) {
      [1308]=>
      string(3) "122"
    }
    ["attributes"]=>
    array(1) {
      [0]=>
      int(21820)
    }
    ["price"]=>
    float(0)
    ["specific_price"]=>
    bool(false)
    ["ecotax"]=>
    float(0)
    ["weight"]=>
    float(0)
    ["quantity"]=>
    float(22)
    ["reference"]=>
    string(0) ""
    ["unit_impact"]=>
    string(8) "0.000000"
    ["minimal_quantity"]=>
    int(1)
    ["available_date"]=>
    string(10) "2019-09-16"
    ["date_formatted"]=>
    string(10) "09/16/2019"
    ["id_image"]=>
    int(36436)
    ["list"]=>
    string(7) "'21820'"
  }
  [32362]=>
  array(14) {
    ["attributes_values"]=>
    array(1) {
      [1308]=>
      string(3) "123"
    }
    ["attributes"]=>
    array(1) {
      [0]=>
      int(21821)
    }
    ["price"]=>
    float(0)
    ["specific_price"]=>
    bool(false)
    ["ecotax"]=>
    float(0)
    ["weight"]=>
    float(0)
    ["quantity"]=>
    float(10)
    ["reference"]=>
    string(0) ""
    ["unit_impact"]=>
    string(8) "0.000000"
    ["minimal_quantity"]=>
    int(1)
    ["available_date"]=>
    string(10) "2019-09-16"
    ["date_formatted"]=>
    string(10) "09/16/2019"
    ["id_image"]=>
    int(36437)
    ["list"]=>
    string(7) "'21821'"
  }
  [32363]=>
  array(14) {
    ["attributes_values"]=>
    array(1) {
      [1308]=>
      string(3) "124"
    }
    ["attributes"]=>
    array(1) {
      [0]=>
      int(21822)
    }
    ["price"]=>
    float(0)
    ["specific_price"]=>
    bool(false)
    ["ecotax"]=>
    float(0)
    ["weight"]=>
    float(0)
    ["quantity"]=>
    float(26)
    ["reference"]=>
    string(0) ""
    ["unit_impact"]=>
    string(8) "0.000000"
    ["minimal_quantity"]=>
    int(1)
    ["available_date"]=>
    string(10) "2019-09-16"
    ["date_formatted"]=>
    string(10) "09/16/2019"
    ["id_image"]=>
    int(36438)
    ["list"]=>
    string(7) "'21822'"
  }
  [32364]=>
  array(14) {
    ["attributes_values"]=>
    array(1) {
      [1308]=>
      string(3) "125"
    }
    ["attributes"]=>
    array(1) {
      [0]=>
      int(21823)
    }
    ["price"]=>
    float(0)
    ["specific_price"]=>
    bool(false)
    ["ecotax"]=>
    float(0)
    ["weight"]=>
    float(0)
    ["quantity"]=>
    float(10)
    ["reference"]=>
    string(0) ""
    ["unit_impact"]=>
    string(8) "0.000000"
    ["minimal_quantity"]=>
    int(1)
    ["available_date"]=>
    string(10) "2019-09-16"
    ["date_formatted"]=>
    string(10) "09/16/2019"
    ["id_image"]=>
    int(36439)
    ["list"]=>
    string(7) "'21823'"
  }
  [32365]=>
  array(14) {
    ["attributes_values"]=>
    array(1) {
      [1308]=>
      string(3) "126"
    }
    ["attributes"]=>
    array(1) {
      [0]=>
      int(21824)
    }
    ["price"]=>
    float(0)
    ["specific_price"]=>
    bool(false)
    ["ecotax"]=>
    float(0)
    ["weight"]=>
    float(0)
    ["quantity"]=>
    float(9)
    ["reference"]=>
    string(0) ""
    ["unit_impact"]=>
    string(8) "0.000000"
    ["minimal_quantity"]=>
    int(1)
    ["available_date"]=>
    string(10) "2019-09-16"
    ["date_formatted"]=>
    string(10) "09/16/2019"
    ["id_image"]=>
    int(36440)
    ["list"]=>
    string(7) "'21824'"
  }
  [32366]=>
  array(14) {
    ["attributes_values"]=>
    array(1) {
      [1308]=>
      string(3) "127"
    }
    ["attributes"]=>
    array(1) {
      [0]=>
      int(21825)
    }
    ["price"]=>
    float(0)
    ["specific_price"]=>
    bool(false)
    ["ecotax"]=>
    float(0)
    ["weight"]=>
    float(0)
    ["quantity"]=>
    float(10)
    ["reference"]=>
    string(0) ""
    ["unit_impact"]=>
    string(8) "0.000000"
    ["minimal_quantity"]=>
    int(1)
    ["available_date"]=>
    string(10) "2019-09-16"
    ["date_formatted"]=>
    string(10) "09/16/2019"
    ["id_image"]=>
    int(36441)
    ["list"]=>
    string(7) "'21825'"
  }
  [33396]=>
  array(14) {
    ["attributes_values"]=>
    array(1) {
      [1308]=>
      string(3) "128"
    }
    ["attributes"]=>
    array(1) {
      [0]=>
      int(22487)
    }
    ["price"]=>
    float(0)
    ["specific_price"]=>
    bool(false)
    ["ecotax"]=>
    float(0)
    ["weight"]=>
    float(0)
    ["quantity"]=>
    float(8)
    ["reference"]=>
    string(0) ""
    ["unit_impact"]=>
    string(8) "0.000000"
    ["minimal_quantity"]=>
    int(1)
    ["available_date"]=>
    string(10) "2019-10-23"
    ["date_formatted"]=>
    string(10) "10/23/2019"
    ["id_image"]=>
    int(38266)
    ["list"]=>
    string(7) "'22487'"
  }
  [32367]=>
  array(14) {
    ["attributes_values"]=>
    array(1) {
      [1308]=>
      string(3) "129"
    }
    ["attributes"]=>
    array(1) {
      [0]=>
      int(21826)
    }
    ["price"]=>
    float(0)
    ["specific_price"]=>
    bool(false)
    ["ecotax"]=>
    float(0)
    ["weight"]=>
    float(0)
    ["quantity"]=>
    float(0)
    ["reference"]=>
    string(0) ""
    ["unit_impact"]=>
    string(8) "0.000000"
    ["minimal_quantity"]=>
    int(1)
    ["available_date"]=>
    string(10) "2019-09-16"
    ["date_formatted"]=>
    string(10) "09/16/2019"
    ["id_image"]=>
    int(36442)
    ["list"]=>
    string(7) "'21826'"
  }
  [32368]=>
  array(14) {
    ["attributes_values"]=>
    array(1) {
      [1308]=>
      string(3) "130"
    }
    ["attributes"]=>
    array(1) {
      [0]=>
      int(21827)
    }
    ["price"]=>
    float(0)
    ["specific_price"]=>
    bool(false)
    ["ecotax"]=>
    float(0)
    ["weight"]=>
    float(0)
    ["quantity"]=>
    float(26)
    ["reference"]=>
    string(0) ""
    ["unit_impact"]=>
    string(8) "0.000000"
    ["minimal_quantity"]=>
    int(1)
    ["available_date"]=>
    string(10) "2019-09-16"
    ["date_formatted"]=>
    string(10) "09/16/2019"
    ["id_image"]=>
    int(36443)
    ["list"]=>
    string(7) "'21827'"
  }
  [32369]=>
  array(14) {
    ["attributes_values"]=>
    array(1) {
      [1308]=>
      string(3) "131"
    }
    ["attributes"]=>
    array(1) {
      [0]=>
      int(21828)
    }
    ["price"]=>
    float(0)
    ["specific_price"]=>
    bool(false)
    ["ecotax"]=>
    float(0)
    ["weight"]=>
    float(0)
    ["quantity"]=>
    float(18)
    ["reference"]=>
    string(0) ""
    ["unit_impact"]=>
    string(8) "0.000000"
    ["minimal_quantity"]=>
    int(1)
    ["available_date"]=>
    string(10) "2019-09-16"
    ["date_formatted"]=>
    string(10) "09/16/2019"
    ["id_image"]=>
    int(36444)
    ["list"]=>
    string(7) "'21828'"
  }
  [32370]=>
  array(14) {
    ["attributes_values"]=>
    array(1) {
      [1308]=>
      string(3) "132"
    }
    ["attributes"]=>
    array(1) {
      [0]=>
      int(21829)
    }
    ["price"]=>
    float(0)
    ["specific_price"]=>
    bool(false)
    ["ecotax"]=>
    float(0)
    ["weight"]=>
    float(0)
    ["quantity"]=>
    float(20)
    ["reference"]=>
    string(0) ""
    ["unit_impact"]=>
    string(8) "0.000000"
    ["minimal_quantity"]=>
    int(1)
    ["available_date"]=>
    string(10) "2019-09-16"
    ["date_formatted"]=>
    string(10) "09/16/2019"
    ["id_image"]=>
    int(36445)
    ["list"]=>
    string(7) "'21829'"
  }
  [32371]=>
  array(14) {
    ["attributes_values"]=>
    array(1) {
      [1308]=>
      string(3) "133"
    }
    ["attributes"]=>
    array(1) {
      [0]=>
      int(21830)
    }
    ["price"]=>
    float(0)
    ["specific_price"]=>
    bool(false)
    ["ecotax"]=>
    float(0)
    ["weight"]=>
    float(0)
    ["quantity"]=>
    float(22)
    ["reference"]=>
    string(0) ""
    ["unit_impact"]=>
    string(8) "0.000000"
    ["minimal_quantity"]=>
    int(1)
    ["available_date"]=>
    string(10) "2019-09-16"
    ["date_formatted"]=>
    string(10) "09/16/2019"
    ["id_image"]=>
    int(36446)
    ["list"]=>
    string(7) "'21830'"
  }
  [32372]=>
  array(14) {
    ["attributes_values"]=>
    array(1) {
      [1308]=>
      string(3) "134"
    }
    ["attributes"]=>
    array(1) {
      [0]=>
      int(21831)
    }
    ["price"]=>
    float(0)
    ["specific_price"]=>
    bool(false)
    ["ecotax"]=>
    float(0)
    ["weight"]=>
    float(0)
    ["quantity"]=>
    float(40)
    ["reference"]=>
    string(0) ""
    ["unit_impact"]=>
    string(8) "0.000000"
    ["minimal_quantity"]=>
    int(1)
    ["available_date"]=>
    string(10) "2019-09-16"
    ["date_formatted"]=>
    string(10) "09/16/2019"
    ["id_image"]=>
    int(36447)
    ["list"]=>
    string(7) "'21831'"
  }
  [32373]=>
  array(14) {
    ["attributes_values"]=>
    array(1) {
      [1308]=>
      string(3) "135"
    }
    ["attributes"]=>
    array(1) {
      [0]=>
      int(21832)
    }
    ["price"]=>
    float(0)
    ["specific_price"]=>
    bool(false)
    ["ecotax"]=>
    float(0)
    ["weight"]=>
    float(0)
    ["quantity"]=>
    float(18)
    ["reference"]=>
    string(0) ""
    ["unit_impact"]=>
    string(8) "0.000000"
    ["minimal_quantity"]=>
    int(1)
    ["available_date"]=>
    string(10) "2019-09-16"
    ["date_formatted"]=>
    string(10) "09/16/2019"
    ["id_image"]=>
    int(36448)
    ["list"]=>
    string(7) "'21832'"
  }
  [32374]=>
  array(14) {
    ["attributes_values"]=>
    array(1) {
      [1308]=>
      string(3) "136"
    }
    ["attributes"]=>
    array(1) {
      [0]=>
      int(21833)
    }
    ["price"]=>
    float(0)
    ["specific_price"]=>
    bool(false)
    ["ecotax"]=>
    float(0)
    ["weight"]=>
    float(0)
    ["quantity"]=>
    float(25)
    ["reference"]=>
    string(0) ""
    ["unit_impact"]=>
    string(8) "0.000000"
    ["minimal_quantity"]=>
    int(1)
    ["available_date"]=>
    string(10) "2019-09-16"
    ["date_formatted"]=>
    string(10) "09/16/2019"
    ["id_image"]=>
    int(36449)
    ["list"]=>
    string(7) "'21833'"
  }
  [32375]=>
  array(14) {
    ["attributes_values"]=>
    array(1) {
      [1308]=>
      string(3) "137"
    }
    ["attributes"]=>
    array(1) {
      [0]=>
      int(21834)
    }
    ["price"]=>
    float(0)
    ["specific_price"]=>
    bool(false)
    ["ecotax"]=>
    float(0)
    ["weight"]=>
    float(0)
    ["quantity"]=>
    float(10)
    ["reference"]=>
    string(0) ""
    ["unit_impact"]=>
    string(8) "0.000000"
    ["minimal_quantity"]=>
    int(1)
    ["available_date"]=>
    string(10) "2019-09-16"
    ["date_formatted"]=>
    string(10) "09/16/2019"
    ["id_image"]=>
    int(36450)
    ["list"]=>
    string(7) "'21834'"
  }
}

Lana Grossa Landlust Merino 120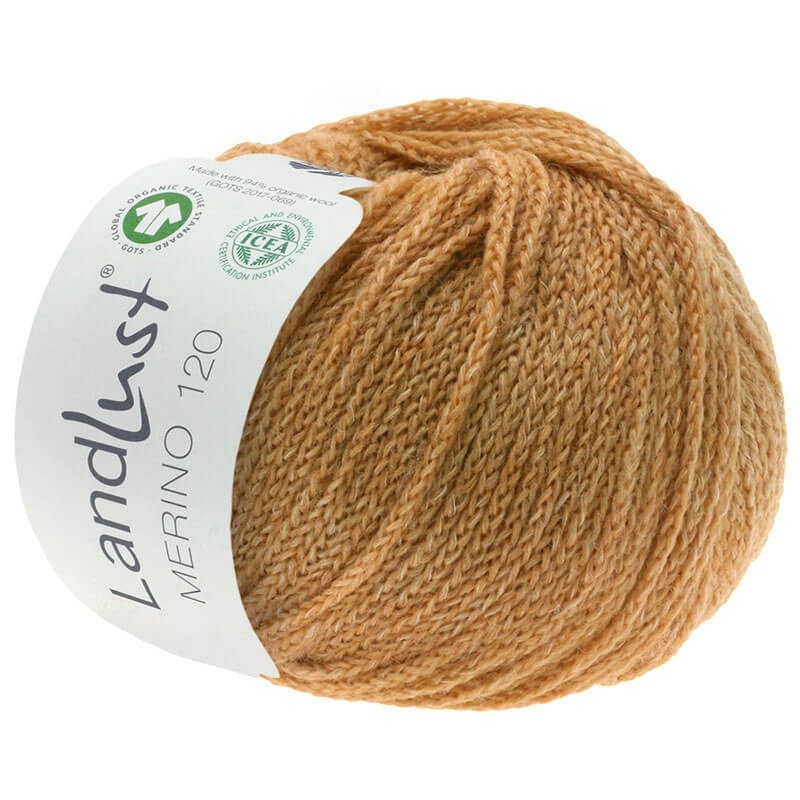  
Lana Grossa Landlust Merino 120 is a yarn made with a 94% of organic merino virgin wool fibres. This fibre guarantees its sweetness and quality on your skin. It is free of harmful substances to health and the environment, so the ICEA and GOTS certificates ensure it. 
By buying this product you can collect up to 3 loyalty points. Your cart will total 3 points that can be converted into a voucher of €0.12.
Product details
Features
Weight

50 grams

Length

120 meters

Knitting needle

7 - 8

Crochet Hook

7 - 8

Season

Autumn - Winter
Product description
Lana Grossa Landlust Merino 120 is a yarn made with the best warm, soft and organic merino virgin wool fibres. Its twisted strand provides a fluffy and nice result.
Its strand is made of several twisted threads that will offer a tubular result. So, you'll obtain a thick, but light yarn thanks to its tubular shape.
Lana Grossa Landlust Merino 120 is made of:
94% merino virgin wool
6% polyamide
This merino wool guarantees its quality with its ICEA and GOTS certificates.
Get dress while keeping your skin protected!
The ICEA certificate is responsible for ensuring that the fibres are safe and natural, subjecting them to controls to ensure that they are free of chemicals that can be harmful to living beings or the environment.
The GOTS certificate guarantees that the materials for which the percentage of virgin merino wool is composed are organic. This ensures the organic condition of this textile fibre, from obtaining the fibres and to the entire manufacturing process.
You should know that Landlust Merino 120…
Each ball has 50 grams and 120 metres.
Its thickness is perfect to knit with the 7 – 8 mm knitting needles.
Mount 14 stitches and do 21 laps to knit a 10 x 10 cm square.
It can be washed in the washing machine up to 30ºC.
Do not use the dryer. We recommend you to dry it horizontally without hanging out.
It can be ironed at a high temperature (110ºC).
Amount of balls needed to…
To knit a sweater size 38-40, you will need to use 9 balls approx.