array(12) {
  [32432]=>
  array(14) {
    ["attributes_values"]=>
    array(1) {
      [1307]=>
      string(1) "1"
    }
    ["attributes"]=>
    array(1) {
      [0]=>
      int(21864)
    }
    ["price"]=>
    float(0)
    ["specific_price"]=>
    bool(false)
    ["ecotax"]=>
    float(0)
    ["weight"]=>
    float(0)
    ["quantity"]=>
    float(8)
    ["reference"]=>
    string(0) ""
    ["unit_impact"]=>
    string(8) "0.000000"
    ["minimal_quantity"]=>
    int(1)
    ["available_date"]=>
    string(10) "2019-09-18"
    ["date_formatted"]=>
    string(10) "09/18/2019"
    ["id_image"]=>
    int(36563)
    ["list"]=>
    string(7) "'21864'"
  }
  [32264]=>
  array(14) {
    ["attributes_values"]=>
    array(1) {
      [1307]=>
      string(1) "2"
    }
    ["attributes"]=>
    array(1) {
      [0]=>
      int(21793)
    }
    ["price"]=>
    float(0)
    ["specific_price"]=>
    bool(false)
    ["ecotax"]=>
    float(0)
    ["weight"]=>
    float(0)
    ["quantity"]=>
    float(9)
    ["reference"]=>
    string(0) ""
    ["unit_impact"]=>
    string(8) "0.000000"
    ["minimal_quantity"]=>
    int(1)
    ["available_date"]=>
    string(10) "2019-09-16"
    ["date_formatted"]=>
    string(10) "09/16/2019"
    ["id_image"]=>
    int(36336)
    ["list"]=>
    string(7) "'21793'"
  }
  [32433]=>
  array(14) {
    ["attributes_values"]=>
    array(1) {
      [1307]=>
      string(1) "3"
    }
    ["attributes"]=>
    array(1) {
      [0]=>
      int(21865)
    }
    ["price"]=>
    float(0)
    ["specific_price"]=>
    bool(false)
    ["ecotax"]=>
    float(0)
    ["weight"]=>
    float(0)
    ["quantity"]=>
    float(17)
    ["reference"]=>
    string(0) ""
    ["unit_impact"]=>
    string(8) "0.000000"
    ["minimal_quantity"]=>
    int(1)
    ["available_date"]=>
    string(10) "2019-09-18"
    ["date_formatted"]=>
    string(10) "09/18/2019"
    ["id_image"]=>
    int(36564)
    ["list"]=>
    string(7) "'21865'"
  }
  [32265]=>
  array(14) {
    ["attributes_values"]=>
    array(1) {
      [1307]=>
      string(1) "4"
    }
    ["attributes"]=>
    array(1) {
      [0]=>
      int(21794)
    }
    ["price"]=>
    float(0)
    ["specific_price"]=>
    bool(false)
    ["ecotax"]=>
    float(0)
    ["weight"]=>
    float(0)
    ["quantity"]=>
    float(22)
    ["reference"]=>
    string(0) ""
    ["unit_impact"]=>
    string(8) "0.000000"
    ["minimal_quantity"]=>
    int(1)
    ["available_date"]=>
    string(10) "2019-09-16"
    ["date_formatted"]=>
    string(10) "09/16/2019"
    ["id_image"]=>
    int(36337)
    ["list"]=>
    string(7) "'21794'"
  }
  [32266]=>
  array(14) {
    ["attributes_values"]=>
    array(1) {
      [1307]=>
      string(1) "5"
    }
    ["attributes"]=>
    array(1) {
      [0]=>
      int(21795)
    }
    ["price"]=>
    float(0)
    ["specific_price"]=>
    bool(false)
    ["ecotax"]=>
    float(0)
    ["weight"]=>
    float(0)
    ["quantity"]=>
    float(11)
    ["reference"]=>
    string(0) ""
    ["unit_impact"]=>
    string(8) "0.000000"
    ["minimal_quantity"]=>
    int(1)
    ["available_date"]=>
    string(10) "2019-09-16"
    ["date_formatted"]=>
    string(10) "09/16/2019"
    ["id_image"]=>
    int(36338)
    ["list"]=>
    string(7) "'21795'"
  }
  [32434]=>
  array(14) {
    ["attributes_values"]=>
    array(1) {
      [1307]=>
      string(1) "6"
    }
    ["attributes"]=>
    array(1) {
      [0]=>
      int(21866)
    }
    ["price"]=>
    float(0)
    ["specific_price"]=>
    bool(false)
    ["ecotax"]=>
    float(0)
    ["weight"]=>
    float(0)
    ["quantity"]=>
    float(2)
    ["reference"]=>
    string(0) ""
    ["unit_impact"]=>
    string(8) "0.000000"
    ["minimal_quantity"]=>
    int(1)
    ["available_date"]=>
    string(10) "2019-09-18"
    ["date_formatted"]=>
    string(10) "09/18/2019"
    ["id_image"]=>
    int(36565)
    ["list"]=>
    string(7) "'21866'"
  }
  [32267]=>
  array(14) {
    ["attributes_values"]=>
    array(1) {
      [1307]=>
      string(1) "7"
    }
    ["attributes"]=>
    array(1) {
      [0]=>
      int(21796)
    }
    ["price"]=>
    float(0)
    ["specific_price"]=>
    bool(false)
    ["ecotax"]=>
    float(0)
    ["weight"]=>
    float(0)
    ["quantity"]=>
    float(16)
    ["reference"]=>
    string(0) ""
    ["unit_impact"]=>
    string(8) "0.000000"
    ["minimal_quantity"]=>
    int(1)
    ["available_date"]=>
    string(10) "2019-09-16"
    ["date_formatted"]=>
    string(10) "09/16/2019"
    ["id_image"]=>
    int(36339)
    ["list"]=>
    string(7) "'21796'"
  }
  [32268]=>
  array(14) {
    ["attributes_values"]=>
    array(1) {
      [1307]=>
      string(1) "8"
    }
    ["attributes"]=>
    array(1) {
      [0]=>
      int(21797)
    }
    ["price"]=>
    float(0)
    ["specific_price"]=>
    bool(false)
    ["ecotax"]=>
    float(0)
    ["weight"]=>
    float(0)
    ["quantity"]=>
    float(14)
    ["reference"]=>
    string(0) ""
    ["unit_impact"]=>
    string(8) "0.000000"
    ["minimal_quantity"]=>
    int(1)
    ["available_date"]=>
    string(10) "2019-09-16"
    ["date_formatted"]=>
    string(10) "09/16/2019"
    ["id_image"]=>
    int(36340)
    ["list"]=>
    string(7) "'21797'"
  }
  [33394]=>
  array(14) {
    ["attributes_values"]=>
    array(1) {
      [1307]=>
      string(1) "9"
    }
    ["attributes"]=>
    array(1) {
      [0]=>
      int(22485)
    }
    ["price"]=>
    float(0)
    ["specific_price"]=>
    bool(false)
    ["ecotax"]=>
    float(0)
    ["weight"]=>
    float(0)
    ["quantity"]=>
    float(16)
    ["reference"]=>
    string(0) ""
    ["unit_impact"]=>
    string(8) "0.000000"
    ["minimal_quantity"]=>
    int(1)
    ["available_date"]=>
    string(10) "2019-10-23"
    ["date_formatted"]=>
    string(10) "10/23/2019"
    ["id_image"]=>
    int(38265)
    ["list"]=>
    string(7) "'22485'"
  }
  [32269]=>
  array(14) {
    ["attributes_values"]=>
    array(1) {
      [1307]=>
      string(2) "10"
    }
    ["attributes"]=>
    array(1) {
      [0]=>
      int(21798)
    }
    ["price"]=>
    float(0)
    ["specific_price"]=>
    bool(false)
    ["ecotax"]=>
    float(0)
    ["weight"]=>
    float(0)
    ["quantity"]=>
    float(1)
    ["reference"]=>
    string(0) ""
    ["unit_impact"]=>
    string(8) "0.000000"
    ["minimal_quantity"]=>
    int(1)
    ["available_date"]=>
    string(10) "2019-09-16"
    ["date_formatted"]=>
    string(10) "09/16/2019"
    ["id_image"]=>
    int(36341)
    ["list"]=>
    string(7) "'21798'"
  }
  [32435]=>
  array(14) {
    ["attributes_values"]=>
    array(1) {
      [1307]=>
      string(2) "11"
    }
    ["attributes"]=>
    array(1) {
      [0]=>
      int(21867)
    }
    ["price"]=>
    float(0)
    ["specific_price"]=>
    bool(false)
    ["ecotax"]=>
    float(0)
    ["weight"]=>
    float(0)
    ["quantity"]=>
    float(20)
    ["reference"]=>
    string(0) ""
    ["unit_impact"]=>
    string(8) "0.000000"
    ["minimal_quantity"]=>
    int(1)
    ["available_date"]=>
    string(10) "2019-09-18"
    ["date_formatted"]=>
    string(10) "09/18/2019"
    ["id_image"]=>
    int(36566)
    ["list"]=>
    string(7) "'21867'"
  }
  [32270]=>
  array(14) {
    ["attributes_values"]=>
    array(1) {
      [1307]=>
      string(2) "12"
    }
    ["attributes"]=>
    array(1) {
      [0]=>
      int(21799)
    }
    ["price"]=>
    float(0)
    ["specific_price"]=>
    bool(false)
    ["ecotax"]=>
    float(0)
    ["weight"]=>
    float(0)
    ["quantity"]=>
    float(15)
    ["reference"]=>
    string(0) ""
    ["unit_impact"]=>
    string(8) "0.000000"
    ["minimal_quantity"]=>
    int(1)
    ["available_date"]=>
    string(10) "2019-09-16"
    ["date_formatted"]=>
    string(10) "09/16/2019"
    ["id_image"]=>
    int(36342)
    ["list"]=>
    string(7) "'21799'"
  }
}

Lana Grossa Piuma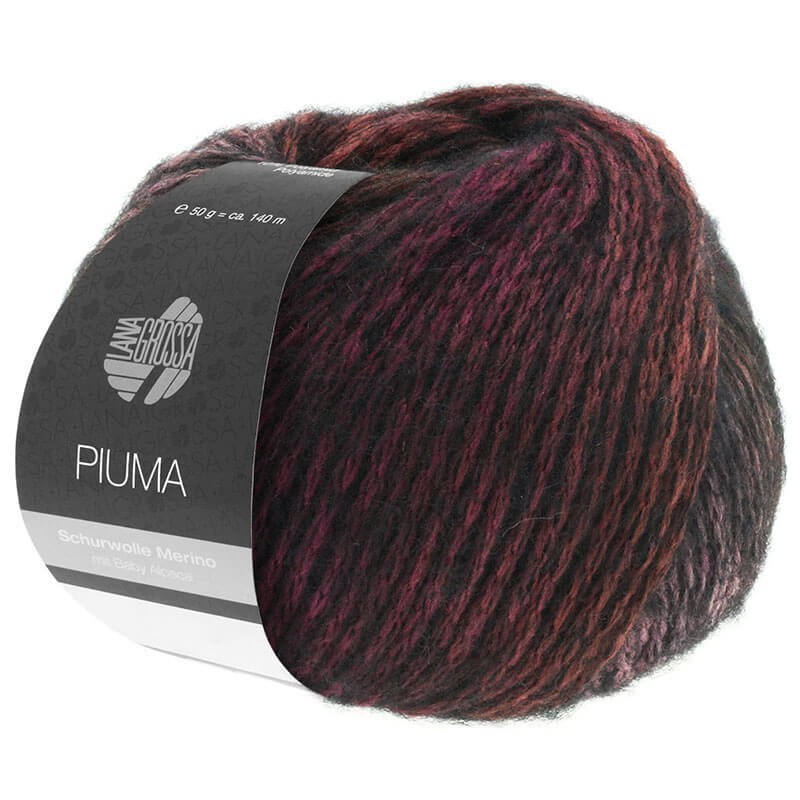  
Lana Grossa Piuma is a ball with an incredible softness. Knit warm clothes for any member of the family, whether children or adults. It offers a wide variety of different colours, all with a gradient effect thanks to its black fibres in combination with other colours.
By buying this product you can collect up to 3 loyalty points. Your cart will total 3 points that can be converted into a voucher of €0.12.
Product details
Features
Weight

50 grams

Length

140 meters

Knitting needle

7 - 8

Season

Autumn - Winter
Product description
Lana Grossa Piuma is a yarn with a very soft and nice touch, which is perfect for using in all skin types. The fibres that compose it are very thin and its strand is not twisted or has too much tension, which will create a unique effect on your clothes. In addition, the wool is very light, so your garments will be very comfortable.
Its strand is made of black fibres and other gradient colour fibres, which provides an elegant and beautiful finish in your garments and accessories. This wool offers 12 different colours, so you can choose the most suitable one for you.
Lana Grossa Piuma is made of:
75% Virgin wool
15% Alpaca
10% Polyamide
The alpaca fibres will provide an original result to the wool, while the rest of fibres will provide a very soft fabric. You will love to wear this wool!
You should know that Lana Grossa Piuma…
Each ball has 50 grams and 140 metres.
Its thickness is perfect to knit with the 7 – 8 mm knitting needles.
Mount 12 stitches and do 16 laps to knit a 10 x 10 cm square.
We recommend you to wash it by hand without bleach products.
Do not use the dryer. We recommend you to dry it horizontally without hanging out.
Do not iron this product.
Create elegant garments for this winter season and feel the softness of the alpaca and virgin wool fibres on your skin.