array(8) {
  [32916]=>
  array(14) {
    ["attributes_values"]=>
    array(1) {
      [1334]=>
      string(3) "401"
    }
    ["attributes"]=>
    array(1) {
      [0]=>
      int(22183)
    }
    ["price"]=>
    float(0)
    ["specific_price"]=>
    bool(false)
    ["ecotax"]=>
    float(0)
    ["weight"]=>
    float(0)
    ["quantity"]=>
    float(8)
    ["reference"]=>
    string(0) ""
    ["unit_impact"]=>
    string(8) "0.000000"
    ["minimal_quantity"]=>
    int(1)
    ["available_date"]=>
    string(10) "2019-10-02"
    ["date_formatted"]=>
    string(10) "10/02/2019"
    ["id_image"]=>
    int(37221)
    ["list"]=>
    string(7) "'22183'"
  }
  [32979]=>
  array(14) {
    ["attributes_values"]=>
    array(1) {
      [1334]=>
      string(3) "402"
    }
    ["attributes"]=>
    array(1) {
      [0]=>
      int(22229)
    }
    ["price"]=>
    float(0)
    ["specific_price"]=>
    bool(false)
    ["ecotax"]=>
    float(0)
    ["weight"]=>
    float(0)
    ["quantity"]=>
    float(11)
    ["reference"]=>
    string(0) ""
    ["unit_impact"]=>
    string(8) "0.000000"
    ["minimal_quantity"]=>
    int(1)
    ["available_date"]=>
    string(10) "2019-10-04"
    ["date_formatted"]=>
    string(10) "10/04/2019"
    ["id_image"]=>
    int(37287)
    ["list"]=>
    string(7) "'22229'"
  }
  [32917]=>
  array(14) {
    ["attributes_values"]=>
    array(1) {
      [1334]=>
      string(3) "405"
    }
    ["attributes"]=>
    array(1) {
      [0]=>
      int(22184)
    }
    ["price"]=>
    float(0)
    ["specific_price"]=>
    bool(false)
    ["ecotax"]=>
    float(0)
    ["weight"]=>
    float(0)
    ["quantity"]=>
    float(10)
    ["reference"]=>
    string(0) ""
    ["unit_impact"]=>
    string(8) "0.000000"
    ["minimal_quantity"]=>
    int(1)
    ["available_date"]=>
    string(10) "2019-10-02"
    ["date_formatted"]=>
    string(10) "10/02/2019"
    ["id_image"]=>
    int(37222)
    ["list"]=>
    string(7) "'22184'"
  }
  [32980]=>
  array(14) {
    ["attributes_values"]=>
    array(1) {
      [1334]=>
      string(3) "408"
    }
    ["attributes"]=>
    array(1) {
      [0]=>
      int(22230)
    }
    ["price"]=>
    float(0)
    ["specific_price"]=>
    bool(false)
    ["ecotax"]=>
    float(0)
    ["weight"]=>
    float(0)
    ["quantity"]=>
    float(0)
    ["reference"]=>
    string(0) ""
    ["unit_impact"]=>
    string(8) "0.000000"
    ["minimal_quantity"]=>
    int(1)
    ["available_date"]=>
    string(10) "2019-10-04"
    ["date_formatted"]=>
    string(10) "10/04/2019"
    ["id_image"]=>
    int(37288)
    ["list"]=>
    string(7) "'22230'"
  }
  [32981]=>
  array(14) {
    ["attributes_values"]=>
    array(1) {
      [1334]=>
      string(3) "416"
    }
    ["attributes"]=>
    array(1) {
      [0]=>
      int(22231)
    }
    ["price"]=>
    float(0)
    ["specific_price"]=>
    bool(false)
    ["ecotax"]=>
    float(0)
    ["weight"]=>
    float(0)
    ["quantity"]=>
    float(0)
    ["reference"]=>
    string(0) ""
    ["unit_impact"]=>
    string(8) "0.000000"
    ["minimal_quantity"]=>
    int(1)
    ["available_date"]=>
    string(10) "2019-10-04"
    ["date_formatted"]=>
    string(10) "10/04/2019"
    ["id_image"]=>
    int(37289)
    ["list"]=>
    string(7) "'22231'"
  }
  [32918]=>
  array(14) {
    ["attributes_values"]=>
    array(1) {
      [1334]=>
      string(3) "603"
    }
    ["attributes"]=>
    array(1) {
      [0]=>
      int(22185)
    }
    ["price"]=>
    float(0)
    ["specific_price"]=>
    bool(false)
    ["ecotax"]=>
    float(0)
    ["weight"]=>
    float(0)
    ["quantity"]=>
    float(13)
    ["reference"]=>
    string(0) ""
    ["unit_impact"]=>
    string(8) "0.000000"
    ["minimal_quantity"]=>
    int(1)
    ["available_date"]=>
    string(10) "2019-10-02"
    ["date_formatted"]=>
    string(10) "10/02/2019"
    ["id_image"]=>
    int(37223)
    ["list"]=>
    string(7) "'22185'"
  }
  [32919]=>
  array(14) {
    ["attributes_values"]=>
    array(1) {
      [1334]=>
      string(3) "606"
    }
    ["attributes"]=>
    array(1) {
      [0]=>
      int(22186)
    }
    ["price"]=>
    float(0)
    ["specific_price"]=>
    bool(false)
    ["ecotax"]=>
    float(0)
    ["weight"]=>
    float(0)
    ["quantity"]=>
    float(16)
    ["reference"]=>
    string(0) ""
    ["unit_impact"]=>
    string(8) "0.000000"
    ["minimal_quantity"]=>
    int(1)
    ["available_date"]=>
    string(10) "2019-10-02"
    ["date_formatted"]=>
    string(10) "10/02/2019"
    ["id_image"]=>
    int(37224)
    ["list"]=>
    string(7) "'22186'"
  }
  [32920]=>
  array(14) {
    ["attributes_values"]=>
    array(1) {
      [1334]=>
      string(3) "615"
    }
    ["attributes"]=>
    array(1) {
      [0]=>
      int(22187)
    }
    ["price"]=>
    float(0)
    ["specific_price"]=>
    bool(false)
    ["ecotax"]=>
    float(0)
    ["weight"]=>
    float(0)
    ["quantity"]=>
    float(13)
    ["reference"]=>
    string(0) ""
    ["unit_impact"]=>
    string(8) "0.000000"
    ["minimal_quantity"]=>
    int(1)
    ["available_date"]=>
    string(10) "2019-10-02"
    ["date_formatted"]=>
    string(10) "10/02/2019"
    ["id_image"]=>
    int(37231)
    ["list"]=>
    string(7) "'22187'"
  }
}

Lana Grossa Shades of Merino Cotton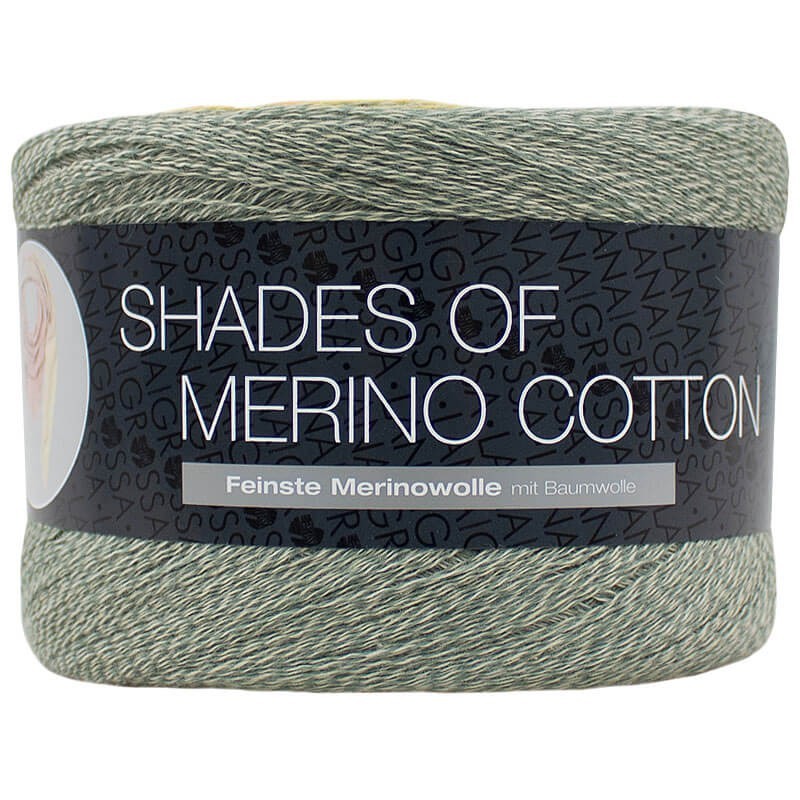  
Lana Grossa Shades of Merino Cotton is a very special yarn with a wide range of gradient colours. Its composition of cotton and virgin merino wool is perfect for your winter creations. Knit garments with gradient effects using just 1 ball. You will love this oversized yarn!
By buying this product you can collect up to 12 loyalty points. Your cart will total 12 points that can be converted into a voucher of €0.48.
Product details
Features
Weight

200 grams

Length

760 meters

Knitting needle

4 - 4 ½

Crochet Hook

4 ½

Season

Autumn - Winter
Product description
Lana Grossa Shades of Merino Cotton will not leave anyone indifferent! It is a fine yarn perfect for any time of the year. You will be able to knit autumn-winter garments, such as shawls, scarves, foulards, etc. Its fine strand is made of several threads the are slightly twisted.
The main characteristic of this yarn is its gradients effect. In addition, it is available in an endless variety of shades for choosing the one that you prefer. Ideal for all tastes!
Lana Grossa offers this ball perfectly packed in little organza bags. Its length of 760 m will allow you to create  projects with only 1 ball. It also contains a wood mark with the brand name engraved for marking the beginning of the yarn. All these careful details provide a special and unique touch to your clothes and accessories.
Lana Grossa Shades of Merino Cotton is made from:
50% Cotton

50% Virgin merino wool
This composition combines the lightness of the cotton and the warmth of the merino wool.
What should I know about Lana Grossa Shades of Merino Cotton?
Each ball has 200 grams and 760 metres.
Its thickness is perfect to knit with the 4 – 4,5 mm knitting needles.
Mount 23 stitches and do 28 rows to knit a 10 x 10 cm gauge.
You can wash this yarn in the washing machine at up to 30ºC.
You can use the iron at up to 110ºC.
Dry Flat.
Amount of balls needed to…
To knit a scarf you will need 200 gr = 1 ball approx.
Create clothes and accessories with unique gradient effects!
Rating:

5

out of

5

based on

1

reviews.
Customer reviews
Nº of votes

Average experience

Rating

1

star star star star star

star star star star star

star star star star star

star star star star star