array(12) {
  [31241]=>
  array(14) {
    ["attributes_values"]=>
    array(1) {
      [1242]=>
      string(4) "1121"
    }
    ["attributes"]=>
    array(1) {
      [0]=>
      int(20857)
    }
    ["price"]=>
    float(0)
    ["specific_price"]=>
    array(19) {
      ["id_specific_price"]=>
      string(7) "4436522"
      ["id_specific_price_rule"]=>
      string(3) "225"
      ["id_cart"]=>
      string(1) "0"
      ["id_product"]=>
      string(4) "5831"
      ["id_shop"]=>
      string(1) "1"
      ["id_shop_group"]=>
      string(1) "0"
      ["id_currency"]=>
      string(1) "0"
      ["id_country"]=>
      string(1) "0"
      ["id_group"]=>
      string(1) "0"
      ["id_customer"]=>
      string(1) "0"
      ["id_product_attribute"]=>
      string(1) "0"
      ["price"]=>
      string(9) "-1.000000"
      ["from_quantity"]=>
      string(8) "1.000000"
      ["reduction"]=>
      string(8) "0.150000"
      ["reduction_tax"]=>
      string(1) "1"
      ["reduction_type"]=>
      string(10) "percentage"
      ["from"]=>
      string(19) "2021-01-06 00:00:00"
      ["to"]=>
      string(19) "2021-02-01 01:10:00"
      ["score"]=>
      string(2) "48"
    }
    ["ecotax"]=>
    float(0)
    ["weight"]=>
    float(0)
    ["quantity"]=>
    float(24)
    ["reference"]=>
    string(0) ""
    ["unit_impact"]=>
    string(8) "0.000000"
    ["minimal_quantity"]=>
    int(1)
    ["available_date"]=>
    string(10) "2019-07-04"
    ["date_formatted"]=>
    string(10) "07/04/2019"
    ["id_image"]=>
    int(34504)
    ["list"]=>
    string(7) "'20857'"
  }
  [31242]=>
  array(14) {
    ["attributes_values"]=>
    array(1) {
      [1242]=>
      string(4) "1122"
    }
    ["attributes"]=>
    array(1) {
      [0]=>
      int(20858)
    }
    ["price"]=>
    float(0)
    ["specific_price"]=>
    array(19) {
      ["id_specific_price"]=>
      string(7) "4436522"
      ["id_specific_price_rule"]=>
      string(3) "225"
      ["id_cart"]=>
      string(1) "0"
      ["id_product"]=>
      string(4) "5831"
      ["id_shop"]=>
      string(1) "1"
      ["id_shop_group"]=>
      string(1) "0"
      ["id_currency"]=>
      string(1) "0"
      ["id_country"]=>
      string(1) "0"
      ["id_group"]=>
      string(1) "0"
      ["id_customer"]=>
      string(1) "0"
      ["id_product_attribute"]=>
      string(1) "0"
      ["price"]=>
      string(9) "-1.000000"
      ["from_quantity"]=>
      string(8) "1.000000"
      ["reduction"]=>
      string(8) "0.150000"
      ["reduction_tax"]=>
      string(1) "1"
      ["reduction_type"]=>
      string(10) "percentage"
      ["from"]=>
      string(19) "2021-01-06 00:00:00"
      ["to"]=>
      string(19) "2021-02-01 01:10:00"
      ["score"]=>
      string(2) "48"
    }
    ["ecotax"]=>
    float(0)
    ["weight"]=>
    float(0)
    ["quantity"]=>
    float(22)
    ["reference"]=>
    string(0) ""
    ["unit_impact"]=>
    string(8) "0.000000"
    ["minimal_quantity"]=>
    int(1)
    ["available_date"]=>
    string(10) "2019-07-04"
    ["date_formatted"]=>
    string(10) "07/04/2019"
    ["id_image"]=>
    int(34506)
    ["list"]=>
    string(7) "'20858'"
  }
  [31243]=>
  array(14) {
    ["attributes_values"]=>
    array(1) {
      [1242]=>
      string(4) "1123"
    }
    ["attributes"]=>
    array(1) {
      [0]=>
      int(20859)
    }
    ["price"]=>
    float(0)
    ["specific_price"]=>
    array(19) {
      ["id_specific_price"]=>
      string(7) "4436522"
      ["id_specific_price_rule"]=>
      string(3) "225"
      ["id_cart"]=>
      string(1) "0"
      ["id_product"]=>
      string(4) "5831"
      ["id_shop"]=>
      string(1) "1"
      ["id_shop_group"]=>
      string(1) "0"
      ["id_currency"]=>
      string(1) "0"
      ["id_country"]=>
      string(1) "0"
      ["id_group"]=>
      string(1) "0"
      ["id_customer"]=>
      string(1) "0"
      ["id_product_attribute"]=>
      string(1) "0"
      ["price"]=>
      string(9) "-1.000000"
      ["from_quantity"]=>
      string(8) "1.000000"
      ["reduction"]=>
      string(8) "0.150000"
      ["reduction_tax"]=>
      string(1) "1"
      ["reduction_type"]=>
      string(10) "percentage"
      ["from"]=>
      string(19) "2021-01-06 00:00:00"
      ["to"]=>
      string(19) "2021-02-01 01:10:00"
      ["score"]=>
      string(2) "48"
    }
    ["ecotax"]=>
    float(0)
    ["weight"]=>
    float(0)
    ["quantity"]=>
    float(28)
    ["reference"]=>
    string(0) ""
    ["unit_impact"]=>
    string(8) "0.000000"
    ["minimal_quantity"]=>
    int(1)
    ["available_date"]=>
    string(10) "2019-07-04"
    ["date_formatted"]=>
    string(10) "07/04/2019"
    ["id_image"]=>
    int(34508)
    ["list"]=>
    string(7) "'20859'"
  }
  [31244]=>
  array(14) {
    ["attributes_values"]=>
    array(1) {
      [1242]=>
      string(4) "1124"
    }
    ["attributes"]=>
    array(1) {
      [0]=>
      int(20860)
    }
    ["price"]=>
    float(0)
    ["specific_price"]=>
    array(19) {
      ["id_specific_price"]=>
      string(7) "4436522"
      ["id_specific_price_rule"]=>
      string(3) "225"
      ["id_cart"]=>
      string(1) "0"
      ["id_product"]=>
      string(4) "5831"
      ["id_shop"]=>
      string(1) "1"
      ["id_shop_group"]=>
      string(1) "0"
      ["id_currency"]=>
      string(1) "0"
      ["id_country"]=>
      string(1) "0"
      ["id_group"]=>
      string(1) "0"
      ["id_customer"]=>
      string(1) "0"
      ["id_product_attribute"]=>
      string(1) "0"
      ["price"]=>
      string(9) "-1.000000"
      ["from_quantity"]=>
      string(8) "1.000000"
      ["reduction"]=>
      string(8) "0.150000"
      ["reduction_tax"]=>
      string(1) "1"
      ["reduction_type"]=>
      string(10) "percentage"
      ["from"]=>
      string(19) "2021-01-06 00:00:00"
      ["to"]=>
      string(19) "2021-02-01 01:10:00"
      ["score"]=>
      string(2) "48"
    }
    ["ecotax"]=>
    float(0)
    ["weight"]=>
    float(0)
    ["quantity"]=>
    float(29)
    ["reference"]=>
    string(0) ""
    ["unit_impact"]=>
    string(8) "0.000000"
    ["minimal_quantity"]=>
    int(1)
    ["available_date"]=>
    string(10) "2019-07-04"
    ["date_formatted"]=>
    string(10) "07/04/2019"
    ["id_image"]=>
    int(34510)
    ["list"]=>
    string(7) "'20860'"
  }
  [31245]=>
  array(14) {
    ["attributes_values"]=>
    array(1) {
      [1242]=>
      string(4) "1125"
    }
    ["attributes"]=>
    array(1) {
      [0]=>
      int(20861)
    }
    ["price"]=>
    float(0)
    ["specific_price"]=>
    array(19) {
      ["id_specific_price"]=>
      string(7) "4436522"
      ["id_specific_price_rule"]=>
      string(3) "225"
      ["id_cart"]=>
      string(1) "0"
      ["id_product"]=>
      string(4) "5831"
      ["id_shop"]=>
      string(1) "1"
      ["id_shop_group"]=>
      string(1) "0"
      ["id_currency"]=>
      string(1) "0"
      ["id_country"]=>
      string(1) "0"
      ["id_group"]=>
      string(1) "0"
      ["id_customer"]=>
      string(1) "0"
      ["id_product_attribute"]=>
      string(1) "0"
      ["price"]=>
      string(9) "-1.000000"
      ["from_quantity"]=>
      string(8) "1.000000"
      ["reduction"]=>
      string(8) "0.150000"
      ["reduction_tax"]=>
      string(1) "1"
      ["reduction_type"]=>
      string(10) "percentage"
      ["from"]=>
      string(19) "2021-01-06 00:00:00"
      ["to"]=>
      string(19) "2021-02-01 01:10:00"
      ["score"]=>
      string(2) "48"
    }
    ["ecotax"]=>
    float(0)
    ["weight"]=>
    float(0)
    ["quantity"]=>
    float(25)
    ["reference"]=>
    string(0) ""
    ["unit_impact"]=>
    string(8) "0.000000"
    ["minimal_quantity"]=>
    int(1)
    ["available_date"]=>
    string(10) "2019-07-04"
    ["date_formatted"]=>
    string(10) "07/04/2019"
    ["id_image"]=>
    int(34512)
    ["list"]=>
    string(7) "'20861'"
  }
  [31246]=>
  array(14) {
    ["attributes_values"]=>
    array(1) {
      [1242]=>
      string(4) "1126"
    }
    ["attributes"]=>
    array(1) {
      [0]=>
      int(20862)
    }
    ["price"]=>
    float(0)
    ["specific_price"]=>
    array(19) {
      ["id_specific_price"]=>
      string(7) "4436522"
      ["id_specific_price_rule"]=>
      string(3) "225"
      ["id_cart"]=>
      string(1) "0"
      ["id_product"]=>
      string(4) "5831"
      ["id_shop"]=>
      string(1) "1"
      ["id_shop_group"]=>
      string(1) "0"
      ["id_currency"]=>
      string(1) "0"
      ["id_country"]=>
      string(1) "0"
      ["id_group"]=>
      string(1) "0"
      ["id_customer"]=>
      string(1) "0"
      ["id_product_attribute"]=>
      string(1) "0"
      ["price"]=>
      string(9) "-1.000000"
      ["from_quantity"]=>
      string(8) "1.000000"
      ["reduction"]=>
      string(8) "0.150000"
      ["reduction_tax"]=>
      string(1) "1"
      ["reduction_type"]=>
      string(10) "percentage"
      ["from"]=>
      string(19) "2021-01-06 00:00:00"
      ["to"]=>
      string(19) "2021-02-01 01:10:00"
      ["score"]=>
      string(2) "48"
    }
    ["ecotax"]=>
    float(0)
    ["weight"]=>
    float(0)
    ["quantity"]=>
    float(26)
    ["reference"]=>
    string(0) ""
    ["unit_impact"]=>
    string(8) "0.000000"
    ["minimal_quantity"]=>
    int(1)
    ["available_date"]=>
    string(10) "2019-07-04"
    ["date_formatted"]=>
    string(10) "07/04/2019"
    ["id_image"]=>
    int(34514)
    ["list"]=>
    string(7) "'20862'"
  }
  [31247]=>
  array(14) {
    ["attributes_values"]=>
    array(1) {
      [1242]=>
      string(4) "1127"
    }
    ["attributes"]=>
    array(1) {
      [0]=>
      int(20863)
    }
    ["price"]=>
    float(0)
    ["specific_price"]=>
    array(19) {
      ["id_specific_price"]=>
      string(7) "4436522"
      ["id_specific_price_rule"]=>
      string(3) "225"
      ["id_cart"]=>
      string(1) "0"
      ["id_product"]=>
      string(4) "5831"
      ["id_shop"]=>
      string(1) "1"
      ["id_shop_group"]=>
      string(1) "0"
      ["id_currency"]=>
      string(1) "0"
      ["id_country"]=>
      string(1) "0"
      ["id_group"]=>
      string(1) "0"
      ["id_customer"]=>
      string(1) "0"
      ["id_product_attribute"]=>
      string(1) "0"
      ["price"]=>
      string(9) "-1.000000"
      ["from_quantity"]=>
      string(8) "1.000000"
      ["reduction"]=>
      string(8) "0.150000"
      ["reduction_tax"]=>
      string(1) "1"
      ["reduction_type"]=>
      string(10) "percentage"
      ["from"]=>
      string(19) "2021-01-06 00:00:00"
      ["to"]=>
      string(19) "2021-02-01 01:10:00"
      ["score"]=>
      string(2) "48"
    }
    ["ecotax"]=>
    float(0)
    ["weight"]=>
    float(0)
    ["quantity"]=>
    float(24)
    ["reference"]=>
    string(0) ""
    ["unit_impact"]=>
    string(8) "0.000000"
    ["minimal_quantity"]=>
    int(1)
    ["available_date"]=>
    string(10) "2019-07-04"
    ["date_formatted"]=>
    string(10) "07/04/2019"
    ["id_image"]=>
    int(34516)
    ["list"]=>
    string(7) "'20863'"
  }
  [31248]=>
  array(14) {
    ["attributes_values"]=>
    array(1) {
      [1242]=>
      string(4) "1128"
    }
    ["attributes"]=>
    array(1) {
      [0]=>
      int(20864)
    }
    ["price"]=>
    float(0)
    ["specific_price"]=>
    array(19) {
      ["id_specific_price"]=>
      string(7) "4436522"
      ["id_specific_price_rule"]=>
      string(3) "225"
      ["id_cart"]=>
      string(1) "0"
      ["id_product"]=>
      string(4) "5831"
      ["id_shop"]=>
      string(1) "1"
      ["id_shop_group"]=>
      string(1) "0"
      ["id_currency"]=>
      string(1) "0"
      ["id_country"]=>
      string(1) "0"
      ["id_group"]=>
      string(1) "0"
      ["id_customer"]=>
      string(1) "0"
      ["id_product_attribute"]=>
      string(1) "0"
      ["price"]=>
      string(9) "-1.000000"
      ["from_quantity"]=>
      string(8) "1.000000"
      ["reduction"]=>
      string(8) "0.150000"
      ["reduction_tax"]=>
      string(1) "1"
      ["reduction_type"]=>
      string(10) "percentage"
      ["from"]=>
      string(19) "2021-01-06 00:00:00"
      ["to"]=>
      string(19) "2021-02-01 01:10:00"
      ["score"]=>
      string(2) "48"
    }
    ["ecotax"]=>
    float(0)
    ["weight"]=>
    float(0)
    ["quantity"]=>
    float(26)
    ["reference"]=>
    string(0) ""
    ["unit_impact"]=>
    string(8) "0.000000"
    ["minimal_quantity"]=>
    int(1)
    ["available_date"]=>
    string(10) "2019-07-04"
    ["date_formatted"]=>
    string(10) "07/04/2019"
    ["id_image"]=>
    int(34518)
    ["list"]=>
    string(7) "'20864'"
  }
  [31249]=>
  array(14) {
    ["attributes_values"]=>
    array(1) {
      [1242]=>
      string(4) "1129"
    }
    ["attributes"]=>
    array(1) {
      [0]=>
      int(20865)
    }
    ["price"]=>
    float(0)
    ["specific_price"]=>
    array(19) {
      ["id_specific_price"]=>
      string(7) "4436522"
      ["id_specific_price_rule"]=>
      string(3) "225"
      ["id_cart"]=>
      string(1) "0"
      ["id_product"]=>
      string(4) "5831"
      ["id_shop"]=>
      string(1) "1"
      ["id_shop_group"]=>
      string(1) "0"
      ["id_currency"]=>
      string(1) "0"
      ["id_country"]=>
      string(1) "0"
      ["id_group"]=>
      string(1) "0"
      ["id_customer"]=>
      string(1) "0"
      ["id_product_attribute"]=>
      string(1) "0"
      ["price"]=>
      string(9) "-1.000000"
      ["from_quantity"]=>
      string(8) "1.000000"
      ["reduction"]=>
      string(8) "0.150000"
      ["reduction_tax"]=>
      string(1) "1"
      ["reduction_type"]=>
      string(10) "percentage"
      ["from"]=>
      string(19) "2021-01-06 00:00:00"
      ["to"]=>
      string(19) "2021-02-01 01:10:00"
      ["score"]=>
      string(2) "48"
    }
    ["ecotax"]=>
    float(0)
    ["weight"]=>
    float(0)
    ["quantity"]=>
    float(24)
    ["reference"]=>
    string(0) ""
    ["unit_impact"]=>
    string(8) "0.000000"
    ["minimal_quantity"]=>
    int(1)
    ["available_date"]=>
    string(10) "2019-07-04"
    ["date_formatted"]=>
    string(10) "07/04/2019"
    ["id_image"]=>
    int(34520)
    ["list"]=>
    string(7) "'20865'"
  }
  [31250]=>
  array(14) {
    ["attributes_values"]=>
    array(1) {
      [1242]=>
      string(4) "1130"
    }
    ["attributes"]=>
    array(1) {
      [0]=>
      int(20866)
    }
    ["price"]=>
    float(0)
    ["specific_price"]=>
    array(19) {
      ["id_specific_price"]=>
      string(7) "4436522"
      ["id_specific_price_rule"]=>
      string(3) "225"
      ["id_cart"]=>
      string(1) "0"
      ["id_product"]=>
      string(4) "5831"
      ["id_shop"]=>
      string(1) "1"
      ["id_shop_group"]=>
      string(1) "0"
      ["id_currency"]=>
      string(1) "0"
      ["id_country"]=>
      string(1) "0"
      ["id_group"]=>
      string(1) "0"
      ["id_customer"]=>
      string(1) "0"
      ["id_product_attribute"]=>
      string(1) "0"
      ["price"]=>
      string(9) "-1.000000"
      ["from_quantity"]=>
      string(8) "1.000000"
      ["reduction"]=>
      string(8) "0.150000"
      ["reduction_tax"]=>
      string(1) "1"
      ["reduction_type"]=>
      string(10) "percentage"
      ["from"]=>
      string(19) "2021-01-06 00:00:00"
      ["to"]=>
      string(19) "2021-02-01 01:10:00"
      ["score"]=>
      string(2) "48"
    }
    ["ecotax"]=>
    float(0)
    ["weight"]=>
    float(0)
    ["quantity"]=>
    float(28)
    ["reference"]=>
    string(0) ""
    ["unit_impact"]=>
    string(8) "0.000000"
    ["minimal_quantity"]=>
    int(1)
    ["available_date"]=>
    string(10) "2019-07-04"
    ["date_formatted"]=>
    string(10) "07/04/2019"
    ["id_image"]=>
    int(34522)
    ["list"]=>
    string(7) "'20866'"
  }
  [31251]=>
  array(14) {
    ["attributes_values"]=>
    array(1) {
      [1242]=>
      string(4) "1131"
    }
    ["attributes"]=>
    array(1) {
      [0]=>
      int(20867)
    }
    ["price"]=>
    float(0)
    ["specific_price"]=>
    array(19) {
      ["id_specific_price"]=>
      string(7) "4436522"
      ["id_specific_price_rule"]=>
      string(3) "225"
      ["id_cart"]=>
      string(1) "0"
      ["id_product"]=>
      string(4) "5831"
      ["id_shop"]=>
      string(1) "1"
      ["id_shop_group"]=>
      string(1) "0"
      ["id_currency"]=>
      string(1) "0"
      ["id_country"]=>
      string(1) "0"
      ["id_group"]=>
      string(1) "0"
      ["id_customer"]=>
      string(1) "0"
      ["id_product_attribute"]=>
      string(1) "0"
      ["price"]=>
      string(9) "-1.000000"
      ["from_quantity"]=>
      string(8) "1.000000"
      ["reduction"]=>
      string(8) "0.150000"
      ["reduction_tax"]=>
      string(1) "1"
      ["reduction_type"]=>
      string(10) "percentage"
      ["from"]=>
      string(19) "2021-01-06 00:00:00"
      ["to"]=>
      string(19) "2021-02-01 01:10:00"
      ["score"]=>
      string(2) "48"
    }
    ["ecotax"]=>
    float(0)
    ["weight"]=>
    float(0)
    ["quantity"]=>
    float(28)
    ["reference"]=>
    string(0) ""
    ["unit_impact"]=>
    string(8) "0.000000"
    ["minimal_quantity"]=>
    int(1)
    ["available_date"]=>
    string(10) "2019-07-04"
    ["date_formatted"]=>
    string(10) "07/04/2019"
    ["id_image"]=>
    int(34524)
    ["list"]=>
    string(7) "'20867'"
  }
  [31252]=>
  array(14) {
    ["attributes_values"]=>
    array(1) {
      [1242]=>
      string(4) "1132"
    }
    ["attributes"]=>
    array(1) {
      [0]=>
      int(20868)
    }
    ["price"]=>
    float(0)
    ["specific_price"]=>
    array(19) {
      ["id_specific_price"]=>
      string(7) "4436522"
      ["id_specific_price_rule"]=>
      string(3) "225"
      ["id_cart"]=>
      string(1) "0"
      ["id_product"]=>
      string(4) "5831"
      ["id_shop"]=>
      string(1) "1"
      ["id_shop_group"]=>
      string(1) "0"
      ["id_currency"]=>
      string(1) "0"
      ["id_country"]=>
      string(1) "0"
      ["id_group"]=>
      string(1) "0"
      ["id_customer"]=>
      string(1) "0"
      ["id_product_attribute"]=>
      string(1) "0"
      ["price"]=>
      string(9) "-1.000000"
      ["from_quantity"]=>
      string(8) "1.000000"
      ["reduction"]=>
      string(8) "0.150000"
      ["reduction_tax"]=>
      string(1) "1"
      ["reduction_type"]=>
      string(10) "percentage"
      ["from"]=>
      string(19) "2021-01-06 00:00:00"
      ["to"]=>
      string(19) "2021-02-01 01:10:00"
      ["score"]=>
      string(2) "48"
    }
    ["ecotax"]=>
    float(0)
    ["weight"]=>
    float(0)
    ["quantity"]=>
    float(29)
    ["reference"]=>
    string(0) ""
    ["unit_impact"]=>
    string(8) "0.000000"
    ["minimal_quantity"]=>
    int(1)
    ["available_date"]=>
    string(10) "2019-07-04"
    ["date_formatted"]=>
    string(10) "07/04/2019"
    ["id_image"]=>
    int(34526)
    ["list"]=>
    string(7) "'20868'"
  }
}

Regia Party Night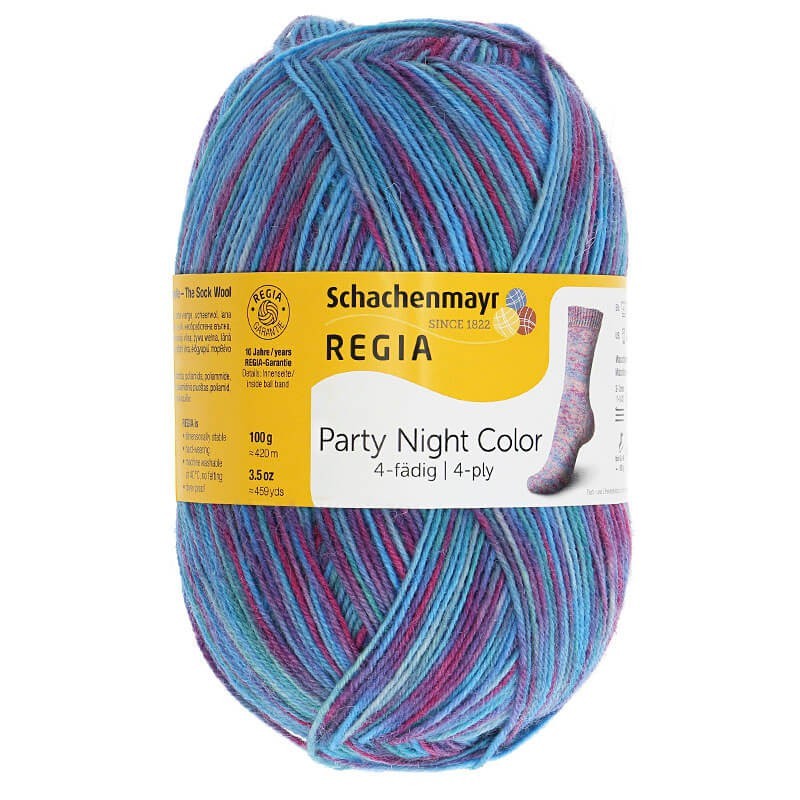  
REGIA Party Night offer marbled coloured yarns inspired by party nights and colourful disco lights. This yarn has been specially designed to knit socks, although you can use it for all kinds of projects.
No reward points for this product because there's already a discount.
Product details
Features
Weight

100 grams

Length

420 meters

Knitting needle

2 - 3

Crochet Hook

2 - 3

Season

Autumn - Winter
Product description
Schachenmayr REGIA Party Night is a yarn that has been specially designed to knit socks.
The range of colours offered by this quality is inspired by the fun of the party nights, the coloured disco lights and the dance floor...You'll obtain fabrics with original marbled colours.
This yarn made of 4 threads that have been twisted between them will provide high-quality fabrics. Create comfortable and resistant socks with a sophisticated design!
The strand constantly changes its colours, which offers marbled fabrics with specks of different colours.
Schachenmayr REGIA Party Night is made of:
75% virgin wool
25% polyamide
You should know that Party Night REGIA…
Each ball has 100 grams and 420 metres.
Its thickness is perfect to knit with the 2-3 mm knitting needles or crochet hooks.
Mount 30 stitches and do 42 laps to knit a 10 x 10 cm square.
It can be washed in the washing machine up to 40ºC.
It can be ironed at a high temperature (110ºC).
You can use the dryer.
Your fabrics will be easy to care... You can wash them in your washing machine, iron them or dry them by machine!
Amount of balls to knit…
To knit a pair of socks up to size 46, you will need 1 ball.
To knit a sweater size 40, you will need 5 balls.
This yarn is very fine, which provides comfortable fabrics and it's made of virgin wool, which will provide warm fabrics. Create socks with REGIA Party Night!