array(10) {
  [42334]=>
  array(14) {
    ["attributes_values"]=>
    array(1) {
      [1757]=>
      string(3) "800"
    }
    ["attributes"]=>
    array(1) {
      [0]=>
      int(29051)
    }
    ["price"]=>
    float(0)
    ["specific_price"]=>
    bool(false)
    ["ecotax"]=>
    float(0)
    ["weight"]=>
    float(0)
    ["quantity"]=>
    float(40)
    ["reference"]=>
    string(0) ""
    ["unit_impact"]=>
    string(8) "0.000000"
    ["minimal_quantity"]=>
    int(1)
    ["available_date"]=>
    string(10) "2021-02-17"
    ["date_formatted"]=>
    string(10) "02/17/2021"
    ["id_image"]=>
    int(51468)
    ["list"]=>
    string(7) "'29051'"
  }
  [42335]=>
  array(14) {
    ["attributes_values"]=>
    array(1) {
      [1757]=>
      string(3) "801"
    }
    ["attributes"]=>
    array(1) {
      [0]=>
      int(29052)
    }
    ["price"]=>
    float(0)
    ["specific_price"]=>
    bool(false)
    ["ecotax"]=>
    float(0)
    ["weight"]=>
    float(0)
    ["quantity"]=>
    float(40)
    ["reference"]=>
    string(0) ""
    ["unit_impact"]=>
    string(8) "0.000000"
    ["minimal_quantity"]=>
    int(1)
    ["available_date"]=>
    string(10) "2021-02-17"
    ["date_formatted"]=>
    string(10) "02/17/2021"
    ["id_image"]=>
    int(51469)
    ["list"]=>
    string(7) "'29052'"
  }
  [42336]=>
  array(14) {
    ["attributes_values"]=>
    array(1) {
      [1757]=>
      string(3) "802"
    }
    ["attributes"]=>
    array(1) {
      [0]=>
      int(29053)
    }
    ["price"]=>
    float(0)
    ["specific_price"]=>
    bool(false)
    ["ecotax"]=>
    float(0)
    ["weight"]=>
    float(0)
    ["quantity"]=>
    float(30)
    ["reference"]=>
    string(0) ""
    ["unit_impact"]=>
    string(8) "0.000000"
    ["minimal_quantity"]=>
    int(1)
    ["available_date"]=>
    string(10) "2021-02-17"
    ["date_formatted"]=>
    string(10) "02/17/2021"
    ["id_image"]=>
    int(51470)
    ["list"]=>
    string(7) "'29053'"
  }
  [42337]=>
  array(14) {
    ["attributes_values"]=>
    array(1) {
      [1757]=>
      string(3) "803"
    }
    ["attributes"]=>
    array(1) {
      [0]=>
      int(29054)
    }
    ["price"]=>
    float(0)
    ["specific_price"]=>
    bool(false)
    ["ecotax"]=>
    float(0)
    ["weight"]=>
    float(0)
    ["quantity"]=>
    float(40)
    ["reference"]=>
    string(0) ""
    ["unit_impact"]=>
    string(8) "0.000000"
    ["minimal_quantity"]=>
    int(1)
    ["available_date"]=>
    string(10) "2021-02-17"
    ["date_formatted"]=>
    string(10) "02/17/2021"
    ["id_image"]=>
    int(51471)
    ["list"]=>
    string(7) "'29054'"
  }
  [42338]=>
  array(14) {
    ["attributes_values"]=>
    array(1) {
      [1757]=>
      string(3) "804"
    }
    ["attributes"]=>
    array(1) {
      [0]=>
      int(29055)
    }
    ["price"]=>
    float(0)
    ["specific_price"]=>
    bool(false)
    ["ecotax"]=>
    float(0)
    ["weight"]=>
    float(0)
    ["quantity"]=>
    float(40)
    ["reference"]=>
    string(0) ""
    ["unit_impact"]=>
    string(8) "0.000000"
    ["minimal_quantity"]=>
    int(1)
    ["available_date"]=>
    string(10) "2021-02-17"
    ["date_formatted"]=>
    string(10) "02/17/2021"
    ["id_image"]=>
    int(51472)
    ["list"]=>
    string(7) "'29055'"
  }
  [42339]=>
  array(14) {
    ["attributes_values"]=>
    array(1) {
      [1757]=>
      string(3) "805"
    }
    ["attributes"]=>
    array(1) {
      [0]=>
      int(29056)
    }
    ["price"]=>
    float(0)
    ["specific_price"]=>
    bool(false)
    ["ecotax"]=>
    float(0)
    ["weight"]=>
    float(0)
    ["quantity"]=>
    float(40)
    ["reference"]=>
    string(0) ""
    ["unit_impact"]=>
    string(8) "0.000000"
    ["minimal_quantity"]=>
    int(1)
    ["available_date"]=>
    string(10) "2021-02-17"
    ["date_formatted"]=>
    string(10) "02/17/2021"
    ["id_image"]=>
    int(51473)
    ["list"]=>
    string(7) "'29056'"
  }
  [42340]=>
  array(14) {
    ["attributes_values"]=>
    array(1) {
      [1757]=>
      string(3) "806"
    }
    ["attributes"]=>
    array(1) {
      [0]=>
      int(29057)
    }
    ["price"]=>
    float(0)
    ["specific_price"]=>
    bool(false)
    ["ecotax"]=>
    float(0)
    ["weight"]=>
    float(0)
    ["quantity"]=>
    float(40)
    ["reference"]=>
    string(0) ""
    ["unit_impact"]=>
    string(8) "0.000000"
    ["minimal_quantity"]=>
    int(1)
    ["available_date"]=>
    string(10) "2021-02-17"
    ["date_formatted"]=>
    string(10) "02/17/2021"
    ["id_image"]=>
    int(51474)
    ["list"]=>
    string(7) "'29057'"
  }
  [42341]=>
  array(14) {
    ["attributes_values"]=>
    array(1) {
      [1757]=>
      string(3) "807"
    }
    ["attributes"]=>
    array(1) {
      [0]=>
      int(29058)
    }
    ["price"]=>
    float(0)
    ["specific_price"]=>
    bool(false)
    ["ecotax"]=>
    float(0)
    ["weight"]=>
    float(0)
    ["quantity"]=>
    float(60)
    ["reference"]=>
    string(0) ""
    ["unit_impact"]=>
    string(8) "0.000000"
    ["minimal_quantity"]=>
    int(1)
    ["available_date"]=>
    string(10) "2021-02-17"
    ["date_formatted"]=>
    string(10) "02/17/2021"
    ["id_image"]=>
    int(51475)
    ["list"]=>
    string(7) "'29058'"
  }
  [42342]=>
  array(14) {
    ["attributes_values"]=>
    array(1) {
      [1757]=>
      string(3) "808"
    }
    ["attributes"]=>
    array(1) {
      [0]=>
      int(29059)
    }
    ["price"]=>
    float(0)
    ["specific_price"]=>
    bool(false)
    ["ecotax"]=>
    float(0)
    ["weight"]=>
    float(0)
    ["quantity"]=>
    float(40)
    ["reference"]=>
    string(0) ""
    ["unit_impact"]=>
    string(8) "0.000000"
    ["minimal_quantity"]=>
    int(1)
    ["available_date"]=>
    string(10) "2021-02-17"
    ["date_formatted"]=>
    string(10) "02/17/2021"
    ["id_image"]=>
    int(51476)
    ["list"]=>
    string(7) "'29059'"
  }
  [42343]=>
  array(14) {
    ["attributes_values"]=>
    array(1) {
      [1757]=>
      string(3) "809"
    }
    ["attributes"]=>
    array(1) {
      [0]=>
      int(29060)
    }
    ["price"]=>
    float(0)
    ["specific_price"]=>
    bool(false)
    ["ecotax"]=>
    float(0)
    ["weight"]=>
    float(0)
    ["quantity"]=>
    float(40)
    ["reference"]=>
    string(0) ""
    ["unit_impact"]=>
    string(8) "0.000000"
    ["minimal_quantity"]=>
    int(1)
    ["available_date"]=>
    string(10) "2021-02-17"
    ["date_formatted"]=>
    string(10) "02/17/2021"
    ["id_image"]=>
    int(51477)
    ["list"]=>
    string(7) "'29060'"
  }
}

Mondial Athena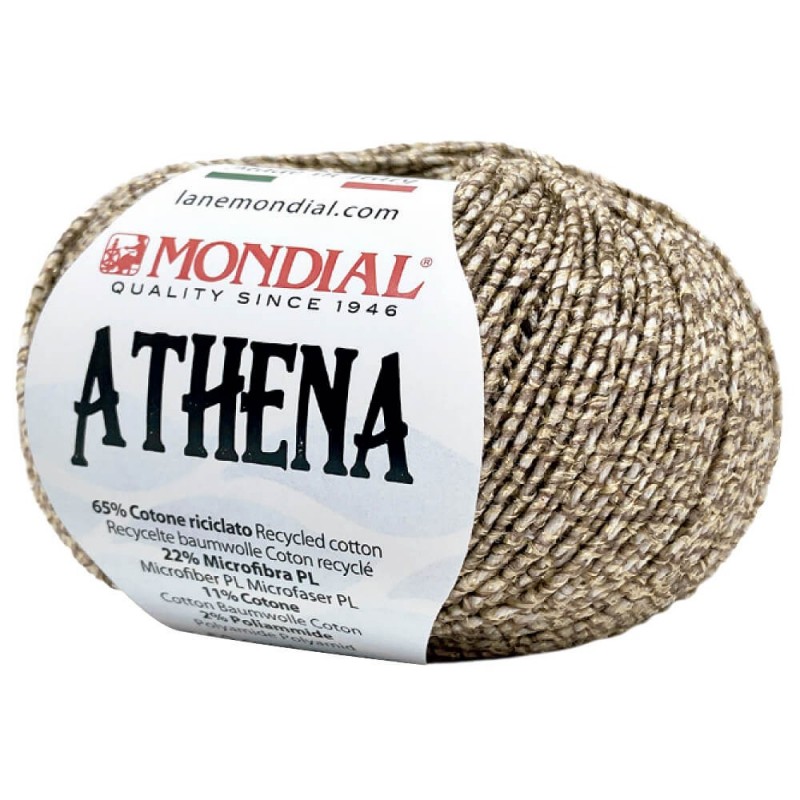  
Athena by Mondial is the perfect yarn to knit elegant garments with a loose effect. This yarn is perfect for warm seasons like spring and summer thanks to its cotton, polyester, and polyamide composition. You will find this fantasy yarn very light and fresh, what are you waiting for to provide a shiny touch to your outfits?
By buying this product you can collect up to 2 loyalty points. Your cart will total 2 points that can be converted into a voucher of €0.08.
Product details
Features
Weight

50 grams

Length

125 meters

Knitting needle

3 - 4

Season

Spring - Summer
Product description
Mondial presents Athena, a fantasy yarn which stands out for its originality and elegance. This is a fine yarn, perfect to knit light garments and accessories. Thanks to its composition, it is perfect to knit projects for spring and summer such as shawls, short jackets, tops, kerchiefs, and much more!
Its main cotton thread is covered by a metallic thread of the same color to provide a shiny effect to the yarn. Do not miss this chance of knitting elegant garments presenting a beautiful loose effect!
Mondial Athena is made of:
65% recycled cotton
22% polyester microfiber
11% cotton
2% polyamide microfiber
This yarn is almost entirely made of recycled cotton, a material obtained in a very eco-friendly way, perfect to do your part to take care of the environment. Also, thanks to its other fibers, your garments will be shiny, resistant, and light.
Which are the features of this yarn?
Each ball has 50 grams and around 125 meters.
Its thickness is perfect to work with the 3 – 4 mm knitting needles.
Mount 24 stitches and do 30 rows to knit a 10 x 10 cm gauge.
Washable at up to 40ºC.
Do not tumble dry.
Dry flat recommended.
Iron at low temperature.
Amount of balls needed to:
To knit a sweater for children size 10 years old you will need around 400-500 grams (8-9 balls).
To knit a sweater for woman size 38 you will need around 500-550 grams (10-11 balls).
To knit a sweater for woman size 42 you will need around 600-650 grams (12-13 balls).