Mondial Fiaba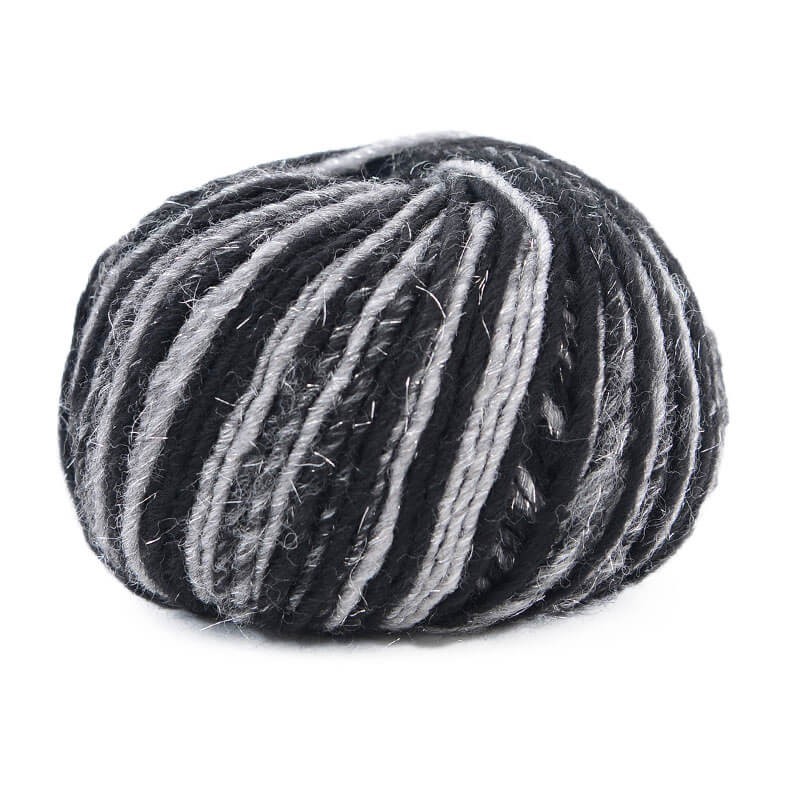  
Mondial Fiaba is a yarn that provides a smooth and glitter touch due to the combination of its fibers in matt tones with a thin metallic thread offering a metallic paint effect on your clothes.
No reward points for this product because there's already a discount.
Product details
Features
Weight

50 grams

Length

110 meters

Knitting needle

5 - 6

Crochet Hook

5 - 6

Season

Autumn - Winter
Product description
Mondial Fiaba is a yarn of the Fantasy range that provides a combination of fibers in smooth and matt colours with a thin little fiber with metallic glitter. Because of the fact that all of its fibers are twisted in one fiber, this yarn has an original touch of glitter.
Despite of being combined with a smooth glitter like the metallic paint on your clothes, the yarn provides mixtures of marbled colours that will form stripes and sections in different colours on your cloth.
The Mondial Fiaba yarn is made by:
52% Merino virgin yarn

45% PC microfiber

3% Metallic polyester microfiber
The yarn offers the smoothness and high quality of the merino fibers. It is the perfect yarn that will keep you warm in colder days.
The metallic polyester microfiber is part of the thin fiber with a metallic glitter and provides a metallic paint aspect.
You should know that Mondial Fiaba…
Each ball has 50 grams and 110 mettres.

Its thickness is perfect to knit with the 5 - 6 mm knitting or crocheting needles.

Mount 15 stitches and do 21 laps to knit a 10 x 10 cm square.

The yarn is suitable to be hand washed.

Do not iron it.

We recommend you to dry it horizontally.

With Wool Rich Blend label 163020215.

Made in Italy.
Amount of yarn in grams needed to knit different works:
Long sleeve sweater for kids size 10 years you will need 350-400 grams.

Long sleeve sweater for women size 42 you will need 450 – 500 grams.

Long sleeve sweater for men size 42 you will need 550 – 600 grams.
The Fiaba yarn is perfect to knit all kind of original clothes and accessories such as sweaters, jackets, winter ponchos, shawls, hats, scarfs, etc.
Have you ever knitted with Mondial Fiaba yarns? Give us your experience!