array(5) {
  [17796]=>
  array(14) {
    ["attributes_values"]=>
    array(1) {
      [561]=>
      string(3) "924"
    }
    ["attributes"]=>
    array(1) {
      [0]=>
      int(9440)
    }
    ["price"]=>
    float(0)
    ["specific_price"]=>
    array(19) {
      ["id_specific_price"]=>
      string(7) "4773498"
      ["id_specific_price_rule"]=>
      string(3) "131"
      ["id_cart"]=>
      string(1) "0"
      ["id_product"]=>
      string(4) "3652"
      ["id_shop"]=>
      string(1) "1"
      ["id_shop_group"]=>
      string(1) "0"
      ["id_currency"]=>
      string(1) "0"
      ["id_country"]=>
      string(1) "0"
      ["id_group"]=>
      string(1) "0"
      ["id_customer"]=>
      string(1) "0"
      ["id_product_attribute"]=>
      string(1) "0"
      ["price"]=>
      string(9) "-1.000000"
      ["from_quantity"]=>
      string(8) "1.000000"
      ["reduction"]=>
      string(8) "0.300000"
      ["reduction_tax"]=>
      string(1) "1"
      ["reduction_type"]=>
      string(10) "percentage"
      ["from"]=>
      string(19) "2018-12-16 00:00:00"
      ["to"]=>
      string(19) "2023-01-31 23:59:00"
      ["score"]=>
      string(2) "48"
    }
    ["ecotax"]=>
    float(0)
    ["weight"]=>
    float(0)
    ["quantity"]=>
    float(0)
    ["reference"]=>
    string(0) ""
    ["unit_impact"]=>
    string(8) "0.000000"
    ["minimal_quantity"]=>
    int(1)
    ["available_date"]=>
    string(10) "2017-05-31"
    ["date_formatted"]=>
    string(10) "05/31/2017"
    ["id_image"]=>
    int(14747)
    ["list"]=>
    string(6) "'9440'"
  }
  [17802]=>
  array(14) {
    ["attributes_values"]=>
    array(1) {
      [561]=>
      string(3) "930"
    }
    ["attributes"]=>
    array(1) {
      [0]=>
      int(9446)
    }
    ["price"]=>
    float(0)
    ["specific_price"]=>
    array(19) {
      ["id_specific_price"]=>
      string(7) "4773498"
      ["id_specific_price_rule"]=>
      string(3) "131"
      ["id_cart"]=>
      string(1) "0"
      ["id_product"]=>
      string(4) "3652"
      ["id_shop"]=>
      string(1) "1"
      ["id_shop_group"]=>
      string(1) "0"
      ["id_currency"]=>
      string(1) "0"
      ["id_country"]=>
      string(1) "0"
      ["id_group"]=>
      string(1) "0"
      ["id_customer"]=>
      string(1) "0"
      ["id_product_attribute"]=>
      string(1) "0"
      ["price"]=>
      string(9) "-1.000000"
      ["from_quantity"]=>
      string(8) "1.000000"
      ["reduction"]=>
      string(8) "0.300000"
      ["reduction_tax"]=>
      string(1) "1"
      ["reduction_type"]=>
      string(10) "percentage"
      ["from"]=>
      string(19) "2018-12-16 00:00:00"
      ["to"]=>
      string(19) "2023-01-31 23:59:00"
      ["score"]=>
      string(2) "48"
    }
    ["ecotax"]=>
    float(0)
    ["weight"]=>
    float(0)
    ["quantity"]=>
    float(0)
    ["reference"]=>
    string(0) ""
    ["unit_impact"]=>
    string(8) "0.000000"
    ["minimal_quantity"]=>
    int(1)
    ["available_date"]=>
    string(10) "2017-05-31"
    ["date_formatted"]=>
    string(10) "05/31/2017"
    ["id_image"]=>
    int(14753)
    ["list"]=>
    string(6) "'9446'"
  }
  [19207]=>
  array(14) {
    ["attributes_values"]=>
    array(1) {
      [561]=>
      string(3) "931"
    }
    ["attributes"]=>
    array(1) {
      [0]=>
      int(10688)
    }
    ["price"]=>
    float(0)
    ["specific_price"]=>
    array(19) {
      ["id_specific_price"]=>
      string(7) "4773498"
      ["id_specific_price_rule"]=>
      string(3) "131"
      ["id_cart"]=>
      string(1) "0"
      ["id_product"]=>
      string(4) "3652"
      ["id_shop"]=>
      string(1) "1"
      ["id_shop_group"]=>
      string(1) "0"
      ["id_currency"]=>
      string(1) "0"
      ["id_country"]=>
      string(1) "0"
      ["id_group"]=>
      string(1) "0"
      ["id_customer"]=>
      string(1) "0"
      ["id_product_attribute"]=>
      string(1) "0"
      ["price"]=>
      string(9) "-1.000000"
      ["from_quantity"]=>
      string(8) "1.000000"
      ["reduction"]=>
      string(8) "0.300000"
      ["reduction_tax"]=>
      string(1) "1"
      ["reduction_type"]=>
      string(10) "percentage"
      ["from"]=>
      string(19) "2018-12-16 00:00:00"
      ["to"]=>
      string(19) "2023-01-31 23:59:00"
      ["score"]=>
      string(2) "48"
    }
    ["ecotax"]=>
    float(0)
    ["weight"]=>
    float(0)
    ["quantity"]=>
    float(0)
    ["reference"]=>
    string(0) ""
    ["unit_impact"]=>
    string(8) "0.000000"
    ["minimal_quantity"]=>
    int(1)
    ["available_date"]=>
    string(10) "2017-06-28"
    ["date_formatted"]=>
    string(10) "06/28/2017"
    ["id_image"]=>
    int(16214)
    ["list"]=>
    string(7) "'10688'"
  }
  [17803]=>
  array(14) {
    ["attributes_values"]=>
    array(1) {
      [561]=>
      string(3) "932"
    }
    ["attributes"]=>
    array(1) {
      [0]=>
      int(9447)
    }
    ["price"]=>
    float(0)
    ["specific_price"]=>
    array(19) {
      ["id_specific_price"]=>
      string(7) "4773498"
      ["id_specific_price_rule"]=>
      string(3) "131"
      ["id_cart"]=>
      string(1) "0"
      ["id_product"]=>
      string(4) "3652"
      ["id_shop"]=>
      string(1) "1"
      ["id_shop_group"]=>
      string(1) "0"
      ["id_currency"]=>
      string(1) "0"
      ["id_country"]=>
      string(1) "0"
      ["id_group"]=>
      string(1) "0"
      ["id_customer"]=>
      string(1) "0"
      ["id_product_attribute"]=>
      string(1) "0"
      ["price"]=>
      string(9) "-1.000000"
      ["from_quantity"]=>
      string(8) "1.000000"
      ["reduction"]=>
      string(8) "0.300000"
      ["reduction_tax"]=>
      string(1) "1"
      ["reduction_type"]=>
      string(10) "percentage"
      ["from"]=>
      string(19) "2018-12-16 00:00:00"
      ["to"]=>
      string(19) "2023-01-31 23:59:00"
      ["score"]=>
      string(2) "48"
    }
    ["ecotax"]=>
    float(0)
    ["weight"]=>
    float(0)
    ["quantity"]=>
    float(0)
    ["reference"]=>
    string(0) ""
    ["unit_impact"]=>
    string(8) "0.000000"
    ["minimal_quantity"]=>
    int(1)
    ["available_date"]=>
    string(10) "2017-05-31"
    ["date_formatted"]=>
    string(10) "05/31/2017"
    ["id_image"]=>
    int(14754)
    ["list"]=>
    string(6) "'9447'"
  }
  [17804]=>
  array(14) {
    ["attributes_values"]=>
    array(1) {
      [561]=>
      string(3) "933"
    }
    ["attributes"]=>
    array(1) {
      [0]=>
      int(9448)
    }
    ["price"]=>
    float(0)
    ["specific_price"]=>
    array(19) {
      ["id_specific_price"]=>
      string(7) "4773498"
      ["id_specific_price_rule"]=>
      string(3) "131"
      ["id_cart"]=>
      string(1) "0"
      ["id_product"]=>
      string(4) "3652"
      ["id_shop"]=>
      string(1) "1"
      ["id_shop_group"]=>
      string(1) "0"
      ["id_currency"]=>
      string(1) "0"
      ["id_country"]=>
      string(1) "0"
      ["id_group"]=>
      string(1) "0"
      ["id_customer"]=>
      string(1) "0"
      ["id_product_attribute"]=>
      string(1) "0"
      ["price"]=>
      string(9) "-1.000000"
      ["from_quantity"]=>
      string(8) "1.000000"
      ["reduction"]=>
      string(8) "0.300000"
      ["reduction_tax"]=>
      string(1) "1"
      ["reduction_type"]=>
      string(10) "percentage"
      ["from"]=>
      string(19) "2018-12-16 00:00:00"
      ["to"]=>
      string(19) "2023-01-31 23:59:00"
      ["score"]=>
      string(2) "48"
    }
    ["ecotax"]=>
    float(0)
    ["weight"]=>
    float(0)
    ["quantity"]=>
    float(0)
    ["reference"]=>
    string(0) ""
    ["unit_impact"]=>
    string(8) "0.000000"
    ["minimal_quantity"]=>
    int(1)
    ["available_date"]=>
    string(10) "2017-05-31"
    ["date_formatted"]=>
    string(10) "05/31/2017"
    ["id_image"]=>
    int(14755)
    ["list"]=>
    string(6) "'9448'"
  }
}

Mondial Sky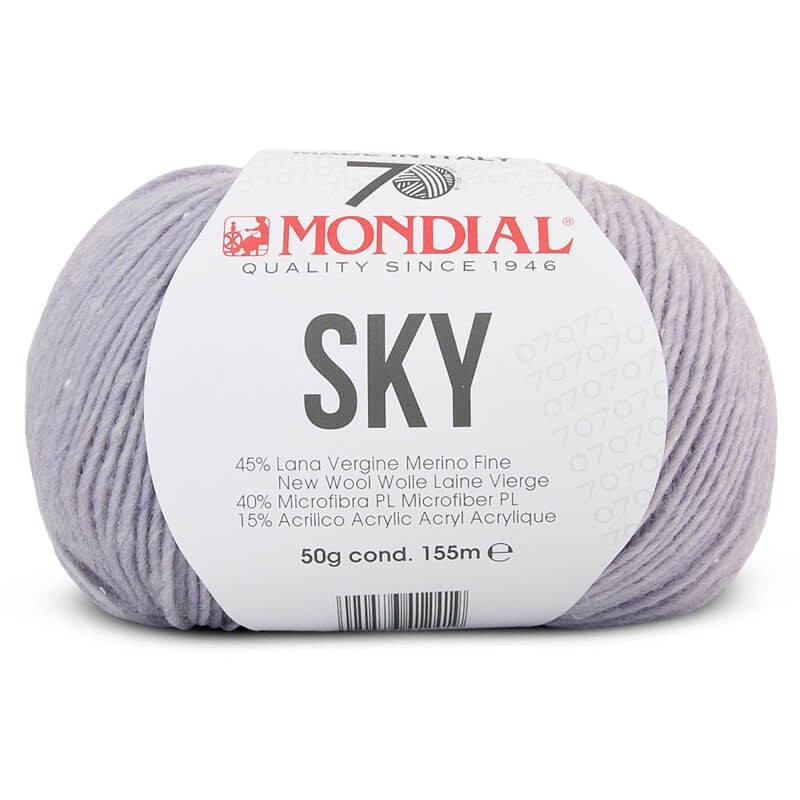  
Mondial Sky is a yarn made by a thin strand with some little sequins inserted by the Micro-Sequin technique, that offers a soft shiny touch to your sewing pieces.
No reward points for this product because there's already a discount.
Product details
Features
Weight

50 grams

Length

155 meters

Knitting needle

3 ½ - 4 ½

Crochet Hook

3 ½ - 4 ½

Season

Autumn - Winter
Product description
Sky by Mondial Yarns is a thin fantasy yarn, with some little sequins on its strand that offer and original shiny touch to your sewing pieces.
These little sequins are inserted with the Micro-Sequin technique, that inserts the sequins in the strand without being twisted. So the strand has just one twisted thread that gives sweet, soft and high quality clothes.
Your clothes will have a soft shiny touch thanks to these little shiny sequins.
It is perfect to knit clothes with a fantasy touch. They will be perfect to wear every day and also in your special nights. Knit dresses, pulls, ponchos, jackets and more sewing pieces with this yarn.
The yarn Mondial Sky is made by:
45% Unspoilt Merino Fine Wool
40% Microfibre PL
15% Acrylic
The fine merino wool fibres offer a soft and warm texture, perfect to wear in autumn and winter. Its mixture with the polyester microfibre and the acrylic fibre give a high quality clothing and more resistant.
You should know that Sky by Mondial yarns...
Each ball has 50 grams and 155 metres.
Its thin thickness is recommended to knit with the 3.5 - 4.5 mm knitting needles or crochet hooks.
To knit a woman long sleeves pull size 42 you will need more or less 400 450 grams, 8 - 9 balls.
To knit a man long sleeves pull size 42, you will need 550 - 600 grams, 12 balls.
For a ten-year-old long sleeves pull, you will need 300 - 350 grams, 6 - 7 balls.
Mount 24 stitches and do 28 laps to have a 10 x 10 cm square.
This yarn is washable  in the washing machine at 30ºC.
We do not recommend to iron it.
Do not dry it in the dryer.
We recommend you to dry it horizontally.
Made in Italy.
It is the perfect yarn to knit wonderful clothes with a shiny touch.
Have you ever knitted with Sky by Mondial? Give us your opinion!
Rating:

5

out of

5

based on

1

reviews.
Customer reviews
Nº of votes

Average experience

Rating

1

star star star star star

star star star star star

star star star star star

star star star star star