Schachenmayr Home Style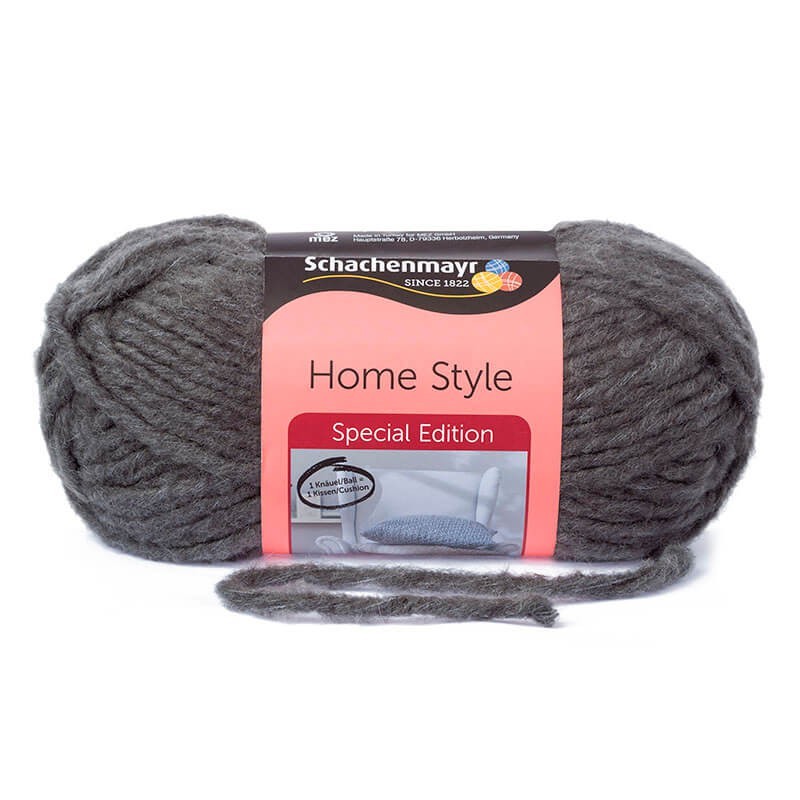  
Schachenmayr Home Style are yarn balls of 300 grams, specially designed for knitting thick and warm accessories to decorate your home and provide a smooth and sweet touch on your skin. They are perfect to knit blankets, cushions, carpets.
No reward points for this product because there's already a discount.
Product details
Features
Weight

300 grams

Length

110 meters

Knitting needle

20 mm

Crochet Hook

20 mm

Season

Autumn - Winter
Product description
Home Style de Schachenmayr are XXL chunky balls of yarns with high smoothness offering a sweet touch on your skin.
These maxi-balls are recommended to knit big clothes and accessories for your home such as blankets for beds, sofas, cushions, bedspreads or carpets as well as accessories such as scarfs, etc.
The final result will give you warmth and a comfortable touch perfect for your home.
Their thick fiber is made by fine threads of curly short fur carded offering an aspect of a one carded tail end fiber.
The Schachenmayr Home Style yarn is made by:
52% Acrylic

30% Polyamide

18% Yarn
This combination provides an extra-smooth fabric, very resistant to keep your clothes in good conditions.
The mixture of fibers gives high warmth. It is perfect to keep you warm thanks to the yarn fiber that functions like a thermic regulator, to the polyamide that provides flexibility and to the acrylic that maintains its shape and provides resistance.
You should know that
Mondial Gocce di Cristallo…
Each ball has 300 grams and 110 mettres.

Its thickness is perfect to knit with the 20 mm knitting or crocheting needles.

To knit a cushion you will only need 1 ball.

To knit a scarf you will only need 1 ball.

Mount 5 stitches and do 8 laps to knit a 10 x 10 cm square.

The yarn is a suitable yarn to be washed in the washing machine at

30ºC

Do not iron it.

Do not dry it in the dryer.

We recommend you to dry it horizontally.
Home style is the perfect shape to decorate your home with beautiful clothes providing a comfortable appearance to you and your home, as well as warmth on your skin.
Have you ever knitted with the 300 grams Schachenmayr yarns? Give us your experience!