Schachenmayr Soft Shimmer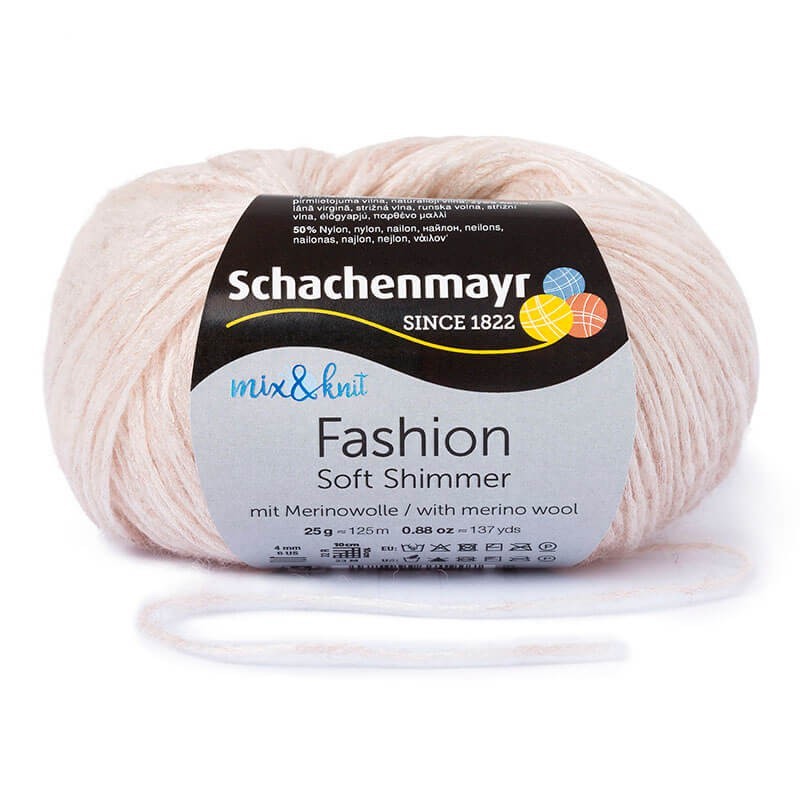  
Schachenmayr Soft Shimmer is a yarn characterized by a smooth and special bright. It provides an elegant touch to your clothes and accessories such as shawls, foulards, sweaters, etc.
No reward points for this product because there's already a discount.
Product details
Features
Weight

25 grams

Length

125 meters

Knitting needle

4

Crochet Hook

4

Season

Autumn - Winter

Needles Size

4 mm
Product description
Soft Shimmer de Schachenmayr is a yarn that offers a nice bright and an elegant touch to your clothes perfect to knit night, ball or party clothes.
Its finish is perfect to knit luxury clothes and a accessories such as bright shawls for party nights, elegant sweaters, foulards, etc.
The Schachenmayr Fashion Soft Shimmer yarn is made by:
50% Merino virgin yarn

50% Nylon
The merino yarn provides a great smoothness when coming into contact with your skin. Its fibers are virgin, that is to say, they are not chemically treated before its dyeing and its result gives a greater quality touch perfect for all kind of skins.
The nylon offers that bright and delicate touch of the yarn.
You should know that Schachenmayr Soft Shimmer yarn…
Each ball has 25 grams and 125 mettres.
Its thickness is perfect to knit with the 4 mm knitting or crochet needles.

Mount 23 stitches and do 32 laps to knit a 10 x 10 cm square.

This yarn is suitable to be handwashed

Do not iron it.

Do not dry it in the dryer.

We recommend you to dry it horizontally.
Amount of grams needed to knit different clothes:
Long sleeve women sweater size M: 300 grams

Long sleeve men sweater size M: 350 grams

Women and men cap: 50 grams

Women and men: 100 grams
It is perfect to knit accessories with an elegant and festive touch for your outfits, specially for your New Year's Eve outfits.
Have you ever knitted with Schachenmayr Soft Shimmer yarn? Give us your experience!